If you had approached me in March and asked what I thought of Erzetich Audio I'd most likely give you a blank stare. It's also likely that you'd notice the same reaction from many North Americans because, until recently, the company did not have a major presence this side of the Atlantic. In April, I attended the AXPONA Audio Show in Chicago where I ran into Chris Zainea from On Song Audio Distribution. From the look on his face it was clear he was eager to show me something exciting, so I took a seat at his table and the conversation began.
Chris introduced me to Erzetich, a Slovenian manufacturer of desktop headphone amplifiers. They offer a handful of models; each hand-built in the woods of Trnovo near the Italian border. It is in this forest where the linden wood is gathered for the $799 Bacillus Tilia amplifier. The wood is sculpted and artificially aged by artisan crafters. These workers employ techniques that ensure no two will be identical. In short, each Bacillus Tilia's body is a unique work of art.
A great amplifier is more than just a stunning enclosure. Erzetich worked tirelessly to design an amp worthy of the striking wooden housing. The Bacillus Tilia's internal design is shared with Erzetich's entry-level Bacillus amplifier, but once inside, you'll find the Tilia comes with improved input capacitors and opamps. The result is an amplifier that can handle most headphones that are paired with it.
I have to say that I find the Bacillus Tilia to be one of the most stunning desktop amplifiers I've seen. The photos of the amplifier are lovely, but when you have one sitting in front of you it demands your attention. There I was, at a show with the best personal audio equipment available, and a compact desktop amplifier from central Europe managed to captivate my attention.
Shortly after AXPONA On Song Audio contacted me about reviewing the Bacillus Tilia. Like offering a child their favorite ice cream for desert, there was no hesitation in my response, and I soon found myself incorporating the little amp into my system. My normal desktop setup consists of the LH Labs Geek Out Signature Edition DAC/amp powered by the LH Labs LPS, all connected to my MacBook Pro. The Geek Out serves as my DAC and runs it into my Violectric V181 headphone amp. I removed my V181 from the chain and introduced the Bacillus Tilia. Once connected, I left the amplifier to burn in before doing any listening. Once that was out of the way I took a seat at my desk, plugged in a pair of HIFIMAN HE1000 headphones, and leaned back to enjoy the music.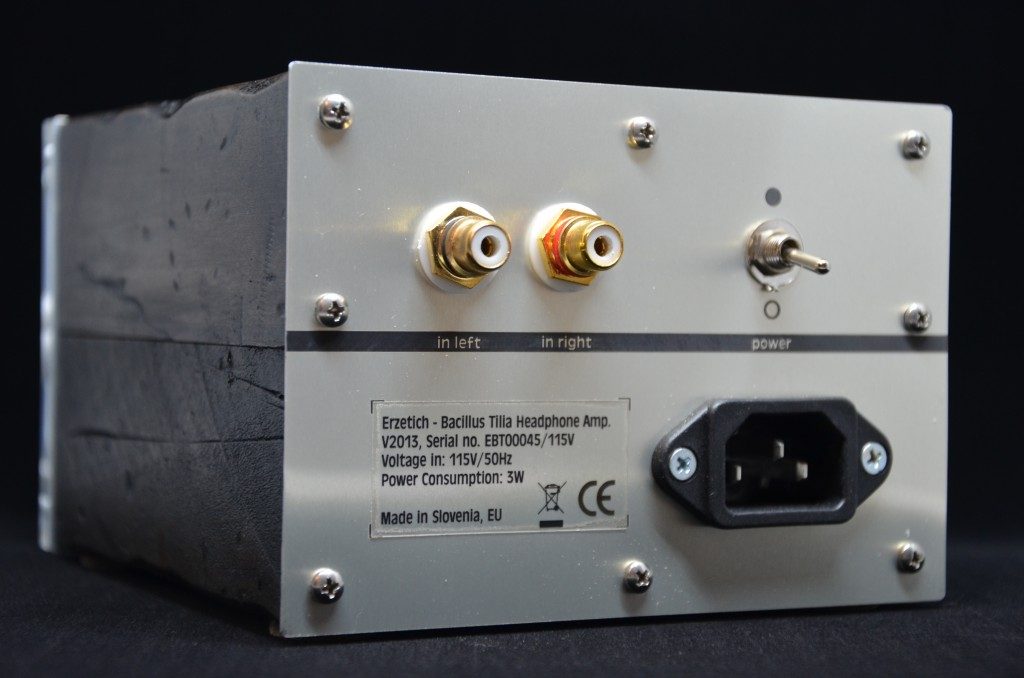 Immediately I noticed that the Bacillus Tilia has a touch of warmth in its presentation. Coming from the V181, I'm used to a warmer amp, and the Bacillus Tilia was keen to show that it could be just as playful with my music. I started my journey with Sun & Moon from Above & Beyond's Group Therapy album. It was a relief to hear that the amp didn't add too much warmth to the mix, and my toes were tapping in moments.
Next came one of my favorite testing a capella tracks, Daft Punk by Pentatonix. I love this song for its well-structured layering across the entire range, and the vocal balance is incredibly well mixed. Throughout the piece I was able to clearly discern each vocalist and never once felt anyone was lost. From there I moved on to Levitation Nation by Shpongle, a piece that has a wonderful Spanish guitar passage. Again I found that the Bacillus Tilia does a wonderful job of presenting the guitar without coming across as tinny. Overall the mids have a touch of smoothness without ever feeling recessed or dull.
The Bacillus Tilia is also able to deliver a reasonable level of bass without allowing things to get out of hand into the realm of muddy lows. I threw on AC/DC's Thunderstruck and listened to the bassline. Each pluck of the bass guitar's string was full-bodied with a nice, short decay. Following Thunderstruck I reached for the Assassin's Creed III Theme by composer Lorne Balfe. I was able to enjoy the speed in its rhythm, specifically the electric timpani, nearly as much as I do on my V181.
When focusing on the highs I wanted something that would really test the amp's ability to handle piercing notes. I would imagine many of Guru's readers are familiar with the film The Fifth Element and its song the Diva Dance. Listening to a cover of that piece revealed that the Bacillus Tilia is not overly piercing. Overall the track had a reasonable smoothness in its presentation. To continue testing the high range I played Lindsey Stirling's Phantom of the Opera Medley. I adore this piece because of it takes one of my favorite musical scores and incorporates the contemporary sounds of electronic violin, keyboard, and guitar. Details were clear and there was a touch of air in the sound that helped the separation.
After several hours of testing it's apparent that the Bacillus Tilia is an impressive amplifier, but unfortunately, I can't say that it excels in all categories. The HE1000 is a headphone that has incredible reach into both the high and low frequencies, and it does wonders when properly amped. The amp rolled off a touch too early when considering some of the other offerings in the price range. The treble fell short on some of my favorite pieces and I found that the sub-bass was occasionally trailing behind as well. The Diva Dance is a fine example. The amp didn't deliver as much air as I expected in the piece, and although the 8th octave F# high note wasn't piercing, the peak was more smoothed than I anticipated.
Soundstage was another area where the Bacillus Tilia could have been better when compared to others in the price range. While listening to Yosi Horikawa's Bubbles, I found that while the amp provided a decent width, the depth and height weren't as prominent. The same held true for Pink Floyd's Money and Miles Davis' Kind of Blue.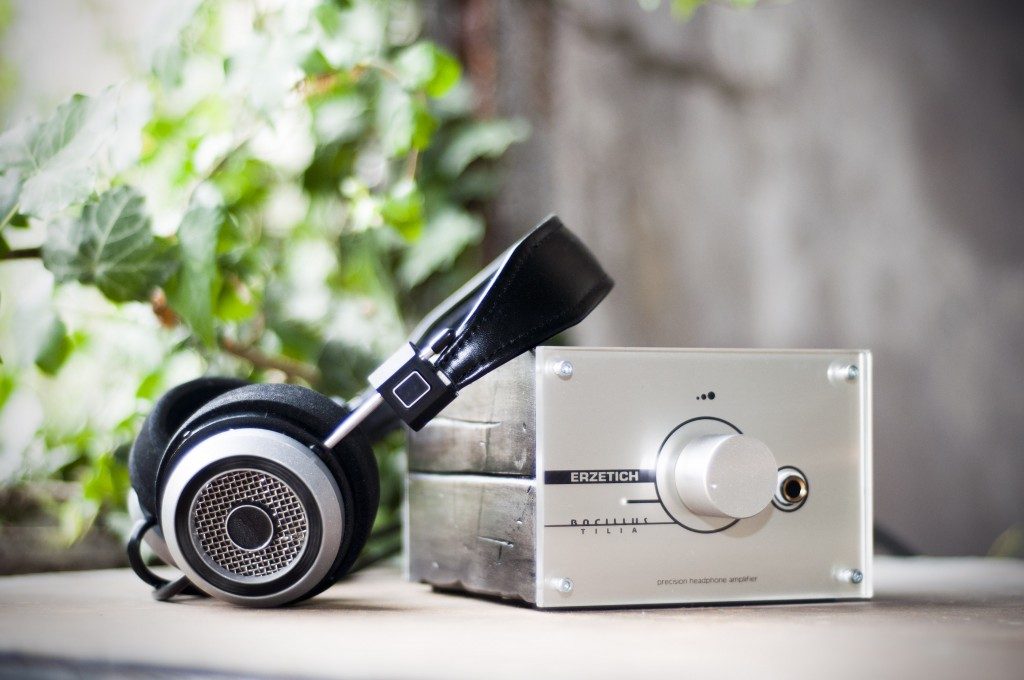 Everything considered, I was positively impressed by my time with Erzetich's small desktop amp. Even though I have these few small quibbles, the Bacillus Tilia could someday call my desk home. I'm hard pressed to think of a competing product in the price range that bears the same air of sophistication with its design. I appreciate aesthetics and craftsmanship in all aspects of life, and I feel that this amplifier would feel right at home among my various Swiss-made watches and European fountain pens. I imagine that if I were to take this into my office it would spark several conversations with my co-workers before they even have the chance to listen.
The Bacillus Tilia finds itself in a small segment of the market that I feel hasn't received much attention from manufacturers in recent years. While there are plenty of boutique headphone amplifiers that look amazing and sound incredible, they're often demanding on the wallet or require that the owner possess DIY experience. And then those who have the necessary experience may not have the time or desire to complete such an undertaking. But for those with smaller budgets and less hands-on experience assembling electronics, there just weren't many choices if you wanted something that stood out from the crowd. Thankfully, Erzetich has provided a product where each individual amp is one-of-a-kind and won't break the bank.
Price: $799
Technical Specifications
Headphone impedance: 8-600 ohm
Output power: 181.5 mW (8 ohm)/161 mW (600 ohm)
Frequency response: 3 Hz-500 kHz, -1dB
THD (1 kHz): 0.0002 %
IMD: 0.034 %
Power consumption:> 3 W
SNR: >104 dB
Power supply input voltage: 230 V/50 Hz or 115 V/60 Hz
Dimensions (W x H x D): 130 mm x 90 mm x 160 mm
Weight: 1010 g
Character: Silky neutral, slightly warm
Features
Obbligato Gold premium quality pulse input capacitors
Highest audiophile grade op-amps
Double 180 MHz/250 mA Burr-Brown current buffer
Alps Blue Velvet volume potentiometer
No output capacitors
Gold plated RCA connectors
Silver interconnecting wire on input
On-board 2 x 15 V stabilized power supply
Hand carved/artificially aged linden wood chasis