When I met Tony Crocker at CanJam RMAF 2018 and had a chance to experience his Swan Song Audio products, I told him that whenever he is ready, I would be more than happy to review his products. That happy moment has arrived along with the Swan Song Audio Cygnet Class A Headphone Amplifier/Preamp with Upsampling DAC. Swan Song Audio is something very unique in the audiophile and personal audio world, a custom amplifier manufacturer. Every piece is custom handmade to order based on some very solid underpinnings. Everything from custom casings (including glass tops with laser cut renditions of their Swan logo) to matching the electronics to your specific headphones is available.
As I understand it, Swan Song Audio began in high-end custom built two channel before entering the pro market and introducing small systems for those with limited space. Building on this foundation they have now entered the personal audio market with several state of the art headphone amps and DACs.
Tony takes a best-practices electrical engineer's approach to audio, which means that power supply earns center stage in his designs, and he employs the best quality components available. When it comes to DACs, his philosophy is that the chip makers have designed the best digital to analog they can, and if one provides a proper support in terms of power supply and clock, one doesn't need to add a bunch mumbo jumbo in terms of filters and FPGAs.
Swan Song Audio Cygnet Class A Headphone Amplifier/Preamp with Upsampling DAC: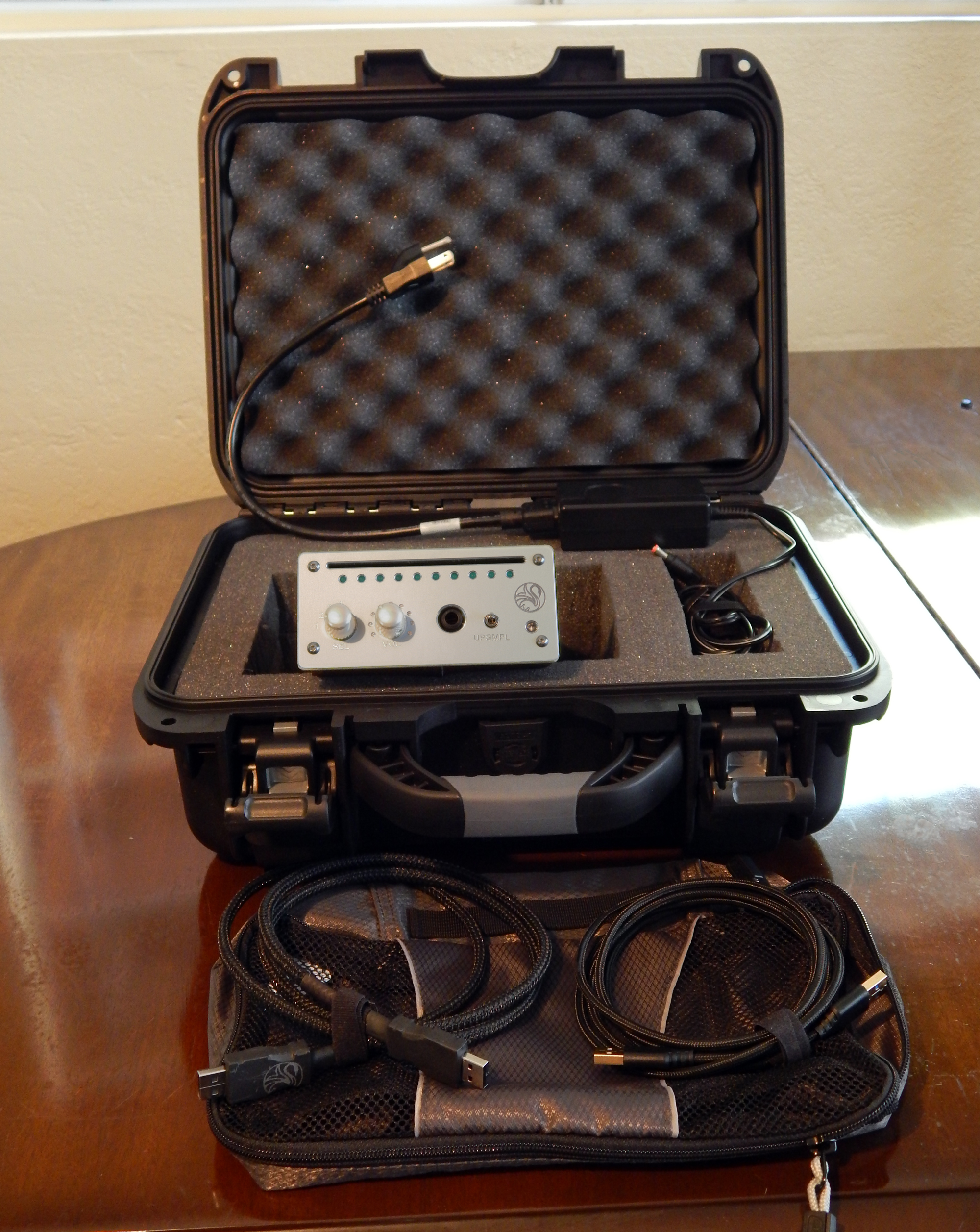 Designed and manufactured in the USA, Tulsa, Oklahoma to be specific, the Cygnet line represents Swan Song's transportable DAC/Headphone Amplifiers. There are two models available; the Cygnet USB Headphone & Upsampling DAC and the Cygnet Class A Headphone & Upsampling DAC, the difference between the two being, that the output buffer of the Cygnet Class A Headphone & Upsampling DAC is constructed from discrete transistors biased into Class A to deliver 800mw into loads under 60 ohms. The Cygnet Class A Headphone & Upsampling DAC I received came with the preamp output option and the LED (VU meter) option and was configured for low impedance headphones as that covers most of my reference Headphones.
The Cygnet Class A Headphone & Upsampling DAC came to me packaged in a (NANUK 915) Pelican style travel case and included a nylon travel case, a Level VI medical grade external power supply, and two Type A male to Type A male USB cables (one generic and one handcrafted silver USB cable made by Swan Song Audio). Tony also provided a couple of USB adaptors to improve connection. While I began my testing with the generic cable I performed the bulk of the review using the Swan Song Audio cable at Tony's recommendation.
The unit itself is an elegant and compact 5.25" wide, 7.5" deep, and 2.5" tall (the non-preamp version is slightly smaller at 1.75" tall) and is wrapped in leather with a machined aluminum faceplate, knobs, and back panel. On the faceplate, at the top under a vent slot is a row of ten LEDs for the VU display. Below that you will find a four position input select switch (the inputs are numbered on the back panel), the volume control, a ¼" single ended headphone jack, an upsampling toggle switch, and an LED power indicator.
On the back panel at the top are the single-ended RCA preamp outputs and under that is the 9V input, the power toggle switch, the USB input (input #4), a gain cut toggle switch, two TOSLINK optical digital inputs (#1 & #2) and a coaxial digital input (#3).
The upsampling is to 24/96 kHz and is meant to be turned off for 24/192 kHz files.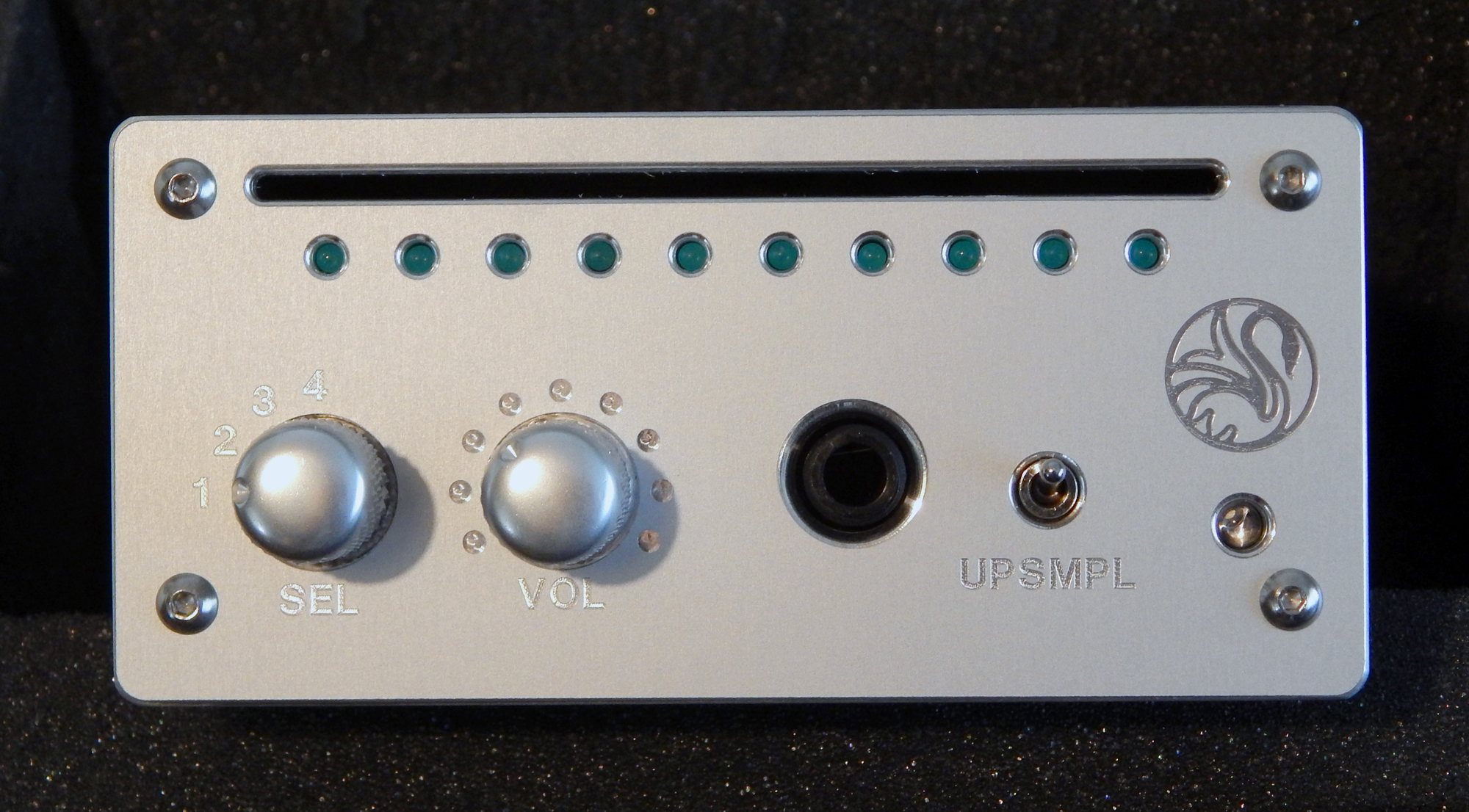 Life With The Swan Song Audio Cygnet Class A Headphone Amplifier/Preamp with Upsampling DAC:
One of the advantages of Swan Song Audio products is that they are pre-burned in, so you can just set them up and start listening. It was pretty much Plug & Play for the USB set up, I simply selected the Wasapi driver in whatever program I was using (Qobuz, JRiver, the Windows Sound Control Panel simply called it USB Audio CODEC, in Linux it showed as USB).
I spent several days just listening to Qobuz through the MrSpeakers ETHER2 Open Backed Planar Magnetic Headphones to get a sense of the overall sound. I had just begun my Qobuz subscription so I spent quite a bit of time listening to random artists that I don't have in my music database. Case in point "In a Moorish Marketplace" (16/44.1 kHz) [misspelled "Moonrish" on most streaming services including Qobuz] by the Don Shirley Trio from the album Water Boy. The piano was very natural with a slight robust richness but retaining that Steinway delicacy and speed. The hall was huge and the background silent demonstrating an excellently low noise floor. Ken Fricker's upright Bass was close and beefy on the left as is the wont of the ETHER2 and on the right percussion was provided by Juri Taht on Cello bouncing the bow off the strings. The musicality of the presentation was amazing, especially for a streamed 44.1 kHz track.
Switching over to the MrSpeakers ETHER C Flow 1.1 Planar Magnetic Closed Backed Headphones and using the Questyle Audio QP2R as a music server via the Optical input I cued up Stravinsky's "The Firebird Suite" (Robert Shaw & the Atlanta Symphony Orchestra – Stravinsky: The Firebird; Borodin: Music from Prince Igor – 16/44.1 kHz & 24/96 kHz vinyl rip). I specifically wanted to compare the Upsampled 44.1 kHz to the 96 kHz versions. While not quite as resolute as the 96 kHz version in key chill-inducing spots and despite exhibiting a little more edge than the vinyl rip, the 44.1 kHz track proved to be the more enjoyable experience lacking the vinyl noise and the slight pops and clicks that are the lot of vinyl, which were slightly emphasized revealing an upper midrange/ low treble bias consistent with solid-state amplifiers. Once again the soundstage was large and airy. The focus of the instruments was good giving an excellent sense of placement. The dynamics of the crescendos was epic, painting a stark outline around the tympanis. The timbre of the flutes and strings were a little brighter than I prefer but exhibited a natural tonality. Returning to the ETHER2s which I found to be a much better match to the Cygnet, I was able to place myself into a box seat at the Hollywood Bowl and lose myself into the music.
Selecting the Campfire Audio Closed Backed Dynamic Headphones I listened to Jean-Luc Ponty's "Mirage" (Enigmatic Ocean – 16/44.1 kHz) and was treated to a straight from the mixing board in-studio performance. The bass guitar was up front and aggressive, with the guitars, keyboards, and percussion filling the middle space, crisp and clean, while the violin remained an etheric presence in the background. As before, the exposition was dynamic with strong attack.
To test the coaxial digital input I connected the FiiO X7 Mark II via the S/PDIF out and picked out the Spirit Torino Twin Pulse Isobaric Open Circumaural Headphone and played Dusty Springfield singing "The Look of Love" from Casino Royale (Burt Bacharach – 24/192 kHz). The presentation was very intimate and sensual, Dusty's honeyed vocals whisper close in a large nightclub with the upright bass and drums close at hand on the right and the piano a foot or two away on the left. Then came the instrumental part, the saxophone stepping up to take center stage with the horns and strings falling into the background. The overall effect of musicality was heart-rending and palpable.
As a final exam, I connected the Swan Song Cygnet as a preamp to my main reference system. Once again the noise floor was astonishing. Returning to optical input out of the FiiO, "Karn Evil 9 – 3rd Impression" (Emerson, Lake & Palmer – Brain Salad Surgery – 24/96 kHz) was rendered with great impact and detail, displaying excellent three-dimensional soundstage and imaging.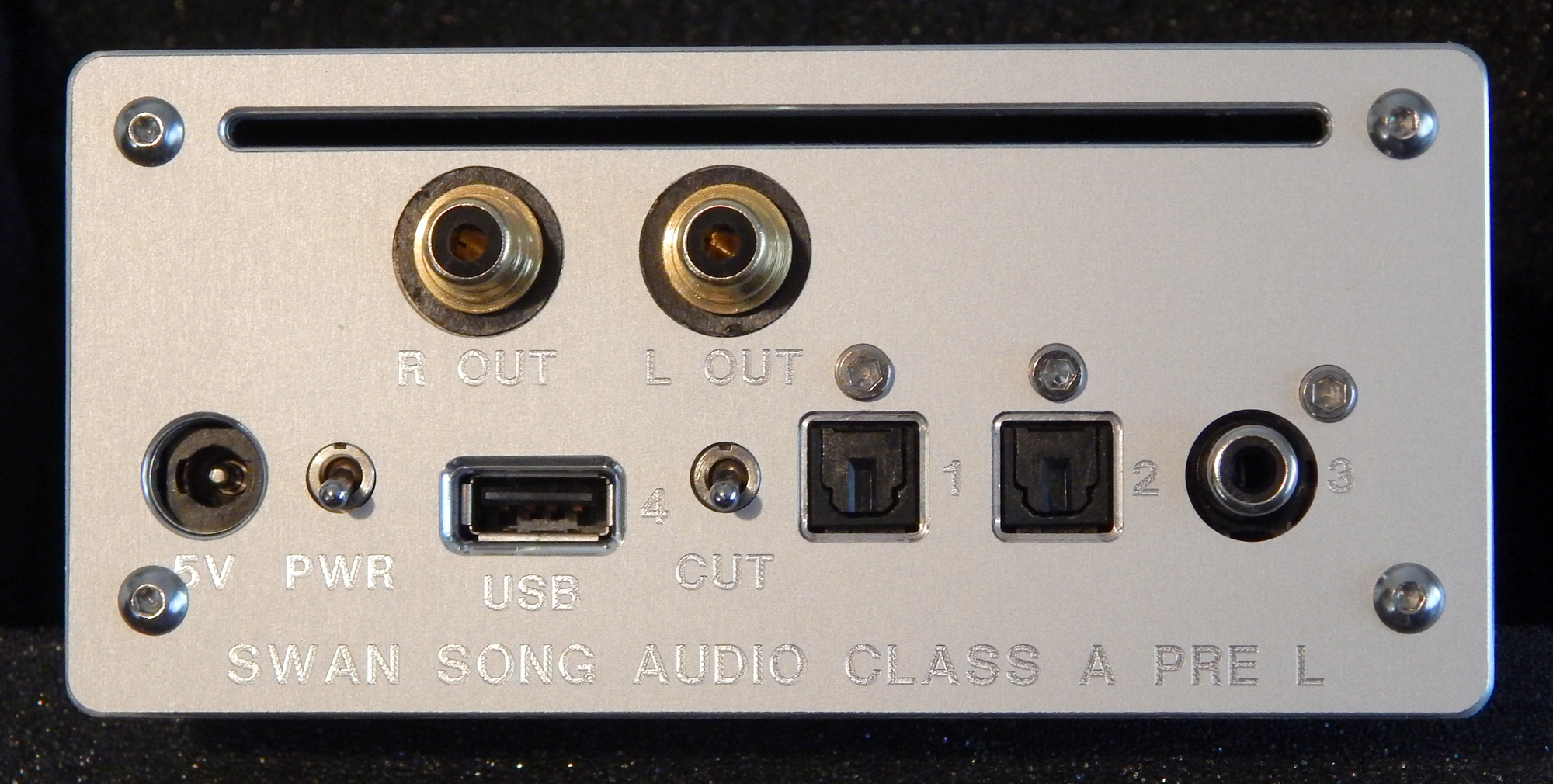 Conclusions:
The Swan Song Audio Cygnet Class A Headphone Amplifier/Preamp with Upsampling DAC fully lived up to expectations, offering up a dynamic openly airy exhibition with lifelike timbre and tonality regardless of source or playback media. The most compatible headphones were the ETHER2 and the Spirit Torinos, which is in keeping with its solid state design, preferring a slightly warmer rendering. The overall musicality was such that I was easily able to listen for days long without fatigue.
Offering performance well in keeping with other products in its price range, that don't offer the customizability options of the Swan Song Audio Cygnet Class A Headphone Amplifier/Preamp with Upsampling DAC, it is an excellent choice for anyone seeking a DAC/amplifier that provides a completely honest reproduction of their source files, well recommended.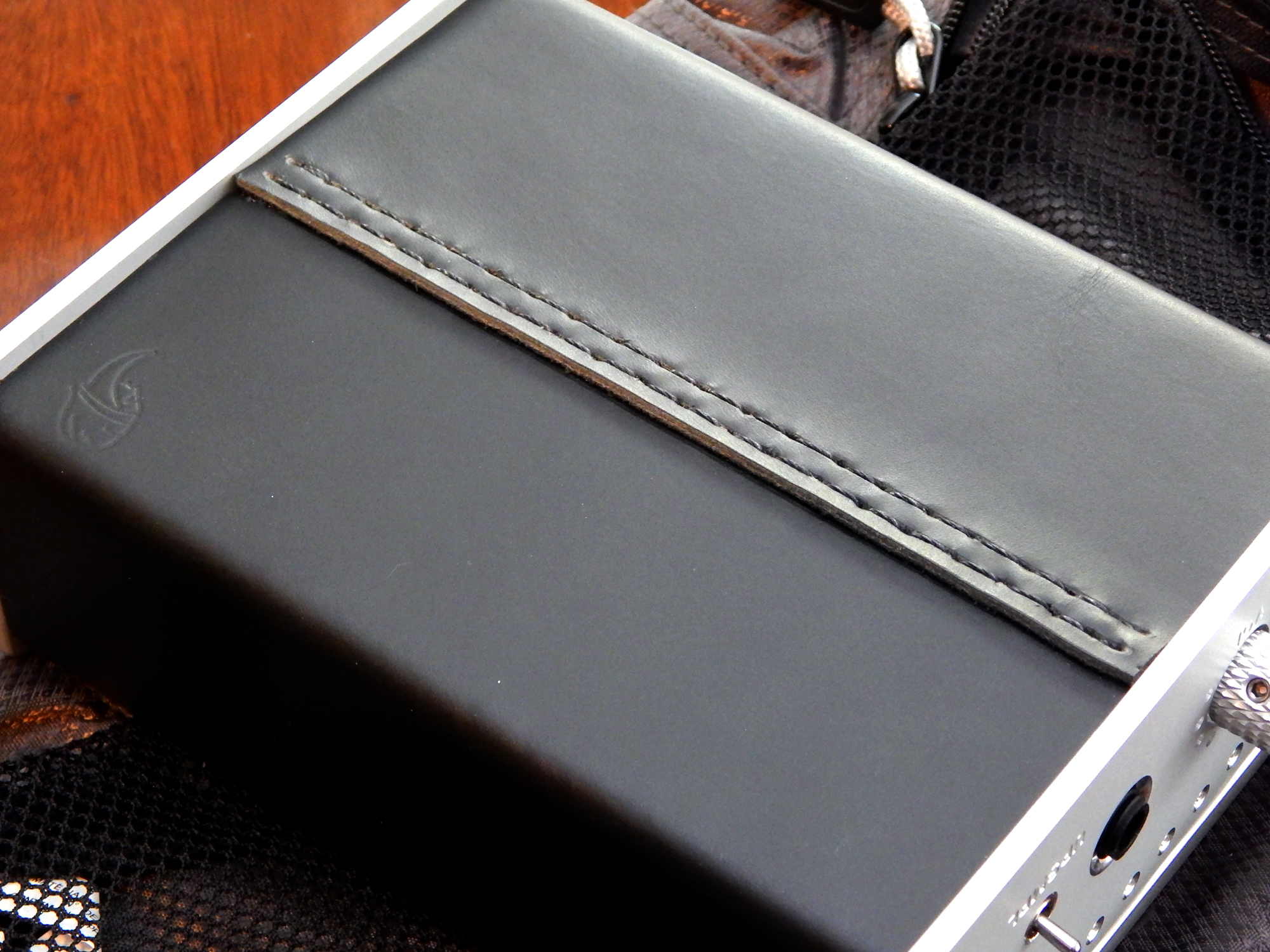 http://www.swansongaudio.com/class-a-headphone.html
Price: $1850 USD
Plus $100 USD for preamp outputs
Plus $150 USD for LEDs
Specifications:
Resolution USB: 24bit 96kHz
Resolution Optical Coax: 32 bit 192kHz
DAC: 32 bit 384kHz
Output Impedance: Less than 2 ohms
Dimensions: 5.25" wide 7.5" deep 1.75" tall
Dimensions Preamp: 5.25″ w 7.5″ d 2.5″ tall
Weight: 1.75 pound
Features include:
Advanced USB filtering
Upsampling 24 bit 96kHz
Buffered volume control
Preamp option
LED level indicator option
Class A Headphone Buffer
Leather wrapped case
Machined aluminum face plates and knobs
1 USB input
2 192kHz optical inputs
1 192kHz coax input
Optional preamp outputs
Level VI medical grade power supply
Shielded power cord
Customization:
Design time is $75 an hour. If the changes involve custom circuit boards than the cost of custom circuit boards is $100. All other costs such as changes to the chassis and leathers are passed through at cost.