Headphone.Guru's coverage of CanJam at RMAF 2015 continues with Brian Murphy's show report.
Questyle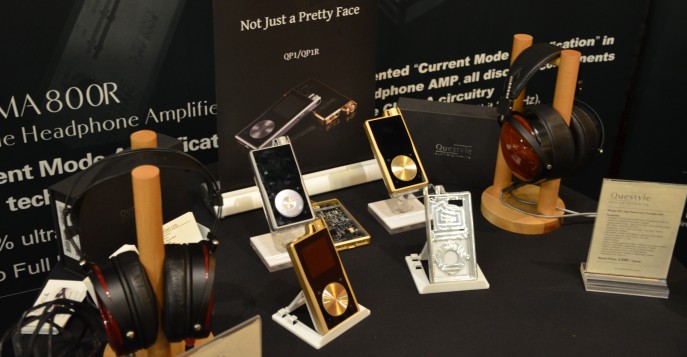 Questyle has certainly been making a name for themselves recently with the launch of their QP1R portable player (check out Guru Eric Neff's review here) and they're aiming to continue that trend with the entry-level QP1 later this month. Sporting a price tag of $599, $300 less than the premium QP1R, the QP1 is a strong contender in the fight for your wallet. The QP1 will be launching on October 17th.
Noticeably absent from Questyle's current lineup is a small, balanced DAC/amp. The CMA800i is an incredible system (our review can be found here) but many buyers are looking for a small, balanced system that won't take up much space in an office environment; enter the new Questyle CMA600i. While there aren't many specifics available at this point, Questyle's Bruce Ball and Gary Barker told me they're targeting a $1249 price point, less than half the price of the CMA800i, while maintaining as much sound quality as possible in a budget-friendly all-in-one desktop package.
RHA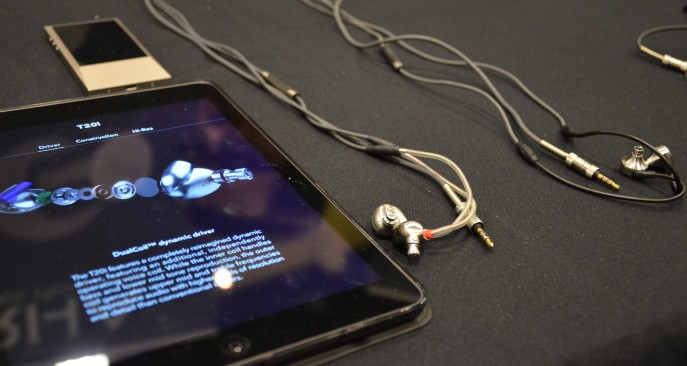 RHA are no strangers to regular CanJam attendees, and they love showing their latest creations to the community. At RMAF 2015 RHA was demoing their full line of IEMs, and they brought along the newest member of their family, the T20i. The T20i features their DualCoil(TM) dynamic driver design. The inner coil is responsible for reproducing the bass and lower mids while the outer coil handles the upper mids and treble range. The T20i utilizes an OFC cable with the RHA stainless steel reinforcements to reduce stress at key points along its length. Like its older sibling that was released last year, the T20i incorporates swappable filters, allowing customers to adjust the sound signature to fit their needs.
Iain and Emma from RHA gave me a sneak peak of a new product they'll be revealing at a future date, the DACAMPM1. This DAC/amp combo is capable of operating either balanced or single ended and features a dual DAC design. While they were unable to provide any additional details, I managed to snag a few photos and this small portable looks very inviting. As this product is still in development, the launch date and pricing are not currently available.
Rutherford Audio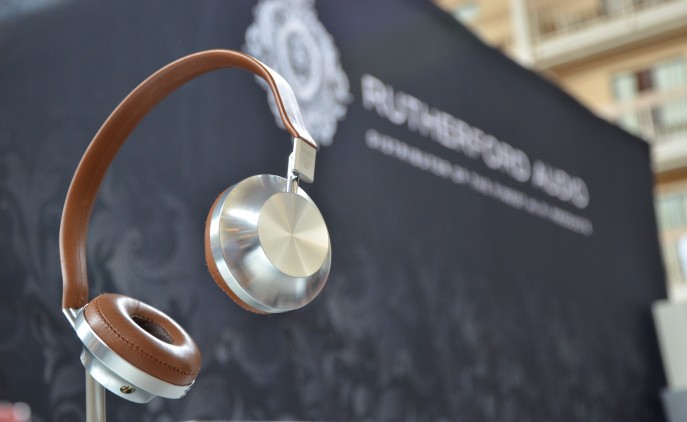 Rutherford Audio is a North American distributor of luxury European brand and they were showing the Aëdle VK-1 to attendees. The VK-1 is a Red Dot award winner known for its natural Italian lambskin leather, medical grade aluminum machined housing, and stunning design. The design is so popular in fact, that for the first year of availability, the VK-1 was featured in fashion and design magazines around the globe. It's available now for $350.
Aëdle is also planning to launch a new in-ear headphone by the end of the year. Dubbed the ODS-1, this IEM will be die-cast in an aluminum alloy. More information will be available closer to launch.
Completely unexpected was what Rutherford Audio's Robb Niemann shared next. Hafler is coming back. Robb teased a new amplifier from Hafler, the HA75. This is the first headphone amplifier to come from Hafler since the brand's relaunch in 2014. Additional details won't be released until later in the year. Rutherford Audio is anticipating a launch in late December.
Schiit Audio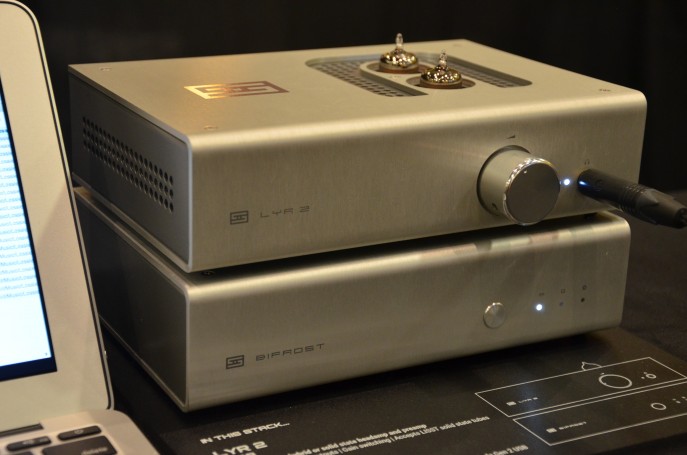 Schiit launched the Gungnir Multibit (GMB) at their Schiit Show in August and they were more than happy to let us have a listen at RMAF 2015. Making its debut along the bigger sibling, Schiit officially announced the Multibit Bifrost, a multibit upgrade to the already well-regarded Bifrost. The Bifrost Multibit (BMB) is a $599 standalone DAC using Schiit's R2R technology trickled down from their flagship Yggdrasil. It features 16 bits per channel compared to the GMB's 19 bit and Yggdrasil's 21 bit architecture. The BMB is also available as a $250 upgrade for current Bifrost owners. And if you're not interested in R2R DACs, Schiit also upgraded the DAC chip in the standard Bifrost and Gungnir models, utilizing the AK4490 chip for all new and future purchases.
Sennheiser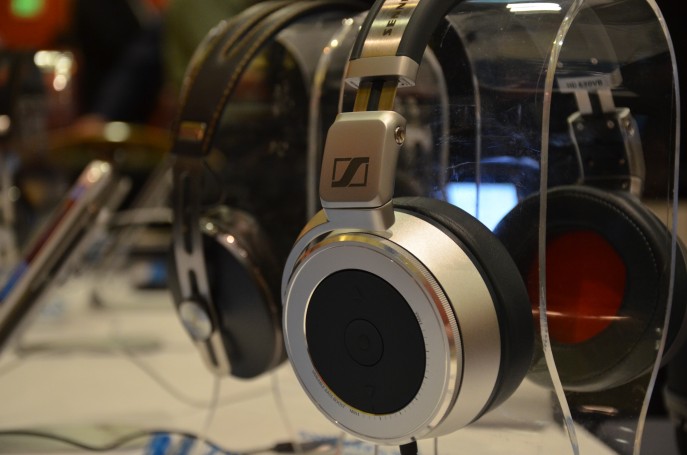 Sennheiser was at the show and brought with them the majority of their lineup. Perhaps the most notable headphone on display was the new closed-back HD 630VB. This is the Sennheiser's new flagship closed headphone and it certainly shows. Many closed headphones are intended to be used while on the go and Sennheiser made sure that the HD 630VB can be used from a high-end desktop setup or straight out of a mobile phone. There is a bass dial on the left cup that can be used to increase or decrease bass level as the listener sees fit. The HD 630VB is poised to make a splash, but it's not currently available for purchase. We'll have to wait a while longer to get one of our own. But I'm ok with a short wait, because according to Sennheiser's Scott Houston, there are some new products on the horizon and January is going to be insane."
Soekris Engineering ApS
R2R DACs have been receiving more and more attention recently, and there's no indication that the momentum is slowing. Soekris Engineering ApS brought their new R2R DAC to RMAF 2015 and it is one very impressive piece of kit. The DAC is available as a DIY kit for the more mechanically inclined, and for the rest of us, Soekris introduced a pre-made DAC/amp that's expected to launch in November. Whether you choose to buy a completed unit or build the DAC yourself, you'll find that the Soekris DAC includes 4 filters for PCM music and supports DSD playback.
The pre-built system is not much larger than a modern smartphone, yet it can put out some serious sound. It was demoed with a pair of Sennheiser HD650 headphones and they were driven with ease. The combo includes a line out and a toggle switch to go between the LO and the headphone output. This is great news for those who don't want to disconnect their headphones every time they want to switch to a pair of active desktop monitors. The pre-built combo is expected to retail for $650.
Sony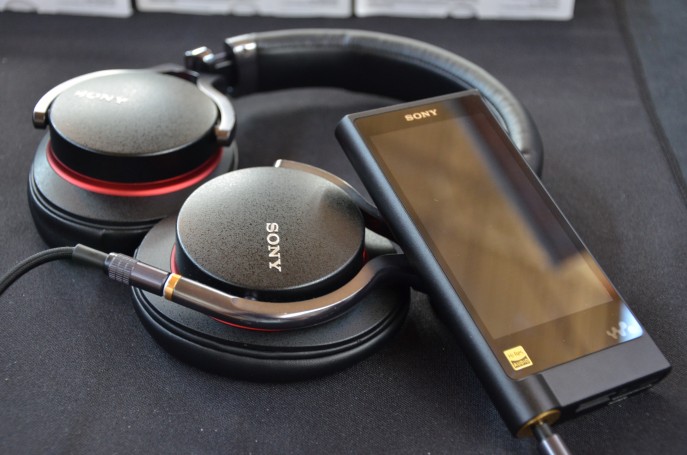 Sony had a wide variety of products available for listening at their table in the atrium at RMAF 2015. Sony's ZX2 player was on display, and Sony even sent Hirako Sato, the man responsible for voicing the DAP, to the event to answer our questions. Talking with him, it was easy to see just how much work everyone involved had put into the ZX2, and the results of their combined efforts shines brightly in the finished ZX2. Unfortunately, Sony's next DAP, the NW-ZX100HN, was not available.
Sony also has a new line of headphones coming soon, but they were not available for listening at the show. The h.ear line of headphones is designed with a high-resolution sound that will speak to audiophile audiences and an aesthetic design geared towards today's fashion-conscious consumer. The h.ear line will start at $200 when it launches later this year.
Sound Performance Labs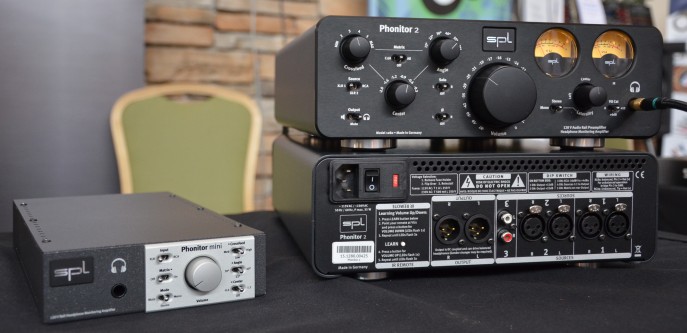 Sound Performance Labs (SPL) is known in the audio world for their extensive line of professional-grade products and they had their headphone amplifiers on-hand at RMAF 2015 for our listening pleasure. The original Phonitor was an impressive desktop amp and today its spirit lives on in the Phonitor 2 amplifier. The Phonitor 2 is a 120V rail amplifier, preamp, and monitor controller. It features an IR remote for easy control and has one of the most impressive crossover systems I've seen in a headphone amp. It's available now for $2000.
SPL realized that not everyone is able to purchase a $2k amplifier and they worked hard to bring the technology found in the Phonitor 2 to the masses in the Phonitor Mini. This $849 amplifier comes with the same 120V rail system found in the larger sibling and leaves a lot of the extra features behind. Gone are the preamp and monitor controller, the Phonitor Mini is a dedicated headphone amp. It features many of the settings found on the Phonitor 2, but the number of options available have been reduced to make the amp more compact and easier on the budget. If you're like me and always admired the full-sized Phonitor but couldn't work it into the budget, the Phonitor Mini should be quite alluring.
Torque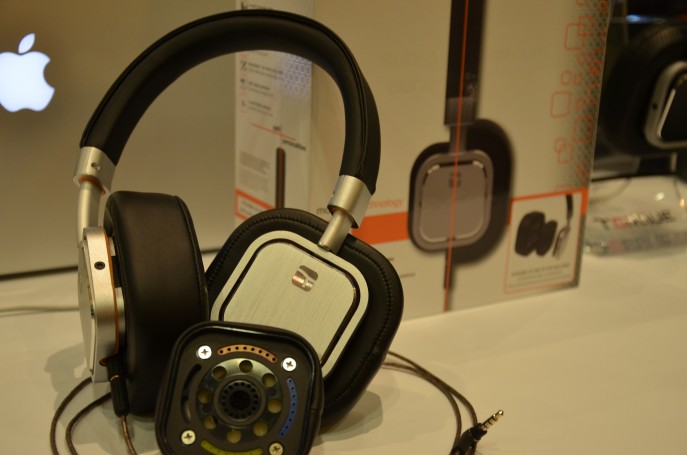 Many young companies turn to Kickstarter to help launch their brand and one of the success stories to forge its way through the crowdfunding giant is Torque. Torque was more than happy to let attendees listen to their innovative T402v headphone system. The T402v features a swappable pad design, but it's more than just a simple swap. Both sets of pads offer 4 different levels of bass adjustment and you can change between them simply by rotating the pads 90 degrees. One set of pads is built for on-ear use while the other flavor is an over-ear design. The two types of pads impart different sound characteristics, giving a choice of 8 different tonalities to the listener. The T402v will be available starting the first week of November for $399. In addition to the T402v, Torque was showing their T096z in-ear monitor. The T096z features a swappable filter design, providing 6 different sound signatures that can be swapped in moments. The T096z is available now for $329.
Yasu Yamamoto, one of the Torque's co-founders, was at the show and he showed me a prototype for one of their future products. Based on the feedback they've received on the T402v, Torque realized they needed a product that would better serve the audiophile market. Yasu set to work on a new design that could deliver a sound signature the more critical listeners would enjoy. While still in development, the prototype I listened to at the show held great promise for the end product and I'm excited to see how they're received once available. The new design utilizes the same base system as the T402v, which is great news for those who pick up a set of the adaptable headphone. The refined model relies on new pads and a different cable rather than a complete redesign, allowing those who purchase the T402v to upgrade with a simple accessory purchase from Torque's website. No pricing or release information was available.
Ultimate Ears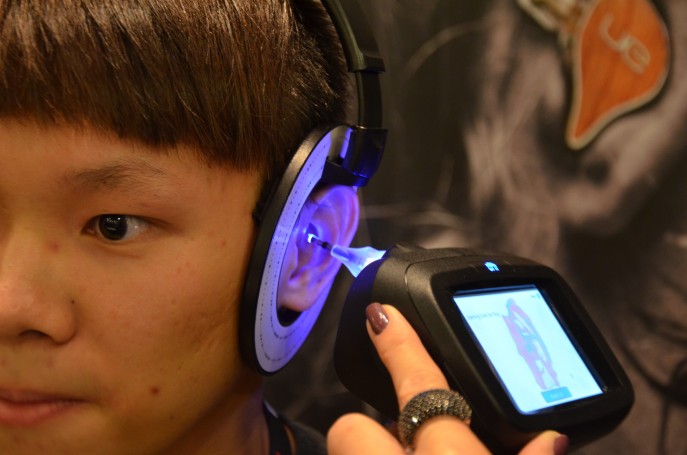 Ultimate Ears was on hand and showing off their 3D scanning system, part of their partnership with United Sciences. I was talking with UE's VP of Sales Mike Dias, and he informed me about how the scans take 2-3 minutes per ear to get a complete impression of the ear. These scans capture so much detail in the ear that each file takes up roughly 30GB of data. To put that into perspective, you could fit approximately 7,500 compressed MP3s in the same amount of space. All scans are accurate to within 200 microns, so you can be sure that you'll have an exceptional fit when your new CIEM arrives.
While talking with Jeanette Coffey, UE's Arts Relations and Channel Manager, I learned that UE and United Sciences expect to have 50 scanners in use globally by the end of the year. She told me that with practice it was possible to get impression time down to 90 seconds per ear. And perhaps the best aspect of the new system is that individual dealers can earn their certification to use the scanner, releasing buyers from the hunt to find an audiologist for their impressions. Buyers who have their CIEMs created from the custom scans can expect the same turnaround time from UE as those who use traditional means. This doesn't make the process any faster for music lovers, but it certainly makes it more accurate, and that makes all the difference.
Unique Melody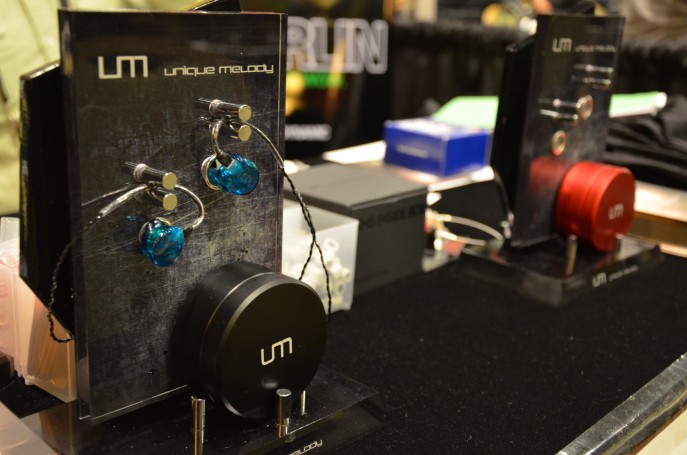 If you've ever considered purchasing a custom IEM then there's no doubt you've come across the name Unique Melody. For years the China-based company was one of the first names recommended to potential buyers and they're showing no sign of slowing down. UM had their full lineup of monitors on display for demo and as someone who has never had the opportunity to hear them before, I'm incredibly grateful that they made the trip to RMAF 2015. I spent a few minutes listening to UM's Mentor and Maestro models and I was impressed by my brief demo.
V-MODA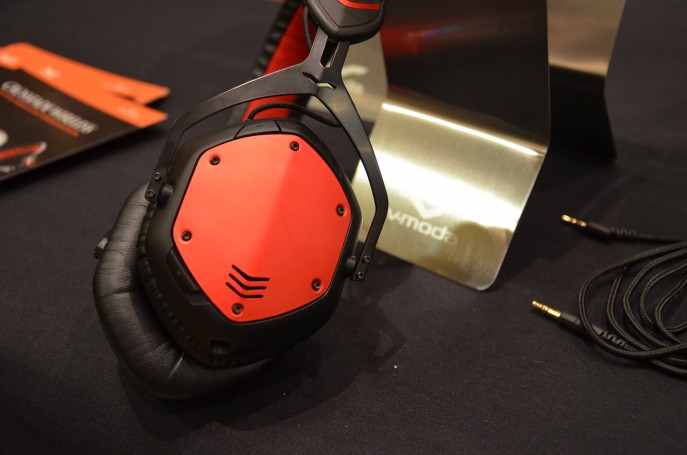 V-MODA is certainly a brand that needs no introduction, known best for their M100 over-ear and XS on-ear headphones. They recently announced the V-MODA Crossfade Wireless bluetooth headphone and it was on display at RMAF 2015 for attendees to demo. The Crossfade Wireless features passive noise isolation to block out many of the unwanted sounds that listeners encounter on a daily basis. It has a quick charging system that provides 3 hours of use on a 30 minute charge, and will only require 3 hours to fully recharge from empty. It's available now for $300.
Another new additional to the V-MODA family is their new IEM, dubbed the Zn (zinc). The Zn comes in 2 flavors, one with a 3 button remote for iOS users and another with a single button remote that's compatible with Android devices. It has a tangle free cable that utilizes the same kevlar reinforcement found on other V-MODA cables for a strong, durable design. The Zn will be available in November for $179.
Westone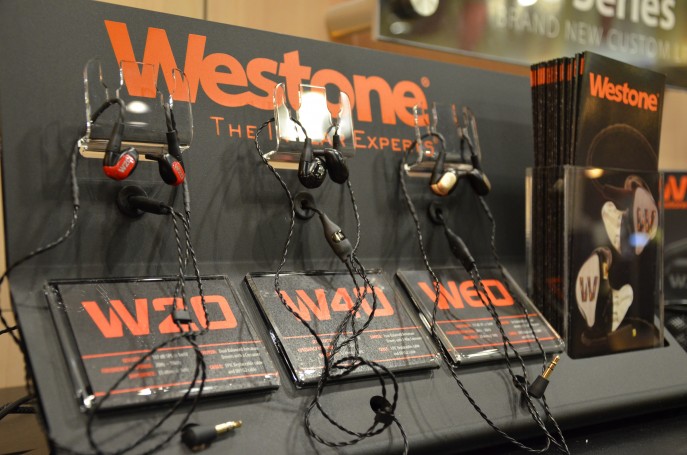 Westone was more than happy to show their full line of IEMs designed for music lovers. Westone is one of the more established manufacturers in the business with 50 years of experience under their belts. What started out as a humble hearing aid business has evolved into one of the most recognized names in IEMs worldwide. They offer both universal designs and custom builds for those who want a personalized pair of monitors. Prices start at $199 with the single driver W10.
Wireworld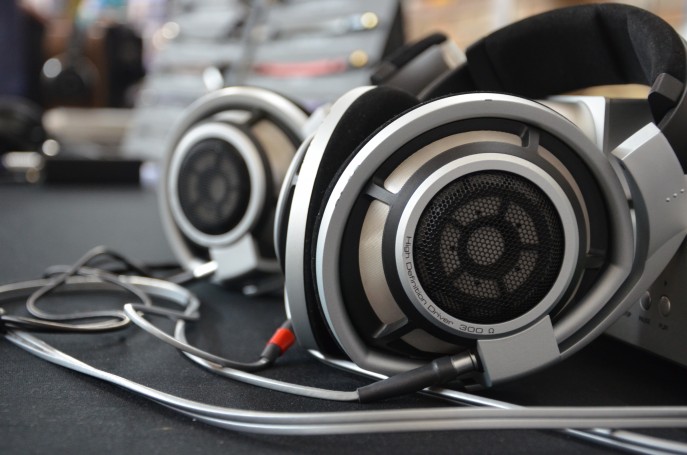 Wireworld Cables was at RMAF 2015 with a selection of their headphone cables available for listening. At their table they had 2 pairs of Sennheiser HD380 connected to a Pono Player. The first HD380 had the stock Sennheiser cable, the second had Wireworld's Pulse headphone cable. Listeners were able to compare the two side-by-side listening to the same source. The Pulse cables are made with oxygen-free copper in a DNA Helix design with a purple sleeving. Prices vary based on options, starting at $88.
Next to their Pono setup, Wireworld was showing an HD800 with their top of the line Nano-Platinum Eclipse 7 cable against an HD800 with a stock Sennheiser cable. This cable is made with and OCC solid silver conductor in a DNA Helix design and comes in a silver sleeve. Prices start at $450 based on options.
Woo Audio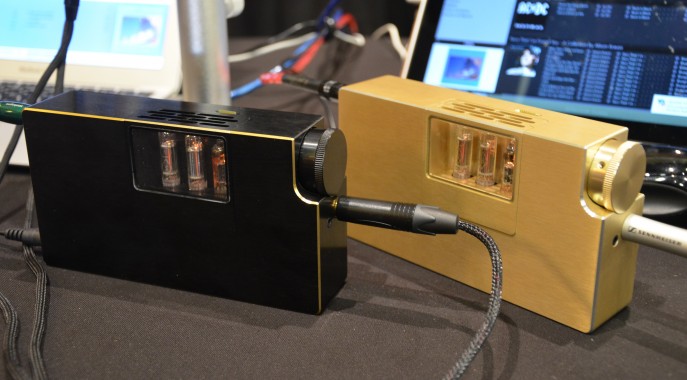 The WA8 transportable DAC/amp is the next product to be released from Woo Audio's labs, and at RMAF 2015 we were given the opportunity to hear its final production voicing. Until recently Woo Audio was hunting for the best DAC they could find and incorporating it into the portable tube amp. When the WA8 launches, it will bring with it the much-revered ESS9018 mobile chip that can be found in many high-end portables in today's market. Buyers can expect a 4 hour battery life from the 3 lb system, leading to the conclusion that this device is meant to travel, but it isn't meant to be a mobile setup.
There were 2 finishes on display at the show, one in a lovely deep black and the other finished in gold. Those who are not a fan of black or gold fear not, as there will be a third color, silver, available at launch. Mike Liang of Woo Audio shared that they're targeting December for the launch and the current estimate is that it will retail at $1,800. Black and silver will be available at launch, while gold will follow shortly thereafter. I spent a few minutes giving the WA8 prototypes a listen, and if the end product sounds the same then our readers will be in for a treat.