I had read about Berning electronics in the Audiophile Press many years ago, but I hadn't ever heard one. Some Head Fi.org members raved about it, so when Mark Schneider of Linear Tube Audio gave me the opportunity to review it I jumped at it. I read the technical description of the Berning innovation for this amp, but I'm not knowledgeable enough to explain (or quite understand them). From what I understand, in one sentence, output transformer-less amps remove distortions caused by the output transformer but are difficult to keep stable and have inherent impedance problems, and ZOTL technology solves the OTL issues by riding the signal on radio waves. Linear Tube Audio Site for more detail…you're welcome to explain it to me (thankfully, I don't have to understand it to appreciate the sound).http://www.lineartubeaudio.com/about/.
So, hoping you all got that (there WILL be a quiz at the end…)
Let's get to the review: Music used…
Grateful Dead-Box of Rain (American Beauty 24/96 download)…because it's an old Deadhead must).
All Time Low-Somewhere In Neverland (Don't Panic FLAC from CD…because it's fun, and actually not a great recording, but I find good gear can extract bass and detail out of it-and, it shows that I'm not a snob and can do punk-pop with the young 'uns)
Dave Douglas-Bridge to Nowhere (Time Travel ALAC from CD…great trumpeter/composer/bandleader, nicely recorded)
Elton John-Funeral For a Friend/Love Lies Bleeding (Goodbye Yellow Brick Road 40th Anniversary Edition, 24/96 download)
Lake Street Dive-Bad Self Portraits (Bad Self Portraits-14/44 FLAC)
Microscopic Septet-Hang It On a Line (Manhattan Moonrise, 16/44 FLAC CD rip…the funnest jazz group, played and recorded mostly in the 80's and 90's, recently reunited. This is a fine album, but Seven Men in Neckties (Best of the Microscopic Septet V1) and Surrealistic Swing (Best…V2) are essential and fun listening. Listen to Popadoc Jazz…)
Eagles-Hotel California (Hotel California 24/96 download)…all those guitars! All that detail! Those harmonies! That creepy lyric!
Henry Butler-Steve Bernstein and the Hot 9-Dixie Walker (16/44 WAV download included with the vinyl). (New Orleans jazz, R&B, fabulous singing and playing from this little big band, great sonics, INCLUDES WAV with the vinyl).
Laura Cantrell-I Can't Wait (No Way There From Here, 16/44 rip from CD, because she's too sweet to omit).Fountains Of Wayne-Someone to Love (Traffic and Weather, 16/44 ALAC rip, because I love these guys, and at this point, couldn't stop)
Ella Fitzgerald/Louis Armstrong-They Can't Take That Away From Me (Ella and Louis, 24/96 High resolution download, because there is very little more sublime than these voices, singly and together. As a Mono, could focus on things other than soundstage. Plus, this was the album that, when I first got the ZOTL and the HE-1000, I played for my wife, and, for a short time, she thought I wasn't QUITE as crazy as she'd previously thought, MAYBE even a worthwhile expenditure…NAH!).
Alvin Baptiste-Late (Late, 16/44 CD FLAC rip-Because I have to pull out artists and albums you don't know to show I'm hip)
Lorde-Royals (Heroine 24/96 download) (getting' down with the commoners again)
Wayne Shorter-Witch Hunt (Speak No Evil, 24/96 FLAC download)
Gear used- mostly listened through my Hifiman HE-1000 (because I mostly listen through my HE-1000…what a revealing yet musical set of cans). I started with my Pono line out into the amp, then switched to my PC/JRiver/LH Labs 2G usb cable/Regen/Geek Out Special Edition. The Hifiman has a Norne Zoetic cable with various adapter cables (balanced into Pono, balanced, single ended). I used Zu and Audioquest interconnects. For comparison I used the Ray Samuels HR-2, previously my go to amp (lists for $875, a bit less than the ZOTL), for comparison.
Physically, the unit is attractive but not physically imposing. On the front panel, there is the power switch (lights up red when it is on), an input selector switch which allows 2 different sources via RCA connectors, a volume pot in the center, and a 3.5 mm headphone jack, which locks on connecting the headphones. The volume pot feels secure, turns smoothly, and feels solidly built. On the back, there are 2 sets of RCA inputs, 2 sets of speaker posts, a preamp out, and an input for the power source. The power supply is a separate unit, with a detachable power cord and an umbilicus to the amp, described as a high quality switching power supply (I'm told the original ZOTL didn't have a separate supply).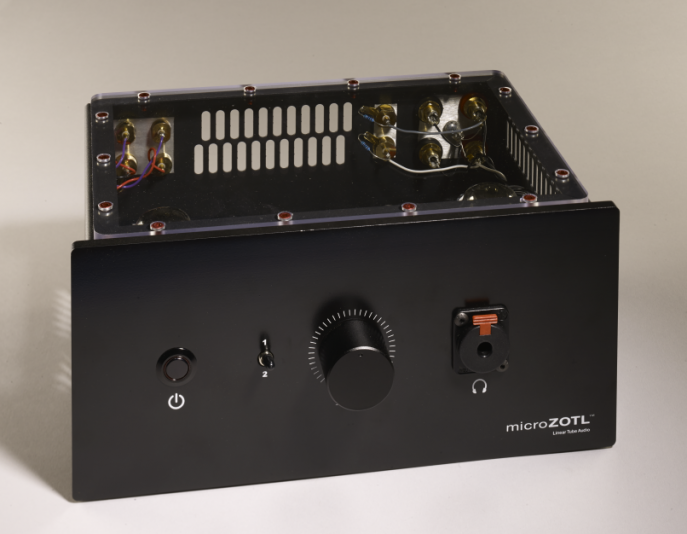 The sides and back are fenestrated metal for venting heat, and the faceplate is made of thicker metal, with MicroZOTL written in the lower right corner. The front faceplate feels solid, the sides less so, and my model requires all the hex screws be in for the walls to be stable (this was changed in later releases). The top is clear plastic, allowing viewing of the internal electronics, and, especially, the glowing tubes. I'd say it is understated but attractive.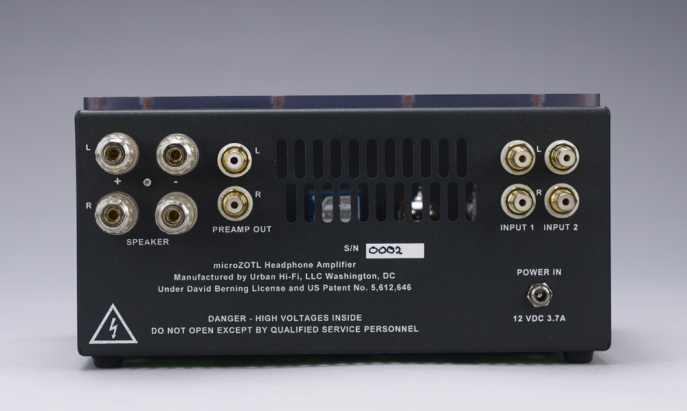 Aerial view of ZOTL, with tube showing through the clear plastic top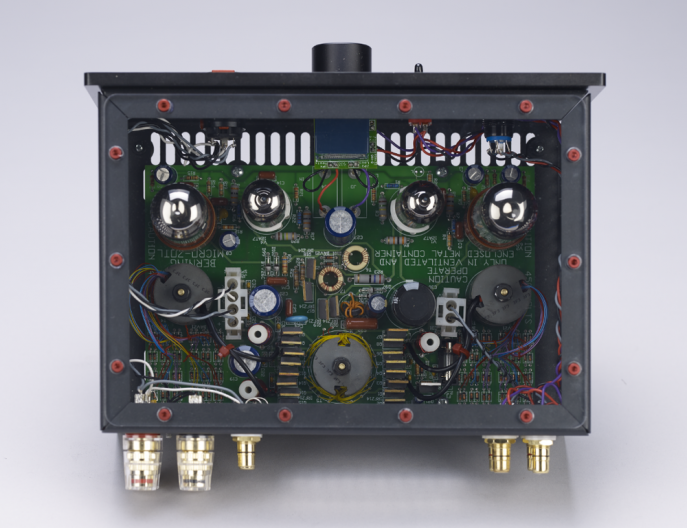 I reviewed my sonic impressions in my notes, taken listening to all the above tracks, and a few words keep jumping out at me: open, wide, detailed, silent, textured. Now, let me say at the outset, this is a major step up in sound from the $100 dollar portable amps or built in phone amps out there.
Highs:
They shimmer, allowing details of cymbals to be clearly heard, revealing textures that come with different touches on a ride cymbal. This also creates a very wide, open soundstage, with great width and depth. Listen to Herman Jackson's drums on Alvin Baptiste's "Late" and you hear the snap of the stick hitting the cymbal, the different sonority depending on where and how on the cymbal it is hit, and realistic cymbal decay. All Time Low's "Somewhere In Neverland", the cymbals, which are a congealed hiss on lesser systems, are clear, distinct, sharp, and sound like cymbals should. Compared to my Ray Samuels HR-2, the highs are both more pronounced and less edgy.
Midrange:
These are beautiful…rich, detailed, ZOTL gets the nuances of voices and instruments WITHOUT being overly syrupy or thick. Ella and Louis singing "They Can't Take That Away From Me" is one of the most breathtaking musical experiences. When Ella hands the vocal to Louis, and he scats "Ba Ba Dee Boop De Doot Dee Doot" time stands still-the ZOTL/HEK captures this. His trumpet, Baptiste's clarinet, Dave Douglas' horn, Ella's distinct pipes, lead and harmony are in the room with you. Tone is rich and nuanced, instruments have a 3D solidity.
Bass:
Bass is deep, forceful, tuneful, and rhythmic. Bass and drums have bite, depth, and body. I often play All Time Low's "Somewhere In Neverland" …this is really poorly recorded, they were looking for a "wall of sound", and things just congeal, with smeared arpeggios, muddy, one note bass guitar (my teen daughter, an ATL fanatic, didn't realize what a bass guitar does as a result). Better gear helps me hear what the band actually laid down in the studio. The RSA and the ZOTL are pretty close here, but bass has a bit more definition, edge, note definition out of the ZOTL. Lorde's "Royals" also gave a slight edge in depth and definition to the ZOTL, but it's almost too close to call. The Microscopic Septet's "Hang It" ends on a riff based on Hendrix's "Hey Joe" bass line. Through the RSA there is a smidgen of more impact, but through the ZOTL the bass sounds more like a real bass in space (that should be NASA's next project…) Which leads me to…
Soundstage:
Here is where the ZOTL shines. The soundstage is wide and deep, open, and sounds like real space. The RSA is closed in by comparison (though I never noted it when that was my primary amp). The difference is not subtle. The ZOTL is open, clear, clean, like a solid state amp BUT it removes a solid state haze you don't notice until it's gone. Instruments and open space sounds more real, more THERE. In some ways, the RSA is more like a tube amp than the ZOTL…it adds some richness to the tone, but at the expense of a (small) bit of detail, and a (larger) amount of the sound of a that space. Detailing on the ZOTL is very precise, but without the exaggerated edge that would make it hyper-real. The micro details are there, but they don't thrust themselves at you in a way that detracts from the main event. There is a good amount of "air" around instruments. I put on my hi rez download of Wayne Shorter's classic, "Witch Hunt", at first it seemed a close, but as I went back and forth between the amps, the wider stage of the Zotl, the lack of any haze in the "performance space", the realistic blackness of that space, along with a slight increase of detail in texture of the sax and trumpet, favored the ZOTL.
I could've easily stopped at this point, but I was having fun listening to good music with the HE-1000 and the ZOTL/RSA amps, taking notes, and feeding my inner geek. So, to take things up a notch, I went to the best source I have in the house-Linn LP12 turntable (Ittok arm, Lyra Delos cartridge, Pro-Ject Tube Box S phono preamp, sitting on Machina Dynamica Nimbus isolation table).I pulled out some vinyl (and pulled, and pulled, and pulled some more…).
Lake Street Dive-Bad Self Portraits (from the same album, because I have it both ways, for comparison, and I like this Brooklyn Band)
Cecil Taylor-Jumpin' Pumpkins (Mosaic Box, because it is different from what I played up to now, from a master of the free jazz movement, and another sign of my ultimate cool and eclectic taste.
Neil Young-Heart of Gold (Harvest-ORS Neil Young Archives 4 reissue, because he's an audiophile)
Schubert Symphony #9 (London Blueback CS6061, classic, 60's recordings, on the audiophile hit list) (to bring some class to da joint,,,)
Cheap Trick-I Want You To Want Me (In Color, Epic 34884, because I love this song)
Thad Jones/Mel Lewis Orchestra (The Complete Solid State Recordings of the Thad Jones/Mel Lewis Orchestra, Mosaic MQ7-151, a live recording by a fabulous big band, in the venerable Village Vanguard)
Well, the differences are similar to what I noted listening to digital, though, on good vinyl, the differences between the amps widened. I particularly noted this on the Thad Jones/Mel Lewis Mosaic, the Cecil Taylor Mosaic, and the London Blueback, where the ZOTL was able to pull away from the HR-2. On the Cecil Taylor, the stage collapses noticeably, and that "solid state haze" is there with the HR-2, absent with the ZOTL, with a cleaner, see through "liveness". Neil Young had more of an up-front perspective on the RSA, a flatter, narrower stage; on the ZOTL he's there, clear, sharp (but not edgy). The RSA again dulls the sound. The London Blueback through the ZOTL has richer string tones, horns and winds have some meat on them, layering is exemplary, and, again, going to the RSA narrows and shortens the depth of the stage, and puts that "haze" between the listener and the music.
The live set on the Thad Jones/Mel Lewis Mosaic has a "you are there" quality with the ZOTL (great solos by Garnet Brown on trombone and Joe Farrel on tenor sax), and the ZOTL again shines, horn sections are punchy, separate lines are easily distinguished, and instrumental timbres shine through, along with that toe tapping rhythm.
Again, the HR-2 is actually a fine sounding amp…I didn't appreciate the Hifiman HE-560 or the Sennheiser 650 until I heard them out of the RSA amp. But, the ZOTL definitely shows more of what the music is made of. Its openness, lack of electronic overlay, wide stage, 3D layering of instruments and fleshing out of individual instruments and voices, rendering subtle textures without artificial sweetener, make it great to listen to. It does have speaker taps for driving very efficient speakers, but I didn't have any on hand to evaluate this. And, did I mention that the ZOTL and the HE-1000 are a terrific match.
.
Late breaking news:
First, Head Fi has many tube rollers, who have tried different 12AT7's and 6SN7 tubes. I'm certainly no expert in this, but I tried and liked the Siemens E81CC 12AT7 and the Hytron 6SN7GT, which smooths and opens things even further. I'm sure there are many who have more knowledge in this than I do, but it's fun to explore.
Final Thoughts:
The lightweight switching power supply was upgradeable and folks substituted various LPS units. LTA just released it's own LPS, while the stock ZOTL is fine sounding, adding the LTA LPS does improve things. I put on the Henry Butler/Steven Bernstein track again…the switching supply sounds fine, but the LPS tightens and deepens the bass, and the stage becomes bit more open, deep, and clean. Perspective drops back a few rows. A barely perceptible edge is tamed with the LPS. All Time Low became even clearer, the stage deepened and instruments got more defined, with deeper bass and convincing cymbals. The Micros had similar improvements in bass, sound stage, and the removal of a fine grit/haze, which I hadn't noted with the switching supply but its absence is notable with the LPS. Ditto for Fountains of Wayne, with a more close up perspective with the switching supply, and the tighter, deeper bass, wider soundstage, and decreased grain, bequeathing a smoother, more organic presentation.
So, while this is certainly not an inexpensive amp, I believe it does deliver good value, being a really fine sounding headphone amp in an attractive package. T If you're in the market for an amp in this price range or higher, I'd recommend trying out the ZOTL2. Now, I don't want to overstate the changes…I Love the stock ZOTL, and I'd rank the LPS upgrade as equivalent to a good cable swap.The MicroZOTL 2 sells for $1,100 with the stock switching power supply (only available from LTA). The LPS is $599, but for owners of the ZOTL it is $200 less. I purchased it, and am happy with the improvements, though I think you'll be fine with the stock as well if you want to save some bucks.