So being a long time tube guy, I always thought that one big advantage that a tube-based amplifiers offered was the ability to roll in different vacuum tubes to tune the amplifier to your specific needs. Solid state amplifiers are typically "stuck" here and God forbid, one looks to equalization to tune the sound; an audiophile no-no for many. Well, it appears that the folks at Burson Audio have come up with an amplifier that completely smashes that pre-conceived notion. Instead of tube rolling, the new Burson Lycan allows the user to roll op-amp to their heart's content. The output is still basically the same: an amplifier that allows the user to best "tune" their amplifier for their personal needs via changing out the opamp(s). The design aesthetics are very much like what you would expect from a test bench in a design application (thus the name "Op-amp Test Bench / Headphone Amplifier / Preamplifier); so to say it is a new take is certainly an understatement. It is quite small and doesn't take up much desk space at all (15cm x 9cm x 5 cm). Developed by the well-renowned Australian company Burson Audio ( of the Burson Soloist and Conductor fame), the Lycan is actually manufactured in southern California. But don't let the small size fool you, the amplifier can output up to 2.2W into 16 ohms; more than enough for most of your headphone needs.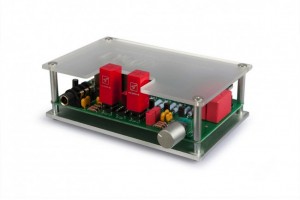 I have to say that I was taken aback when I first opened up the Lycan from the box. I knew what to expect from the photos, but I suppose I didn't really fully anticipate that I was getting an op-amp test bench…and there it was…in its stark and minimalist design. It took some time to grow on me, but of all the gear that I've had in my rack over the years, none have inspired so many questions from friends and family as this product! No, I was not building a bomb remote; nor was I taking an existing amplifier apart – "it is supposed to be that way" was my answer. After a while, I got to really appreciate the Lycan for what it is…a rather powerful, yet small headphone amplifier that sounded great and offered me the ability to roll opamps to find my own particular sweet spot. The unit's price ranges from $249 – $299 depending on the types of opamps selected (NE5532 Opamp, 1x V5 Dual SS Opamp, or 2x V5 Single SS Opamp). The specifications for the Lycan are listed as:
| | | | |
| --- | --- | --- | --- |
| Measurement | | Package Content | |
| Input impedance: | 33 KOhms | 1 x Lycan Headphone amp / Pre-Amp | |
| Frequency response: | ± 1 dB 0 – 55Khz | 1 x Power cable | |
| THD: | <0.03% | 1 x 24VDC Power Supply (60W) | |
| Input impedance: | >8K Ohm @ 1W | | |
| Output impedance (Headphone Amp): | 3 Ohm | General | |
| Output impedance (Line Level): | 30 Ohm | Weight: Approximately 1kg | app. 1 kg |
| Inputs: | 1 x RCA line level input | Dimensions: 15cm x 9cm x 5cm | 150mm x 90mm x 50mm |
| Outputs: | 1 x RCA Pre Amp, 1 x Headphone Jack | | |
| | | | |
| Impedance (Headphone Jack) | Power | Signal to Noise Ratio | Seperation |
| 16 Ohm | 2.2W | 90db | 99% |
| 32 Ohm | 1.5W | 90db | 99% |
| 100 Ohm | 0.6W | 93db | 99% |
| 150 Ohm | 0.4W | 93db | 99% |
| 300 Ohm | 0.2W | 90db | 99.5% |
That is plenty of power to drive all of the headphones I have on hand to ear-splitting levels. From the very efficient Hifiman Edition X right up to my 600 ohm Generation 2 T1 headphones and power hungry Hifiman HE-1000s and Audeze LCD-4s. Not bad for such a compact and well-priced amplifier!
For the purposes of this review, I used both my portable Astell & Kern AK240SS DAP and desktop Chord Hugo TT as sources to feed the Lycan. The headphones that I used ranged from the Oppo PM-3 closed-back headphones, Hifiman Edition X open-backed headphones and the very revealing (and difficult to drive properly) Sennheiser HD800s. Music ranged from CDs, to high resolution DSD files and Tidal on-line streaming (in lossless mode).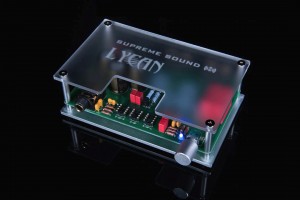 First up were my Oppo PM-3 headphones. I absolutely love these headphones and they are the most neutral pair of closed-back headphones I've come across. They aren't the hardest headphones to drive to loud levels, but can be quite revealing of upstream amplification and sources. Speaking of sources, for the most part of this review, I used my Chord Electronics Hugo TT with unbalanced outputs to feed the Burson Lycan. I realize that this is somewhat overkill for a $299 amplifier, but it's what I have on hand and it certainly gets ALL the details in a recording. So should some of those details in my favourite "go to" recordings get lost or glossed over I would be more in tune to notice them. I purposely selected a classical favourite of mine: a high resolution 192kps version of Mahler's First Symphony. I've listened to this particular recording many, many times and have come to know its most inner workings. The PM-3s being very neutral and tactile headphones were perfect for my initial listening sessions. Immediately I was struck by the musical nature of the Lycan. The Oppo PM-3s can come off a bit clinical at times, but the Lycan offered almost a tube-like presentation hand really drew me into the music. While the PM-3s sound great right out of my iPhone or iPad Air, the added tactility and resolution from the Lycan was a very much welcomed addition.
The Lycan offered better control and instrumental separation than most budget amplifiers and still was very inviting and never came off as dry. Knowing that there were other opamps that could be rolled into the Lycan, the similarities to a tube amplifier were certainly there for me. The one supplied for me for the purposes of this review offered a warm and romantic sound, but still not syrupy nor slow. The ability to roll in many different types of opamps is very much an added benefit of this amplifier and if I owned this amplifier, I'm sure I'd have at least a half a dozen different ones to roll in to see what worked with which headphones and which musical genres. The Lycan is a nicely spacious sounding amplifier and worked very well with the PM-3s and this favorite classical recording of mine. The tone and timbre of the instruments was bang on and the instrumental separation again was also very good; especially considering the entry-level price point of the Lycan. What really impressed me was the Lycan's ability to portray a realistic sound stage and keep the individual players from being blurred together. It offered outstanding price-to-performance value and after my first session with it, I was very excited to come back for more with some of my more "demanding" headphones.
Next up, I selected the newly released Hifiman Edition X headphones. These headphones, like the Oppo PM-3s, are planar magnetic based and meant primarily for on-the-go use. The main difference structurally is that the Edition X headphones are open-backed and come in at a much heftier price tag ($399 for the PM-3s and $1799 for the Edition Xs). But as revealing as the PM-3 headphones are, the Edition X headphones take this to a whole new plain of existence. Throw in truly world class performance and the ability to pick out the smallest details in a recording, I wanted to see just how the Lycan would (or could) keep up. Overall the performance of the Lycan and the Hifiman Edition X headphones was very admirable! I typically pair these headphones with my Astell & Kern AK240SS player ($2999US) and was concerned that the Lycan would mask many of the benefits of this very excellent portable DAP. Listening to Andrea Bocelli's "Cinema" with this combination did not disappoint! I used my AK240SS as a source to feed the Lycan in order to take that portion out of the comparison and the Lycan was able to give me what I had hoped for: a wonderfully rich and tactile performance that had me engrossed in Andrea's performance.
The vocals were simply stupendously good and I had to continually remind myself that this was only a $300 amplifier. Now it did blur the lines slightly when compared to what I was used to (but that's on gear costing in the several thousands of dollars), I don't want to give the impression that the Lycan can work miracles, but for those on a budget, this is one hell of an option. The bass was very rich and detailed. It did linger a bit longer than what I was used to, but it was never slow; nor overhearing. As I mentioned the mids were wonderful. This is the frequency region where most of the recording lies and the Lycan hit the nail on the peverbial head. The highs were softened a bit as the supplied opamp seemed to be tuned in to this sound signature. But I'm fairly certain another opamp could change this by a good margin should that be the sound you're looking for. As mentioned, the Lycan is very much like a solid state tube amplifier in that manner.

Finally, I selected my Sennheiser flagship HD800 headphones. These headphones can be an enigma and don't pair well with many amplifiers as they can be extremely picky of the amplification provided used to drive them; kind of like my seven year old son at the dinner table choosing his main course. But as luck would have it, the romantic sounding opamp that was supplied worked quite nicely with these headphones. The overall presentation with A Perfect Circle's "Emotive" drew me in and it wasn't until the third of fourth song that it really sunk in; I didn't need to spend several thousands of dollars to enjoy these headphones. In fact, the presentation was quite synergistic and in the end very satisfying. I preferred this pairing to the JDS Labs Objective2 (a popular budget/entry level amplifier used by the personal audio community) which can make the HD800s sound a bit thin and clinical. The sound staging of the Lycan was more on par with amplifiers in the $400-500 range and the control of the HD800's drivers was noticed almost right away. Vocals again were up front and liquid and very pleasing…I didn't once wish to add any EQ to bring them up forward. The bass performance was also quite good. Not Burson Soloist good; but that comparison isn't fair as the Soloist is more than 3X more (and is one of my favourite recommendations for a solid state amplifier in the $1000 price range). But the Lycan did offer a very pleasing and enjoyable experience with the HD800s. Again showing that you don't need to break the bank to get the HD800s to sound really good. But to get them to sound their best, you're still going to have to look at a significant investment.
Overall the Lycan is quite an interesting product. Obviously, the folks at Burson did not spend a lot of money on the casework. It is the most unique looking headphone amplifier I've seen; no doubts about that. But the ability to also use it as a test bench to trial various opamps is also intriguing and if you're a tinkerer, the Lycan might be right up your alley. Considering the low price point and its high return on performance, I was very impressed with Burson's Lycan and recommend it to anyone looking for a solid-state amplifier that behaves more like a tube based one.