Wolfson may not be a household name, but it is well known among audiophiles as a designer of high performance DAC chipsets. They have now set their extensive technical and audio expertise to the development of myZoneTM Digital Ambient Noise Cancellation (ANC) which they have employed in a new line of Active Noise Cancelling IEMs under the name Digital Silence. There are two models; the DS-102A Stereo Ambient Noise Cancellation Headset for use with SkypeTM and the more refined DS-321D Digital In-ear Noise Cancelling Stereo Headphones.
The DS-102A comes with an adaptor for use with computer sound cards and laptops (splitting the microphone and speaker connections), a smartphone headphone jack extender, a velvet carrying bag, three sizes silicone tips and a USB recharging cable. It offers 30 hours of Ambient Noise Cancellation to the tune of 20dB from 70Hz to 1.5kHz, with a peak ANC of 30dB.
In contrast, the DS-321D comes with a smart little leatherette zipper case, a smartphone headphone jack extender, three sizes silicone tips and a USB recharging cable, offering 14 hours of playback with 20dB ANC from 150Hz to 2kHz with a peak of 27dB ANC. While the DS-102A uses a plastic housing for its ANC unit, the ANC unit for the DS-321D is a tad smaller and made of metal.
Both models come in either Black or White.
For testing noise cancelling I use my Swamp Cooler system, which produces about 50dB of white noise through its single exhaust vent. The natural isolation of the IEM along with the active noise cancellation completely blanked this out, even when standing next to the vent. So I decided to up the game by playing the sounds of a 757 take off over my computer speaker system at about 100dB and the results were astonishing. While the high frequency whine of the turbine is above the range of the ANC and nothing will block noise physically conducted via vibration, the noise reduction provided by the myZone system is impressive.
One unusual fact was that the volume dropped about a decibel when the ANC was activated. This was in direct opposition to my experience with other active noise cancelling headphones. On the other hand, other than the slight drop in volume (and the drop in background noise), I could perceive no audible change in sound with the ANC engaged.
Though I didn't go through the paces of setting up Skype on my computer, I did use the DS-321D to take a few phone calls during my listening tests and it worked well for this purpose.
I began my listening test with the DS-321D and the Questyle Audio QP1. Listening to "Black Magic Woman / Gypsy Queen" (Santana Abraxas DSD) the bass was warm and lush while the highs were crisp and clear. The soundstage was a bit close and personal. This was further supported by playing Seu Jorge's cover of "Life on Mars" (The Life Aquatic 16/44.1 kHz).
That warmth and richness carried over to the midrange as evidenced by Simon Lee's performance of "Think of Me" (The Phantom of the Opera – Original Motion Picture Soundtrack DSD). While the orchestra was a little congested, the vocals were sweet and intimate.
These characteristics better served "Marlene on the Wall" (Suzanna Vega 16/44.1 kHz), Suzanna Vega's voice rendered musical against a backdrop of ringing acoustic guitar and deep bass guitar.
Since the Digital Silence IEMs were obviously meant for use with smartphones I switched to my Samsung Galaxy Light. The aspects that made the DS-321D seem colored on higher resolution sources proved to be of benefit on a smartphone. Regina Spektor's "Older and Taller" (Napster streaming) had a much larger soundstage than similar songs on the QP1, the bass boost compensating well for the thinness of the phones Codec based output.
Modern recordings fared better than 80's pop like New Order's "State Of The Nation" which was noticeably bright. Though, well recorded music was a pleasure to listen to as was evident listening to "Passing Cloud" by Kayak.
Well recorded analog masters like Jethro Tull's "Living in the Past" were presented spritely with fairly tight bass despite having undergone digital compression, as was "Tom Sawyer" by Rush, the byplay of percussion and bass energetic and full.
While these are not units you would use on a high end desktop system (if you spend several thousand dollars in electronics to listen to fifty dollar headphones then something is wrong), I did so just for completeness sake. What I found is that the DS-321D really benefited from the treatment tubes gave it, taming the high frequencies and taking full advantage of the Wolfson's excellent mid range.
Which brings us to the DS-102A. The DS-102A was specifically voiced for use with Skype and received certification from Skype for crystal clear audio quality. To test this I made several calls using the DS-102A on my cell phone. The tone was clear and natural very reminiscent of the old Stromberg Carlson (land line) phones, even the ring on the other end sounded old school. Unfortunately, that sound profile is not necessarily optimal for music. In comparison to the DS-321D the sound was thin and bright, but that being said, it was certainly in keeping with other offerings in its price range that don't offer active noise cancelling.
In conclusion, for its designed purpose, I don't think you will find a better offering than the Digital Silence the DS-102A Stereo Ambient Noise Cancellation Headset for use with SkypeTM (I think that is the longest product name I have experienced so far), if you are a regular user of Skype, especially in noisy environments (like out on the patio or an airport hotel), then it is a must have and it can also be used to listen to music.
But for the music lover on the go, whether it be by plane or just down a busy street, the Digital Silence DS-321D Digital In-ear Noise Cancelling Stereo Headphones are hard to beat. Improving smartphone audio performance by providing rich deep bass and smooth liquid midrange they are an extreme bargain at their modest asking price. That they provide active noise cancelling that can only be found in items three or four times the price is just a bonus.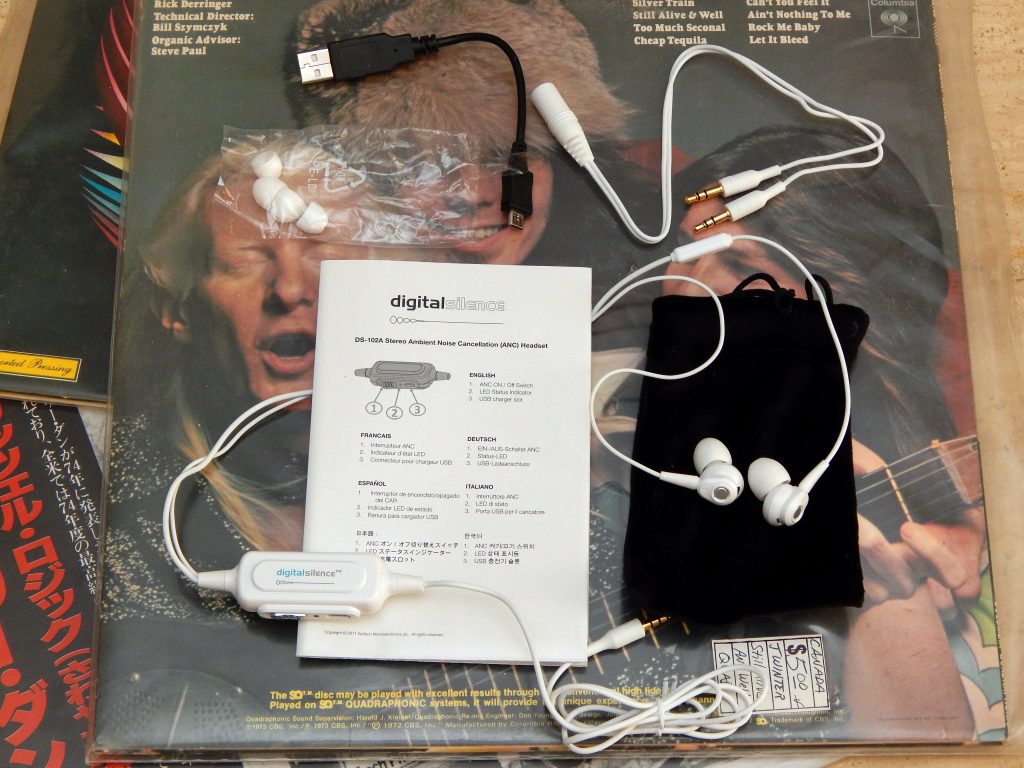 Price:
DS-102A: $29
DS-321D: $49
Currently available factory direct from Headsonix, 505 S La Fayette Park Place #201, Los Angeles, CA 90057, 818-927-7561, Headsonix@gmail.com