Personal audio has seen an explosion of companies entering the market with innovative products. More often than not, products are being introduced in the upper price tier of this expanding market. 1More is the rare exception and a global conglomerate who's main goal is to reach more consumers with headphones and in-ear monitors that not only that have exceptional sound, but are priced for the masses . Offering value way above their price point, they are a welcomed addition to the portable audio world.
Meeting with the companies President of the USA division, David Russell and marketing director David Kellogg at the Cosa Mesa CanJam in March got me more acquainted with the 1More brand. The parent company was founded in China in 2013 by Gary Hsieh, former executive at Foxconn who worked previously on iPod and Kindle devices. The company did over 20,000,000 units globally with headphones and in-ear monitors. Staggering numbers for any company; 1More is expanding it company worldwide. The 1More USA team is headed by Dave Russell and Tim Burton. Dave is known in the industry for his roles with Gateway and Vizio.
The vision that Dave and Tim have for the company is to offer sonic quality sound at mastering levels, at prices that any lover of headphones and in ear monitors can afford. The companies innovative designs are catching a lot of enthusiasm in the personal audio market . The attractive products have everyone mystified with the quality of sound and build quality being offered at this price point.
Luca Bignardi a Grammy winning sound engineer was brought in to tune all their products to mastering studio quality sound. Luca worked to get the sound of the 1More products to sound realistic and musically correct with tonality. The price structure of the 1More products made this challenging but the sound is realistically portrayed with transparency and clarity not previously heard in this price range. The lineup is exciting and reasonably priced and is a terrific value.
MK801 $79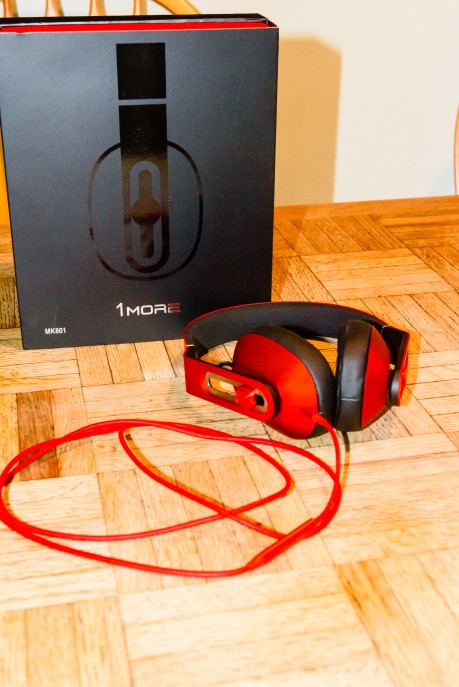 The MK 801 over ear headphones priced at $79.00 is beautifully tuned by Luca Bignardi and offers high quality sound and a comfortable fit. The MK 801 is priced at $79 and has a seamless integrated sound with excellent transparency not usually found in products in this price range. The ear cups rotate in four directions so the user can customize them to their ears for proper fit. The headband is manufactured using titanium and steel incorporated in an ergonomic design which allows for stretching that is needed for everyday use. The steel is lightweight and sweat resistant for people using them in gyms or as part of their exercise routines,
Included is a dual system in-line remote control which is both Apple and Android friendly for people using phones or other portable devices. It also has a volume control and includes a play/pause control which allows you answer your calls easily. The closed over the ear design has excellent isolation and works well isolating outside noises. The sound is realistic, musical and rare in this price range.
Triple in-Ear Headphones $99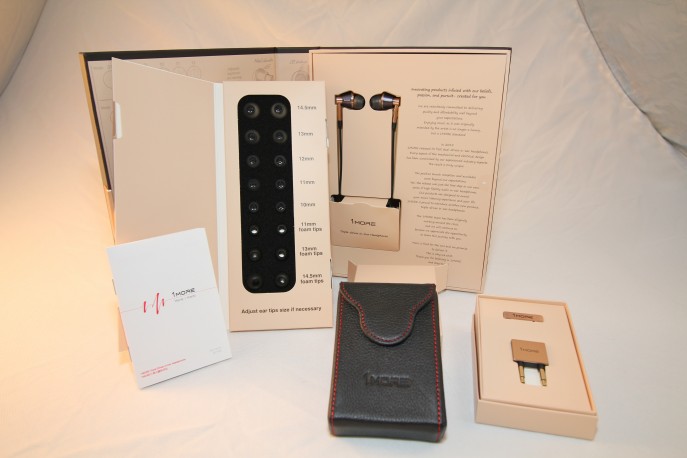 The 1More Triple driver headphone reviewed here "headphone.guru/1more-triple-driver-in-ear-monitors-a-value-revelation/ by   Eric  Neff is a $99 triple driver in-ear monitor that has incredible full frequency range that extends up to a remarkable 40hz. The body, which is compact, includes a light alloy body with ear angled ergonomic fit. It also includes the in-line microphone and is compatible with Apple IOS and Android devices. The sound coming from the two balanced armature's with a dynamic driver is transparent and musically correct with terrific bass and treble extension. The mid-range sounds incredibly lifelike with clarity and balanced sound. The Triple in-ear offers listeners a complete package of accessories to fit even the most demanding listeners.  It also includes a cool looking carrying case at no additional cost.
Crystal in-Ear Headphones $79.99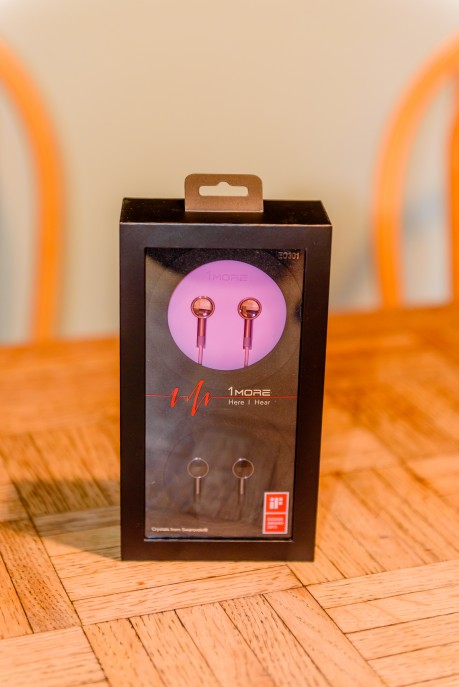 Designed with his and her in mind, 1More designed this set with crystals rhinestones by Swarovski . The chessboard faceting allows the rhinestones to shine to their maximum potential. The lavishly designed pair is priced at$79.99. The Kevlar designed fibers protect the internal wiring and extend the lifespan. 1More used aerospace-grade material which allows the pistons in-ear headphones to accurately present diverse musical styles. Amazingly it also have the 1More inline Apple and Android microphone and is tangle resistant as well. This may be offered shortly as a single pair product also for $50
Dual Driver In-Ear Monitors $69.99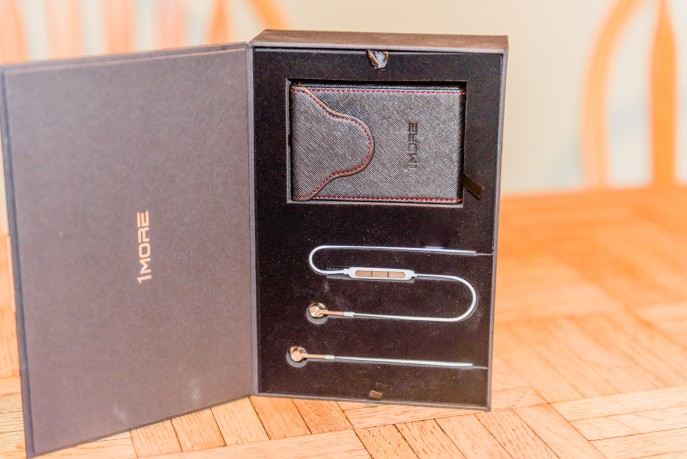 The two way design offered by 1More is also another fantastic sounding in-ear monitor . Offering sound quality that is well balanced through out the spectrum and with deep bass and a refined mid-range and treble. The balanced armatures are high quality and have clarity that is missing in many other in ear monitor in this price range. The same intelligent design makes it a good match for both Apple and Android devices and offers exceptional sound at affordable prices. The triple layer diaphragm constructed with aerospace-grade materials offers high resolution with clarity and extension a both ends of the audio spectrum.
Conclusion
Over the last couple of years in personal audio we have seen headphones and in-ear monitors introduced in the personal market that have been geared toward the higher end of the audio buying public. 1More's approach since 2013 has been to create award winning products that defy their lower price. 1More builds products for the affordable market and people on the go.. The 20 million units in sales reflect mainstream acceptance of their products which are built and designed to the highest standards. The US based company with David Russell and Tim Burton at the helm is creating some noise with their outstanding products.
Using high quality armatures and parts with aerospace technology and attractively priced from $29.99 to $99, 1More competes with products that are 5-10 times more expensive. The sound is always transparent and not harsh with musicality and outstanding tonality. The outstanding line of products are refreshing and offer terrific value. 1More is defying the odds with products that are remarkable at this price point and is a company driven to offering both high end sound and products that will last and are easy to use. Easily affordable and designed for the everyday music enthusiast, 1More is making a big statement in the personal audio market. Get to their website and order one of the amazing offerings and be astonished at what kind of sound quality you can get for under $100.
1More Website: