On November 9th and 10th, 1MORE will be exhibiting at CanJam Shanghai allowing attendees to get a firsthand look at their new true wireless offerings from the company
SHANGHAI (CANJAM) & SAN DIEGO, CA – November 9, 2019 – 1MORE, a global premium consumer audio company, is featuring its true wireless headphones at CanJam in Shanghai including a preview of its True Wireless In-ear Headphone with Active Noise Cancelation.
Launched earlier this year, the Stylish True Wireless In-Ear Headphones offer consumers a feature-packed product for under $100 in four attractive colors. Key features include:
Latest Driver Technology: 1MORE's Stylish True Wireless In-Ear headphones start with a composite dynamic driver that uses a 7mm titanium composite diaphragm to balance powerful bass and exquisite detail and to produce crystal clear sound in an ultra-compact design.
Outstanding Battery Performance: Each earbud supports six and a half hours of usage and comes with a portable charging case that allows for three additional full charges—these headphones last comfortably for 24 hours of music or talk time.
Fast Charging: Allowing users three hours of use on only15 minutes of charge time.
Flexible Pairing Modes: Multiple paring modes means using the earbuds together for an immersive listening experience, or freedom to use the left or right earbuds individually to match personal preference.
Convenient Compatibility: With auto power on and off, the earbuds automatically turn on and connect when taken out of the case, and automatically turn off when returned to the case. Environmental noise-canceling microphones are also included in each earbud, along with the latest Bluetooth 5 technology featuring aptX and AAC transmission compatible with Android and Apple iOS.
Expert Tuning: Like with all 1MORE's headphones, the Stylish True Wireless In-Ear headphones are expertly tuned by Grammy-award winning sound engineer, Luca Bignardi, so that listeners hear exactly what the artist intended.     
Those attending the show may also get a first look at additional upcoming products from 1MORE, including a new true wireless headphone with Active Noise Canceling features.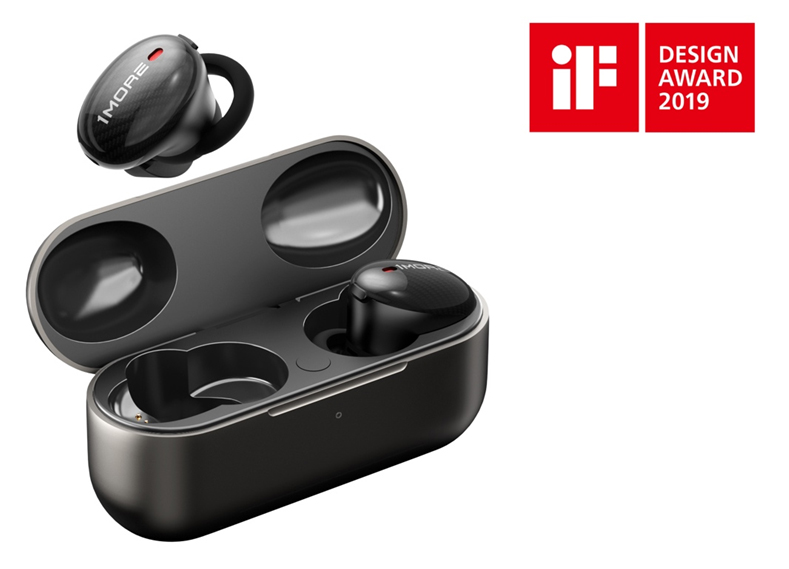 Visit CanJam Booth E1 at the Shanghai Marriott Hotel City Centre for more details and product demos of 1MORE's award winning products including both True Wireless products.
About 1MORE:
1MORE specializes in acoustic design and development, smart software and wearable audio products. Born with a profound mission to deliver superior quality audio at a consumer-friendly value, 1MORE has shipped more than 38 million headphones globally in over 25 countries in the past 4 years. Additionally, 1MORE's products have received multiple industry and design awards including the prestigious CES Innovation awards, RedDot, iF Design awards and other major industry accolades. Visit 1MORE at 1MORE.com, on Facebook at https://www.facebook.com/1MoreUSA, on Twitter at https://twitter.com/1moreusa, and on Instagram at https://www.instagram.com/1moreusa/.