1MORE is off to a fantastic start in 2018 coming hot off the press from their time at CES 2017. They received three CES Innovation Awards for their headphone products including of which, one is the new Spearhead VR gaming headphone they sent over to Guru. 1MORE is based in San Diego, California and received rave reviews on their Triple and Quad driver IEMs last year. They are also famous for their work with smartphone behemoth Xiaomi.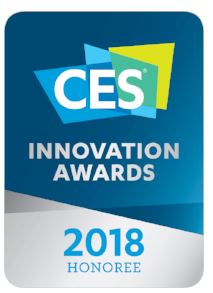 The 1MORE Spearhead VR Gaming headphone is one of the newest products added to their lineup and features impressive technology inside for just $150. It features software 7.1 surround sound, a 50mm Maglev Graphene Driver, dual ENC microphones, RGB lighting control, voice activated light bar, a 3.5mm pass-through, and a unique suspension headband and pivoting yoke. That's a mouth full of features if I don't say so myself.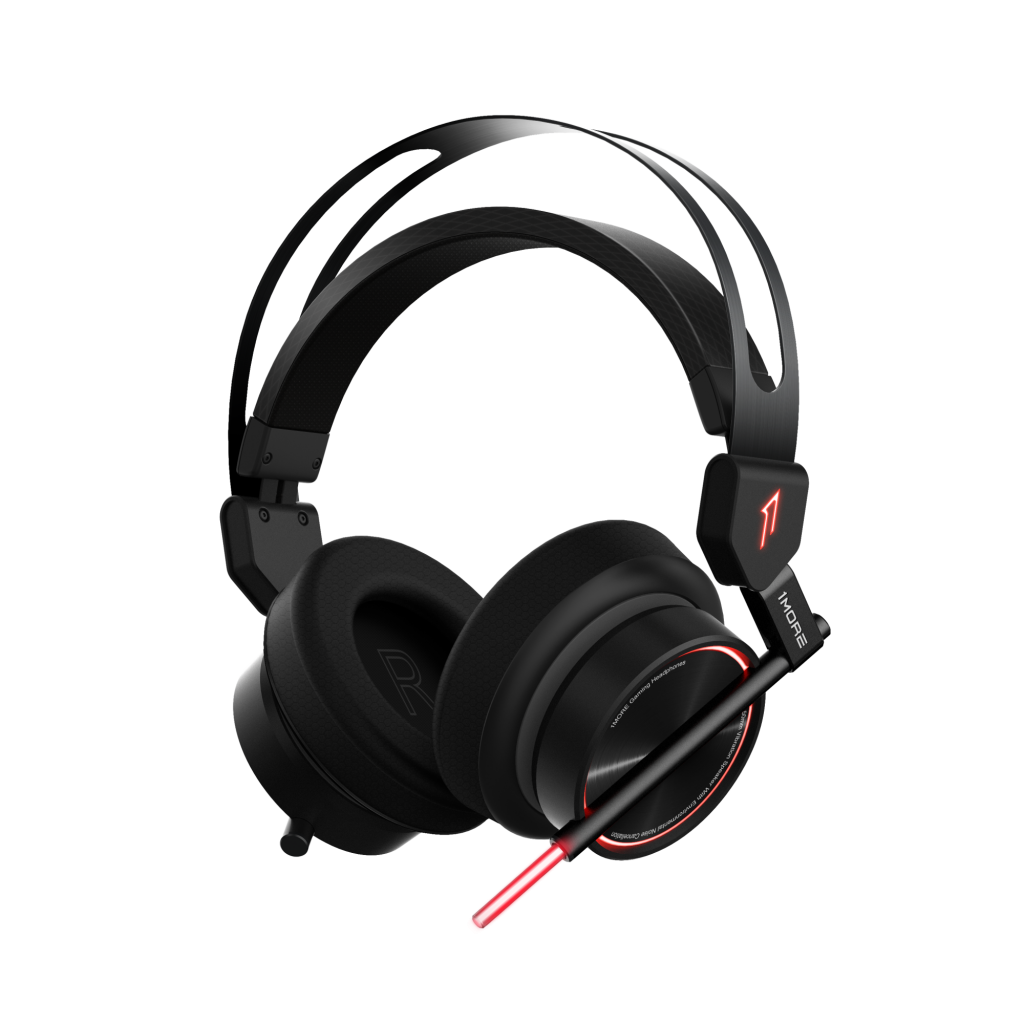 Build and Design: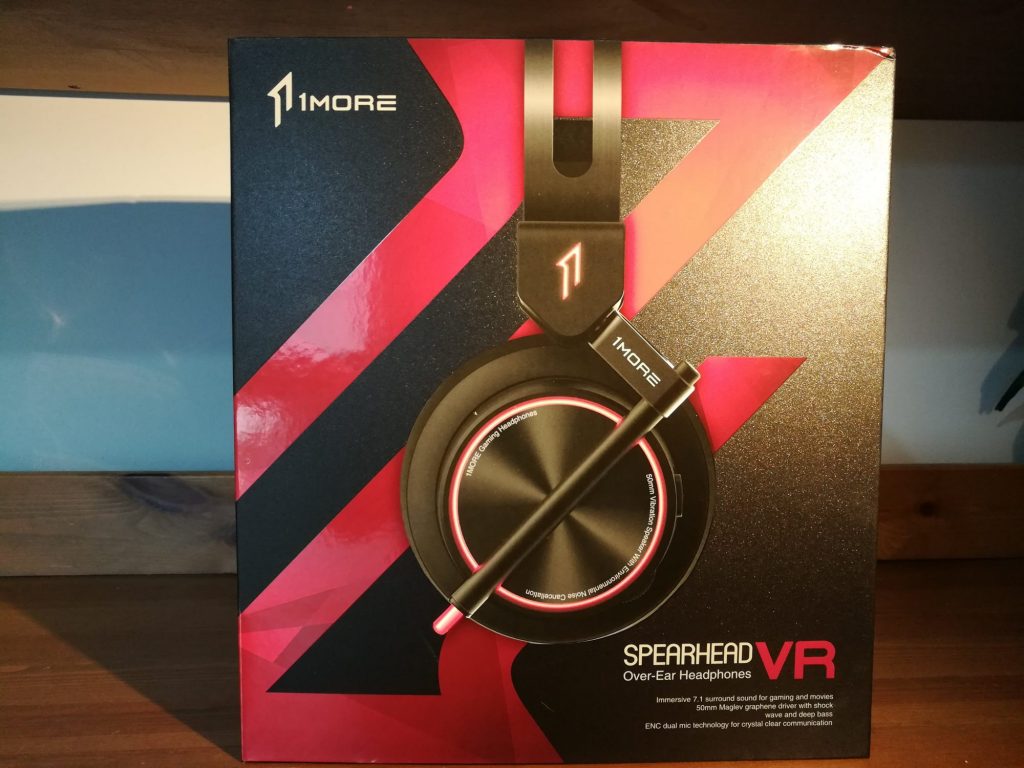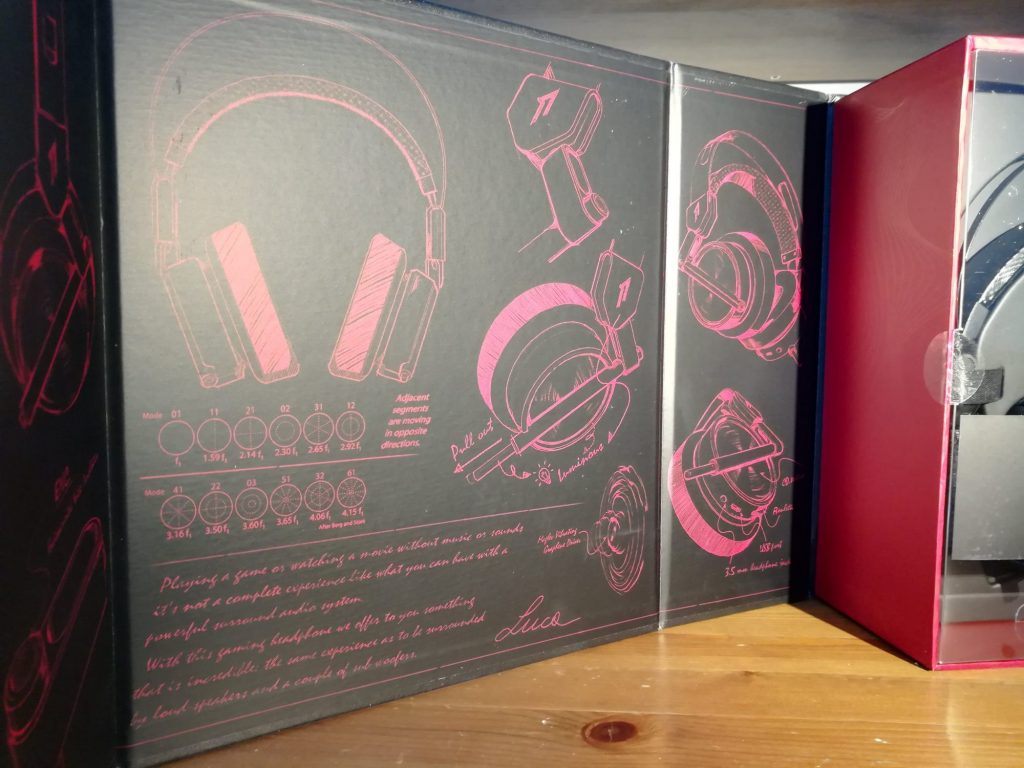 The retail box the Spearhead VR comes in is aggressive and also contemporary. It opens up in a book-style display cage giving you a preview of what's inside even before you purchase it. The box has an air of authority around it from its sturdiness, weight, and red accents all over. As impressed as I was, one thing caught my attention that I could not forgive; it had four hard to peel off stickers. One of my biggest pet peeves when it comes to box design and from a user's unboxing experience is how well it's packaged, presentation, and how easy it is to open. 1MORE scores big points on the first two but had me picking apart the glue for a solid 2 minutes to get at the jewel inside.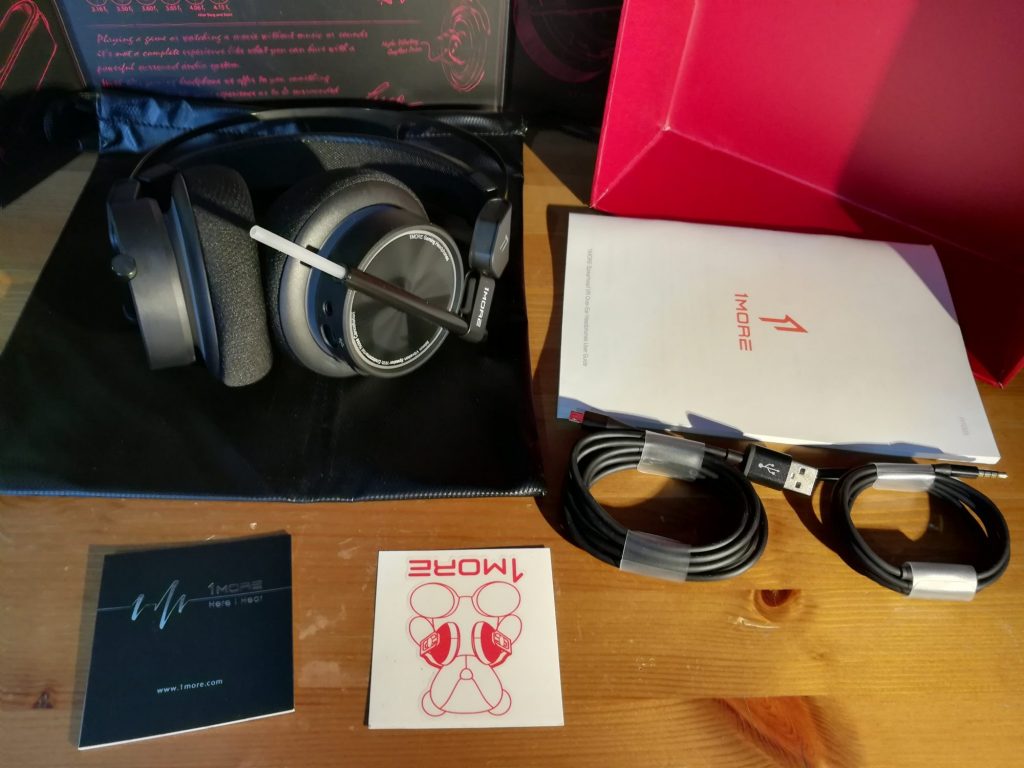 Once in, it was smooth sailing. I undid the two restraining straps and the Spearhead was mine! Deep in the box is the accessories pack with a user manual, 1.5m 3.5mm pass through cable, a 1.3m micro USB cable, 1More sticker, and soft carrying pouch.
The 3.5mm aux cable is TRRS (3 pronged) with an inline microphone built in. This is likely because the dual ENC microphones built into the Spearhead only work over USB which makes sense. This allows you to still use all the technical functionality of the Spearhead on a non Windows computer by using the 3.5mm cable for sound instead of over USB. Note that you will only have access to the full functionality of the software and DSPs on a Windows machine with the 1MORE software package installed.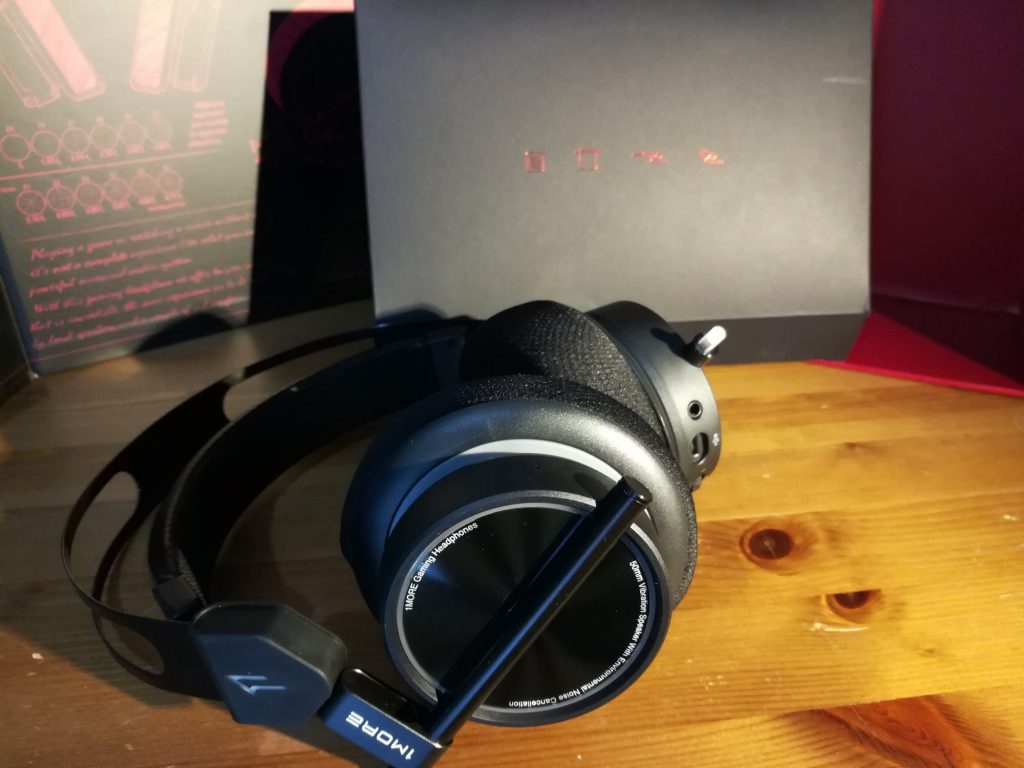 The headphone feels exceptionally sturdy and well built. Construction is solid and there are no immediately noticeable weak points as far as I could see. The yokes are on an angled pivoting mechanism but the connector and its enclosure is rugged; I don't perceive any issues here unless you abuse the headset after losing a match.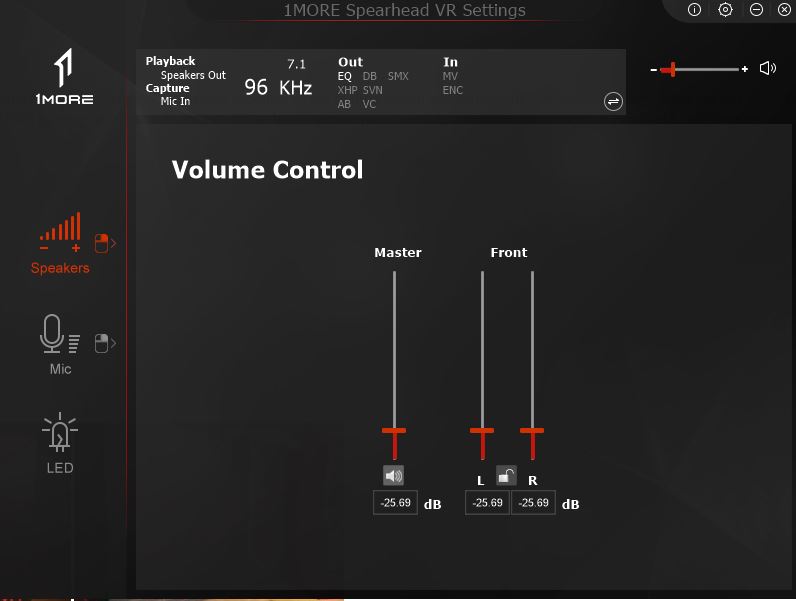 Software and Utility:
Downloading the software pack for the Spearhead gives you access to try out all its cool features and gizmos available. It allows adjustment for almost everything you could think of with the Spearhead VR. You can change sampling rate, sonic qualities, microphone settings, RGB LED control, and more from here.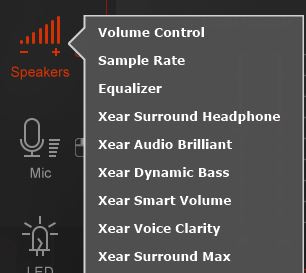 It's immediately clear that the software pack is the largest limiting factor for the Spearhead VR. Whereas the base hardware design and sound quality is adequate, the software leaves much to be desired. The user interface (UI) is not intuitive at first sight; you have to right click the icon to see a list of possible configurations.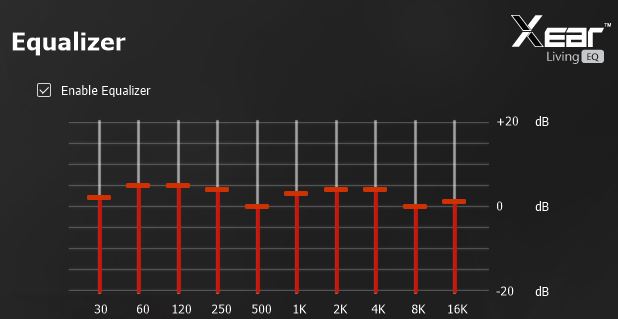 While lots of choices exist in the "Speakers" sub-menus for what you can use to augment your sound, I've found only a few stand up to the challenge. I recommend sticking to the "Equalizer", "Xear Surround Headphone", and "Xear Surround Max". The later two are the ones you want enabled when gaming. Pick and choose by testing if you like just one of them enabled when playing or both. My equalization settings is displayed above
The other options in the sub-menu are to be avoided at the moment. They include "Audio Brilliant", "Dynamic Bass", "Smart Volume", and "Voice Clarity". Their sound processing algorithms are flawed and have a tendency to auto normalize resulting in a fluctuating sound. I did like "Audio Brilliant" but it didn't take long to notice that the headphone was applying the normalization to it resulting in wavy sounding portions at times.
One aspect I think 1MORE's software division needs to clean up is the redundant settings. For 7.1 sound, we have the options of both Xear Surround Headphone and Xear Surround Max. For vocals, we have Audio Brilliant and Voice Clarity.
Bass is even trickier. You can engage a bass boost using the "Super Bass VR Shock Wave" by clicking the volume wheel and then sliding up and down to increase and decrease respectively. All this actually does is enable the Equalizer graph and adjusts the 30Hz frequency by however much you slide the wheel. The second way is through using the Dynamic Bass feature in the menus which I would recommend avoiding.
Most of these choices honestly don't need to exist and actually take away from the headphone. My preferred end-setting was to have a slight equalization tuned for my taste and everything else disabled. When I go into a game, I enable both the Xear Surround Max and Xear Surround Headphone and that's it. You can go without touching the rest.
The light bar was not reliable in actuating its color when speaking. I was expecting it to light up and pulse every time I said something while the function was enabled. It did not activate and pulse until I took the headphones off and yelled straight at the plastic bar.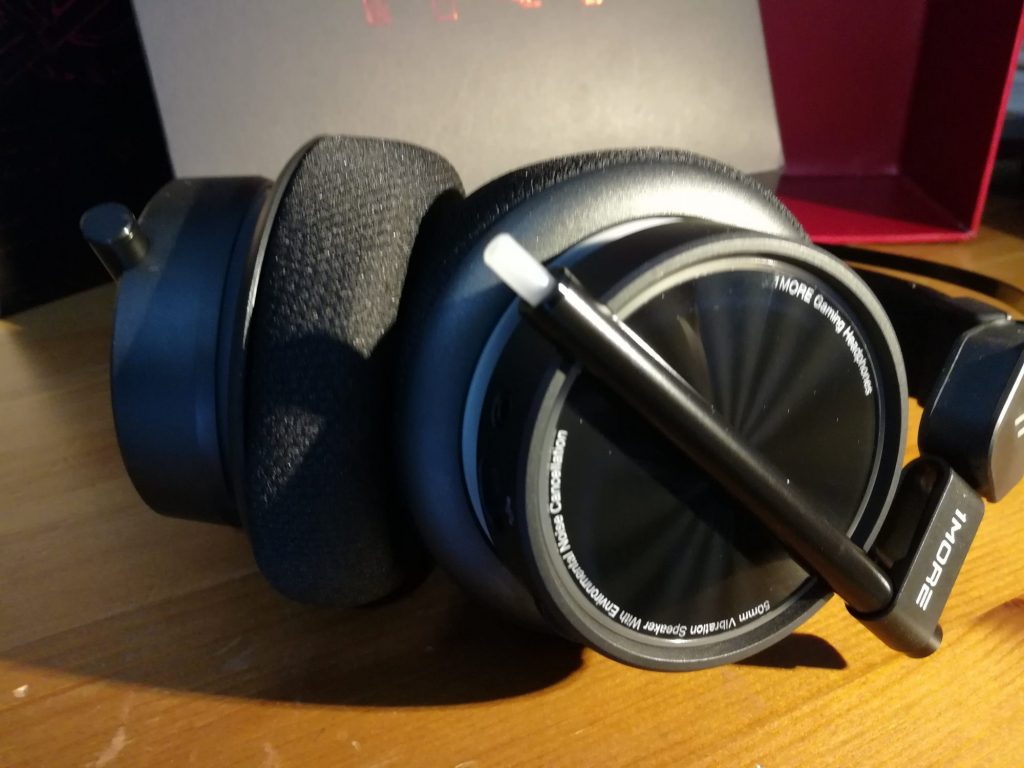 The dual ENC mics on the headset were admirable and still sounded clear despite being positioned towards the rear of the unit. They were detailed and sported adept clarity. It was comparable to a $100 Logitech C920 Webcam. Not the best but more than enough for a gamer.
There is a lot of good stuff that 1MORE could do here, but they first need to fix and consolidate its software. Performance is iffy and many of the sonic filters hurt the headphone rather than make it shine.
Sound: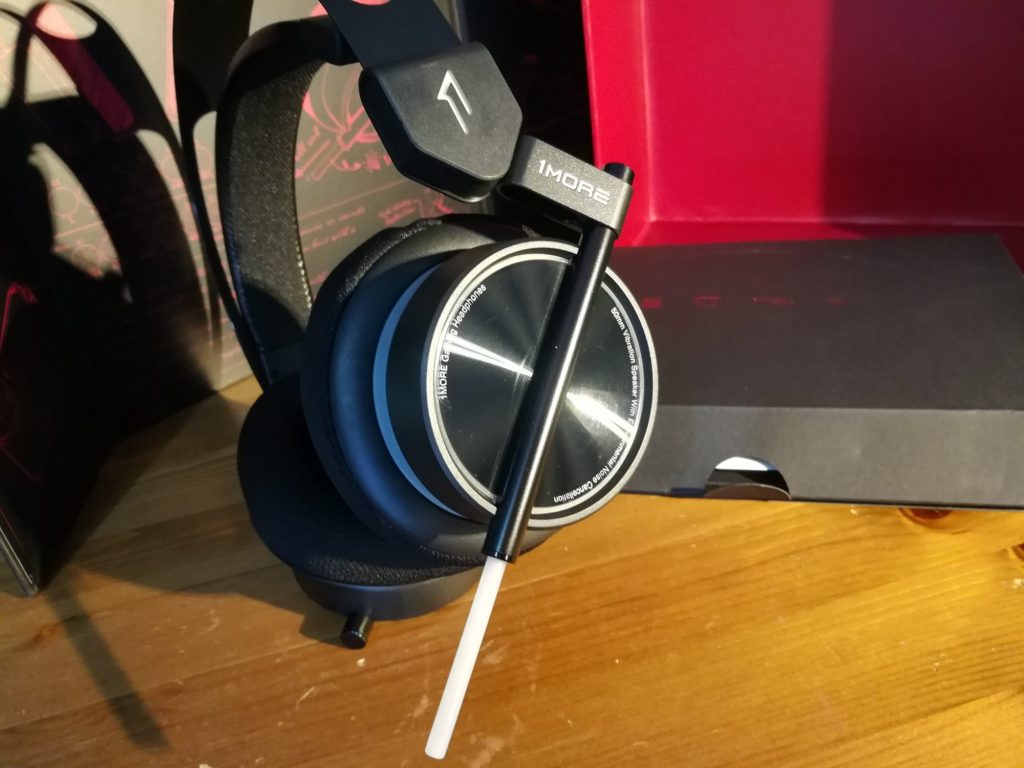 The 1MORE Spearhead VR has a light sound signature filled with airy vocals, on the brighter side for mids and highs, and with a dark background. The entire sound is also 'pulled back' a little from the listener. This is not an audiophile headphone but one for both gaming and general music listening. Therefore my section below will be fairly critical as I am coming at this portion from the view of an enthusiast.
Listening to "When You Were Young" by the Killers, I noticed that the lead singer was marginally recessed with emphasis towards the upper mids of the vocal range. The rest of the body was thinner and didn't have as much clarity but auxiliary instruments sounded good. Guitars had a twinkle to it thanks to a fairly respectable high(er) frequency production from the Spearheads; they were non-fatiguing and well tuned.
Despite all the marketing on the bass, this headphone is actually bass-light. There was little impact and mid-bass lacked sparkle or punch to it. The sub-bass was much better and produced a rather acceptable rumble to accent the primary track.
Next up is "Human Nature" by Michael Jackson. Astonishingly, the Spearhead VR's are much better with high quality tracks. This track brought out more of the vocal ability of the headphones. They are fuller in body and have acceptable clarity but still lacking in detail. The sub-bass, again, accompanied the song satisfyingly and provided a U shaped sound signature.
Overall, the musical sound quality of the Spearhead VRs are acceptable for the range granting you give it a slight EQ without any other 'enhancers' enabled. They had elasticity in handling multiple genres and was both non-fatiguing and mellow.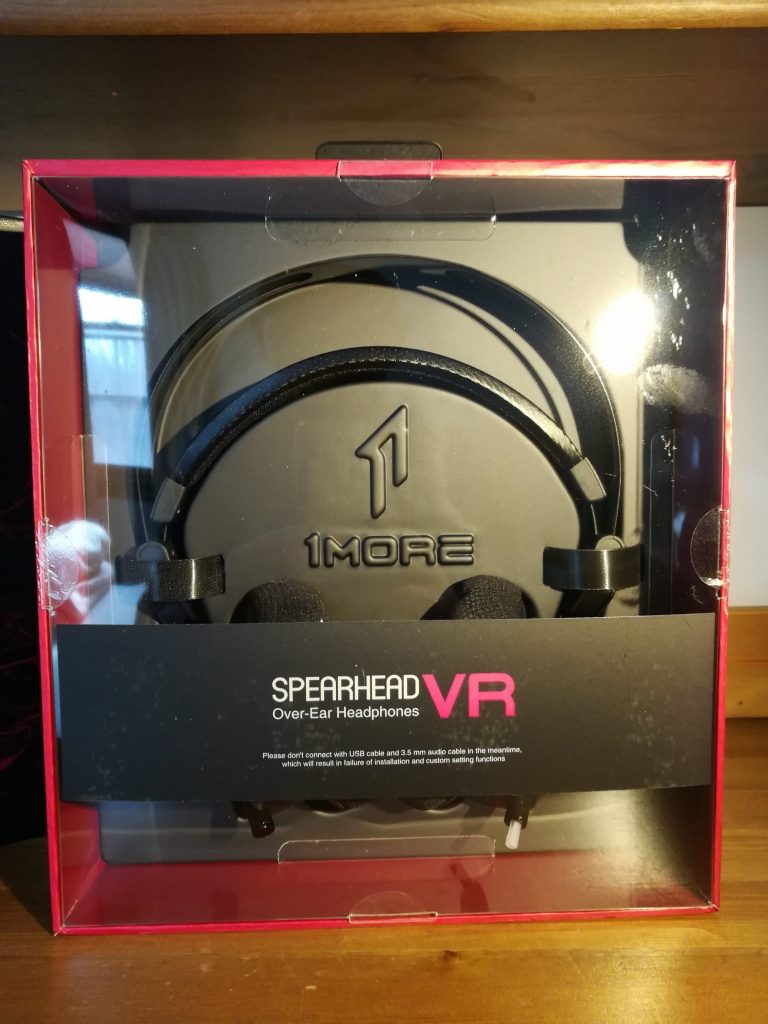 Gaming: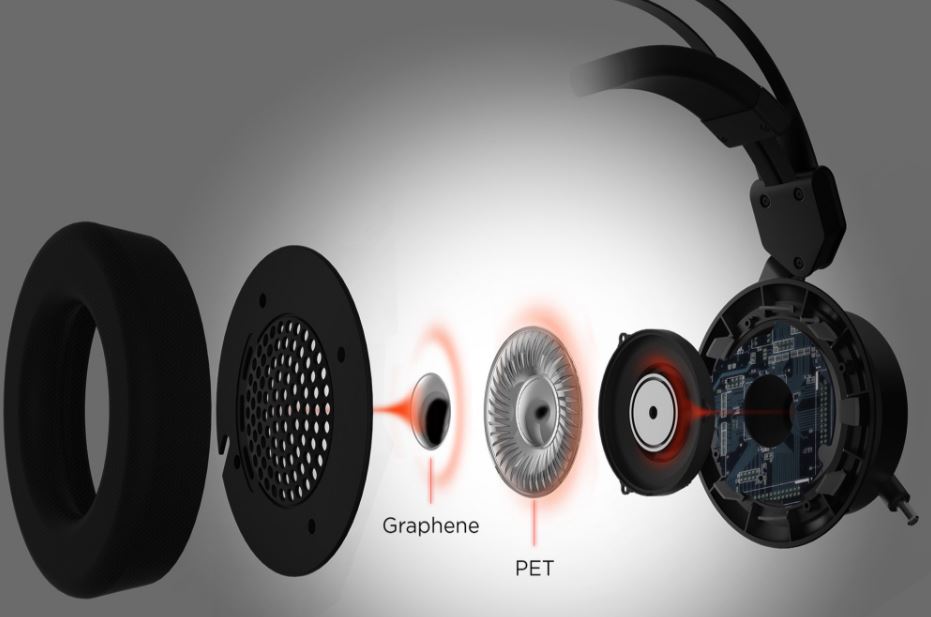 This is the section that really matters to the Spearhead VR as this is what the headphone was really designed for. When gaming, I prefered to have both Xear Surround Headphone and Xear Surround Max enabled. My game of choice was PlayerUnknown's Battlegrounds (PUBG) by Bluehole Studio which is a battle royale FPS.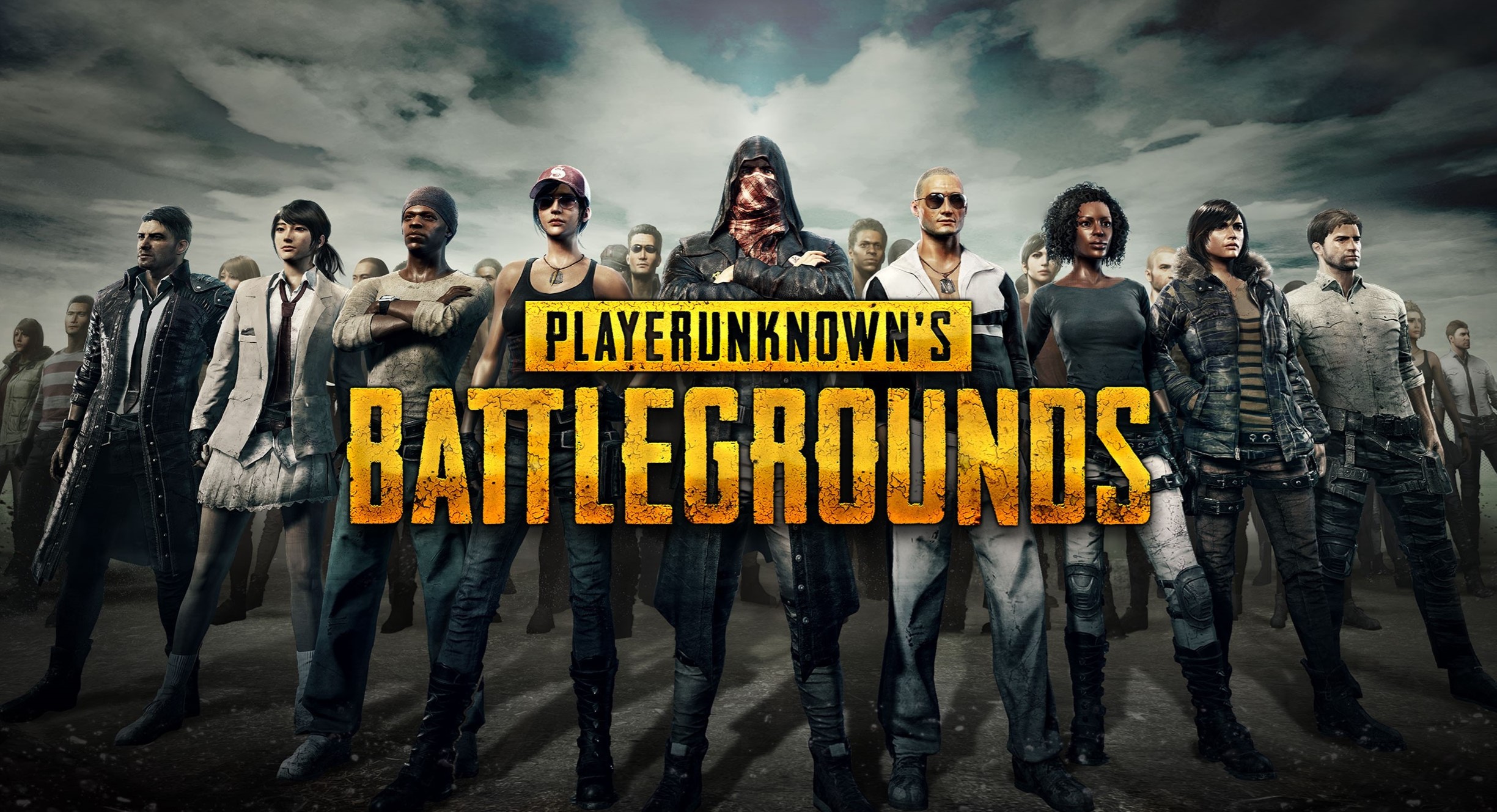 In-game, the Spearhead's were actually impressive. It focused the sound of the main character such that it created them virtually right in the center of your head. Every other sound happened in a 360 degree circle around you. This increases spatial awareness in a game like PUBG where your surroundings and every noise matters.
The most dramatic thing was the dynamic range while in game. The majority of my experience with surround technology on cheaper headsets is that the total dynamic range is low and noisy. In layman's terms, it means that the sound created from 'you' and the quiet surroundings were not very far apart in amplitude.
The Spearhead VR was extraordinary at producing this large dynamic sound differential. When my character was walking through the forest, I could clearly hear the footsteps but the nearby events and environmental noise was low and finely separated. The Spearhead's would progressively increase the amplitude of noises as they got closer in a realistic manner to allow for near-exact positioning of where they were.
And don't get me started on background noise from the amplifier and DSP technologies. Here's the thing, there was none. When there is no sound in a spatial location, there was no sound from the Spearhead's period. This is critical in a game like PUBG where every movement and minute detail matters to gaining victory.
Whereas horizontal positioning was excellent, vertical reproduction was less so. In PUBG, there are multi story hotels you often engage enemy players in. The Spearhead VR was potent at placing them while they were on the same floor or playing field as me but lost this as enemies were higher up. Once they were a floor above me, I was unable to clearly decipher which approximate room they were in, it was just a blob of sound pointing towards the center of my head. The gaming performance of the Spearhead is where the money is at. It's excellent and can give player's the upper hand in a tactical situation requiring exact spatial placement of enemy targets.
Conclusion: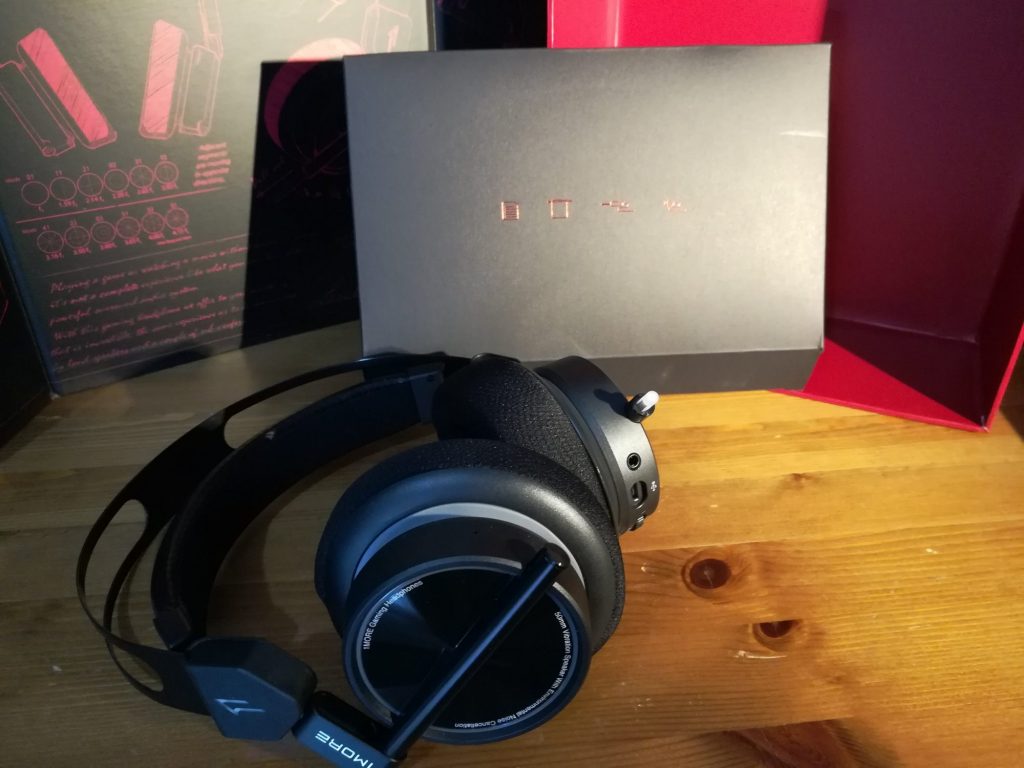 The 1MORE Spearhead VR are a comfortable and lightweight set of gaming headphones with a multitude of roles. It's admirable in its musical sound quality and marvelous when used for gaming. It also brings value to the equation with a price of $149 for the technology it includes. The software does add a bit of blemish to the Spearhead but with some polish, can bring the headphone to a new level. I'm looking forward to what else 1MORE has in store for the future.
Price: $149 USD
Specs:
Weight: 324 g
USB Cable Length: 1.3m
3.5mm Cable Length: 1.5m
Wire Material: Enameled Copper Wire
Frequency Range: 20Hz – 20kHz
Impedance: 32 Ohms
Sensitivity: 103 dB
Max Power: 20mW