Walking into the main room at CanJam SoCal 2016 at the Westin Costa Mesa is like entering a carnival for headphone's. Table after table filled with headphones, amps, DAC's and various supporting paraphernalia. You almost wonder where to start. As I was about to head off into the crowd I was approached by Ari Morguelan from Noyd Communications. He asked if I had heard the just released 1More Triple Driver IEM. I told him I had not had a chance as of yet and he invited me to give them a try. Approaching the booth, I was introduced to Dave Kellogg and Alyssa Freund who were more than helpful in giving me an introduction to the Triple Driver's.
First, some background on this new player in the personal audio scene. 1More USA, founded August 2014, is based in La Jolla, California and is the USA division of 1More China. which was founded in 2013 by Gary Hsieh. Gary is a former executive at Foxconn who worked on the iPod and Kindle devices. He is a user of personal audio products and understands clearly the value of controlling the entire production chain of a product for delivering on quality and affordable products. His 1More USA team of David Russell of Gateway fame and VP Tim Burton provide the experience in consumer technology. Their goal is to bridge the gap between mastering level sonic quality and affordable consumer pricing. They are introducing five In-Ear Monitors and one Over the Ear headphone this year with a Bluetooth Over the Ear headphone model soon to come.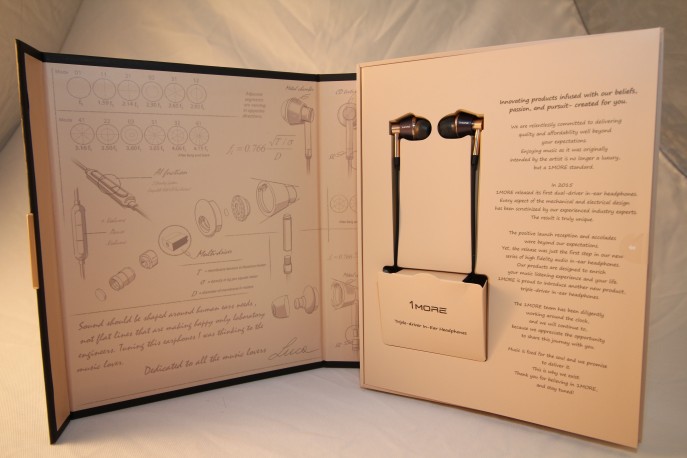 David and Alyssa first showed me the packaging for the Triple Drivers. Packaged in a high quality attractive box and with supporting components and offering six sizes of silicon ear tips , three sizes of foam tips should have all users covered with a good seal and comfortable fit. An adapter for Airplane use, a clip for the cord to attach to your shirt and an information booklet was also included. The surprise was the small leather protective carrying case with magnetic closure. High quality stuff. The Triple Drivers themselves offered a Kevlar fiber wrapping on non replaceable cables with the surface of the cable made from two different materials to reduce microphonic sound. The shells have the bore canals at an oblique angle to allow for a more natural insertion and a more comfortable fit. Internally they utilize an aerospace grade composite dynamic driver for the bass and low mid's and a pair of balanced armatures for the mid's and high's. The presentation was first class. The goal was to offer a truly hi end experience. 1More even went to the effort of hiring Luca Bignadri, a Grammy award winning sound engineer to perfect the final tuning!
David explained that the Triple Drivers were a hybrid design offering dynamic bass and low mid driver made of aerospace grade composite metal married to a pair of balanced armatures offering mid and high frequencies. The combination specs out from 20Hz to an amazing 40kHz frequency response at 99dB efficiency into 32 Ohms. 1More designed and manufactured all of its own parts for the IEM's. The company also controls distribution. Currently the products are available through their company http://1more.com/ or Amazon.com. By taking the approach they are able to keep the costs at very attainable levels. How attainable? How about $99.00 for the Triple Driver flagship IEM's? Yeah, I know right? All that quality packaging and accessories and quality construction for $99.00??!! So, enough with the tour, how do they sound?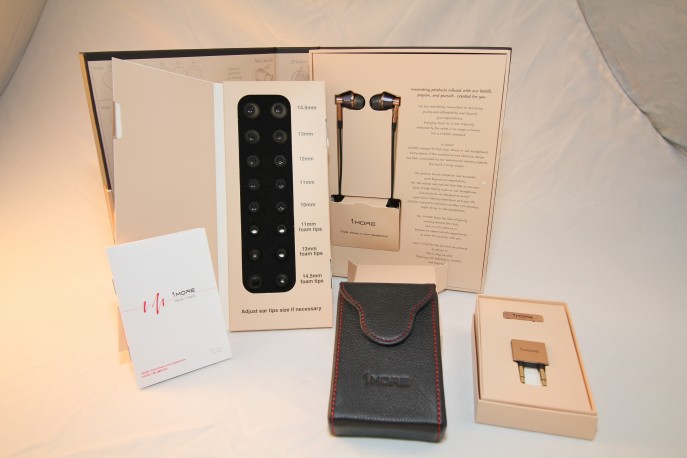 The Triple Drivers ship with a silicon ear tip in place. I prefer foam. No problem, opening up the accessories case with nine varieties of tips I selected the 13mm foam. Generally, a good medium Comply 500 medium foam tip works great and these fit perfectly. I plugged the Triple Drivers into my Questyle QP1r reference Digital Audio Player (DAP) and fired up Elton John's" Someone Saved My Life Tonight" from Captain Fantastic and the Brown Dirt Cowboy (HDTracks 24/96 AIFF Island Def Jam 1996). I have loved this album since it came out in 1975. It is a well mastered recording and presents well in hi-res. The song has a bass line that provides a solid foundation. The dynamic driver reproduced this with authority without it over driving other frequencies. The cymbals keeping time from both left and right had terrific shimmer that fades into the distance and does not break up at the higher frequencies. Elton's piano notes sound natural and Hi-hats and brush on snare drums retained their subtle nuance.
When I am traveling there are times when you need some energy after a long day. Time to queue up some Disturbed's newest title track "Immortalized" (HDTracks 24/48 AIFF Reprise 2015). Any Hard Rock or Metal album is going to bring a ton of complexity to the mix. High end in ear monitors are able to deliver the parts individually and that is one of the reasons they cost a lot, sometimes into the thousands of dollars. The Triple Drivers are a value revelation.
While there is just a bit of smearing around the edges, this is the best presentation for under $400 I have encountered. From a fun standpoint, they remind me of my old V-Moda IEM's that were my early entry to portable audio many years ago I enjoyed the heck out of the V-Moda's. Any in ear that gets me thinking back to those days has tapped the best of the inner rocker I wanna be. The strength of Dave Draiman's voice accentuated by the power chords, driving bass and drums really got the energy flowing. No caffeine needed here. A big win for 1More!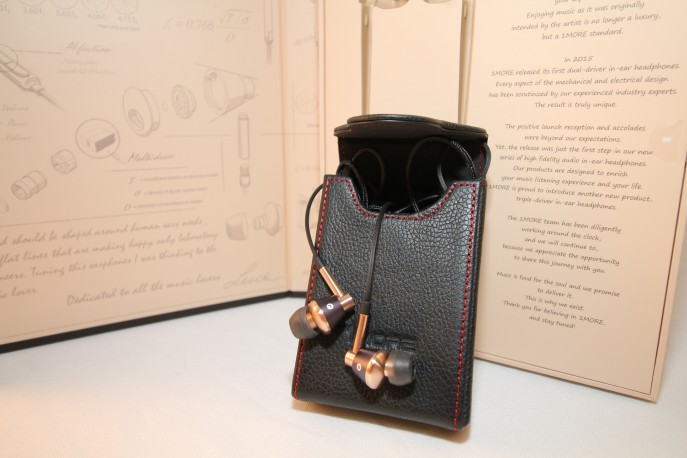 Switching over to the iPhone 6s+ I made sure all the cable controls worked as expected. Everything functioned perfectly. Plus, the positioning of the controls is just right. No fumbling up or down the cord to locate them when hanging out on the treadmill or driving. Phone call hands free vocals are clear both for me and the other party as the on cord microphone was clear and understandable. I was very pleased with all the efforts in cable construction. No microphonic sound as I walked and a big win here compared to a few other well known manufacturers.
The band Red has been a long time favorite and gym companion. Nothing like pounding out 10k to a good beat. Their newest album Of Beauty and Rage is another high energy offering and with "Shadow and Soul "(iTunes 16/44.1 Essential Records 2015) Michael Barnes vocals are operatic at times and guttural metal at others. This song gives space for both parts of his Jekyll and Hyde presentation. Subsonic bass grabs the aerospace metallic dynamic driver and really gave me a sonic ride. The key is it is not at the expense of the soaring melody. The piano in the quiet moments has the correct timbre as the notes fade into the large room. Echo's and decay place the band positionally on the stage. It is a solid soundstage representation that I would generally not expect from an affordable headphone in this price range. The ability to project accurately the spatial cues for a soundstage can be a real deal breaker for an audiophile or simple a music lover. No one will leave disappointed.
Honoring a new inductee into the Rock and Roll Hall of Fame it was time for the Steve Miller Band's Greatest Hits 1974-78 and "Fly Like an Eagle" (iTunes 16/44.1 Capitol 1978). This song was on about every hour during high school and has rarely sounded as clean as this session. Steve's meticulous guitar work was backed by the Hammond B3 organ and synthesizers. Hi-hat work was super crisp and defined. Once again stage spacing was very well preserved. The drums behind Steve and his microphone. The bass to the left and organ on the right. Closing my eyes, I let myself fly away with the song. So many memories of things remembered to this soundtrack central song of my high school days. To be able and escape for a few moments and visualize fond memories of good friends and good times is a true benefit to quality audio. The 1More Triple Driver's proved an able tour guide to those days gone by. I am glad I have been properly introduced to 1More and their value leading Triple Driver In Ear Monitors.
Conclusion:
A terrific value product that will help reset the price performance bar for affordable portable audio.
Pros:
Well made with quality parts and construction.
Excellent sonics at any price. A great value at $99.00 USD
The many quality accessories were a pleasant surprise.
Cons:
Cable is not replaceable.
Specs:
Type: In Ear Monitor
Color: Black with Gold
Cable Length: 1.2m
Plug: 3.5mm Gold Plated
Wired Materials: Enameled Copper Wire
Frequency Range: 20-40,000 Hz
Sensitivity: 99dB
Impedance: 32 Ohms
Rated Power: 5mW
Weight: 18g
Model: E1001