With over 60 years of experience designing and building products in home entertainment, whether it be audiophile or videophile – AR Acoustics are a brand synonymous with quality. In 1959 they produced one of the world's first dome tweeters and revolutionized vinyl playback by building a belt drive turntable with T-bar sub chassis, add to that the world's first universal remote control and you can be sure that these guys know what they are doing.
The company was originally founded by the American inventor, educator and writer Edgar Villchur in partnership with American audio engineer Henry Kloss and based themselves in Cambridge, Massachusetts. These two men were no slouches and among their credentials are the inventions of the acoustic suspension loud speaker in 1954 and the high fidelity cassette deck.
Known by most home audio enthusiasts for their expertise in the manufacturing of high quality interconnects that include anything from optical cables to premium 16 gauge speaker wire, Acoustic Research have now decided turn their attention towards the world of headphone amplification with the inauguration of their new AR UA1 DAC / HEADAMP.
Build quality and tech specs
The UA1 hi res DAC was built as part of the 2011 reboot program instigated by Acoustic Research. The DAC/head amp has become their first new product from the digital high end section within the company. As a DAC it boasts resolution up to 24/192 via HD USB. Another key feature is its audiophile grade, ultra-low jitter asynchronous USB implementation. This is a standard feature of many DACs today but usually at higher price points. AR's ability to competently utilize this technology and keep the cost low is quite impressive. They also include a free installation pack for J River media centre that would cost the customer over $70 USD.
The build is in my opinion superb. I love its minimal aesthetics. The aerospace grade aluminium encased chassis sits in contrast to the device's black panels that lie on the back and front. AR made a conscious decision to have no digital display and to utilise all power from the USB to the amplification of headphones. This product plugs straight into your laptop/PC/MacBook without the need of walled power supply, enhancing its convenience for the user. There is an LED placed on the front of the device and will illuminate different colours depending on the playback format chosen. The colours correlate with the following formats – WAV, AIFF, FLAC, ALAC , DSD64 , DSD128 and DSD.
How DSD playback is achievable at 400 grams is beyond my ability to comprehend but somehow AR Acoustics have managed to do just that and still facilitate a head amp with the capability of powering nearly every headphone from 16 to 600 ohms. Maybe some of these secrets lie in the implementation of the Burr Brown PCM 1794a digital to analogue converter, or in AR's choice to use the XMOS platform – PLL generator, which instead of using a single clock crystal oscillator, it utilizes an advanced dual clock crystal oscillator.
The chosen output for amplification for the UA1 is in this case the Texas Instruments TPA6120A2 keeping the total harmonic distortion to 0.01% and offloading 400 milliwatts into 32 ohms.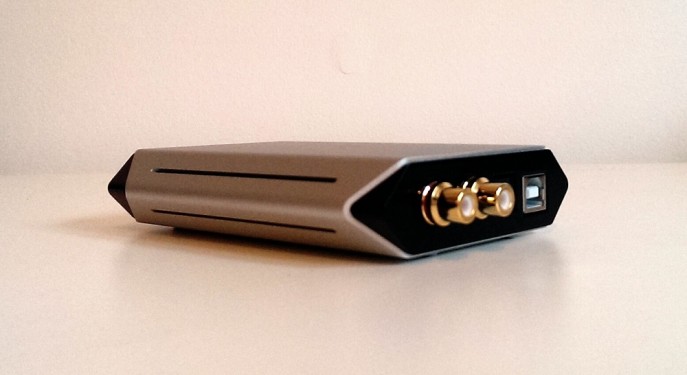 Sound
DAC section ¬ this is where the product really holds up in my opinion. The DAC has a very revealing nature and is quite impressive with hi-res files. In fact, when using the J river music center, hi-res files of 24/192 resolution, the results are astonishing, especially at this price point. This DAC really lets you know what's on a recording.
This was my first time in experiencing a Burr Brown chip, and although the presentation was slightly leaner than what I am used to, it was still a sound that I very much grew to like. It does sound completely different to my Arcam Rdac. The Arcam has a slightly bigger soundstage and can be described as having a rounded presentation, whereas the Acoustic research UA1 has a slight edge in its ability to pull more detail from a track. It manages to portray the detail in what I would describe as little pockets of information that are nearly displayed across the soundstage. The sounds of instruments are separated with great precision and seem almost to be deposited to the left and right when listening to headphones, as opposed to being melded together in one uniform front.
Most DACs at this price point can be difficult to tell apart but with these two side by side there was no mistake, these are two very different creatures altogether. The AR's treble seems slightly more extended with twinkle and glimmer in the higher registers when compared to the Arcams darker nature.
One of the first tracks that impressed me when listening to the UA1 was ALT-J's "MS" from their Mercury prize winning album – "An Awesome Wave". This album has excellent production and that track really grabs the listener. The layered vocals jump forward in the soundstage and have a presence that is very appealing on headphones especially the HD650, but with speakers the sound is utterly engaging. I used the UA1's DAC section and paired it with my Woo Audio WA5 and a set of EIST Audio Dubh floor standers. I felt that the UA1's DAC really punched above its weight here and the pairing of these 3 components left a smile on my face through long listening sessions. I tried all sorts of tracks for testing this product, everything from bluegrass and rock to chamber music and jazz.
As I mentioned earlier, the treble presentation of the UA1 is what impressed me the most, and this was very evident in the Curtis Fuller track "Oscarlypso" from the 1957 album – "The Opener". The sound of cymbals on this album is truly incredible and a great tester for percussions. Art Taylor's drumming here is as good as it gets. The UA1 DAC could extract detail in this recording with precision, being able to relay acoustic queues, such as sustain and decay with almost no shortcomings. There were also room reflections and natural reverb embedded in the recording that can sometimes be lost in cheap DAC's but the UA1 could reconfigure these natural effects convincingly.
Another track I used in testing was an Elgar Cello concerto, played by Jaqueline De Pre. The UA1's DAC section handled this really well. All the intricacies and finesse of Jaqueline's bowing technique was captured authentically and made for a very enjoyable listen. One of the hardest parts of a recording like this to get right, is the soundstage size. The UA1 fell down slightly here, but more than made up for it in terms of soundstage dept.
Amp section ¬ the advantages the UA1's amplifier has over a standard laptop is instantly recognizable. For driving headphones, it is far superior to any MP3 player or PC audio out. The amp has a subtle touch and when paired with my HD595's and HD650's. It can drive them with little or no harshness, which is a big plus for a product at this price point. It can power the Sennheiser HD800 to expectable volumes, but only when the volume wheel is nearing its limit. One of my only gripes with his product is the volume knob itself. It isn't exactly as smooth as I would like, but when you consider all of the accessories that come with the UA1 package, it's only a minor draw back.
I think the UA1 DAC / headphone amp would be a great choice for anyone starting out as an audiophile. It does a great job of powering any of my headphones from 50 to 400 dollars, including the Shure SHR 440, Sennheiser HD80 pro, Audio Technica AT-m50, Sennheiser HD595 and even the HD650.
Conclusion
Acoustic Research has managed to make a product, that is both a headphone amp and a DAC, with the capability of playing formats from 16bit/44KHz all the way to 24bit/192KHz, and have included in this package, a free installation of J River media centre, and all for the amazing price of $600 USD. The strengths of this product in my opinion, lie in the DAC section and its ability to produce nearly grain-free treble and upper-mids. The DAC is even convincing in my speaker system, which is something that I was not expecting. As if that wasn't enough, the amplifier within the UA1 has power enough to drive almost any headphone. I believe that this product is a perfect starting point for anyone setting out on building a headphone rig.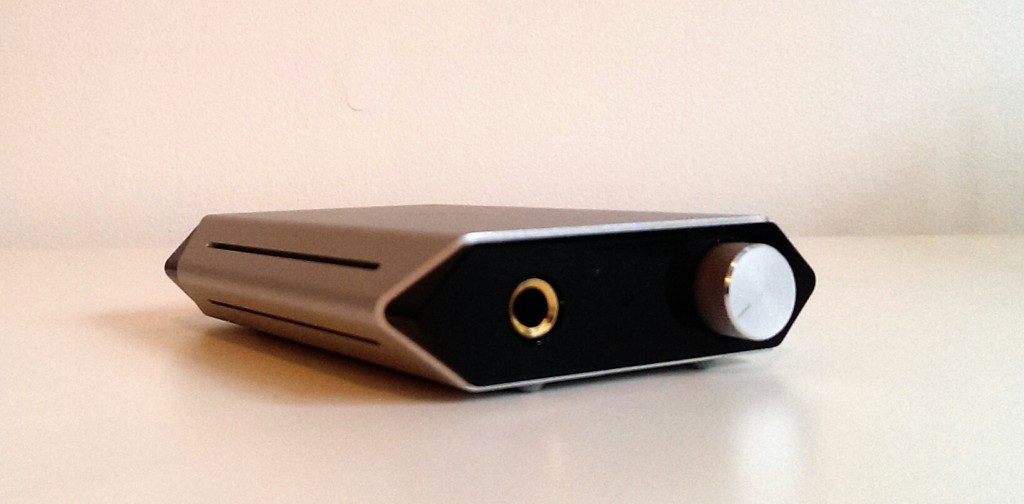 Test tracks
Alt J – MS
Curtis Fuller– Oscarcalypso
Pink Floyd – Poles Apart
Milan Rostropovich – Toccata (G. Frescobaldi)
Jaqueline Du Pre – Elgar Cello Concerto
Dire Straits – wild West End
Al Green – Lay it Down
Emerson Lake and Palmer – From the Beginning
Tech Specs
Digital-to-Analogue Converter
– Burr-Brown PCM1794a
Current-Voltage Converter
– Dual Burr-Brown OPA2134
Headphone Amplifier
– Texas Instrument TPA6120A2
– Power (THD < 0.01%) / 32 ohms 400mW + 400 mW / 300 ohms 43mW + 43mW
Input
– USB 2.0 (host powered)
– USB Audio Class 2.0 (Asynchronous mode)
Output
– Headphone Output (6.3 mm)
– Gold Plated Brass RCA (Right)
– Gold Plated Brass RCA (Left)
– Optical (TOSLINK)
Supported Formats
– 44.1 kHz – 48 kHz
– 88.2 kHz – 96 kHz
– 176.4 kHz
– 192 kHz (Analogue output only)
– Higher than 192 kHz (Supported through high precision conversion in JRiver Media Center)
– DSD64/DSD128 (Supported through high precision conversion in JRiver
Media Centre)
LED Status display
– White 44.1kHz
– Cyan 48 kHz
– Blue 88.2 kHz
– Purple 96 kHz
– Red 176.4 kHz
– Yellow 192 kHz
Dimensions
135 long x 82 wide x 24 mm high
Weight 388g