Advanced AcousticWerkes is a custom in ear monitor maker from Singapore. They have a wide variety of earphones, such as Meister Line, entry level Muziker Line and W500 AHMorph as a flagship. They also offer universal and non-Morph versions of their flagship as well as reshell/modification service.They don't sell monitors directly; we need to contact to their distributors. There are many in Asia and one in Europe, but their most popular distributor is Null Audio, Singapore. The guys in Null Audio were quite responsive to my emails and they usually got back to me in 24 hours. It can be thought that this is a fair replying time by taking the time difference into consideration.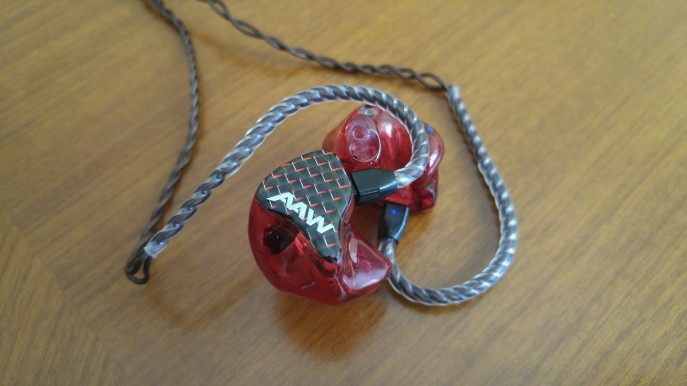 AAW offers approximately 45 different colors for main body, as well as some unique faceplate options such as mother of pearl and carbon fiber. I have to say that these options are very rich and impressive. The company also has different mechanical options available.m You can order them with either a 2 pin or XLR socket if your into balanced IEM.
Built Quality, Internals and Accessories:
W500 is made using high quality acrylic. The reviewed unit has a crimson red body and carbon fiber faceplate. Canals are slightly on longer side, but it isn't as long as my SA43 or SE5. The craftsmanship is excellent and I have to say that this is one of the most comfortable monitors that I have ever tried; there is no disturbance during long listening sessions. Also, I find its isolation terrific, almost on par with my silicone monitors. There is no ventilation hole used for dynamic driver inside. W500 utilizes a 5 way passive crossover design, 3 main acoustic hoses, 9 mm dynamic driver and 4 balanced armatures. Basically this is a hybrid in ear monitor. User can also switch between armatures/dynamic and change low frequency effect by turning the knob and inserted into the inner side of the shell. The knob is tunable with a screwdriver included in the standard package.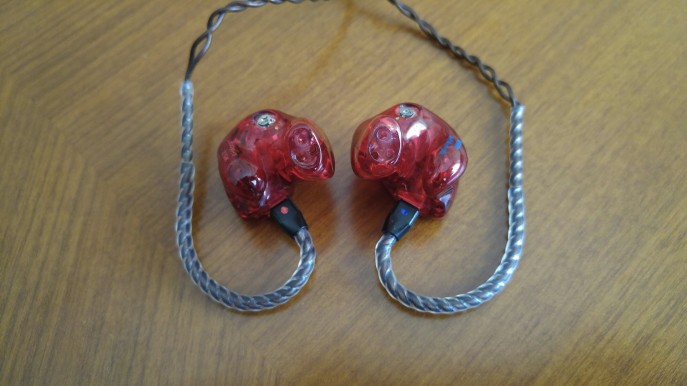 The reviewed monitor has 2 pin-recessed sockets and it comes with a 4-braided version of Null Audio Vitesse Copper cable. Just like my 8-braided version of Vitesse cable, the standard cable of W500 is very flexible and easy to use; also much lighter than 8-braided copper. Null Audio doesn't sell 4-braided Vitesse cable separately, but I guess they should have many demands for this cable. The package is complete with a hard carrying case, a cleaning tool, a soft carrying case and a screwdriver, an aircraft adapter and 3.5mm to 6.3 mm converter is included in the package. Also, there is a special card on which customer name is printed making it more personal. . I would like to say that I find the included accessories rich for a standard package.
Sound:
AAW W500 AHMorph is a warm sounding custom in ear monitor with balanced treble energy. Using the tuning knob you are able to change its dynamic driver sound across the entire spectrum.The review is based on moderate tune, which is more balanced and the best tuning option in my opinion.
Low Frequency:
Sub-bass of the W500 is quite powerful when using the moderate tune. The bass hits like a hammer and delivers good texture. Lower bass and resolution is quite good, but when comparing it to my other flagships it was less textured.. On the other hand, sub-bass tone is natural sounding and blended nicely with the dynamic driver Additionally W500's soundstage is wide and has lot of headroom and air between instruments. I think that sub-bass quantity and dynamics can be satisfy listeners who want to hear more low frequency across the entire spectrum.
Mid-bass is located a bit close to listener with a significant quantity and has a warm tone. Detail level is good, but resolution is not in the top tier. With the effect of its forward notes, this warm tone gives a bit too much warm air to whole spectrum and makes the general presentation a bit warmer depending on tracks. Due to the fact that mid-bass has a slightly forward presentation, the bass room can sometimes be separated from the rest of the spectrum and this results in lacking of coherence and imaging. Not a big problem, but some listeners may expect a better coherence ability.
Mid Frequency:
In general, W500 has weighty and dynamic midrange presentation. The midrange is located a bit far away from listener, but still intimate. Average note thickness is quite good, but not on par with Spiral Ear SE5. W500 recreates thick notes very well and in a realistic tone, but there is a little problem in creating lower midrange notes and they remain too thick at times. Overall tone of the lower and central midrange is smooth and in accordance with mid-bass' tone. On the other hand, the forward mid-bass presentation sometimes fills in midrange with a bit too warm signature and this may result in creating less airy midrange. It feels like there should be slightly more detail and air but the midrange performs nicely if you are looking for rich and full notes.
While the center and lower midrange is smooth the upper midrange is more energetic and there is makes the sound a tad bright. This brightness/coloration delivers a more detail but it also adds a slight roughness to vocals and instruments notes in upper midrange at the same time. In addition, there is a very clean midrange, but transparency level is not at a very high and stays behind SA-43 that is my favorite IEM in this section. W500 may be considered as a slightly intimate and rich sounding earphone in its class; the resolution level is good, but not the best among my other IEM's.
High Frequency:
The treble section of W500 remains nicely balanced in terms of quantity. Thanks to the balanced quantity the W500 isn't piercing at all but alive. In general it can be thought that treble is slightly more prominent and located a bit more forward compared to midrange.High frequency tone is not exactly metallic, but neither very natural. It sounds with weighty notes, but it doesn't have a very true tone due to added coloration/slight brightness to treble, in order to make it more impressive. Overall tone is similar to H8P, but W500 is slightly faster and sounds like it has some weight and less bright/piercing notes. In treble section the W500 is not very fast. W500's extension and treble transparency and detail levels are impressive but the resolution is not that impressive due to low speed in decay/attack.
Soundstage and Separation:
W500 doesn't have an enormously large stage. It has a wide stage having above-average performance, but with a less impressive depth due to the fact that the background isn't located very distant. Still, it has a quite good layering ability.The instrument separation is very good with a very black and stable background. However, it may have some separation problems in fast tracks, due to slightly slow attacks in treble section and low frequency. In total, it has very impressive separation ability.As I mentioned above, even if it increases the separation level, there is a coherence problem linked with mid-bass presentation. In order to increase coherence, there is not much we can do but maybe a different tuning, which has less separated bass room could solve the problem. Low end could have been tuned with more in harmony compared to the rest of the spectrum.
Short Impressions about the other tunes of W500:
Blue Point Tune:
This is the tune, which carries the most prominent low frequency. The most significant changes occur to bass quantity and treble energy. Overall presentation becomes weightier, but it also becomes slightly less airy due to less prominent treble and upper-midrange.
Red Point Tune:
W500 tends to be more neutral and slightly dry, with a less dark/warm presentation. The overall sound becomes airier due to slight change in the bass room, and treble has less coloration. However, notes become slightly lighter and overall presentation becomes less musical. Sub-bass becomes tighter, but loses some of its rumble effect.
Selected Comparisons:
AAW W500 vs Spiral Ear SE5 Ref:
In general, SE5 has more forward and intimate presentation, while W500 is slightly warmer sounding earphone overall with the existence of a bit more coloration in upper mid and treble sections.Note: The comparison is made with W500's yellow point tune.
Low Frequency:
Both use large headroom for low frequency region. W500 has more prominent and slightly more natural hits, while SE5's hitting to depth ability is better in accordance with the location of background. Additionally, SE5 has slightly better texture and control in sub-bass area with a similar rumble effect. While W500 has more mid-bass quantity with more forward presentation; SE5 has slightly laid-back notes with a less warm tone.
Mid Frequency:
SE5 has more forward midrange presentation, with slightly better average note thickness. Both place instruments with similar portions in the stage and recreate thick notes well, but W500 can sometimes sound a bit too thick in comparison. Also, SE5 performs more resolved and transparent, while W500 is cleaner. Both have a rich presentation, but SE5 is closer to performing with true tone. This difference makes SE5 more organic sounding monitor with slightly more emotional vocals.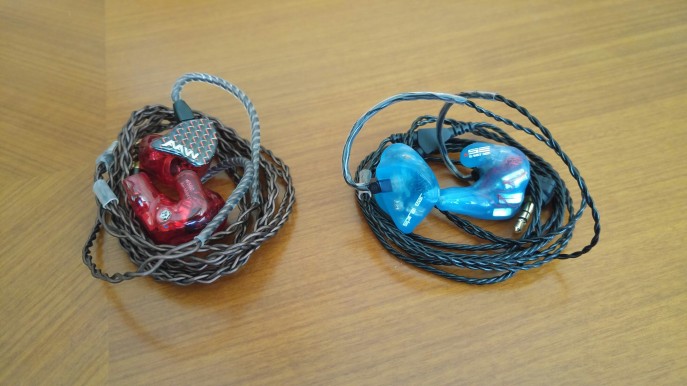 In upper midrange area, SE5 sounds smoother, while W500 has more detailed presentation with a slightly colored/brighter notes. Due to this presentation difference in upper mids, W500 can tend to sibilance more.
High Frequency:
In high frequency, W500 has more prominent and brighter notes, while SE5 is smoother and more forgiving. W500 tonality is neither metallic nor too natural. In comparison, SE5 has more realistic tone with better speed and resolution, but W500 is more detailed and its micro detail articulation is better here. Additionally, extension levels are similar and both have coloration in treble section, but W500 has more.
Soundstage and Separation:
As for stage size, W500 has wider stage; SE5 has better stage depth with a slightly better imaging and more distant located background. Both recreate weighty instruments with similar portions; SE5 puts instruments closer to each other, while W500 create more distance between instruments in a wider stage. This results in a slightly congested presentation on SE5 due to difference in stage sizes. On the other hand, W500 puts warmer air between instruments, while SE5 has more neutral one.
Both have impressive and similar instruments separation ability with their stable and black backgrounds. However, SE5 has a slight advantage in fast metal tracks with its better decay/attack ability. Due to too separated mid-bass presentation and bass room of W500, SE5 has better coherence linked with a more realistic perspective. However, both perform behind SA43 in terms of realism.
AAW W500 vs Lear LCM-BD4.2: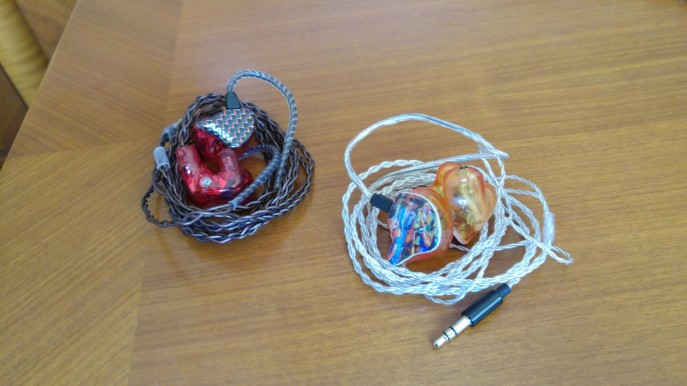 As we all know, both of them have a hybrid design. Lear utilizes two 6mm dynamic drivers, while AAW utilizes a single 9mm for low frequency. Isolation is much better on W500, since Lear has a ventilation hole for dynamic drivers. Also, Lear has larger shell, while W500 is more comfortable in terms of fit.
Note: The comparison is made with Lear's ¾ turned bass knob and W500's yellow point tune.
Low Frequency:
Thanks to dynamic drivers, both have a natural/sweet low frequency tone with slightly colored presentation. W500 has more powerful sub-bass with a strong rumble effect, while Lear hits slightly deeper in accordance with its background location. In addition, W500 hits from a larger area on the stage and carries more bodied notes, while Lear's sub-bass is tighter and better textured in comparison. Both convey emotion and carry air behind hits very well.
Lear has less mid-bass quantity than W500, and locates it laid-back and coherent in comparison. W500 gives more warm air to spectrum in accordance with mid-bass quantity, tone and location, while Lear performs from a slightly neutral perspective in terms of air between instruments. On the other hand, W500 has better mid-bass detail with slightly more resolved notes, but this advantage may be switched to Lear depending on mid-bass quantity in tracks.
Mid Frequency:
Lear midrange is located slightly laid-back compared to W500 and W500 make us feel more intimate with presentation, thanks to its note thickness and more bodied notes. Lear sounds significantly thinner, but airier, a bit clearer and articulates details a bit more. In terms of resolution, Lear slightly bests W500, but W500 has a better timbre creation.
On the other hand, W500's midrange is more dynamic and has a warmer tone and thicker note recreation with a slight smoothness overall. Neither of them have an exact true tone here, but W500 is slightly more natural. Overall transparency level is close; Lear may have an advantage here with its clearer midrange. Both aren't on par with SE5 in terms of recreation of both thick and thin notes well; W500 may perform too thick at times, Lear may sound too thin. Overall, average note thickness is better on W500.
W500 has slightly smoother upper midrange with a similar amount of detail. In comparison, Lear sounds a bit brighter and tends to sibilance more, while W500 has weightier and more intimate vocals in accordance with its more bodied notes.
High Frequency:
Lear has slightly clearer treble with a bit brighter notes. On the other hand, W500 has smoother and slightly weightier presentation. Again neither of them have a true or very natural tone here, but W500 is better than Lear. Extensions and detail levels are similar, but Lear is more resolved by a hair. During fast tracks, W500 performs a bit better in terms of speed and this equals resolution level with a better instrument separation, while Lear sounds slightly more piercing and messy here.
Soundstage and Separation:
Lear has wider and deeper stage; it locates background slightly more distant than W500 does. Overall presentation is more spacious on Lear, while W500 spreads warmer air over the entire spectrum. This makes Lear to have clearer distances between instruments. In general, Lear gives a clearer picture, while W500 has a bolder/weightier one.W500 has significantly better separation with its blacker and more stable background. Lear has some stability problems with its background, and it is not black enough to create an impressive separation. On the other hand, the coherence is better on Lear with an easier focusing overall, while W500 equals imaging level with its strong background.
Final Words:
AAW W500 AHMorph has a really unique and promising warm sound signature with its balanced treble energy. In conclusion, its general performance can be highly ranked among TOTL class monitors. Its black background and low frequency naturalness is one of the bests; the craftsmanship and comfort is top notch. Good work AAW!
Links for the additional info about AAW and Null Audio:
Note: W500 is priced at 1.054 USD at the time this review is posted.
http://www.null-audio.com/collections/custom-in-ear-monitor/products/advanced-acousticwerkes-w500-ahmorph-reference-hybrid-custom-in-ear-monitor