This review has been a bit of a journey, I went through a small health care crisis, so both the Heron 5 and I have been revised. My revisions aren't very interesting, but the Airist Heron 5 Amplifier's should be interesting to those looking for a great amplifier at a reasonable price. The Heron 5 was launched at $1,999.00, but through an infusion of investment capital and revisions in the manufacturing process it is now offered at $999. For those who like to read the last paragraph first, I'll save you some time, at the original price the Heron is a very good amp, at the new price it is a steal. The Airist Heron 5 Amplifier is magic with the HD800, MrSpeakers Ether, and Ether C, an outstanding value priced (okay $999 isn't cheap, but playing well with the HD800 at this price is a rarity) amplifier. For those wanting a bit more meat in a review, read on.
If one were to do a case study on millennial entrepreneurship, Airist Audio would be a great place to start.The company was co-founded by William Tse, Terry Yeung, and Eyck Freymann; Benjamin Wilentz serves on the management team as VP of Strategy." Maggie Tse is s a PhD Candidate in experimental physics at M.I.T. who specializes in specializes in quantum noise reduction in large-scale laser interferometers.
Airist Audio's first venture in audio, the Heron 5 Amplifier, is a magnificent first effort. Packaged beautifully in aircraft grade aluminum, it is somewhat larger than "typical" offerings in this market. Weighing in at 14 pounds (6.4kg), and measuring 13" (33cm) wide, 11" (28cm) deep and 3.9" (8.5) high, Airist is definitely falling in the "size does matter" camp. In comparison, my reference Auralic Taurus (8lbs, 11" W x 9" D x 2.6" H) looks a bit dainty.
Airist Audio's Heron 5 offers balanced inputs. Airist Audio chose to focus their design efforts on shielding and in preserving integrity of the musical signal through the near elimination of phase shift (less than 2 degrees across the entire audio range). The former is achieved with Airist Audio's own proprietary "Stealth" shielding technology. While I cannot tell you how they do it, I can tell you the Heron 5 offers a remarkable, inky black background from which music emerges. So, Airist Audio has achieved one of the main advantages inherent in a balanced topology, reduced noise and distortion, through their design focus on shielding and minimization of phase distortion. Due to single ended nature of the Heron 5, all my listening with the HD800 and LCD-3f was done with a Norne Audio Draug 2 balanced to SE adapter.
Prior to delving into the sonic profile of Airist Audio's Heron 5 amplifier there were a couple issues I had with completing this review. First, the Heron 5 amplifier has been a bit of a "moving target". My first unit was part of the Head Fi Loaner program and had to be forwarded on to the next user and a second amplifier was provided by the manufacture to complete the review. Not a huge deal and my listening of the two review amplifiers "head to head" indicated little or no variability or differences in sound quality. The second, much larger change was reported to me the day I was to submit this review, that was a $1,000 price reduction from $1,999 to $999. This obviously is a pretty big deal on several fronts creating some questions. Why the drop in price? What about people who had purchased the amplifier at its original price? Were there any changes in parts or production technique? How do they impact sonic performance with the new volume control?
I am happy to report the revisions in manufacturing and the slight modifications to volume pot didn't adversely impact the excellent sonic performance of the Airist Audio Heron 5 Amplifier. The following quote is from correspondence with William Tse, CEO of Airist Audio:
To answer your question about the updated amplifier, the new version of the Heron 5 features the same circuitry and quality components, and the only change we made was to the volume control. We produced the first handful of units in small production runs of a few Herons each, using the original stepped attenuator. When we started getting reports of issues with the volume control on some units, we looked into the issue and upgraded to a better mechanism and a different taper on the volume. The quality and precision on the volume resistors is the same as in the original, although they are of different values. Shortly after we resolved the volume issue, we were able to start producing in larger quantities and we have since retired all of the units that used the original volume control."For those who purchased units from the initial run, Airist is working with owners to update their amps.
How does the Heron 5 sound?
Sade's "Smooth Operator" sounds incredible with the HD800 or LCD-3f and could have been written for the amplifier. This smoothness does not come at the cost of micro-detail or PRAT, everything in the music is there, just presented in a silken manner. This may be to much of a good thing with some very laid back headphones, although I didn't find this to be the case with my Audeze LCD–3f . I can happily report that with the Sennheiser HD800, Audeze LCD-3f, AKG K7XX, Audio-Technica ATH-MSR7, or a brief listen to MrSpeaker's spectacular Ether C, that this is not the case.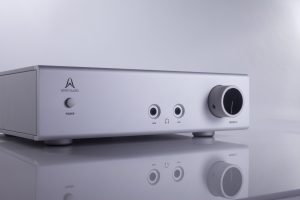 The Heron 5's High and Low Impedance Outputs
Amber Rubarth's version of REM's "Losing My Religion" from her album, "Scribbled Folk Symphonies" was incredibly spacious on the HD800, adding even more depth than what's presented by my reference Auralic Taurus Mk.2. This increase in perceived soundstage was even more apparent on the LCD-3f, adding width as well as depth. Next up a slightly obscure, but most excellent Band from Tucson, Arizona, Giant Sand. Listening to "Fields of Green", from "Blurry Blue Mountain" I noted the tube like sound on my LCD-3f, with a magical midrange. On the Taurus Mk.2 the sound was clean, clear, and hyper detailed with the HD800, in a few words more solid state. With the Taurus Mk.2 I was drawn to the small details, fingers squeaking on the guitar frets, with the Heron 5 I just got lost in the music.
Moving on to one of the theme songs from David Lynch's unique show Twin Peaks (unique is putting it mildly), Chris Isaak's equally haunting "Wicked Game." Again the Airist Heron 5's tube like richness and musicality was a thing of beauty, pulling me into Isaak's song, feeling his pain. The Taurus Mk.2 also was excellent, but with the HD800 it was on a bit too clinical. Time and time again I forgot that I was reviewing and found myself listening to entire albums, not just my test tracks. The Airist Heron 5 is a remarkably musical amplifier, with an incredible warm and rich tone that added some much needed body to the HD800.
Johnny Cash's version of Kris Kristofferson's "Why Me Lord" from his American Recordings self-titled CD "Cash" flowed with emotion, with an autobiographical feel, coming from a man who had great joys and regrets and new his time was near. Again the musicality of the Heron 5 added "soul" to this cut that the clinical presentation of the Taurus Mk.2 lacked.
A true revelation was the ability to listen to the Rolling Stones on my HD800, any track, off of any of their albums, yes they remained poorly recorded, no "silk purses out of sow's ears" (I was due a cliché). This is just place where my LCD-3f had always been my first choice, by a wide margin (yes the Audeze bass still makes them the first choice, just less so). The Heron 5 added warmth and bass punch as compared to the Taurus Mk.2 and was huge plus with less than stellar recordings with the HD800 and the Ether C's that I listened to briefly at the Music City Meet. Several of the Ether C owners reported that the Airist Heron 5, in my setup, was the best that they had heard these headphones sound.
On music one more typically associates with the HD800, classical and jazz, the Heron 5 continued to impress. Vanguard Jazz Orchestra's track, "XYZ" from "Overtime, the Music of Bob Brookmeyer" was a revelation. The added depth and rich tone abetted the already musical Audeze LCD-3f. Percussion and brass instruments on the track, with a wide, deep soundstage were spectacular on this Ccut. The Taurus Mk.2 also sounded fantastic but the added warmth, musicality and depth of the Heron 5 added to my enjoyment of this Album.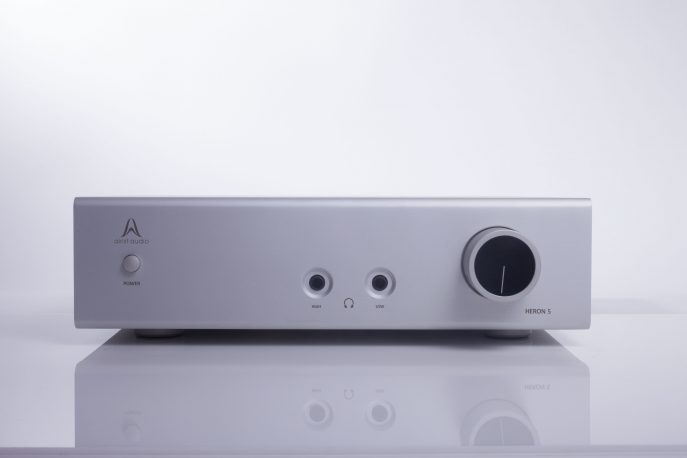 George Szell's fabulous recording of Haydn's Symphony 97 with the Cleveland Symphony was liquid goodness on both the HD800 and LCD-3f. Spacious, with great tone, a very tube like presentation, with the added bonus of solid state bass. Here the clarity of the Taurus Mk.2 was also excellent, however I again found myself being drawn into the music in a more emotional manner with the Heron 5. On Harmoni Mundi's spectacular recording, "Music of Easter", featuring the Choir of Claire College, Cambridge, Matthew Martin conducting the tube like richness of the Heron 5 was stunning. Though the added clarity of the Taurus Mk.2 added to the spaciousness of the track, "Haec Dies".
In closing, the Airist Heron 5 was a very good amp at the original price of $1999 but at $999 its an absolute bargain. Amplifiers that sound well with the HD800, at this price point are a rarity. For those audiophiles that don't want to bother with tubes, but love their HD800 the Heron 5 is a must audition. Yes, there isn't a balanced out (there is balanced input though), as well as some reports of "too much of a good thing" with headphones with soft presentations. Though with every headphone I tried, as well as reports from Ether C owners at the Nashville Meet, the Airist Heron 5 Amp was highly musical, rich, and involving. I highly recommend an audition; I know I'll be purchasing the Review Unit.
Heron 5 Specifications:
Frequency Response
20 Hz – 20 kHz +- 0.05 dB 1 Hz – 101 kHz +- 0.2 dd
Phase Response
20 Hz – 20 kHz +- 2 degrees
Noise Floor
< -100dBm (0.1 picowatts)
THD+N @ 1kHz
<0.0015%`
Dynamic Range
≥ 130 dB, 20 Hz-20 kHz A-weighted
Signal to Noise Ratio (SNR) @ 1kHz
132 dB A-weighted
Crosstalk
< -80 dB, 20 Hz-20 kHz
Gain
12.5 (22db)
Output Power
5W at 32 Ohm
Outputs
1 low impedance 6.3 mm, 1 high impedance 6.3 mm
Power Consumption
65W max, 10W nominal
Price
$995.00
Equipment Used in this Review
Sources: iPhone 6 Plus, iPad Air 2, Arcam FMJ CD23, Cambridge Audio Azur 650BD,
DAC: iFi Nano iDSD, Monarchy M22B DAC, Grant Audio Tube DAC 11 (Siemens E88CC) (bedside system with Cavalli Liquid Carbon)
Amps: iFi Nano iDSD (amp/DAC), Auralic Taurus Mk.2, Cavalli Liquid Carbon, Airist Audio Herron 5, iFi Audio Retro 50 (review pending)
Headphones: Alclair RSM Quad CIEMs, Audeze LCD-3f, Sennheiser HD800 (Anax Mod 3.0), Beyerdynamic DT1770 Pro, AKG K7XX, Audio-Technica ATH-MSR7 (review forthcoming), MrSpeakers Ether C (at the Music City Spring Meet)
Cables: Norne Audio Draug 2 (HD800)/Therium Silver (RSM Quad), Stock (LCD-3f, Klipsh, Cardas Quadlink Interconnects, Pangea UCB, MIT Digital
Ancillary Equipment: Schiit Audio Wyrd, Gustard MX-U8
Heron 5 will be available on Massdrop for one week starting tomorrow (5/24) with the lowest price of $749 and (https://www.massdrop.com/buy/airist-audio-heron-5-amplifier).