I'm tapping my feet, eyes closed as I type this, head-bobbing to Thom Yorke's "Black Swam" (lead singer of Radiohead's solo project). The sound is authoritative and dynamic. The music is alive with dimensionality; spatial placement and transient attack fully captivate me. I am getting all this from the Pan Am, ALO's superb little five-hundred dollar tube headphone amp/DAC combo. The Pan Am is powered by ALO's Passport battery pack and driving my Audeze LCD3 magnetic planar headphones with Cardas Clear cables. I can't help thinking about clichés here like "portable nirvana." We used to toss that term around when I worked at CEntrance: A top-notch audio design firm and manufacturer. It would come up constantly during our brainstorming sessions on the progression of high performance personal audio. This abused, clichéd phrase directly succinctly describes my experience with the portable, sonic marvel that is the ALO Pan Am.
Now I'll do my best to briefly describe my sonic adventures with the Pan Am over the last couple of months.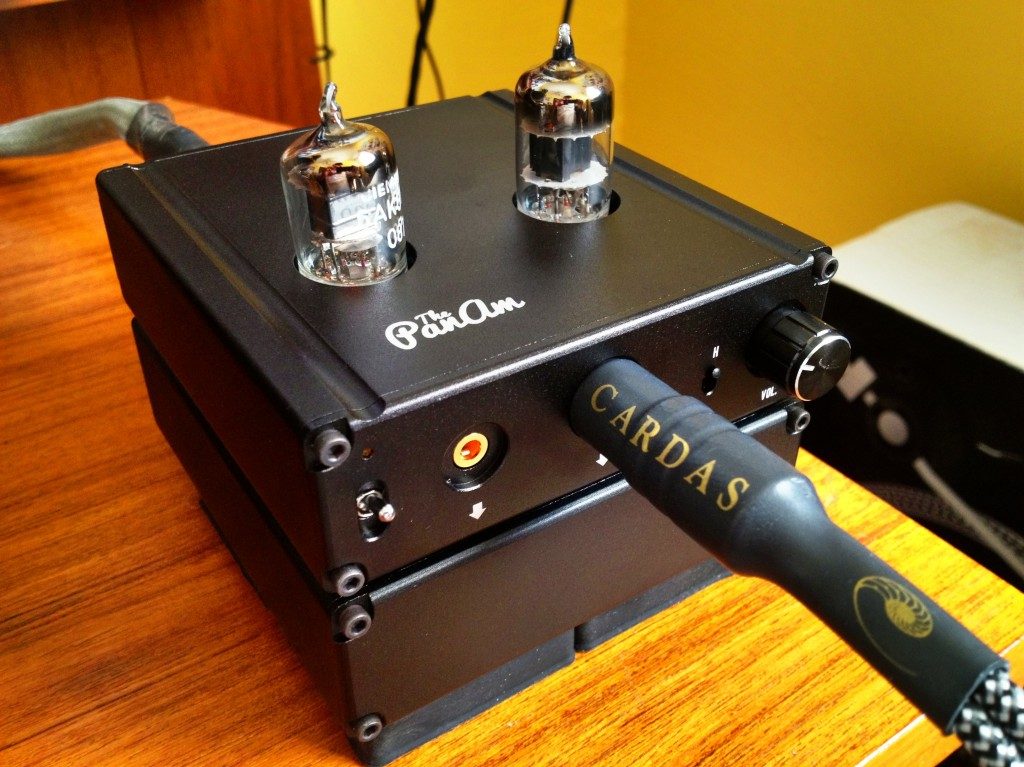 A leading attribute of the Pan Am is its relatively small size, and with its sporty carrying case (which includes pockets for the Pan Am, battery, and extra tubes) you can actually take your tube amplification along with you on road trips! With the ALO Passport battery pack in-tow, I've experienced amazing vista views here in Los Angeles while listening to my Audeze LCD3′s. I even watched the night appear before me on Mulholland Drive, all the while listening to my favorite Radiohead tracks.
The unit sports a Wolfson DAC (accessed via USB) capable of supporting data rates up to 96k/24-bit and a dynamite vacuum tube output stage via two 6J1′s or any compatible tubes. There are two additional analog inputs, via 1/8" mini-jack and stereo RCA's. These are great options for utilizing the Pan Am as an analog tube headphone amplifier with other portables such as; iDevices or the ALO recommended Astell & Kern AK100 high resolution player – my favorite portable player of late. RCA inputs allow for any line-level source, such as a CD deck or outboard DAC. Product versatility is key these days and ALO proves they're well aware of this since most of their components are chock-full of features. Attention to detail also spills into ALO's tube recommendations. Ken Ball, CEO of ALO Audio, sent a couple of tube options for me to try. I stuck with the Siemens. With them, the sound was big, without having the subtle glossy effect on dynamic contrasts that sometimes crop up with "affordable" tube electronics. The audible window was so clear with the Siemens I came to tears a number of times while playing Mogwai's "Cody." The song is morose, but boy is it gorgeous, and it reminds me of a dear friend who lost a brother last year. Whenever I hear it I think of him.
If a sound system is capable of reproducing a sense of realness for me, if it connects me to the music so deeply that everything else fades away, then I know it is something special. To me, the emotional transference is everything when considering an audio component. I could sit here and tell you it's great because it uses this chipset or gold tracing throughout the motherboard, but the truth is: I believe audio playback is more than the sum of it's parts. [Note: Technical specifications are easily found on ALO's informative and clean website: www.aloaudio.com]
I chose my Audeze LCD3 magnetic planar headphones as the mate for the Pan Am because the LCD3's are my favorite headphone on the planet, and while it's not so tough to drive them as some of my peers may think, I do know it takes a special amp to drive them to their full musical potential. These magic cans (LCD3's) transformed my view of the future for High End personal audio. The LCD3's provide a resolution so powerful and life-like in its presentation that you would have to spend at least a hundred grand to get anything comparable, in an open room speaker set up, that approaches the transcendental experience of listening to Audeze LCD3′s (provided that they are driven by a worthy rig). With the LCD3's, you can achieve the same audible holographic imaging of high end stereo equipment, and for a fraction of the cost. Only systems that dynamically load and charge a room, reaching "believable" SPL levels at low-distortion, approach the resolving capabilities of the Audeze LCD3 magnetic planar transducer. They have become my best tool along with my main reference system. If there is something I don't like about a recording, these babies tell me instantly. One of the things I love most about the ALO/Audeze combo is: The moment I turn it on, I get lost in the music and I lose my desire to geek out and take notes for this review. I just want to keep on listening…
The Pan Am works beautifully as a USB DAC/headphone amp combo and as a stand-alone headphone amplifier. I've enjoyed my longest listening sessions in months using the Pan Am running on the Passport battery. I found the sound so captivating that I ended up doing one of the few things I dread as a reviewer; I experimented with all sorts of USB cables to squeeze the most enjoyment out of the DAC as I possibly could (with my MacBook Pro running the latest Amarra software as the source). Surprisingly, and unexpected, I ended up loving the overall musical presentation from the Pan Am using my Axis USB cable from the late, audio pioneer, Lee Weiland of Locus Design (we lost Lee in 2011). The sound was a true testament to his craftsmanship. Making cables was his art, and each and every cable was hand-crafted right here in the USA. I practically melted into the chair when I put on Donny Hathaway's "A Song for You" off The Donny Hathaway Collection. I felt like I was in the recording studio – just me and Donny in the room together. The music was already glorious when I decided to unplug the Pan Am from it's Gateway power supply and use the ALO Passport battery pack. It was as if there was a noise-floor that I wasn't previously aware of. Everything got clearer, like seeing through a car windshield after hitting the washing fluid button for the first time in weeks: You never realized how dirty the window was! I must be careful expressing that, as I'm not implying the Pan Am is noisy when plugged into the wall using the Gateway. I'm merely saying I prefer experiencing the Pan Am using the Passport battery as the power source. I hear the changes you might expect when using a battery, but you never lose the gestalt or the velocity of the rhythmic pulse.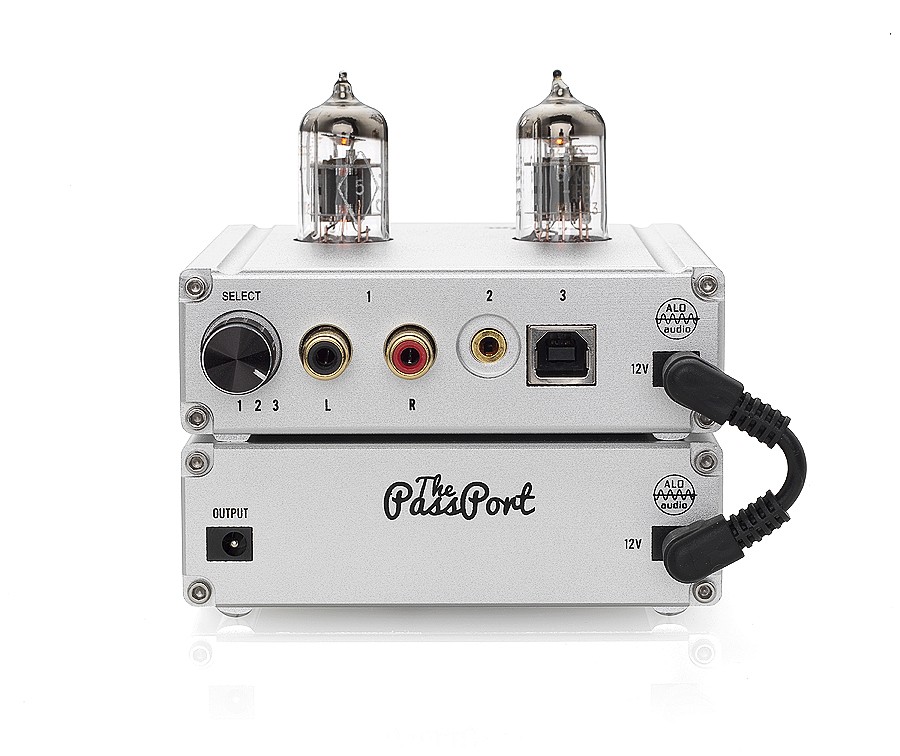 When I say you don't lose the gestalt by going to battery (as it maybe hard for some to imagine), I can think of only one memory to compare this to and it is in terms of stereo playback. It just so happens to be one of the most incredible stereo experiences of my life, and it happened at HP's house in Sea Cliff. (I was fortunate enough to hear the Nola Grand Reference System loudspeakers system driven by all ASR battery-powered components – from phonostage to amplifiers, all wired with Nordost Valhalla! The turntable was the E.A.R Discmaster: Tim DeParavicini's timeless assault on the state-of-the-art in magnetic drives. I heard that system do things I didn't think was possible when it came to sound reproduction.) Please understand: I am not saying this equals the impact that the giant NOLA/ASR system had on me. But this is all I have to draw from in order to try and paint a picture of the differences I hear in this specific situation. You flick the switch, and an already resolute system is suddenly off the grid!
With the Pan Am/Passport combo the luscious, spacey intro to Brian Eno's LUX album got deeper and wider. The spatial separation in Nosaj Thing's "Glue" sounded more like it does on my big speaker system; fluid and dead-quiet. The synthesizer pings bounce and trail-off, creating this feeling of vastness. When I threw on Damian Rice's "Delicate," off his splendid album O, I thought I left my office speakers turned on while I was wearing my Audeze LCD3′s! I stood up, turned around and thought I had to turn off my CEntrance Audiophile Desktop System. Since the LCD3 is a magnetic planar transducer, it's an open-back design, which is why I often urge people who "hate headphones" to try them. They're not claustrophobic like most headphones, and the image isn't squashed between your ears. (They create an actual stereo image when you listen intently and they produce a vivid depth of field. The LCD3′s ability to re-create spatial soundscapes is transparent (as if that word isn't abused to death in this crazy hobby). Listening to music on the LCD3 has been a wholeheartedly mind-blowing experience for this thirty-eight year old enthusiastic, but admittedly "jaded" audiophile. The Pan Am was such a perfect match that I purchased my review sample, and though admittedly I got an industry accommodation, I would have bought it without the break.
The Pan Am is also ideal for IEMs (in-ear-monitors) via it's 1/8" stereo jack and gain switch. Use high or low depending on your headphones and taste. If you enjoy the sound of your high impedance headphones on the low setting; so be it! After all, personal audio is about enjoying the music. I used my JH Audio JH-13 Pro Freqphase monitors, as they are the most revealing IEM I own. I used the low setting for these, and the high setting for the Audeze LCD3. The JH-13′s sounded as good as I've ever heard, and that's not easy to pull-off. Timbre was sublime, from the dark sultry voice of Beth Gibbons on Portishead's genre-bending Dummy to James Blake's awkward yet beautiful cover of Joni Mitchell's "A Case of You" off Enough Thunder (feat. Bon Iver). The lower mid-band had power, the bass was controlled, the vocals clear, and the midrange of the JH-13 Pro Freqphase was amazing.
I can't think of enough great things to say about this terrific little portable system. Do not let it's diminutive size fool you; the Pan Am really packs a dynamic punch, and for the money there is only one possible contender I can think of at the moment and this is the Woo Audio WA7 "Fireflies" (which is currently under evaluation and review by our very own Joey Weiss). However, Woo doesn't offer a battery pack (the WA7 is a desktop unit), which is one of my favorite options on the Pan Am. Need some tube warmth and texture in your headphone rig (portable or desktop), but don't have the budget for the expensive stuff? It would do you good to check out the ALO Pan Am. I can listen to music all day with this Pan Am and the Audeze LCD3′s. With the Passport's ten-hour battery life; it's easy to do. However, it's not easy to find something so musically captivating without being fatiguing over long periods of time. The Pan Am answers that call with vigor. Happy Listening…