It's here, the Warwick Acoustics APERIO Electrostatic Reference Headphone System. The headphone division of Warwick Acoustics LTD, as many may remember, was once called Sonoma Acoustic LTD. The parent company, located in the United Kingdom, is a pioneer in electrostatic audio systems designed for automobiles. Warwick's custom designs are known to offer a remarkable listening experience whether you using it for the automobile or in an electrostatic home-based system.
Martin Roberts, the Managing Director, has been working tirelessly on design techniques for the world-class Warwick systems since the start of the Sonoma project resulting in the new groundbreaking APERIO design which is currently available at fine audio dealers worldwide and in the United States at Moon Audio located here.
Warwick is located at the Automotive Technology Center in England. The APERIO system is an all-inclusive proprietary complete system manufactured to the highest standards, that includes the headphone, electronics, DAC, and amplifier complete with cables and a Pelican storage case at a price for the entire system of $24,000 USD.
The APERIO headphone was designed from what Warwick learned while working on the Sonoma. Incorporating a more refined version of the technology used in the Sonoma while developing even more advanced technology to capture pristine detail the APERIO is a no-compromise system designed to reproduce unparalleled reference quality sound with unrivaled resolution and musicality.
As part of the design protocol, the headphone had to provide the best performance and sound quality possible while providing the listener with comfort for long listening sessions especially for the many professionals who may want to use the APERIO for studio monitoring.
The APERIO DAC/Electrostatic Headphone Amplifier is a completely proprietary system designed specifically to meet the unique needs of the Warwick APERIO headphones. Warwick took every element of the sound reproduction chain between raw audio data input and output to the headphone and fully optimized it within the APERIO electronics for the new Balanced-Drive High Precision Electrostatic Laminate Transducer to deliver musicality with a world-class amplifier and a truly remarkable DAC that is both future proof and a Roon ready music server.
Technology
To bring the APERIO to a higher level, Warick created a Balanced-Drive (BD) version of the asymmetrically-driven Warwick Acoustics' High Precision Electrostatic Laminate (HPEL) transducer, originally developed for the Sonoma Model One headphone system under the philosophy that the transducer is the most crucial component of any headphone system. In their own words, " The ultimate performance of the complete sound reproduction system will be determined and limited by the acoustical performance and fidelity of the transducer. "
BD-HPEL Transducer
Warwick Acoustics has completely redefined the electrostatic transducer from diaphragm construction to stator design to bias voltage (1800VDC), which is part and parcel of why the APERIO was designed as a complete system.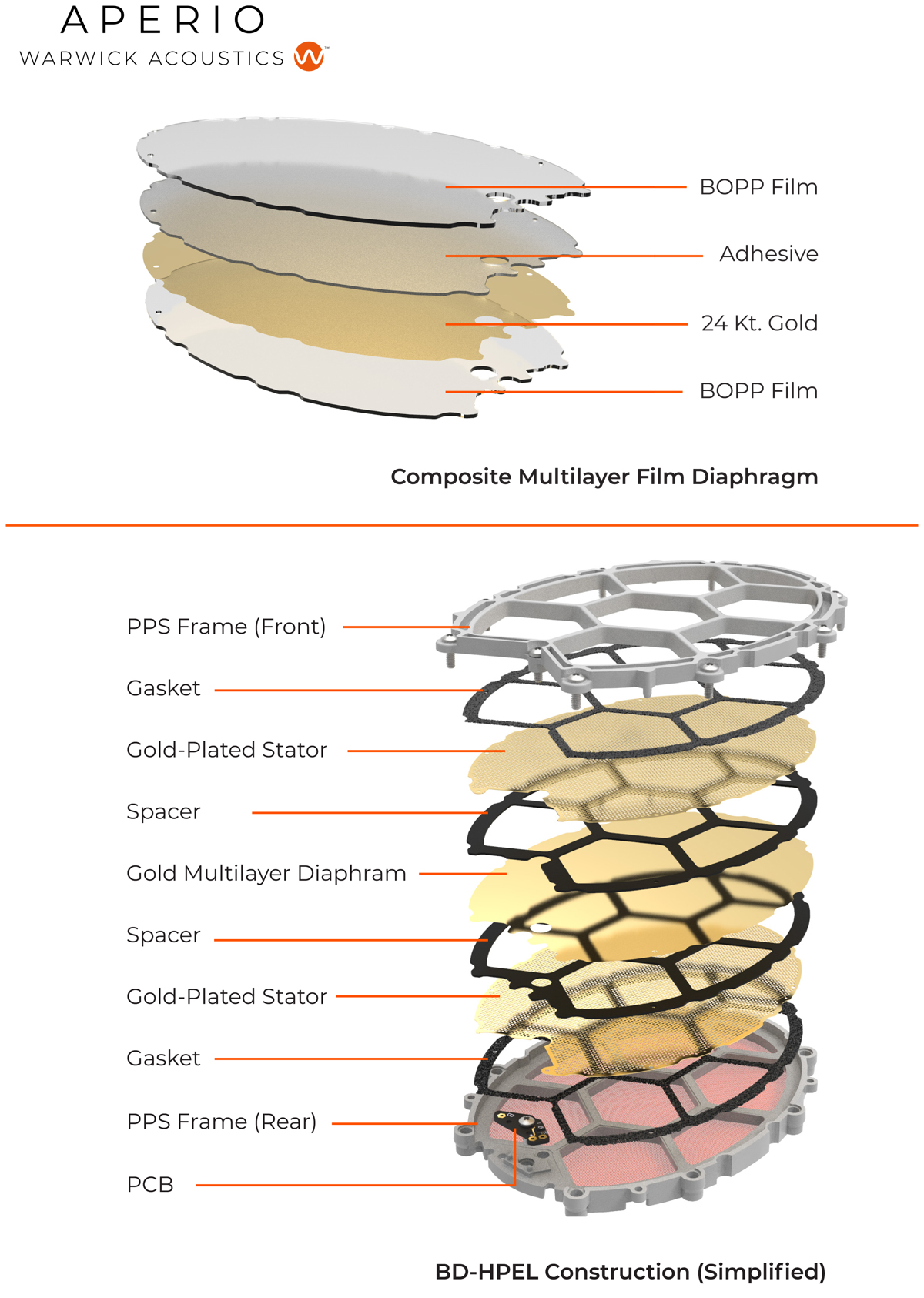 Again to quote Warwick Acoustics, " The BD-HPEL diaphragm is an innovative composite design comprised of two layers of Bi-axially Oriented Polypropylene (BOPP) film. BOPP film has the optimum properties for our BDHPEL diaphragm: a low and stable dielectric constant, a very low dissipation factor, high breakdown strength, and very low hygroscopy (< 0.1% water absorption). Encapsulated between the films is a vapour-deposited conductive layer of 24 Kt. Gold. Acrylic-based bonding agents within the lamination have high internal damping properties that act to further suppress resonances in the film assembly. The overall diaphragm assembly is extremely thin – less than one fourth (¼) the thickness of a human hair, and consequently very low mass. The diaphragm is custom-fabricated in Germany and Austria to our exact requirements, then laser-cut at our R&D facility. The diaphragm design is inherently impervious to moisture, and resists arcing at voltages much higher than used in operation. The BD-HPEL diaphragm is charged via an 1800 VDC bias to generate the required electrical field strength. The design is carefully optimised to decrease high voltage leakage currents that could compromise and degrade performance, to less than 0.08 µA. The diaphragm is centred between two thin, high-precision electrical stators using laser-cut Polypropylene spacers. Each stator is formed by photo-chemical etching of OFHC copper, which is subsequently gold-plated. This is the finest grade of copper available, refined to reduce the level of oxygen and other impurities to less than 0.001%. Electrical contacts are made through a gold-plated copper, FR-4 glass epoxy PCB, which includes a novel circuit to safeguard against electrical shock. The entire assembly is built into a high-precision frame fabricated from 40% Glass-Filled Polyphenylene Sulfide (PPS), a highly stable, ultra-rigid and inert Engineering polymer. This frame ensures that the assembled transducer is held completely flat and is invulnerable to warpage or bending "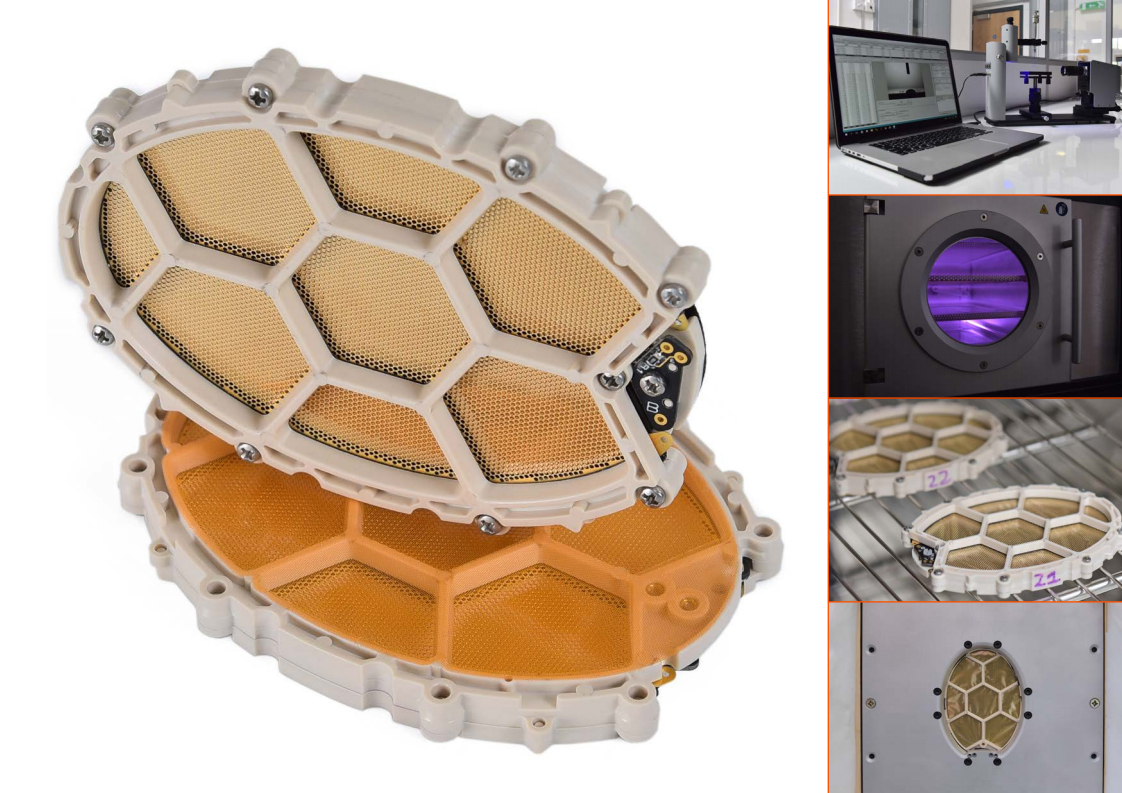 The APERIO transducer uses a higher voltage bias that allows for greater excursion of the diaphragm than conventional electrostatic designs giving the APERIO wider dynamic range and deeper more linear bass response producing less distortion with a more linear delivery than was possible even with the Sonoma.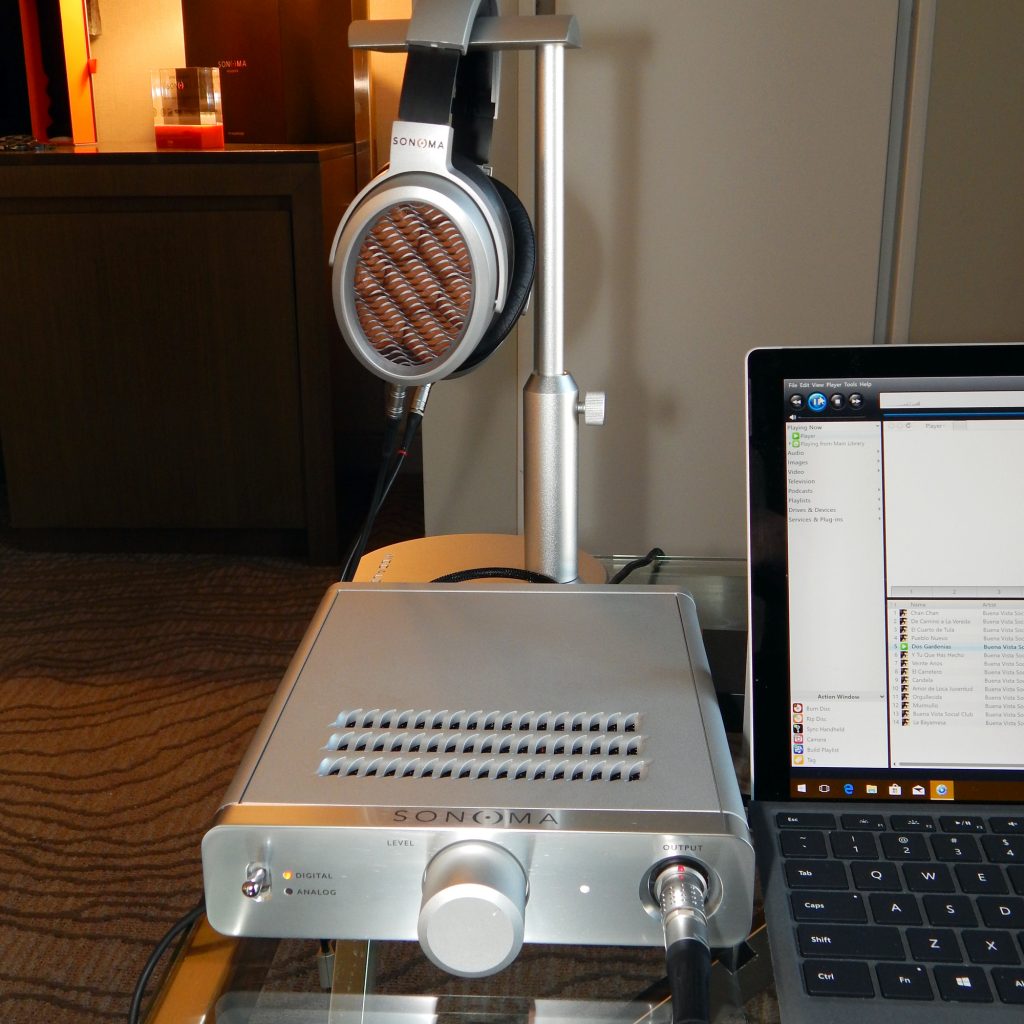 Because weight is a major factor in comfort and controlled resonance was a requirement, major structural components, such as the earcups were fabricated using injected Magnesium. Using stainless steel for key structural fasteners, the new injected design is well damped and eliminates resonances in the headphone. Furthermore, special care was taken while designing the headphone to make sure there was excellent airflow.
Cabretta leather which is the world finest grade sheepskin was used to improve the listening experience. The cushions are extremely comfortable and the cups create a natural seal that makes long listening sessions a breeze. Warwick designed from the top down using the highest quality of materials making no compromises in the design.
Electronics and Components
State of the art technology was used in every part of the system design without compromise. The complete package includes a preamplifier/ headphone amplifier with a built-in digital to analog converter, that includes a line output to use with a loudspeaker system.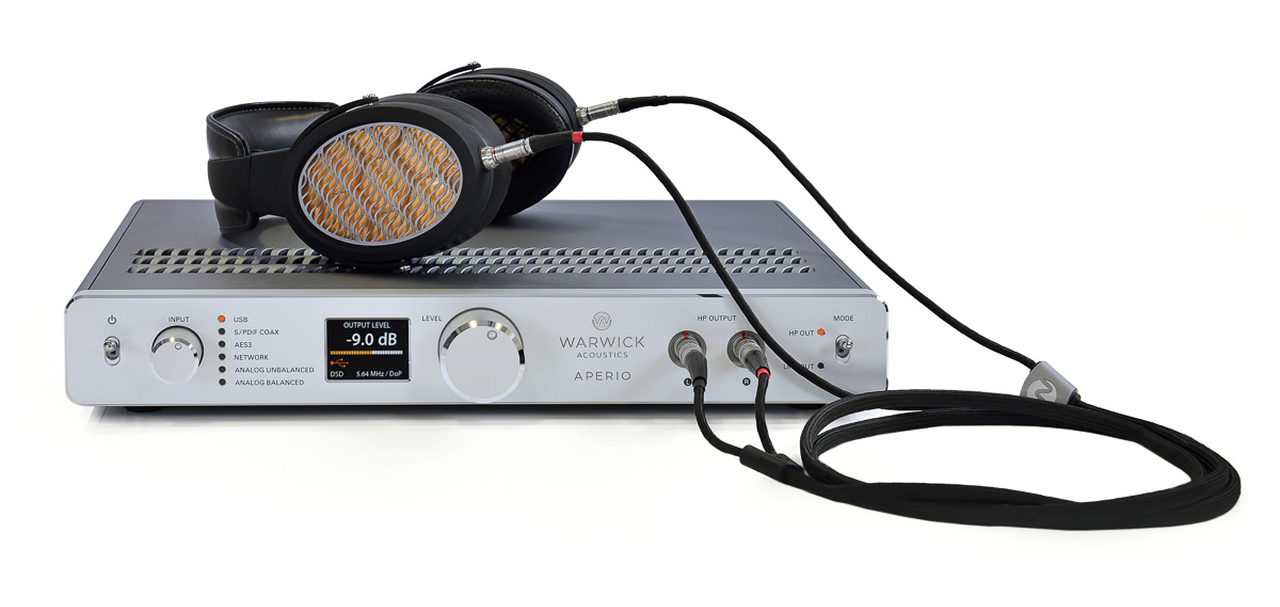 Inputs include both balanced and unbalanced analog inputs, AES3, Coaxial, and USB for digital, as well as an ethernet connection for network streaming. The analog inputs include individual switchable gain with buffer circuitry that maximizes performance whether the source is consumer (< 1.0 Vrms) or professional audio (up to 18 dBu).
APERIO's DAC offers state-of-the-art design technology. Using fully balanced dual 32-bit 8-channel DACs in a dual-mono configuration Each channel's DAC section is housed within separate EMI shields and supplied by isolated, local, ultra-low-noise power regulators. All digital data is kept in its native format before being converted to analog in the APERIO's DAC section. Any DSP performed (on PCM data) is double-precision, 64-bit, fixed-point, at native sample rates. Within the APERIO DSD data is not converted to PCM and, analog data is not converted to digital data. The Ethernet input is buffered by a separate Linux-based subsystem within the APERIO in order to surpass the typical DLNA limitations and enable digital audio reproduction of native or DoP 256 fs DSD and higher sample rate PCM formats to 384 kHz. Furthermore, digital data is asynchronously clocked in the same manner as USB inputs, to minimize jitter. The line output section of the preamplifier is all Class A with high voltage and current capabilities able to drive most any system whether consumer or pro.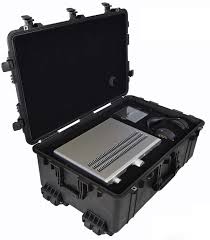 The Cable included in the package is specifically designed for APERIO. The custom APERIO headphone cable is formed from 66 strands of micro-fine OFHC copper per conductor, each plated in pure Silver, wrapped in low durometer, High Voltage Silicone insulation with internal Kevlar damping/reinforcement fibers to dramatically reduce microphonic sensitivity and to ensure high tensile strength and durability. The internal construction geometry and specialized insulation ensure that damaging high voltage leakage currents are reduced to less than 0.08 uA and that capacitance is minimized between all conductors, including the shield. The cable assembly is wrapped in an ultrathin Teflon (PTFE) barrier layer and multifilament Nylon and Polypropylene woven fiber jackets for additional durability and a soft texture utilizing only non-hygroscopic materials to reduce moisture absorption to an absolute minimum thus stabilizing performance in any environment. Plus, high performance, polarised, self-latching, stainless steel connectors with goldplated copper, multipole contacts ensure high quality, reliable electrical connections to the drive electronics and headphone. And finally, the APERIO headphone cable fully shielded from EMI/RFI provides the optimum electrical conduit between bias and amplification circuitry and the BD-HPEL transducer within the headphone while exhibiting very low electrical crosstalk and microphonic sensitivity, at the same time remaining lightweight, flexible and soft to the touch without compromising durability or reliability. Included with the system are high-performance Ethernet and USB cables to extract even minute detail from your recordings.
Listening Experience
My Roon Library System integrated flawlessly with the APERIO providing access to over 15K high-resolution DSD recordings in addition to streaming High Definition recordings from Qobuz and the excellent MQA recordings available from Tidal, hence I felt I was well equipped to test all the benefits that the system could provide.
Copland's "Fanfare for the Common Man" from the Reference Recordings album "Copland 100" was queued up and started to play so I was able to get a handle on how fast the APERIO could respond to the challenging dynamics of this performance.
Fanfare is a terrific track featuring a finale that has an enormous and thunderous bass extension on the tympani with a sensational hall acoustic that makes the decay of the cymbals special providing a great test to see how well any system can start and stop while reproducing demanding tracks. Reproducing this track requires amplification that has a powerful delivery with fast and electrifying transient speed. Over the years many designs I've tested failed miserably when trying to recreate this track.
"Fanfare for the Common Man" started with the tympani in full force. I could hear the instrument set in the back of the stage and when the trumpet solo started it is as defined in its own space with good separation from the tympani and both sections had massive air and space and were well defined within the stage. The tympany was extended and the whacks were well defined and the music had rare tonality only present in the best transducers and amplification. The thunderous bass whack from the instrument with its lightning-fast speed made this performance special.
Each section of the orchestra was in its own space with excellent air around the section. The stage was wide and deep and offered a 3D stage which had outstanding imaging of the musicians.
The APERIO immediately made its sonic signature noticeable on this dynamic recording. Soundstaging presented a fully layered orchestra with exceptional imaging.
The APERIO delivered blazing speed while reproducing the track and when it came to the finale I had the volume levels up at concert hall levels and the APERIO's amplifier and DAC easily handled the fast dynamic swings and delivered a magnificent performance.
Next was "Appalachian Spring" which is quite beautiful and the tonality of instruments had musicality that in my experience only top tier systems are able to reproduce properly. APERIO once again showcased an amazing soundstage and delivered exceptional clarity in the hall with proper instrument decay and space.
Every hall has an individual acoustic sound and APERIO captured the Minnesota Orchestra and the venue with excellent decay and made the room come across as part of this recording seamlessly. Once again, noticeable was the exceptional musicality that I was experiencing.
Rarely in listening sessions does everything all come together as it did with the APERIO electrostatic system. Classical music lovers will be satisfied with the soundstage and the tonality of instruments was beautifully portrayed with inner detail being exceptional. APERIO left nothing out in reproducing this magnificent recording,
The APERIO's comfort levels were exceptional and never did I once feel uncomfortable and while listening to "Appalachian Spring" I could not help but notice how good instrument tonality and detail were being brought out in the soundstage.
APERIO like most electrostatic systems can do female vocals articulately, so I was up to see how well the system would produce not only good female vocals but male vocals also, as well as different genres of music.
Harry Connick, Jr.'s latest album "True Love: A Celebration of Cole Porter" takes Harry to his roots using a large scale Orchestra while performing the standards and tunes of Cole Porter.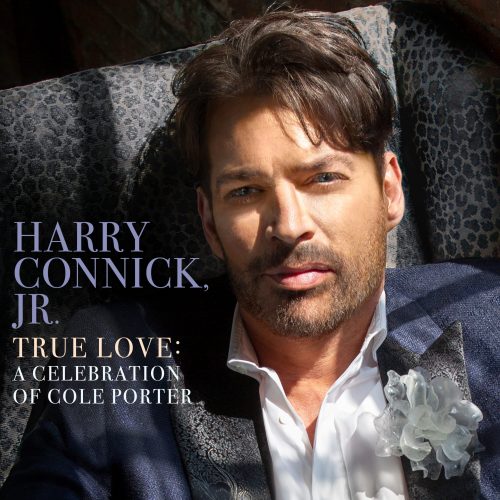 "I Love Paris" has unique trumpet solos in addition to the excellent vocal of Harry Connick. While listening the room came to life. I felt as if I was at the performance and it sounded lifelike and was portrayed beautifully with excellent texture in the acoustic bass and the inner detail retrieval was vivid. Bass performance was outstanding and never shy in delivery. Never once did I feel anything missing in the delivery of the music and performance. The trumpet tonality was never harsh and Connick's vocal had magnificent articulation and was special.
Alison Krauss' vocal on "Away Down the River" from "A Hundred Miles or More" is spiritual and touches the inner soul. Alison has a beautiful angelic voice which APERIO was able to capture magnificently.
Her clear and transparent vocal had excellent clarity and I was able to concentrate on the beauty of the music and this presentation enamored me with the performance and touched my soul. I could feel deep emotion while listening to this performance and was captivated.
.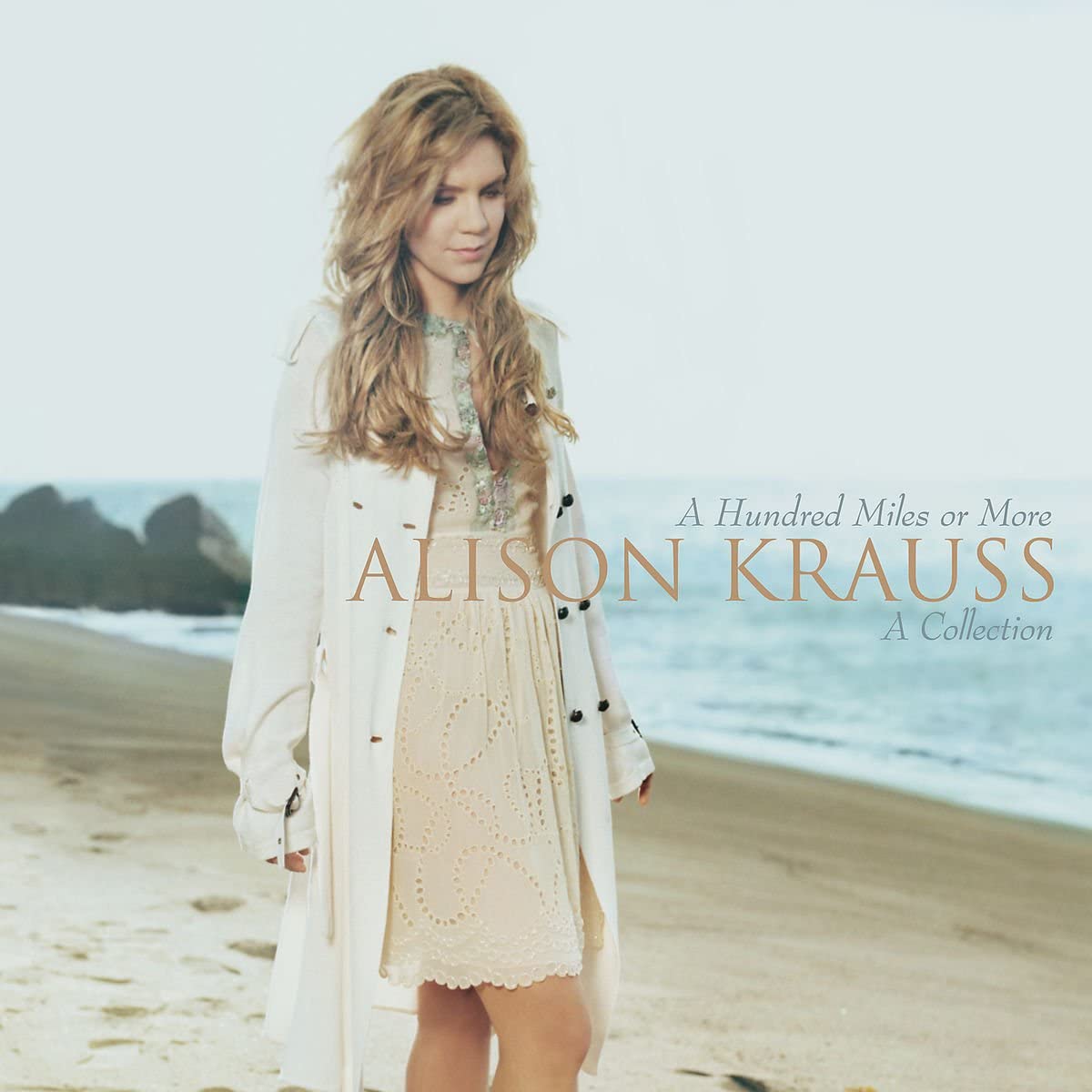 John Prine's "God Only Knows" from his latest "The Tree of Forgiveness" album is a coming home for the legendary folk singer who recently passed away from COVID 19 Virus. John sounded like he was in tune with the lyrics and was expressing the way he was feeling and maybe a premonition of what was to come.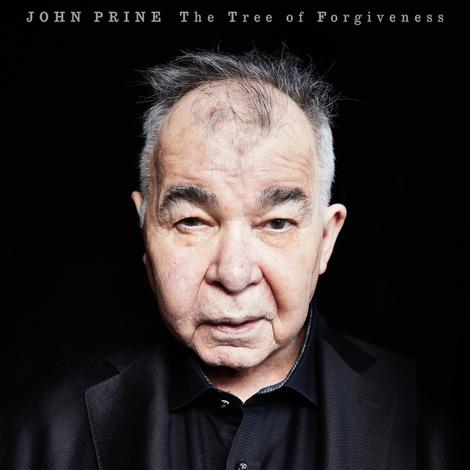 APERIO brought me closer to the performer and made John come to my listening room and once again the impressive electrostatic system did not disappoint and delivered a superb performance from this legendary artist.
Metallica's "Master of Puppets" album moves the heavy metal giant to a bigger audience and on the song "Battery", the track starts with acoustic guitar and the speed of the electrostatic system brought the music to life.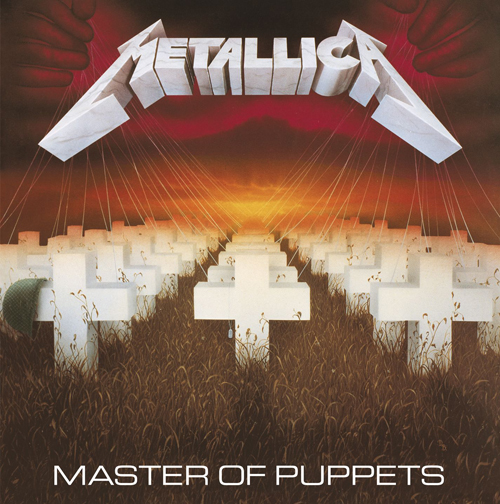 Metallica had an exceptional presence on this track and while it still showcased the band's heavy guitar riffs, the stage once again defined the performance. The speed of the electrostatic design delivered a lighting fast performance and made this performance memorable.
Billie Eilish's "Bad Guy" from her Grammy-winning album"When We All Fall Asleep, Where Do We Go?" showcased the APERIO bass. Electrostatic designs in the early years were known to be bass deficient. APERIO delivered exceptional textured bass and put Billie in the center with outstanding space and never made me feel as if the bass was light, in fact, I noticed the excellent bass texture and it delivered good bottom octave extension and was always enjoyable.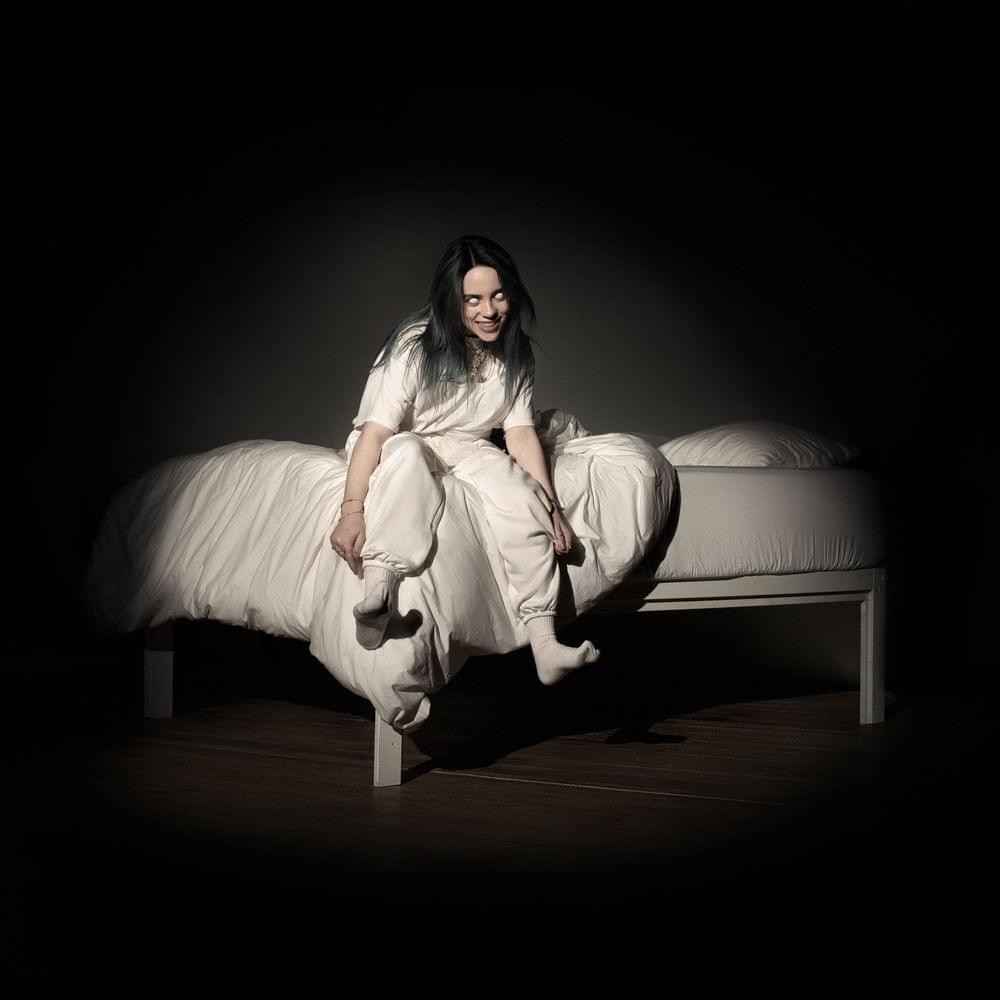 The treble extension seemed endless and clarity of her vocal was magical. Billies' grammy-winning performance with its exceptional bass line was masterfully reproduced with APERIO sailing through the bass lines and Billie's vocal was articulate and masterfully reproduced.
Final Thoughts
Electrostatic designs have been becoming more readily available in high-end personal audio over the last several years. While Stax systems dominated the electrostatic market for years with their exceptional products with little competition, several high-end companies are now pioneering new electrostatic designs ranging in price for complete systems from $6,000 to $55,000. APERIO sits in the middle of the pack with its $24K entry price. Dan Clark Audio's VOCE System packaged with the Manhattan DAC and a HeadAmp Blue Hawaii runs about $18K. Hifiman has two differing systems starting at 8K and topping the $50K point for the Shangrila tube-based system.
Warwick Acoustics has brought to market an incredible reference system for $24,000 that is all you would want in an electrostatic system. The system is proprietary but includes the music server, DAC and amplification with a world-class transducer. The system is future proof in that it can be upgraded when necessary with firmware.
APERIO as systems has no major flaw and was able to decode all files without a hitch. The DSD, MQA and High-resolution files to 192hz that I auditioned were alive and never had any digital nastiness, all recordings were delivered with exceptional musicality.
The Soundstage was exceptional and APERIO had excellent air and space between the performers. The large scale recordings were dynamically reproduced as if I were in the venue and always sounded magnificent.
Bass was a treat with exceptional texture and slam rarely found in electrostatic designs. APERIO was able to deliver lighting fast deep thunderous bass.
Treble extensions were as good as it gets. Missing was any harnesses found in lesser headphones and electronics. The amplification and digital conversion are in the top tier of any system regardless of price and the fact that it can be all upgraded with the software makes this an attractive offering and what many want in an end game solution.
Warwick has created a true reference system that will make many companies take notice. APERIO is here and is designed for the music lover who wants one system with one transducer to end the ride on the neverending merry go round.
APERIO is a terrific system that delivers big-time musicality and garners our highest recommendation for the listener who wants the best in headphone listening with a system that can also be used in a two-channel system to make it a more memorable listening experience. Listen to APERIO and you may find your wallet a little lighter as it delivers what many listeners are looking for in a system. APERIO for the fortunate who can afford it may well be the End of the road for system buying and for Warwick a major achievement in sound design. Sensational!!!
Specifications

Balanced Analog Inputs
Dual (female) XLR jacks; switchable (high / low) input range; 18 dBu / 10 dBu
Unbalanced Analog Inputs
Dual RCA jacks; switchable (high / low) input range; 5.0 Vrms / 2.1 Vrms
USB Digital Input
Type B jack; USB 2.0; accepts digital audio formats up to 32-bit / 384 kHz PCM and DSD (DSD64/DSD128/DSD256) via DoP or Native
Network (Ethernet LAN) Digital Input
RJ45 jack; DLNA-compatible; accepts digital audio formats up to 32-bit / 384 kHz
PCM and DSD (DSD64/DSD128/DSD256) via DoP or Native
AES3 (AES/EBU) Digital Input
XLR (female) jack; accepts digital audio formats up to 24-bit/192 kHz PCM
S/PDIF Coaxial Digital Input
RCA jack; accepts digital audio formats up to 24-bit/192 kHz PCM
Line Outputs
Balanced and unbalanced, high current outputs; +5 dB gain; switchable
Digital Formats
PCM: 16-32 bit / up to 384 kHz; DSD: up to 256 fs DoP and Native
Equalization
HP only: digital EQ (DSP) for PCM sources; analog EQ for analog and DSD sources
Digital Signal Processing (DSP)
64-bit (double-precision) fixed-point processing at native sample rates
Switchable Gain
Rear panel switch; high level / low level selection for balanced analog input (professional audio and consumer levels) and unbalance analog input
Source Selection
Multi-position front panel selector with indicator LEDs for all sources
Level Control
Front panel, 31-position; digital and analog domain volume control (HP & Line Out)
Status Display
Front panel, 51mm, full color, QVGA, TFT LCD (240 x 320 pixels)
Display Functions
Digital readout and bar graph of volume control setting; display of digital audio data format; display of rear panel analog input (gain) settings; display of Ethernet and USB data link transmission lock; display of detected fault modes and output clipping
Auto Fault Detection
Automatic detection, display and protection for: output amplifier clipping, unplugged connections and malfunctioning wiring, over-temperature conditions and internal electrical faults
DACs
2 x dual mono, 32-bit / 384 kHz DACs with balanced outputs, for PCM & DSD inputs
Amplifier/Energizer
Balanced, discrete MOSFET, high-bias, single-ended Class A output; dual mono topology, including power supple; 18 00 CDC bias (charge) voltage
Distortion + Noise
<0.001%
Bandwidth
>65 kHz
Enclosure
CNC-machined 6063 aluminum
Power Supply
External: world voltage compatible (90-264 Volt AC, 50-60 Hz); 24 Volt DC, 200 VA (8.333 A), fixed frequency, class B-compliant SMPS;
Internal: isolated, dual mono; switching and ultra-low-noise linear regulation
Types B, G, F, I; IEC-60320 C14, earth- grounded power cable; 1.5 meter length
Dimensions
H x W x D: 68 mm (2.68 in.) x 413 mm (16.26 in.) x 351 mm (13.82 in.)
Weight
7.4 kg (16.28 lbs.), without Power Supply
---
NOTE: All specifications shown are subject to change without notice.