There's been a noticeable surge in the portable audio industry the past 10 years and it's not hard to see why. In today's world we always seem to be on the move, be it traveling for work or just bouncing around from activity to activity in our daily lives. As more and more buyers take notice of this trend, they look for products that can work well at home as well as on the road. It's quite clear that the audio manufacturers have noticed this as well and today there is no shortage of small DAC/amp combos for music lovers to choose from.
The Apogee Groove is a candy bar-sized DAC/amp stick that fits easily into any backpack, messenger bag or purse. Its aluminum frame is lightweight and rugged making it an excellent traveling companion, one you can casually toss in with your computer and go. The bottom of the Groove has a rubbery grip that reduces unwanted slipping when sitting on a flat surface. It comes with a short USB cable to connect the DAC to a computer as well as a soft cloth carrying case for protection when on the move. Apogee is so sure that the Groove is built to withstand anything that they designed a small loop where the owner can connect the Groove to a keyring or lanyard should they so desire.
The physical design is fairly simple, and simplicity is always welcomed on gear that I use. The top of the Groove is home to the volume buttons and three LEDs that indicate current status and volume changes. The bottom of the device houses the 3.5mm headphone jack while the top is where you'll find the micro USB connection. The sides are left bare which maintains the Groove's clean look.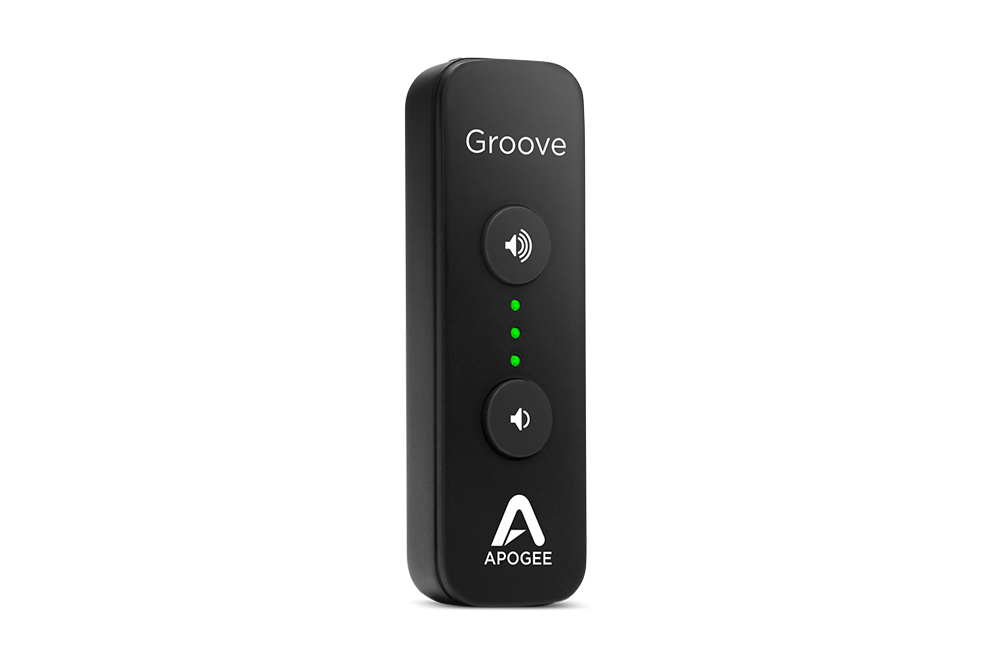 Photo courtesy of apogee digital.com
Inside the Groove is a USB 2.0 interface, one that can easily be used with both Macs and PCs. PC users will need to download the drivers from Apogee's website in order to take advantage of the 24 bit / 192kHz DAC while Apple owners are treated to a plug-and-play experience. The Groove uses the full size versions of ESS's well-known line of Sabre DACs. This particular DAC allows Apogee to incorporate their its quad sum DAC technology, which means that the device has four digital-to-analog converters per channel. These four are then combined in order to produce a higher dynamic range and low levels of distortion.
Perhaps the most interesting aspect of the Groove is what Apogee have called the Constant Current Drive. Apogee state that this technology "provides smooth frequency response with any headphones." Like many of the more recent releases in the market, this amp makes adjustments to the current rather than in the voltage domain which means the Groove can handle a wide range of headphone impedances. This type of design can also serve well to improve the overall frequency response when correctly implemented.
In use the Groove feels solid. The button presses provide a nice clicking response and the they're constructed from rubber rather than a cheap, hard plastic. Compared to the small buttons on many portable units, the rubber domes of the Groove are nicely sized making them stand out. The silk screening on the buttons refused to show any signs of wear during the review period so I have faith that the volume logos should last for a long time with regular use.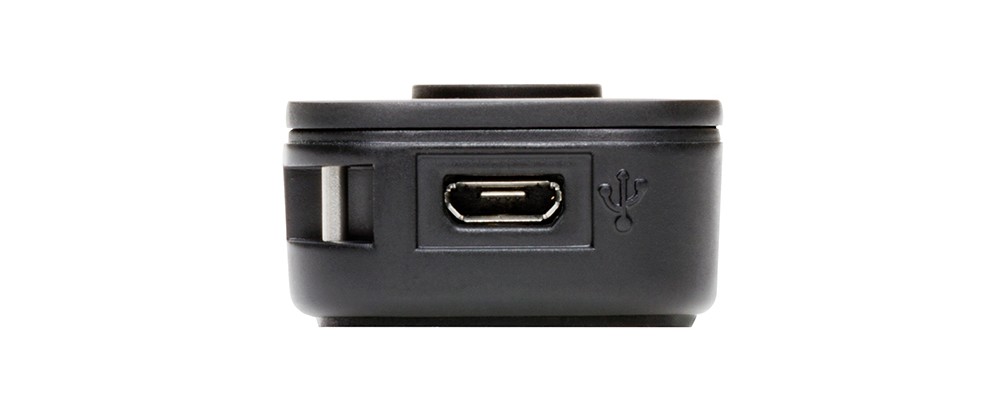 Photo courtesy of apogee digital.com
The combination of the selected parts and Apogee's 30+ years of experience in the consumer and professional audio world has yielded a rather impressive DAC/amp stick. The first thing I noticed while listening was the Groove's smooth, dark background. The background was near silent on almost every single headphone I used and was barely noticeable with my most sensitive IEMs. That sort of flexibility is great because it meant that I was able to use the Groove with IEMs on the road and my Ether at home.
The Groove has pleasing sound signature when compared to the built-in audio of my MacBook Pro. I found the Groove capable of delivering a full low end that transitions into smooth mids and highs. Apogee took care to ensure the ESS DAC didn't produce any of the harsh treble peaks that plague some implementations of this particular chip. There is a nice level of detail throughout the midrange and high end without crossing the line into sibilance.
There were a few shortcomings that I found with the Groove. The first and most noticeable was the fact that it doesn't play well with IEMs that utilize multiple balanced armature drivers. If you're someone who is considering using the Groove with a Shure, Westone, or any other multi-BA IEM then I would suggest that this is not the device for you. Thankfully this should not be a surprise for most potential buyers as Apogee mentions this on their own website.
Another area that I felt was a touch lacking was the Groove's engagement. I never felt like it was reaching out to me and plucking my emotional heart strings while the music was playing. The detail was a bit too smooth for my tastes, the lows weren't quite as tight as I like, and the mids weren't as luscious as they are on a nice tube amp. That said, I never expected it to be as engaging as my full desktop system from the start. The Groove is a $300 portable all-in-one and it should never be expected to go toe-to-toe with a full sized desktop system built from individual components. Even though it was designed to a specific price point it was still able to get me to tap my toes a few times, and that's all I could ask of the little device.
With the Groove, Apogee stepped into a very crowded segment of the market. A few short years ago we started seeing a surge in new DAC/amp stick releases and today there are so many choices that it's hard for buyers to find the perfect one for them. I won't say that the Groove is for everyone because quite simply it isn't. But there are definitely a few buyers currently looking for a portable system that will find the Groove to be their dream come true. It may not have the finesse of today's top of the line products, but it also doesn't masquerade as such. The Apogee Groove is a device designed to deliver some bang for your buck, and in its price bracket there are far worse choices available.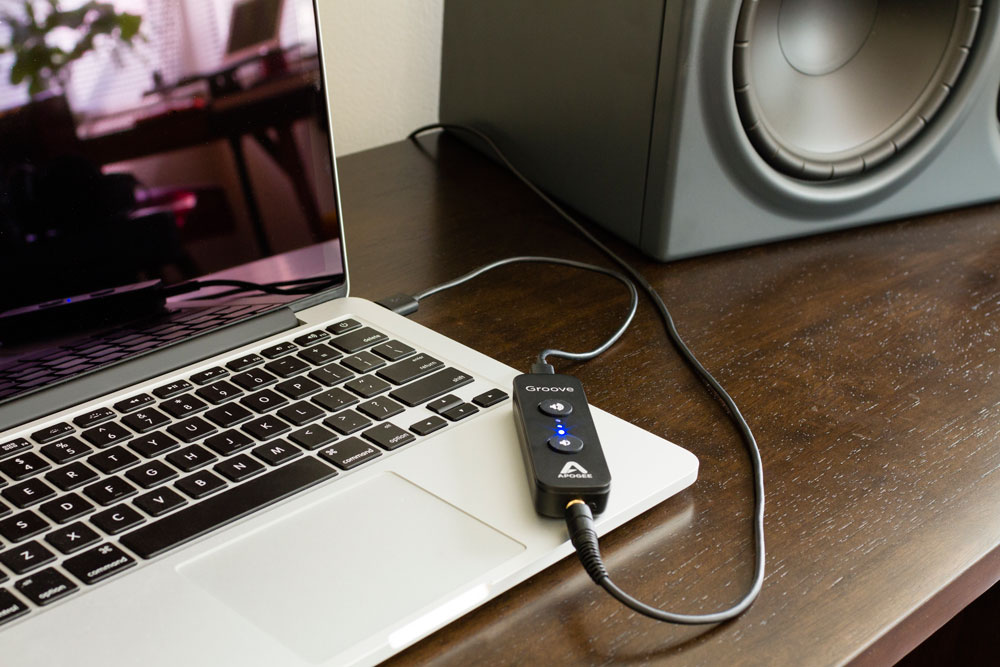 Photo courtesy of apogee digital.com
Price: $295
Features:
USB 2.0 connection to Mac and PC
Up to 24 bit / 192kHz audio
ESS Sabre DAC
Enhances your iTunes, Tidal, Spotify, Pandora or other music listening experiences
Constant Current Drive™ provides smooth frequency response with any headphones
Quad Sum DAC™, 4 DACs per channel for highest dynamic range and lowest distortion
Asynchronous clocking
Multi-color LEDs for status and level indication
Powered by USB
Top panel buttons adjust and mute volume
Compact and portable (95mm L x 30mm W x 16mm H)
Premium aluminum build quality
Built in the USA
D/A conversion :
THD+N: -107 dB with 600 Ohm load @ 16 dBu
(-109 dB with 600 Ohm load @ 16 dBu-Anniversary Edition)
THD+N: -100dB with 30 Ohm load @ 10.5 dBu
(-101dB with 30 Ohm load @ 10.5 dBu-Anniversary Edition)
Dynamic Range: 117dB a-weighted
(119dB a-weighted-Anniversary Edition)
Frequency response: 10Hz – 20K +/- 0.2dB
(10Hz – 20K +/- 0.1dB-Anniversary Edition)
Max output level:

225mW into 30 Ohm
40mW into 600 Ohm

8 channel ESS DAC (4 DACs per channel)
System Requirements
Mac OS:
Computer: Intel Mac 1.5GHz or faster
Memory: 2 GB RAM minimum, 4 GB recommended
OS: 10.8 or greater
Connection and power: Any available USB port
Driver: Mac Core Audio. No download or installation necessary.
Windows OS:
PC or laptop manufactured after January 2006
Intel Core 2 @ 1.6 GHz or AMD equivalent
Memory: 1 GB RAM minimum
Windows 7 (32 and 64 bit) or greater
Connection and power: Any available USB port
Driver: Register to download from Apogee's website