Here's riddle for you: What is infinitely appealing, smaller than a breadbox, offers the sound quality equivalent to a home stereo costing nearly ten times it's price in a portable platform… and, truly costs more than your Father's 1971 Oldsmobile when it was new?
If I asked you that question a year ago, I would follow up by telling you that it's the fetching and picturesque Astell & Kern AK240. But alas, another historic year of outstanding audio breakthroughs have past, and the best has gotten even better. Now, the answer to that question is the all-new Astell & Kern AK380!
In this wonderfully enchanting, ever-changing world of hi-end hi-fi audio, it seems that there is no limit to how good audio manufacturers can produce audiophile products. iRiver's offshoot brethren keep "taking it to the next level". This enigmatic industry has a "never say never" credo attached to it. In 2013, the AK240 burst on the scene, and wooed and cooed even the most critical and discerning portable audio enthusiasts. I thought that surely, this was the pièce de résistance of convenient and portable audio. That was then and this is now, and A&K has upped their ante with the upgraded AK380. Rest assured that you could bet dollars to donuts, that the price tag certainly reflects the improvements. But, is the increased price tag worth it's weight? Let's find out.
This unit is visually striking. It is founded on a theme that AK says is based on their design motif, which is all about the symbiotic relationship between light and shadows…music and sound. The chassis is an alloy that AK calls "aircraft grade duralumin", which originally comes from the rigid airship frames from the 1920's and 1930's, and is made from a mix of aluminum and copper.
Here is a picture of AK's AK240 Duralumin parts from their website: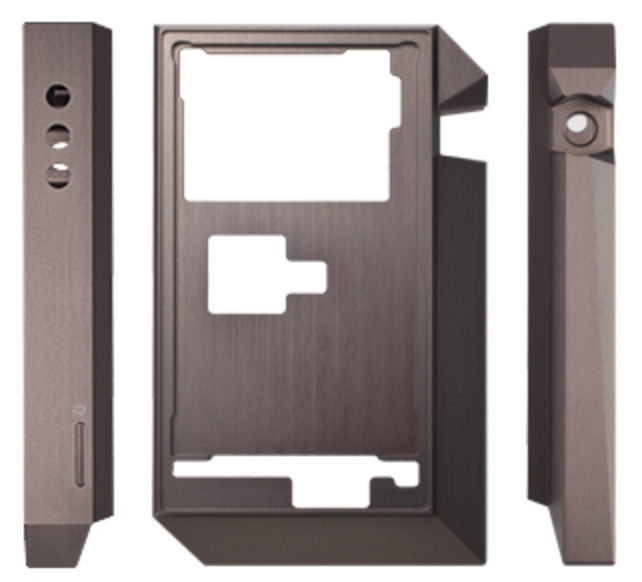 The front facing user interface screen is a 4" WVGA touchscreen with a resolution of 480 X 800 pixels. This is an improvement over the AK240, which has a smaller 3.31" AMOLED touchscreen that contains the same resolution. Anytime I am offered a larger screen to work with for my clumsy finger taps, I am much better off. The UI sits resident on a chassis that is almost the same size as its predecessor. The 380 measures 3.14" Wide by 4.42" High by 0.70" Deep…compared to the 240, which is 2.59" W by 4.21" H by 0.68" D.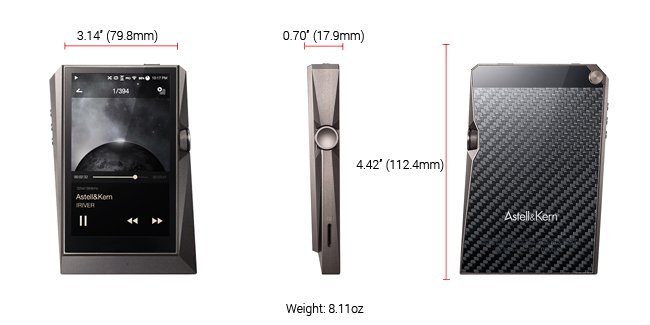 I am presently a completely satisfied owner of the AK240, and I do not feel any real disparity between the two alternatives, while holding them in my hand or in my pocket. I actually find the 380 slightly more agreeable to carry about. It might be psychological, knowing that it is squeezing out even more delectably tasty morsels from my higher resolution, reference go-to digital tracks. It houses dual AKM AK4490 DACs, which supports up to 32bit/384kHz bit-to-bit decoding and DSD 64 and 128 files. It outputs in true Native DSD without any conversion or compression. Other competitive companies claim to accommodate DSD files, but the output is then dumbed down to PCM. This output is true DSD. The 240 file capabilities are a step down to 24bit/192kHz bit-to-bit, but it too, like its bigger colleague, handles DSD 64 and 128, operating Cirrus Logic CS4398 Dual Dacs, instead. I can hear an obvious, notable improvement in the 380 dacs. I have a 128GB micro SD card filled to the brim with only my favorite DSD 64 (1 bit 2.8 MHz) albums, and was able to swap back and forth between the 2 players for quick, easy comparisons. Both units have a capacity of 256GBs worth of music files internally, with the ability to add up to one 128GB external microSD card. This unit provides an output of unbalanced stereo @2.2Vrms or 2.3Vrms through the balanced output port. Balanced output, as well as the line output feature (which sets the volume to 150 or full), are both selectable from the settings menu, and can also be chosen on-screen after slightly moving the volume knob. The 380 volume knob is more centric on the right side panel than the 240, which is situated higher up on the device.
While speaking with Jason Henriques, from A&K's Public Relations department, he informed me that a new accessory (a 380 headphone amp dock) would be available at the end of September for $699. Jason has been instrumental in getting this review "in gear" (ooh…a nice unintentional double entendre!). The dock will consist of a 3,400 mAh large-capacity battery, which offers either 8.1 VRMS high-gain balanced output or 4.1 VRMS unbalanced output.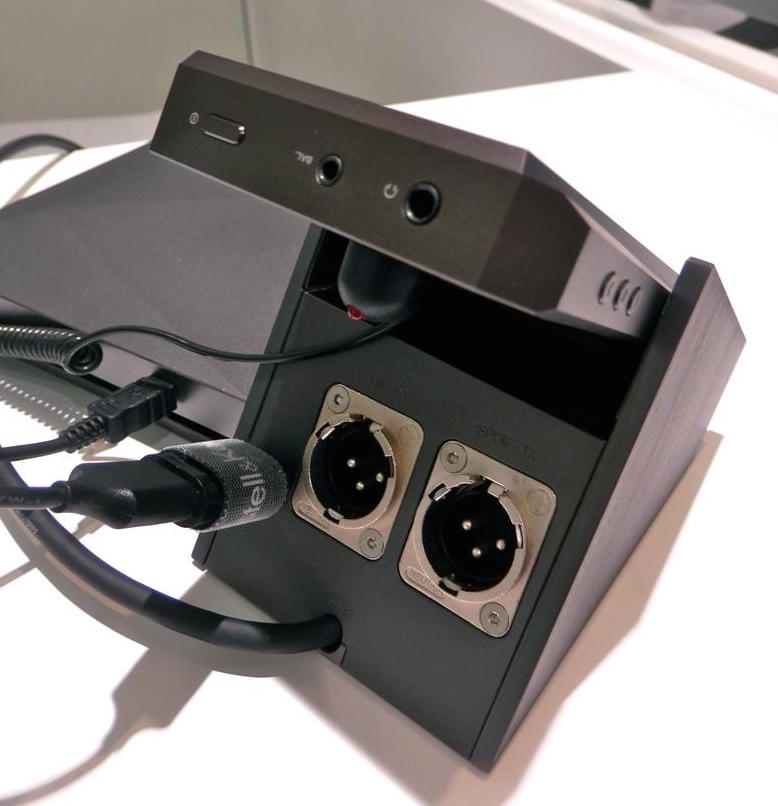 In the October/November timeframe, two more accessories will be released. An AK380 CD Ripper, which allows you to rip CDs directly to the AK380, and an AK380 Cradle, which contains built-in balanced XLR outputs. So now we can connect the AK380 to a 2-channel system in balanced mode through a professional hookup, rather than needing to be tethered to a feeble 2.5mm cable. So, it's pretty safe to say that iRiver & Co. is planning to go the distance with this product. There are other new features such as DLNA support and AK connect, which, incidentally is also now available for the 240, simply by updating the 240 to the newest software revision. It seems that the 240 is also going to be allowed to play in the big boy's sandbox for a while, and is not being directly replaced by the 380. DLNA support is wireless networking that connects to a NAS or a computer, which can then be controlled by a mobile device, by using the AK Connect app. Music files can be streamed or transferred without a direct hardwire hookup. Music can also be played back wirelessly through the 380 from your computer or server-enabled storage device.
What other job can I enjoy as much as this one, which allows me to do critical music listening sessions outside in the park, while walking my happy little tail-wagging, face-licking, loyal-to-the-bone (literally), canine best friend. Back in school, on beautiful days we would ask our teachers if we could hold class outside? They would inevitably say "no". Well, this is me, myself, and I…a class of one, taking the lesson outside, and treating myself to a well deserved summer delight. Almost every night in August, directly after work, my bad-breathed angelic fur ball would be waiting for me by the door. She grew to anticipate that the first thing I would do when I got home from my day job, was to drop off my computer bag, grab her leash and her poop bag, along my 380 loaner and IEM's (either my K10's, JH-13's, or Shure 846's), and head directly into the park. I would usually cue up the first album to listen to, as something that I could bop to on the way walking into the woodland. Something like Black Sabbath's self-titled album, or some Joe Satriani from his album "Flying In A Blue Dream". Then, after my playful companion stuck her nose in every foul smell that humans would choose to avoid, and she finished her business, I would start my business on some semi-isolated park bench with a scenic view. Then, I would launch a treasured DSD file, close my eyes, and get immersed in an album that exhibits sound qualities that should only be listened to, and not just heard. Some of my August favorites that were in heavy rotation were Grant Green's "Green Street", The Gene Harris Quartet, "Listen Here", Steely Dan's "Gaucho", and Albert Cumming's, "Someone Like You".
My AK240 has rewarded me in spades for about a year by providing me with an opportunity to listen to my music outside of my home, sometimes sounding even more rewarding than my home setups. This is probably in part, due to the intimate nature of what a high quality DAP and a great set of IEMs bring to the table. Places where we usually spend our time ineffectively because we don't have the usual creature comforts that our secure dwellings normally provide, portable audio substitutes substance and can entertain us without the usual interference and interruptions that our everyday existence perpetually throws at us. We all have our favorite albums, and embedded in them, our favorite sections of a song or the album that really hit the right note, to trigger satiating emotions. Those are the parts that we enthusiastically anticipate as the song treads along, slowly revealing its unique persona, while opening the doors to our sensations. There's that riffin' guitar lead, or that blended harmony that makes our heart beat a little faster. We also have moments in the melodies that we use to evaluate our equipment, when we are searching to find the right component synergy, when comparing equipment in our constant eternal quest to find the right "one". These moments in my reference songs, noticeably sound a scosche better in the 380 than the 240.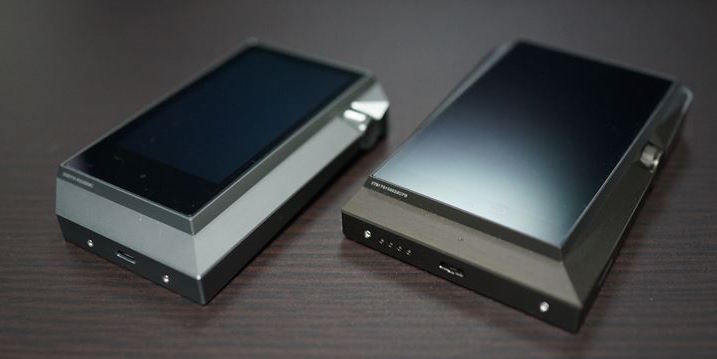 The differences are not knock-me-down, bowl me over, mind-blowingly different. But, they are perceivable. The components that make up this musically superior, abundantly articulated arena of substantial sound quality, usually offer only subtle differences. They are there, but you have to exert effort to discover them. If your mind wanders when you listen to music, then this is not the hobby for you. Audiophiles enjoy the thrill of the chase, and part of that chase, is finding devices that offer slight improvements to the superior gear that they already own. When comparing the tonal balance between the two units, the 380 procures the soundstage and distributes the frequencies, massaging them with more aplomb. When listening to Grant Green's, "Green With Envy", Grant's jazz guitar is heard in masterful abundance from beginning to end. His style, akin to Wes Montgomery's, has him slurring and blending difficult to hold diminished chords, from the top of the guitar's neck to the bridge. As he holds his chords in tact, one can try to discern the 4 or 5 notes that the chord consists of, living in a coherent harmony, as he traverses through the octaves. I find it easier to hear the co-dependence of the distinctive notes on the 380. The AKM dual dacs seem to have an easier time dissecting the complex nature of the chord structures, than the 240 Cirrus dual dacs do. Of course, the listener would never encounter this, unless they were willing to dedicate the time and effort that is necessary to distinguish the distinctions between the two superior dacs that Astell & Kern utilizes in these upper echelon players.
There are some other improvements made on the 380 that the 240 does not contain. The 380 includes a pressure sensitive metal touch area below the user interface, that allows the user to go directly to the home screen from any screen that you are currently on. On the 240, I was able to do the same thing by tapping the black bar area under the screen. I am not sure if this option is untouchable when using a 380 leather case that comes with the unit, because the reviewer sample came in a plain white box with no amenities, just a USB cable to attach to your PC or laptop. I didn't always have success when trying to connect to the invisible button. I preferred to simply arrow back to home through 2 or 3 screens.
Another improvement over the 240, is the addition of a more precise Parametric EQ with 20-bands in 0.1dB increments. This allows the user more accurate control when attempting to repair inherent flaws in an original recording. Also, there is a 200 Femto Second VCXO Reference Clock that provides low-noise jitter cleaning, clock multiplication and distribution.
A noteworthy upgrade that has also been introduced in the 380 series is the ability for the user to purchase a docking amplifier that will mate with the DAP to provide higher output. The amp was not available at the time of the review, so I can't speak to its pros and cons.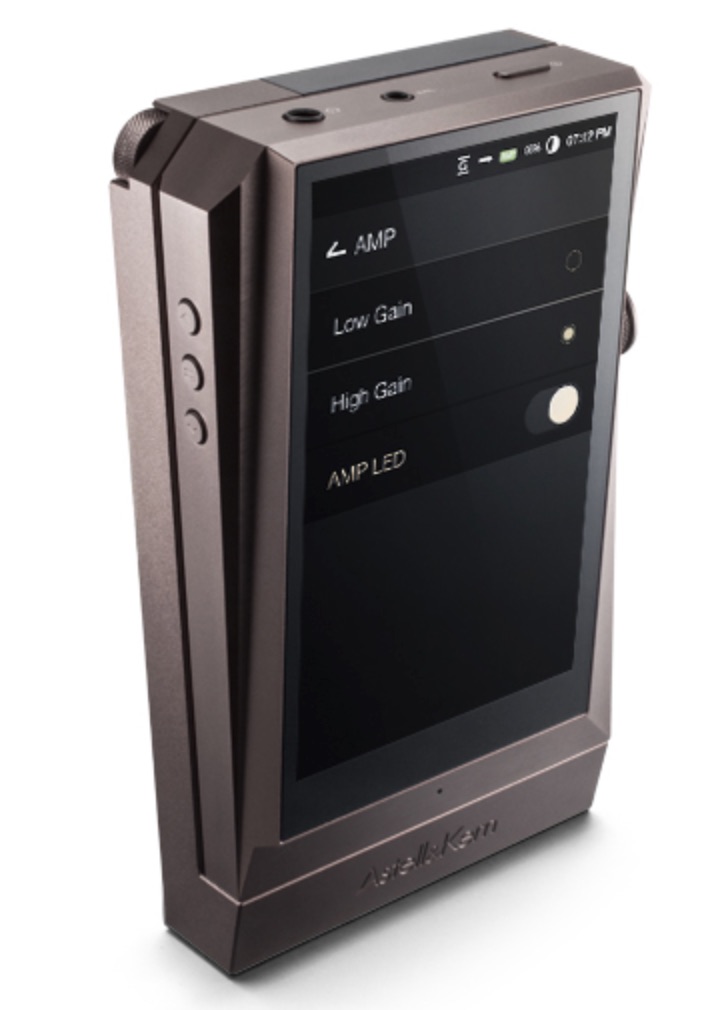 The AK380 AMP supports 8.1 Vrms output when connected via high-gain balanced output, and 4.1Vrms in unbalanced mode.
So now we come back to the original question of whether or not it's worth the higher asking price. Personally, I am very happy with everything that my AK240 brings to the table. Ease of use on the run as a high quality portable device, and a pretty large bucket to hold up to 384GB (NAND) of musical memory, with the addition of a user-supplied 128GB microSD card. Both units are pleasing to behold, so the form factor is a winner on whichever one that you choose. The sound quality on my 240 is extremely good, but the 380 is slightly better.
Is the AK380 worth $1000 more than the 240? To answer that, I go back to what I used to tell my customers way back when, during my audio sales heydays. If you are the type of audiophile that must have the best of everything, and have the extra expendable cash on hand to purchase the 380, then there is no doubt that you are getting a better unit with premium higher quality sound output, and more upgradeable features for future considerations down the line. If you are the type of consumer that toils over getting the best deal for your hard earned coin and the best bang for your buck, then the AK240 will suit you just fine, and won't ever disappoint. These are both incredibly well built machines that offer premium home setup sound, in a portable package. Add on the amp and/or dock options, and the 380 can be utilized in conjunction with your home components to offer an alternative hi-res sound file source to feed into your speakers or full-sized headphones.
Important stuff:
Manufacturer's Website – http://www.astellnkern.com
MSRP – $3499.00
Associated Components:
-Headphones:
Noble Audio Kaiser 10 CIEM
Unbalanced stock cable
Balanced Moon Audio Silver Dragon V1 IEM cable
Shure SE846 IEM w/ stock cable
Bowers & Wilkins P7
Shure SE535 IEM