It was a late spring's eve in 2011 as I sat in my chair doing research on headphones that I first happened upon the 'greats'. This idea, so intuitive and entwined, to each hobby or industry and representing the undisputed goliaths. And it was on that fateful day that I arrived on Head-Fi and learned of Audeze and their LCD-2. That was the day that sparked off a revolution that almost to the exact day a decade later, still remains as a starting point to my journey as an audiophile. Over the course of the next few months, I would have to decide on questions of closed back or open back, and on dynamic or planar drivers. A decade later, it appears this question has reappeared for me.
When Audeze asked me a few weeks back to take a look at their new planar magnetic headphone, there was no hesitation from me. With the LCD-2 and LCD-GX in my arsenal, it was an easy ask. What happened next caught me off guard. It was to be not just an IEM, but also a closed-back planar. I'm familiar with Audeze's open-back planar IEMs but for them to announce one that was closed back and fielding a typical housing profile was jaw-dropping. I smelt it then, the aroma of innovation.
Enter the Audeze Euclid ($1,299), a closed-back 18mm planar magnetic in-ear utilizing no crossovers. The Euclid's drivers utilize Audeze's famous Fazor waveguides, the Fluxor magnets, and Uniforce voice coils. These three innovative technologies comprise the last decade of Audeze's advancements in the field of headphone audio.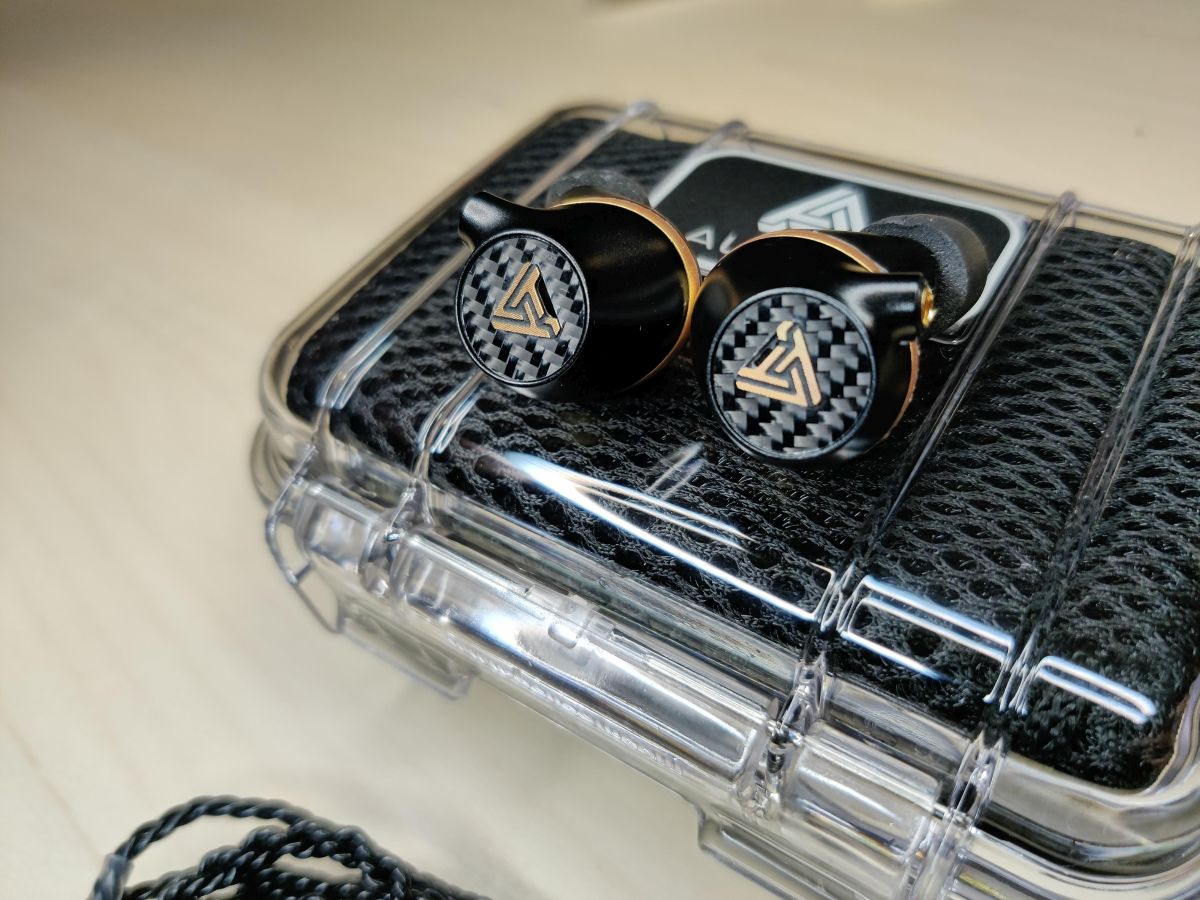 While Audeze is famous for their heavier headphones and 'quirky' in-ear designs, the Euclid is relatively lightweight and features a more conventional housing. The housing consists of precision-milled aluminum with a carbon fiber faceplate. The connectors utilize the industry MMCX standard for interchangeability and the default cable terminates to unbalanced 3.5mm. Fans of 4.4mm or other balanced options can easily purchase aftermarket options. I am fully supportive of Audeze moving to MMCX for the Euclid as it allows for a more universal approach leading to future upgradeability.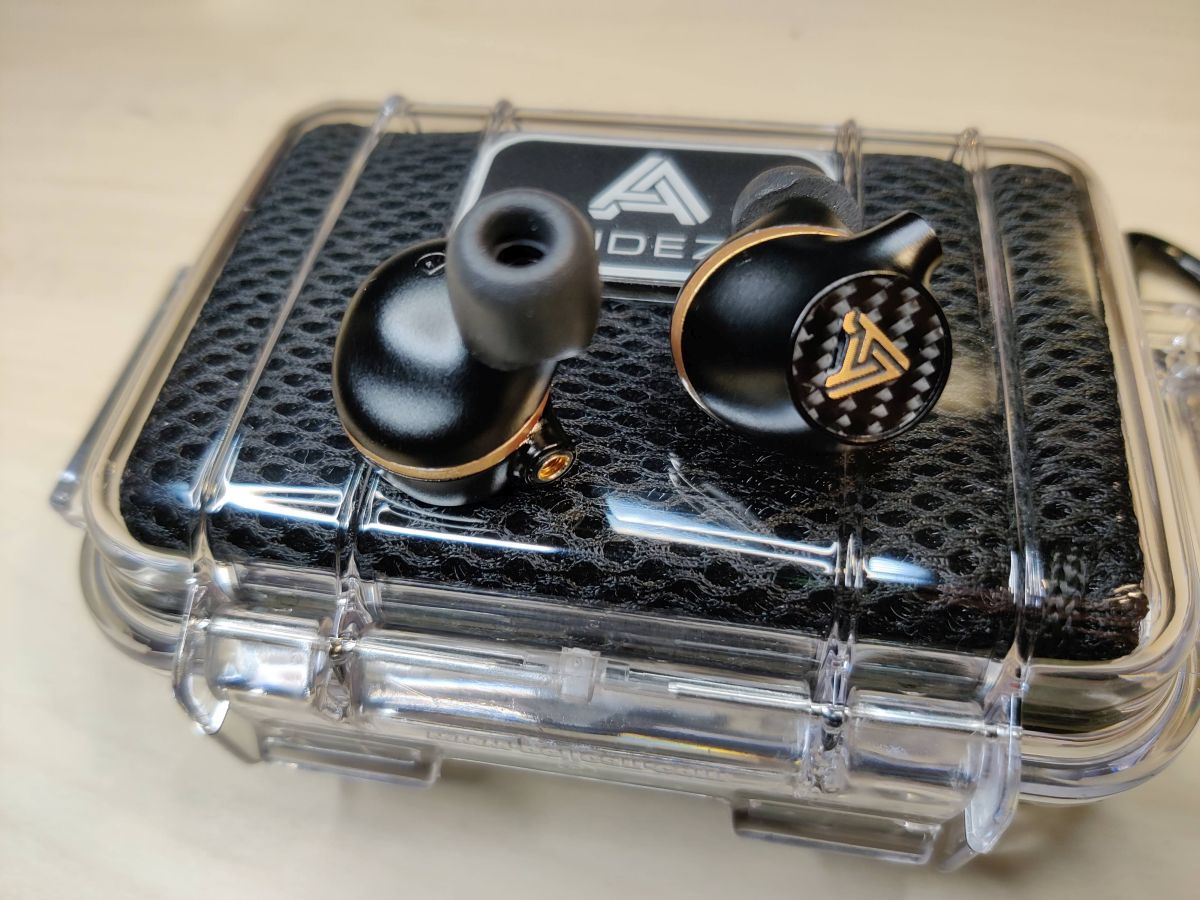 True to their namesake, the Euclid's are a work of geometric art. The earphones feature a spiraling conical shape with various 'planes' intersecting to form the nozzle, planar magnetic driver ring, and lastly the outer carbon fiber faceplate. These 'planes' are not parallel to each other but are intuitively shaped with off-axis angles allowing them to adapt to the user's concha and to fit snugly in line with and supported by the antitragus. The artsy contours are therefore not just for show, Audeze engineered the shape to allow it to be 'self-supporting'. Past IEMs from Audeze required a hook onto the top of the ear to allow it to be supported.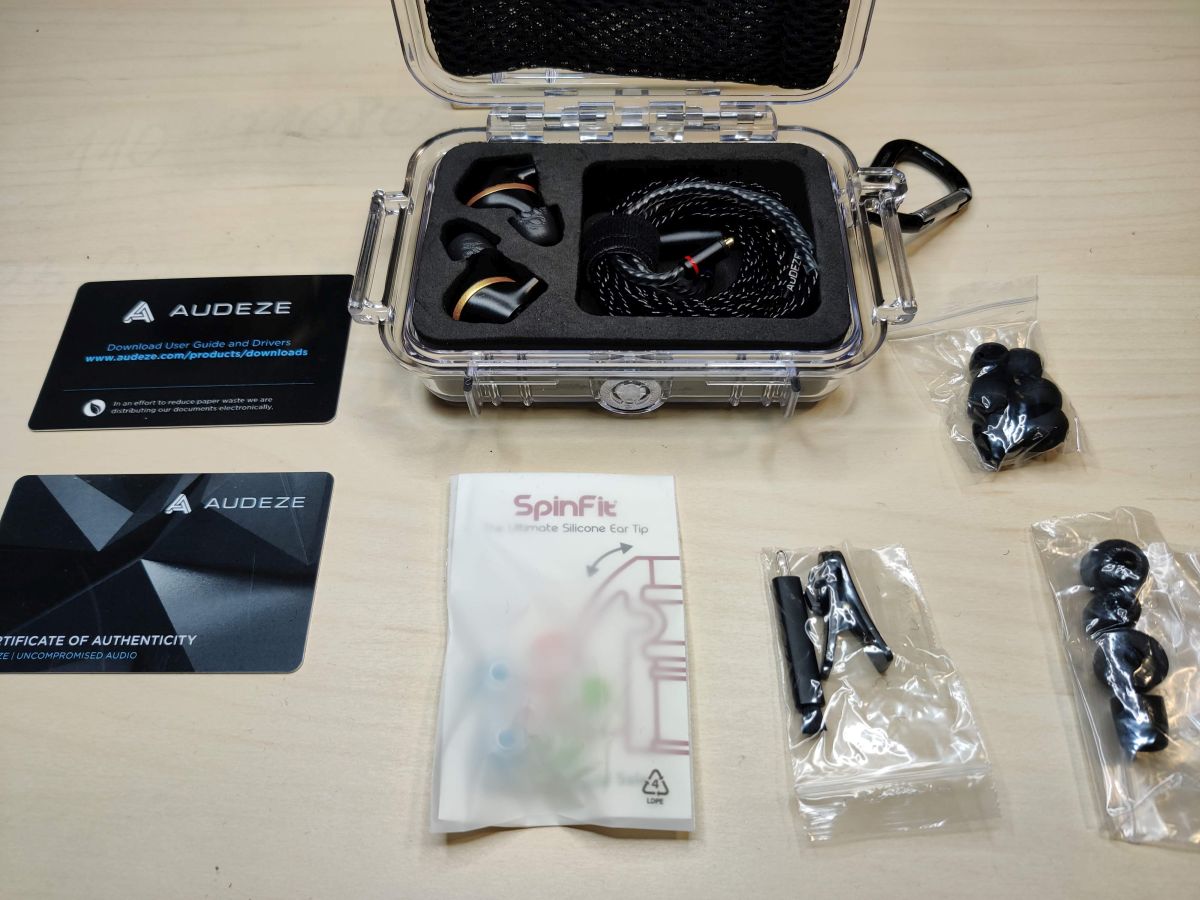 The Euclid's came with your standard arrangement of accessories. The main points of interest for me were its Pelican travel case and included SpinFit eartips. Both are considered the best you can utilize and the SpinFits were my tip of choice during testing. I found it to have the best combination of isolation, fit, and sound quality.
Daily Usability:
Contrary to what you may think with its all-aluminum housing, the Euclid's fared well for multi-hour usage and stayed snug within my ears. While this is one of Audeze's lightest headphones, I initially had concerns that the aluminum housing and its weight would be problematic compared to earphones using mixed material construction to be lighter. But hours later and I found that they stay in well and can last me around 2 hours or so before I get any sort of fatigue (your mileage may vary).
I have a smaller ear canal than most and typically run "S" sized tips. So the initial size and girth of the Euclid did impart some worries. However, after learning that the Euclid's are meant to be 'twisted' into position and testing it out, I felt that Audeze perfected the balance and sizing of the earphones to be adaptable to most users. Don't be put off by the size of the drivers, there's a good chance they'll work for you as well.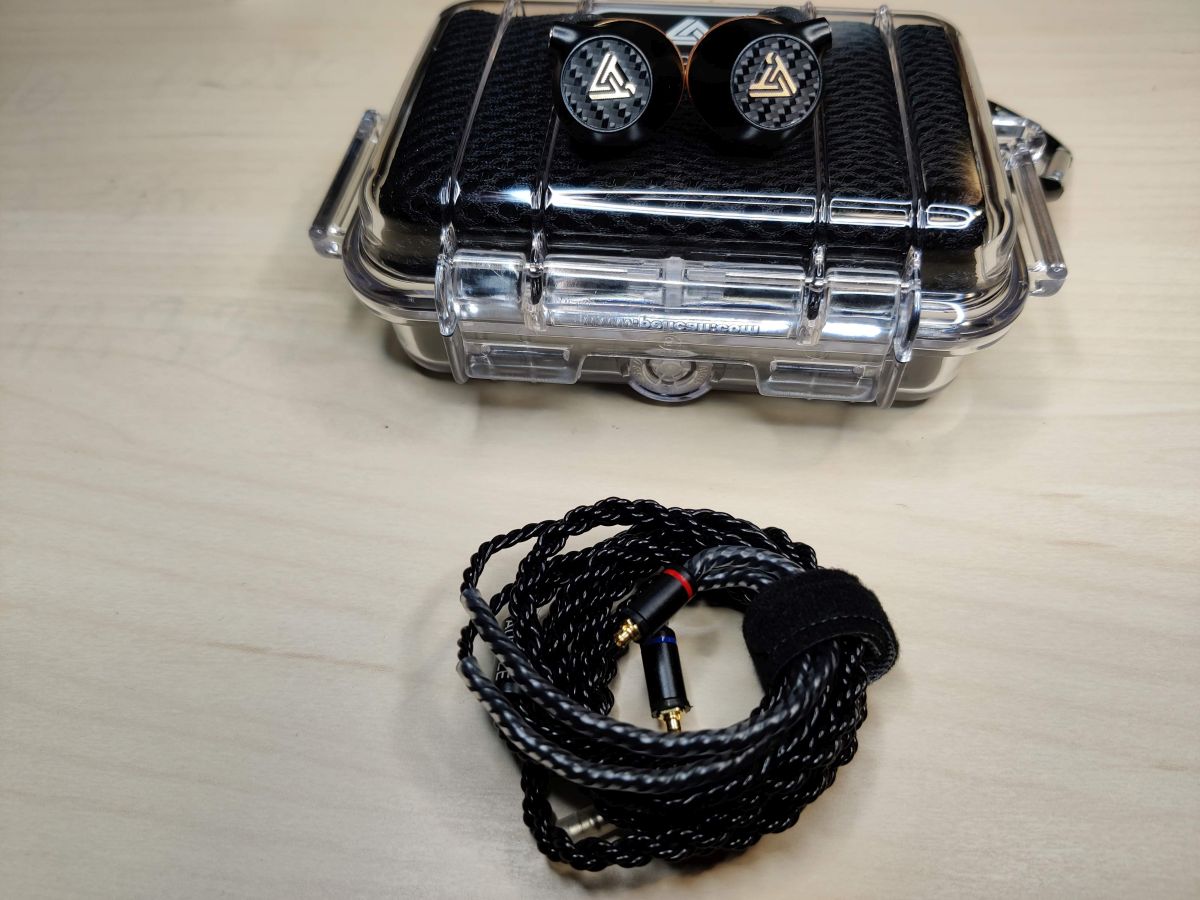 The cable that comes with the headphones is extremely versatile and offers incredible grab-and-go ease. One of the smaller points that I mentally compare headphones on is how easy the stock cables tangle and or bunch up. The Audeze Euclid's stock cable has fared extremely well in that it doesn't bunch up often and getting it straightened and ready for use was always quick. Microphonics (cable noise while walking) was also minimal to none. The Euclid's stock MMCX terminated cable is a thumbs up in my book.
Sound:
If you were to ask me a decade ago what I would choose for IEMs. I would have answered that I would want something that is a dynamic driver and closed back. Anything that is planar magnetic would 'have' to be open. Yet here we have the Euclid a decade later, an in-ear no less, and it's time for me to eat my words and change my view.
The Audeze Euclid features a wide soundstage with effortless neutrality packing fantastic mid to high range clarity. It's accurate with the tonality and timbre of wind and string instruments and has an upper mid pronunciation giving it a bit of sparkle there. The general signature can be described as light and with a present but fairly minimal bass response. The vocals suit females more due to its flat mid-range clarity with upper mid boost. I found male vocalists to be decent but the Euclid does miss out on reproduction of the lower-vocal range making it less fitting for husky and deeper voices. The duo between Bradley Cooper and Lady Gaga with the song "Shallow" is a good example of this. The earphone can also be sibilant and have a scratchy upper range at times.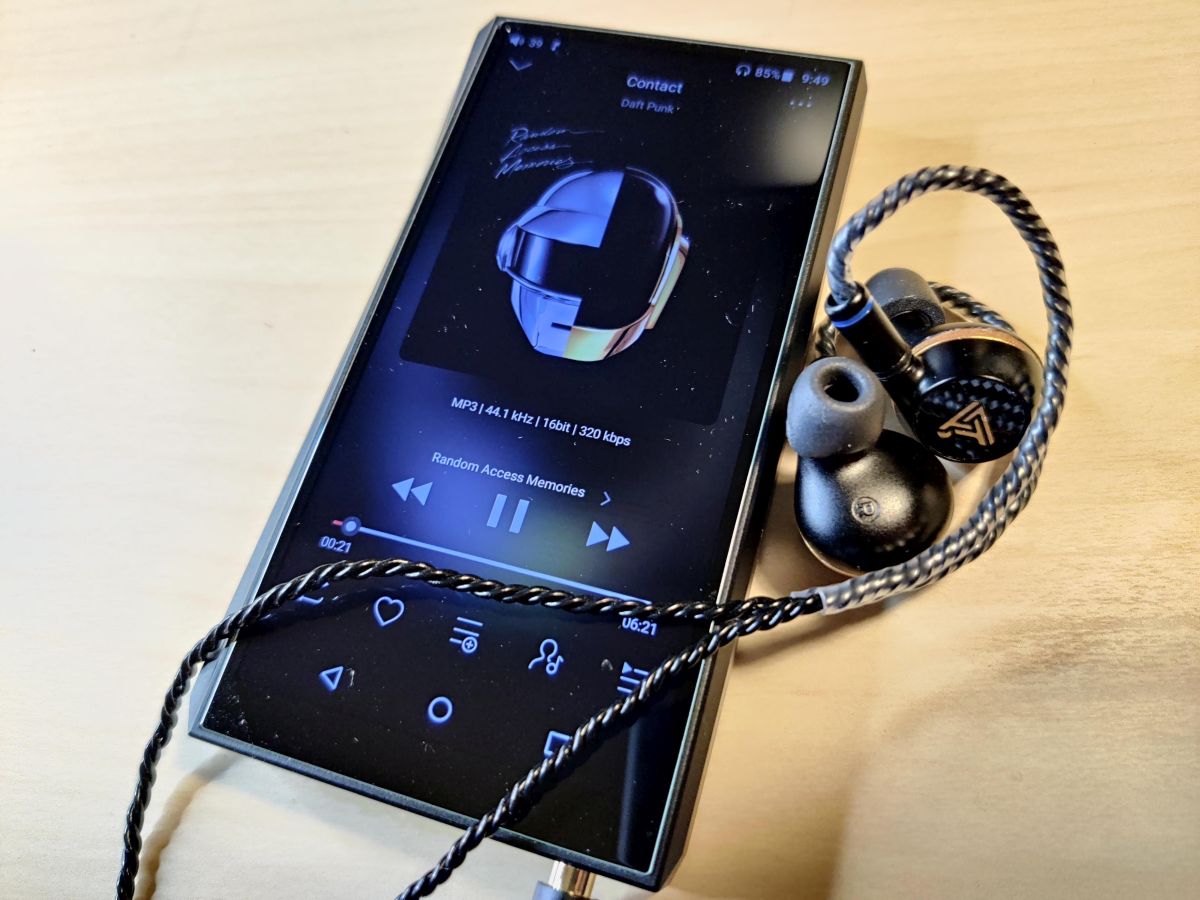 The feat of putting a 'full' planar magnetic driver in an In-Ear-Monitor can not be understated. As the tuning required to get the housing harmonics just right and to a level in which the headphone sounds 'good' takes an exorbitant amount of time. Audeze is able to reap the bountiful goods they have produced from this driver technology as seen in my summary above, however, it is not without its faults.
Whereas other manufacturers move towards using multiple balanced armature (BA) drivers, or hybrids featuring dynamic drivers and sometimes even mini Electrostatic 'drivers', Audeze's reliance on this singular planar magnetic gives us various pros and cons.
For one, compared to say an IEM with multiple BA drivers, I found the Euclid to offer a more cohesive sound that flows quite naturally. On the other hand, BA IEMs can sometimes have a stitched-together frequency response paradigm. The light naturalness I remarked above, I think, can be attributed to this. However, on the other end of the spectrum, the usage of a single driver without the crossovers that a BA setup would have, caused the Euclid to not be able to handle 'every' scenario thrown at it. Complex modern electronic/metal songs often cause the upper mid-range to dissolve creating a mesh of sound. This scenario was not common but when it did occur, was noticeable.
I would consider the Euclid to excel at classic rock, jazz, instrumentals, and like genres. Heavy metal, hip hop, and modern pop are not the forte of the Euclid. And as such, I will not be presenting any of those genres as examples of the Euclid's performance below. With the establishment of the earphone's shorter comings earlier and genres it's not apt at, I don't see any constructive need to harp on how Five Finger Death Punch or Skrillex just isn't the Euclid's cup of tea.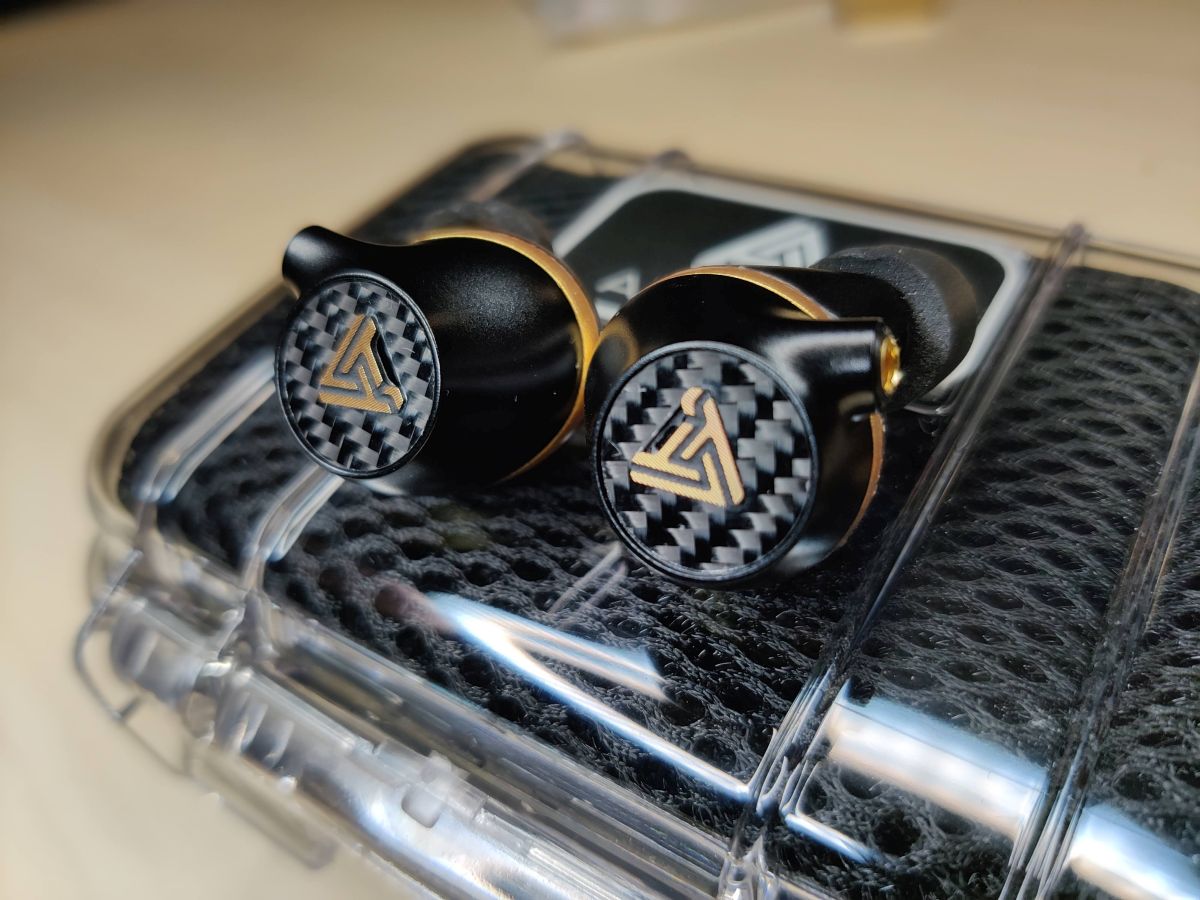 Listening to the 1994 MTV Live recording of "Hotel California" by The Eagles was a perfect example of the level of excellence the Euclid's brought in its size. To start, the soundstage was on par with my full-size Audeze LCD and Hifiman Ananda planars. Without exaggeration, the Euclid may perhaps be the best closed back IEM in terms of effortless live soundstage reproduction; it's actually that good. With my eye's cloud, the guitars and vocals sounded like the level of reproduction I would get from an open-back. The only giveaway being that I don't hear any of my surrounding ambient sounds or the hum of my computer.
The acoustic guitar in the song had immaculate micro detail in each pluck of the string. Each note had proper enunciation and individuality to tell them apart. The background rattle had texture to them where you could visualize and almost feel the sand inside them shaking to the rhythm. I felt that separation and upper mid-range is a highlight of the Euclid's when it came to high quality recordings. The vocals were excellent but as noted before, while they were light and clear, I felt that the male vocals of Don Henley lacked just a smidge of lower-midrange pronunciation, making it a bit 'too' effortless and without enough weight.
Next up, "Dreams" by Fleetwood Mac. The Euclid's demonstrate their present low-end reproduction in this song. I found the bass to be acceptable and to have just enough impact, however, the Audeze famous low-end texture and micro detail in the sub 200Hz range is largely absent here. Yet, this is made up for by the Euclid's performance with the vocals provided by Stevie Nicks. She has never sounded so alive and real before in a closed-back IEM. The accompanying percussion snare hits were also a treat with intense sharpness permeating each time.
Overall, the sonic performance of the Euclid was 'excellent' in what it was tuned for. Wide soundstages, high quality recordings with lots of detailed instruments, and higher octave vocalists. Audeze has achieved phenomenal performance given that they have a 'real' full planar magnetic driver within a closed housing. To my knowledge, the other planar magnetic IEM offerings on the market all had to feature an open to semi-open porting to achieve their desired results. Audeze's engineering and tuning capabilities are thoroughly exemplified through the Euclid.
Conclusion: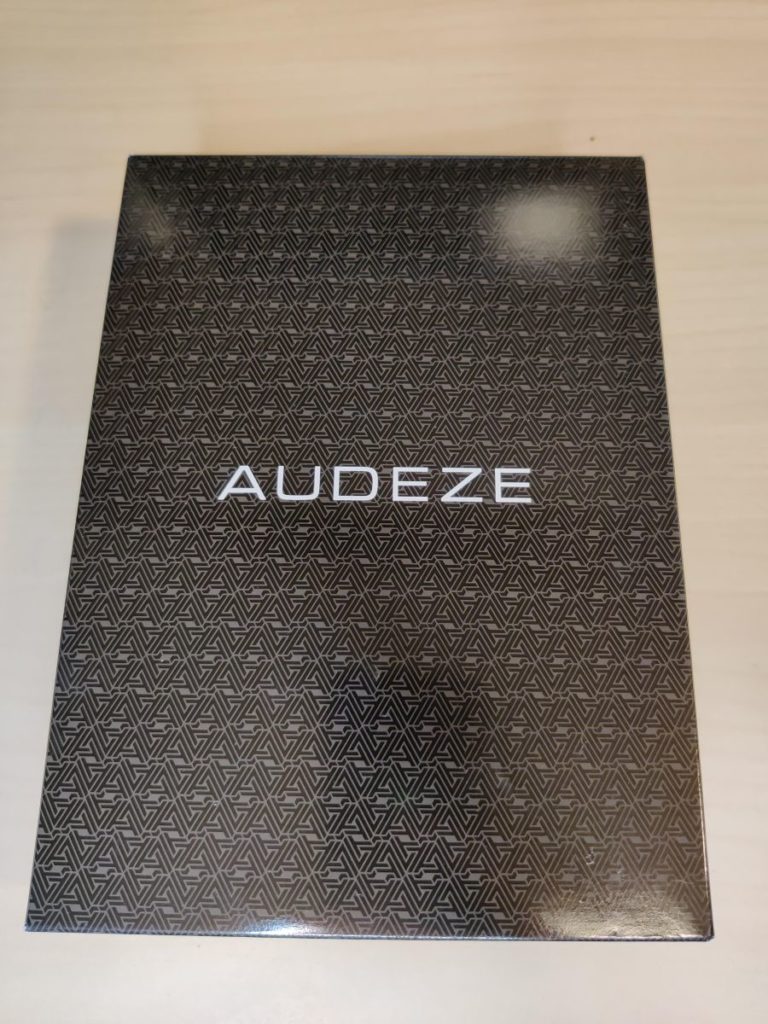 The Audeze Euclid is a great first offering from Audeze in the realm of closed-back planar-magnetic IEMs. It features the ability to perform at the level of my full-size open back planars despite being a fraction of the size and is able to accurately replicate a wide soundstage.
A decade on, and despite venturing into a completely new field and application. Audeze's Euclid proves that they are still one of the 'greats' of the industry. Packing engineering innovation and the execution to pull it off the Euclid offers the versatility of owning a single product that is small and portable in size, adaptable thanks to its MMCX platform, and closed back for isolation, but with a world-class soundstage. I would like to see Audeze continue to develop this platform to where we may one day get an IEM with more low-frequency range reproduction. But for now, it's a hell of a start. 
Price: $1,299.00 USD
Manufacturer's Website: www.audeze.com
Specifications:
| | |
| --- | --- |
| Style | In-ear, closed-back |
| Transducer type | Planar Magnetic |
| Magnetic structure | Fluxor™ magnet array |
| Phase management | Fazor™ |
| Magnet type | Neodymium N50 |
| Diaphragm type | Ultra-thin Uniforce™ |
| Transducer size | 18 mm |
| Maximum SPL | >120dB |
| Frequency response | 10Hz – 50kHz |
| THD | <0.1% @ 100 dB SPL |
| Sensitivity | 105 dB/1mW (at Drum Reference Point) |
| Impedance | 12 ohms |
| Max power handling | 500mW |
| Min recommended power | > 50mW |
| Wired connection | Braided MMCX |
| Weight | 15g/pair without cable |
| Sound port diameter | 5mm |