Guru is typically known to do headphone reviews, but today we're here to take a look at a product from our sister hobby; yes, it's speakers! Audioengine approached us to do a review of their new A5+ Wireless speakers. Audioengine has long been a company I've respected in headphone audio due in part to the D1 DAC/Amp which is highly coveted by fans online. The quality of their components and build quality is a top selling point and brings home the level of product Audioengine is bringing to the table.
The Audioengine A5+ Wireless speakers are here and we're very excited to see what it has to offer. This active speaker builds on the success of their tried and true A5 and A5+ (now renamed A5+ Classic) which has improved thermal dissipation and more inputs. At the moment, Audioengine has simplified its lineup and gone is the original A5. In is the A5+ Classic (wired) and A5+ Wireless (wired and wireless). Audioengine notes that the A5+ Wireless has no sonic differences from the A5+ Classic and is essentially the later unit but with a Bluetooth receiver and 24-bit AK4396 DAC included inside. There is also a centering of the tweeters for aesthetic purposes.
The retail packaging and unboxing were on point. The outer box aesthetic wasn't too busy and told you exactly what you needed to know. Inside, you will find parts tucked away safely and in modular compartments. The actual speakers themselves were wrapped in a neat cloth bag to protect them. Pulling out the Audioengine A5+ Wireless was akin to unsheathing King Arthur's sword for me; out popped a majestic white speaker. Audioengine has the entire consumer experience from buying the speakers, to taking them out, and finally setting it up down to a T.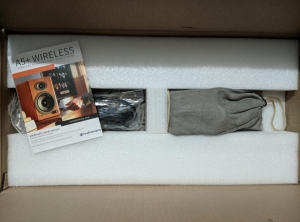 The speakers were constructed with purpose and dignity. There were no tarnish, scratches, imperfect edges, or discoloration anywhere. The High-Gloss White finish on the outside was smooth and reflects light with little distortion until you get to the rounded edges. As for the drivers, there wasn't any excess glue, fibers or non-uniform edges to them. As the centerpiece exposed to the listener, Audioengine put extra care into the aesthetics of the drivers.
The "Wireless" in its name refers to Bluetooth. The name was initially misleading to me as I thought it was a smart Wi-Fi connected device that can play Spotify like a Chromecast. In actuality, a look at its serial number which says A5+BT (followed by a unique serial) should clue in the user to what the truer name is. One improvement Audioengine brings to the table compared to other devices with Bluetooth dropped in is the external wireless antenna. This allows for better range and connection quality and should drive home the point that Audioengine isn't putting Bluetooth in half-heartedly.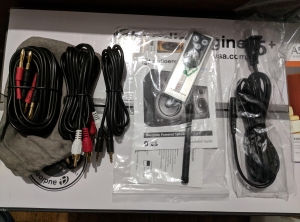 A look at the specification sheet shows them using the latest standards and parts. Here we have Bluetooth 5.0 which has increased bandwidth, range, and multi-device support. The wireless codecs it will work with are SBC, AAC, AptX, AptX HD, AptX Low Latency. LDAC by Sony is the one I was looking forward to seeing but it is sadly absent. On the bright side, we have a kick-butt DAC in the speaker. Audioengine is sticking with the same 24-bit AKM AK4396 Digital-to-Analog Converter found in the D1 Headphone DAC/Amp and B1 Bluetooth Receiver. I personally also use the AK4396 as my primary DAC with my desktop.
Usability:

This pairing of components leads to the simplest and most reliable Bluetooth wireless interfacing I have had the pleasure of using. The quality of the Bluetooth receiving chipset and stage logic programmed within is critical for how 'good' and 'easy' a Bluetooth product is. One of the key components I look for when reviewing Bluetooth products is how easy the initial connection is, how stable and reliable it is throughout use, what happens when I enable multiple paired devices and try to connect, and how effortless is it to swap from connected device A to B. Gone are the days of toggling both Bluetooth receiving and transmitting device off and back on and trying a reconnect. With the A5+ Wireless, I could engage and pair into the speaker at any moment's notice and be ready to jam. You want to switch to your second Bluetooth transmitter and play music? No problem because switching happens as easy as butter. The A5+ can also play music on both its Bluetooth and wired input simultaneously! Both sources are fed into an open circuit! The Audioengine A5+ Wireless speaker trumps every other audiophile Bluetooth device on the market with its connectivity suite in robustness and ease.
Complexity and simplicity are paired together like a fine wine with the A5+ Wireless. One gripe audiophiles commonly have with buying a new product is the device's input/output connectivity options and user interface. Often you'll have too simple a product with not enough choice or on the other end, a unit that is too complicated. Audioengine here has seemingly perfected that choice and given the user both. On the rear of the left speaker, we find a panel with a plethora of choices. You get the physical antenna, pairing button, two input methods (RCA and 3.5mm), an RCA output to an optional dedicated subwoofer, the output to the right passive speaker, power switch, voltage selection, fuse, and finally the power input. Everything you need is in one place.
Despite this jumble of options, using the A5+ Wireless is easy and intuitive to use. You can control the unit using the wheel on the left speaker or with the IR remote. With the wheel on the left unit, you scroll to the right to increase volume and left to decrease. I found that sometimes turning the wheel to the left to decrease would increase the volume for a split second. There are enough digital steps that this was not an issue for me as the increase was slight. Pushing that wheel in will mute the speakers (6W used in this state). One additional feature is found on the aluminum remote and that is the sleep mode. Pushing it engages a 4W low-power state and will allow your A5+ Wireless to start working again near immediately.
Sound:
The Audioengine A5+ Wireless was utilized in both wired and wireless modes. In the wired configuration, it was provided input from a desktop DAC (also with an AK4396) and sometimes a pre-amp from a Burson Audio FUN. In wireless configuration, it was used with an Essential PH-1, FiiO M9, Dell XPS 15 9550, and an ASUS USB-BT400 dongle for desktop PC. The first two devices utilized the AptX codec while the latter two utilized SBC.
One thing to note is that this is my first time with an audiophile speaker meant for a computer or desk setup. All other experiences I have had involve floor standing consumer home theater speakers or stereo audiophile towers and of course headphone. I owned a pair of Klipsch Forte II and have a consumer Polk Audio based home theater setup at home. Other computer speakers in my house include a Logitech Z623 and a Klipsch Promedia 2.1. I'll be considering my experiences with high-end headphone audio and both consumer and audiophile speakers when reviewing the sound portion. Wireless fidelity and quality were good and stable enough that the sound review will consider the device as a whole and not separate based on wired or wireless operation.
The overall sound signature was clean and detailed with a tendency towards the upper-frequency ranges. It leans towards the warm side with sparkly vocals and a low-frequency range with just enough oomph to carry songs through.
Listening to "She Will Be Loved" by Maroon 5. I found the A5+ to feature great vocals with one slight bit holding it back. Adam Levine's rendition of one of his band's most popular songs is lifelike and filled with emotion. It packs clarity and the A5+ makes sure there is enough energy backing the words. However, I felt it lacked bottom weight to the vocal range. Separation between vocals and mids was lacking in this song when the chorus kicked in. Differentiating Adam from the rest of the mid-range instrumental barrage was just acceptable here. The main benefit here with the A5+ was at the start when it was just Adam with the bass guitar. What is often missed (bass guitar) by speakers is heard clearly and packs a deep rumble into my chest as well. The A5+ gets an 8/10 from me here with this song. It's missing some elements here and there and gets lost once everything starts coming together, but before that, creates a joyous and melancholy experience hearing this story about Jane.
Next up was the theatrical instrumental piece "Requiem of Silence" used as an Original Sound Track for the tv show Re:Zero − Starting Life in Another World. The backstory to this piece is the main character alone in the world after having lost all that he has loved trekking back to the home he once knew only to find despair awaiting. The A5+ earns its keep here with what may be the best I have ever heard this track. The A5+ handles the slow beginning with deliberateness at every note produced. There are no clinging afternotes, resonance, or deficiencies such as noise or distortion. You're left with a clean track reproduction full of detail and filled only with the intentions of the producer. This track really brings home the benefits of speakers and that is the soundstage which is immense (but not unnaturally so) and makes the listener feel as if they were there with the main character. The string instruments as they go through the octaves are sharp and have edge to them. High frequency is something the A5+ is very adept at and it uses that to its advantage to ever so slightly push the song over the cliff; Shivers were sent down my spine at multiple points during the performance. As the brass horns joined the string instruments in harmony at the 5-minute mark, that is when I knew the A5+ has earned itself a medal in my books. The energy surging through those speakers drove home the weight of the main character's despair. The notes were detailed enough to hear the difference between the string and brass instrument combining into one. Astoundingly phenomenal if not for the pesky point from before rearing its head back up. The general mid separation was still lacking once the complex barrage of notes started to hit the A5+. It was detailed yes but it started to develop a 'compressing' phenomena squishing the performance flat. The A5+ gets a 9.7/10 from me with this song. In general, it was the best I have ever heard this track and lacked just one more element to give it a full 10 here.
The last example is "When I'm Gone" by Eminem. Audioengine notes that their speakers were "specially designed and tuned to make MP3 and other digital music files sound great" as an answer to why digital music sound better with their speakers. This song is mid pack in terms of dynamic range, compression and is what I consider Eminem in peak form. The lows are punchy and have just enough oomph to satisfy the typical audiophile. I found that adding a subwoofer adds more to my enjoyment when playing rap/hip hop of the modern digital era but the units I have start to drown out the A5+. (Audioengine sells a standalone subwoofer to be used with these speakers). The general performance was strong and clearer than most computer speakers on the market. From the perspective of an audiophile, I find that Audioengine's claims can be substantiated but with an asterisk. It has made most modern age digital music sound better in that the subsequent output has great highs, mids, and acceptable lows. But at the same time, those are narrow filters you have to go through to end up substantiating that claim. Genres like EDM, rap, hip hop and modern pop sound 'better' in that they have audiophile elements applied to them. But at the end of the day, the lack of a strong bass (obviously as its just two desk speakers) and vocals with forward intensity put a damper on my 'enjoyment' of modern age digital files. I'm obviously going further than what the claims say and add the "modern age" to be tacked onto the digital wording and I'm doing that as that is what I believe the general consumer would believe that claim meant and will use these for. With the A5+, this song gets a 7/10 from me with its reproduction. The cymbals and snappy highs and energy in Em's voice were apparent and a key point. But the overall song was unfortunately too 'pepped' up by the A5+ and also lacked strong bass.
I've found that the Audioengine A5+ performs the best with high-quality tracks with expanse and a focus on mid-range instruments. This was proven time and time again with my testing as I played through the entirety of The Dark Side of the Moon by Pink Floyd and other tracks from that generation. All played as "Digital music files" and the results were extraordinary. I couldn't believe what I was hearing and how clear and cleanly the A5+ pushed.
At the end of the day, past the marketing, the A5+ are limited by their design and intended audience; they are still 2.0 speakers sized for a computer desk. They have 'great' bass within the confines of what tracks that are considered 'audiophile grade' have mastered to. The same applies to its mid-range section which packs forward energy and edge to every note; great stuff but not for every song or purpose. The A5+ Wireless speakers aren't a do it all handyman for every purpose. Throw away the marketing and look at the A5+ by themselves and you find one of the best speakers I have heard in this price range.
Conclusion: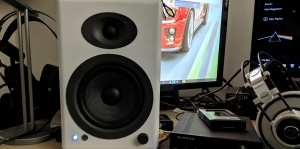 The Audioengine A5+ Wireless Speaker is a multi-faceted speaker with as many faces as it has inputs. It was designed to handle close to any task and physical environment you place it in. It doesn't fulfill every aspect of what it sets out to do but does a damn good job with enough of them that I am still impressed a month later. At $499, these speakers give headphones a run for their money and offer impeccable high-end audio performance given their size. Now, with the wireless connectivity kit, enjoying high-end audio has never been easier or seamless. The Audioengine A5+ Wireless Speakers has rocked my socks off with its capability and gave me comfy ones back with its outstanding connectivity suite and usability. I have given these speakers my 2018 Guru Writer's Choice Award and am looking forward to what Audioengine has to offer in the future.