The Aura Note V2: Beauty and Brains
Not too long ago, the Gurufather asked me if I wanted to review a product from Moon Audio, from the April Music brand. I told Frank (the Gurufather) I would be happy to do the review, as I had heard some of April Music's digital converters at shows, such as the Eximus DAC, and I was impressed. A few weeks later, the Fedex guy dropped off a big package on the porch. It was heavy! This was the first hint of the build quality of the Aura Note V2.
Given that the unit had an onboard headphone amplifier and DAC, I thought it would be great to initially use it in my upstairs office. So I took it upstairs, opened the windows and started unpacking. At first I thought, Drew at Moon had mistakenly sent me a Burmester piece. The Aura Note is all chrome and just drop dead gorgeous. About the width and length of a Macbook and around 5-6 inches tall, the Aura Note is one of the prettiest pieces of audio gear I have ever seen. The top has sliding piece of beveled glass that feels great to the touch, with strategically placed rubber bumpers for extra smoothness. Now I currently have a Sony SCD-777ES Super Audio CD player from 2000, that I really love, so the April was already scoring some points on style. With the Sony, you drop the disc over a spindle, and a nicely weighted brass puck holds the disc in place. On the Aura Note 2, the puck is a polished chrome design, and uses magnets to hold the disc tightly, which also makes sure the puck is centered well.
But, I'm getting a little ahead of myself, as this is more than just a CD player. It is a full system of electronics with a CD transport, a DAC that handles high resolution files to 24/192 (no DSD), a built-in preamp, FM receiver, extra analog inputs for your turntable, and a 125 watt per/channel amplifier into 8 ohms. The front façade is a chrome metal piece, folded over to cover the top, and a nicely silk-screened Aura Note logo, above the top-loading disc player. On the right side, there are inputs for Type A USB, the wider 32-pin iPhone/iPad/iPod connecter slot, and a quarter-inch headphone-out. On the back, are two auxiliary inputs for turntables, etc., high quality speaker connections, and a standard FM connector. An FM antenna is supplied. The unit ships with a fairly basic IEC power cord, so I used my heavier gauge Shunyata Venom cord for the review, that made a slight improvement in sound. The amplifiers are based on the Bang & Olufsen ICEpower modules 250ASX. Well-crafted black steel sides with vented holes form the sides. The unit runs slightly warm to the touch.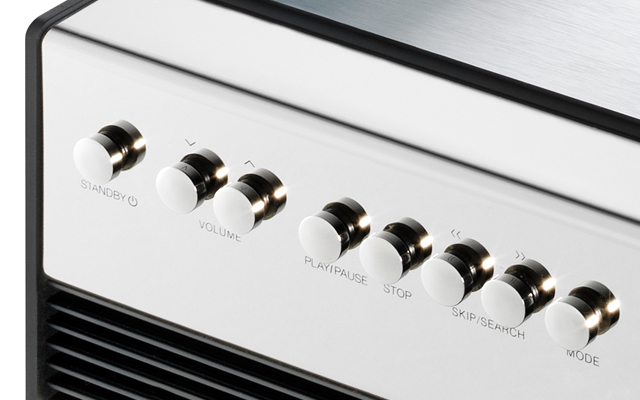 The front is especially gorgeous, with a bright red display and mushroom head" style chrome pushbuttons for selecting inputs, power, and volume. A 32-bit RISC chip is used quite effectively to handle the main control functions. I never had a problem with switching or digital glitches. Operation of the Aura Note was very smooth. A nice, slender but comfy to hold remote control, is included with all the functionality you would need. You just insert a watch battery (included) and you are good to go. There is a stand-by mode that displays a digital clock on the red display when activated.
So, who exactly is April Music? It is a South Korean manufacturer led by Simon Lee, a noted audio designer, who has created some well-regarded DACs and is known for solid engineering. Noted British designer Sir Kenneth Grange did the industrial design, so in a sense, good genes from Lee and Grange really led to the gorgeous look of this device. Sir Kenneth did some of the recent B&W loudspeaker designs, which also look beautiful. There is a purity and clean design to the piece that I really admire. It's almost as if Simon Lee was saying, this is all you really need for now."
Of course, all this beauty would be for naught if the unit did not sound good. I began to listen to the wide variety of playback options…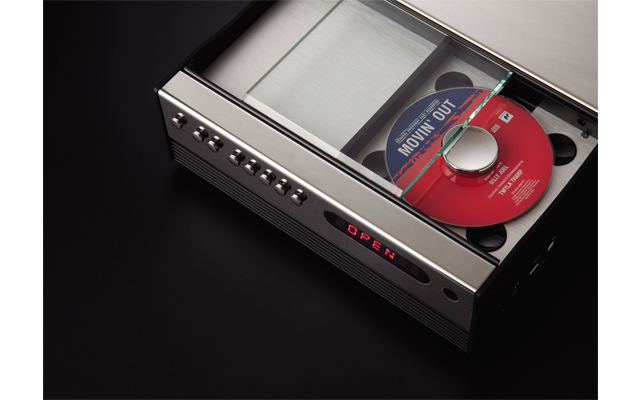 CD playback using the top-loading transport:
I love the Nat King Cole: "The Greatest Hits" disc, that Steve Hoffman mastered for DCC. There is a wonderful musicality to it. One of my favorite tracks is "Orange Sky", which has some incredibly dynamic backing band moments. Well, I can tell you the Aura Note did a spectacular job here. Transients, tone, soundstage all sounded excellent on my various headphones, from the Audioquest Nighthawk (review forthcoming) to my Grado PS500s.
I believe this is another DAC that can bridge the resolution and musicality divide, and offer up both. This a hallmark of a well-designed product. On the DAC front, this is a bit of applied learning from the excellent Stello and Eximus DACs. Lee has created a proprietary third order digital filter, that improves performance with the Cirrus Logic 4398 chip set that is the heart of the Aura Note's digital playback.
iPhone 5S playback:
Ernesto Ansermet's, "The Royal Ballet" on Classic Records CD, is a tour-de-force of excellent sonics, so it is natural for me to keep coming back to these tracks to test various devices. The opening Nutcracker Suite" is wonderfully performed under Ansermet. Since I listen to this using the Denon Music Player app during air travel, I wonder how the Aura Note would work. With the handy iDevice digital dock, connecting was a snap. Sound quality was superb. Such beautiful strings and overall cohesiveness to the sound led me to play these tracks over and over, and served as a backdrop to some serious MS Excel work I was doing for my day job. The sound was smooth and easy. While the iPhone does not contain the best internal DAC, it is surprisingly good with an app like the Denon player.
I also listened a lot to my usual Nils Lofgren's acoustic tracks, and Joe Walsh's But Seriously Folks", from the Audio Fidelity label. Guitars sound especially natural on the Aura Note V2 and so does the mouth harp on Life's Been Good."
High resolution files from Amarra on my laptop:
Mating the USB connection to my Macbook pro was flawless, with no extra software needed, although you will need to download drivers if you use a Windows computer. I've been buying all of the super deluxe" box sets of the Led Zeppelin catalog that Jimmy Page and team have just released, and the included hi-rez downloads are really stellar. Around the time of my initial listening, I broke out the "Houses of the Holy" set. "The Ocean" is a favorite track of mine, and the full, rich, and dynamic sound from Page's guitar to Bonzo's drumming is just magnificent! The swagger and somewhat bombastic signature of Led Zeppelin is there in all its glory. Does the Aura Note have all the resolution of say the Chord Hugo? Not quite, but it is a bit smoother in a good way. There seems to be a calculated pairing of fine resolution and analog smoothness that is addictive over long, listening sessions. Is it due to Simon Lee's digital filter? I'm not completely sure, but it probably plays a part. In any event, it works!
An amplifier torture test with the Magnepan 1.7s:
One question that I had, was about the amplifier quality, given that the space for the amplification is so limited, in a compact all-in-one design like this. My prior experience with digital amps have not been very good. The Aura Note V2 claimed 125 watts into 8 ohms, and 250 watts into 4 ohms. My 1.7s are power hungry, but with a decent amount of current, they really sound wonderful. Would these Class D amps work well?
I took the unit to my basement listening room, and plugged in the banana connectors on my Black Cat Lectraline speaker cables. Next, I plugged in my Shunyata Venom3 power cord, turned the unit on, and hooked up my Macbook Pro and set the sound card which instantly recognized the Aura Note. My buddy Nick, has gotten me further into big band jazz and Duke Ellington usually gets my toes tapping. "Jazz Party in Stereo", is a classic big band recording that sounds good, and more importantly really swings. The first track, "Malletoba Spank", has all sorts of goodness going on with some wonderful percussion to kick things off. I played a few other tracks to let the amps warm up and let her rip. The Aura Note's ICEpower amps really gripped" the panels. You add the Aura Note V2 and a pair of 1.7s and you have a great high end system. I was really surprised how well the ICEpower amps worked. Clear, open sound, nice soundstage and all the dynamics of this "Malletoba Spank" track were captured.
This was a great combination so I cued up more Zeppelin tracks, some Paul Simon, and REM's "Out of Time" at 24/192. It was all quite good. So, here we have a compact system that would please any office dweller, but with it, the ability to drive a wide variety of tough speaker loads. I think this compact box is the perfect main rig for someone starting in high end audio (albeit at a nice entry point), or someone into design who wants a system they can place in a well-decorated living room.
Headphone amplification:
Fortunately, during the review, I received the new Audioquest Nighthawk headphones to compliment my Grado PS500s for headphone listening. The headphone amp broke in nicely in about a week. Both sets of cans sounded very good. It was a contrast in styles, better bass on the Nighthawks and a bit more openness on the PS500s. They both had their good points, but the takeaway was that the headphone amp was very good, and I believe it will drive a variety of headphones well. I like the Paul Simon track Me and Julio Down by the Schoolyard". The fast-paced opening guitar riff was spectacular on the Nighthawks, and the bass was well-defined and full, which I will talk about in more detail in the upcoming review. The Nighthawks did not appear to need any more power. The Grados if anything, were an even better match, perhaps because they are a bit more on the detailed side, and that matches up a bit better with the Aura Note's smoothness. Honestly, I kept flipping back and forth…one day on the Nighthawks, one day on the Grados. We are certainly not in Cavalli territory here, but this is a very fine headphone amplifier.
Concluding Thoughts:
This is frankly an easy recommendation at the $3,000 price point. It offers tons of functionality, great sound, and has all the necessary digital inputs for the modern age. The DAC is very well designed, and the sound is excellent…which I'm sure is a result of Simon Lee's prior digital converter experience. I really hated to send this unit back to Drew. It works as a top quality design for a home office, or a great starting base for a proper main rig." I am very impressed by Lee and Grange's work here. The Aura Note V2 is highly recommended.
Pros:
*Beautiful design
*Superb sound with midrange clarity, dynamics, and soundstage depth
*Swiss army knife functionality
*Easy to use
*Stellar build quality
*Impressive ICEpower technology in the amps
Cons:
*Not entry level in price
*May not fully please the detail freaks but still nicely resolving
Key features and specifications:
Up to 24/192 decoding with Type A usb input
iPod digital docking
Top-loading CD transport
0.0001% THD
116db dynamic range
125 watts at 8 ohms power output
Manufacturer's links:
Available at Moon Audio:
http://www.moon-audio.com/electronics-brands/all-other-brands/april-music.html
106 Brady Ct.
Cary, NC, 27511
919.649.5018