The obvious question is; what is a wireless streaming DAC, or more to the point; Why? Essentially it is the central component in a home media server. I stress component here because it is not a complete self contained media server, and other components are needed for it to operate, which is actually a good thing. Beyond the basic performance advantages of separate components, you have versatility, and especially important in a music server, the ability to expand.
In the case of the AURALiC ALTAIR the first thing you need is an Apple mobile WiFi device (IE: and iPhone, iPod or iPad), I chose the iPad Mini as this was both the least expensive and the optimum size for the media interface. The ALTAIR will work with Roon and other third party control software, but the Apple device is necessary for set up. You will also need a home network with a compatible router and a NAS (Network-Attached Storage), uPnP/DLNA Media Server or an external Hard Drive (an optional internal hard drive can be installed making it a full-fledged music server).
If this is your first is your first media server I recommend going with the external hard drive (I use an 8TB drive which is plenty to accommodate even the most ambitious High-Resolution music collection), unless you are planning on setting up systems in multiple rooms, in which case a NAS would be preferable.
For personal audio, that's all you need (other than your favorite pair of headphones) as the ALTAIR has a built in headphone output. Of course, if you want to use it as part of a larger audio system, then you will also need the necessary amps and speakers, and you might also want other digital sources such as a CD transport.
The ALTAIR is primarily, first and foremost, a DAC, and as such it supports AES/EBU, Coaxial, Toslink, and USB digital inputs (I do recommend direct input via hard drive or NAS over use as USB DAC, due to the limitations of USB and the extreme processing overhead required by computer based player software). It also offers a USB output to drive an external USB DAC. Apart from the Headphone output, the ALTAIR offers both single ended and balanced analog outputs. As one would expect, I got slightly better performance using the balanced outputs over the single ended.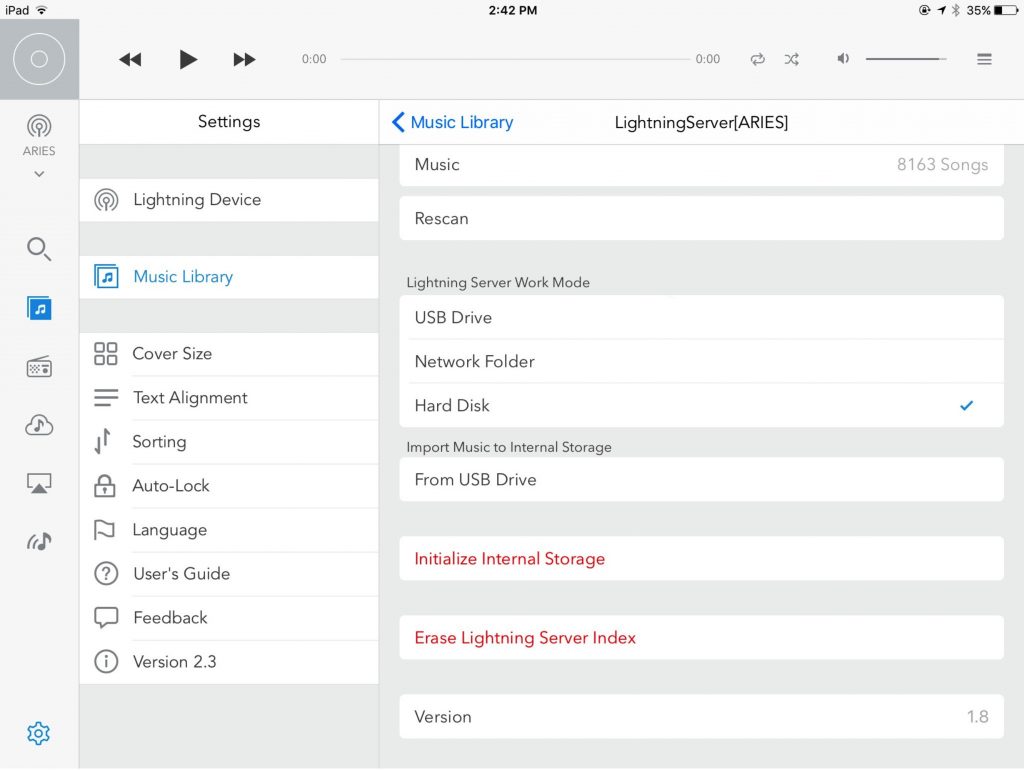 Setup:
Once I picked up the iPad Mini, setup was fairly straight forward. The ALTAIR will connect to your network through either WiFi or LAN, though I recommend LAN for speed purposes (this is especially important for internet streaming). I plugged the ALTAIR into my two channel system and connected the LAN cable. Then it was a matter of downloading the Lightning DS App (Created by AURALiC and available through the Apple App Store) and following the step by step instructions in the Lightning DS App to connect to my network. Once connected, the iPad communicated to the ALTAIR through the network.
Using the integrated headphone amp for initial testing, I first connected to internet radio. The Lightning DS's Radio interface gave me the options of "What's New", "Featured", "Recently Played", "My Favorites", "My Stations", "Local Stations" "Best of On Now" and "Browse by Genres". I selected "Browse by Genres" and then "Ambient" and was given a list of countries and button for "High Quality" which I selected, and then among that list I went for A66fm (Greece).
Once I verified that I had internet, it was time to create a music library. To do that it is necessary to return to the Lightning DS master menu and select "Settings" and select "Music Library" and then "Add Music Library" where you will get a list of available servers, once you select the appropriate server it will automatically create your music library, which can take a few minutes if you have a library like mine. If you want to connect a hard drive directly to the ALTAIR you select "Lightning Server", "USB Drive" and "Select This Library".
The final thing you'll want to do is set up your streaming accounts, this is also done in "Settings" under "Streaming Account". The ALTAIR supports Qobuz, TIDAL and WiMP internally, for other services you would need to use AirPlay, Songcast or Bluetooth to stream from your iPad or phone.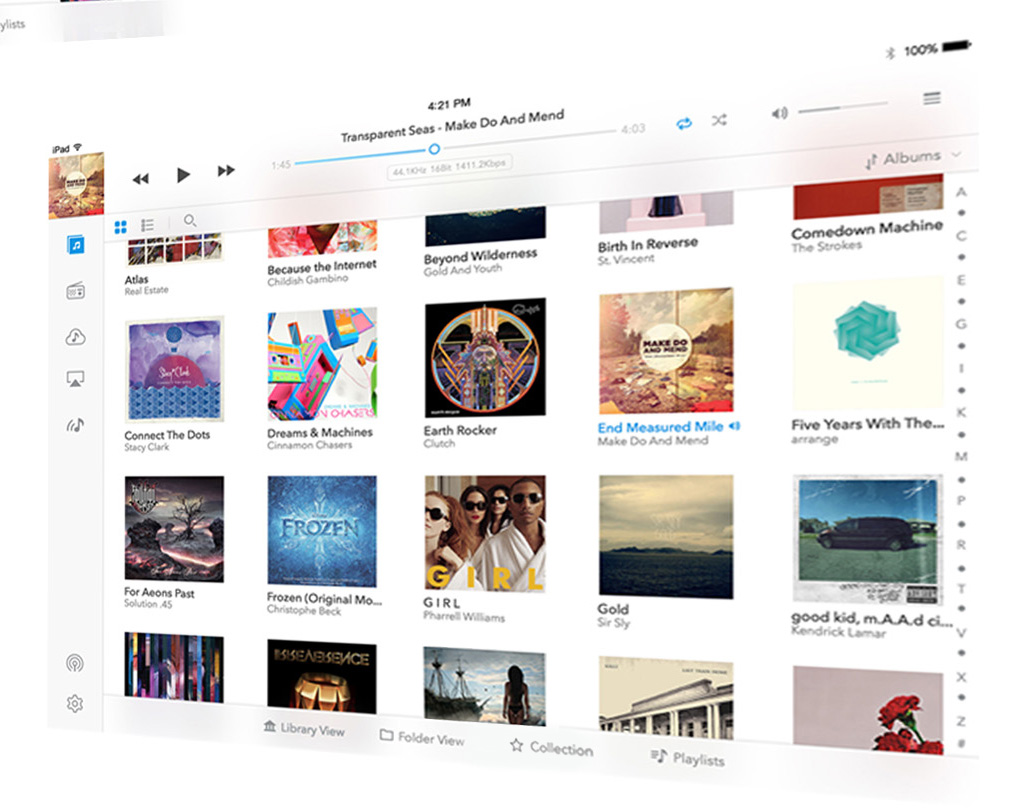 Sound:
The AURALiC ALTAIR employs their own proprietary "Tesla" hardware platform that includes a Quad-Core Coretex-A9 processor and a dual-frequency Femto Master Clock specially designed and optimized for its ESS Sabre DAC chip, for which they provide four selectable filter settings (I chose "Smooth" as it minimizes pre-ring and echo which best fits my personal tastes). It also has a feature that should be standard on all DACs; Phase Reversal. While analog recordings can be partially out of phase anywhere from 0 to 180 degrees, digital recordings are either in phase or out of phase and the consequences are dire indeed sonically, especially on a two channel system where the soundstage falls apart completely. But even with headphones an out of phase recording can be thin and unexciting. My only complaint would be that I would like a direct access button on the remote for phase as it is a feature which is used on the fly while listening.
I began my listening with the MrSpeakers ETHER C Flows mostly to verify that everything was working. The sound produced by Internet Radio was surprisingly good. I have always felt that the real test of a DAC is how it deals with low resolution sources and the ALTAIR rose to the occasion.
Moving on to the loudspeakers I cued up Reference Recording's production of "The Firebird Suite" (Stravinsky – Eiji Oue and the Minnesota Orchestra – DSD64). For those who are not into two channel, it's all about theatre. You want to feel like you're in your favorite seat in the audience. The sound stage was deep and wide with pinpoint placement of the instruments, creating a complete illusion. The tonal balance fell out on the warmish side on the bottom end, though not exactly tube like, with a certain nod in that direction. The attack and transients were precise but not harsh, breathing life into the tympani and the dynamics were excellent.
Next up was Blood, Sweat and Tears and "The Battle" (Blood, Sweat & Tears 3 – DSD64). The byplay between harpsichord and flute was divine, and the horn / percussion counterpoint crisp and engaging.
In a mood for The Rolling Stones, I put on "2000 Light Years From Home" (Their Satanic Majesties Request – 24/176.4 kHz), I felt totally immersed in the psychedelic tune, each instrument realistically rendered.
I don't have any 384 kHz or DSD256 files to test with but I do have Lou Reed's "Walk on the Wild Side" (12″ version) in DSD128 and the results were spectacular, the bass immediate and natural sounding, the snare crisp and instant, the horn razor like and haunting as it floated around the room, and what sense of soundstage.
Returning to the ETHER C Flows to test out the Bluetooth performance, I paired the ALTAIR to my phone and brought up Sondre Lerche's "Happy Birthday Girl" on Napster. Once again the reproduction of low-res streaming audio was astonishing, especially considering the limitations of Bluetooth. Listening to "Minor Threat" by Rise Against I wrapped up my audition completely convinced of the ALTAIR's abilities.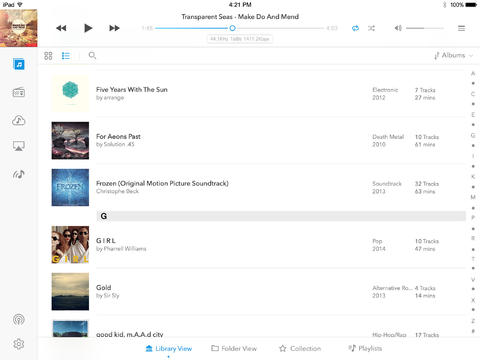 Conclusion:
The AURALiC ALTAIR Wireless Streaming DAC is sonically a fast and musical DAC that offers unprecedented versatility. It handles almost every digital format currently in use including Quad DSD and DXD and wrings the most out of even the most humble recordings. Switchable digital filters means that you can tailor the sound to your own taste and a phase reversal switch means you can correct what was broken by the recording process (or possibly your streaming service). And they take the concept of streaming music seriously, not only giving you access to streaming services, but letting you stream from a NAS or uPnP/DLNA media server or Bluetooth device, and by allowing you to connect directly to an external hard drive, it renders the concept of a USB DAC obsolete, removing the computer from the signal processing entirely, guaranteeing the best possible performance.
Price:
$1,899 USD
ALTAIR Specifications:
Frequency Response
20 – 20KHz, +/- 0.1dB*
THD+N
<0.0003%, 20Hz-20KHz at 0dBFS
Dynamic Range
124dB, 20Hz-20KHz, A-weighted
Streaming Inputs
Network shared folder
USB Drive
Internal Music Storage**
uPnP/DLNA Media Server
TIDAL and Qobuz streaming
Internet Radio
AirPlay
Bluetooth
Songcast
Digital Inputs
1AES/EBU 1Coaxial
1Toslink 1USB device to computer
2USB host to storage and DAC 1RJ45 Gigabit Ethernet
1*802.11b/g/n/ac Tri-Band WiFi
Analog Outputs
1Balanced XLR(output impedance 10ohm) 1Single-ended RCA(output impedance 50ohm)
1*6.35mm headphone Jack (output impedance 5ohm)
Supported File Formats
AAC, AIFF, ALAC, APE, DIFF, DSF, FLAC,
MP3, OGG, WAV, WV and WMA
Supported Digital Formats
All PCM from 44.1KS/s to 384KS/s in 32Bit* DSD64, DSD128, DSD256*
Output Voltage
4Vrms at 0dBFS (XLR)
2Vrms at 0dBFS (RCA)
Control Software
AURALiC Lightning DS for iOS
AURALiC RC-1 remote control
OpenHome compatible control software
uPnP compatible control software
Roon
Power Consumption
Sleep: <10W
Playback: 35W at max.
Dimension
13"W x 9"D x 2.6"H (33cm x 23cm x 6.5cm)
Weight
7.0 pounds (3.2kg)
Finishing
Matte Black / Matte Silver
Tested under Filter Mode Precise for all sampling rate
** With optional 2.5-inch HDD or SSD installed
** 352.8KS/s and 384KS/s are supported through streaming and USB input only
*** 32bit is supported through streaming and USB input only
*** By 'DoP V1.1' or native DSD protocol through streaming and USB input only
All specifications are subject to change without notice.