AXPONA is celebrating its 10th year of producing high-end HiFi shows and this may have been their biggest show yet, with both exhibitors and attendees flocking to the Renaissance Hotel in Schomesburg Illinois, for what has become the largest US show for high-end audio gear. The show organized by JD Event with Liz Miller and Mark Freid was one of the best shows I have attended for 2 channel high-end audio. The Ear Expo was loaded with the best in personal audio with a filled to a capacity room loaded with exceptional gear and new designs coming to market. The signage in the Renaissance was outstanding and made traveling the large venue easy for me to find everything I wanted to cover. Lee Shelley and I were so busy, as we wanted to cover everything in the Ear Gear Expo and some of the rooms as well. Our sponsor for this show was Underwood Hifi and Walter Liederman was present showing a terrific $3400 system designed specifically with the idea of attracting the millennials to the world of high-end listening in the 2 channel world. Wally for over 20 years has been selling online and has a reputation for integrity and is a terrific source for all of your high-end needs.
Big kudos to Liz and Mark for producing one of the best run audio shows in the world without any glitches and providing some of the best entertainment that I have seen at any show. Look for our coverage as we have a lot of coverage coming and this is my first part of many more to come from both myself and Lee Shelly along with our newest writer, The Audio File.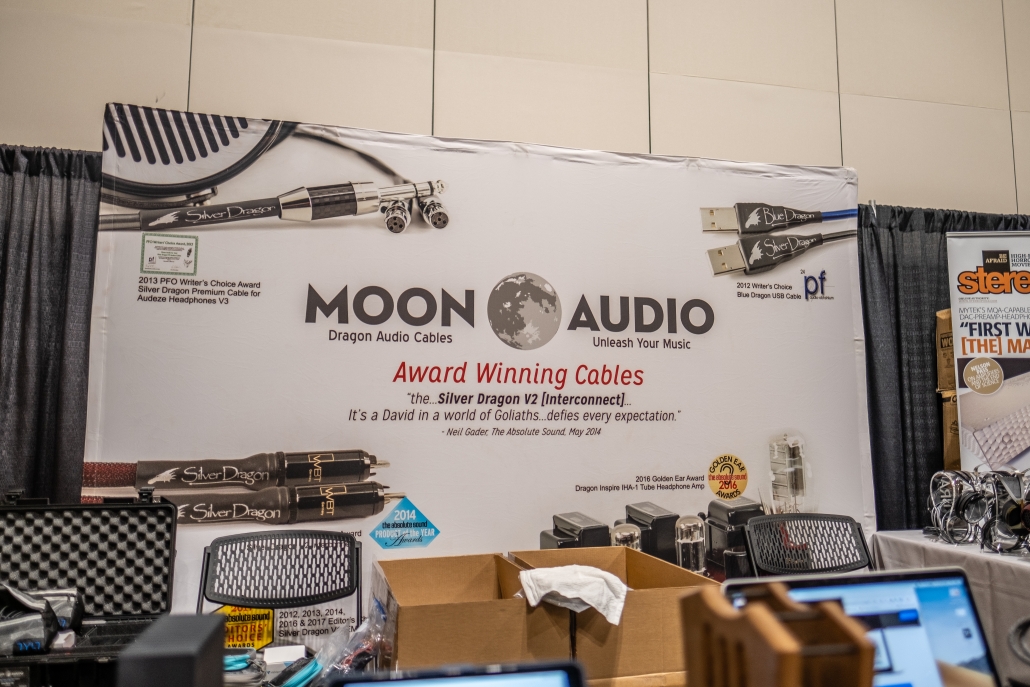 Setup up day for Moon Audio's Drew Baird showcasing their cable designs with some of the finest headphones, amplifiers and digital sources currently available in the world of personal audio.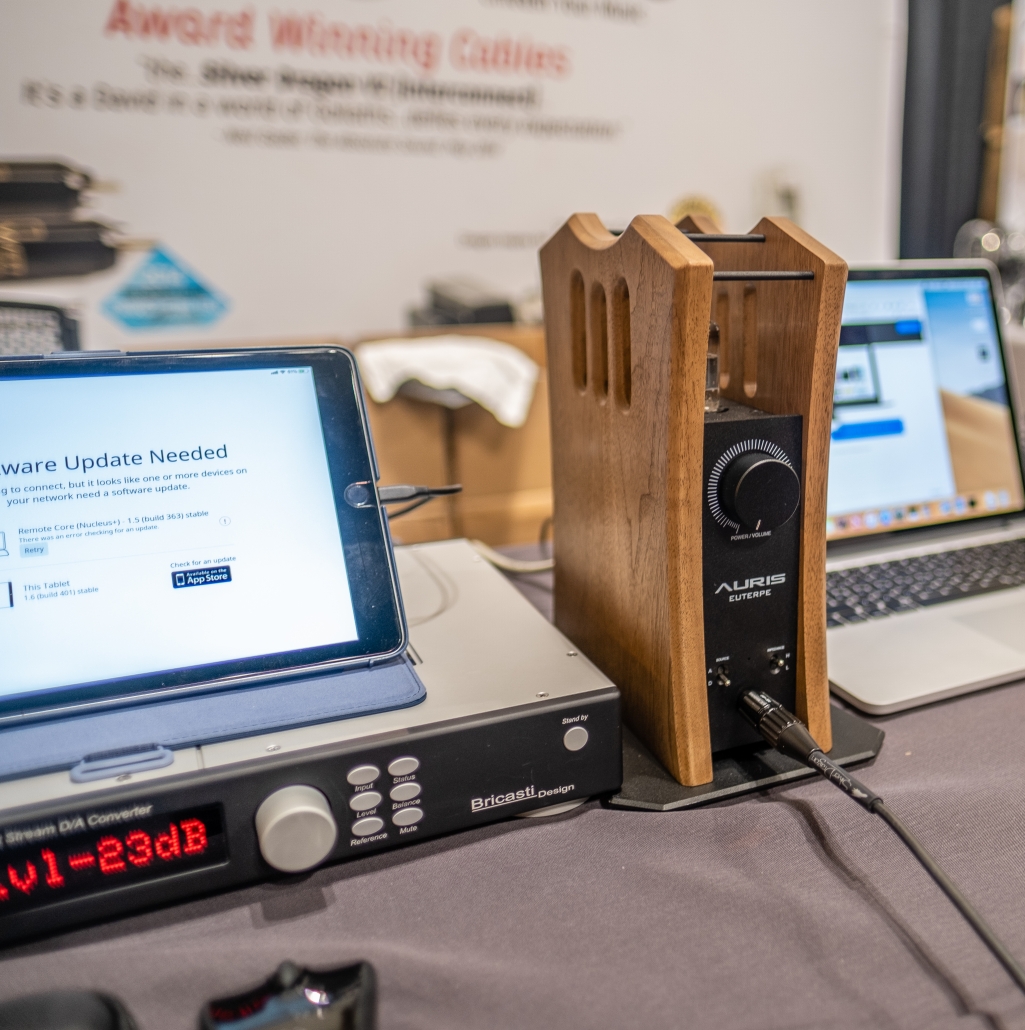 The Auris Audio Euterpe was sitting front and center on Moon Audio's booth. The Euterpe is the newest offering from Auris and priced at $1,699. The Euterpe has a built-in ESS Sabre DAC chip that supports digital decoding for DSD 64, DSD 128, and PCM max 32bit/384kHz and offers both USB and RCA inputs. The 0.9 w power will drive most headphones easily and the transformer based all-tube design uses 2 PL 95 tubes and 1 ECC 81 tube which makes it user-friendly for planar designs as well as most dynamic headphones. The musicality of the Euterpe is spectacular to an extent rarely if ever found in products in this price range. Designed by Auris CEO Miki Trosic this handcrafted wood design is an exceptional product designed for pure music listening.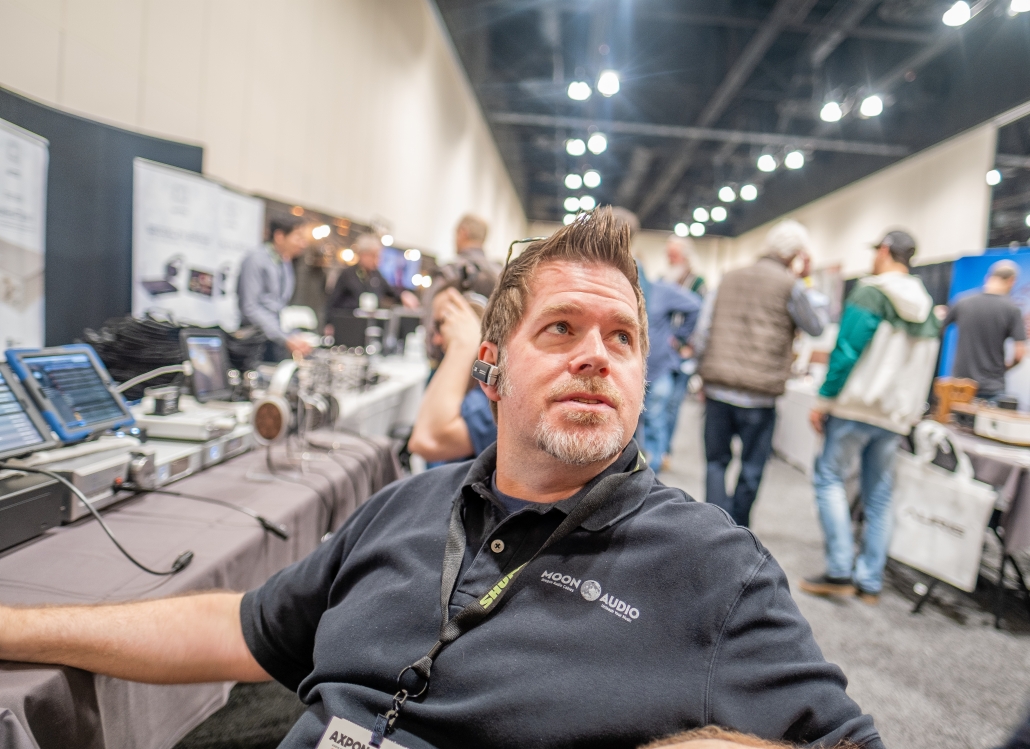 Drew Baird in heavy thought at the opening of the show. One of the only times you will see Drew sitting at this show as the masses came flocking in and the booth was busy for the entire show.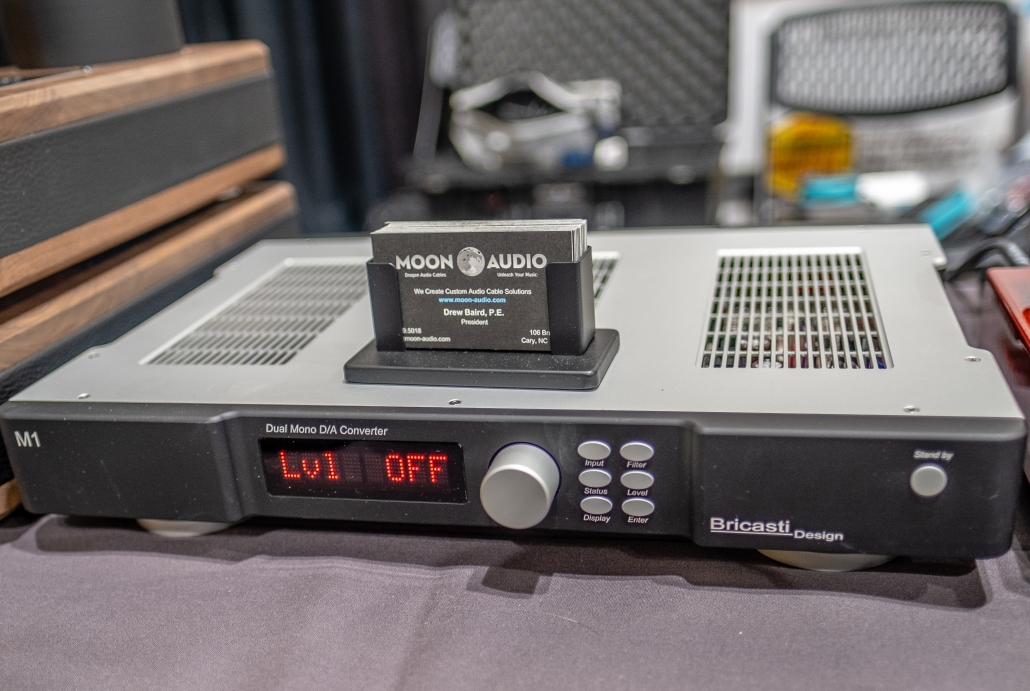 The new M1 Dual Mono Converter from Bricasti Designs is a DSD 64 Playback design that has two isolated channels. The Asynchronous USB interface ensures the listener a quiet and black background. The musical performance had exceptional clarity and transparency that competed with any DAC regardless of price and outperformed many higher priced DAC's. The proprietary filter technology is world class and the jitter is extremely low and nonexistent in my listening session. The Bricasti supports samples rates up to 192khz and is a 24-bit design. The Birscati is priced at $9,000 for the Classic and is also available in a Limited Edition Gold Edition which adds an additional $6,000 to the cost of the design. Users can also add an additional Network Player to the Classic for an additional $1,000. The Bricasti also is a world-class pre-amplifier so it will feel right at home in a 2 channel system driving an amplifier and speakers. The M1 is impressive with exceptional build and sound that takes digital music listening to the next level of realism.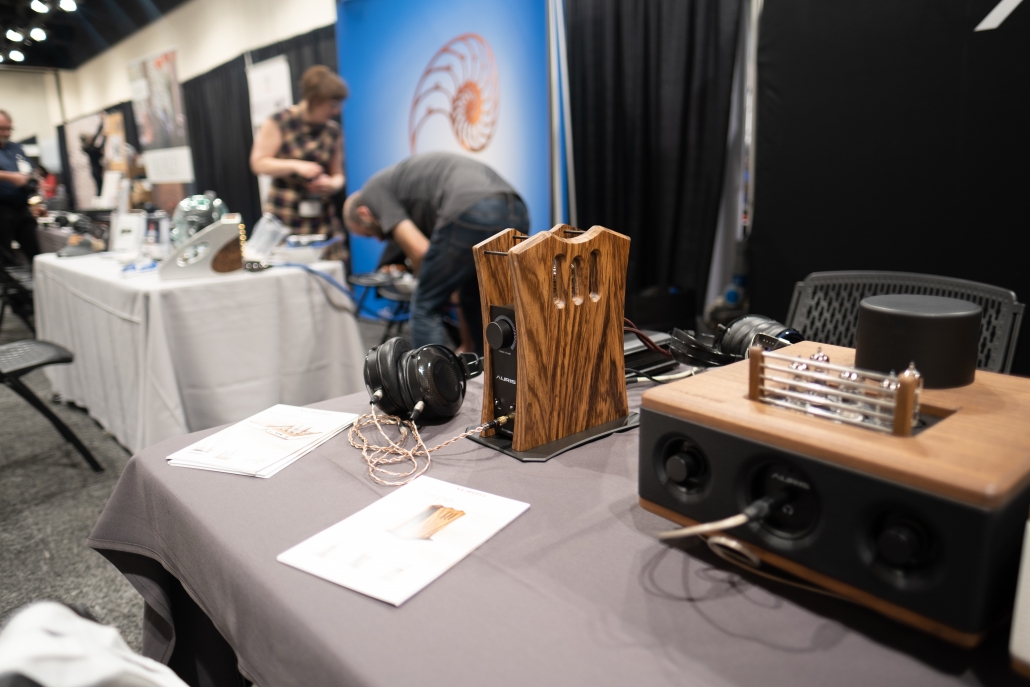 Auris had two booths in the Ear Gear Expo plus a room in the tower. Shown here is the impressive HA2 priced at $1,999. The tube-based design has a selectable output impedances of 50, 100, 300, 600 ohms making this musical design capable of driving any headphone easily. The Wood design is handcrafted in Serbia and the all-tube design uses 2 ECC82 and 4 PL95 (or EL95) tubes and has exceptional transparency and clarity. The single ended design is all Class A Triode and is an exceptional value at the offering price. Sitting next to it is the Euterpe Amp/DAC combo priced at $1,699.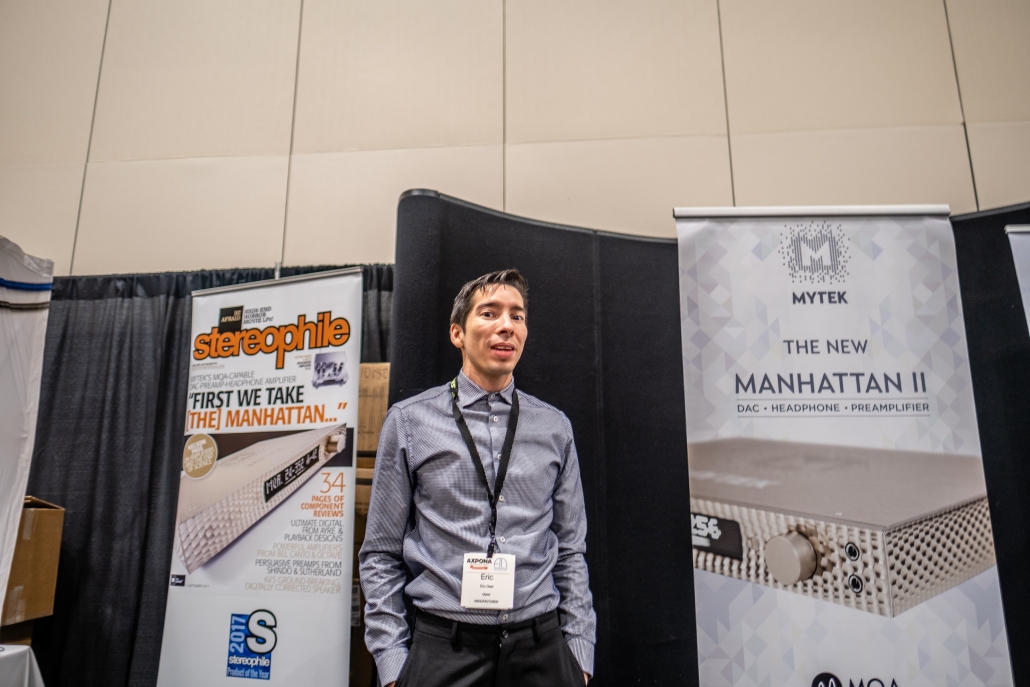 Cherban from Mytek was showing the Brooklyn DAC Plus priced at $2,100 with impressive sound and features. The Brooklyn Dac Plus is a DAC/Preamplifier with a built-in phono that can support both Moving Magnet and Moving Coil cartridges as well as an outstanding headphone amplifier. The specifications for the unit from Mytek are as impressive as well. Stunning transparent detailed Mytek sound.
Spec:
– Up to 384k, 32-bit and DSD256 conversion.
– 384k, 32-bit integer USB2 Class 2 interface (no drivers for Mac, Linux, or Linux based streamers, Native DSD ASIO Drivers for Windows)
– Certified MQA high-resolution decoder for high resolution streaming.
– Choice of inputs: AES, SPDIF, Toslink, SPDIF, DSD SDIF, Analog Line In or Phono.
– High-Performance M/C, M/M phono preamplifier (all analog signal path to output)
– High-Performance Dual Mono, High Current (800mA) headphone preamplifier.
Dual unbalanced jacks for two headphones or balanced operation with Mytek 2×1/4″ to 4pin XLR adapter.
– Audio Interface function: in addition to USB playback, Brooklyn will accept digital inputs into computer via USB.
– Femtoclock Clock generator with jitter below 0.8ps.
– Wordclock input and output- stacking of units for multichannel and surround sound is possible.
– Optional 12 VDC power supply input.
– Sculpted aluminum front panel chassis
– Choice of black or frosty silver.
– 2-year warranty.
The Brooklyn DAC Plus is an outstanding design loaded with features to make music listening for headphone or 2 channel easy and complete. Check it out you will not be disappointed.
GeerFab Audio was working with Mytek showcasing their new Digital Breakout Box priced at $695 and paired with an Oppo UDP 205 used as a transport into the Box and then connected to a Mytek Manhatten DAC. The GeerFab D.BOB extracts DSD 64 and PCM up to 24/192 kHz from an HDMI data stream and is able to output PCM 24/192 or DSD 64 via DoP through TOSLINK optical or S/PDIF coaxial. The classical recording Eric Geer played for me was exceptionally musical and quiet and the sound was transparent and alive. If you have large SACD and Blu-Ray Audio collections, the Break Out Box enhanced all the discs I heard with it and sounded musical and quiet with excellent layering.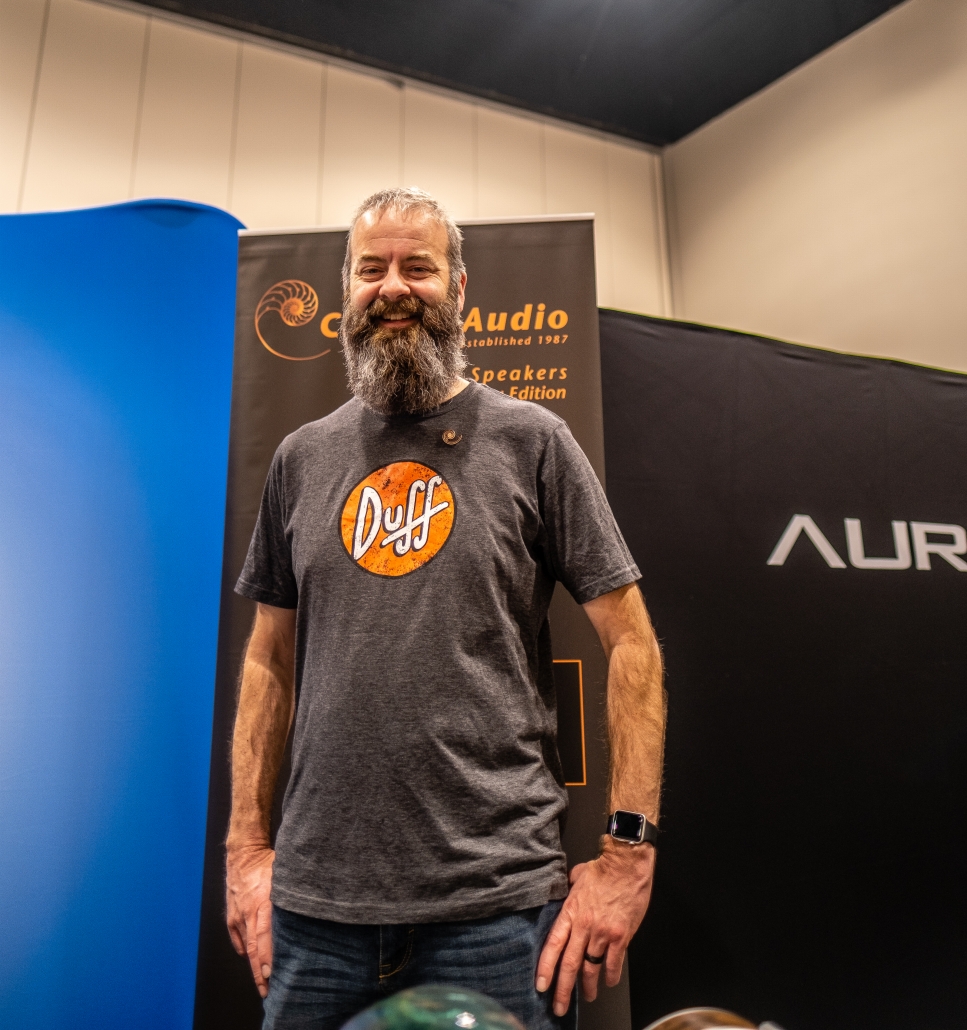 Josh from Cardas was showcasing their new products and gear while Angela was covering the rooms in the Tower that had Cardas products on display.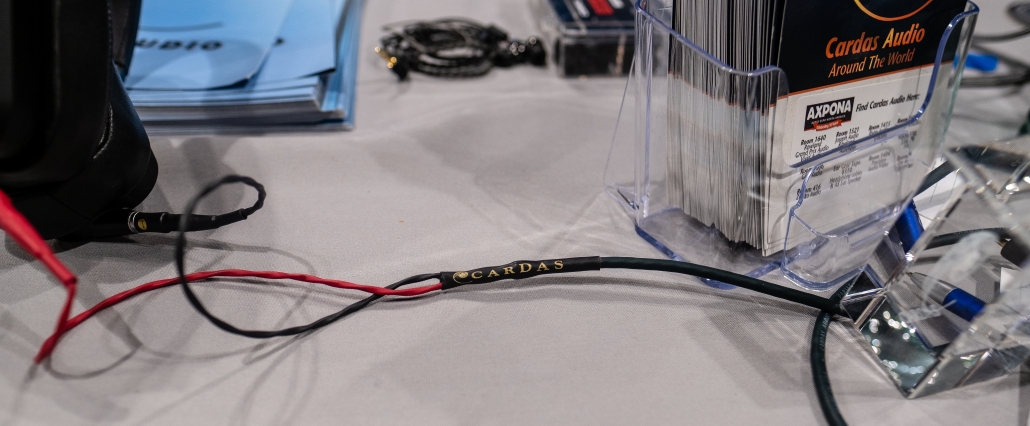 The Cardas Parsec Cables are priced competitively and feature the copper Matched Propagation Conductor designs that Cardas is famous for. Employing excellent build quality and available in any termination these custom cables will enhance all headphones with transparency and detail and are affordable designs that will improve on the stock cables that come with your headphones.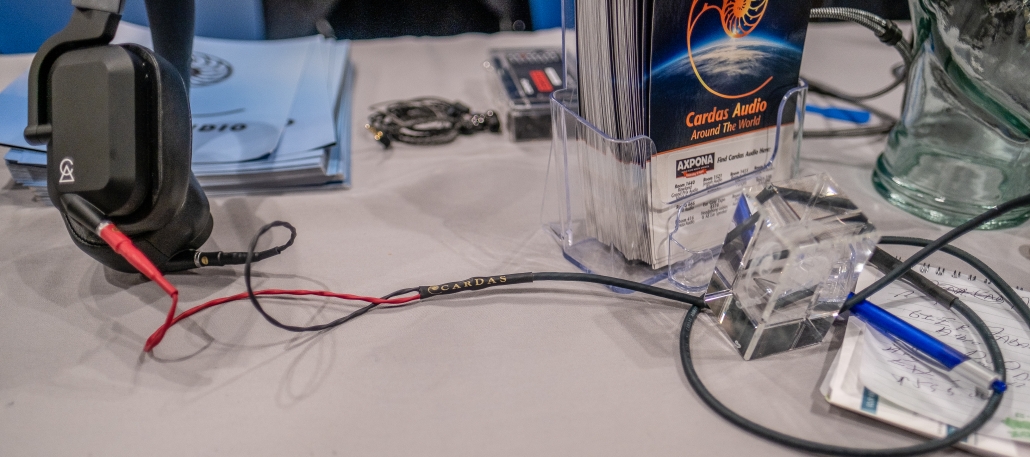 Paired here with the Campfire Audio headphones the sound was exceptional and transparent.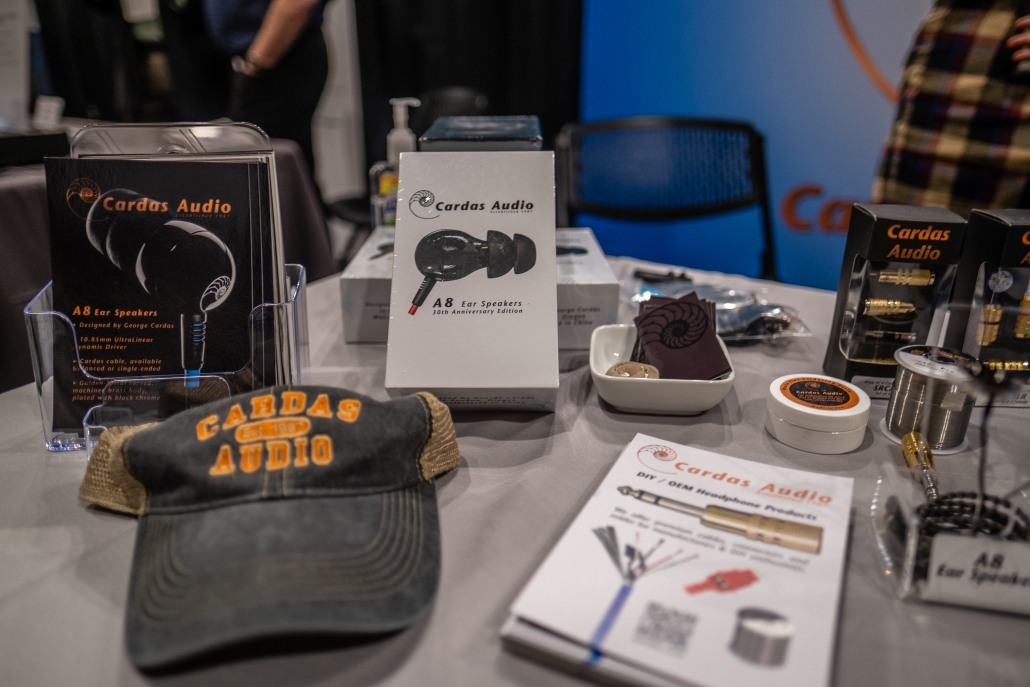 The Parsec Cardas line is competitively priced and available in 1.5 meter $225, 2 meter $250 and 2.5 meters $275. The Campfire Audio headphone sounded exceptionally vivid and clarity of inner detail made this headphone sound significantly more transparent, brought inner detail out, and made the detail of musical recording come to life. If you have a stock cable you really need to audition this line to hear what is possible in detail retrieval from quality aftermarket cables from Cardas designed to make you listening session a true musical experience. I will be doing a full review on all of the Parsec line, so stay tuned. Impressive!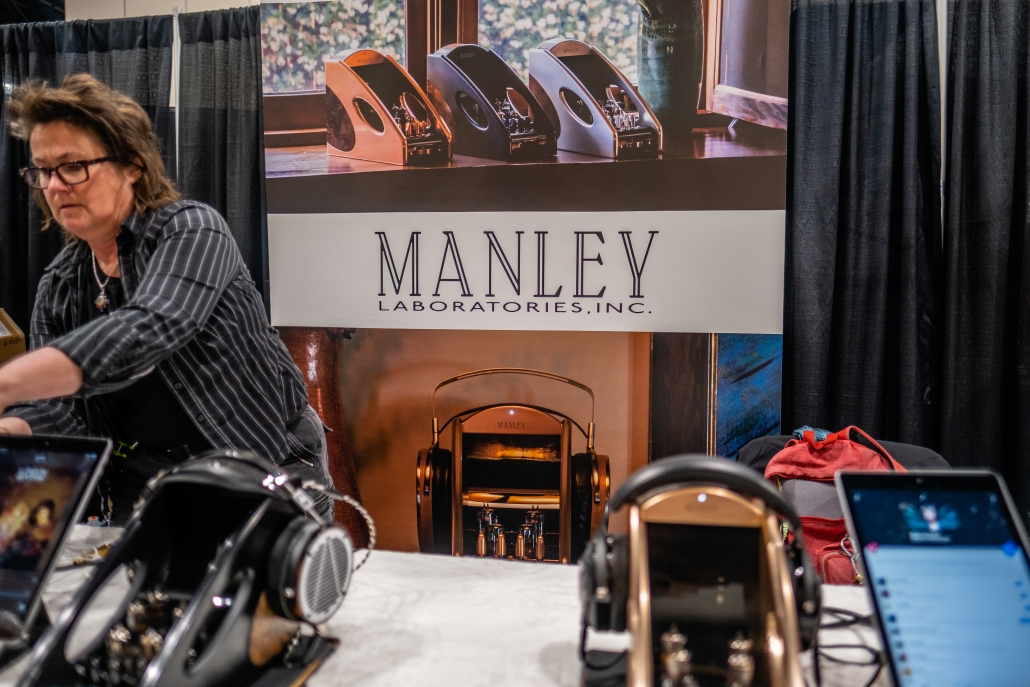 EveAnna Manley showcasing her new Absolute Headphone Amplifier reviewed for Guru by Gary Barker here: https://headphone.guru/manley-absolute-headphone-amplifier-the-makings-of-a-legend/   This amazing headphone amplifier was on the drawing board for almost 5 years. Listening to the design in 2014 at the CES in Las Vegas as a prototype was a glimpse of what was to come. The most inspiring new product I heard at the AXPONA Ear Expo this year and a true work of musical art from the design of the chassis to the unbelievable tonality of instruments and clarity of vocals, it was a listening experience that had me totally drawn into the music.  The Absolute was one of the best new amplifier designs that I heard at the show and was quite impressive.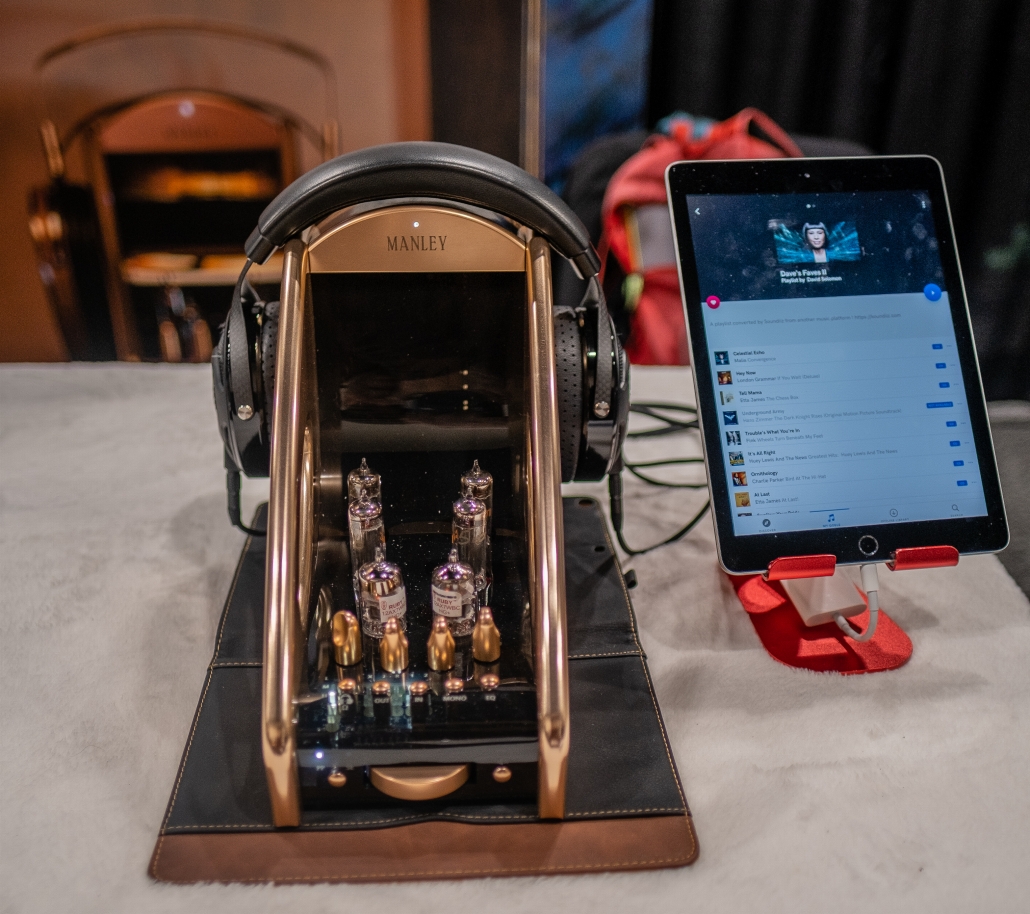 The amplifier is designed with 2 12AX7 and 4 6AQ5A (EL90) driver tubes The Absolute has a triode Tube output stage and is switchable to single-ended or Push-Pull. The unit is also a preamplifier and offers 2 RCA inputs with one preamp output. The output is adjustable to 16, 62, and 200 ohms so it will accommodate most headphones. The output and jacks are all rear designed making this an excellent choice for desktops and top of rack placement.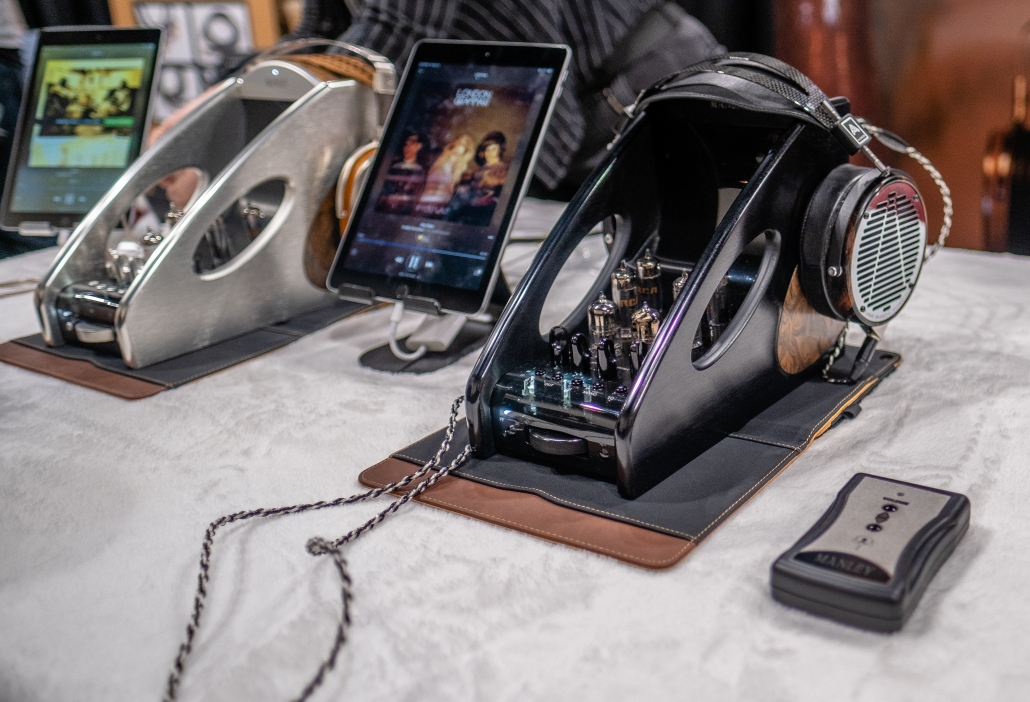 Offered in three colors; Bronze, Black or Silver, the Absolute is a striking design and shown above with both the Hifiman HE100o and Audeze LCD 4 serves as a headphone stand as well. The tunable feedback knob feature was cool and had me excited as I was able to fine-tune each of the headphones to my personal preference. The sound changes were noticeable and made listening more creative and the experience enjoyable.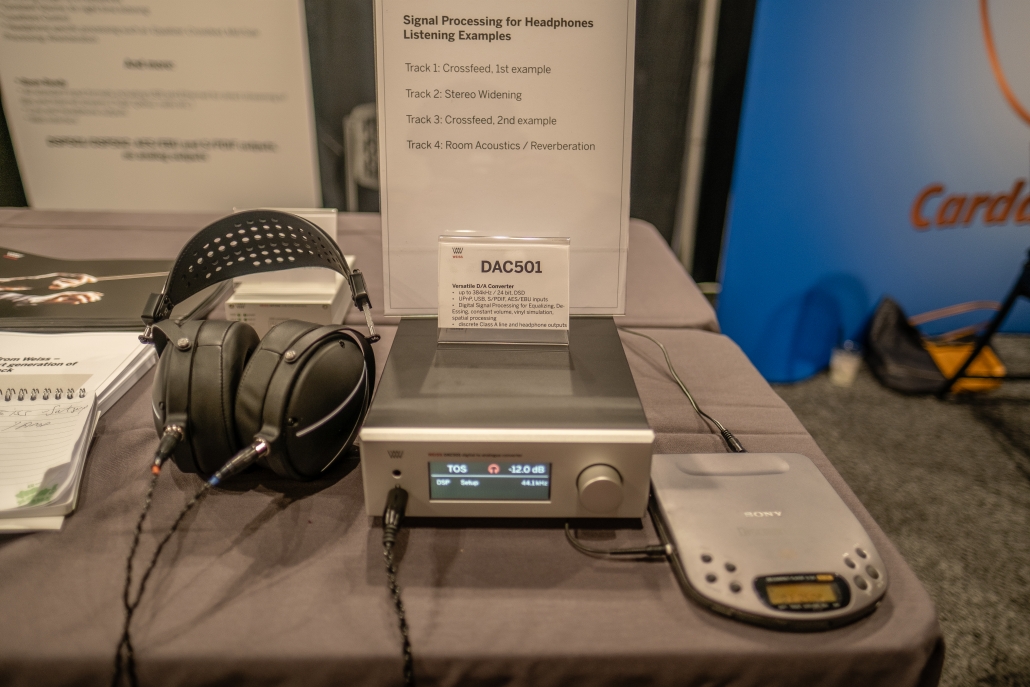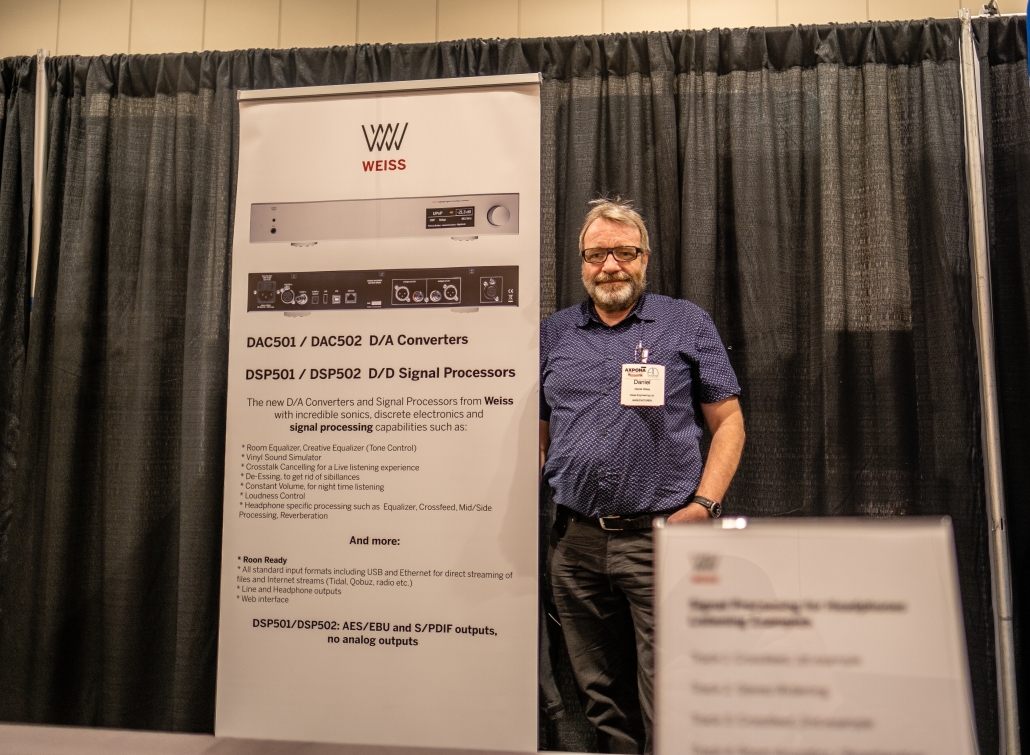 Daniel Weiss from Switzerland was showing two new digital converters from Weiss. The designs include a room equalizer that serves as a tone control. The converters are Roon ready and include AES/EBU, S/PDIF, and USB inputs. The output includes XLR and RCA analog outputs and a 1/4″ jack and a 4 pin XLR (DAC502 only) headphone output. The Amp/DAC sounded exceptional while listening to various recordings and is priced at $8,000 US for the DAC 501 and $9,000 for the DAC502. Both offer the same features with the DAC502 having the larger chassis and the 4 pin XLR headphone output for the additional $1,000.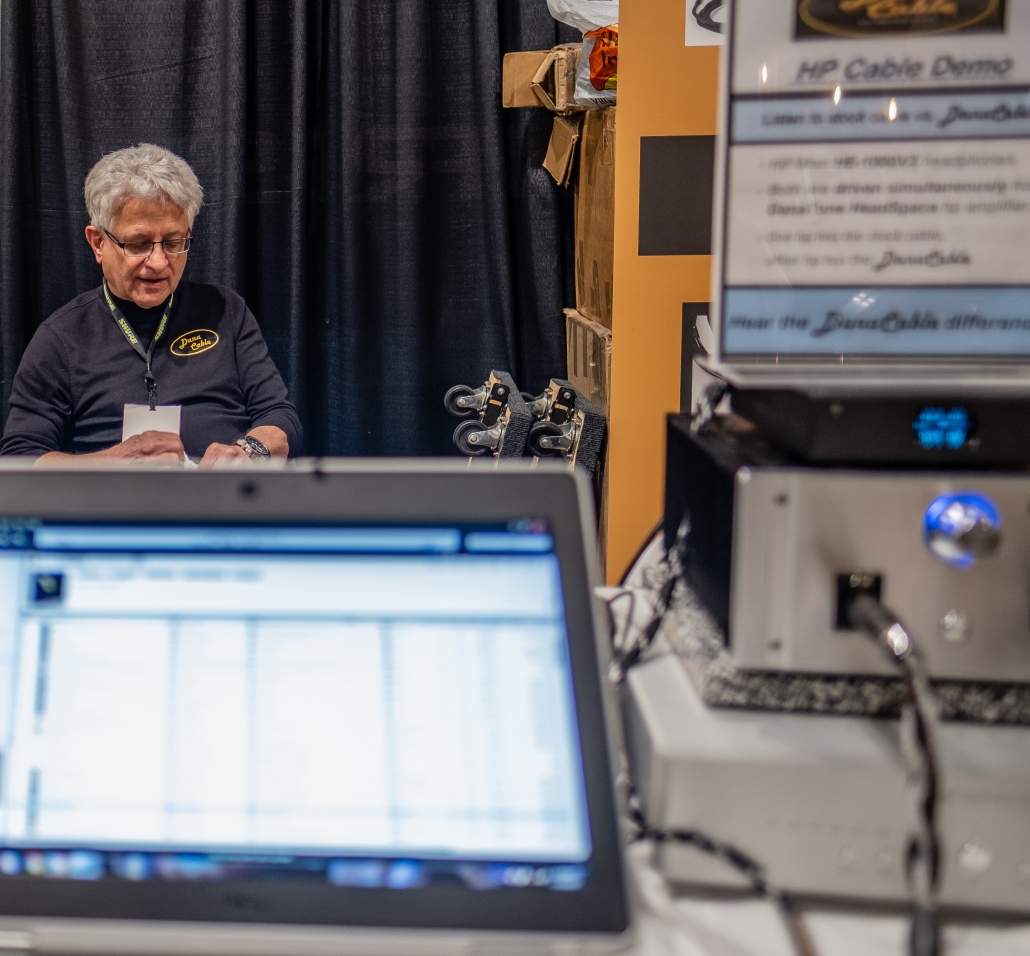 Dana was there showing his newest designs from Dana Cable. The Lazuli Reference Nirvana which includes double copper and silver in the design making it the most transparent of the Dana line.   The cable priced at $3,499 is not inexpensive but the intensive hand made design includes the highest quality of pure copper and silver available and is labor intensive and made by Dana himself by hand in Colorado. Reviewed here by Eric Neff: https://headphone.guru/danacable-lazuli-nirvana-reference-headphone-cables/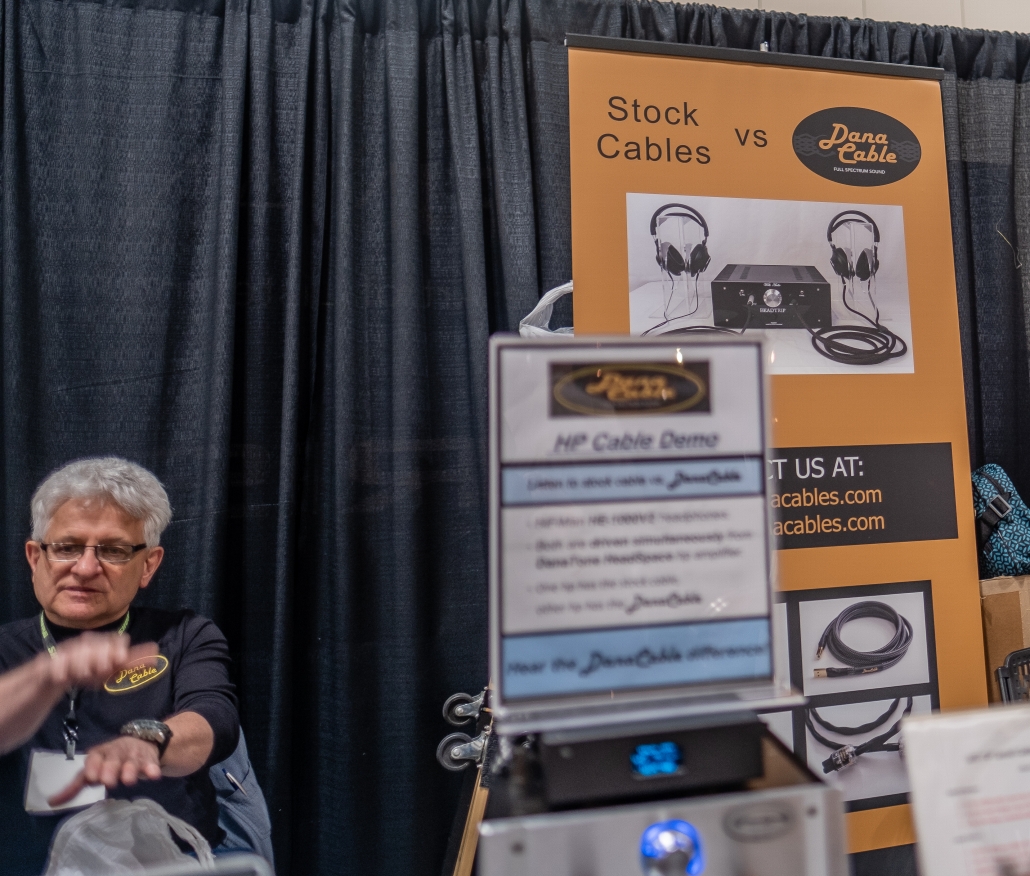 If you own a reference headphone like The Hifiman HE1000 series or Susvara and the Focal and Audeze headphones you should audition the Lazuli starting at $549, the Reference $999, the Ultra $1,999 and the new Nirvana, you are sure to find the right reference cable to finish off you reference headphone and make sure to ask Dana about the amp he shows at the shows. One of my favorite solid state designs by a terrific designer.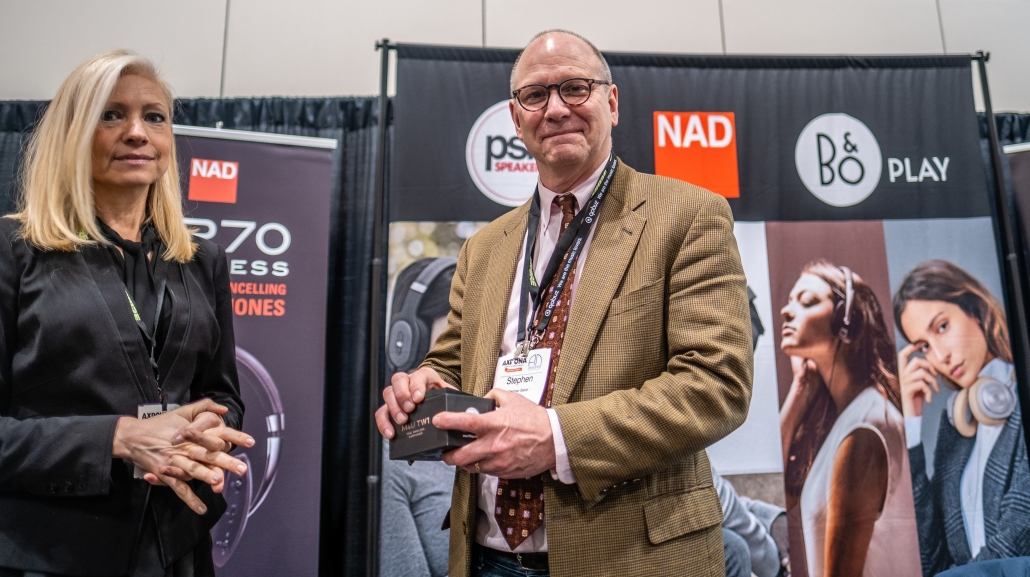 Lenbrook was showing the new PSB TW1 wirelessly from the mind of legendary designer Paul Barton.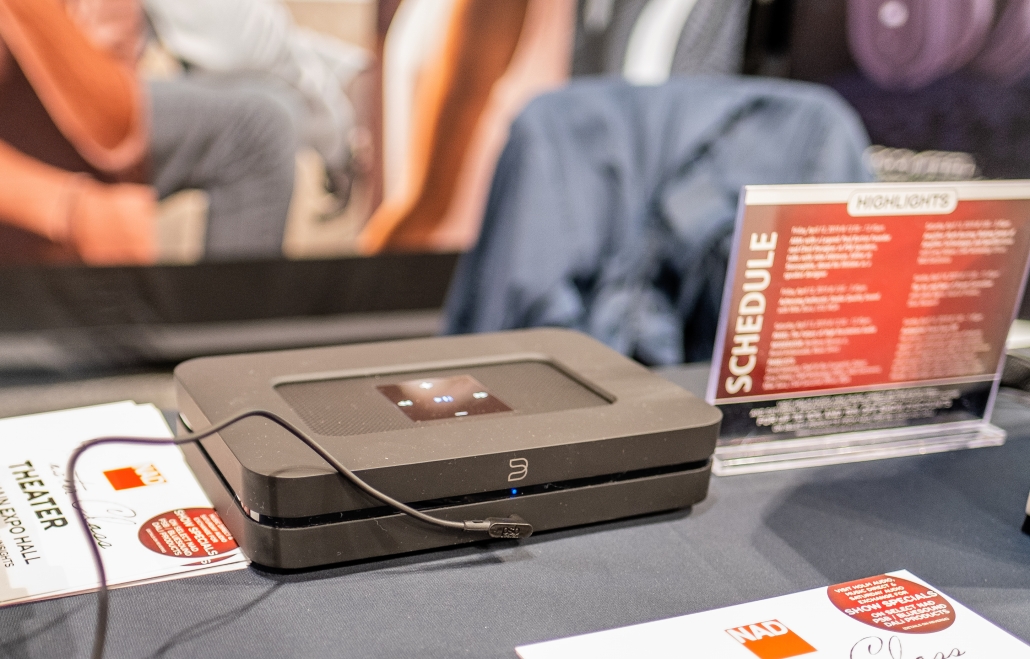 The BlueSound Node 2i a Bluetooth streaming device that works with your home network wired or wireless. The Node 2i will play MP3, AAC, WMA, FLAC, MQA, ALAC, WAV, and AIFF files. Hooked up to a receiver with speakers it replaces your DAC allowing for easy play of tidal music streaming. The Node 2i priced at $499 makes listening of any tablet sound clear, transparent exceptional. The Bluesound Node 2i is a fantastic musical device and an exceptional value. Full review coming soon on Headphone.Guru.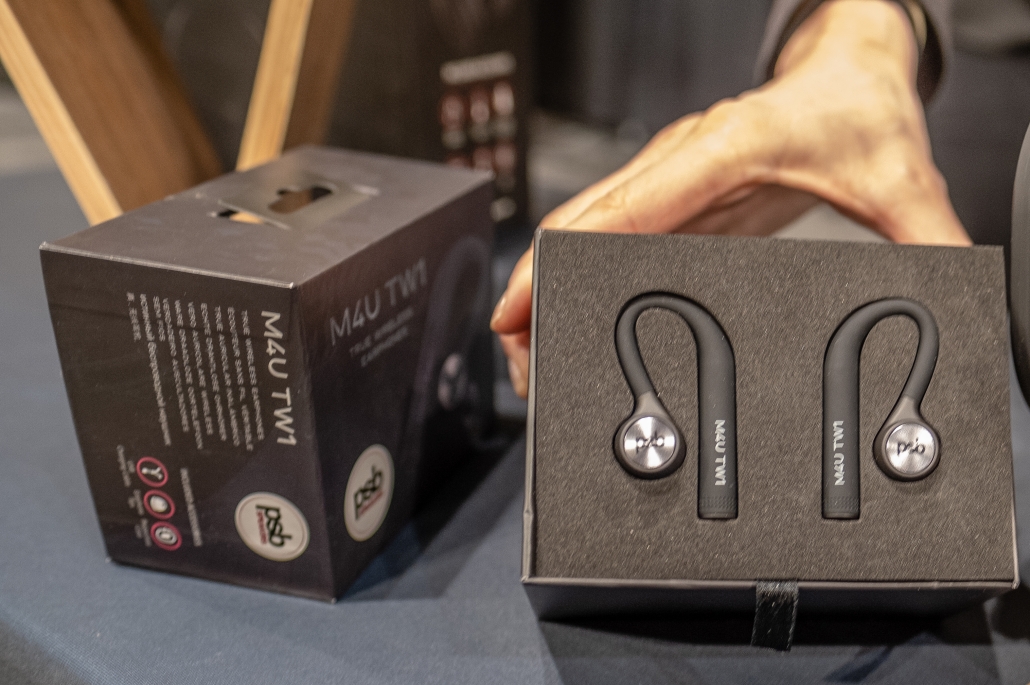 The M4UTW 1 is a wireless IEM designed to play music from your phone wirelessly. The Bluetooth 4.1 feature has a touch and tap control to pair for playback and calls. The built-in rechargeable battery is good for 4-5 hours before needing a recharge. The use of iPhones without jacks makes this the perfect companion for listening with the famous PSB sound. Designed by Paul Barton this $149.99 IEM is an affordable and fantastic sounding design.