A Little Different View at The Top
Let's face it, dear readers, we are at the height of absolute insanity in the audio business at this time. At audio shows, this foolishness reigns supreme. You can go into room after room of $100,000 to $200,000 Hi-Fi systems and walk out scratching your head saying to yourself "I can buy an amazing BMW and still have money to buy a killer audio system for ten to twenty thousand dollars." I know that at these shows everybody is doing all they can to put their best foot forward, but I'm constantly amazed at how amazingly unremarkable these super expensive systems can be at shows. It's almost embarrassing to the industry.
I decided to walk into the room manned by our sponsor Underwood Hifi during setup. It was almost serene, as Walter Liederman and Charles Woods easily put together their system in less than 2 hours. These guys were almost giggling at the ease in which this system went together. I find this to be particularly alluring, as juxtaposed to rooms where teams of engineers, designers, owners, and hanger-oners were tearing at each other trying to get the sound they were after. Here was Liederman looking decidedly Hawaiian (laid back and even kinda cool) simply placing the loudspeakers and allowing Charles Woods (magical, mythical set-up guru) to run the wires and plug it all in. In an instant, they turn it on – and BAM… they have music. The ease in which the system went together was absolutely striking to me and it was a joy watching these guys get finished and then immediately talk about where they were eating lunch.
OK, let's remember that everyone is trying to make sound in these little sleeping rooms that hotels normally rent out for a couple of hundred of bucks per night, but it was so easy for Liederman and Woods to create a magnificent sound stage and recreation of the live event in no time flat. I found myself laughing inward, as I've been on the other side of this fence for many a year. I've known Walter for a long time, and I know his test tracks backwards and forwards as I've heard them at show after show. Fortunately, there were no sharp instruments around me, but I have to admit that I became captivated with the sound that they were achieving with a relatively modest system. I asked Walter what the normal retail price of this system (about $14K) and whether I could please take some of the specs with me for a write-up later on. He immediately produced a sheet that had all of the information I needed to write this short show report. What he didn't tell me was how impressed I was going to be not just by the price point (which, at $8999 all in, blew me away) but more so, by the incredible value that this system represents to an audiophile or, more importantly, a non-audiophile prepared to plunk down serious money for an equally serious high-end audio system.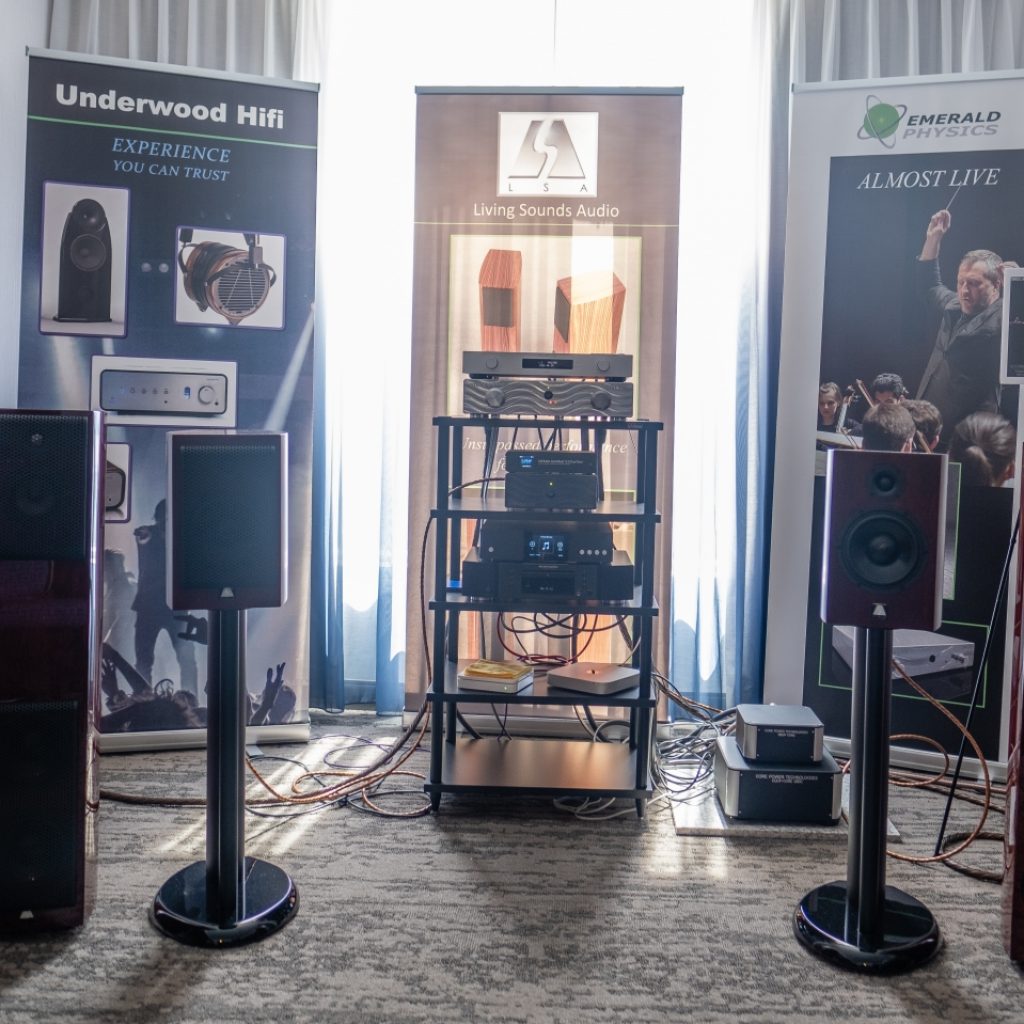 Here is the system he played – culled directly from his own handout:
The new LSA-20 Statement uses two of our custom aluminum cast basket 6.5" XBL2 long throw woofers, a 4" XBL2 carbon fiber midrange, and three rear mounted 5" x 7" sub-bass radiators. These are blended with the LSA custom 1" Copper Beryllium dome tweeter with a compact neodymium XBL2 magnet structure and a shallow waveguide to better integrate with the midrange. The drivers are sewn together by our 8thorder crossover with custom LSA caps. Shown in standard beautiful Rosewood lacquer. Retail: $5995.00/pr.
The speakers are driven by the Emerald Physics EP200.2SE 200 watts/ch hybrid dual mono digital amplifier/controller with an Emerald Physics designed digital amp and analog power supply. The 200.2SE is shown in our beautiful powder coated cosmetic and available in translucent black or silver, can be used as a straight 200 watts per channel (400 watts @ 4 ohms) power amp or as a remote controlled 3 input integrated amp with loop thru feature. Retail: $3,495.00
The DAC/preamp is the new Pure Audio Lotus DAC5 that Underwood is distributing in the USA. TheDAC 5 is a fully balancedMQA-ready DAC/preamplifier that can upsample to 512 DSD or 32 bit 768 PCM. It also has 7 digital filter choices to tailor the sonics to your system. Retail $1995.00
Power conditioning is the Core Power Technologies Equi=Core 1800, 15-amp balanced power conditioner. Retail $1999.00.
The 1800 is run through the new Deep=Core 1800 being introduced here. Retail $1295.00.
System retail: $13,500.00 Underwood selling price is $8999.00
I promised myself that I would stop back a bit later to hear how it all came out. Sometimes simplicity is the order of the day when you're trying to make splendid sound at a show, and Liederman's expertise truly presented this in a very believable and altogether impressive manner. Here was a system that could be put together by anyone in less than an hour and achieve believable, palpable dynamics, and leave you altogether entertained (ain't THAT the idea?). Couple that to the fact that you don't need to be a qualified nuclear physicist, rocket scientist, or professor of engineering to produce a result that your friends, neighbors – and even your dog – will positively enjoy.
By the 2nd day, after having seen so many high-end systems straining at the edges to try to produce palpable imaging, dynamic contrasts, and musicality; here was Liederman still cruising in his Crocs, hanging low and presenting his system as only he can. His room was packed all the time as people began to find out about this system. Sure enough, it has all the technical bits and bobs that one might want. Allow me to share with you that while listening to the Trombone Shorty "Hold on Wait a Minute" moment that he played for me, I watched as people were prepared to take speakers home right then and there, wallets open and ready to rock. Wow, this was commerce at its best, Underwoodwally style.
On the last day of the show, I cruised in and met the wife of a guy that bought the demo LSA 20 Statements in Rosewood Lacquer. His wife was so delighted with the fit and finish and the overall cosmetic. She told me flat out how happy she was about her husband plunking down the necessary shekels to purchase these. She was beaming – I couldn't help but beam a bit myself.
I can go on and on about all the audiophile speak and how this system produced it, but again what struck me was the ease in which this system was assembled and how this rested in stark contrast to what I saw (and heard) most everywhere else in the show. The value that it represented was off the scale for sure, but equally important was sonically how this system floated not only my boat but a squad of others buying everything Liederman had in the room and more. I am going to write about 2 or 3 other systems that I thought were really incredible, but these systems cost well past 70 to 80 grand and then some. One truly has to look at what Liederman has assembled and you'll figure out quickly that by owning his own brands and by presenting them in a cogent and very easy to get along with way, why he is so successful and why he is at the pinnacle of his game right now
This system at $8999 complete put most of what I heard at the show to shame. Again, judging by the comments of the customers in my multiple visits I could see that I was not the only one convinced of this. One realizes that Walter is a unique guy and capable of truly excellent marketing; but beyond that, this is a guy that truly knows his stuff when it comes to high-end sound at realistic prices that normal human beings can afford. I say again, bravo Underwood Hifi, bravo Walter Liederman, and a special shout out to Charles Woods who did an amazing job during setup. For those of you looking for a complete solution to high-end sound without all of the BS that can go along with it, I would give Walter Liederman a call at his Maui Outpost. The dude is usually in a very good mood perched high above watching whales swim by. How bad can that be?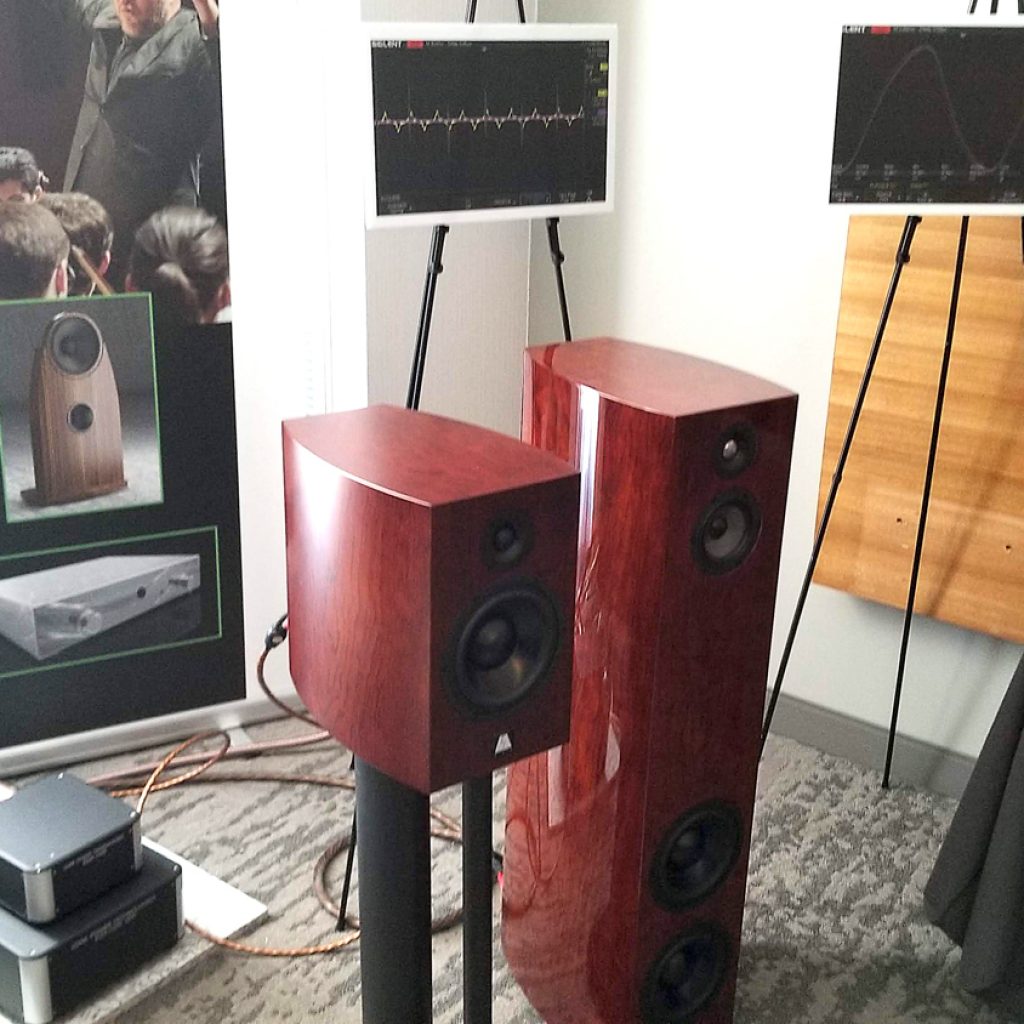 It's taken me awhile to realize how difficult it is to arrive on scene at a show, unpack, and set up a hotel sleeping room into a palace of fine listening in less than 24 hours. A few companies did an amazing job. I listened to systems floor by floor, but I hardly made it to all the good rooms (which were many I heard).
That said – there were three other systems that really blew my mind. Each was quite different in style and makeup, but they ALL stayed with me for days later. I want to briefly re-cap these rooms as they were splendid.
German Physiks and Larry Borden with Ben Zwickel and Mojo Audio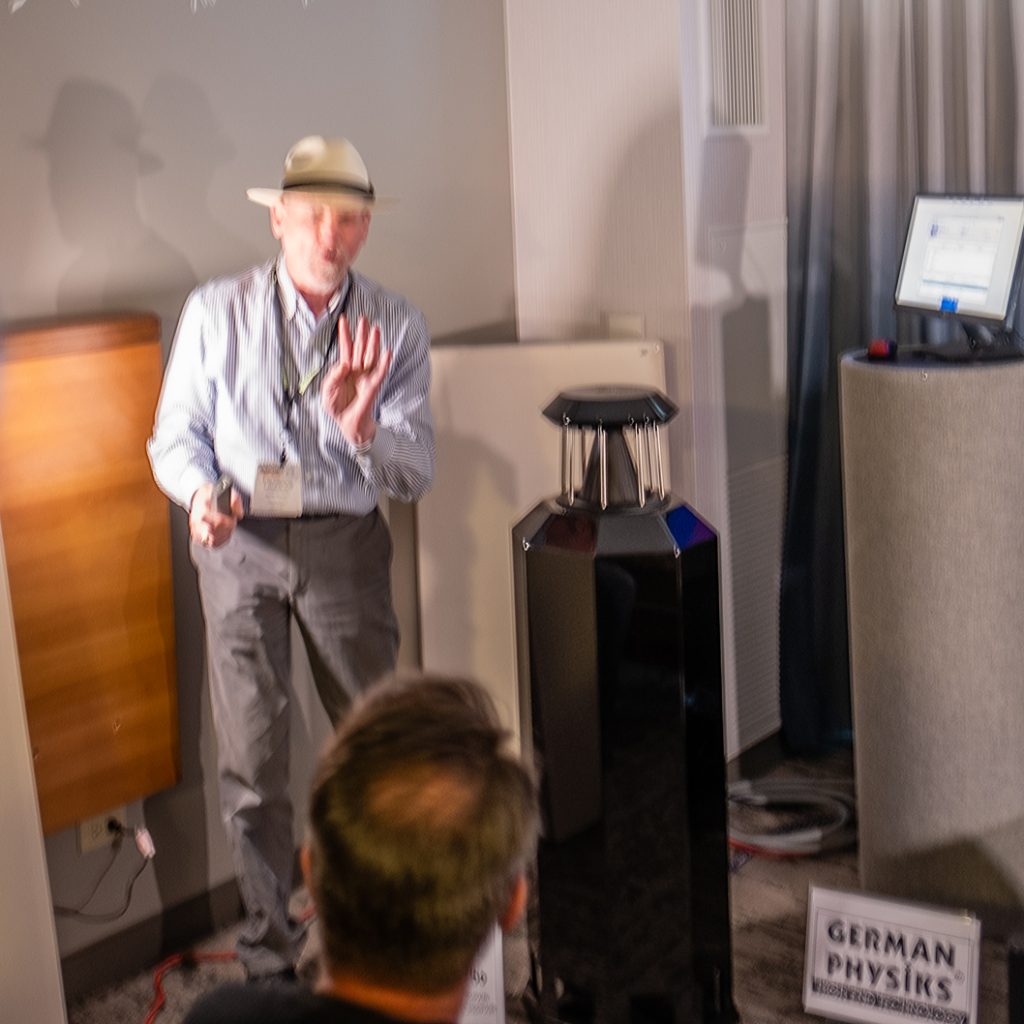 Larry Borden is a well-known commodity in the audio industry. He is a Master at system set up, and his work with German Physiks has been recognized Industry-Wide as extraordinary. Larry did it again at Axpona 2019. The system, while hardly "low-cost," proved to be an amazing example of what CAN BE DONE at a show: Lovely rendering of the musical event with beautifully fleshed out details and magnificent imaging. The DDD Driver, which is the heart of the German Physiks design pedigree was at it's finest. The sound was beautiful. Several times I heard listeners comment on how natural this system was. Here's the kit in all its glory –
German Physiks:
Borderland Speakers High-Gloss Finish: $37,250/pair
Emperor Extreme Stereo Amplifier: $27,250
Emperor Linestage Preamplifier: $19,750
Mojo Audio:
Mystique v3 DAC Balanced: $7,555.55
Deja Vu Music Server w/ Roon/Linux: $7,005.55
Lucent X Balanced Interconnects: $1,799.95
Enigma X Power Cables: $1,799.95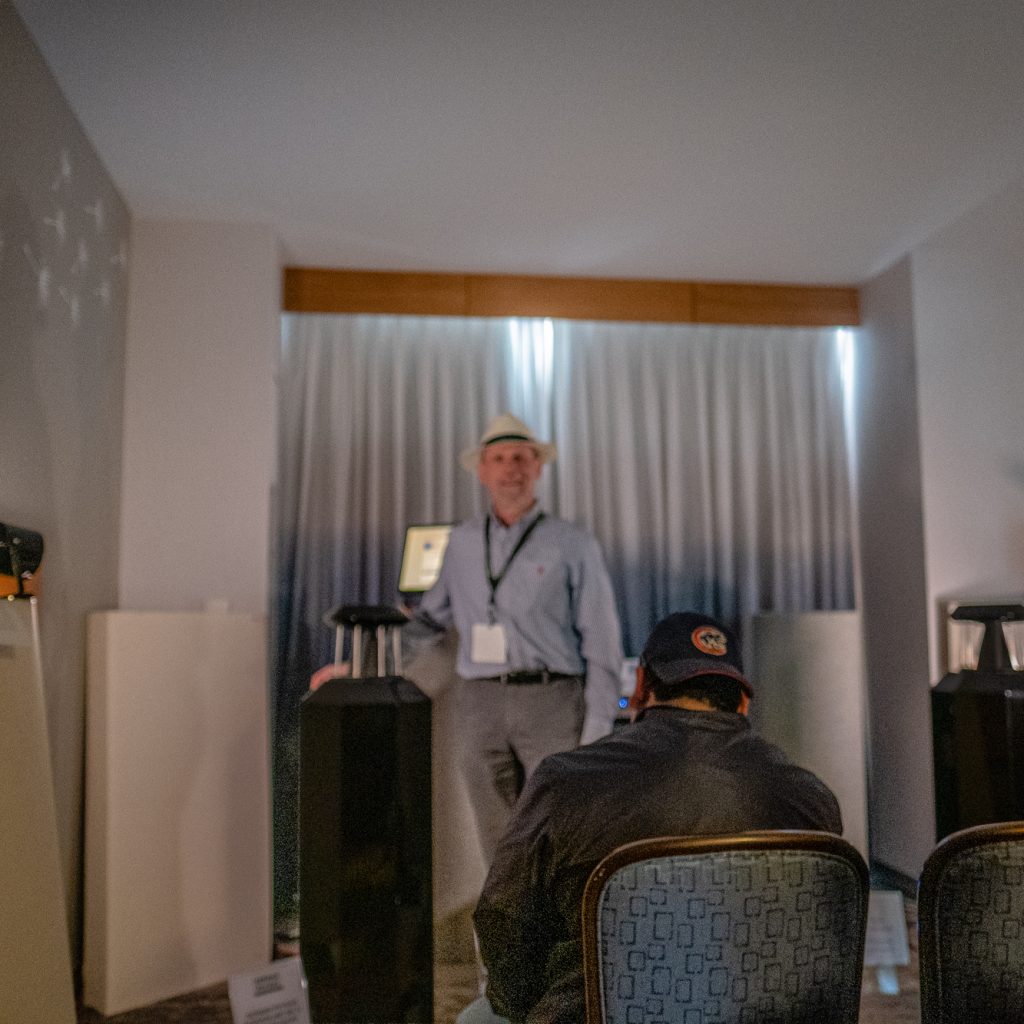 Other Items:
Analysis Plus Solo Crystal Oval 8 Speaker Cables: $1,436.60
WyWires Platinum USB Cable: $799
I honestly was so impressed with every nuance, track after track
Bravo Larry Borden for showing Axpona what The High End is all about.
Gayle Sanders and Eikon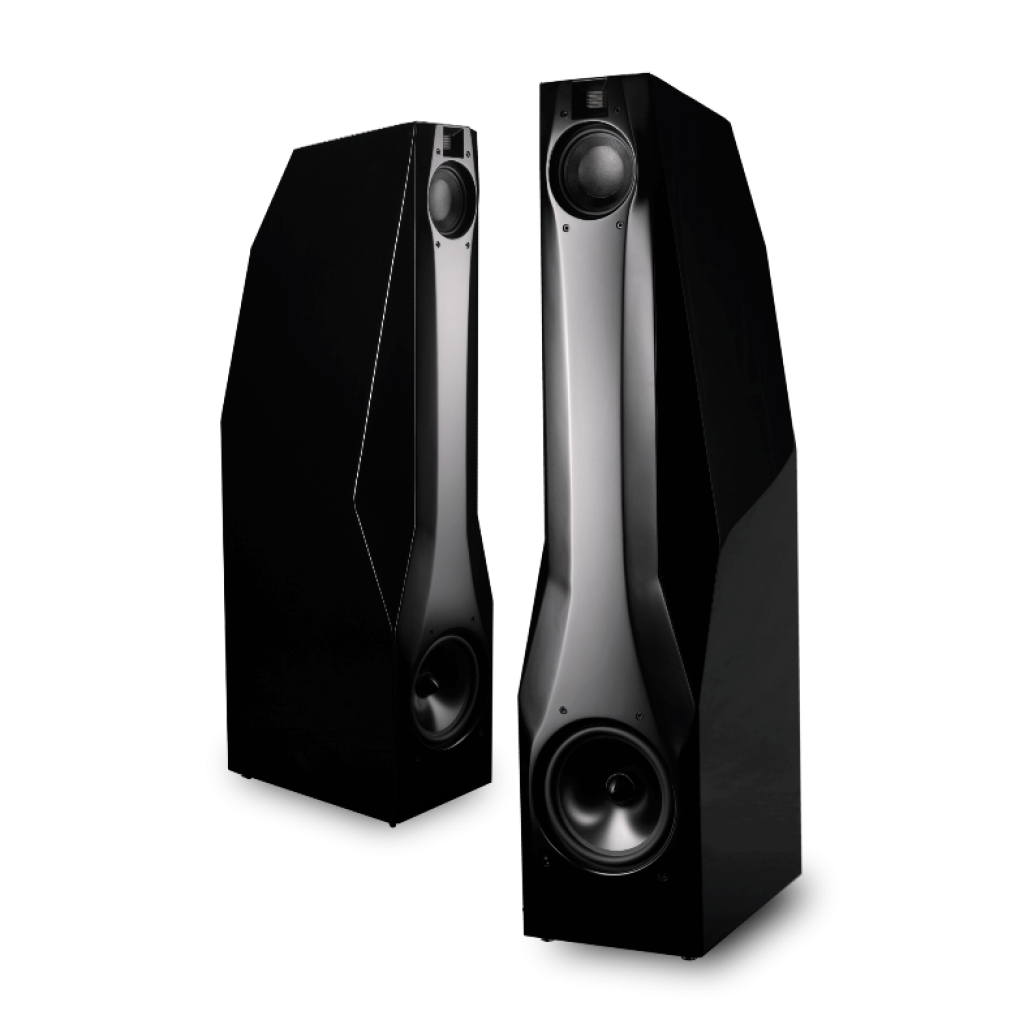 Enter an icon (or Eikon, if you will). Gayle Sanders has a deep and well-respected lineage in the audio industry. Don't believe me – just look up Martin Logan and one can hit full-stop from that moment.
Gayle is going to be The Bridge Builder. This is all about audio for those that want THE BEST but don't care to trudge through the quagmire of system interface issues that plague your HiFi from operating at its best. No longer will one indulge in "what might work." Gayle, dear reader, is giving it all to you in a MOCA ready package that will knock your socks off from moment one.
The system I heard was nothing short of spectacular. Gayle GETS IT. It took him five long years to make it right and to make it work – he has done so decidedly. This system KNOCKED MY SOCKS OFF from the first. Everything fell into perfect harmony. The rhythm, drive, spectral balance and delivery were all there working in harmony.
Imaging was maybe the very best I heard at the show. The DSP integration and eight (built in) amps were all working in concert to deliver the complete and full experience. Never once did this fail to impress. DEEP and TRUE were my notes.
The system consists of the following:
1 pair of Image1 loudspeakers
1 Eikontrol – DAC/Preamp/Crossover/Room Control Process
4 discrete amplifiers per speaker – one per driver
1 pair of 4 channel, 20ft balanced interconnect cables
MSRP is $25,000 – Quilted Sapele – shown in main demo
The suggested retail price also includes delivery and set up in your listening room. Including speaker placement recommendations and Eikontrol room correction interface.
This is audio with the future in mind. Buy it – enjoy it – and let this system become a part of your life and times. By the way, the carbon fiber version is drop-dead delicious. Delivery and set up by an Eikon Expert – brilliant.
Ocean Way Audio – AGD = Best of Show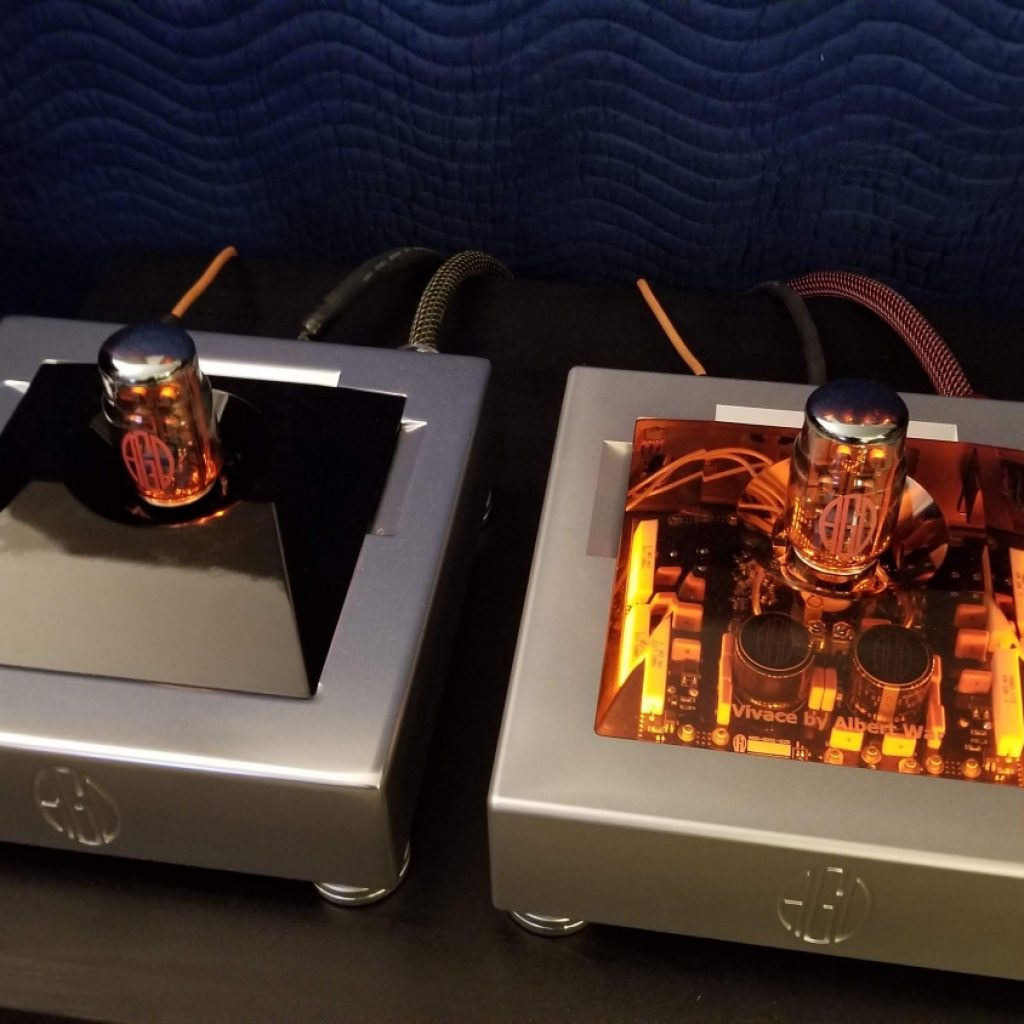 Without question, my Best of Show went to this room. I was so happy to see an old friend in Allen Sides – multiple Grammy Award Winning Engineer/Producer at the helm along with a gentleman I had never met, Alberto Guerra, head honcho of AGD and their magnificent tube GaN-based amplifiers.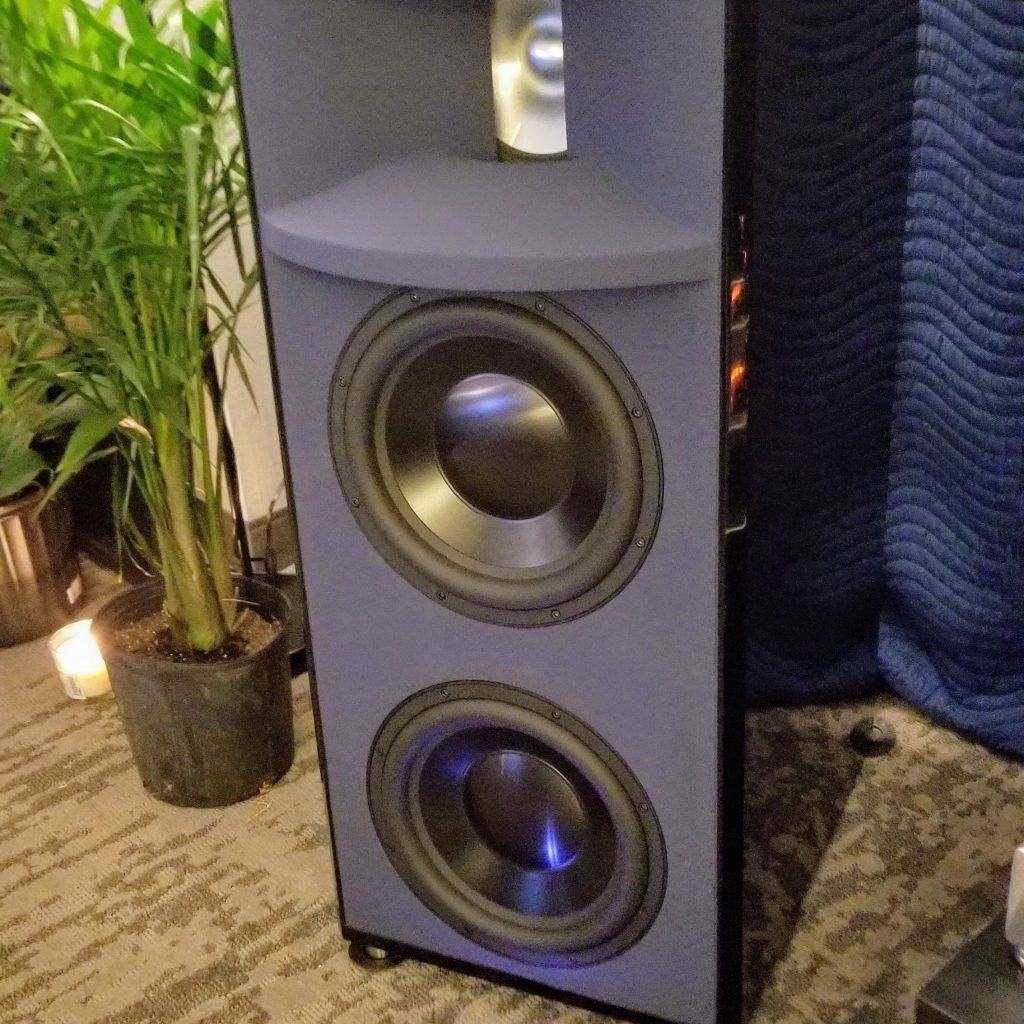 This was all worth the missed flights, crappy connections, and generally difficult travel. The OWA Monterey Monitors were producing a wave of sonic bliss for me. This system "owned it" from the first note. It hit hard as I expected but what I was not prepared for (given its large size) was the nuanced and delicate delivery that I heard. Each track was a deep well of power and dynamics – coupled to a delivery composed of real detail and grace. This was a pairing made for the show. Color me extremely impressed. I have never heard show sound this good. These guys are Pros for sure.
System Details as Follows:
Amps: AGD Vivace GaN-based power stage monoblock with GaNTube technology. These are $15,000 per pair
Ocean Way Monterey Monitor Speakers in bi-amp mode $34,000 per pair
DAC: Playback DAC model Merlot $6500.00
Server: Perfectbit Audio Server (Price not determined)
Until next time…
The Audio File