The best of both worlds: the new speakerphone beyerdynamic SPACE
Heilbronn, March 3rd, 2022 – Why choose when you can have both? The beyerdynamic SPACE combines the best of both worlds: captivating sound for music playback with the best speech intelligibility for calls and meetings. The portable speakerphone in a stylish design allows unlimited freedom and flexibility in the modern workday as well as in leisure time. This makes beyerdynamic SPACE the ideal companion for calls in the home office, conferences in the office or listening to music in one's free time.
Make calls and listen to music with best sound quality
The worldwide renowned beyerdynamic sound is of course also used in the brand's new speakerphone: Thanks to a high-performance speaker system, beyerdynamic SPACE has excellent sound quality. Voices are reproduced with crystal clarity – users can understand the person they are talking to smoothly at all times during phone calls. When playing music, beyerdynamic SPACE unfolds its full potential and impresses with a balanced sound image, regardless of the music genre. For the respective application, the flexible speakerphone automatically switches between Voice Mode for intelligible speech reproduction and Music Mode for lively music playback.
Thanks to True Wireless, two beyerdynamic SPACE devices can also be paired for a spatial stereo presentation of music and sound – perfect for an immersive music experience or a convincing business presentation.
Decades of expertise in microphone development and the latest innovation, 360° SMART MIC TECHNOLOGY, ensure maximum speech intelligibility and freedom of movement for professional or private phone calls from home or personal meetings with up to six participants. The microphone system with four MEMS microphones automatically detects whether the signals are voices or noise and suppresses unwanted reverberation, echoes, or interference.
In addition, the volume of the voice is adjusted automatically. Full-duplex-audio allows participants to speak and be heard at the same time, without dropouts or cut-off voices. This forms the basis for an uninterrupted, harmonious conversation -even with multiple participants.
From start-ups to enterprises: beyerdynamic SPACE can be used as a meeting solution in individual offices, huddle rooms and small meeting rooms. With the integrated Kensington lock, theft protection is integrated. In addition, the versatile speakerphone is equipped with software features adapted to everyday office use. For example, it can be switched to Business Mode, which prevents any unintentional connection with surrounding Bluetooth®devices.
High flexibility and adaptability
Aesthetically across the board: Inspired by modern interior design, the beyerdynamic SPACE is not only technically but also visually convincing. With the exciting contrast of matte surfaces and high-quality antibacterial textile fabric, it blends harmoniously into its surroundings.
The three different color variants in Nordic Grey, Charcoal and Aquamarine allow individual freedom for design -whether as a stylish speaker in the living room or as an eye-catcher in the home office. The illuminated LED control panel provides clear access to all important functions. The beyerdynamic SPACE is particularly flexible due to its compact form and the long battery life of up to 20 hours, which allows quick and spontaneous changes of location.
The beyerdynamic SPACE has broad compatibility and connects quickly and easily to laptops, smartphones or tablets via USB or Bluetooth® for easy communication across platforms such as Microsoft Teams® or Zoom. For extended remote compatibility between speakerphone and communication apps, an optional USB Bluetooth®adapter will be available.
Thanks to the proven quality of manufacturing and high-quality materials, the beyerdynamic SPACE is a long-lasting companion. If necessary, parts such as cables, operating components or battery can be replaced.
The perfect everyday companion
The campaign for beyerdynamic SPACE focuses on three independent professionals. Entrepreneur and bestselling author Fränzi Kühne, jewellery manufacturer founder Desiree Tielmann and fashion photographer Daniel Graf are the first to try out the new speakerphone and integrate it into their everyday lives.
To the campaign video: https://www.youtube.com/watch?v=15 qOWeNkAs
Availability and Pricing
The beyerdynamic SPACE is available as of today for a recommended retail price of $179 from the beyerdynamic online store and Amazon, as well as from selected retail partners.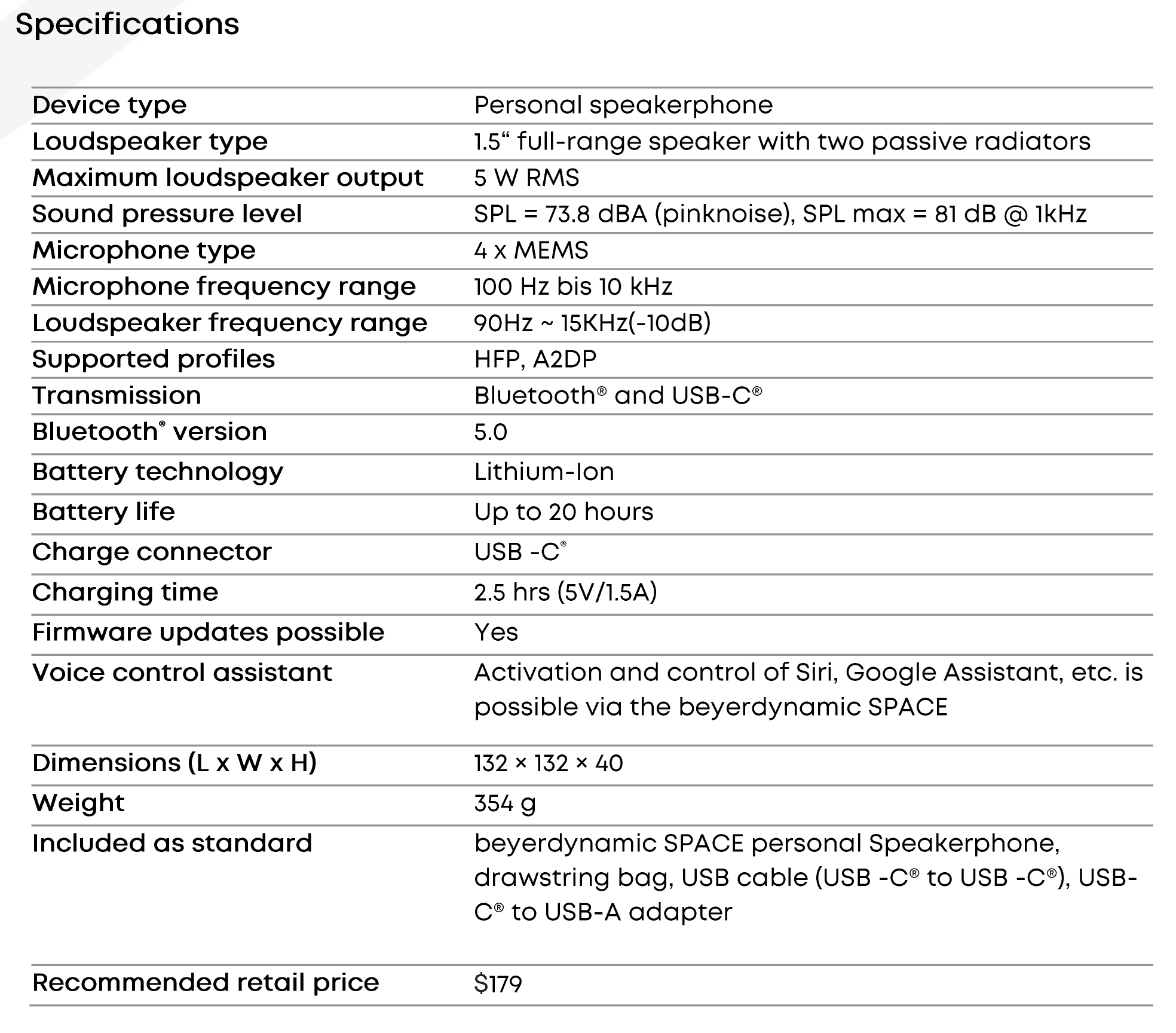 Product pages as well as product video:
https://www.beyerdynamic.com/space
https://www.youtube.com/watch?v=15 qOWeNkAs
About beyerdynamic
Since 1924, beyerdynamic has embodied first-class, professional audio products that inspire sophisticated customers around the world. Most of the products are manufactured by hand in Heilbronn. In the product areas "Creator", "Gamer", "Work & Learn" and "Enjoyer -Music lovers", beyerdynamic offers headphones, headsets, microphones, gaming, and home office products. They all have one thing in common: pure sound. This has always carried the company across the emotional stages of the world, through the inspiring studios of the cities and into the ears and hearts of the people.