I've been a big fan of beyerdynamic's products for many years. Everything from their on-ear T51i portable headphones and right up to their flagship T1 Version 2 full sized headphones have really hit the right notes for me. They offered a wonderfully textured and transparent sound that really drew me in right from my initial listen. Throw in world class build quality and comfort, I often recommend beyerdynamic's products to those who ask for advice for specific personal audio applications. Well, with the increase in the wireless market, the designers at beyerdynamic have now released their first foray into this very rapidly growing market space – The Aventho. Build quality wise, these headphones are very reminiscent of the extremely well put together DT1350 or T51i. Made from an extremely light metal with leather finishing, these headphones exude quality of construction and are a perfect counterpoint to the many current mass-produced plastic variants by say Beats by Dre (now Apple). The Aventho come in two colours, the standard black/metal and a very handsome brown/metal motif. Both look quite fetching and of the sub $500 wireless headphone market space, these have to be the best constructed and styled headphones I've come across.
Normally I'm not much of a fan of on-ear headphones as I find that they can become a bit fatiguing comfort-wise by putting pressure points on the cartilage in my ears with extensive use. That was of course until I tried the beyerdynamic T51p on-ear headphones. I don't ever remember having on-ear headphones with such comfort as these headphones! Simply put, these were among the most comfortable headphones (on-ear, or over-ear) that I've ever used and thankfully the new Aventho continue in that very strong tradition! The clamping force is quite minimal (but yet they were firmly affixed to my head) and when coupled with the earpads, there were absolutely no pressure points anywhere to be had. I could use these headphones for literally hours without any hint of discomfort…a rare feat for on-ear headphones, but the folks at beyerdynamic seem to have found the secret recipe in this regard!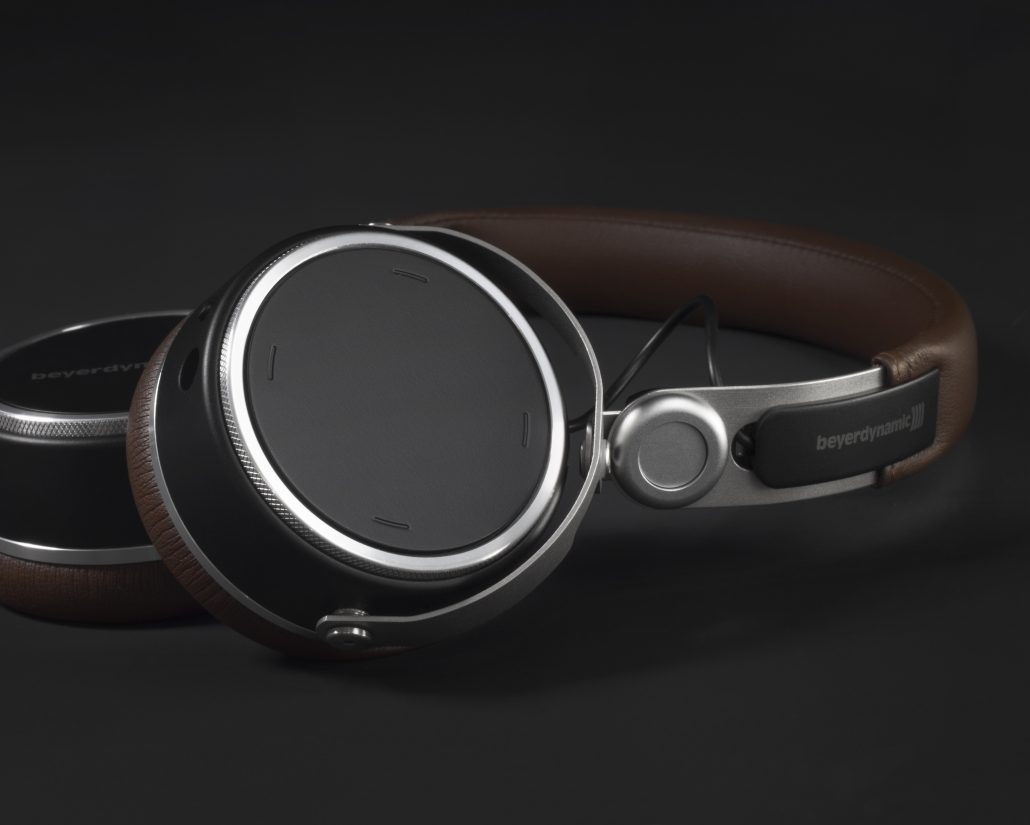 The Bluetooth responsiveness of these headphones was in one word: excellent! I never experienced a drop out or had any difficulty pairing it with any device I had on hand! My primary sources were my iPhone 8 and iPad Pro, but that said, my wife's Samsung Galaxy S8 and FiiO X5 III also worked flawlessly. Using Qualcomm's apXTM HD and AAC, these headphones hit all the right notes and never missed a step and outperformed my Bose QC35II in this regard for stellar Bluetooth performance. Throw in the fact that the Aventho kept up with the king of the hill QC35 II in regards to pure long term comfort, and the designers at beyerdynamic really have done something quite special! As per the photo above, you can see that all the tactile controls are available on the right ear-cup and you can FF, REW, Play, Pause, answer telephone calls with a touch of the finger.
Upon downloading the MIY app on to my iPhone 8, I very quickly realized that the Aventho headphones can perfectly adapt your headphone experience to each listener. Going through several audible tests, the MIY app determines your hearing levels for each ear and across the audible frequency range and then adjusts the output sound to offer a personalized experience that offers a very balanced and transparent presentation. Thankfully I didn't seem to require many adjustments as my hearing tested quite well, but if a potential user has some hearing related issues, the Aventho can easily account for them and make any changes as needed.
The full specifications for the Aventho wireless headphones are:
Transducer type . . . . . . . . . . . . . . . . dynamic
Operating principle . . . . . . . . . . . . . closed
Frequency response . . . . . . . . . . . . . 10 – 40,000 Hz
Nominal impedance . . . . . . . . . . . . . 32 Ω Nominal
SPL with jack plug cable . . . . . . . . . . . 105 dB SPL (1 mW / 500 Hz)
Nominal power handling capacity . . 100 mW
T.H.D.. . . . . . . . . . . . . . . . . . . . . . . . 0.3% @ 500 Hz
Sound coupling to the ear . . . . . . . . on-ear
Cable length and connector. . . . . . . 1.2 m, detachable, 3-pole mini stereo jack (3.5 mm)
Bluetooth version …….. 2.4000 – 2.4835 GHz
Supported profiles . . . . . . . . . . . . . . HSP, HFP, A2DP, AVRCP, GAVDP
Supported codecs . . . . . . . . . . . . . . aptX™, aptX™ HD, AAC, SBC
Operating range. . . . . . . . . . . . . . . . up to 10 meters
Battery runtime . . . . . . . . . . . . . . . . > 30 hrs.
Charging time . . . . . . . . . . . . . . . . . 2 hrs.
Battery capacity . . . . . . . . . . . . . . . . 1050 mAh
Charging port . . . . . . . . . . . . . . . . . USB-C
Operating temperature. . . . . . . . . . . 0 – 40 °C
Weight without cable. . . . . . . . . . . . 238 g
As these headphones were delivered at my place of business, I quickly charged them up over lunch and then gave them a quick spin when I returned from the local sandwich shop. Setup took a bit longer due to the MIY app from beyerdynamic and to best customize these headphones to my hearing levels, but in the end, it went fairly quickly and the software was very user friendly. My first selection was, "Standards and Ballads" by Wynton Marsalis to put these headphones under the microscope. Actually, Wynton was one the reasons I decided to study engineering at university over music. I have played the trumpet since I was 8 years old and really enjoyed music, but one afternoon in the 12th grade, I heard Wynton play "Flight of the Bumblebee" on our music room's stereo system and thought there was no way I could ever approach that level of brilliance…not even close. So I decided to pursue my love of science and mathematics instead. There are no words that can fully explain how high a regard I hold for Wynton Marsalis' talents and "Standards and Classics" is a wonderful showcase for this generational talent.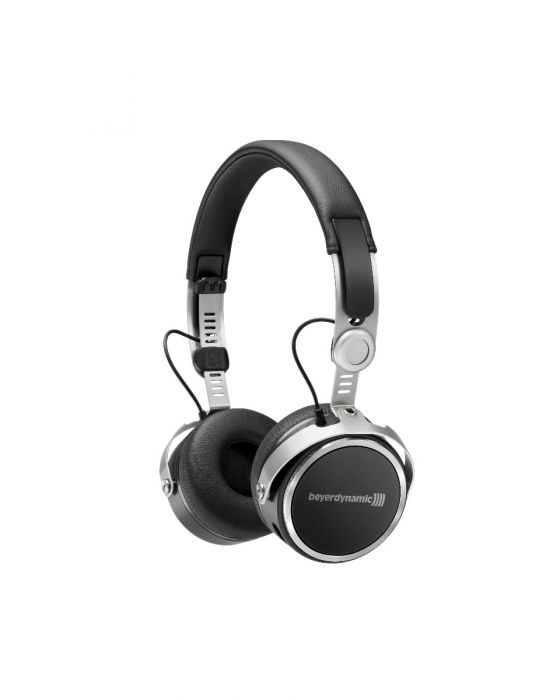 A complex work with some truly brilliant musicianship, this album really has it all and when listened through the Aventho wireless headphones, I can easily say that you will get a wonderful presentation that is worthy of this magnificent album. As soon as the venerable classic "Stardust" started, I was in audiophile bliss. The Aventho offered a very transparent and balanced sound that was definitely tilted towards a warm and inviting sound signature. Though not warm, the presentation offered a euphonic richness that was easy to listen to for a really long time. The tone and timbre of Wynton's horn playing was simply outstanding. While the Aventho headphones extended all the way up Wynton's unbelievable range, the high notes never sounded strident and did not draw my attention with an added glare that could detract from the audible experience. Conversely, the bass was nimble but still impactful when "Where or When" played. And most importantly to me, the mids were wonderfully portrayed, upfront and had a slight lushness to them that offered a very pleasing and comfortable presentation. But what was most surprising to me was just how open these portable on-ear headphones sounded. Typically, small sized on-ear headphones tend to sacrifice sound staging for portability, but I am glad to report that with the Aventho, this is definitely not the case. It was quite easy to close my eyes and imagine myself in the fifth row listening to this amazing jazz band with one of the all-time greats playing lead trumpet!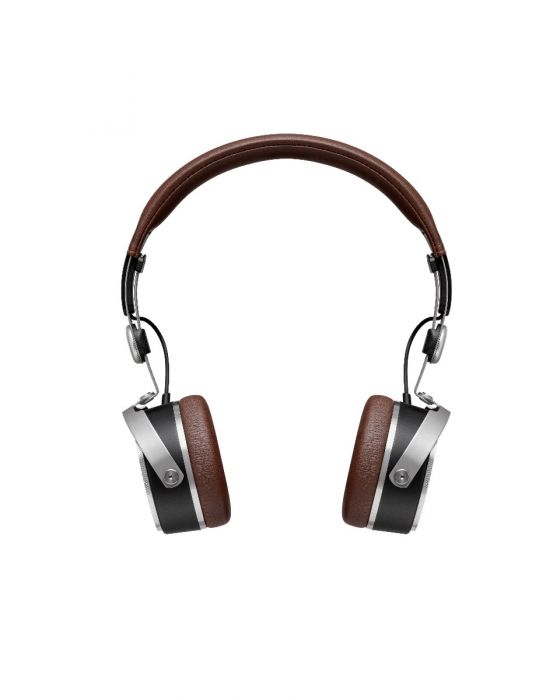 After several weeks of listening to the Aventho headphones, I came across a long time favourite of mine: "Ingenue" by k.d. Lang. Right from the first track "Save Me", k.d.'s vocals had me entranced with the absolute beauty of her vocals and the Aventho headphones did not hold them back in any way. Simply put, listening to this amazing track through these headphones offered an incredibly liquid presentation that was both upfront and true to life. To be able to have such amazing sound quality available while you're on the go just shows how far personal audio has come over the past decade. The warm and inviting sound signature with up front vocals offered a presentation that was like putting on a favourite sweater that enabled me to just sit back and enjoy. Detail retrieval was outstanding when comparing these headphones to others in the same market space and was definitely among the leaders of the pack. The portrayal of "Constant Craving" with these headphones was simply inspiring! When I heard this track, I had to stop what I was doing and just let the music play. This is a true test of what makes a pair of headphones great: their ability to grab your attention and make you focus on the music coming through!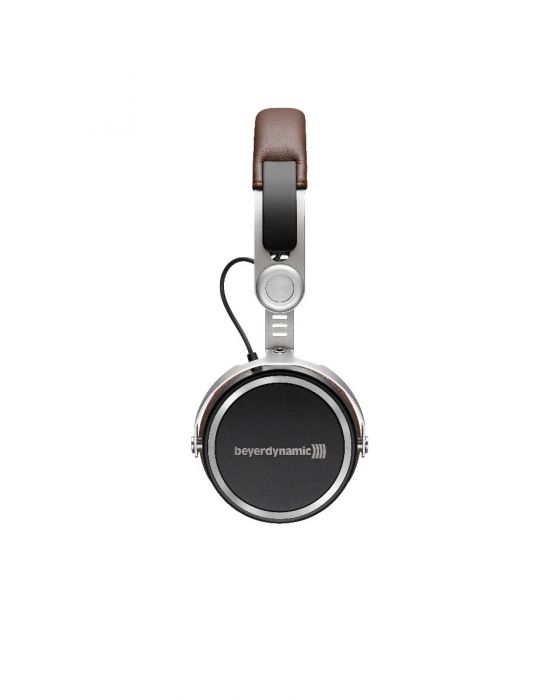 In short, I love these headphones! Incredible sound quality, seamless Bluetooth functionality, great comfort and good noise isolation all combine into a truly new innovative product for Beyerdynamic. Cutting the chord so to speak and freeing up these headphones is a wonderful feature that make it hard to go back to wired headphones for when portability is a requirement. Don't let the on-ear nature scare you as the comfort, noise isolation and resulting sound quality are all top notch and among the very best in the $500 wireless headphone market space. Throw in the fact that the folks at Beyerdynamic just know what sounds good and you have a real winner on your hands! If you are in the market for a portable pair of wireless headphones, you need to check these out right away.