Calyx Audio is a South Korean company earning a prestigious reputation amongst audiophile circles with great sounding DACs. They first began to turn heads with the Calyx 24/192 and followed with the Calyx Femto (using the ESTech Sabre 8 channel ES9018S chip). The 24/192 also boasted the same chipset as the Femto albeit, to my knowledge, chipset implementation is completely different between the two products. The $7000 Femto DAC would became a sure favorite for many audiophiles. In late 2013, Calyx Audio announced the Calyx M, a $999 product that would launch the company into uncharted territory – the audiophile DAP market.
The Calyx M has been available on the market for months in certain parts of the world yet it has only now started to trickle into North America. When it was initially released, many early adopters complained of laggy OS performance along with a limited OS feature (lack of folder browsing). Fortunately, Calyx has been diligent in addressing these issues and released firmware updates to resolve these problems. Personally, with firmware 0.96 installed, I found few problems to report on the OS.
When scrolling through my music, the OS seemed to behave quite well. But when pushed with jerky fast and multiple swipes, it wasn't as fluid an iPod Touch. I dare say the Calyx M's OS, with its left, right, up, and down swipe features and Calyx proprietary interface will feel intuitive to an Android or iOS user. Scanning speed of SD cards was quick. Once all your music is populated into the player, the user can browse his/her music files by album, artist, track, playlist, and even folder (if you wish to add that browsing option via the player's settings). If that isn't enough, you also have a search function to make life easier. If you go into the settings, besides the standard stuff you'll also find a impedance matching setting of hi/medium/low. The impedance setting has nothing to do with changing impedance of the player – it's output impedance is actually quite low at under 1 ohm – but is instead a gain setting designed to comfortably power anything from sensitive IEMs to power hungry headphones.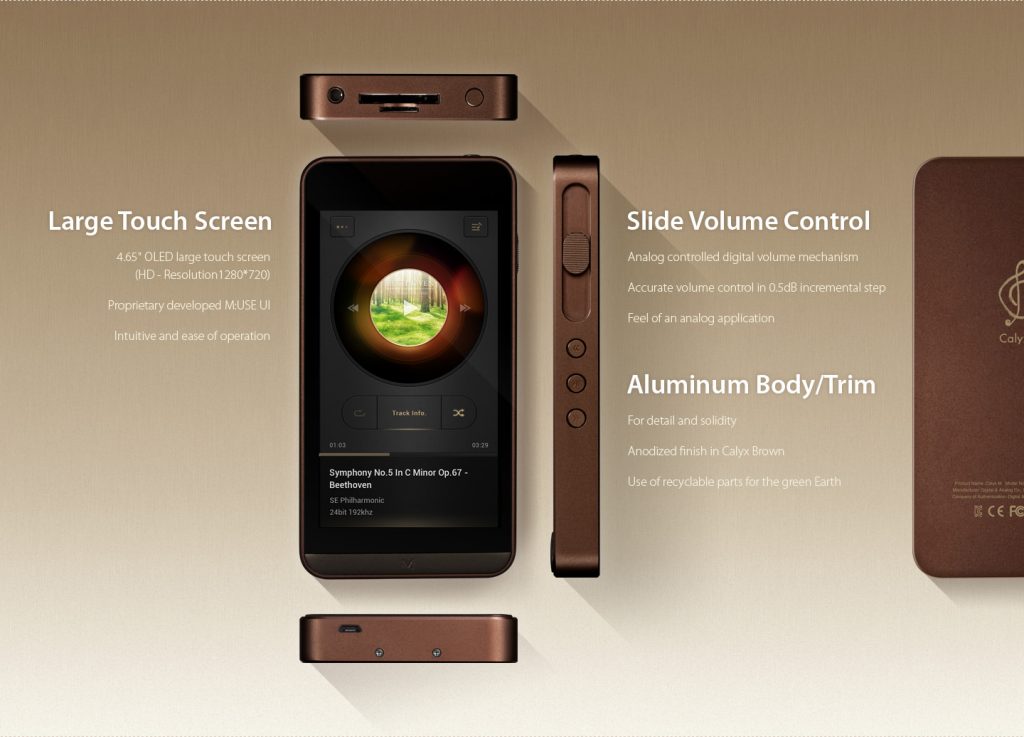 Overall, I was quite happy with the Calyx M OS, yet there are some minor gripes I would like to see addressed. An option to turn off the auto-scan feature for album art would be a plus in my book or better yet, a fix to only cache album art from new files and not re-index existing ones. Also, sometimes when trying to awaken the screen while listening to music the screen would only quickly flash requiring a second push of the power button to awaken it. It would also be nice to have a setting that allowed the user to dim the screen so as to help conserve battery life.
The Calyx M (at 41.5mm x 70.8mm x 14mm) is on the large side as far as portable players are concerned and, for a lack of a better description, looks like an oversized iPhone. It fits acceptably well in the hand, feels delightfully solid when held, and fits rather comfortably in a jacket pocket. Even so, it's not the most pocket friendly DAP and it definitely wasn't designed to be carried around by the skinny jean crowd. The whole body of the unit is brushed aluminum and is a rusty brown color, making the Calyx M stand out. While others may consider the color gaudy, personally, I think it gives the DAP nice character. The screen itself is a 4.65-inch high-definition (1280 x 720) OLED touch display. Along the side edges of the unit are your standard controls; play/stop/forward/rewind buttons and a sliding magnetic volume control.
The sliding knob isn't affixed to the unit and if you have long enough nails you can pry the knob off. Even though the knob is only held in place by a magnet, it is quite secure and won't fall off easily. To pry the knob off takes a bit of doing due to the magnetic field being so strong. If the sliding volume knob isn't to your liking, it can be turned off inside the players settings and volume can instead be controlled via a screen slider with touch commands. Along the top you have a headphone out, power on off button, and two slots for expandable storage where you can insert a SD and mini SD card of up to 256GB and 128GB respectively. On the bottom edge you have a lone mini USB for charging your unit or populating music onto the units internal 64GB memory or if you so choose your SD cards. You can also use the mini USB connection to allow the player to act as a standalone DAC for your computer. Two different sized USB to mini USB cables come bundled with the player.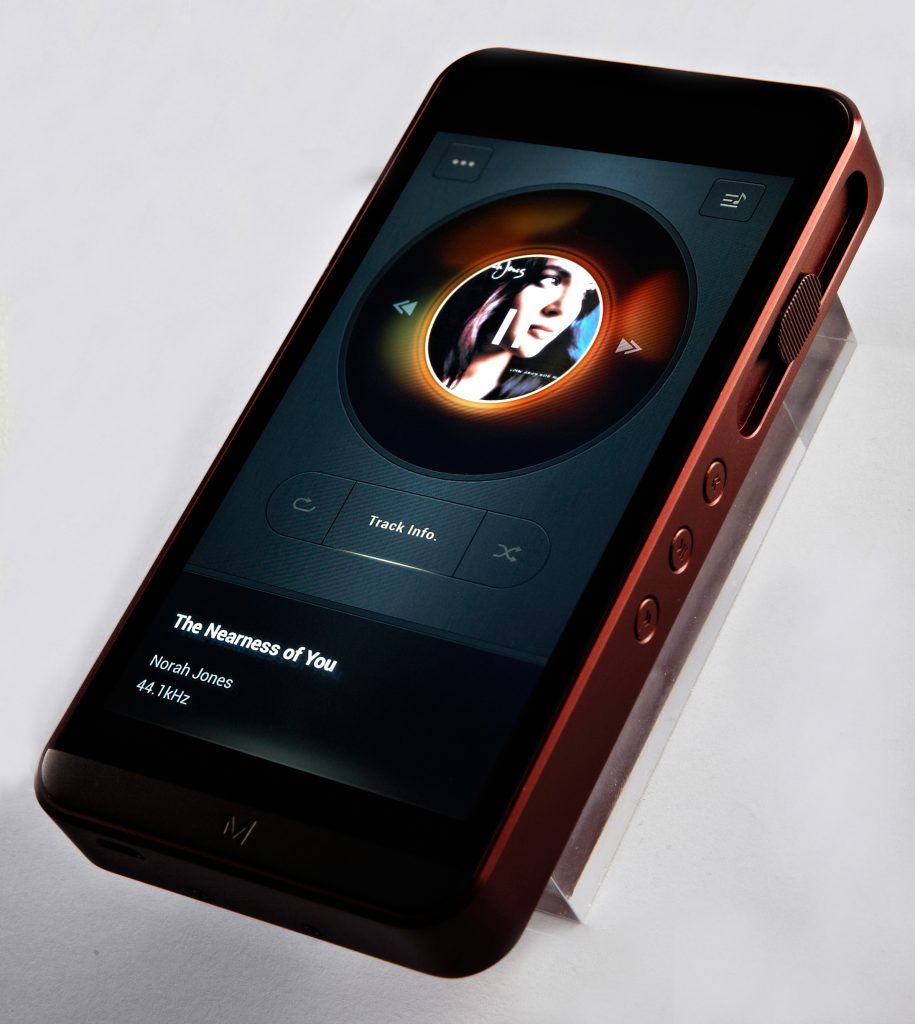 The core processor of the Calyx M is a Cortex A5 ARM chip running at a speed of 625 MHz with 1 Gig of memory. The two-channel ES9018-2M Sabre is the DAC chipset being used. File support is excellent with support for FLAC, WAV, DFF/DSF(64DSD and128DSD-DoP), DXD, AAC, MP3, MP4, M4A and OGG. The Player is able to play files from 16 up to 32 bit depth, and do sample rates of 44.1, 88.2, 176.4, 352.8, 48, 96, 192, and 384. The player is compatible with Windows XP, Vista 7 & 8 both 32 and 64 bit, and Mac OSX 10.6 and above.
Other technical info included below:
Output voltage is 1.25 V rms@ 16 ohms
Output impedence: around 0 to 0.5 ohms
Frequency Responce: 20 Hz to 32 kHz
THD+N: 0.0008%@1khz at 32 ohm, 0.004%@16 ohm
Channel separation:130db @ 1khz
Dynamic range: 114 db
The CalyxM is a fully enclosed player. This means that the 3100 mA battery cannot be replaced. Calyx claims the battery life as seven to ten hours. To date, using my Ultimate Ears Reference Monitor custom with the player set on low gain I'm averaging around 6.5 hours tops. Driving orthos such as my Alpha Dog or Paradox battery life is closer to 4.5 maybe 5. I dare say driving more power hungry headphones such as a Hifiman HE-560 would be quite taxing on the CalyxM battery. Battery life is a little disappointing for me but not surprising considering the ES9018 DAC chip isn't your run of the mill chip and can be power hungry.
When the CalyxM was first announced the CEO of Calyx Audio, Dr. Seung-Mok Yi, made a statement that the player would be voiced similar to the companies flagship Femto DAC.
(The following sound impressions were noted using the Ultimate Ears Reference Monitor, Alpha Dogs and AKG Q701. Source material was a mixture of 16 bit/44.1kHz and 24 bit/192kHz. Some of the source material used for evaluation were 24 bit binaural recordings. Some of the albums used for evaluation: RAM by Daft Punk, Night At The Pawnshop, the Avatar Soundtrack, DJ Kicks by Kruder and Dorfmeister, Fleetwood Mac Greatest Hits, Free by Office Of Strategic Influence, Stoa by Nik Bartsch Ronin, and Up Close by Ottomar Liebert & Luna Negra.)
The CalyxM is a capable and resolving sounding player. When put up against the old Astell & Kern flagship – the pricier AK120 – the CalyxM outperforms it on many levels. The CalyxM midrange is slightly more forward in comparison to the AK120 and are more detailed. Both players have a sound stage that is roughly on par with one another in height and width but the CalyxM seems to have a little more depth and better instrument positioning. While the midrange of the AK120 is slightly dryer sounding, the CalyxM midrange is more resolving and with better overall dynamics and better tonal balance. Sibilance control, especially when the singer hits the high notes, is excellent on both players. While the CalyxM may have a very slight thicker note presentation it is still able to outperform the the AK120 in note decay meaning PRAT is excellent, making the CalyxM the faster of the two players.
Moving along to the lows, while both players have excellent bass control and keep the midrange clean from bleed, the CalyxM is the more resolving in bass and delivers more power, speed, detail, and rumble. In comparison to the warmer sounding and more bass-heavy Hifiman HE 802, the 802 (which has a thicker and more full bodied bass), the CalyxM has more control, detail, speed, and is more neutral down low. The most impressive part of the CalyxM bass is how it hits with power and authority when the music demands it, but still hold enough control to never overshadow the midrange.
The highs are smooth and refined. Although energetic, they're not the most resolving highs if you're a "treble head" and tend to crave an overly forward and energetic top end. Upper frequency spikes are nearly non-existent and the player seems to thread the line between energetic and overly smooth.
Overall, I have to give my full marks to Calyx Audio. Although still not without little quirks, the OS is quite stable, intuitive, and streamlined for ease of use. I'm happy to see Calyx Audio enter the audiophile DAP market and offer some much needed competition to the likes of Hifiman and Astell & Kern. Welcome to the mobile hi-fi ring. We IEM and DAP nerds are all glad to see you here.
Please click on the box below for more info on the Calyx M:
[infobox maintitle="Calyx-M Digital Audio Player" subtitle="$999 USD ($1,199 Canada)" bg="gray" color="black" opacity="off" space="30″ link="http://www.calyxm.com"]