Welcome our multi-part in-depth coverage of CanJam Chicago 2022 once again thanks to our good friend Walter Liederman of Underwood HiFi, https://www.underwoodhifi.com/, the best place to find high-end audio at affordable prices, for his magnanimous support in sponsoring our show coverage.
Great first-year show in the windy city. Attendance was steady and decent for a first-year show. Attendees were excited to be at CanJam and show producer Ethan Oppolian was in a great mood as the CanJams are now back on schedule. Gary Alan Barker and I were enthusiastic throughout the show and it was fantastic for me as I felt much stronger at this show than I did in April at Axpona.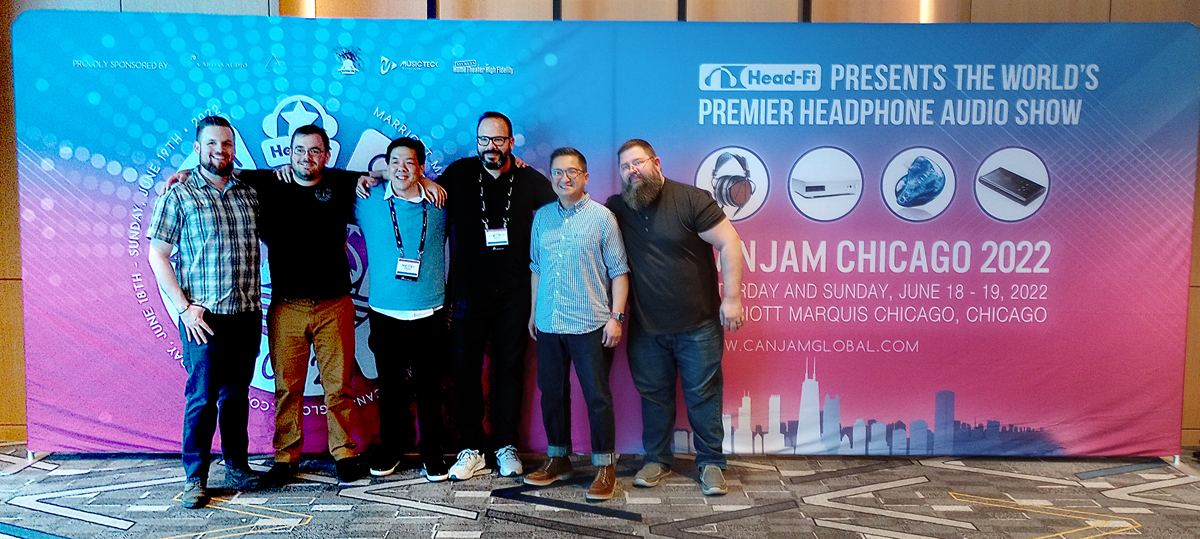 Seein' old friends, many of who I have not seen since 2019, was exciting and rewarding. Spending time with this fantastic group made me feel at home and as a member of this community since 2008 it was great to see old friends and meet new ones. So thank you to Ethan, Jude, Warren, Joe, and Brian for making us feel at home and proud to be a sponsor of this exciting community and CanJam Show.
Jim Noyd was on hand working 1MORE's booth and showing their line of True Wireless IEMs offered at affordable price points. Starting at $59.99 for 1MORE PistonBuds Pro True Wireless Hybrid ANC Earbuds with 1MORE's proprietary QuietMax* active noise cancelation. $99.99 will get you the 1MORE ComfoBuds Mini True Wireless Noise Canceling Headphones which might be the smallest True Wireless IEM out there, with ANC no less. And capping out the line at $169.99 is their flagship 1MORE EVO True Wireless Active Noise Canceling Headphones for those with more discriminating tastes.
Also on hand were the 1MORE classics their 1MORE Triple Driver In-Ear Headphones ($69.99 and 1MORE Quad Driver In-Ear Headphones ($149.99) now selling at a greatly reduced price.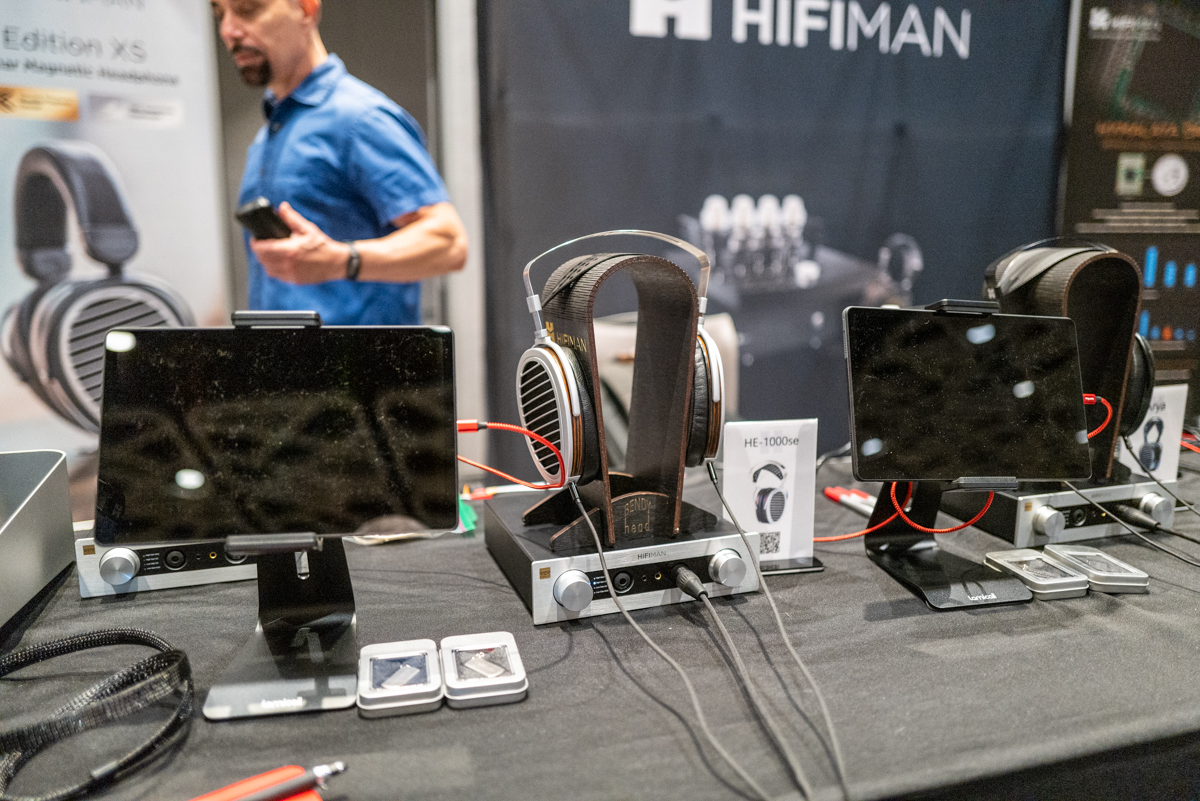 Adam Sohmer was busy in the booth with Roger from HiFiMan showing their new balanced desktop DAC/amplifier the HiFiMan EF400 ($599) pictured whew with the Hifiman HE1000se ($3500). The HifiMan HE1000 V2 is now priced at $1999 a true value in high-end.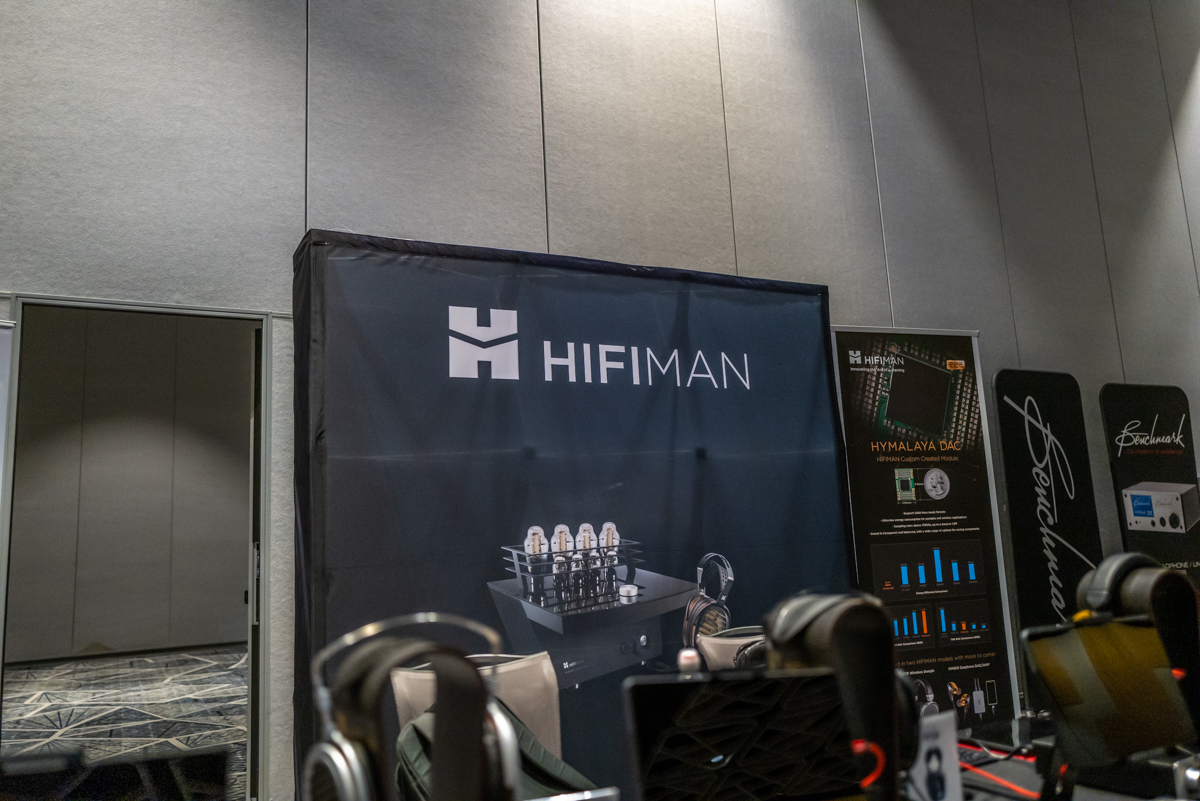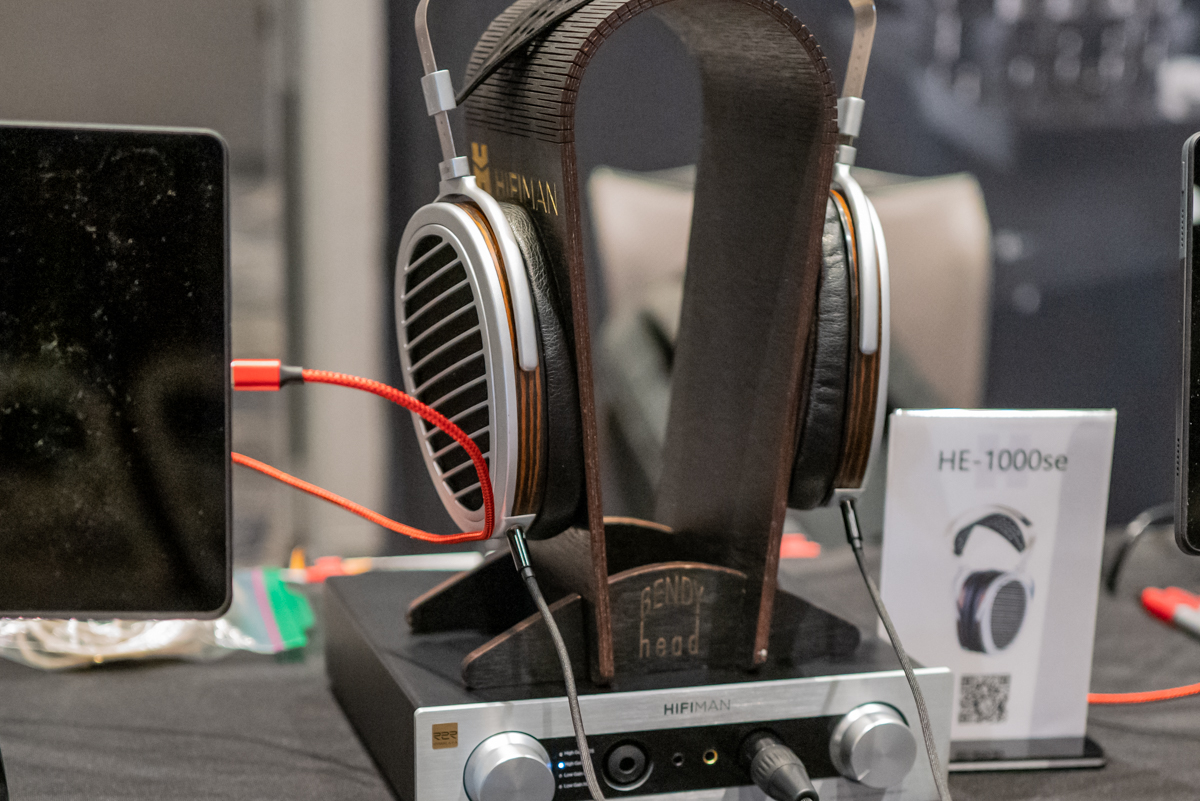 THE EF 400 is a powerful amplifier that has a balanced output and delivers 4.4 watts of power enough to drive any headphone. Incorporating the Himalaya R2R DAC this one-piece solution produced outstanding sound. Listening with the $1299 Arya Stealth the sound was robust and offered amazing clarity. I have requested review samples so stay tuned for more.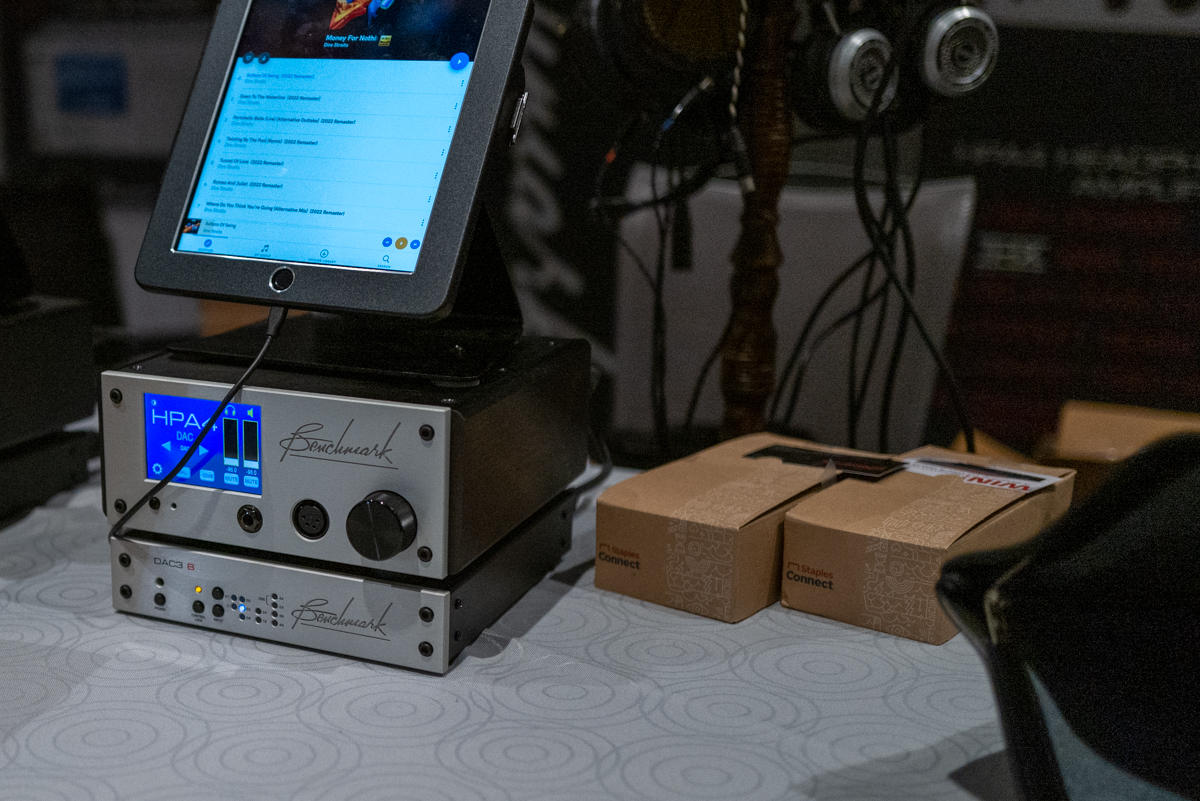 Benchmark was on hand showing their HPA4 Desktop Headphone Amplifier priced at $2999 with their DAC3 B at $1699.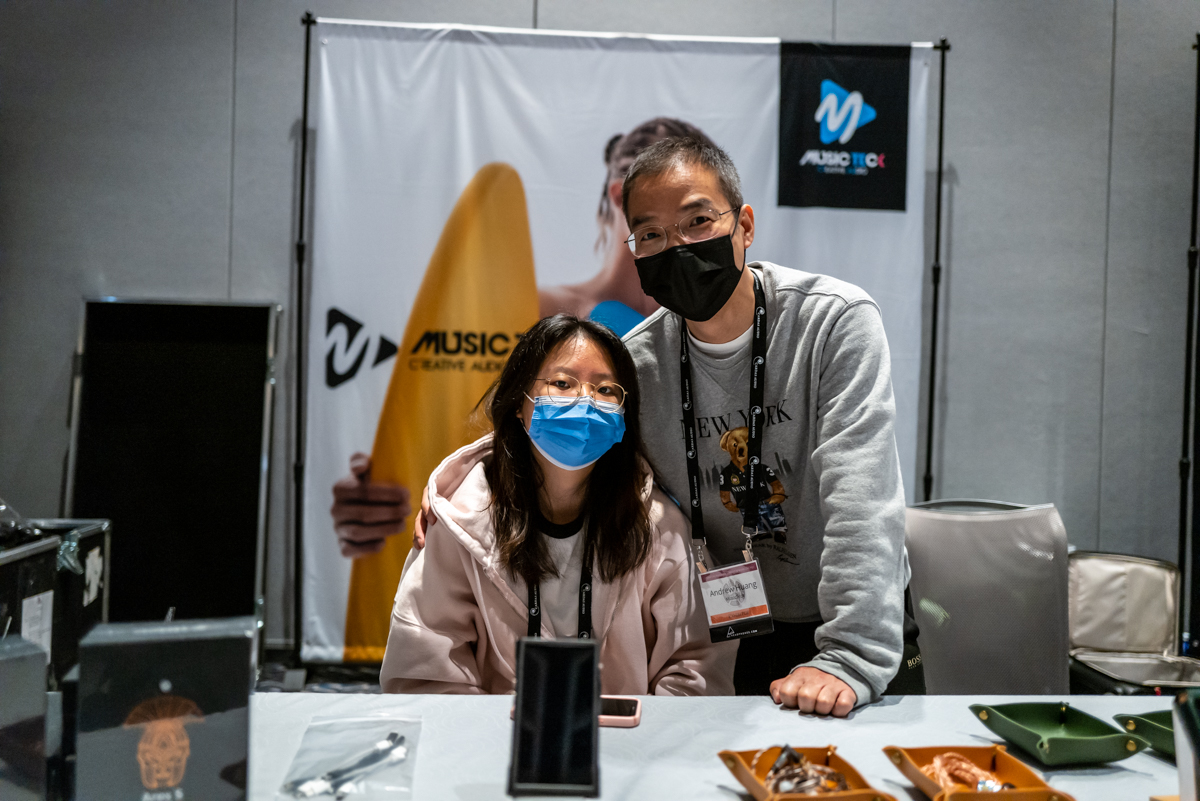 My friend Andre Huang a fellow New Jersey resident was on hand with his team showing various products. Andrew imports 19 brands and has over 50 products. Impressive was the Cayin N8ii ($3499) portable music player. Products from Unique Melody IEMs to a full line of Shangling products are all available at WWW.Musicteck.com. Adre is easy to deal with and if your looking for great products at affordable prices stop by his online store.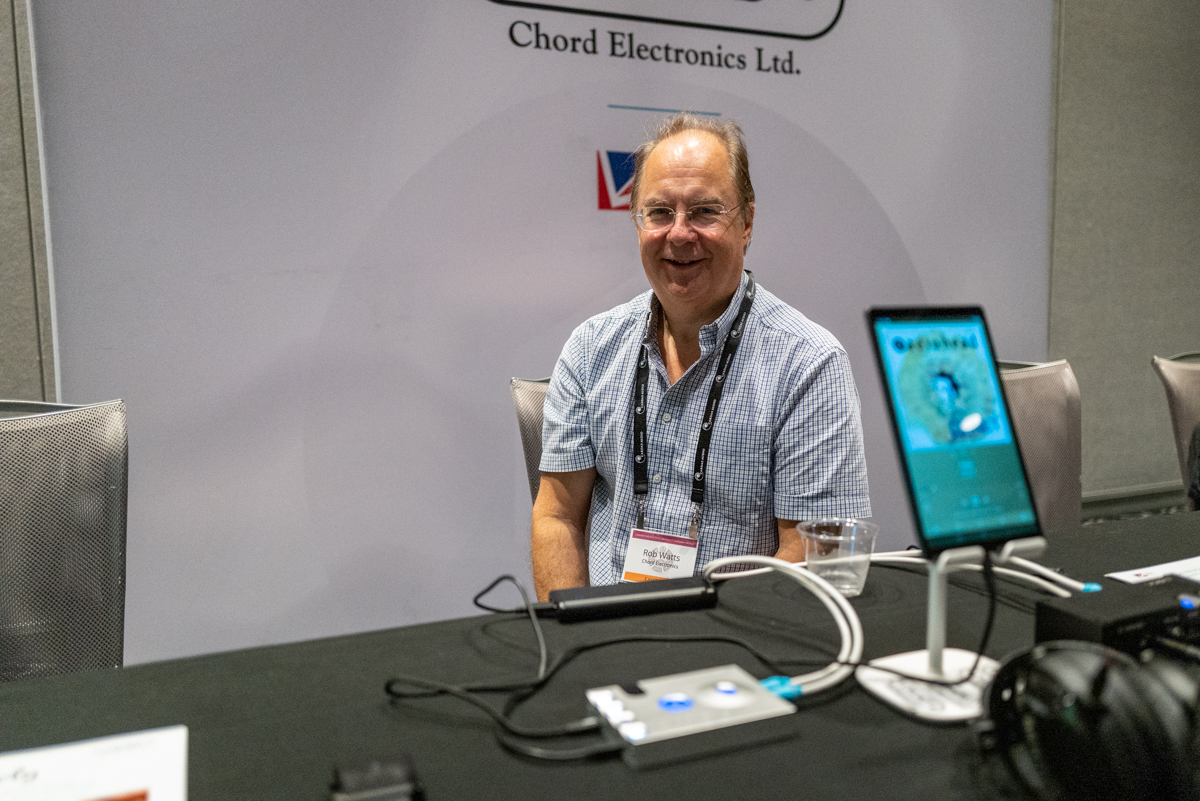 Rob Watt the genius behind Chord Products was doing seminars and we have full coverage coming.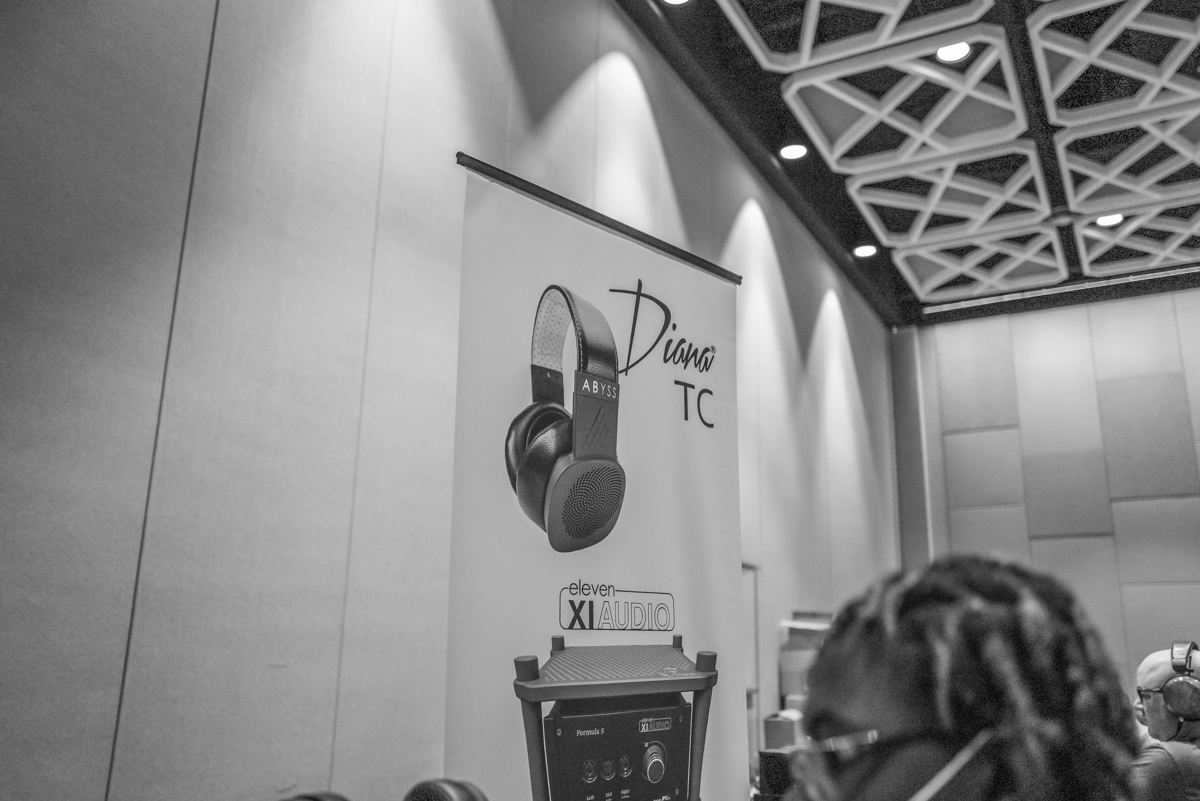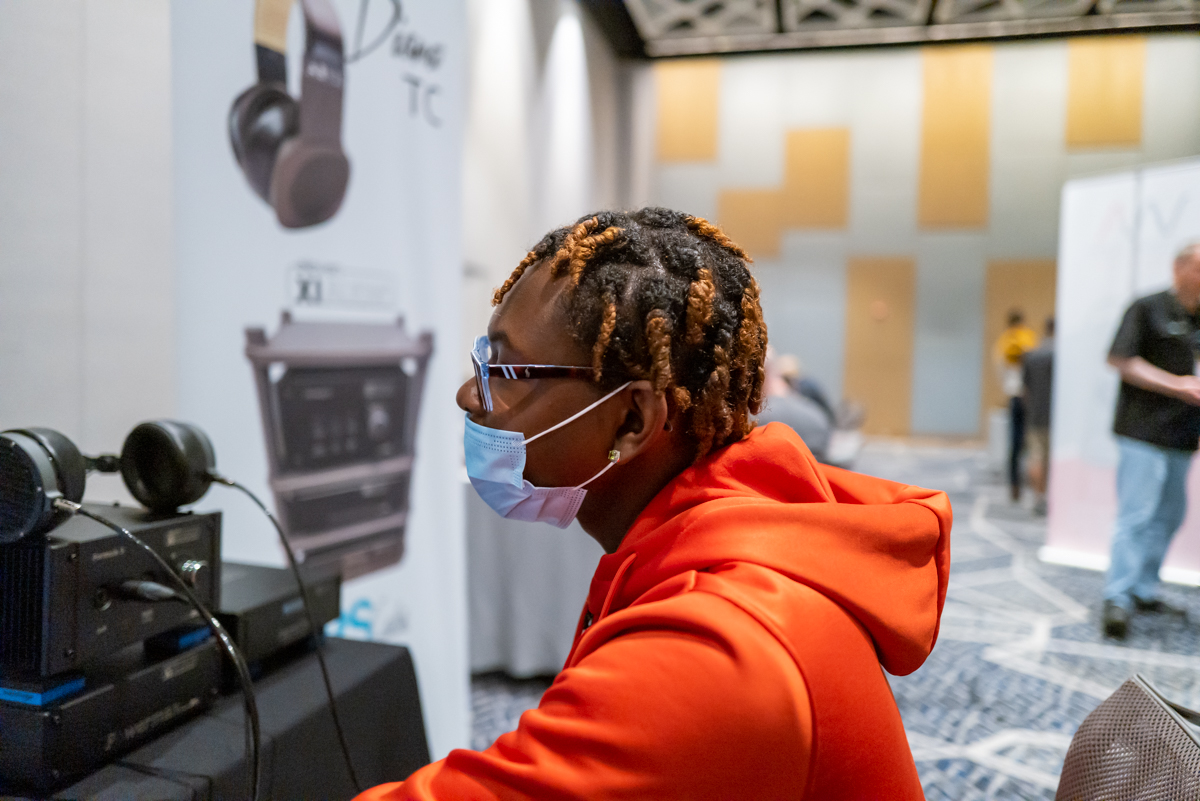 Priced at $4495.00 the ABYSS Diana TC was making musical perfection. Comfortable on my head the sound was exceptionally alive. The pure sound coming from the system was astonishing, ABYSS also had a room with the dCS Lina System I reviewed here: The sound with the dcS Lina three-piece system and Diana TC sounded alive and realistic without compromise, one of my favorite CanJam listening experiences. The Dian TC is handmade in Buffalo NY.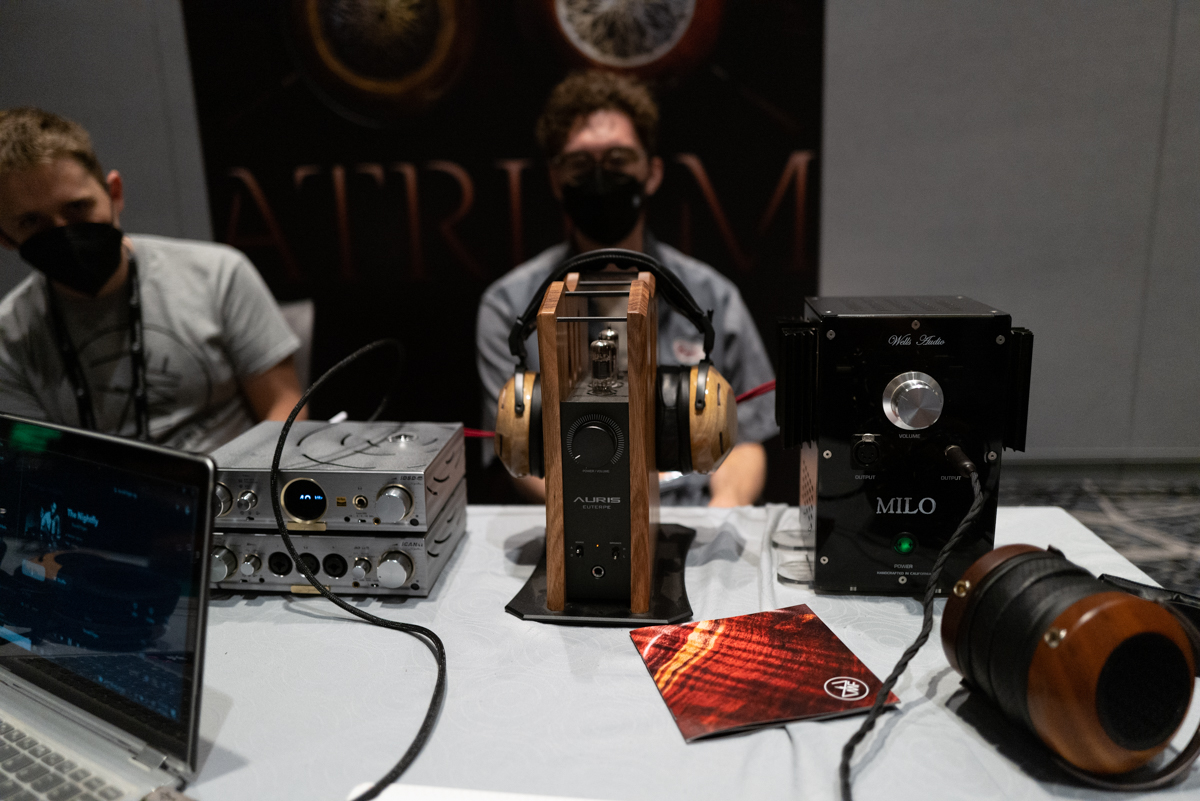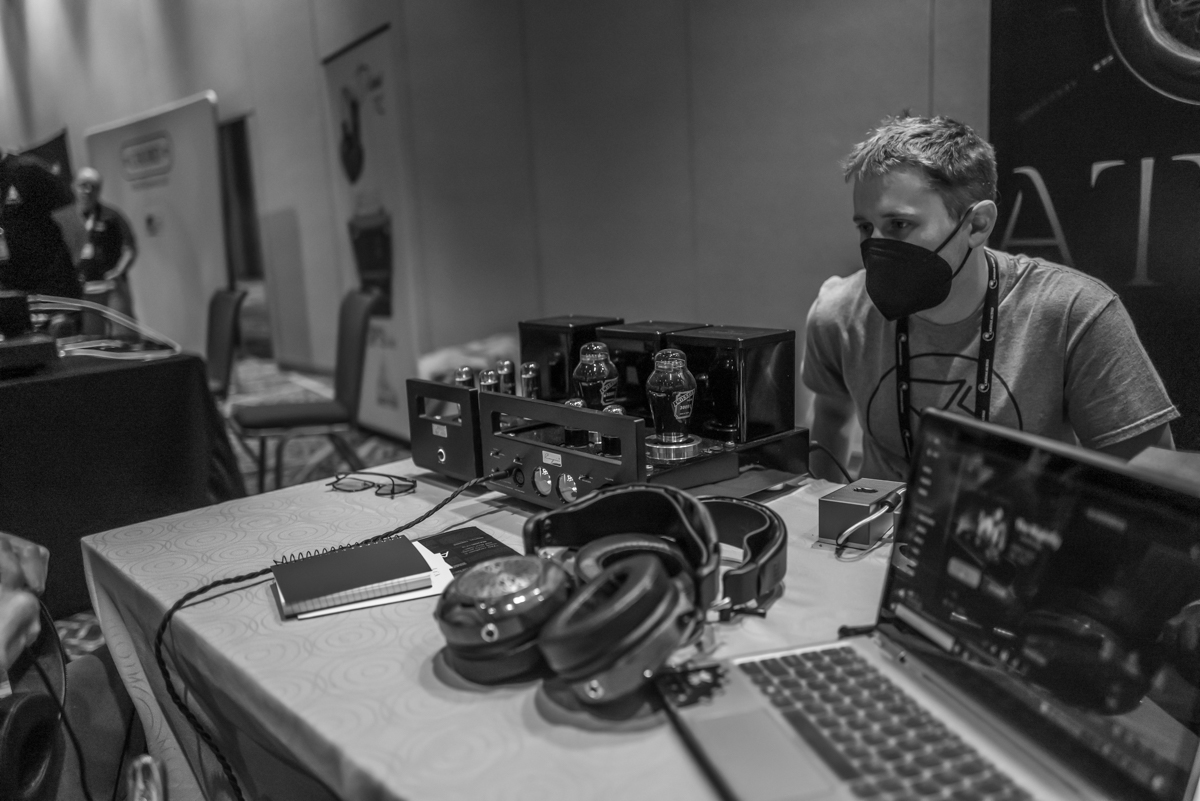 ZMF was using various different products from Wells Audio, Auris, iFi, and Cayin to demonstrate their ZMF Atrium Headphones ($2499.99) with both tube and solid-state amps from the world's best manufacturers. Zack's headphones sounded exceptionally transparent and his wood custom designs are all handcrafted creations and beautiful to look at and better to listen to.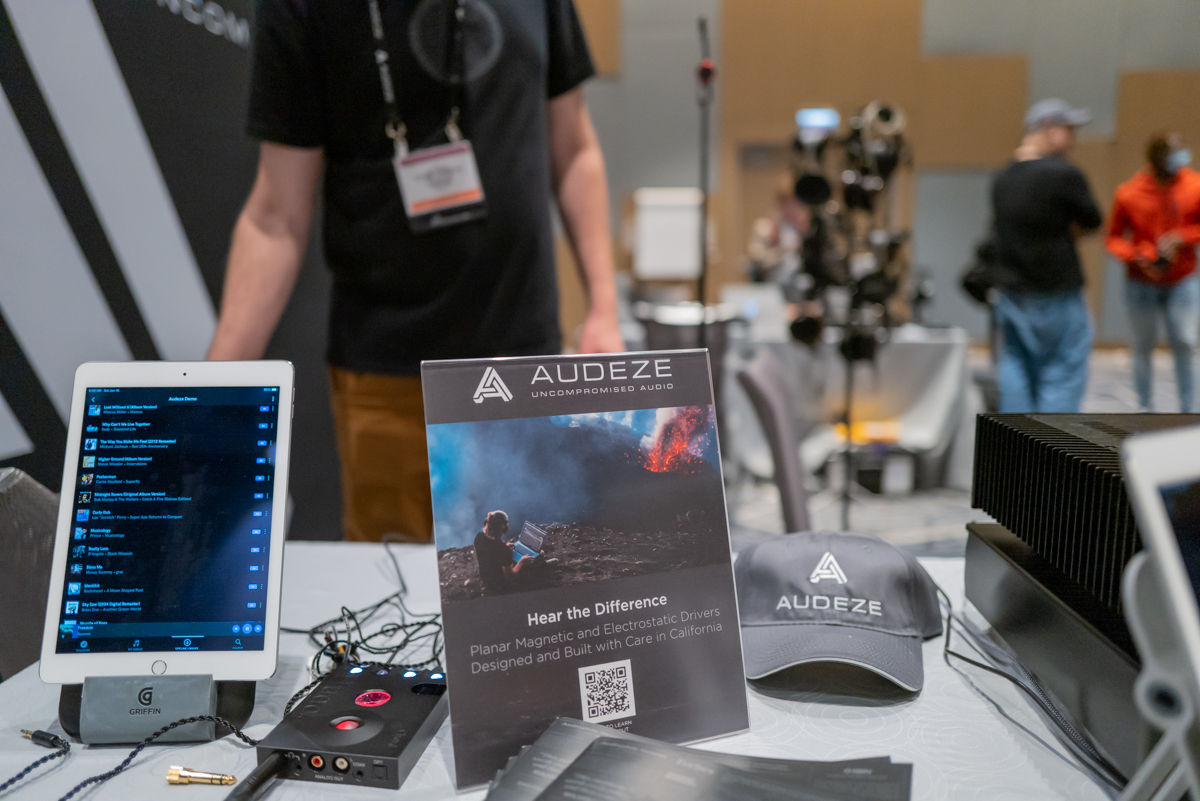 Audeze had a team of professionals working their corner section booth loaded with the entire lineup of Audeze planar magnetic headphones along with their new Audeze CRBN Electrostatic ($4500) design.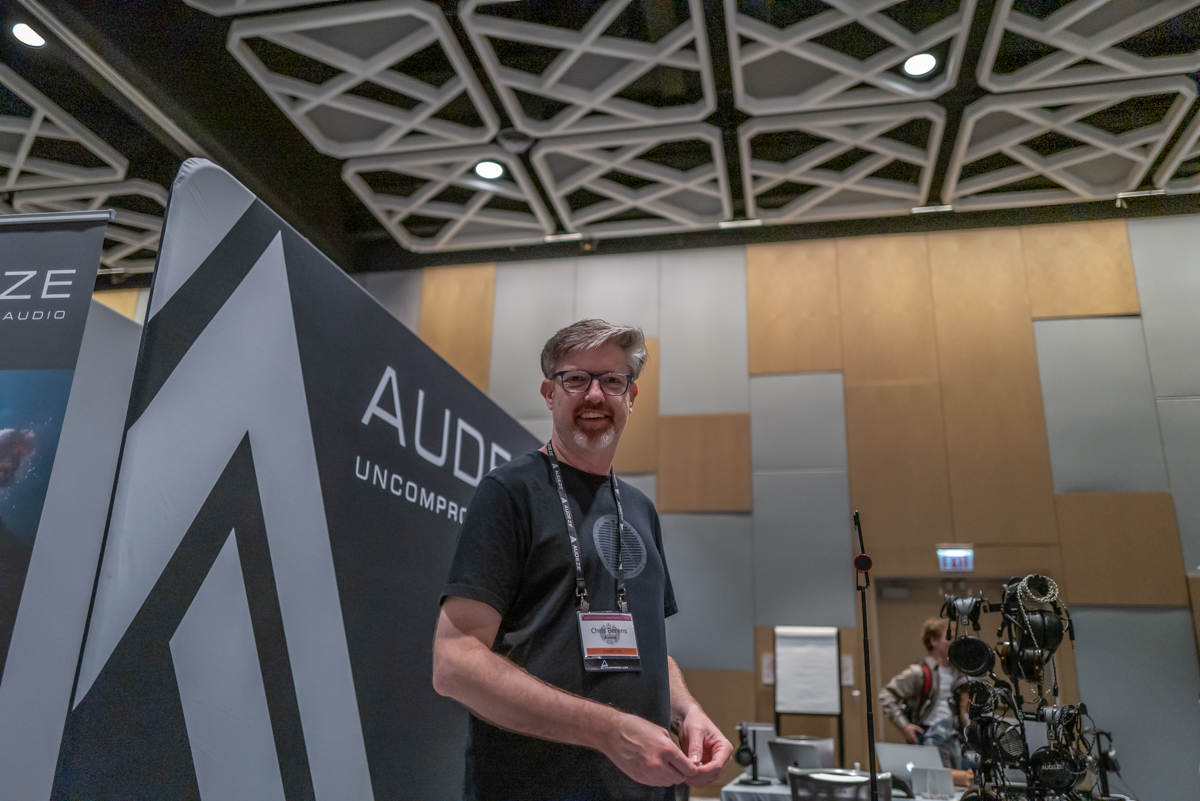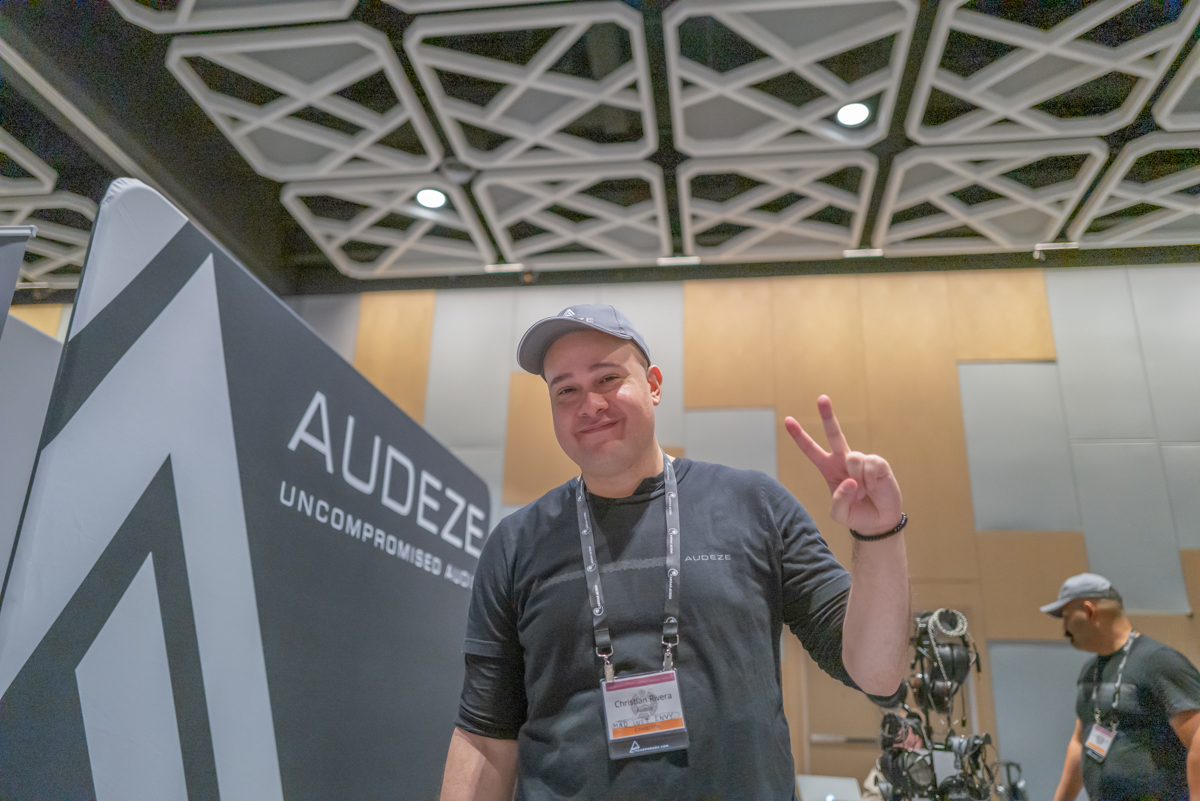 Christian Rivera was working this show for Audeze and is a good friend who has written for Headphone.Guru and is a strong Headfi member as well.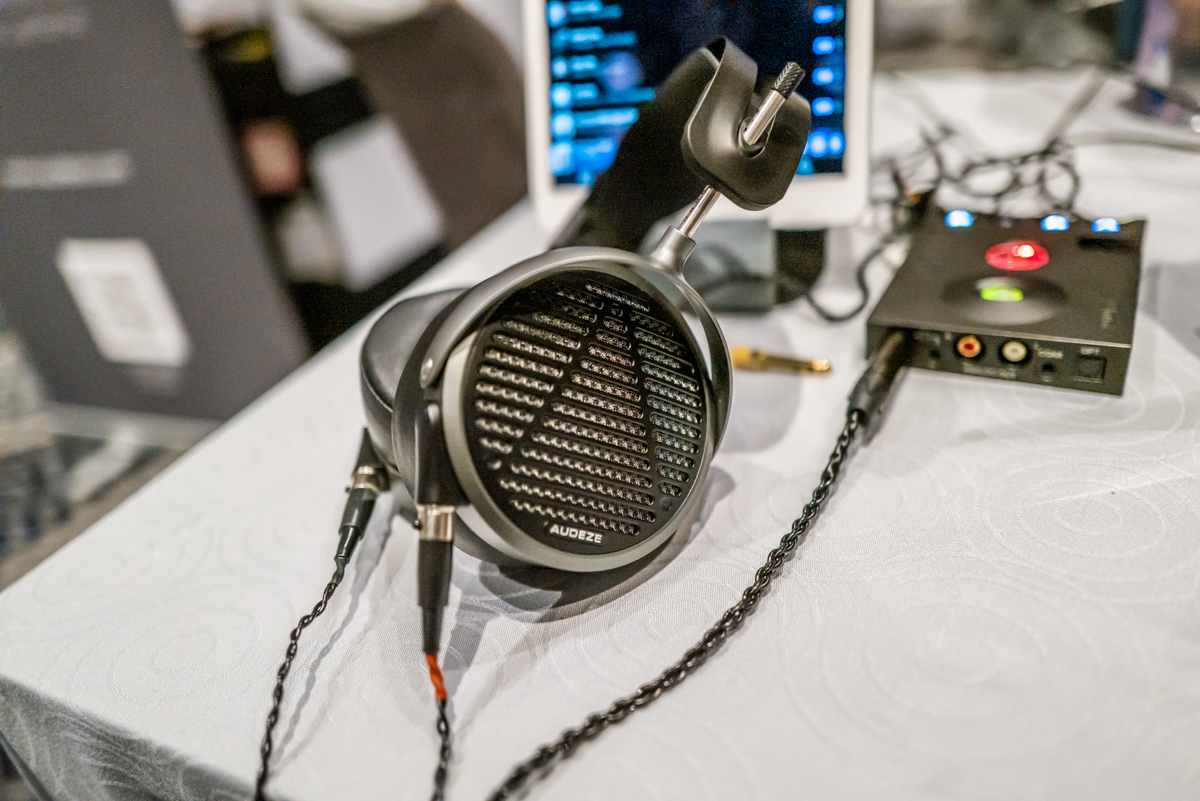 Audeze's new specifically designed MM 500 studio monitors tuned by 11-time grammy winner Manny Marroquin are priced at $1699 and in preorder to be released in August. The sound was exceptional and transparent while the headphone was light on the head.
From the Audeze website:
"Finally, a headphone I can mix records on"– Manny Marroquin, 11-time Grammy Winner
Conceived and refined in one of the world's most acclaimed studios, the MM-500 is a purpose-built tool designed to deliver mixes that consistently translate and capture the emotion the artist intended. Lighter than our famous LCD-X, the MM-500's sleek and sturdy chassis offers all-day comfort. Step up to the headphone used to mix Kendrick Lamar's #1 album "Mr. Morale & The Big Steppers" at Larrabee Studios: the Audeze MM-500.
That concludes part 1 of our CanJam Chicago 2022 coverage stay tuned for part 2 once again sponsored by Underwood HiFi.