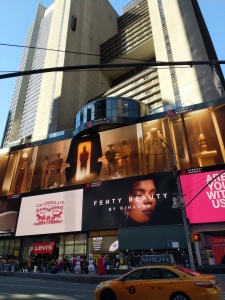 Continuing our coverage of CanJam NYC 2019 we meet up with some of our favorite brands and friends from years past.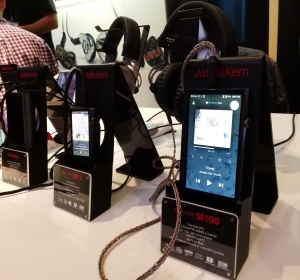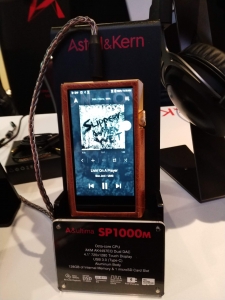 Astell & Kern:
Our favorite DAP company was my first stop of the show. Meeting my old friend Owen at the A&K booth was a treat but my eyes were immediately pulled to their AK-SP1000M. After I caught up with Owen I immediately went to work on checking out this serious piece of gear. It was paired with the A&K T5P Gen 2 which is a cross collaboration headphone with Beyerdynamic. Astell & Kern noted to me that the unit at the show came with a brass outer body and that the aluminum unit would be out within a month. My main takeaway with this new iteration of players from A&K was just how responsive they were. Gone were the days of old where you had to settle for secondary User-Interfaces to fuel your audiophile habit, In are the new days of high powered DAPs. The Octa-Core CPU mentioned at the very top of the marketing material plate should be an indicator for the level of prowess Astell & Kern are putting in one of their flagships.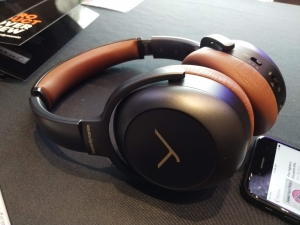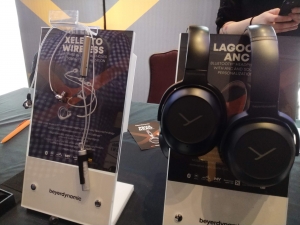 Beyerdynamic:
I met up with Nicole at the Beyerdynamic booth next to try out their new wireless headphones. They were proud to show off their new Lagoon ANC ($399) and Xelento Wireless ($1199) headphones to me as the stars of the show. The Lagoon ANCs are hot off the line to tackle their competitors as one of the best looking headphones against the lineup of competitors. It features touch sensitive controls, an accompanying MOSAYC app with personal sound tuning, and comes in black/blue or grey/brown combinations. The Lagoons were warm sounding and definitely on the fun side of the spectrum. With ANC on, the noise of the show dissipated into the background. The Xelento's, on the other hand, have a unique towed buoy design look that you drape across your neck like a necklace. The bass on the Xelento is in a different realm and truly show what miniaturized Tesla technology from Beyerdynamic can do.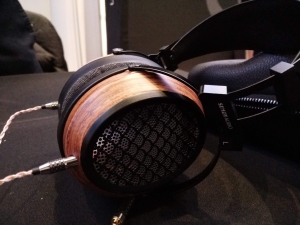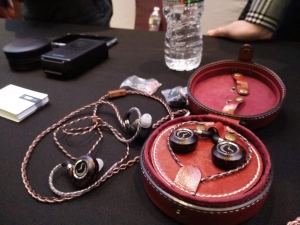 MusicTeck (Featuring Sendy Audio):
Moving on, I visited the behemoth of a booth from US distributor MusicTeck. They were here with a plethora of brands including InEar, Oriolus, QDC, Bang & Olufsen and Cayin. Their booth representative Brian moved me over to demo their Sendy Audio headphones. The main stars they told me were the planar magnetic duos: Aiya IEMs ($499) and Aiva over-ears ($599). Key points were that the Aiyas were handmade with Zebra wood which was incredibly tough and expensive to mold and get right, the 21mm planar magnetic driver had good bass punch and pulled back mids, surround and imaging were above average, but the main takeaway was the intimate vocals. The Aiva were made with Ebony wood and were equally as good looking with similar design language. The sound wasn't as thick as the Aiya and had much clearer vocals. The representatives at the booth were very welcoming and I hope to see them next year.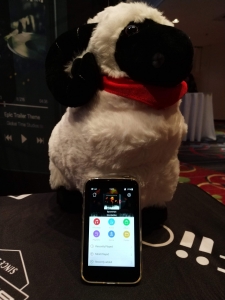 FiiO:
Our great friends at FiiO's came with some goodies this year and a cute mascot! The long awaited question no one has ever asked has been answered and it turns out FiiO has chosen an adorable Ram as their spirit animal; it even comes with a FiiO neck scarf! FiiO demonstrated their new M6 and M9 at their booth to me as well as their FH5. The standout feature of the M6 is how fast it still is despite its size. I was anticipating a much slower response but it's just as fast as its M9 older brother at a fraction of the size and cost. My favorite item at their booth, however, was the FH5 Hybrid IEM. It was the definition of smooth with a great bass kick and forward vocals. For the price, it's excellent.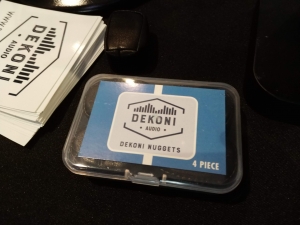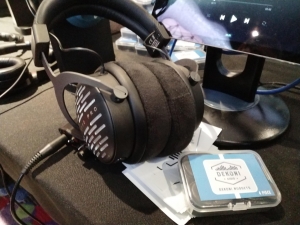 Dekoni Audio:
Dekoni Audio is at it again this year with their great lush pads. Our friends Tal and Sam manned the booth with their new products; the Dekoni Nuggets and Dekoni Choice pads. The Nuggets are a new 4 piece option ($19.99-$29.99) that allow for bite-sized morsels to be adhered to a headphone with a flat headband to increase comfort at a fraction of the cost (Warning, do not eat despite its delicious name and size). The stars of their booth are their new pads named the "Dekoni Choice", which are the premium flagship pads they are coming out with, in 2019. They have taken great care in increasing comfort with these sets and are offering a Vegan option as well. At the show, they only have these pads for the Sony WH1000XM3 but are officially announcing that they will support the Beyerdynamic DT series next followed by Sennheiser and Audeze LCD series right after. There is no definite timeframe at the moment but Tal said they will get it out to market within the next 6 months (so before August 2019 tentatively). Guru is looking forward to seeing what Dekoni cooks up in their labs next!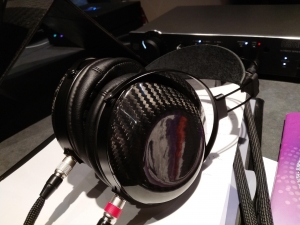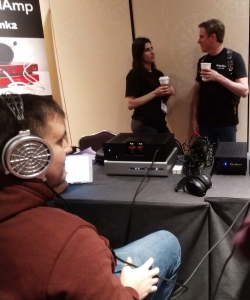 MrSpeakers:
Andy Regan's booth, the new President of MrSpeakers was my next stop of the day. Upon arriving at it, I noticed it was a small two person table with the usual gear. It had the typical selection of gear but was suspiciously small until Andy alerted me to their extended listening space in the "session hall". Off I went to it and boy was I not disappointed at seeing Dan (founder of MrSpeakers) and an entire room's worth of tables and gears laid out for attendees to listen to. The VOCE's were, of course, excellent and featured a clean sparkle and dynamic sounding effect but my thoughts were pulled towards their Massdrop Ether CX headphones ($899) which have seen a new surge in popularity thanks to the partnership. I found the top end to be very sharp with impeccable vocals coming at me like the waves from a fast-moving boat, not just any boat, but a big boat. I would have liked more bass response due to my disposition of preferring my audio thicker with a plumper low-end. Overall, the gear in the room was world class and my friends I brought with me to CanJam were mystified and nodding their heads to the music as they entered into their own journeys of high-end audio.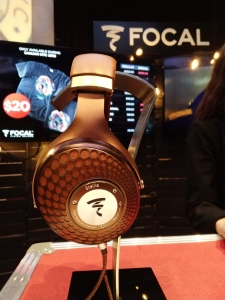 Focal:
The booth that takes first place in style, appearance, and AMAZE would always be FOCAL. From last year's CanJam to this year's, their wooden and homely feeling behemoth of a show setup is a power to contend with at the show. The main headphone Focal's representatives wanted to show me this year was the Focal Stellia ($2999) Closed-back over-ear headphones. These feature a pure Beryllium dome on its driver in the same style as the Utopia. I found the upper range to be sharp and articulate with a more intimate vocal range that isn't trying to show up the Utopias. It's a closed design contrary to the Utopia's open-back design allowing you to use it in more situations (such as an audio show). With a 35 ohm impedance, Focal notes that it is very easy to drive and can be taken on the go with you anywhere, due to its somewhat compact design as well. At three grand, I would have to take a hard pass on taking these to soccer practice but moving around the home or bringing it to a friend's house aren't as much of a chore as some other headphones thanks to its accessory bag and hard molded carrying case.