Once again we are excited to bring you coverage of CanJam NYC, this year thanks to the wonderful Walter Liederman of Underwoood HiFi, without the help of our fabulous sponsors we would not be able to bring you these wonderful experiences. We would also like to thank Ethan and the gang for making it all possible, and Qobuz for providing streaming music for the event.
Dekoni Audio: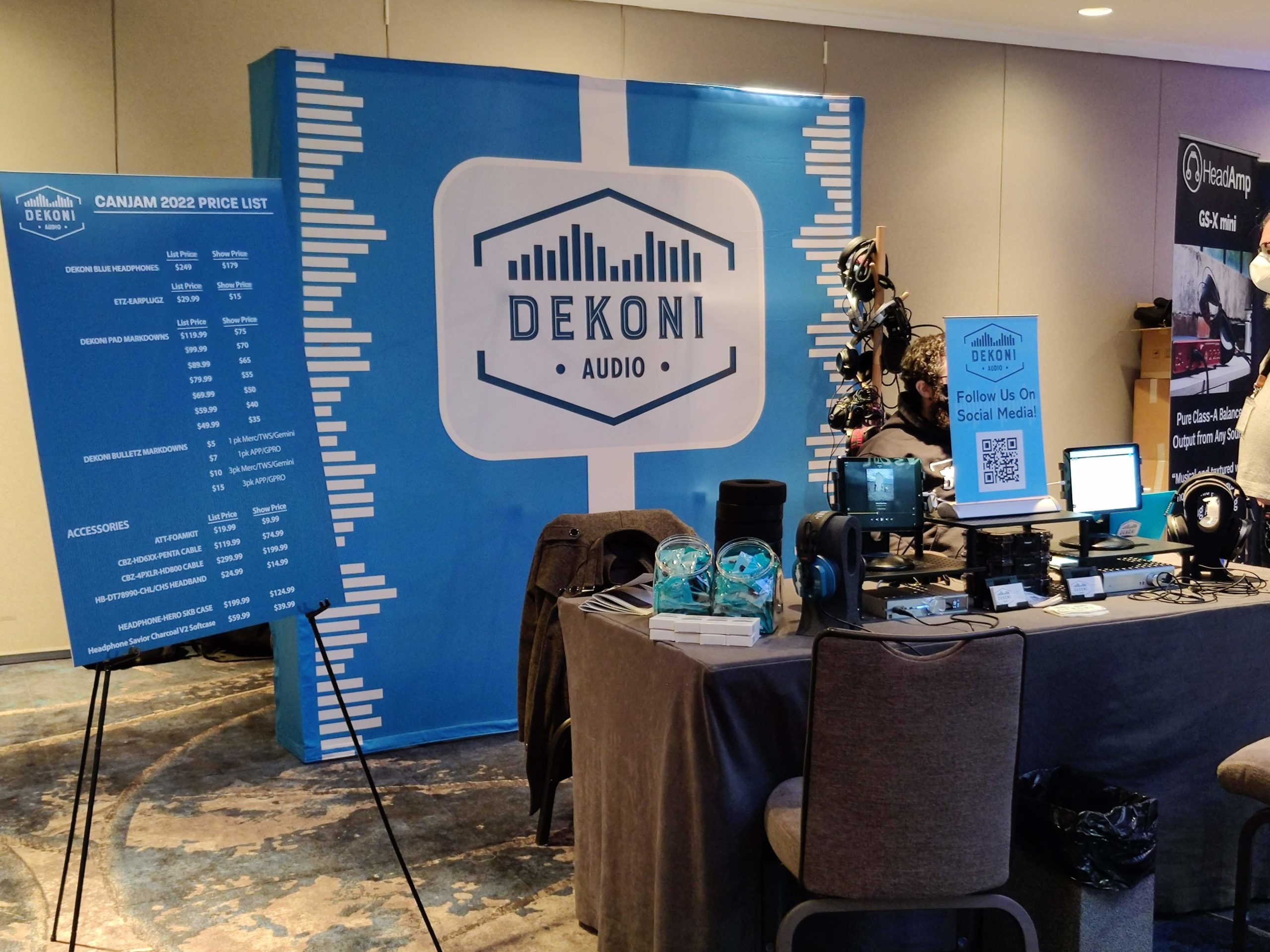 Our friends at Dekoni were here again this year showing off their Headphone Hero case priced at $199.99. This is a military-grade case to help transport headphones around the world and is a much-beloved addition for our staff here at guru.
On top of that, new Grado headphone pads are available from $59.99 to $99.99.
HeadAmp: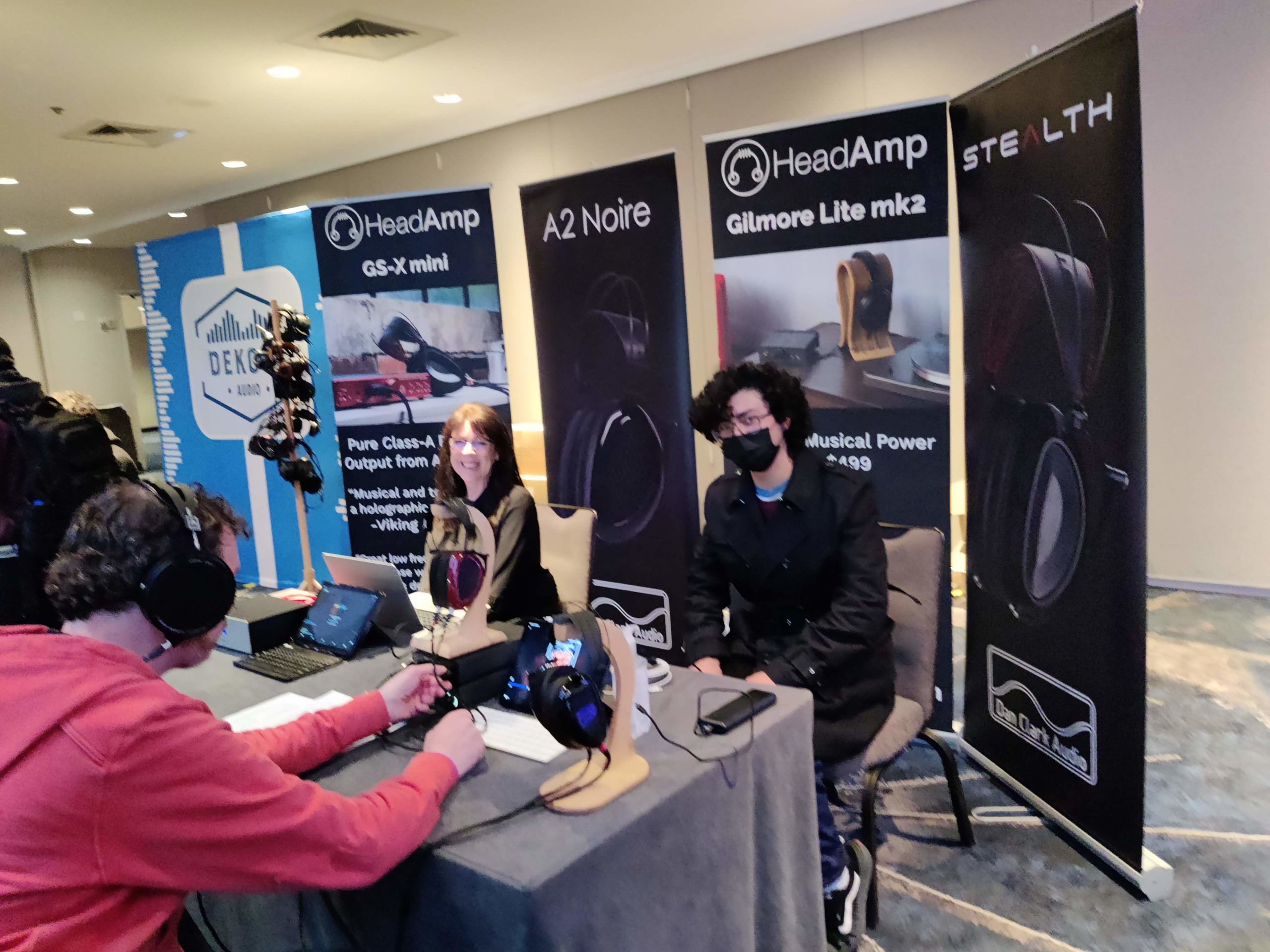 Auribus Acoustics was present showing off their Everest ($685) which is a custom-built headphone featuring 50mm dynamic drivers and Dekoni High-Density Foam earpads. The Everest had nice low-end bass response, forward vocals, and overall well-tuned sound. I did note some dips in its mid-range making portions of the instrumentals and vocals less prominent but overall a well-sounding headphone. We're excited to see what they have in store in the future.
The Headamp GS-X Mini ($1795) was also present for testing and featured a balanced headphone out with a built-in pre-amp and offers input by XLR or RCA.
Dan Clark Audio: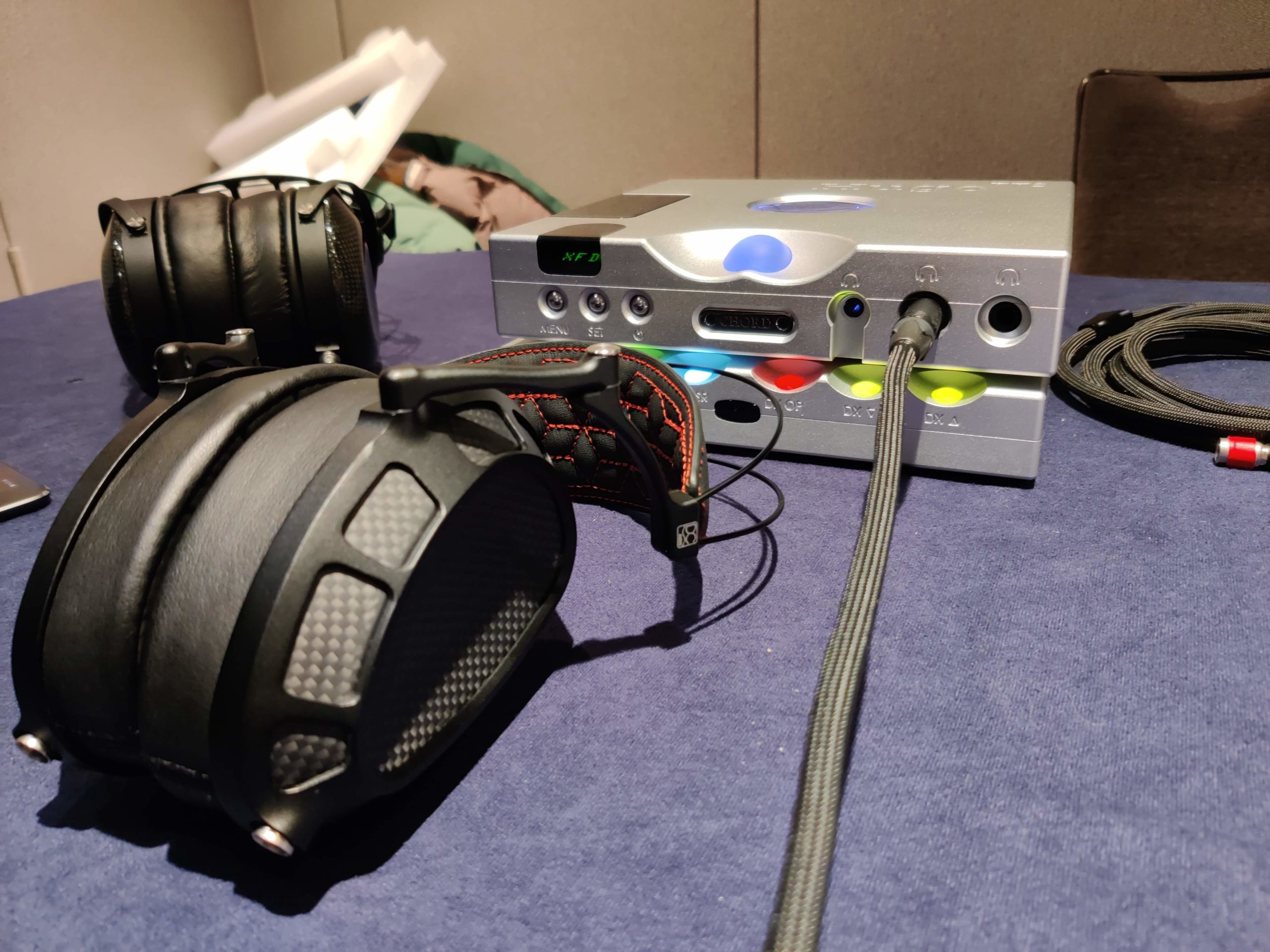 Dan and his wonderful team were present this year showing off their new STEALTH ($3,999.99) featuring the new wave-guide technology as part of the AMTS (Acoustic Metamaterial Tuning System). It utilizes what Dan refers to as 4th generation planar technology to produce a smooth and refined sound. I personally found the STEALTH to have extremely natural vocals, and the soundstage was very open-like despite the headphone being fully enclosed. The waveguides do require some movement around the head to find the sweet spot but overall the STEALTH was an incredible closed-back headphone and we can see it as a staple in any summit-fi enthusiasts toolbox.
Hifiman: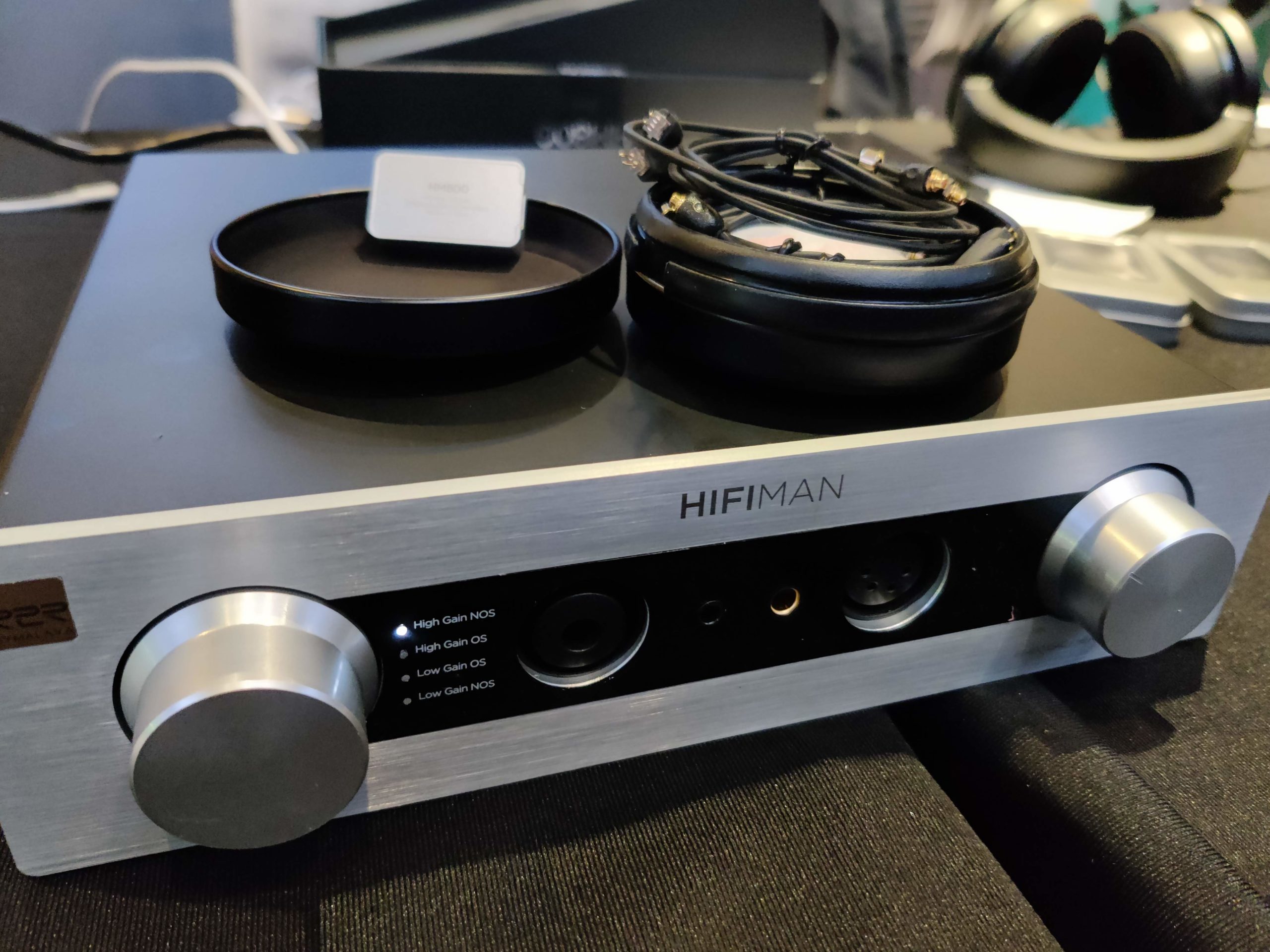 Steve and Adam were present again this year to show off their latest and greatest. We saw the HM800 portable mini-DAC/Amp ($299) and full-size balanced desktop DAC/Amp EF400 ($599). Paired with them was the new Edition XS ($499.99) which we found to be an excellent planar in this price range. It had a light sound signature that was still full-bodied with a broader upper-midrange. The Edition XS uses new planar driver technology and it shows as it's what we believe to be one of the best values in its $499 price range.
dCS:

Our great friends dCS are back this year and the Bartók Streaming DAC ($16,000) was a star at the show. The Bartók features the latest in DSP technology alongside its Ring DAC. It supports Roon, Airplay, Spotify Connect and is UPnP compatible for your other media solutions. It has multiple stages of power regulation and supports a wide variety of inputs and outputs.
We found the Bartók's sound to be neutral with grace to its ability to drive the headphones we had on without much effort. The design and feel of the unit were also impeccable during our short time with it.
Cardas: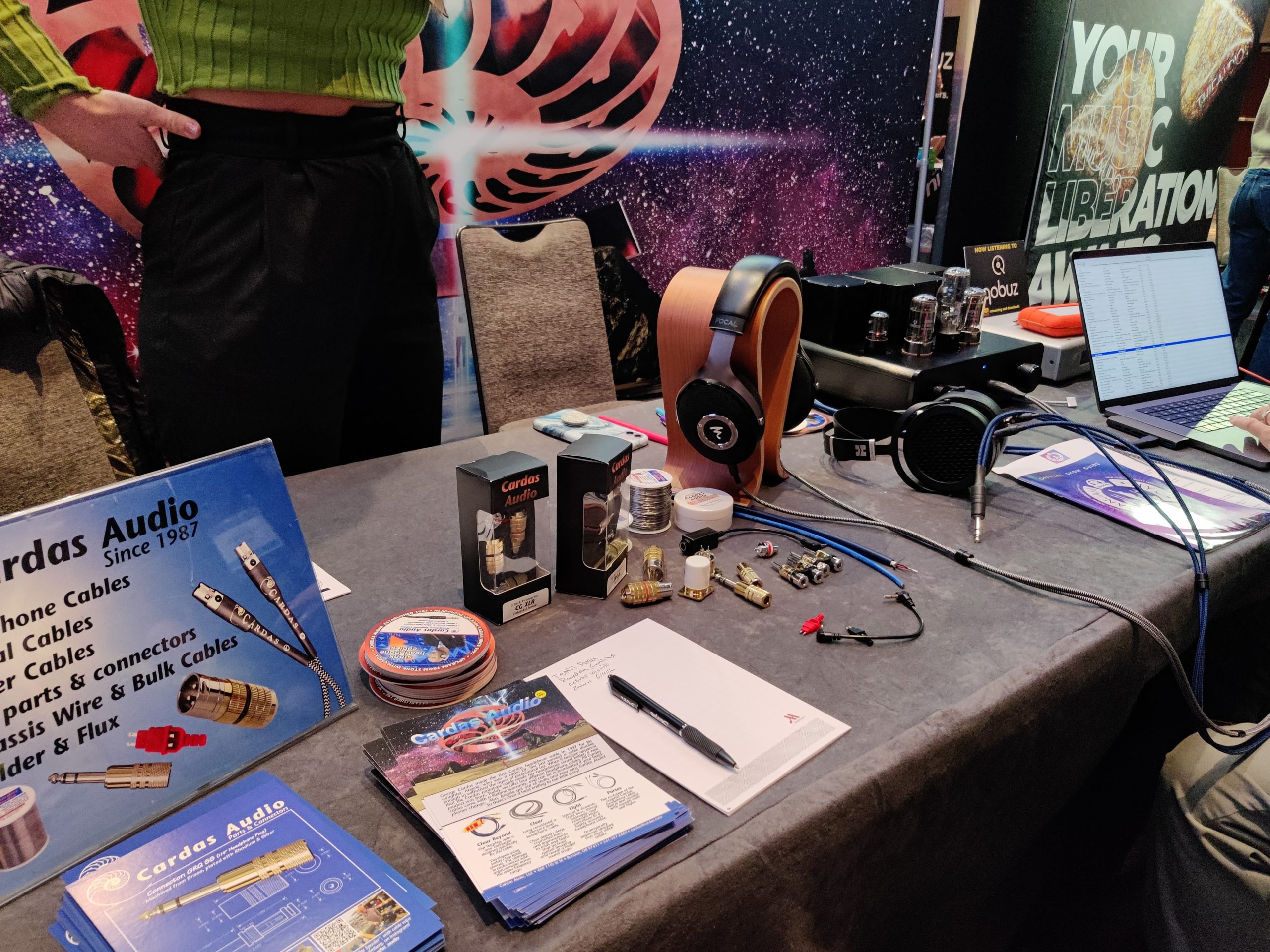 Cardas Audio has been a staple audio cable manufacturer for decades. A true pioneer in the industry. This year they're here with their "Clear Beyond" flagship cables. They are coming soon and are working hard to make them available.
The price is subject to change pending various details but we'll be sure to keep an eye out for them.
Audeze: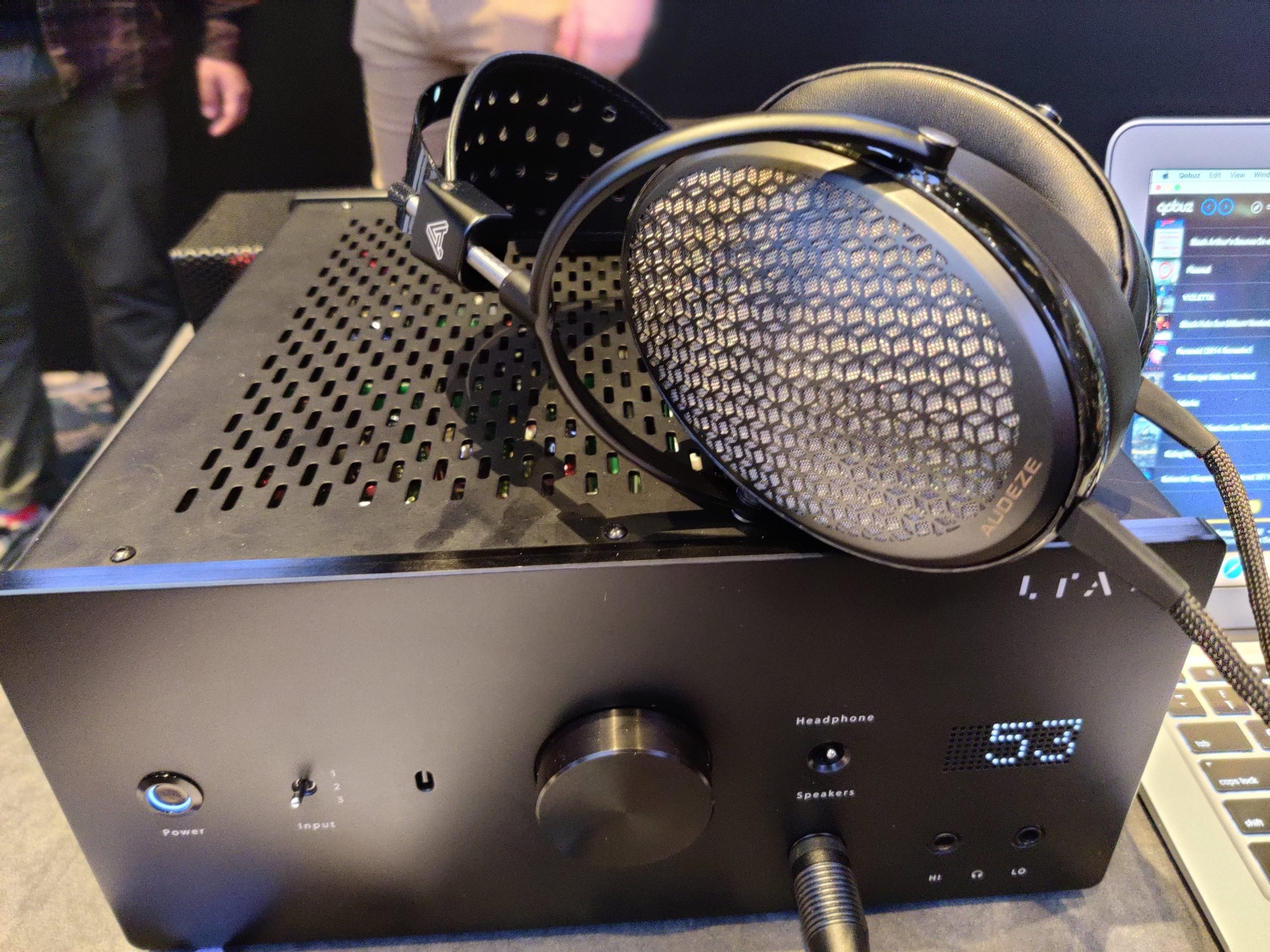 CanJam with Audeze is special each and every time we've gone. This year we had a private demo session with their CEO & Founder, Sankar Thiagasamudram. Audeze brought with them their exciting electrostatic technology and explained the origins of the project. Sankar described to me how much of this technology came from designing headphones meant to be used with an MRI machine in a medical setting. The technology from that project was able to be realized into an audiophile product which became the foundation of the CRBN ($4,500).
The CRBN features a revolutionary central 'diaphragm' (film actually) that is completely devoid of metal. Audeze had a demo plate of this film at the show and it is virtually see-through. The process is described as utilizing a technique to suspend carbon nanotubes in the film giving the film a uniform charge that Audeze says reduces distortion and improves clarity.
Highlights of listening to the CRBN were its bass and vocal texture making vocals sound effortless. The upper mid-range had excellent extension listening to Queen with the most realistic sounding version of Freddie Mercury I have ever heard.
Also at the show was the LCD-5 ($4,500) which is one of their lightest headphones yet at 420g right next to the LCD-GX. It utilizes tons of magnesium in its construction to keep weight down.
Both headphones had similar 'styles' applied to their sounding in that they went for a lighter, more neutral and transparent sound signature with a focus on 'extension'.
We've always been a fan of what Sankar has in store for us at this show and 2022 was no different.
InEar: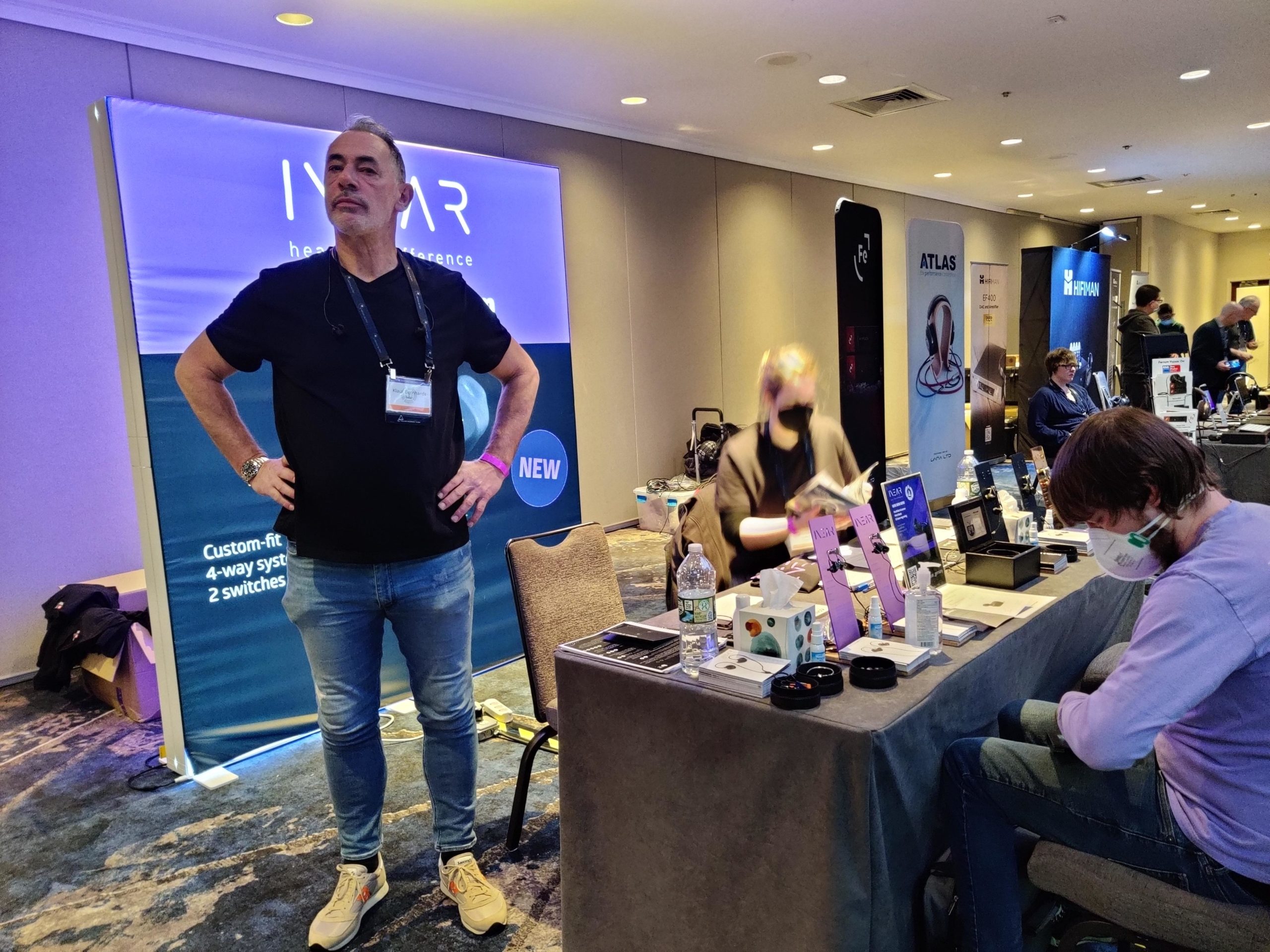 InEar is back this year to show off their Prophile 8 "Custom" based on their highly successful UIEM. They are available with many faceplate options and will be between $2.2k and $3k with laser engraving options. One option comes with a proprietary real gold inlay done by an artisan in-house.
Ferrum Audio: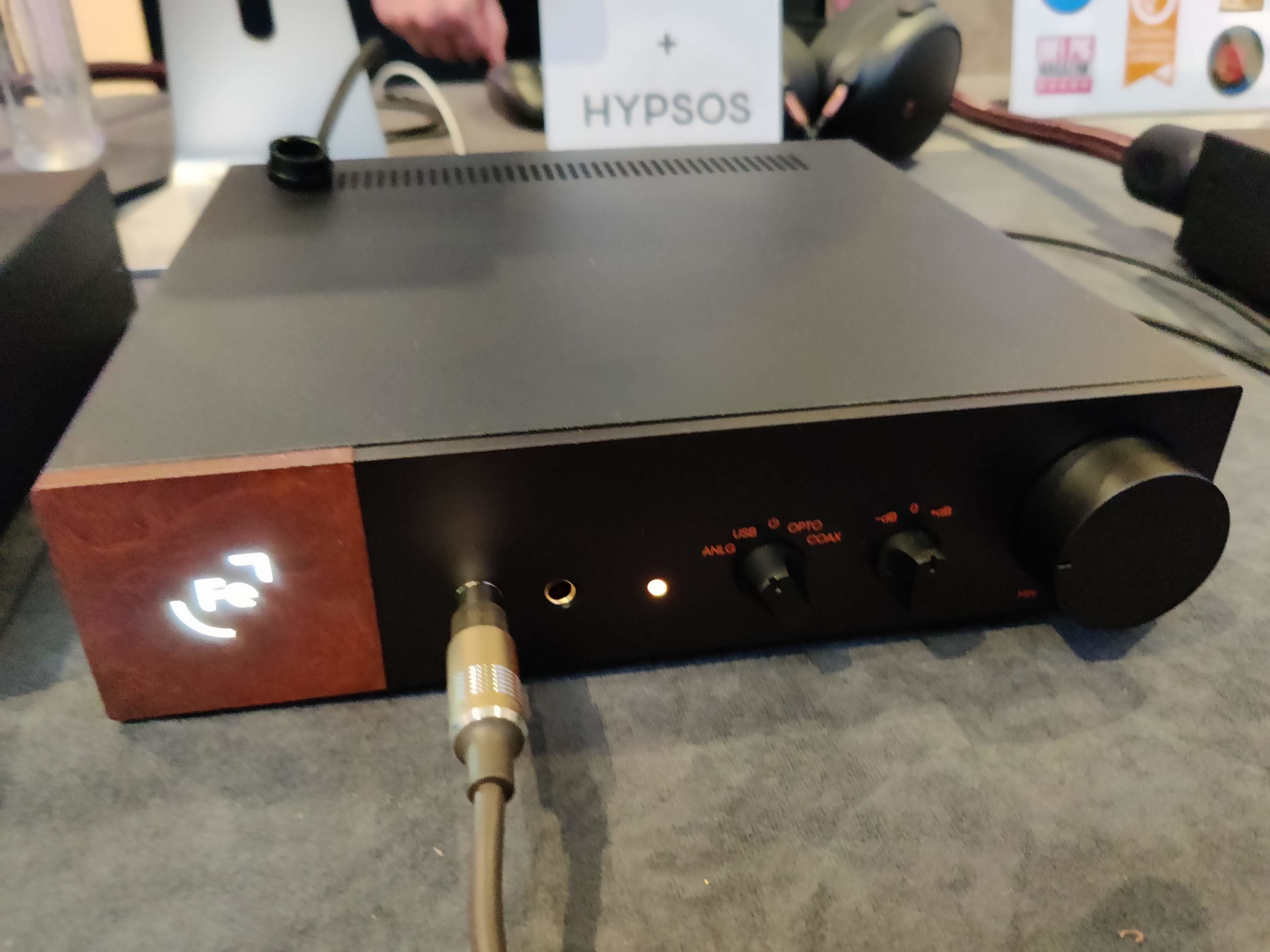 Ferrum is here this year with their Erco (pronounced ertso) which is a $2,395 DAC+AMP with ¼" TRS single-ended and balanced 4.4mm outputs. They're here at the show with one of the most aesthetically pleasing units I've seen with solid knob feel and selectors. It utilizes discrete amps and an ESS 9028 Sabre single DAC.
EarMen: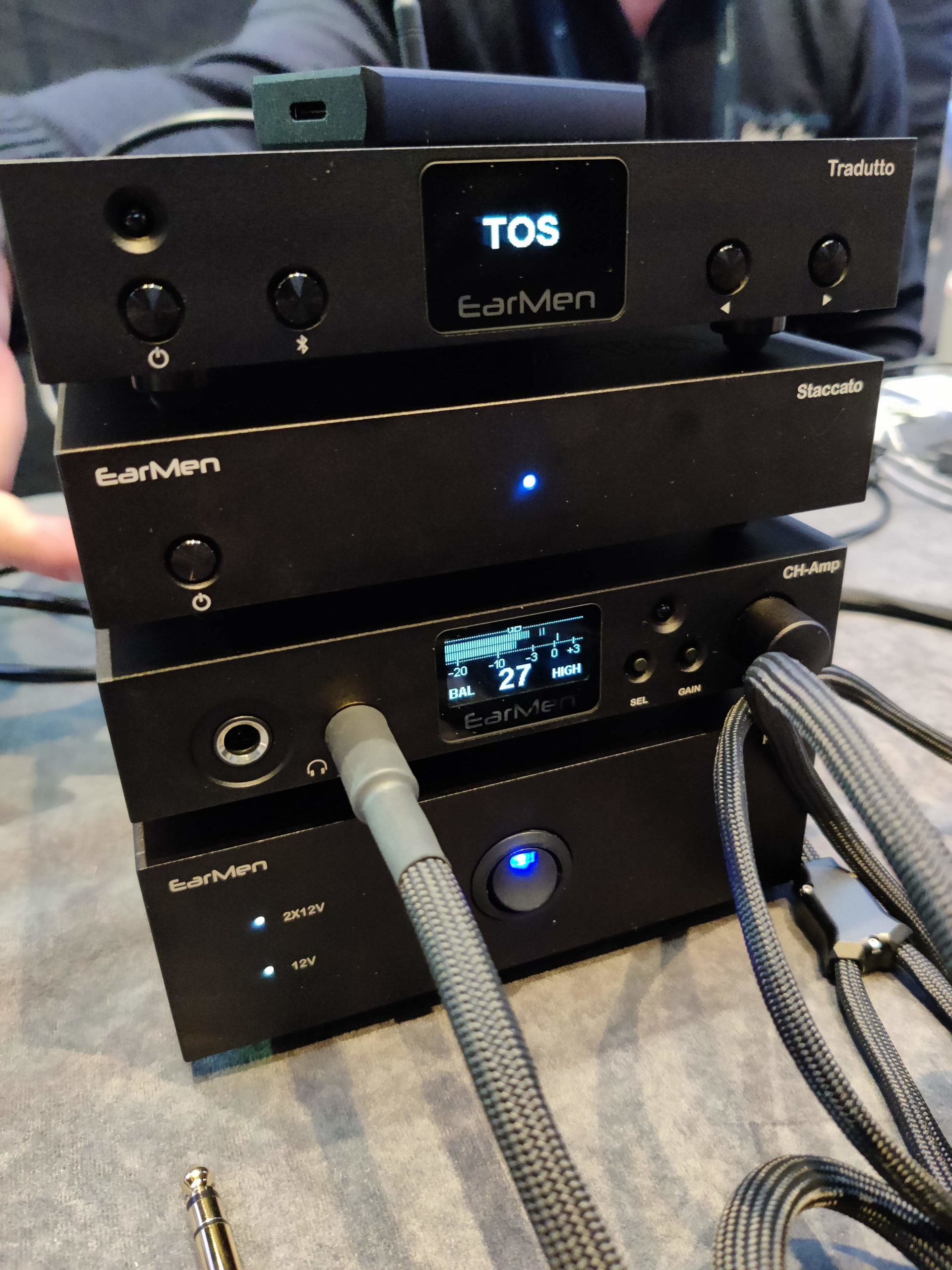 We've been fans of Earmen and their products in past shows and this year isn't different. NYC had them bringing out their Tradutto ($799) balanced DAC, Staccato network streamer ($1400), and CH-Amp ($1400-$1600)….you guessed it, amplifier!
The units paired well with each other and delivered a reliable local streaming capability at the show.
Dunu: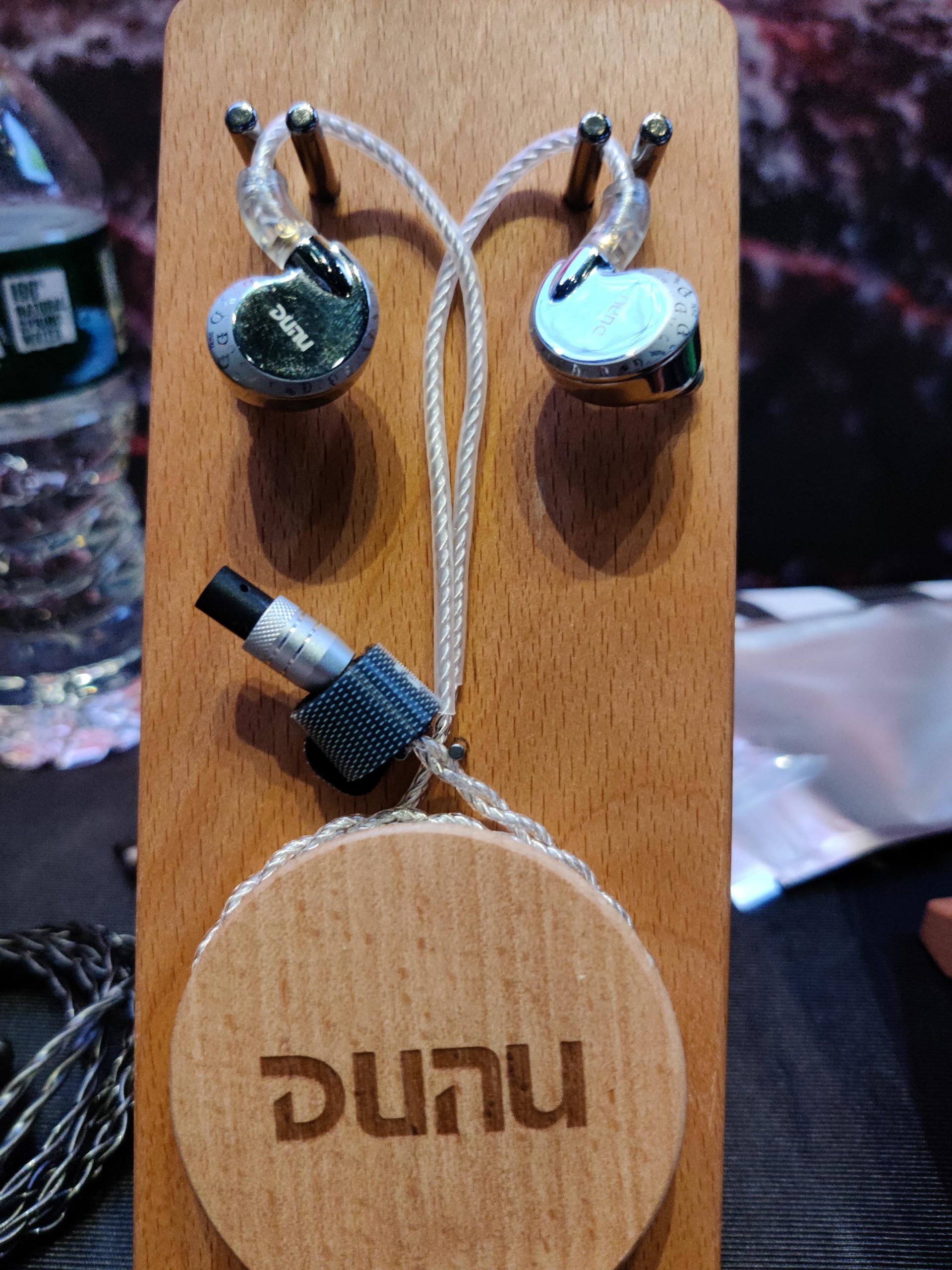 I've been well acquainted with Dunu's products during their beginnings and this year we're looking at the single dynamic driver Titan S ($80).
The Titan S was not a Harman Reference sound but instead had a sharp mid-range with upper sparkles and pulled-back vocals. The sonic signature was pretty clear with a light bass response. I particularly liked the mid instruments and detail retrieval which I found to be excellent but the vocal and separation department had me wishing for a bit more. Regardless, at $80 the Titan S is sure to be a big hit with how well it performs in its price segment.
The Zen Pro ($1k) was also present and I found it to have exceptional tuning. It was a bit bright for my tastes but it had a developed sound signature with good vocal separation.
Soundcore:
With what may be the most interesting product at the show, the Soundcore Frames ($199.99) are wireless BT headphones with a sunglass attached to them. They come with multiple glasses frame options including ones with blue light filtering and are prescription lenses capable.
Grell Audio: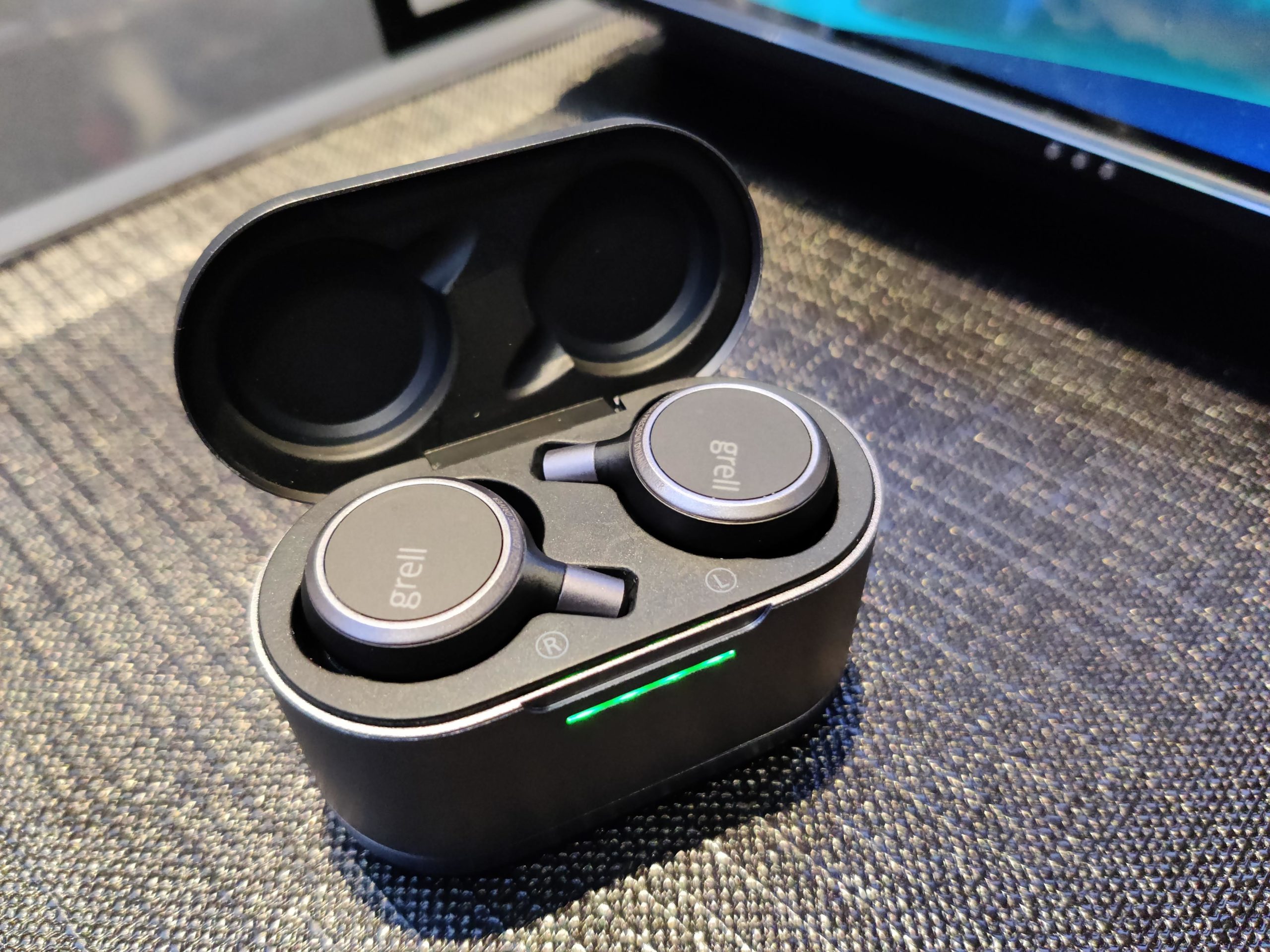 Axel Grell is famous in the industry for having his hand in the formation of Sennheiser's HD 800. At the show, Grell debuted their new $199 TWS-1 earphones. They feature ANC technology as well as a combined 34-hour battery life with the case. They utilize large 10mm dynamic drivers to create an immersive sound and have some of the best design and finish seen at the show.
The TWS-1 featured soft but detailed instruments with a clean mid-range. The sound is quite dark and has elements of the Harman Reference with its pronunciations in the mid and low range. It's a very warm sound signature and complements 'most' genres.
JH Audio: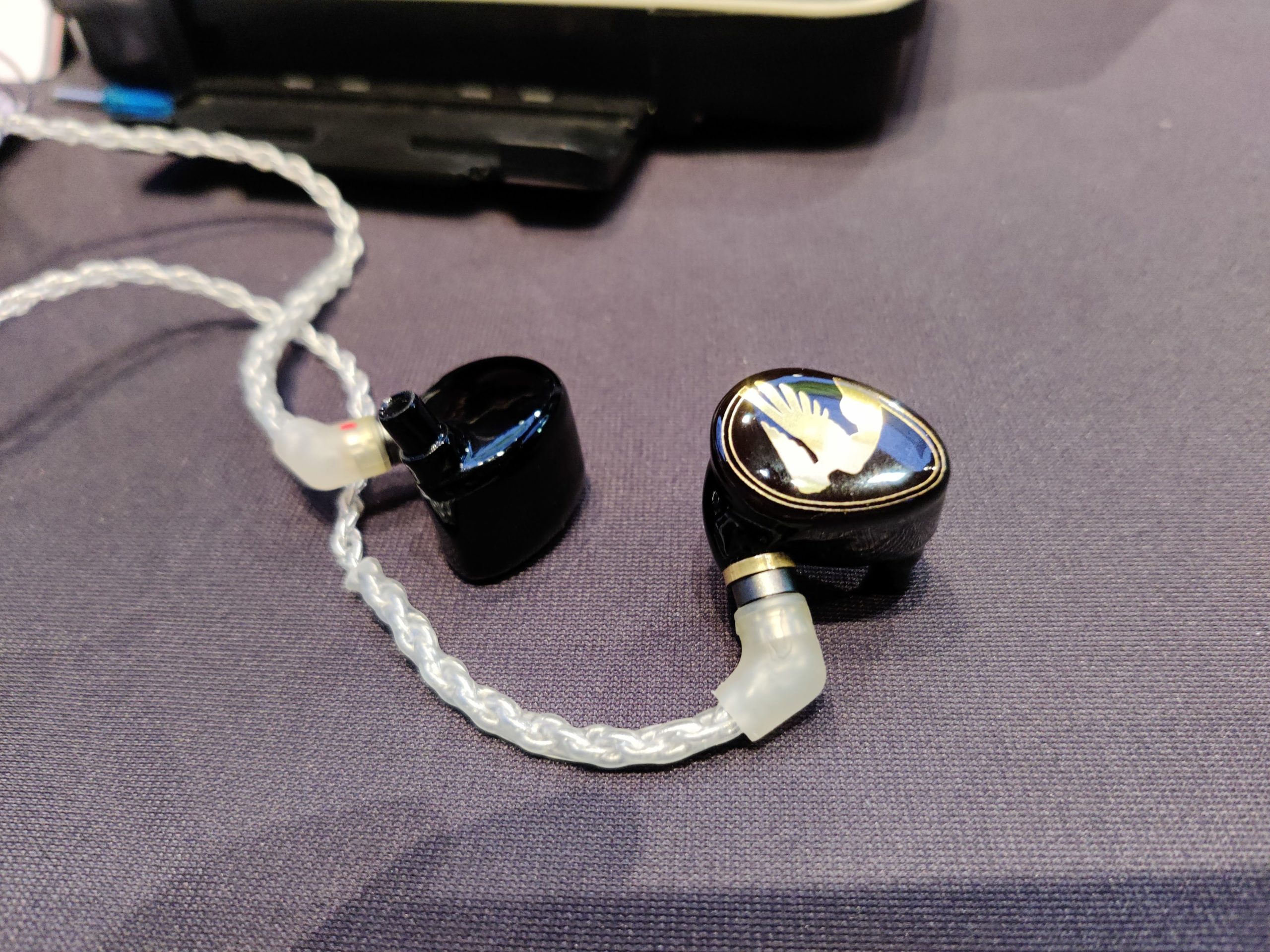 JH is back and this year showcasing their 12 driver, 4-way hybrid IEM available in both custom and universal (limited) options starting at $1800. This package comes with 2 premium signature designs and faceplates. I found the Jolene to have an airy sound with an effortless ability to produce complex instruments.
64 Audio:
The new Duo ($1199), 2 driver UIEM from 64 Audio was the main item at the show table. It features a complete Tia modular system with its Apex Cores and stars what they call "64 Audio's signature balanced sound"
You can swap out the Apex Modules available in M15, M20, etc to change the bass response and intensity of the models changing its characteristics.
MusicTeck: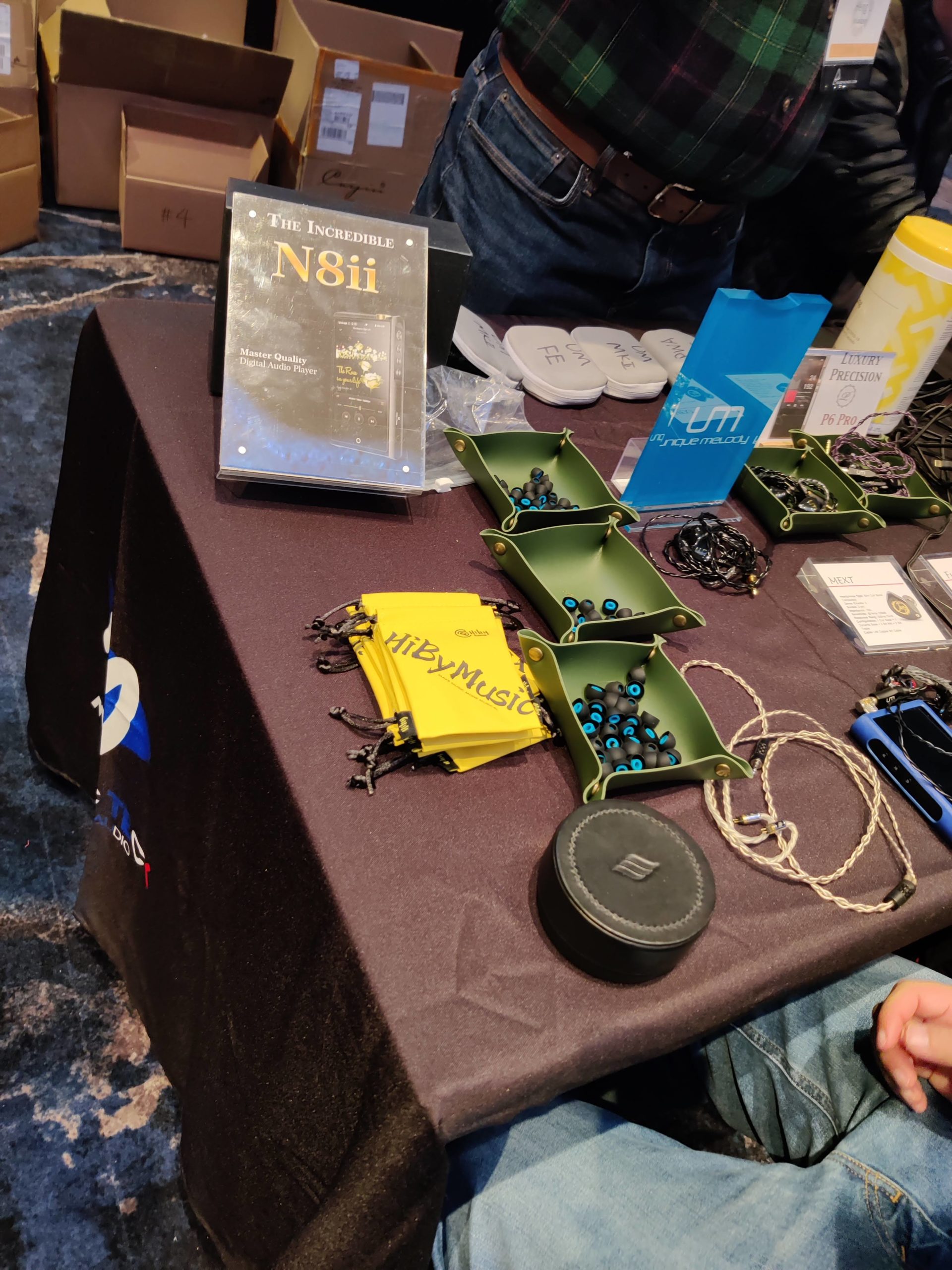 A CanJam isn't complete without MusicTeck present. The main items this time around from them are the UM Mason Fabled Red Halo FE ($6.5k) which features 12 BA drivers with 1 UM bone conduction driver to create a hybrid sound delivery system.
We also saw the Cayin N8ii Master Quality DAP ($3.5k) which featured a very well-built construction and design.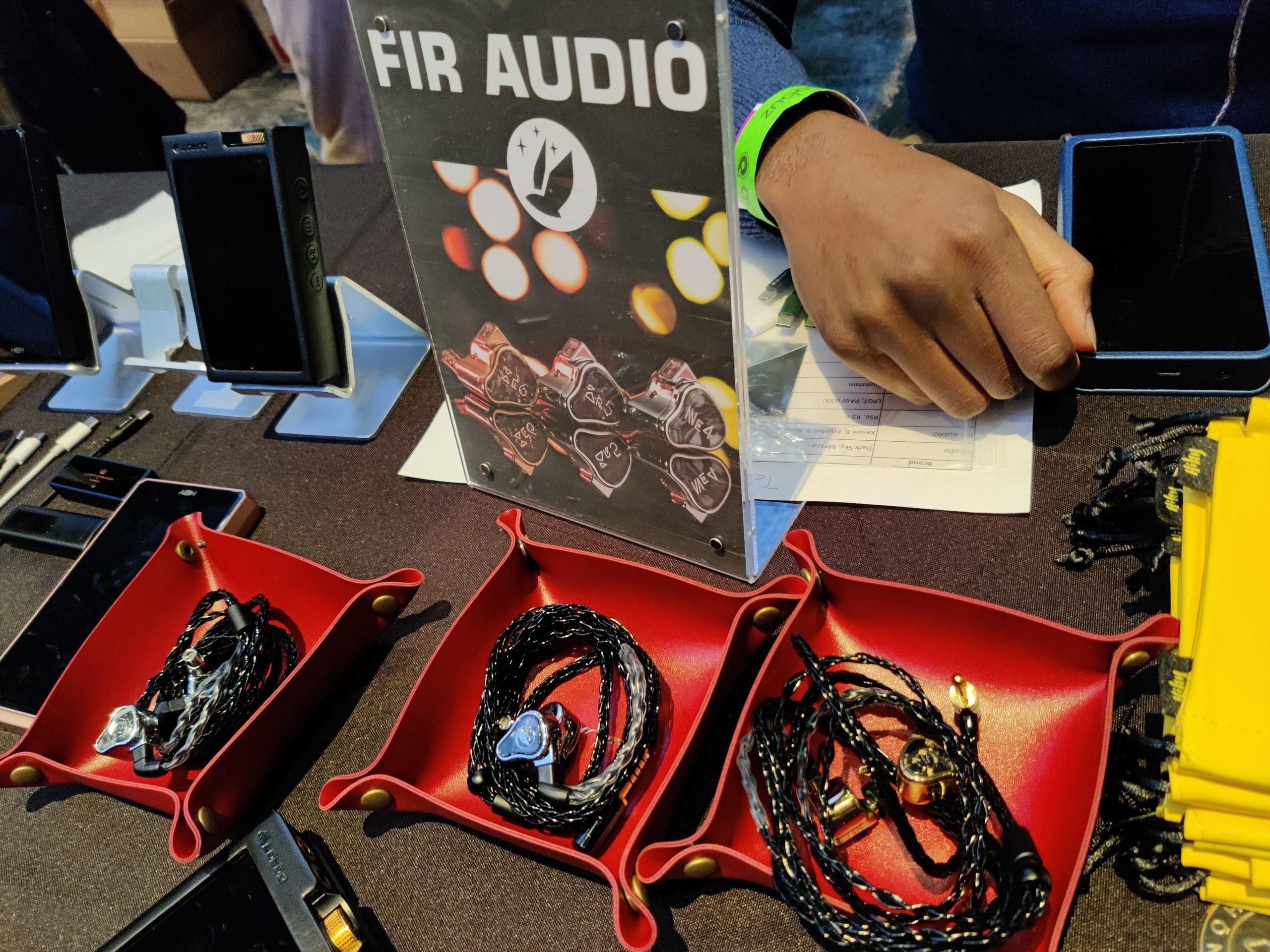 From FIR Audio, the Krypton 5 ($3k) and Xenon 6 ($3.9k) UIEMs were also presented as high-end solutions for those wanting top-tier sound. I found the Krypton 5 to be great with female vocals albeit with some slight sibilance. The soundstage was great and added a layer of mid-range 'distance' to the listener. The Xenon 6 had slightly pulled back vocals and an upper mid-range with more air and fluctuations in them which was more unstable at times.
Once again we would like to thank Underwoood HiFi for sponsoring our coverage of CanJam NYC 2022, and supporting the quest for high-quality audio, I suggest you visit their site to find incredible deals on amazing products.
Stay tuned for Part 2 of our CanJam NYC 2022!