CanJam at RMAF stands as one of my favorite HiFi shows and this year was no exception, though it did have its foibles, in particular hotel construction forced the majority of CanJam outside into a tent with poor lighting and minor power problems, but Jude and Ethan rallied and still put on a wonderful show, with lots of new surprises for everyone.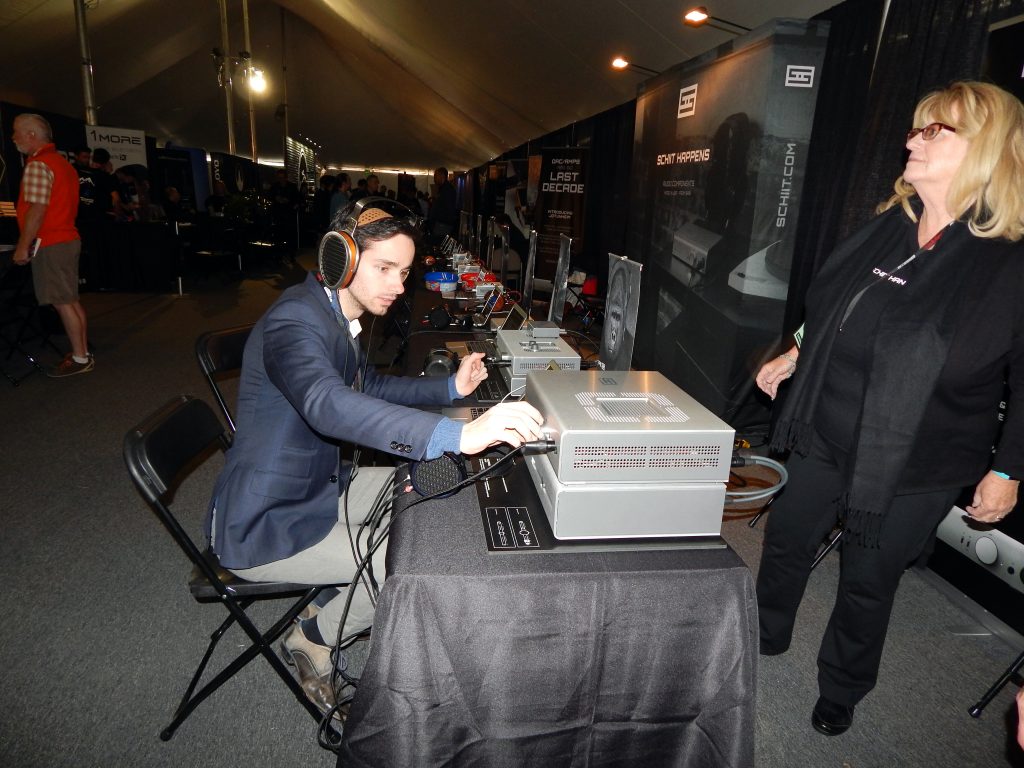 CanJam in the tent
I began my coverage of the show with Sennheiser who were focusing on their new products including the PXC 550 ($399.95) Wireless Headphones with NoiseGardTM Hybrid adaptive noise cancelling, as well as the new HD 5 Series which consists of the HD 599 ($249.95) Open Back Headphone, the HD 579 ($199.95) Open Back Headphone, the HD 569 ($179.95) 23Ω Closed Back Headphone and the HD 559 ($149.95) Open Back Headphone.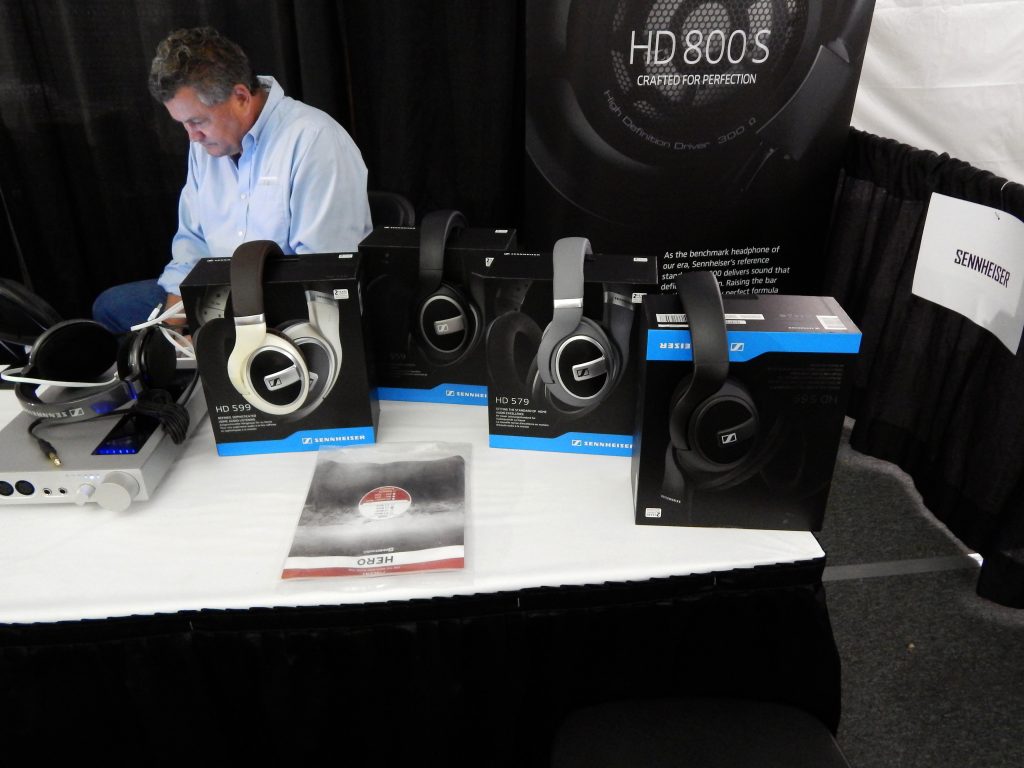 Left to right; Sennheiser HD 599, HD 559, HD 579 and HD569 23Ω Closed Back Headphone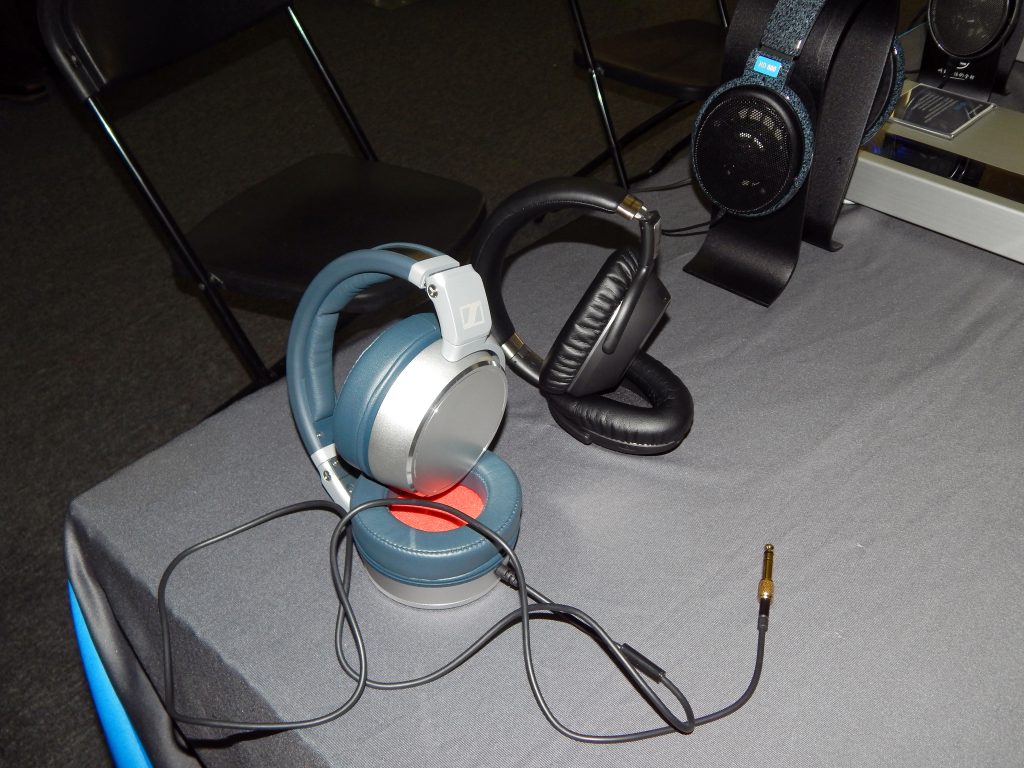 Sennheiser HD 630VB Headphones, PXC 550 Wireless Noise Cancelling Headphones, HD 600 Headphones
Next on my list was AUNE. What first caught my eye was their new X series electronics, starting on top with the X5S 24 bit / DSD Music Player ($249) matched with the X1S 32 bit / 384 kHz – DSD DAC ($249) and powered by the X7S Balanced Class A Headphone Amplifier ($249). The sound through the Sennheiser HD800 Headphones was quite impressive especially given the modest pricing.
Also on display was their flagship S6 32 bit / 384 kHz – DSD USB DAC ($549) and S7 Headphone Amplifier ($549). Filling out the line on the DAP front they had their new M1s ($199) and M2 ($349) 32 bit/DSD Portable Music Players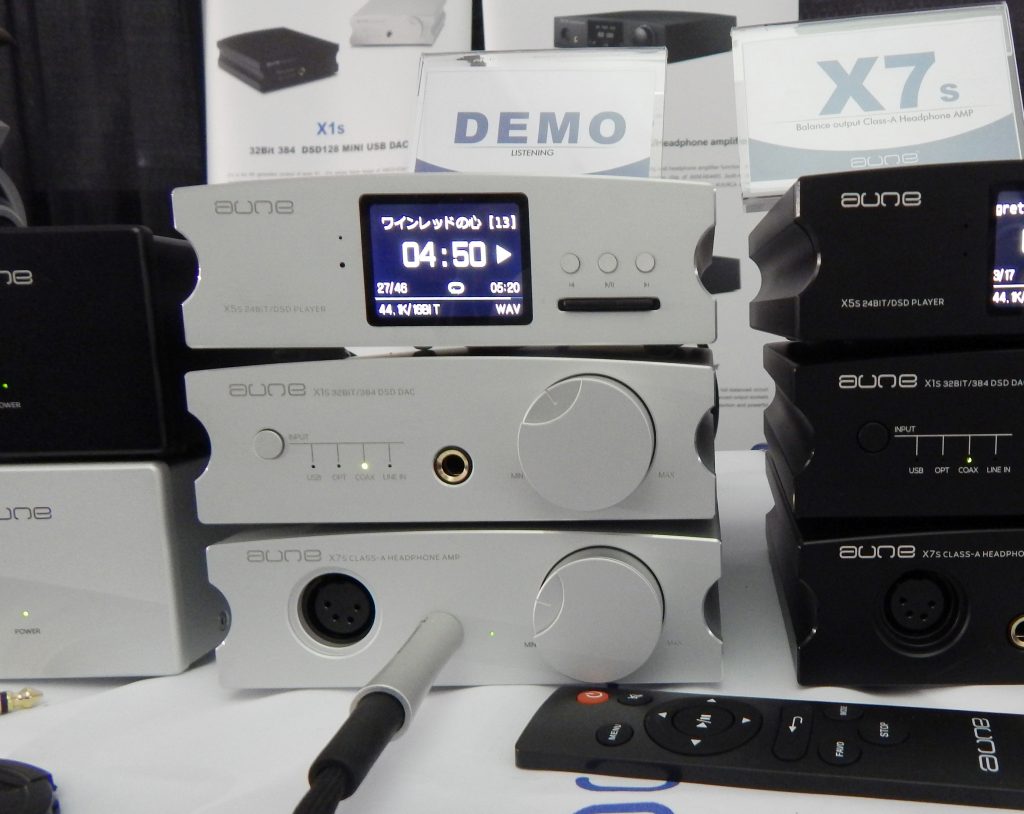 AUNE X5S 24 bit / DSD Music Player, X1S 32 bit / 384 kHz – DSD DAC and X7S Balanced Class A Headphone Amplifier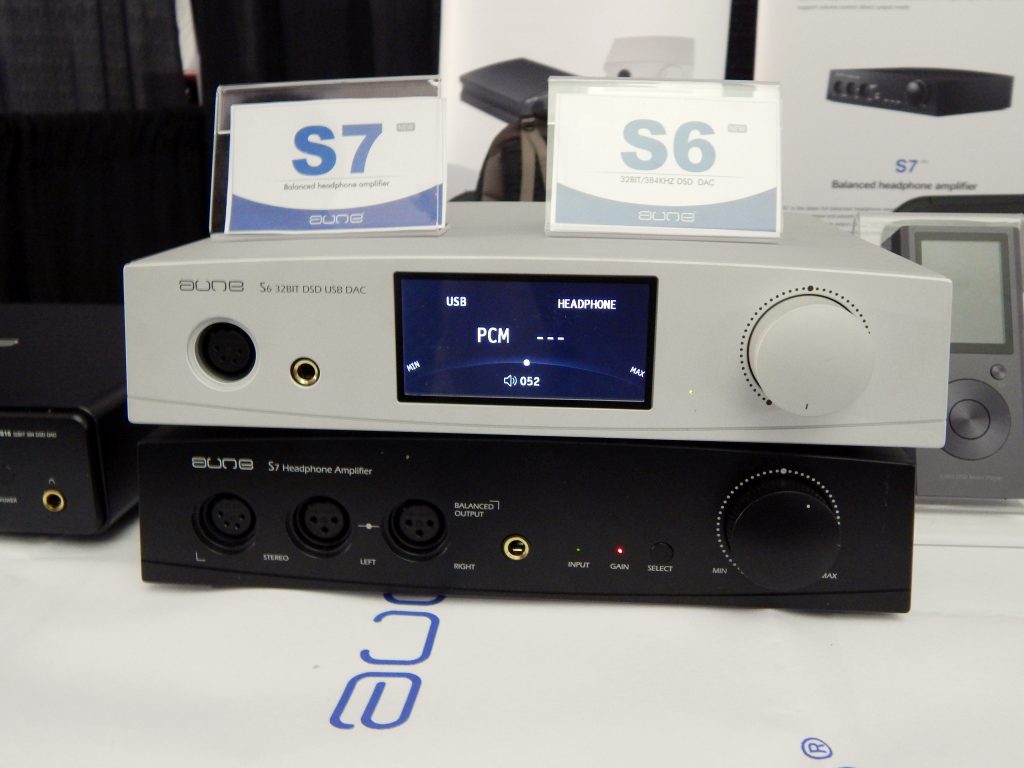 AUNE S6 32 bit / DSD USB DAC and S7 Headphone Amplifier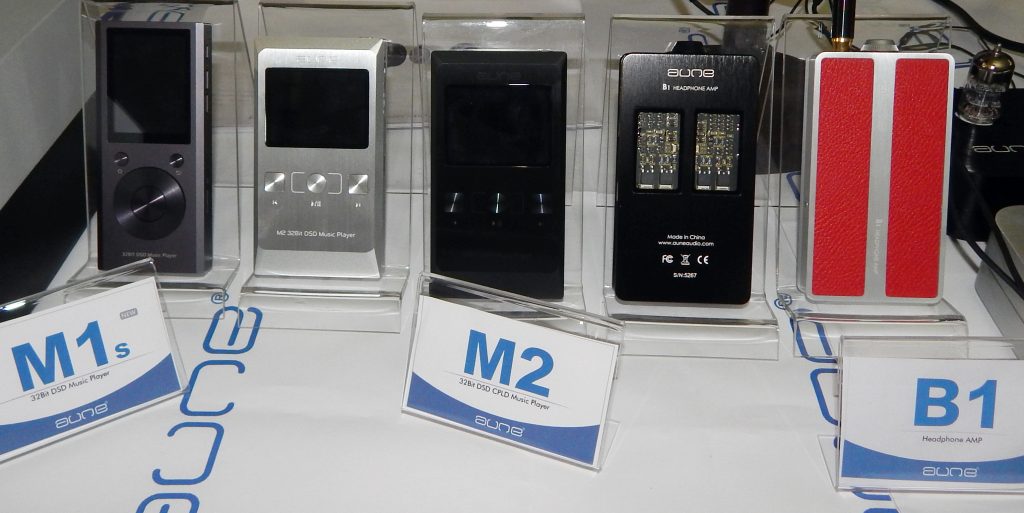 AUNE M1S and M2 32 bit/DSD Portable Music Players and B1 Portable Headphone Amp
Beyerdynamic was heralding their new DT 1990 PRO Open Back Studio Reference Headphones ($599). Handcrafted in Germany they incorporate a 45mm dynamic Tesla neodymium driver and come complete with two pairs of ear pads offering differing sonic characteristics for use in the studio and at home (or on the road) and two pairs of cables (one straight and one coiled).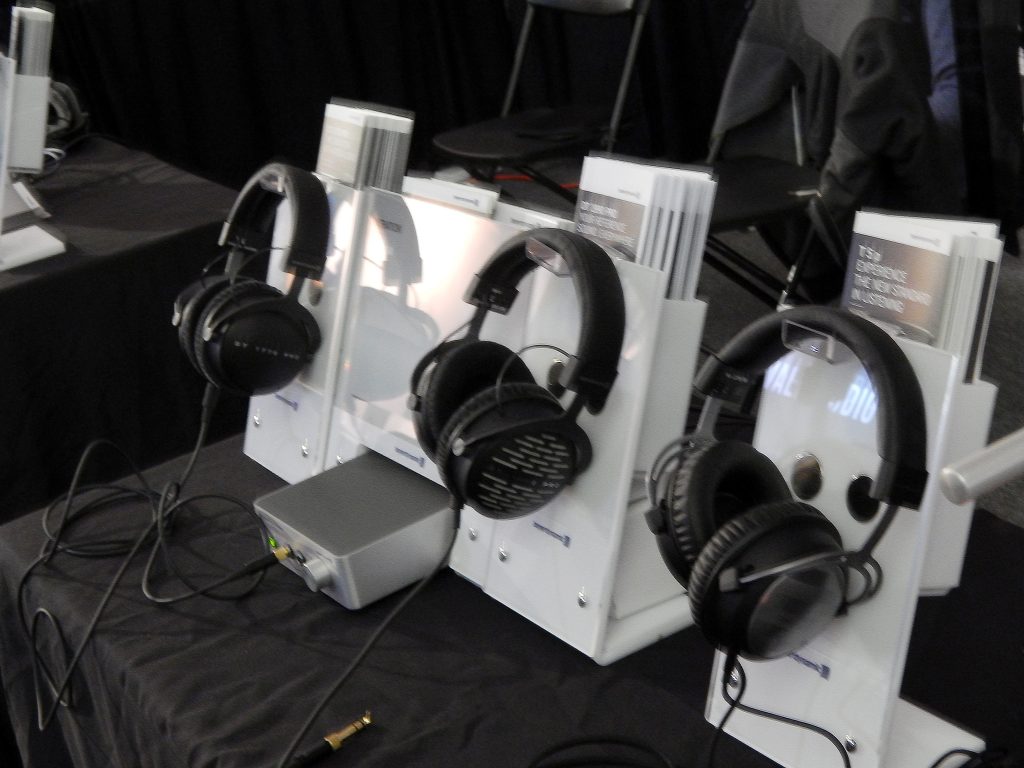 Beyerdynamic DT 1770 PRO Studio Reference Headphones, A20 Headphone Amp, DT 1990 PRO Studio Reference Headphones and T1 Audiophile Tesla HiFi Headphones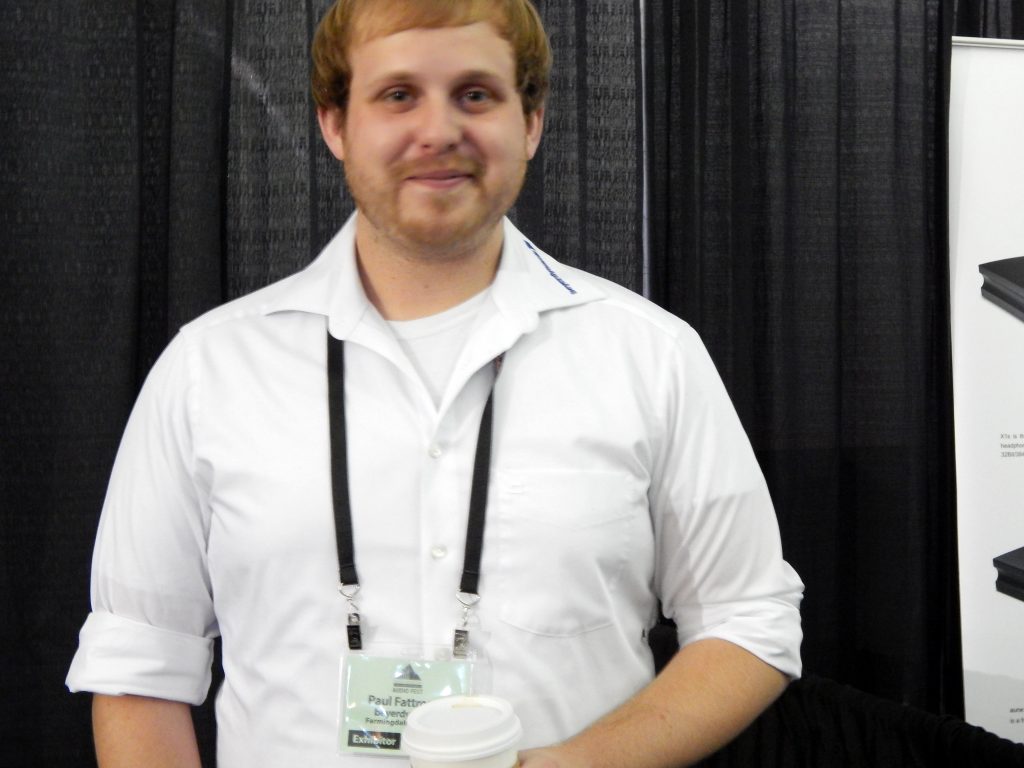 Paul of Beyerdynamic
Koss the inventor of the stereo headphone were introducing their Limited Edition Porta Pro Headphones (TBA) available in Rhythm Beige and Black & Gold finishes. Both products were the result of Koss' Make Your Mark Campaign. Also on display were their Limited Edition Pro 4S in White & Silver (TBA).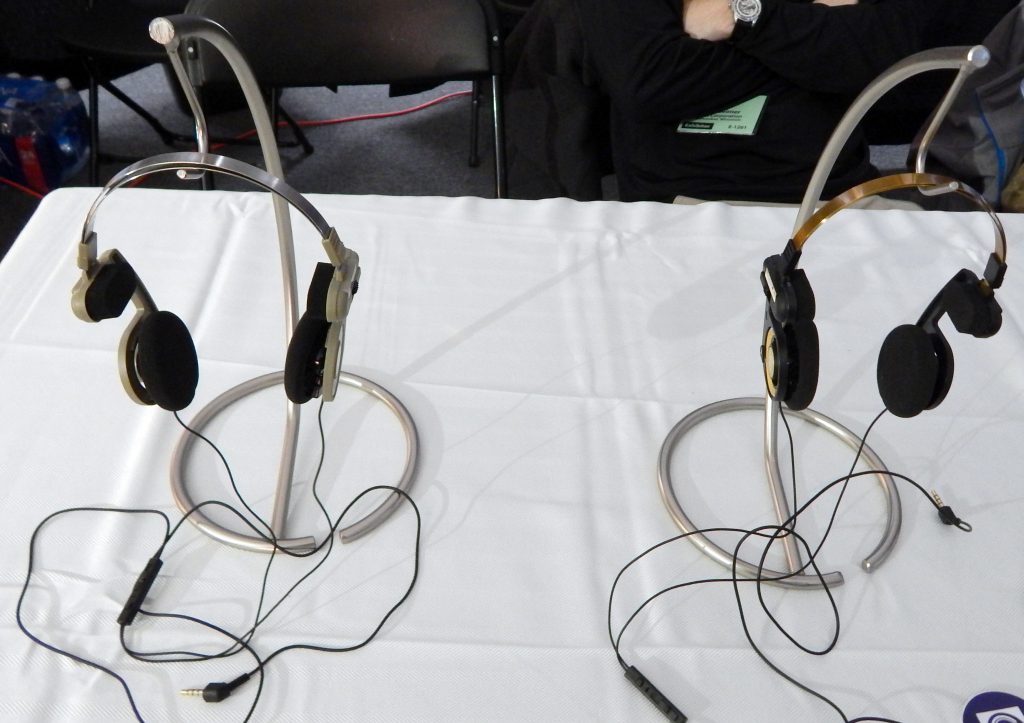 Koss Limited Edition Porta Pro Headphones in Rhythm Beige and Black & Gold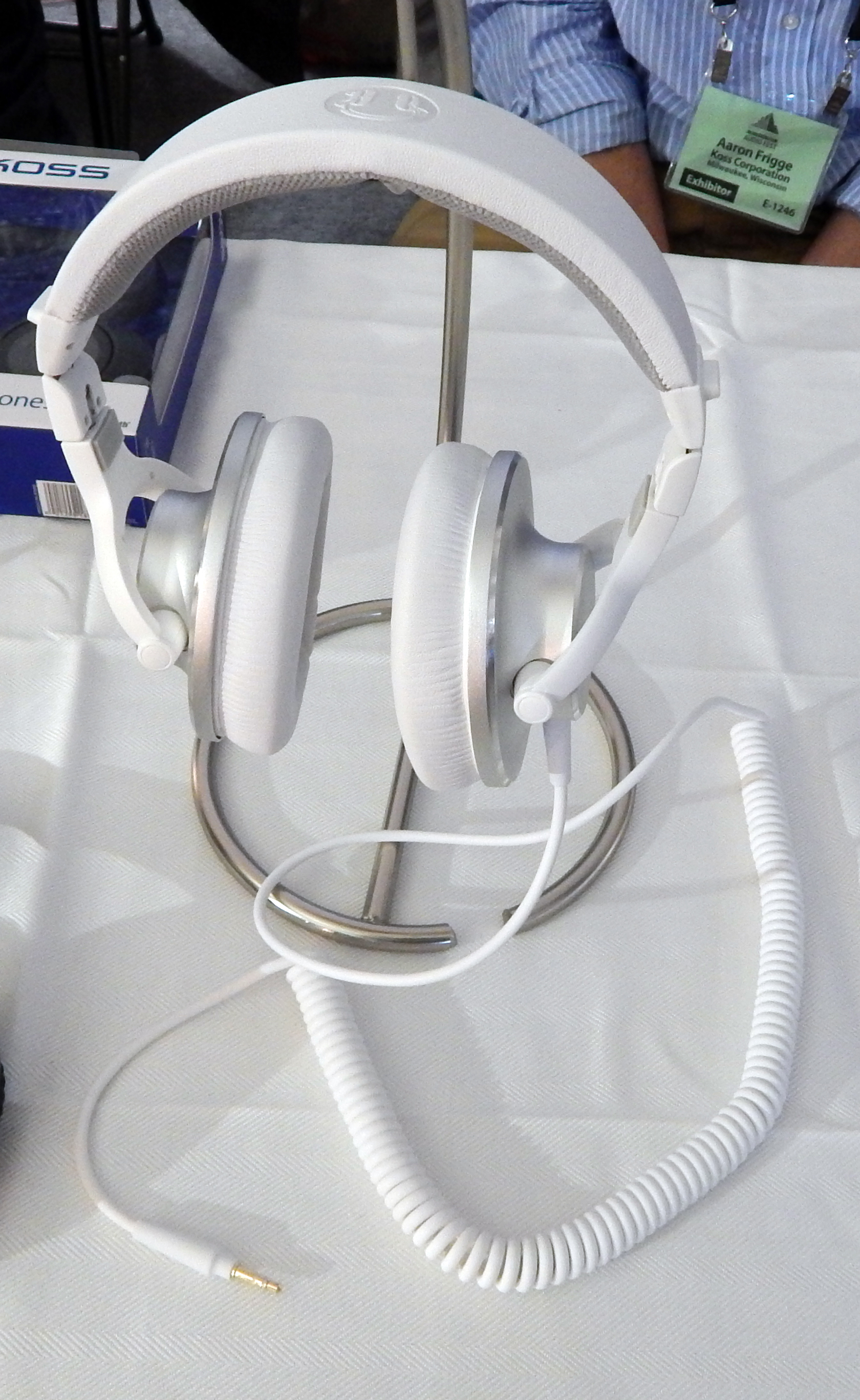 Limited Edition Pro 4S in White & Silver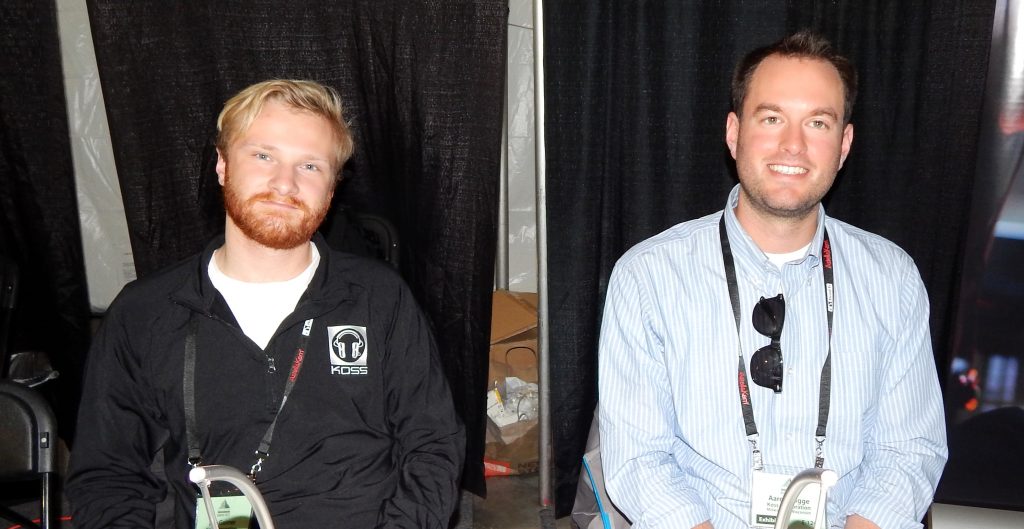 Ben Geimer and Aaron Frigge of Koss
Taking up the most space in the tent, as far as I could tell, was Schiit, commanding three tables and a two channel room in the tower to display their entire personal audio and now two channel home audio line of products. The spot light as it were was on the Yggdrasil ($2299) / Ragnarok ($1699) combo of multi-bit DAC and earth shaking amplifier. Also of note was their recently released Jotunheim ($499 with DAC module).
The big news was the introduction of their new two channel line consisting of the Saga Tube Hybrid Preamp, the Freya Balanced JFET/Tube (switchable) Preamp and the Vidar Power Amplifier which can operate as a stereo amp (100W RMS) when paired with the Saga and as a mono block (400W RMS) when run from the balanced output of the Freya. Both preamps come with remote control and can operate as passive line controllers bypassing the amplifier sections.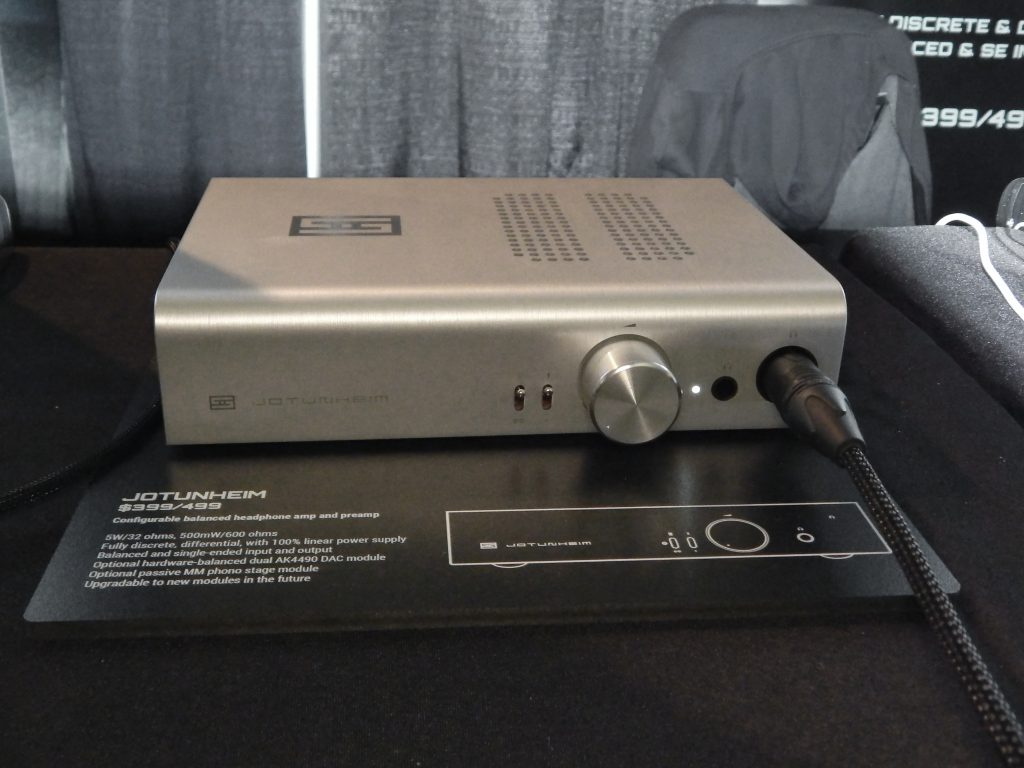 Schiit Jotunheim Configurable Balanced Headphone Amp with DAC Module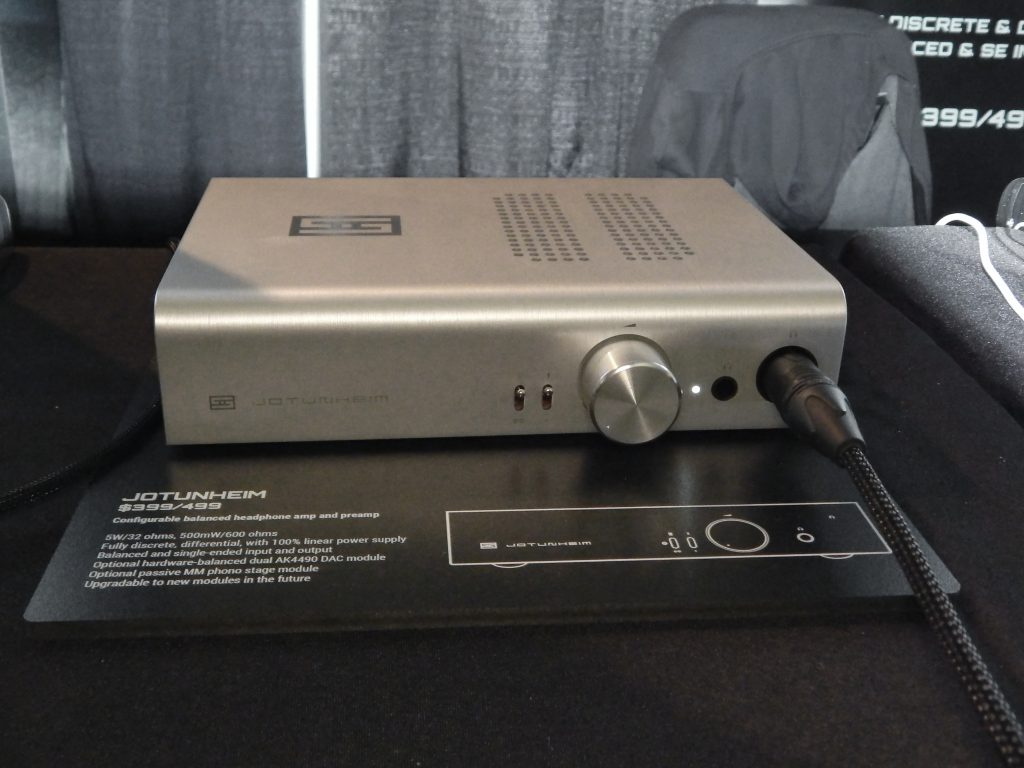 Schiit Ragnarok Integrated Amplifier/Headphone Amplifier and Yggdrasil Multibit USB DAC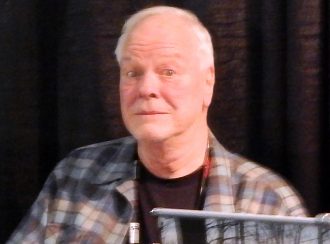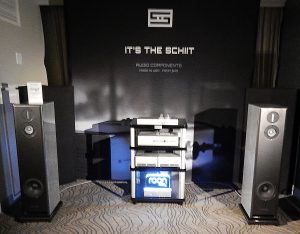 One of the big surprises of the show was Sony. Demonstrating several new high-end products were Ryo Tsuchiya and Naotaka Tsunoda of Sony Japan. First on the docket were the MDR-Z1R Headphones ($2,299.99) with a frequency response up to 120 kHz running through the brand new NW-WM1Z Walkman DAP ($3,199.99) milled from a solid block of Oxygen Free Copper which is then plated in 24 karat gold to protect it from the elements. Two additional copper shields are placed internally creating a complete Faraday cage. The NW-WM1Z also employs a new 4.4mm balanced connector which is much more robust and has larger contact surfaces than the conventional 2.5mm. To round out the presentation there was on top of all that, the TA-ZH1ES ($2,199.99) Headphone Amplifier/DAC using a FPGA processor to decode 32 bit / 768 kHz PCM and DSD 22.4 MHz, giving Sony a solid contender in the desktop arena.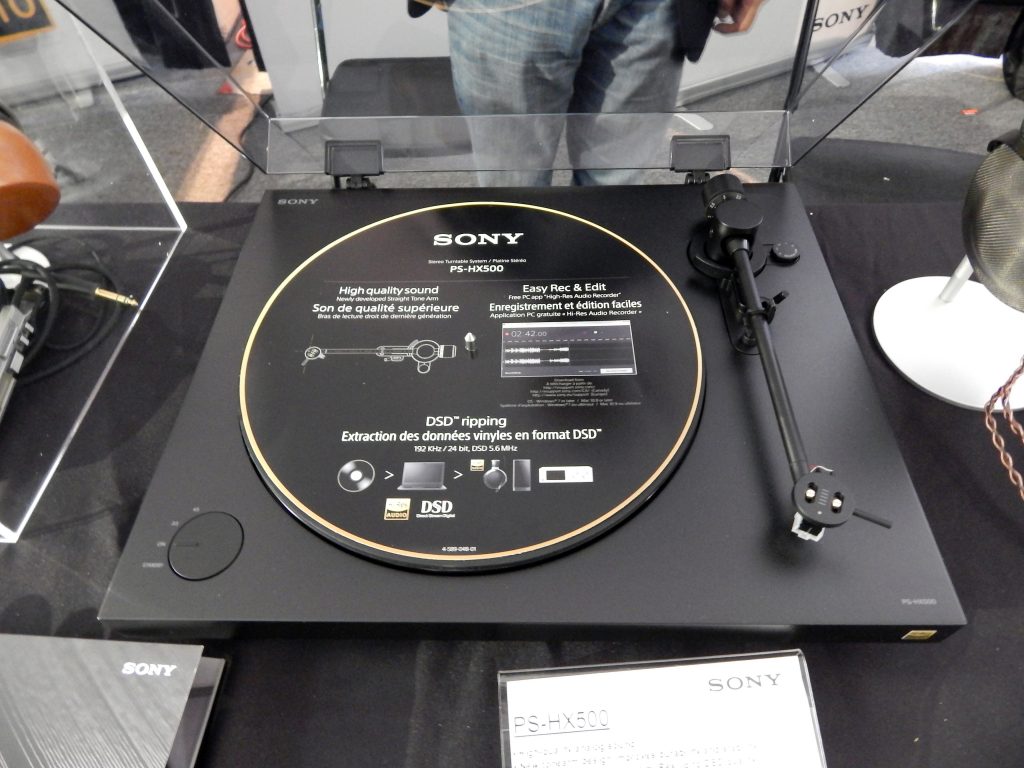 Sony PS-HX500 DSD Ripping Turntable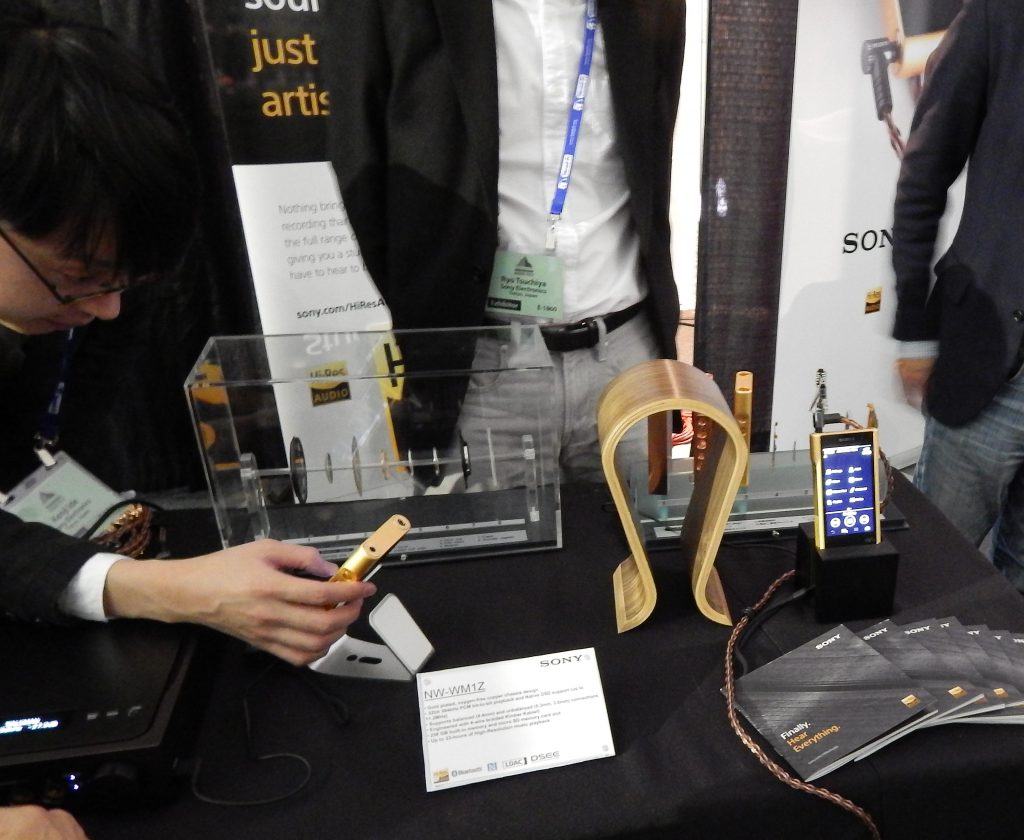 Sony NW-WM1Z Walkman DAP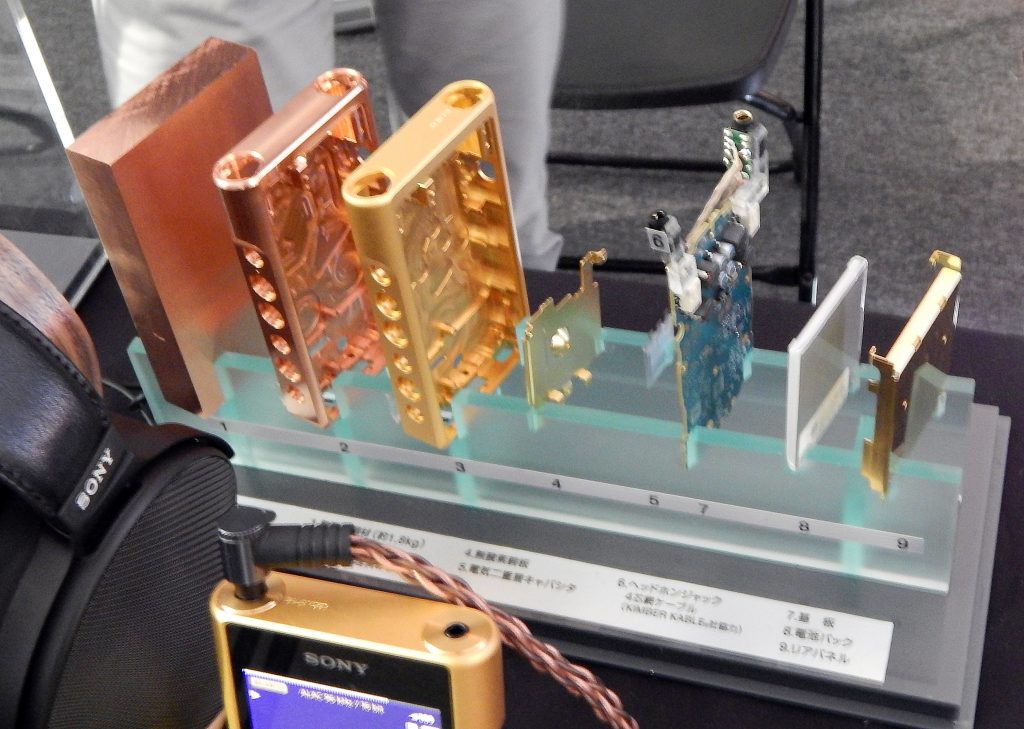 Manufacturing breakdown of the Sony NW-WM1Z Walkman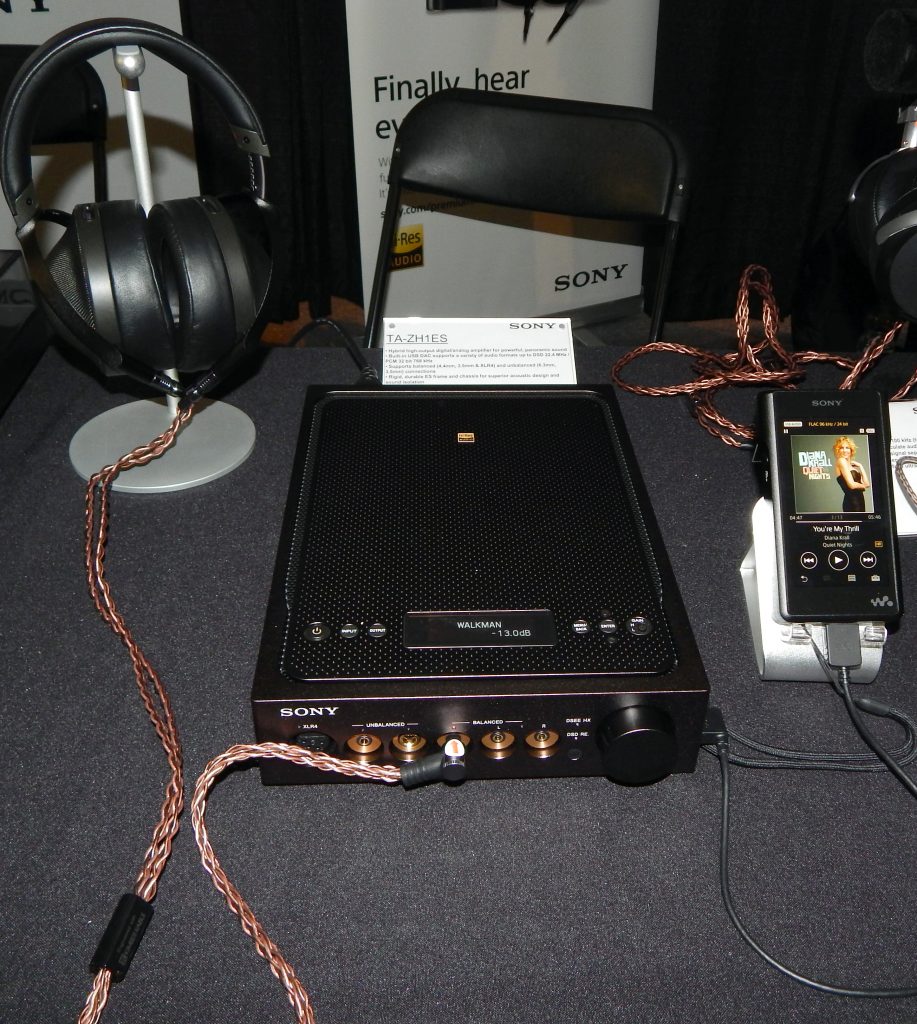 Sony TA-ZH1ES Heaphone Amplifier/FPGA DAC driving SonyMDR-Z1R Headphones with a NW-WM1A DAP as digital source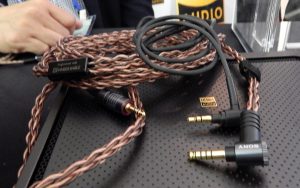 Custom Kimber Kable headphone cable with 4.4mm balanced connector compared to 3.5 single ended connector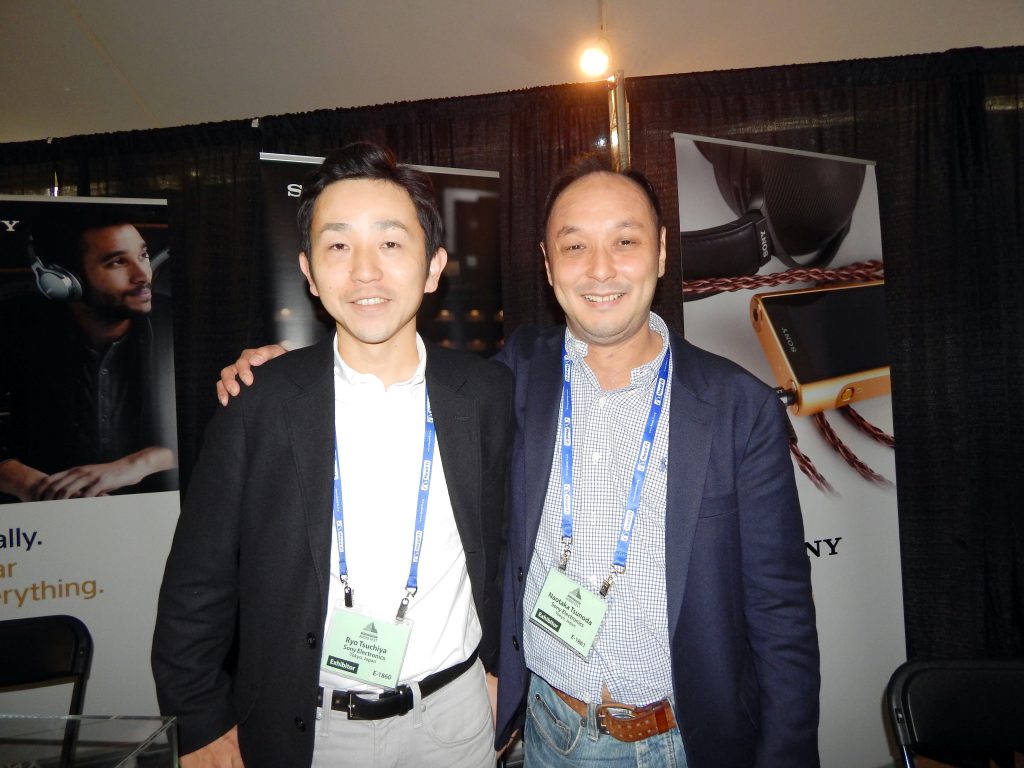 Ryo Tsuchiya and Naotaka Tsunoda of Sony Japan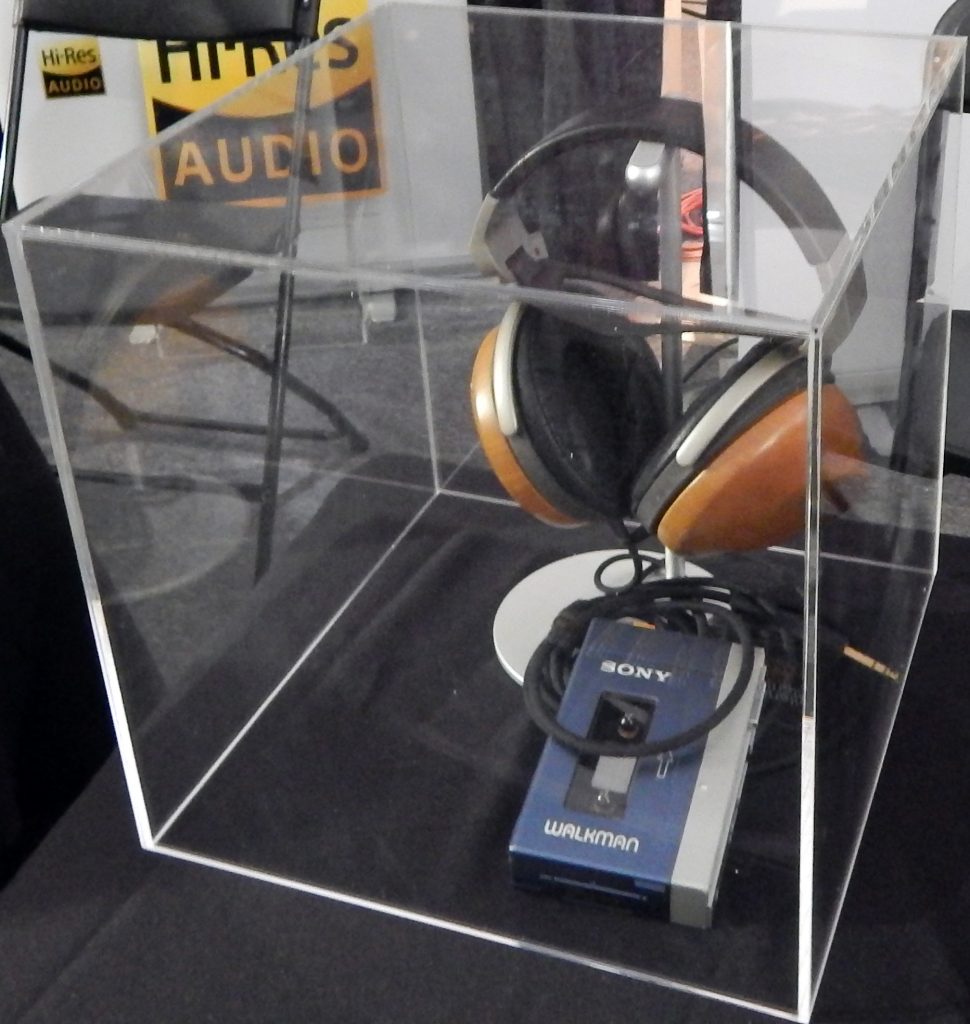 The original Sony Walkman and MDR-R10 Headphones
My next stop was Empire Ears who has teamed up with Stephen Ambrose to incorporated ADEL Technology into their premier Zeus-XR IEMs ($2399). Boasting 14 balanced armature drivers and an 8 way crossover the driver configuration can be changed via a small switch for basic sonic profile, then the sound can be further tailored by selecting the appropriate ADEL filter module, which can be fine tuned by adjusting a small thumbscrew on the ADEL module itself. The ADEL module works by employing a small diaphragm that expands to relieve air pressure (thus protecting your ears) without releasing the sound wave, preserving low frequency response.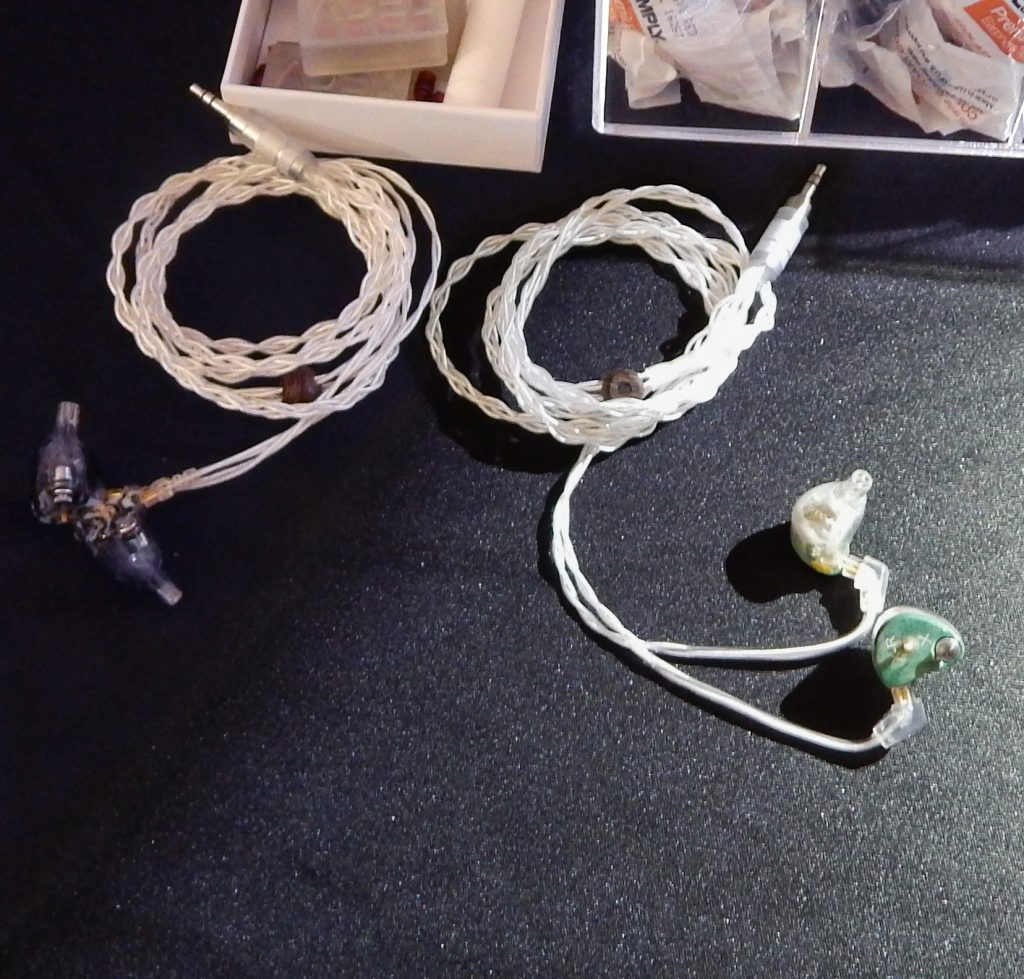 Empire Ears Zeus-XR IEMs with ADEL Technology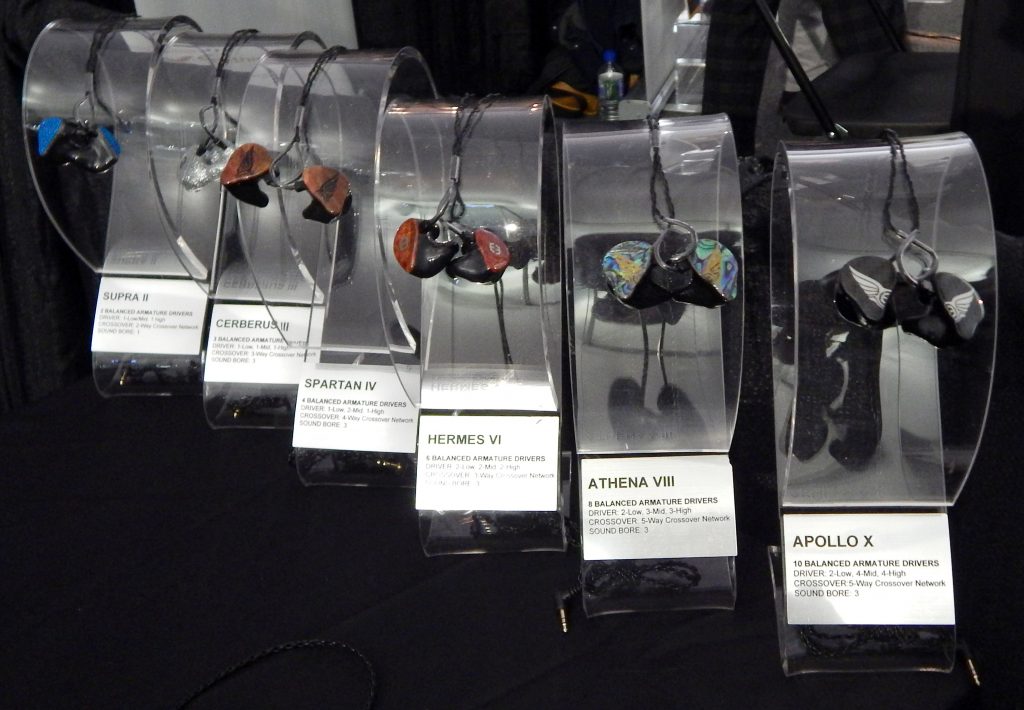 The Empire Ears Custom IEM line (sans the Zeus)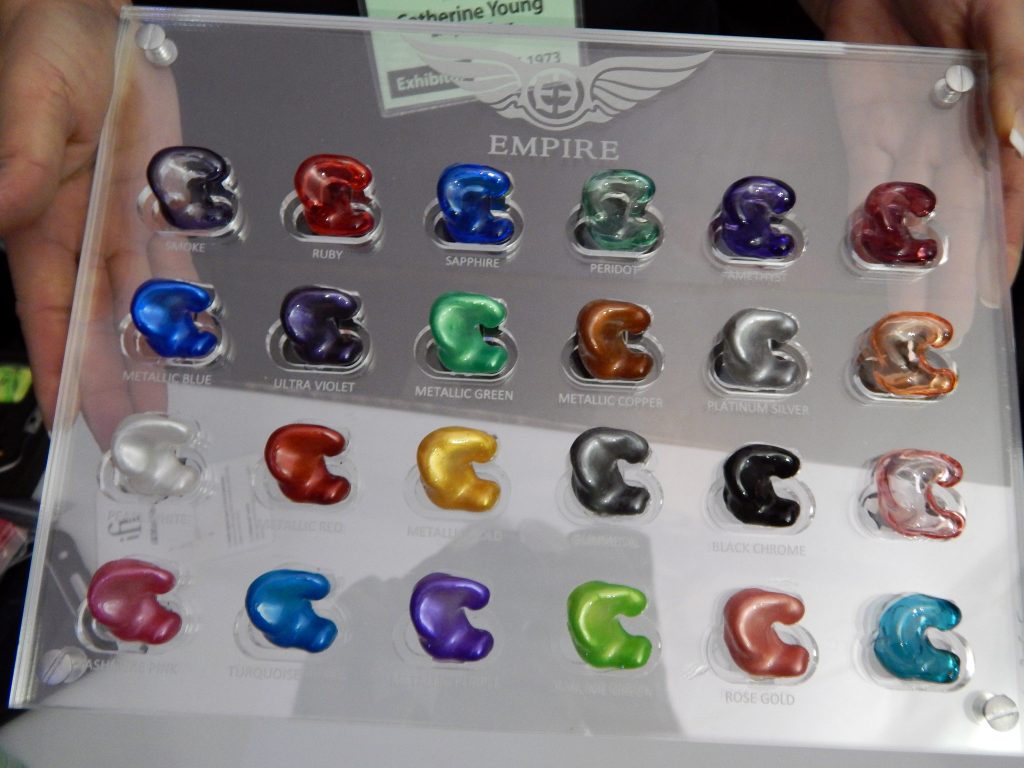 The Empire Ears Custom IEM color palate (inner)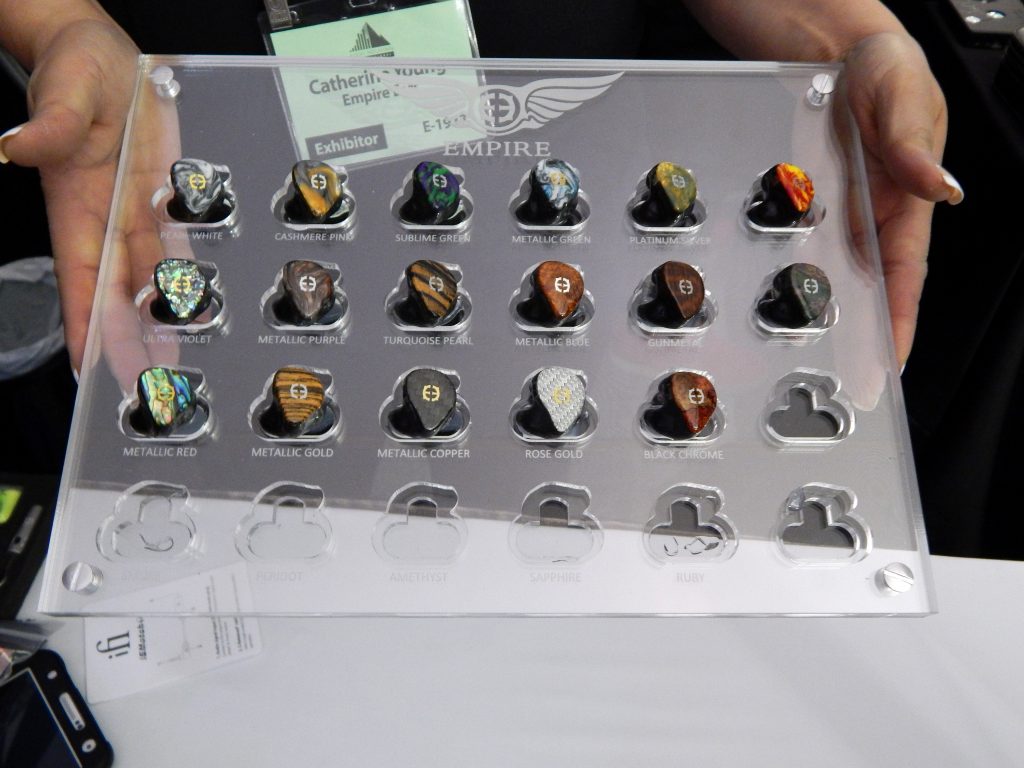 The Empire Ears Custom IEM color palate (outer)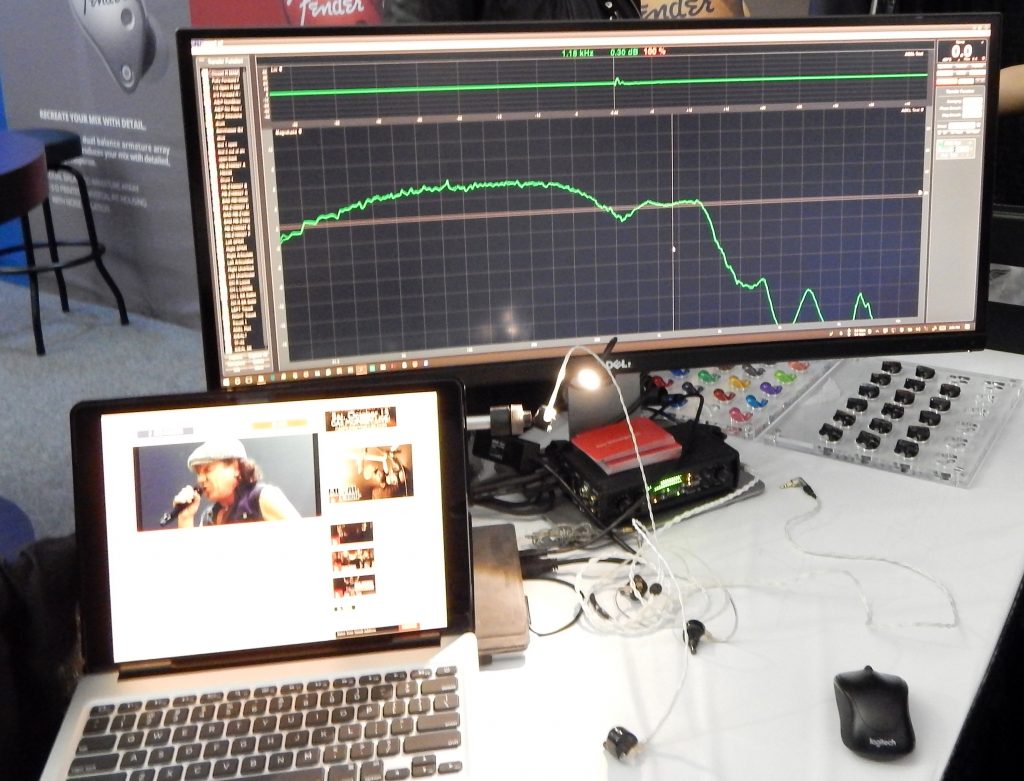 Plotting the ADEL difference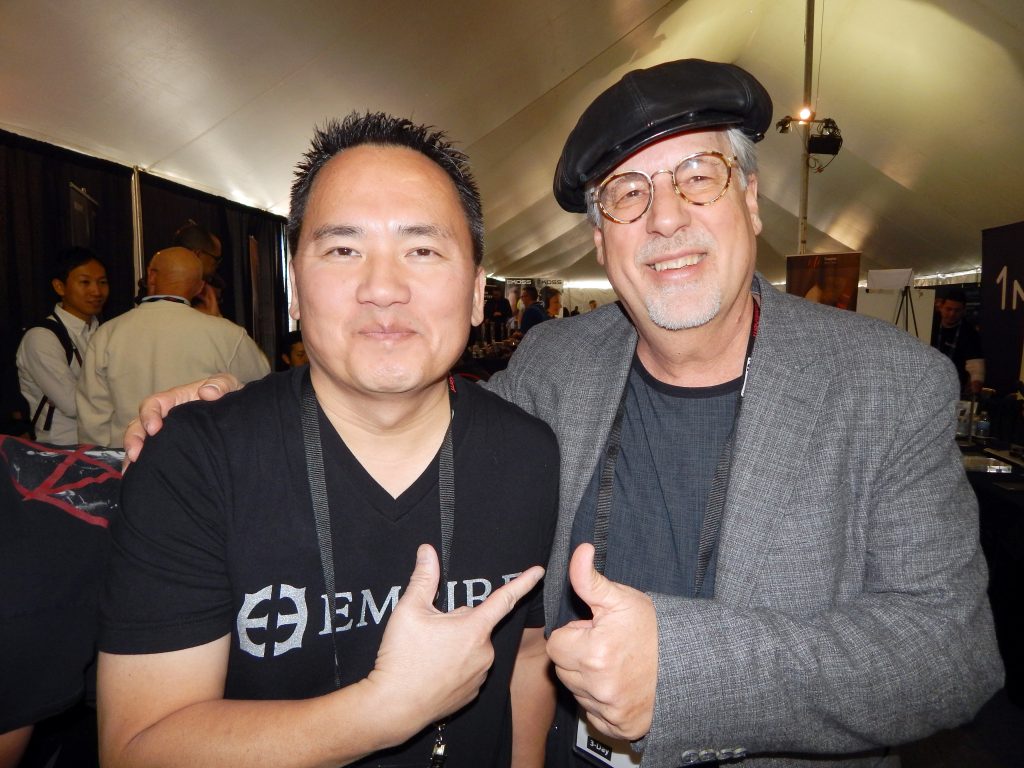 Jack Vang of Empire Ears and Stephen Ambrose of ADEL
Few music lovers and fewer musicians are unaware of Fender Guitars one of the cornerstones of Rock and Roll and Country Music. They are now offering a line of Universal IEMs. Based in Nashville, the IEM division of Fender produces five models aimed at musicians and audiophiles beginning with the DXA1 PRO IEM ($99.99) and ending with FXA7 PRO IEM ($499.99), with the FXA2 PRO IEM ($199.99), the FXA5 PRO IEM ($299.99) and the FXA6 PRO IEM ($399.99) filling out the line.
Fender DXA1 PRO IEM, FXA2 PRO IEM, FXA5 PRO IEM, FXA6 PRO IEM and FXA7 PRO IEM
Out of Germany comes an unusual headphone line called Ultrasone. Professing to be all handmade they utilize what they call S-Logic to create a more three dimensional sonic image using decentralized driver placement. Listening to several different models I heard a definite difference in presentation afforded by each unit. The Edition 5 Unlimited Headphones ($3,499.99) gave a very large sound stage reminiscent of the Sennheiser HD800s, but with slightly colored tonal qualities, The Tribute 7 Headphones ($3,499.99) were similar sonically but with a totally different sound field. The Signature PRO Headphones ($1,699.99) had the most neutral tonal balance, but they also projected a much smaller image.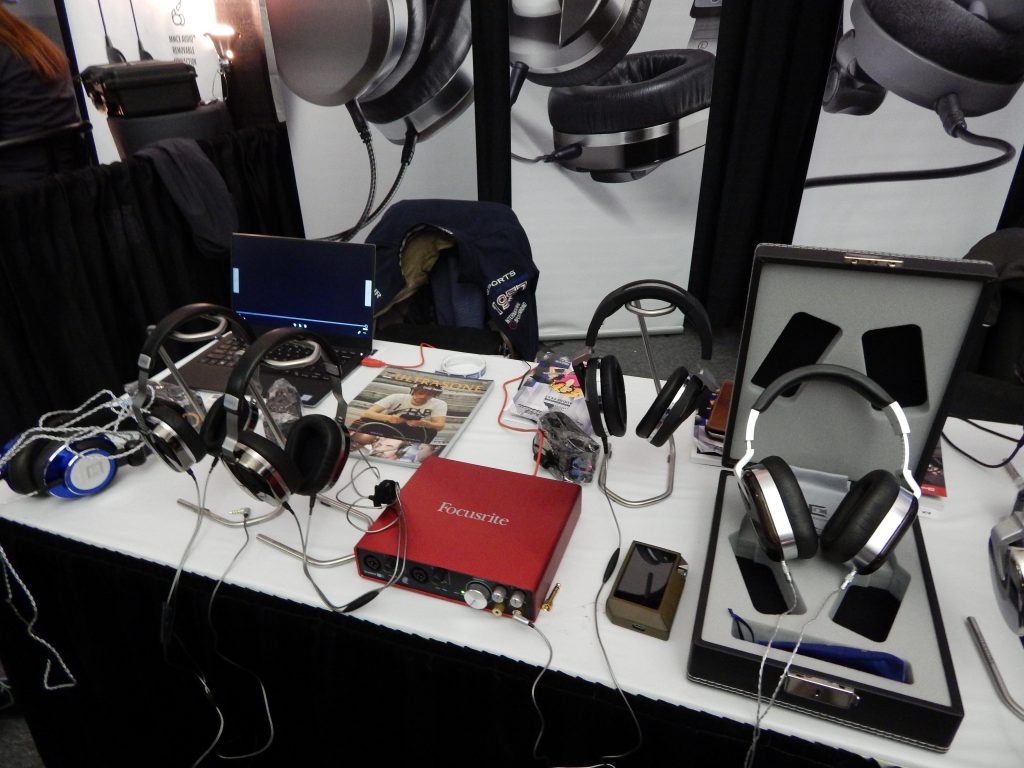 Ultrasone Tribute 7 Headphones, Edition 5 Unlimited Headphones (2 pair different finishes), Focusrite Scarlett 616 USB Audio Interface, Performance 880 Headphones, Astell & Kern AK240 DAP, Edition 5 Unlimited Headphones (yet another finish)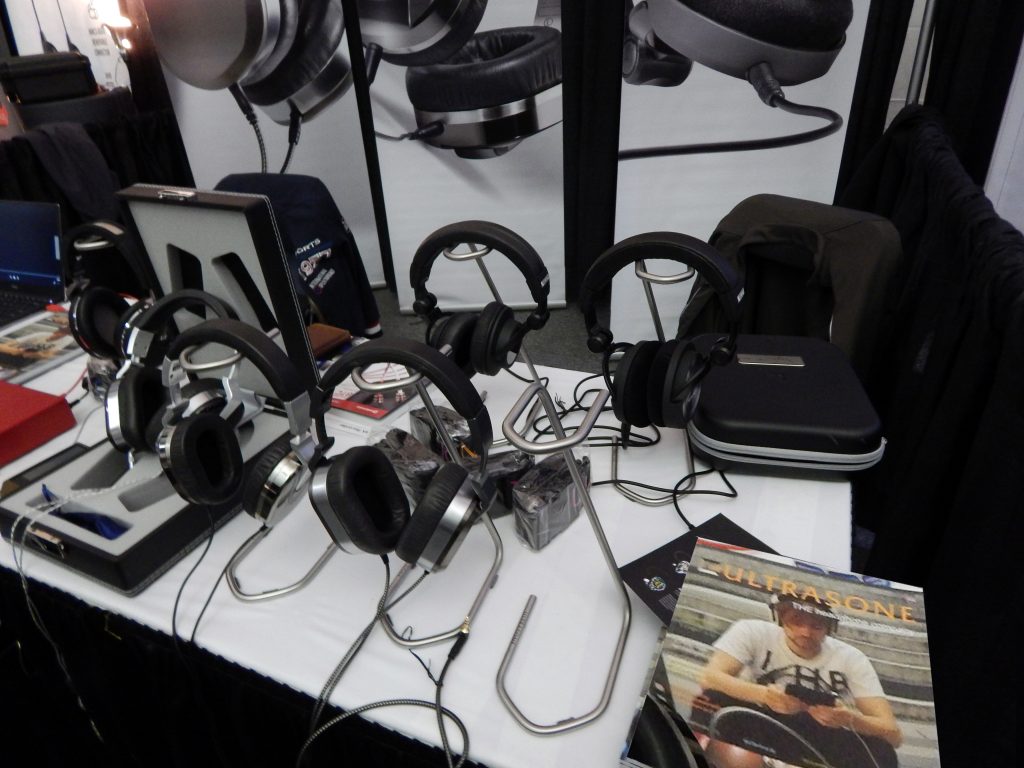 Ultrasone Edition 8 Unlimited Headphones (two pair front), Signature Pro Headphones (behind) and PRO 900i Headphones
To be continued in Part 2