CanJam SoCal 2016 brought together nearly one thousand headphone enthusiasts from around the world. Over seventy vendors also made the trek to the Westin South Coast in Costa Mesa to show off a wide variety of cutting edge personal audio devices. Congratulations to Jude, Ethan, Joe, Stephanie and the rest of the dedicated Head-Fi crew for another well run show! As usual the enthusiastic crowd was in for a treat as the variety of new and incredible devices did not fail to impress. Headphone.guru brought the team with four writers on hand to cover all the action. We were pleased to welcome Noble Audio as a sponsor to our show coverage. A big Thank You to Brannan and Dr. John for their support!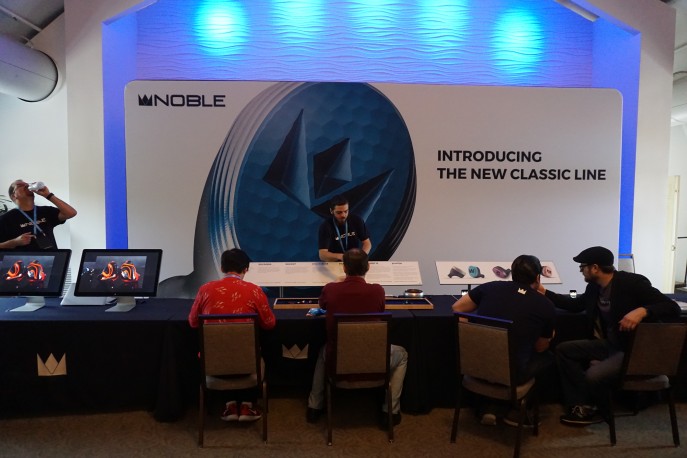 Speaking of Noble Audio, they were located at end of the convention hall. Walking in the main door you could see the Noble Audio logo from across the room. Noble was launching their new Classic line of Universal In-Ear Monitors (UIEM's). Coming in along side their highly regarded K10U ($1650) launched last year the line now includes the Django ($999) Dulce Bass ($699) Savant ($599) Savanna ($499) and Trident ($399).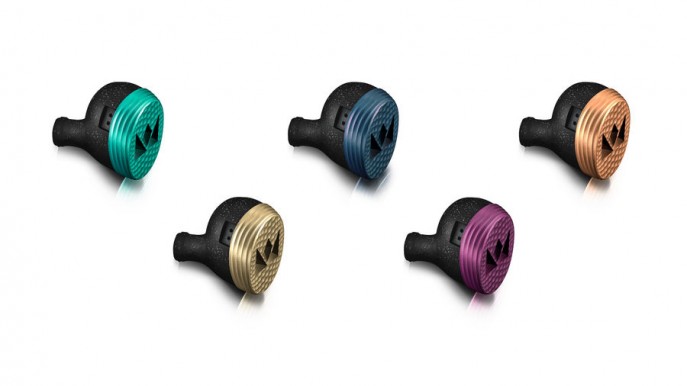 Each can be had in Custom form for an upcharge. More details can be found here: (http://nobleaudio.com/en/shop/universal) The new models will available in the next couple of months. Collectively they offer a wide range of listening preferences and driver configurations as well as exquisite colors and build quality along the lines of the original K10U's machined aluminum shells. Also being shown were a selection of their Wizard and Prestige custom IEM's including the K10 and Savant's in a variety of knockout shell design's. Noble's creative spirit never slows down and this showing was another show stopping presentation!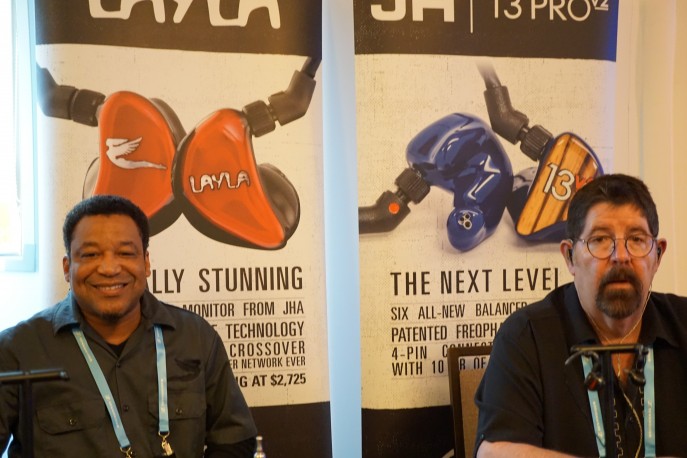 Another leader in CIEM's is Jerry Harvey Audio. The JH booth was manned by Thomas Reid from their LA office and President Andy Regan who flew in from Orlando. They were excited to show off the newly redesigned model 13V2 ($1,175) featuring six drivers per side controlled by a 4th order crossover and 15dB adjustable bass similar to their flagship Siren line. The 13V2's retains the previous versions incredible detail with the improved high end of the flagship Layla's. They were also showing the Layla, Roxanne and Angie universal models from their top end Siren line. The Layla was our Product of the Year for 2015 and continues to be one of my personal top reference CIEM's.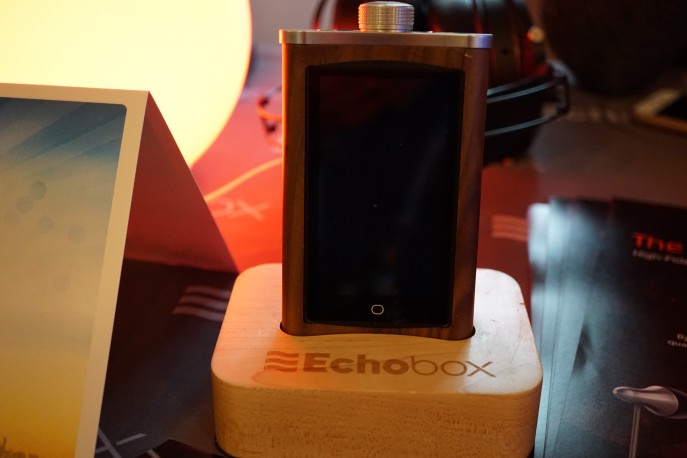 Sam and George from Echobox continue to impress with their $199 Finder Titanium earphone featuring a 9.2mm driver utilizing their unique PEEK (PolyEther Ether Ketone) driver material capable of delivering to 35kHz. Its titanium shell is partnered with Comply T400 snugs for a comfortable fit. The Explorer X1 DAP ($449 until June $499 after release) was there in model form. When available it will be housed in a striking CNC'd all wood body shaped like a flask for solid handling. The android OS will allow for downloadable upgrades, Wi-Fi, DLNA and streaming with 64gb of internal memory and a micro SD slot to add more as needed. The unit features the TI Burr-Brown PCM 1792 DAC. I have been watching the progress of the explorer and it is going to be a great unit when released. Current expected release date is in June.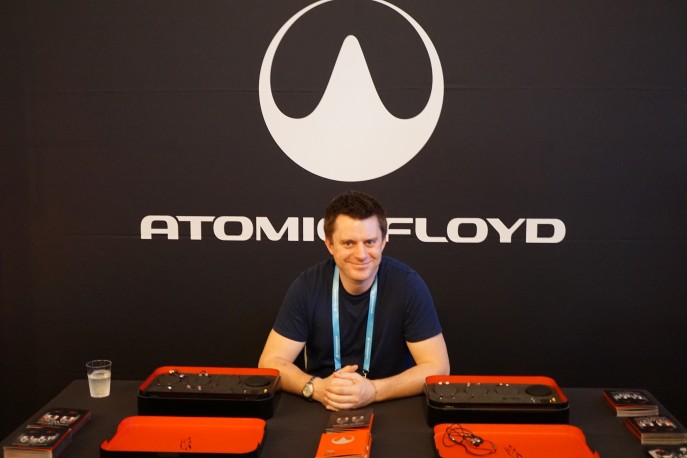 James Strong from Atomic Floyd made the long trip from England to show off his fantastic line of IEM's. The line ranges from the PowerJax at $149 to the Super Darts Titanium at $399. They all offer stable tuning for use with multiple sources. The Atomic Floyd line of in ears are a favorite for grab and go quality. The Teflon coated cables have no microphonics and are hard to tangle. The remote for phone and tune management is simple and works flawlessly. Last but not least is the choice of included ear tips from comply and/or SoftSeal depending on model. They will fit properly for almost any user. Oh, did I mention they all sound wonderful! The Titanium Super Darts are my favorite but they all bring the sonics!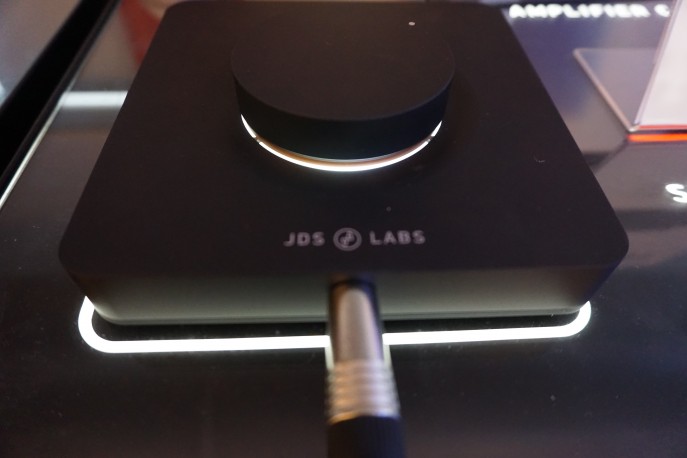 The JDS Labs guys are always fun and always bring a booth full of portable goodness. This time they were highlighting their Element transportable headphone amp/DAC ($349). The Element is an elegant machined aluminum desktop device that can deliver a full 1.1 watt of power into 32Ohms. It will drive most any headphone you could use with it. It also has Pre-Outs for powered speakers at your desktop. The DAC supports PCM resolutions to 24/96 with USB connectivity. The Element is about the size of a Mac Mini and will fit easily on any desk. Also on display was the popular Objective2 portable amp ($129) and O2+ODAC revB ($279) as well as the C5 amp ($189) and C5Damp/DAC ($249). Quality sound without breaking the bank has made JDS Labs product line very popular in the headphone community.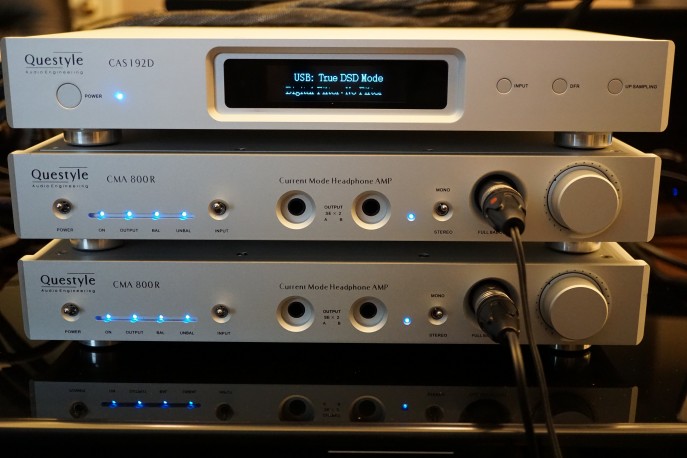 The third floor of the Westin featured several high end rooms. The Executive Boardroom was occupied by Questyle, Enigmacoustics and Westone. Bruce Ball from Questyle brought the farm as the big boardroom table was filled end to end with gear, cables and accessories. Among the multiple listening stations were Questyle's newest TOTL Gold stack featuring Rogers ceramic circuit boards and premium parts ($12.5k for the stack) and their off the charts value CMA600i Headphone Amp/DAC utilizing the AKM 4490 chip. The unit also sports an independent Pre-amp out section for driving powered speakers. At $1299 this is a stone cold bargain. Also on display was the QP1r DAP ($899) in both Gold and Silver with the new optional leather cases. The QP1r was my portable audio Product of the Year for Headphone.Guru in 2015 and is still my primary portable player. In the Crystal Cove room Jason Lord's, The Source AV, had the newest version of Questyle's incredible 5gHz wireless amplifier system. At 200 watts per channel and able to drive 8 separate channels with cool and noise free class D amplification these new amps had no trouble bringing the power to the incredible Enigmacoustics M1 Mythology speakers.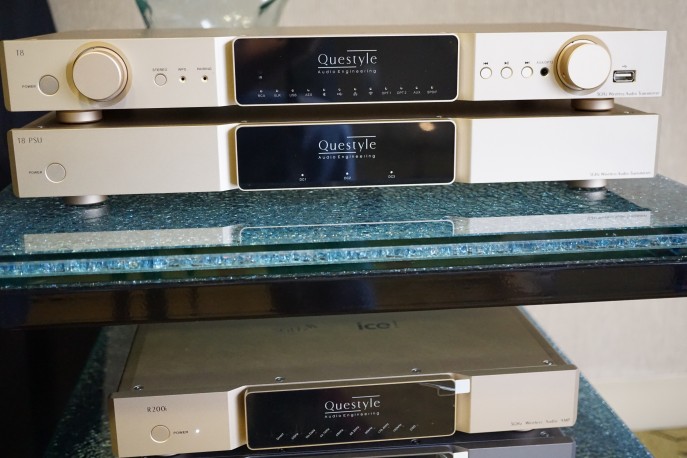 Speaking of Enigmacoustics, Wei Chang had several pair of the cutting edge Dharma D1000 ($1190) which pairs Dynamic and Electrostatic drivers into a TOTL headphone design. They were available at each listening station for a mountaintop headphone experience.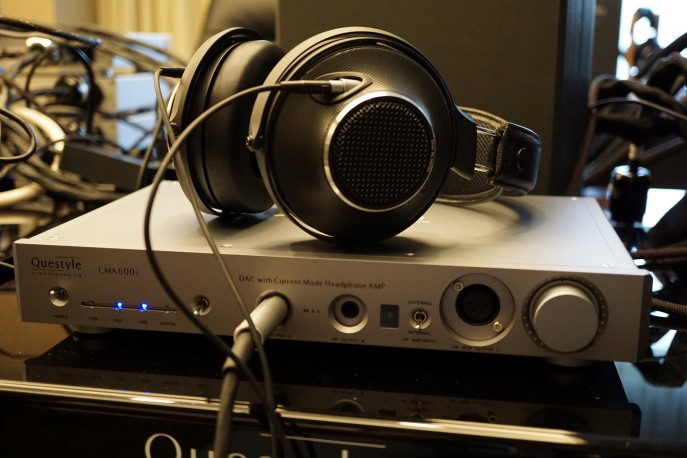 The third company in the Boardroom was Westone, a firm that has been producing in ear products for over fifty years. Westone is one of the originators of in ear monitors and Adrienne, their marketing manager, was showing their W Series. The W series features balanced armature drivers, replaceable cables and the 3 button MFi + Mic system. Ranging from the W10 single driver at $199 to their flagship W60 with six drivers at $999, the Westone sound is full and clear. You can also order them in custom IEM form for an upcharge and after sending in impressions from your audiologist.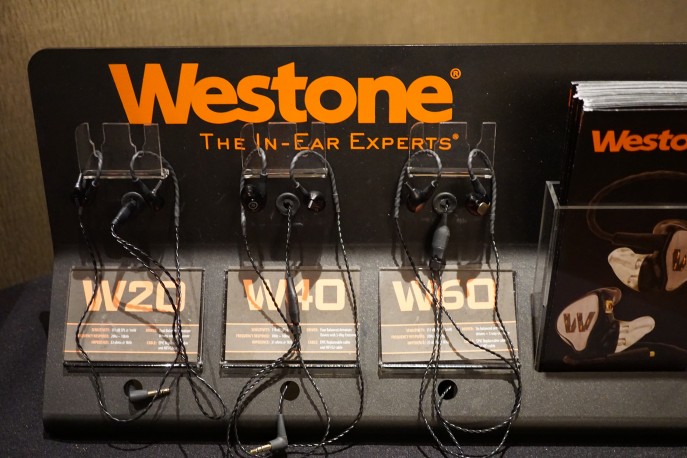 Justin Weber from Amps and Sound brought out several of his Single ended amplifiers including his terrific Kenzie tube amp ($1500 with NOS tubes) A long listen to his beautifully hand made, wood encased and affordably priced line with several headphones made for a great experience. Justin is a passionate and knowledgeable engineer and it comes through in the sonic excellence of his amplifiers.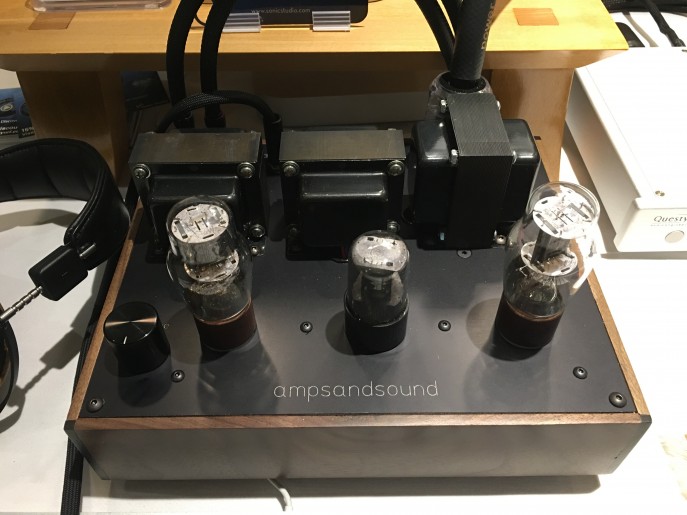 Keep an eye out for the rest of our show coverage. As always CanJam exceeded expectations and went by way too fast! I cannot wait for CanJam at RMAF this October at the Marriott Denver Tech Center.