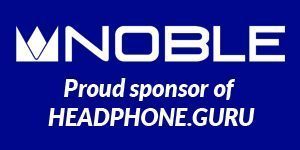 The CanJam Team hit the big time in 2017 with their first New York show in February and now moving the SoCal show from Costa Mesa to the JW Marriott at LA Live in the heart of Downtown Los Angeles. The show occupied the entire Gold Ballrooms 17,000 square feet of exhibit space as well as several private listening rooms from some of the premier exhibitors such as Woo Audio, Sennheiser, Stax and MrSpeakers.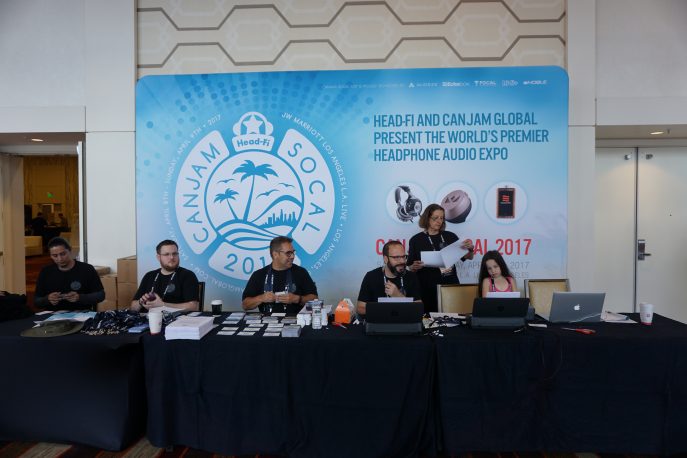 As usual 10:00 Am Saturday saw the registration desk ready to go and a long line of personal audio fans waiting to sample the wares of over 100 exhibitors from the US, Asia and Europe.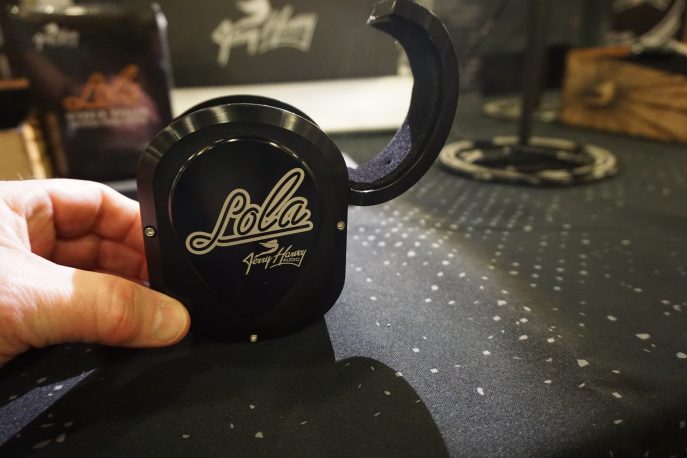 JH Audio premiered their newest IEM, Lola. It is a first for JH Audio as the mid range is a pair of opposing dynamic drivers joining the Low and High BA's.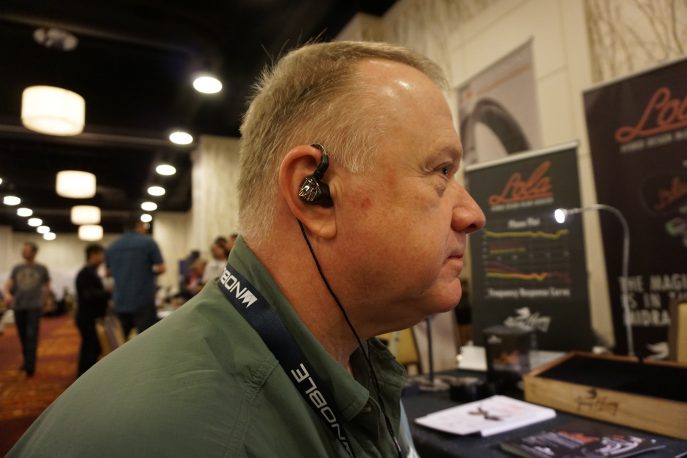 Lola can be pre-ordered now in Universal and Custom styles with an expected shipping at the end of May 2017. The sound was fantastic and gives the flagship Layla's a run for their money for almost $1000 less. Lola's start at $1745 USD.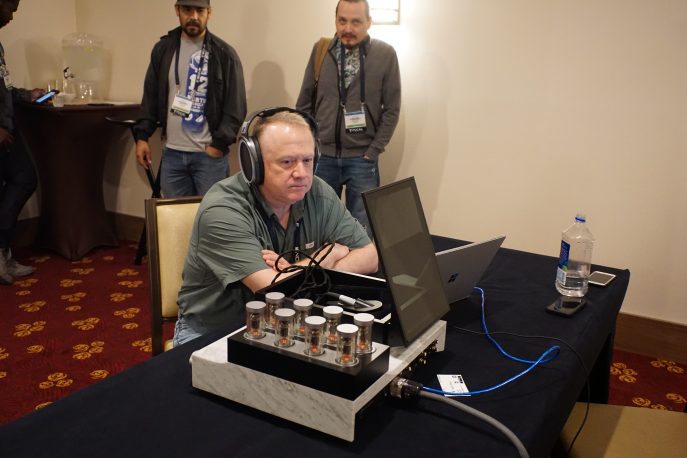 Coming in at a robust $54,700.00 USD or €50,000 the HE-1 is sennheiser latest assault on Headphone state of the art. This complete system incorporates the DAC and Amp encased in Marble and the case for the headphones imbedded on the left side. The DAC uses the ESS Labs 9018. The tubes start out inside the marble base and rise in a stately manner when the unit it turned on. A specially selected list of hi res songs were available and the sound was incredibly life like and dimensional.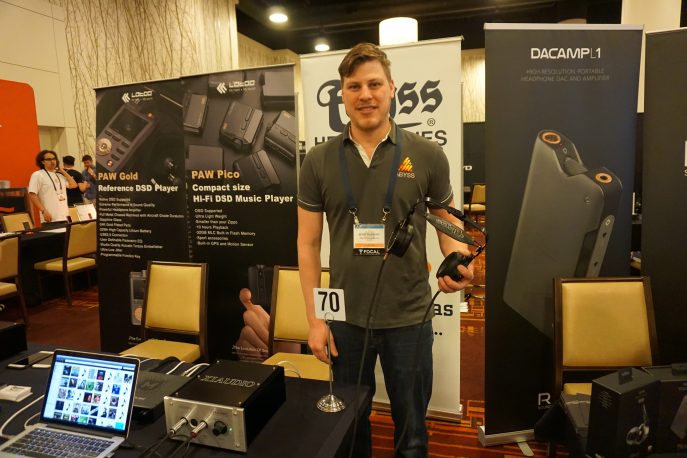 Abyss has a major upgrade their model 1266 headphones the new 1266 Phi model replaces the original and retains the $4500 USD price tag. They shaved 50g off the weight and upgraded virtually everything on the headphone. The sound was powerful and the bass had the seminal impact Abyss is famous for.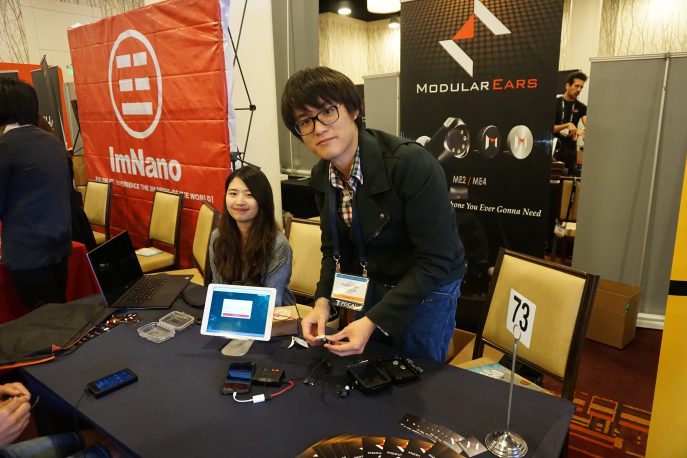 Modular Ears is a new company working on a Kickstarter campaign. The IEM's have a round pluggable module to tailor the sound to preference.
They are not currently at final production but the current form was very encouraging. Last year they attended CanJam as visitor's. Now they are exhibiting. Best of luck to them!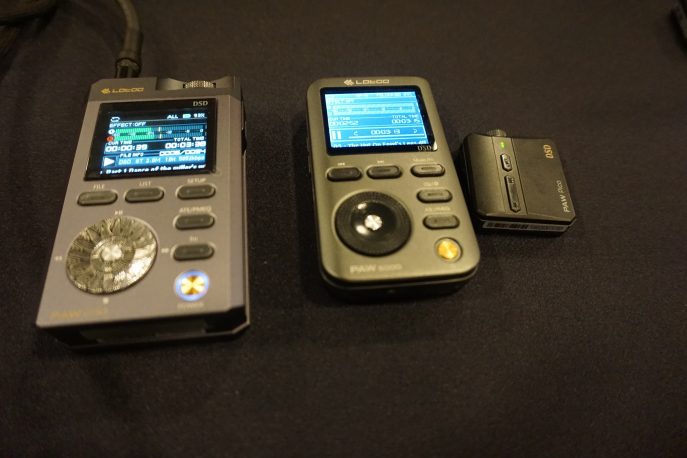 Lotoo was showing their reference DAP, the PAW Gold, as well as their soon to be released mini unit and one of their Asia only devices. The PAW Gold is a contender for best all around DAP.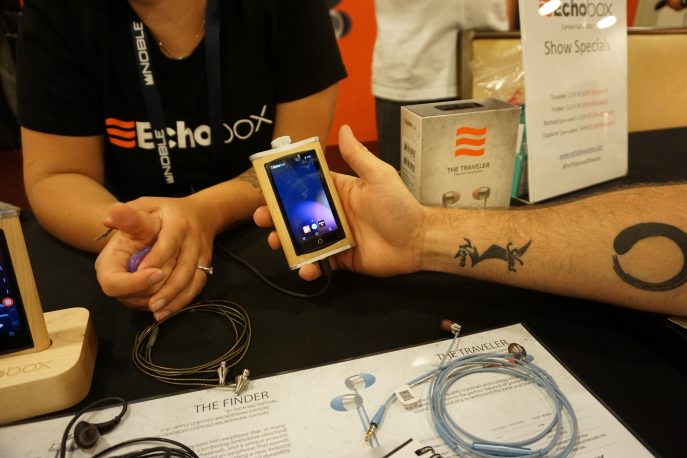 EchoBox was showing their release model DAP of the Explorer. Versatile and uniquely shaped it will be shipping in June. They were also showing off their new Nomad flagship IEM's. Things are really moving at EchoBox!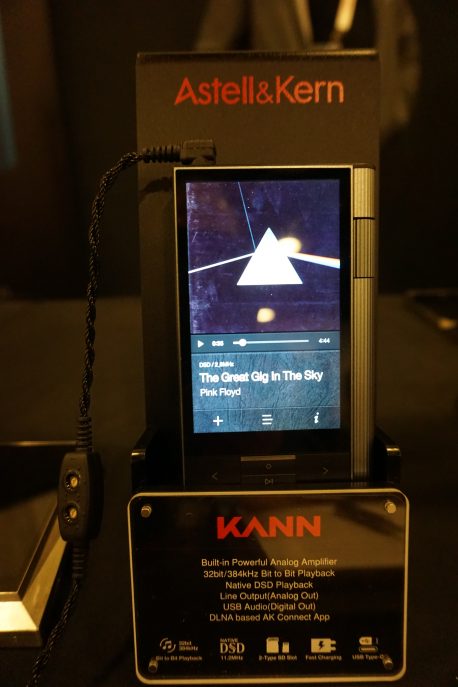 Coming in at a more price friendly $999 USD is the newest do it all DAP from Astell & Kern. A more powerful amp, lot's of storage and the usual streaming or format flexibility will make this a popular unit.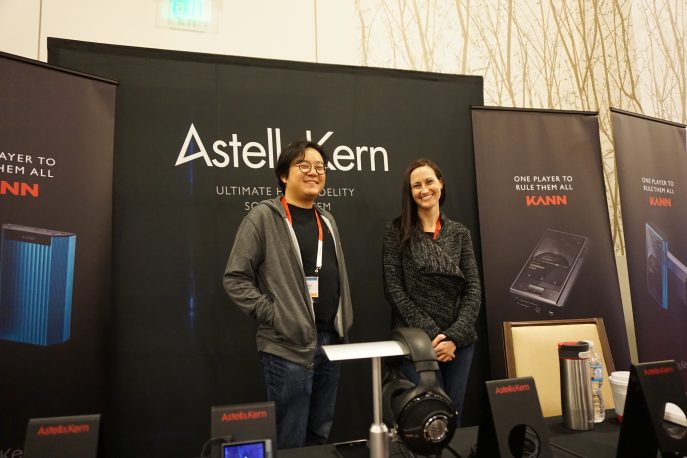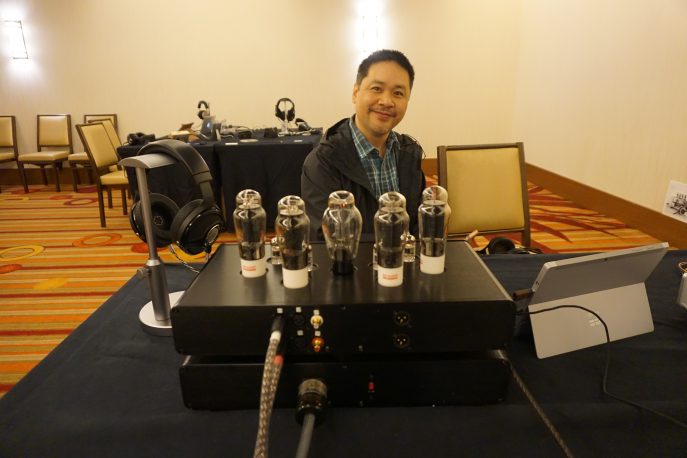 Woo Audio's classic tube amps are always a must hear at any show. When they release something new it is a special event. The new WA-33 amp ($8,000 USD) with separate power supply was incredible paired with the Focal Utopia's using Kimber Cables Silver/Copper Axios cables and the EMM Labs DS2 DAC.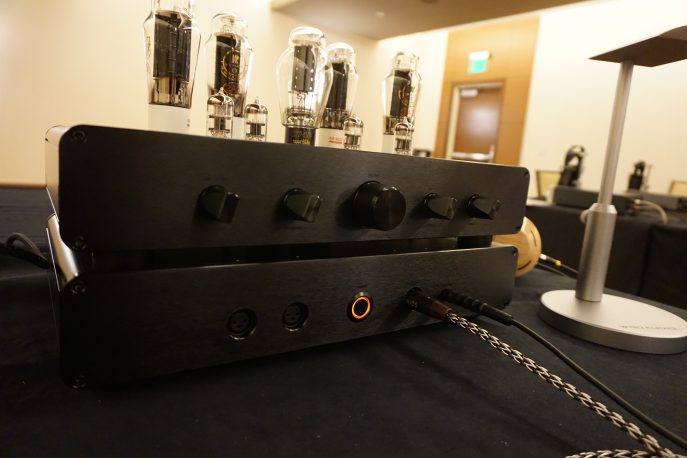 Woo had their entire lineup available with high end headphones everywhere. The room was also the STAX room with the entire lineup of STAX electrostatic Ear Speakers powered by either STAX energizers or Woo's Electrostatic amplifiers. This was a popular room!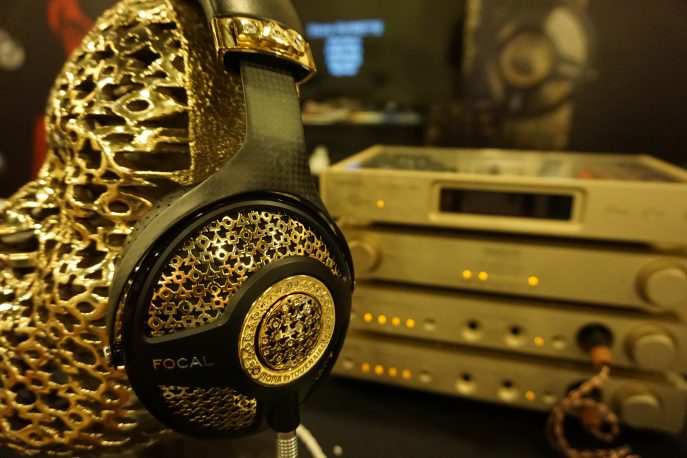 Focal was showing their flagship Utopia's ($4000 USD) and Elear's ($999 USD) with a variety of amps and DAC's. The sound expansive and pure. Great soundstage and detail with the Flagship Utopia surpassing it's sibling in total sound quality.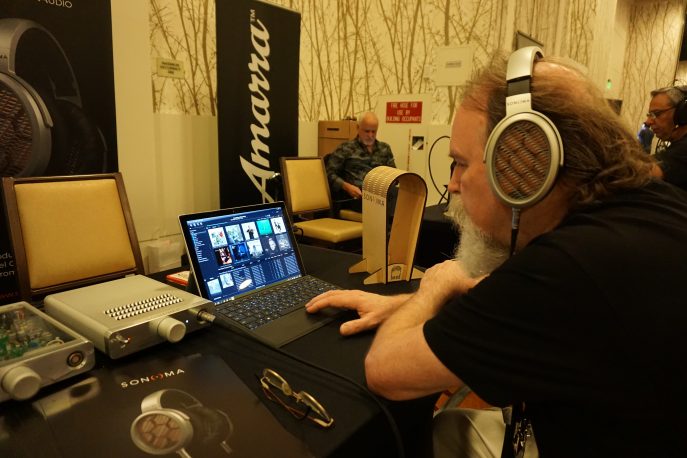 Sonoma Audio is a company with principal's spread out over the world. They each have significant background in sound recording and mastering. The $5000 USD system has an Amp/DAC and electrostatic Headphone sold together as a unit. For the personal audio enthusiast who does not want to spend a ton chasing parts to a system and hoping things work out this is an elegant solution. The sound was fast and musical.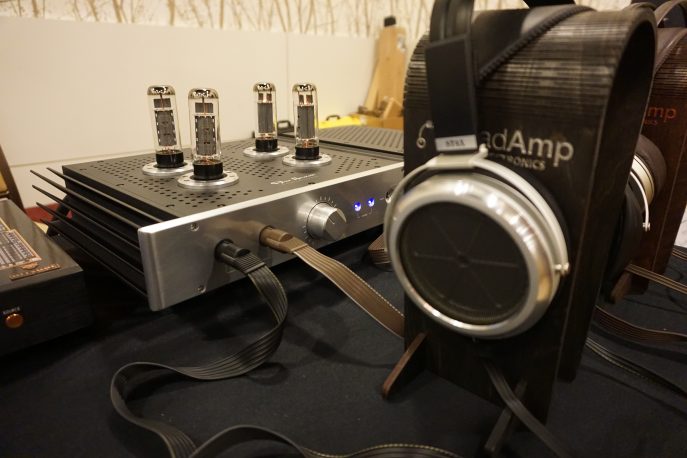 HeadAmp was showing their fabulous Blue Hawaii electrostatic headphone amp and their GS-X MK II Headphone amp. You want fast, clean and dynamic? These are the amps for you!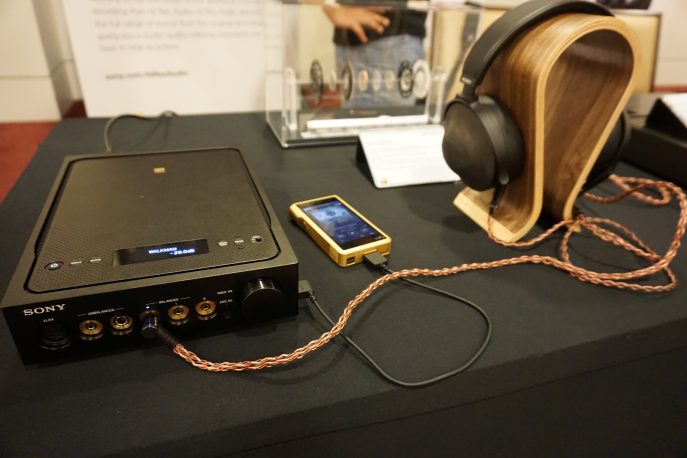 Sony has returned to high end personal audio in a big way with their new flagship lineup. The TA-ZH1ES headphone amplifier ($2300 USD) The NW-MN1NZ DAP ($3200 USD) and the MDR-Z1R Headphones ($2300) make up a take no prisoners system for hi res audio. Custom cables by Kimber Cable round out the system.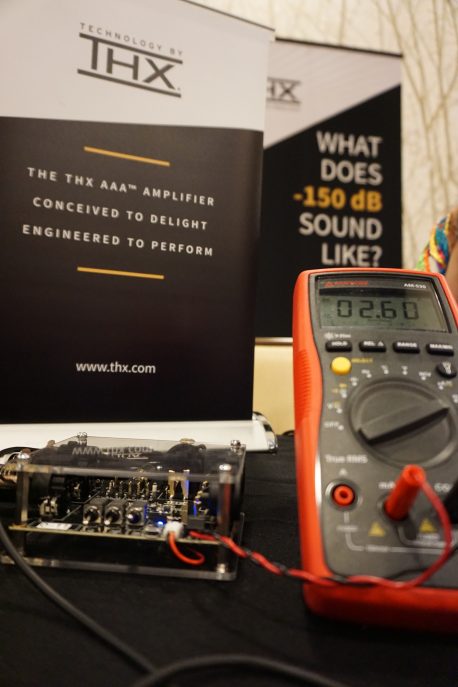 Yes this is" THE" THX of movie sound fame. They were showcasing a new amp technology that has a noise floor at-150dB! The amp was not for sale but the circuit will likely end up in a few companies products over time. It was not much to look at but the sound was full and dead quiet.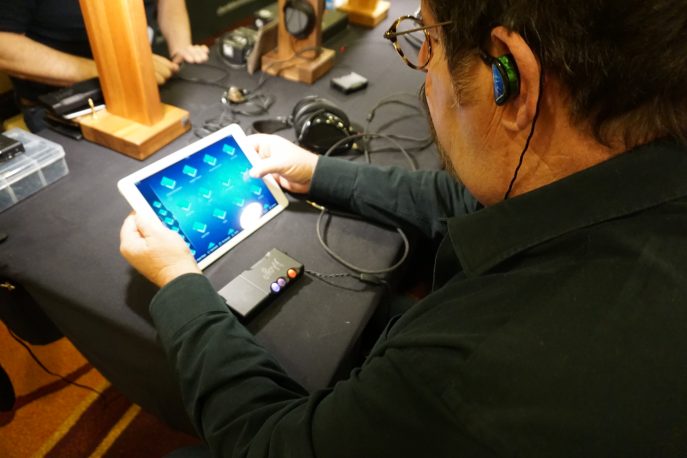 CanJam visitors are not the only ones who want to try out gear. Andy from JH Audio was trying out the latest portable piece form Chord, the Poly which attached to the Mojo gives you a full streaming DAC. Luckily Andy had a pair of In ears to use for his demo.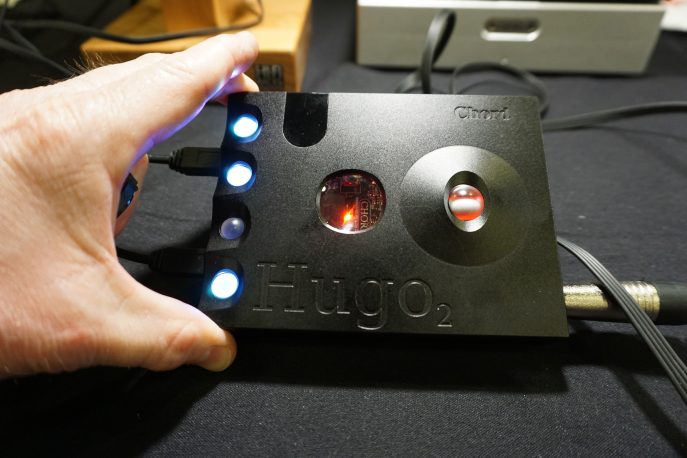 Chord was also showing the flagship DAVE DAC as well as the Hugo TT and new Hugo2 DAC's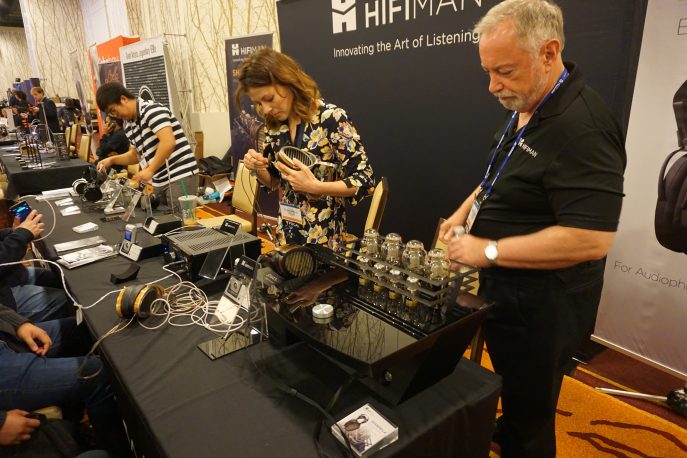 HiFiMan had the full lineup on site for demo's. Their Shangri-La 300B $50,000 USD flagship got a lot of attention. So did the new HE-1000 V2's . I personally loved their $399 USD HE400i's. Light and easily powered by a smartphone or DAP. Portable Planar headphones!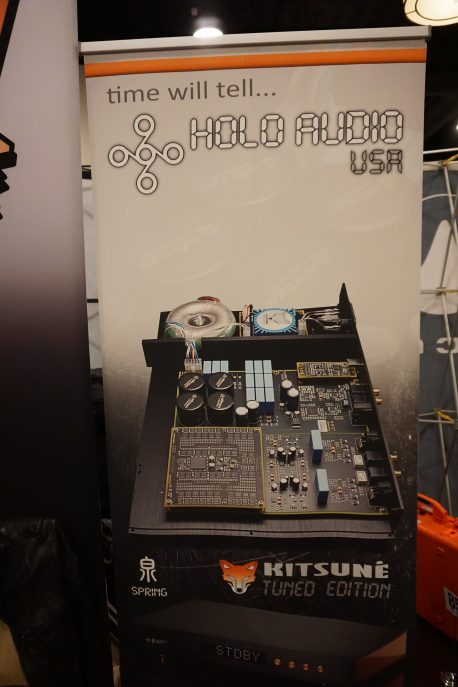 Holo Audio Spring DAC, level 3 Kitsune tunes edition is a new DAC we first encountered at RMAF last October. Guru will have a review out on it shortly by Peter Pialis so stay tuned. But the short answer is the DAC is a big hit! Very transparent and chock full of new ideas we are excited to spend time with this new contender!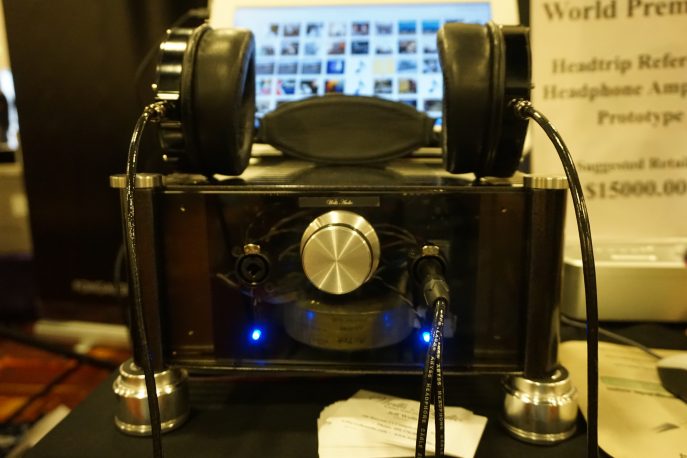 The Head Trip amp from Wells Audio is one of my three top flagship amps. It will take on all comers. At $15,000 USD you would expect excellence and it delivers. Paired with the Abyss 1266 Phi's you have one true headphone mountain top listening experience. Also in the booth was the Milo amp at $1,500. No little brother though. The Milo also brings it but at a much more affordable price point. We will be receiving the Head Trip SE soon for review. I cannot wait!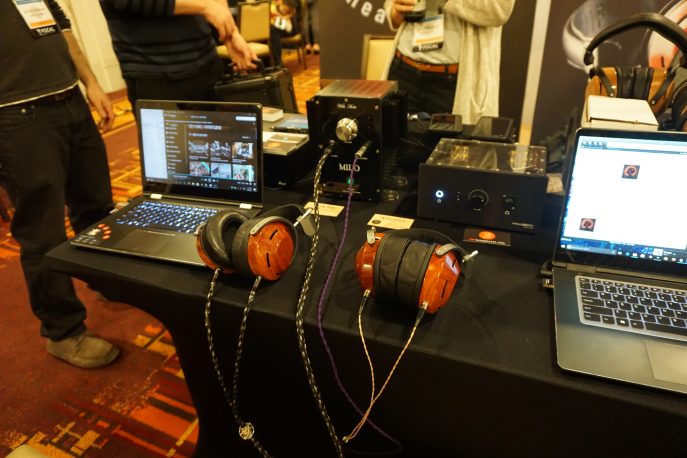 I love ZMF Headphones. Zack is right on pace with another favorite company, MrSpeakers, in designing his own tech from the ground up. The Co-flagships are both Dynamic driver closed headphones with different driver designs and sound signatures. I say buy both for the $2099 price!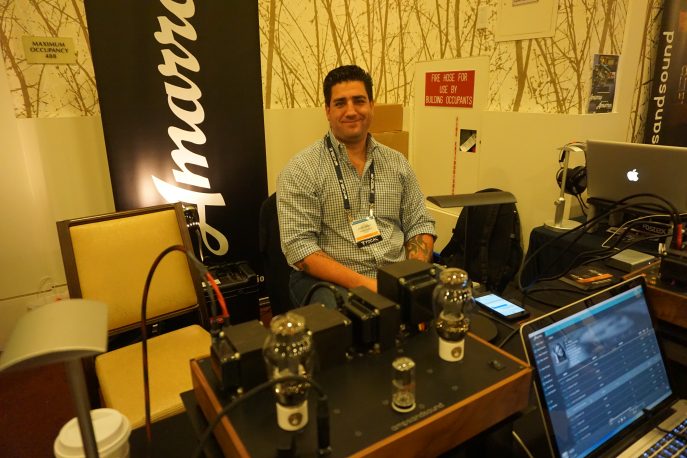 My first dedicated headphone amp was a tube amp and every time I listen to Ampsandsound's lineup I get a warm kick of nostalgia! All made in California Justin was showing off his new power supply's to further clean the sound. The line is affordable and some can even do double duty as a speaker amp.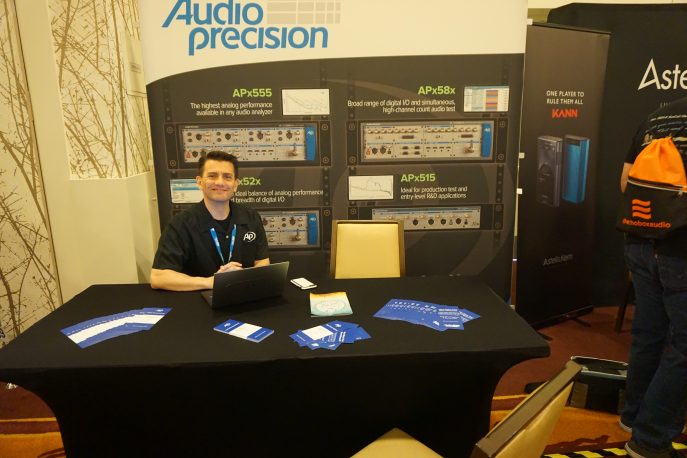 If you like all of the graphs and charts you see in the magazines from the gear testing, those came from an Audio Precision machine. They were on site to test any gear brought to them. Amps, Headphones, DACS you could have your own gear tested. Thanks to Audio Precision for this fun opportunity!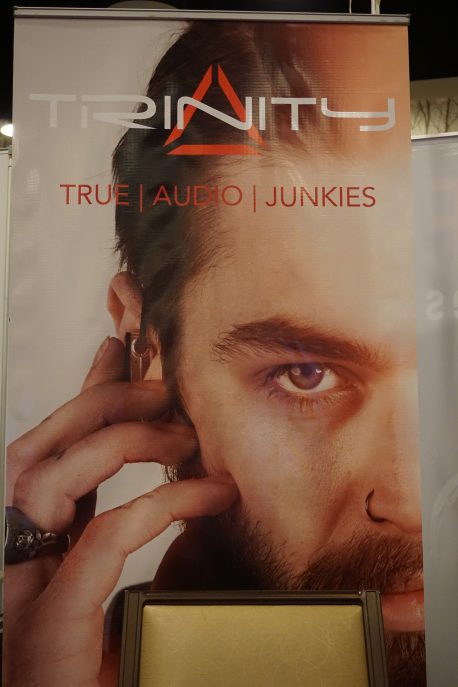 Trinity Audio Engineering is in their third year as a company. They have already lined up over twenty dealers in nine countries to distribute their IEM's. I had a listen to their Master IEM's (£159) and really enjoyed them Coming soon is the new Phantom Master 6 flagship. I recommend a listen!
The 1More Quad driver was recently featured at Headphone.Guru. We love their high value low price approach. Starting at $49 to $199 you can find 2-4 driver IEMs, Bluetooth and over ear headphones. So far we have loved them all.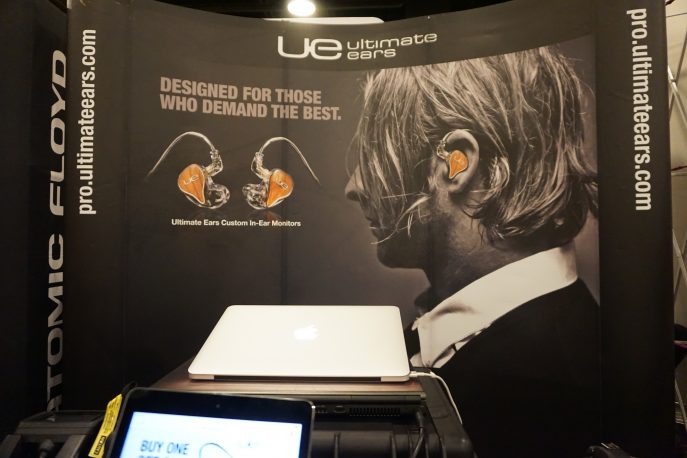 From laser ear measurements to 3D printing Ultimate Ears Custom IEM's are state of the art. The newly redesigned UE18+ Pro's ($1500 USD) and UE Reference Remastered ($999) IE's continue their legacy of excellence by leveraging their relationship with the mastering engineers of Capital Records.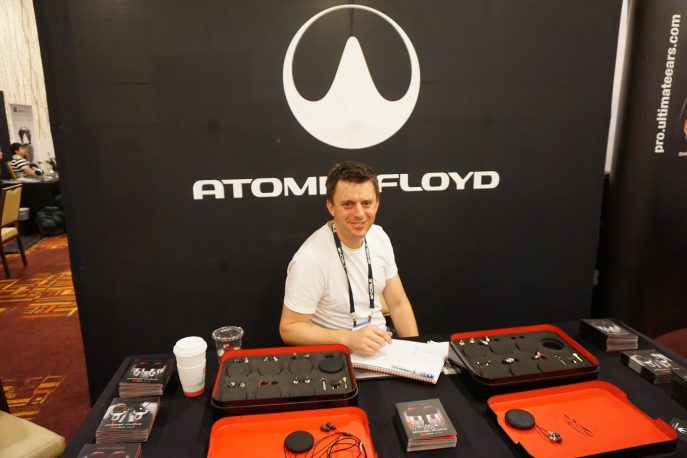 One of the nicest guys in personal audio James is constantly striving to make Atomic Floyd's lineup better. Better value, better fit, better materials and better sound. Every time I listen to them I am impressed. The Super Darts are still my favorite of the lineup.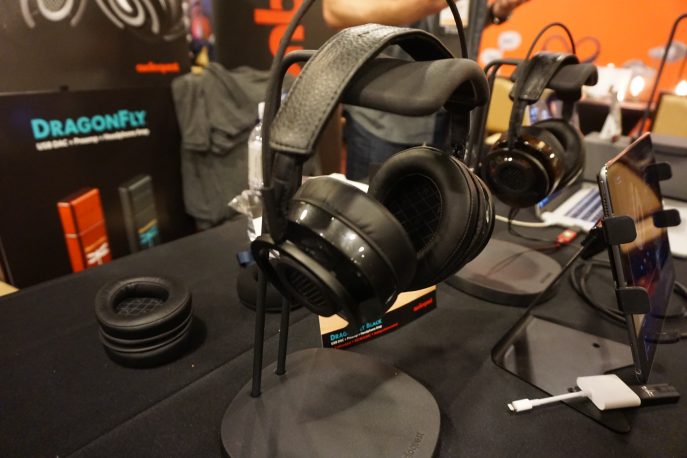 AudioQuest's launch of the NightHawks a couple of years ago surprised the Headphone world with their unique approach to materials courtesy of Skylar Gray, their head of Headphone development. Now they have released their first closed design and it is another winner. Competitively priced at $699 USD their unique speaker like sound signature has them gaining fans daily.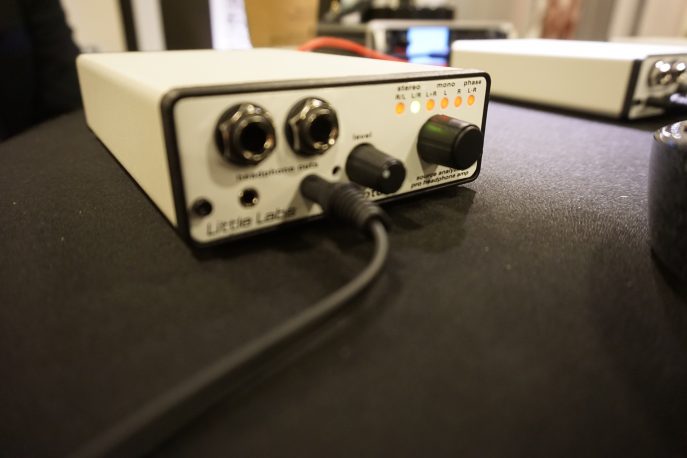 Coming out of the Pro Audio world is the $599 USD Little Labs Monotor Amp. That is not a typo. Besides amazing sound for the money the amp also has a number of pro audio tricks up its sleeve for the advanced hobbyist. The Monotor from Little Labs is a sleeping giant.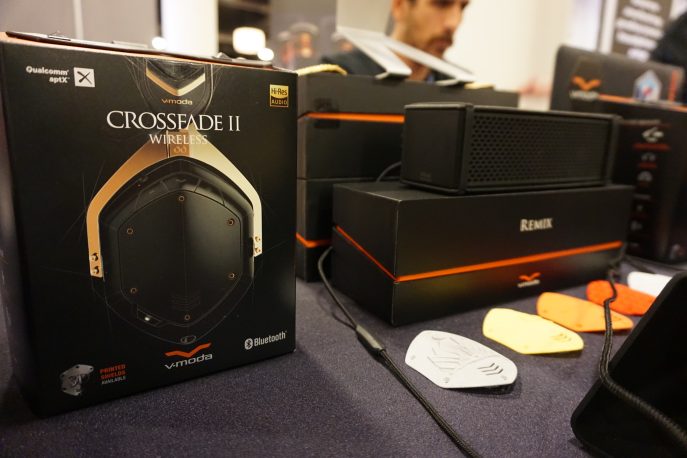 Just as we are about to publish our review of the Crossfade Version one from V-Moda they release version II and naturally it is very much an improvement on the original. More portable with a collapsing structure for folding into the small carrying case the Wireless II's also have improved circuitry for wireless sound quality. Oh, and the pads are more comfortable. They come with three color schemes from $330 USD to $350 USD.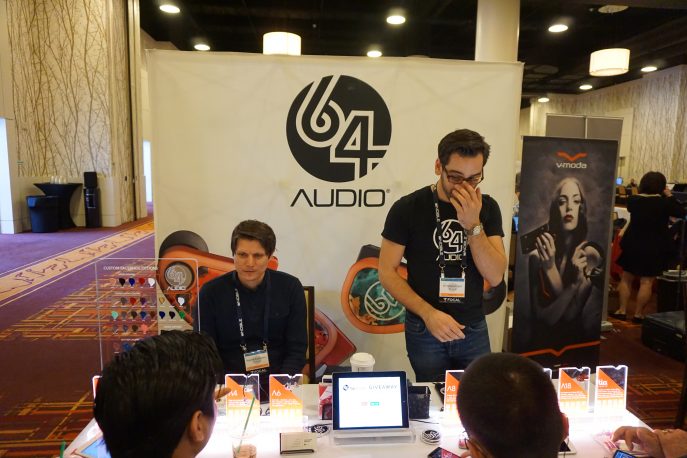 64 Audio brought their imposing A18 (Yes, 18 drivers! at $2,999 USD) to the show along with the rest of their line starting at $399 for the A2e. 64 Audio uses cutting edge 3D printing to ensure a perfect fit. They now have Beyonce' as an Artist in their camp. That is a testimonial!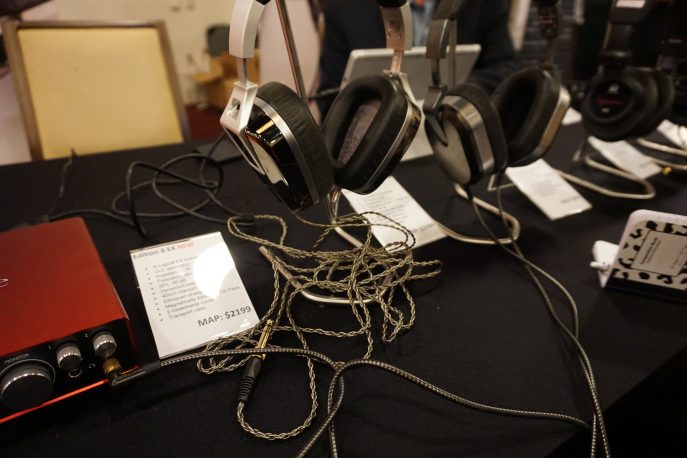 Ultrasone had many of their Edition models on hand to try the Edition 8 at $2199 was very popular and there was a wait to hear them during part of the show.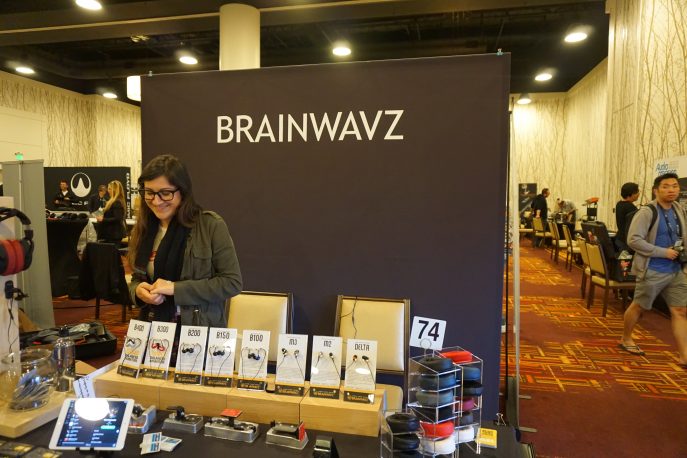 Brainwavz had a wide selection of IEM's and over ear headphones as well as big selection of ear pads for the over ear models.
This CanJam featured the largest venue ever with the most exhibitors so far at over 100 companies participating. Attendance was strong both days yet the larger room and more exhibitors meant shorter wait times. A Big "Hat's Off" to Jude, Ethan, Joe, Marjorie and the entire CanJam team for another great event. Guru is anxiously awaiting Fall CanJam 2017 in Denver at RMAF! See you there!