Continuing on, the Guru team launches further into the show and are taking the beaches table by table amidst rapid-fire of incoming attendees. The show has barely started and the line has already curved the corner!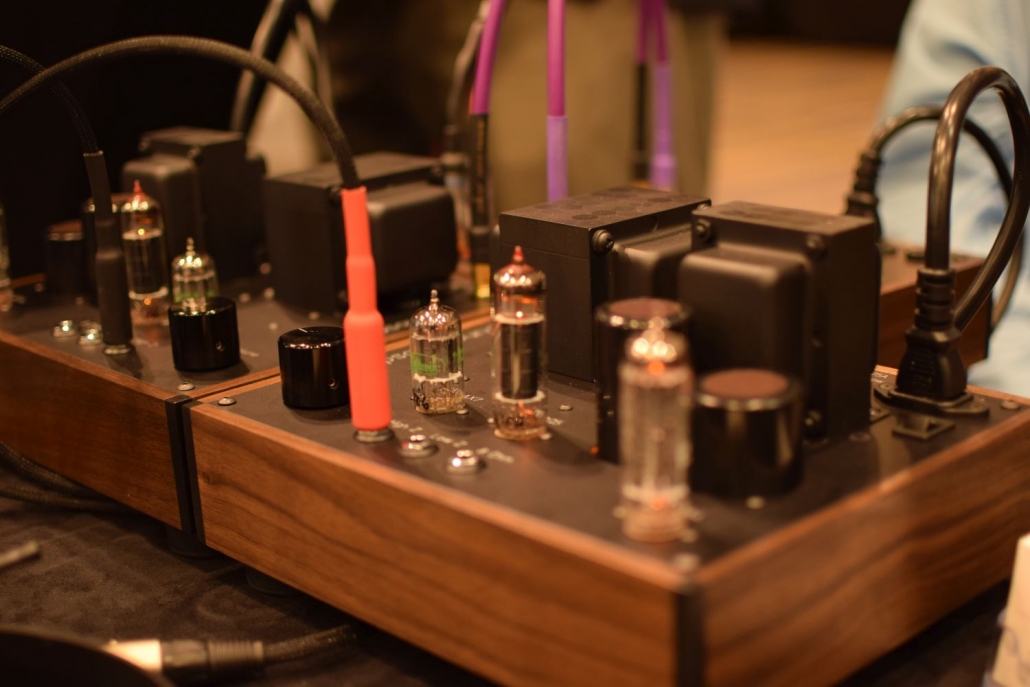 ampsandsound (The Source AV Table)
My first stop of the day was to check out the elegant yet functional amps sitting on Justin Weber of ampsandsound's table. To the left, we have the monoblocks, the LeeLoo Monos ($5500) and to the right, we have the single Mogwai ($3200). Both looked stunning and my pictures can do it no justice but they simply popped in the showroom. Justin was beyond friendly and hospitable and went into detail explaining the origins of each amplifier and their names. From my brief listen, I found the LeeLoo's to have more prominent vocals, wider soundstage, and a cleaner background compared to the Mogwai which sported frontal and direct vocals yet still retaining a musical quality.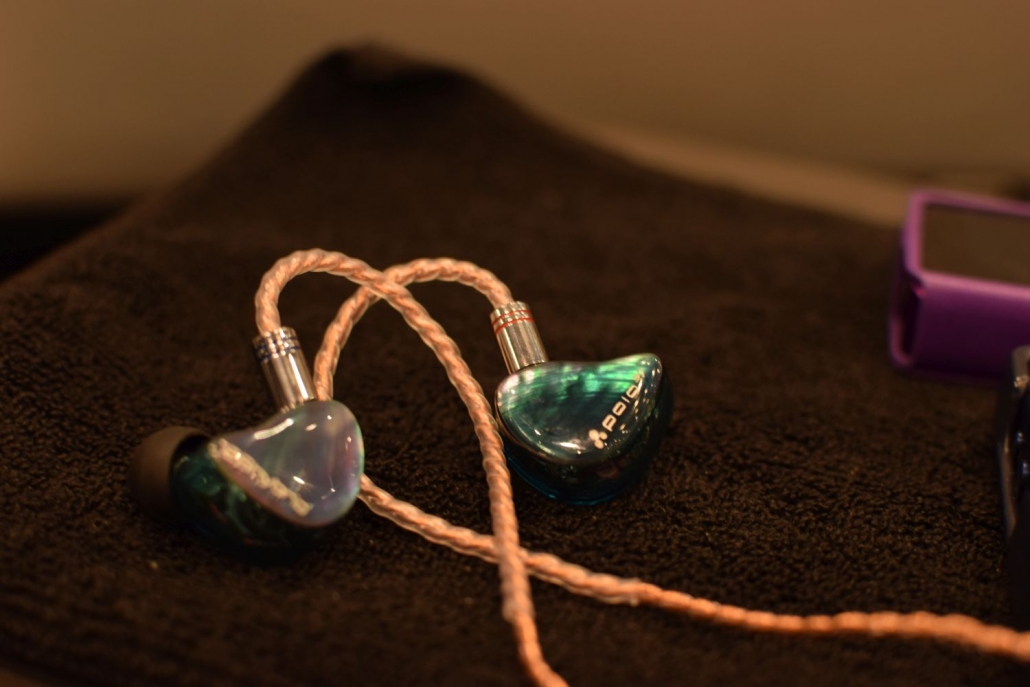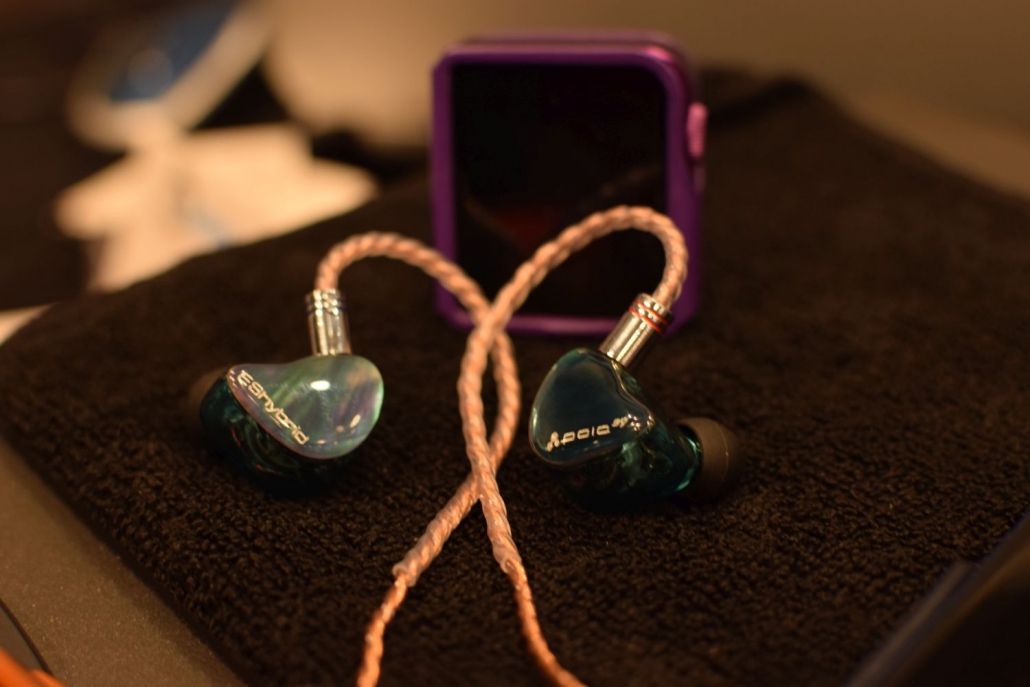 Shozy (The Source AV Table)
A wild IEM Appears! And it's an emerald Shozy! The Pola39 is the newest in the Shozy and AAW collaboration series of IEMs and is the second iteration of their electrostatic earphone. Priced at approximately $800, these will be a big hit in their price range for fitting such advanced driver technology into such small space. When I listened to the Pola39, I remarked at its deep and thick sound with nice treble extension allowing for some brightness on the far reaches of it. It was dark and full-bodied as well. Looking forward to seeing what else Shozy can do with the Pola where, through every note, glimmers arise.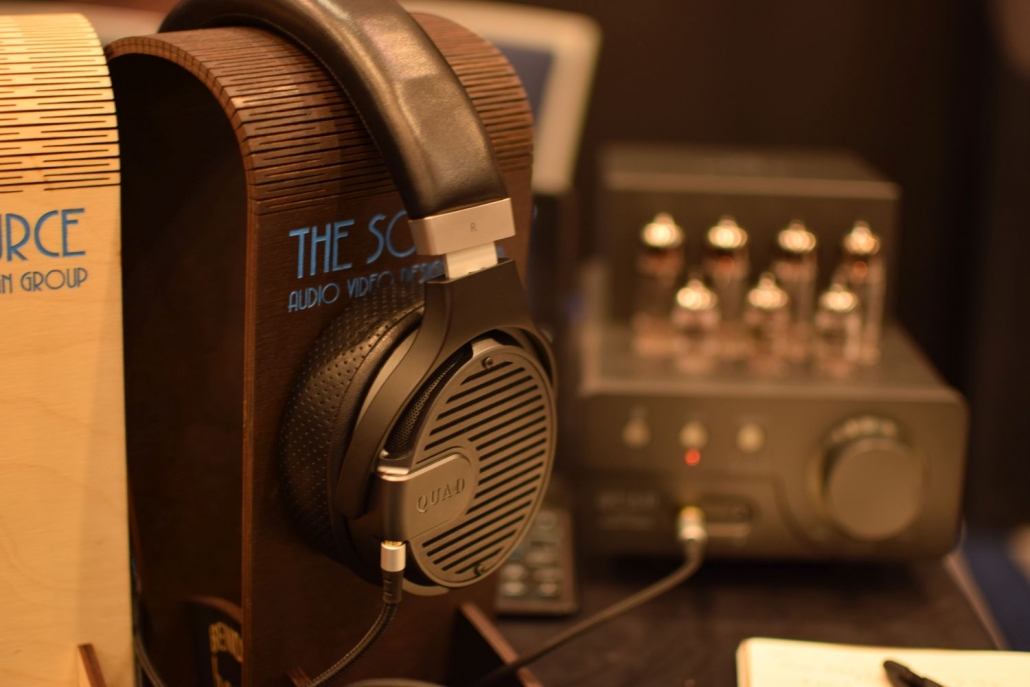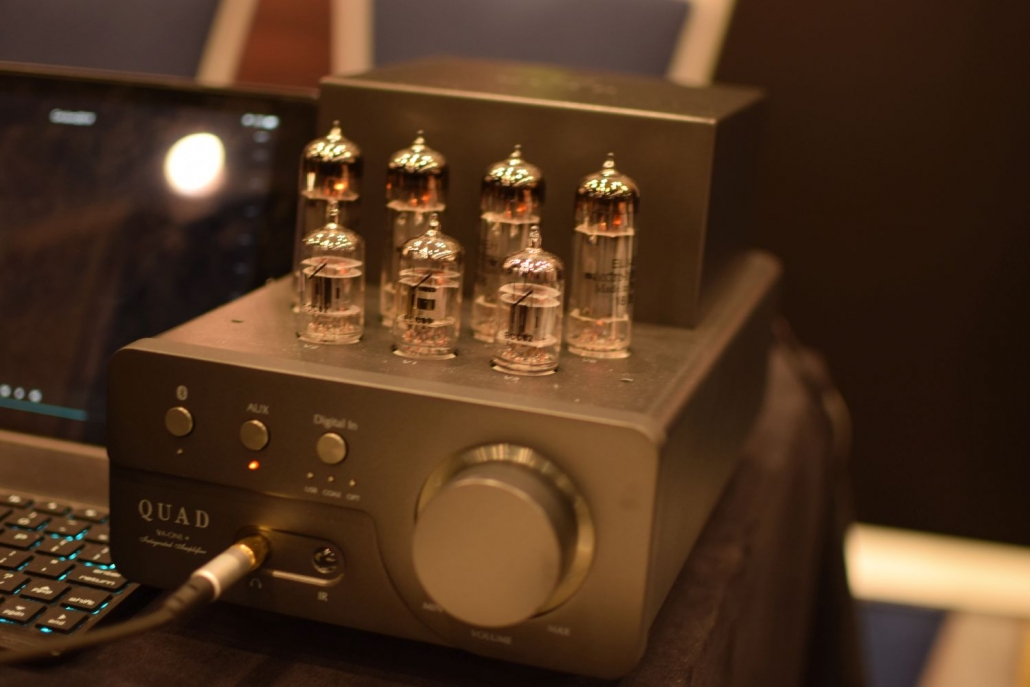 QUAD (The Source AV Table)
A trio plopped into the show ready to rumble. The Quad ERA-1 Planar Magnetic Headphones ($799) come ready with the PA-One + ($1299) and VA-One + ($1595) seen at the show and offered an impressive pairing for the price. The PA-One + which I listened to has a built-in ESS Sabre DAC. It featured a thick and dark sound which was warm but balanced and ready for whatever you could throw at it. Seriously, whatever genre or quality you could think of, the ERA-1 and its amp/DAC pair ate it up.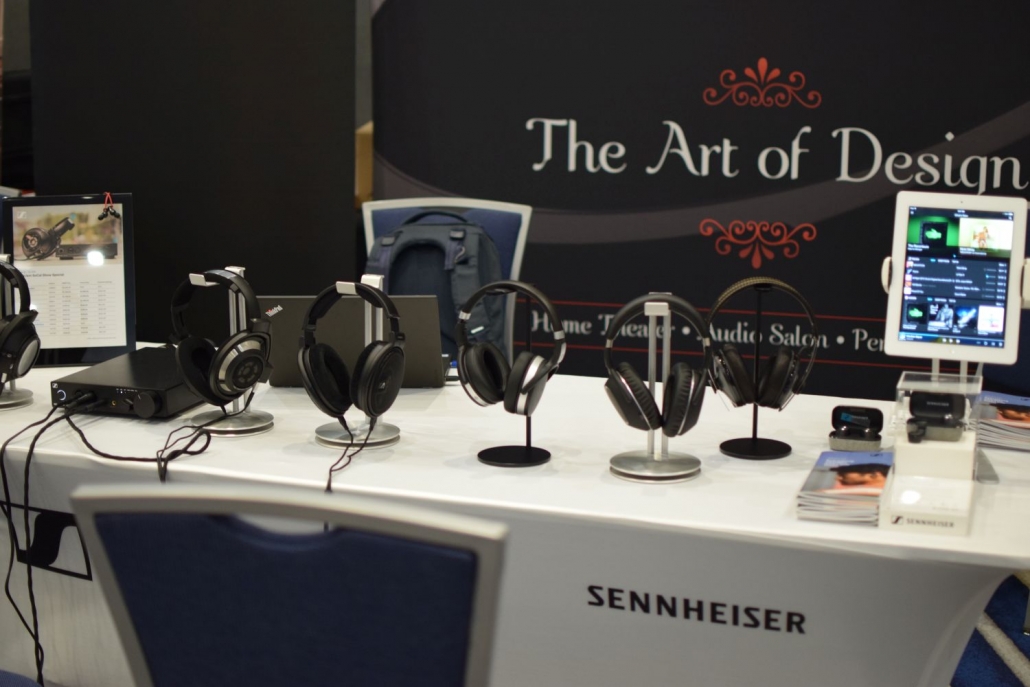 Sennheiser
At the Sennheiser booth, I admittedly walked past the HD820 and the HD660S. I have already reviewed the HD660S officially for Guru and the 820 has been heard many times over. Rather, I went straight for their Momentum True Wireless earphones ($249). The Momentum TWS is perhaps the best sounding TWS earphone in regards to it being 'consumer sounding'. Which means its fun, dynamic and punchy and can take any genre you throw at it with ease. It was silent when audio was not playing and vibrant as well.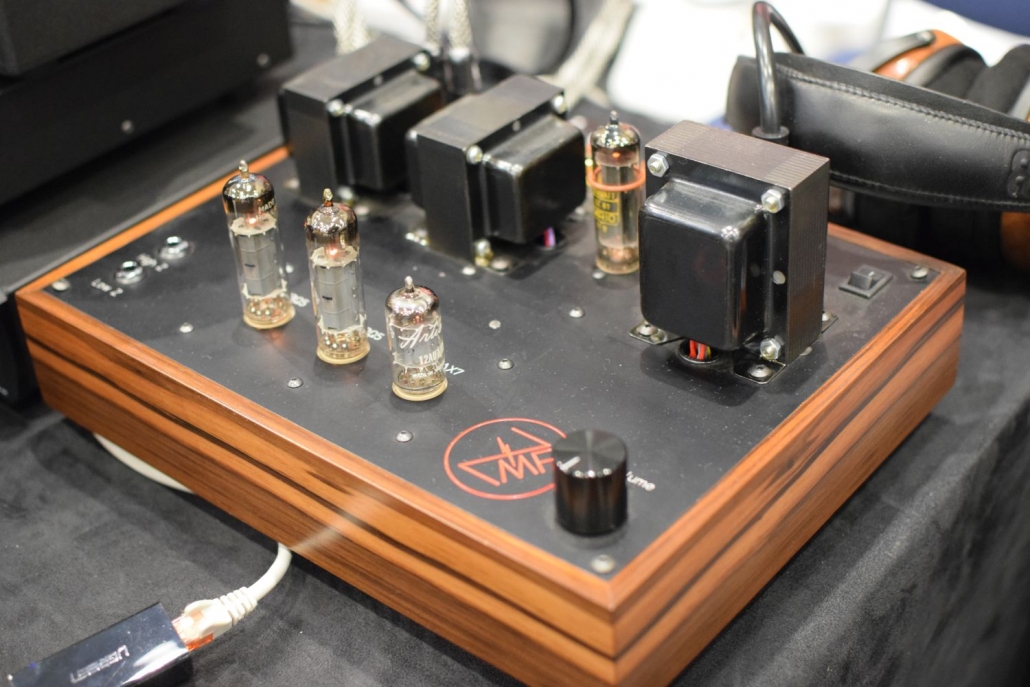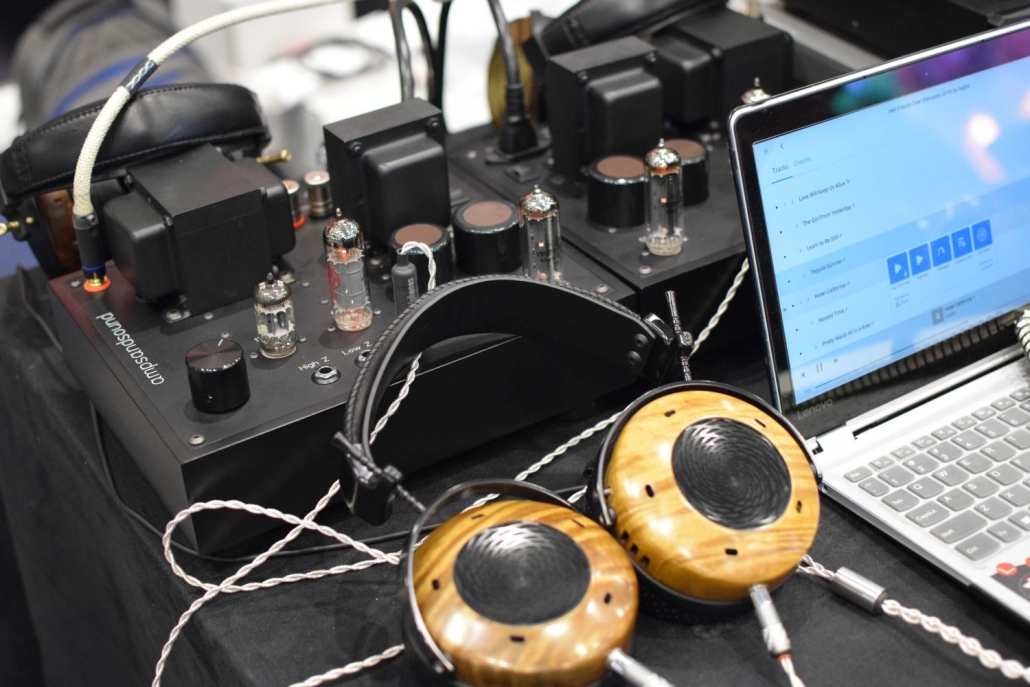 ZMF
At ZMF's booth, we have their new Verite Pure Silver Cable ($399) and their new ZMF Verite ($2499) headphones plugged into the LeeLoo Monos. At the other side of their booth is the ampsandsound designed ZMF Pendant Tube amp. The Pendants have large output transformers for 2 impedance choices while the LeeLoo Monos have even larger transformers and allow for 3 output choices for impedance matching. Quoting Justin, the founder of ampsandsound on the ZMF Pendants: "the pendant offers huge value vs performance".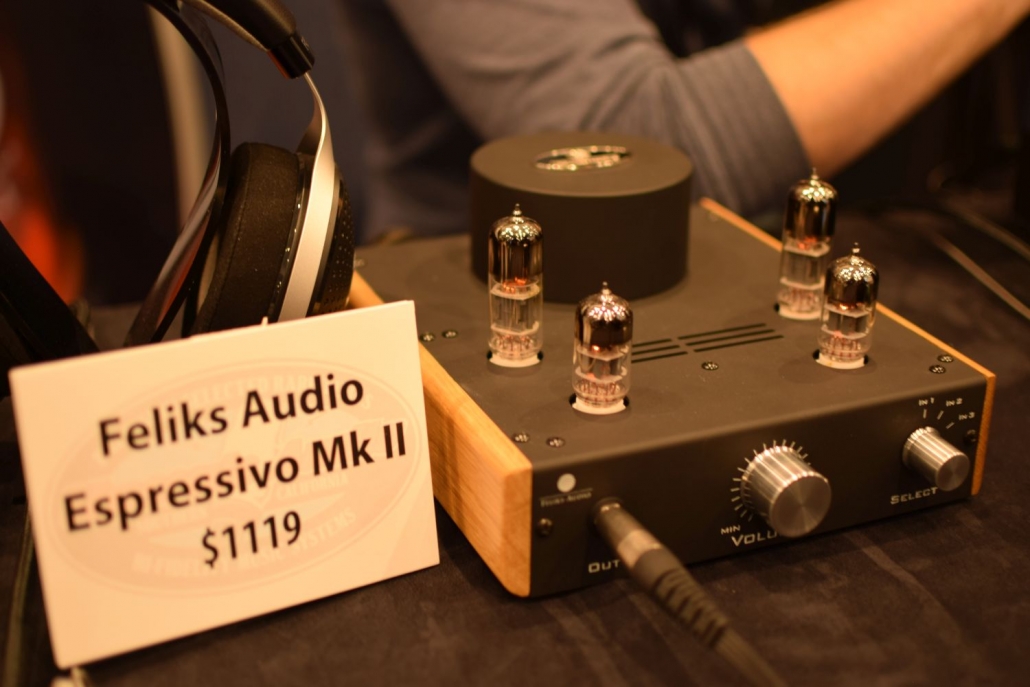 Upscale Audio
Upscale was at the show this year with a new showing of Polish-made Feliks Audio Amplifiers. They feature point to point wiring and are output transformerless as a selling point. It was noted to me that the Feliks Audio Euforia (2000 Euro) was used to tune the Focal Utopia as a key point.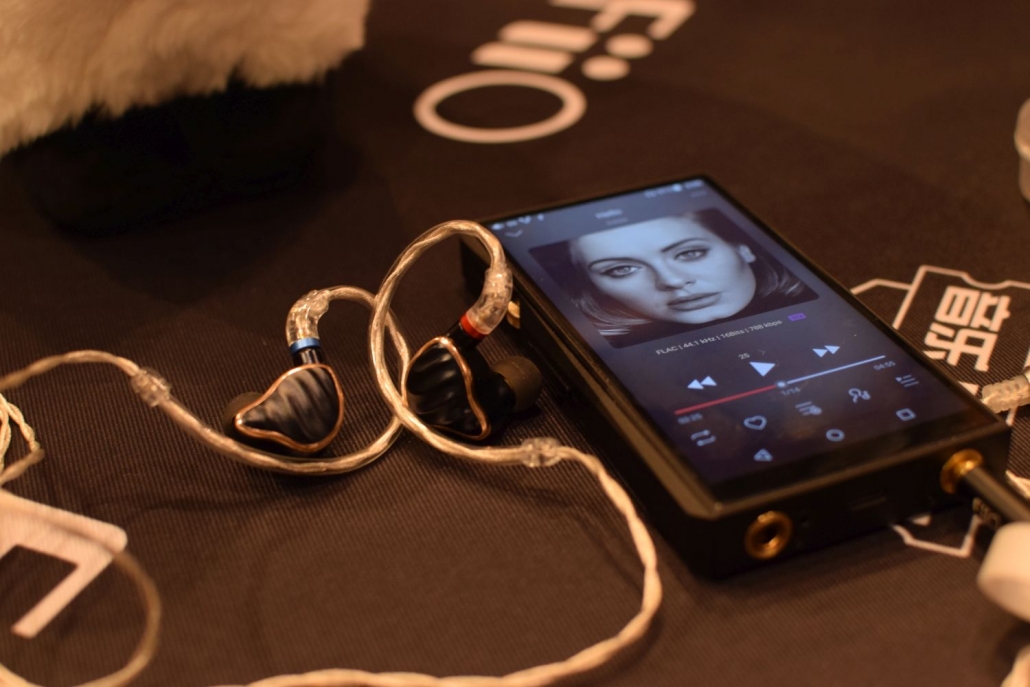 FiiO
Our friends at FiiO came with loads of goodies this year. The premier items are the M11 DAP ($449), M5 Wearable +DAP (~$100-$150), and FH7 IEMs ($449). The M11 is lightning fast, M5 is like a high quality audio smartwatch, and the FH7s sound superb for their price range. Jeff and Bryant were great to hang around with and I hope to see them next year.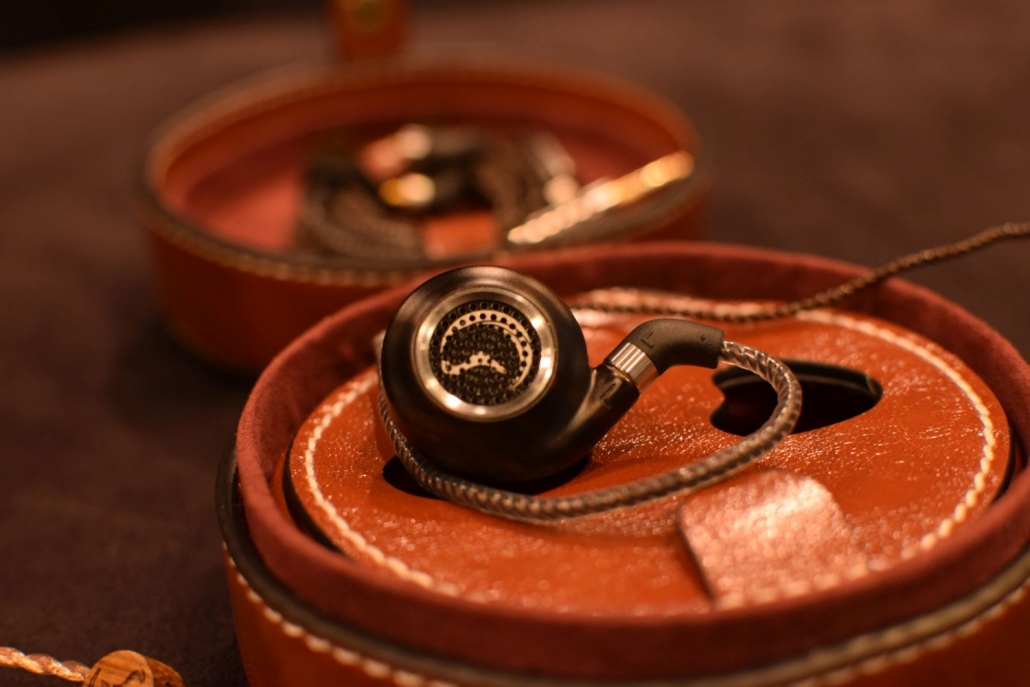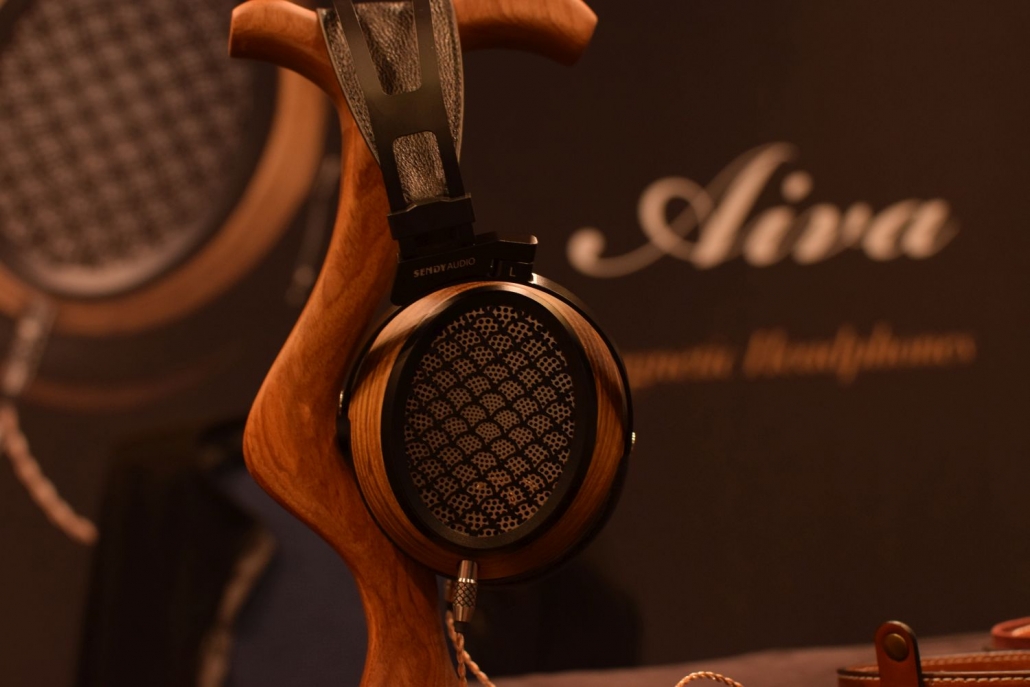 Sendy Audio
The main stars for Sendy Audio were the planar magnetic duos: Aiya IEMs ($499) and Aiva over-ears ($599). Key points were that the Aiyas were handmade with Zebrawood which was incredibly tough and expensive to mold and get right, the 21mm planar magnetic driver had good bass punch and pulled back mids, surround and imaging were above average, but the main takeaway was the intimate vocals. The Aiva were made with Ebony wood and were equally as good looking with similar design language. The sound wasn't as thick as the Aiya and had much clearer vocals. Very beautiful headphones!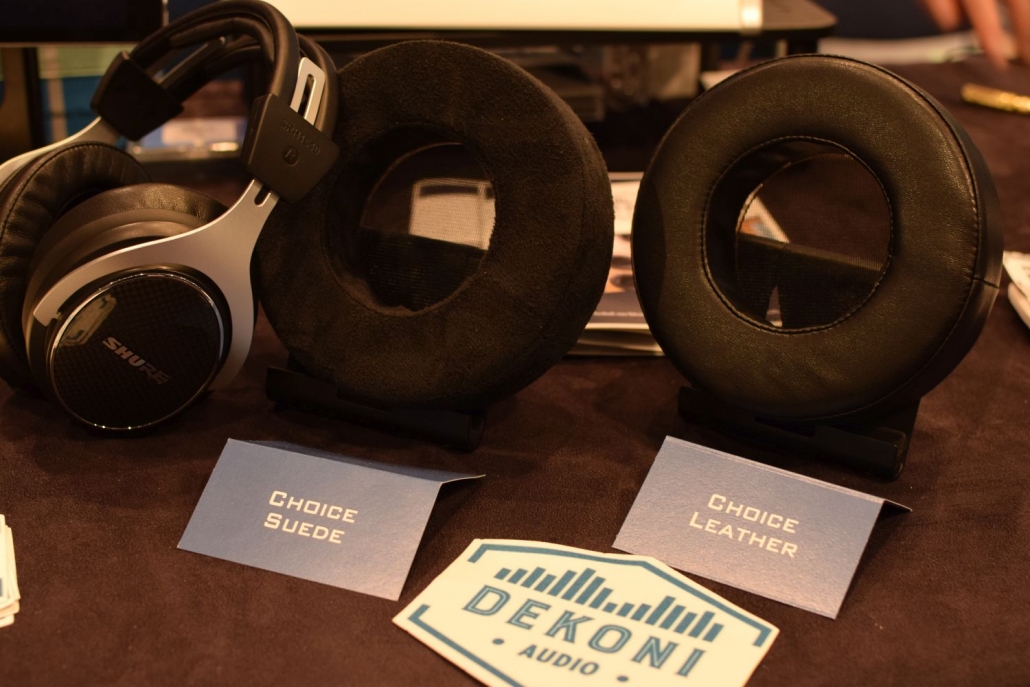 Dekoni Audio
Everyone's favorite pad maker is back and this time with new Dekoni Choice Pads in Suede and Leather! They will be available now or soon for the Sony XM2/XM3, Shure SRH Series, ATH M50, ATH CHL/CHS, MDR 7506, TH900, HD600/650/6XX, 58X, Almost all Beyer DT lineups, Audeze LCD, and Bose Quiet Comfort. Their nuggets were a blast to see as well. Shoutout to Sam and Everett for being extremely welcoming, giving me a water, and finding my prized notebook at the show.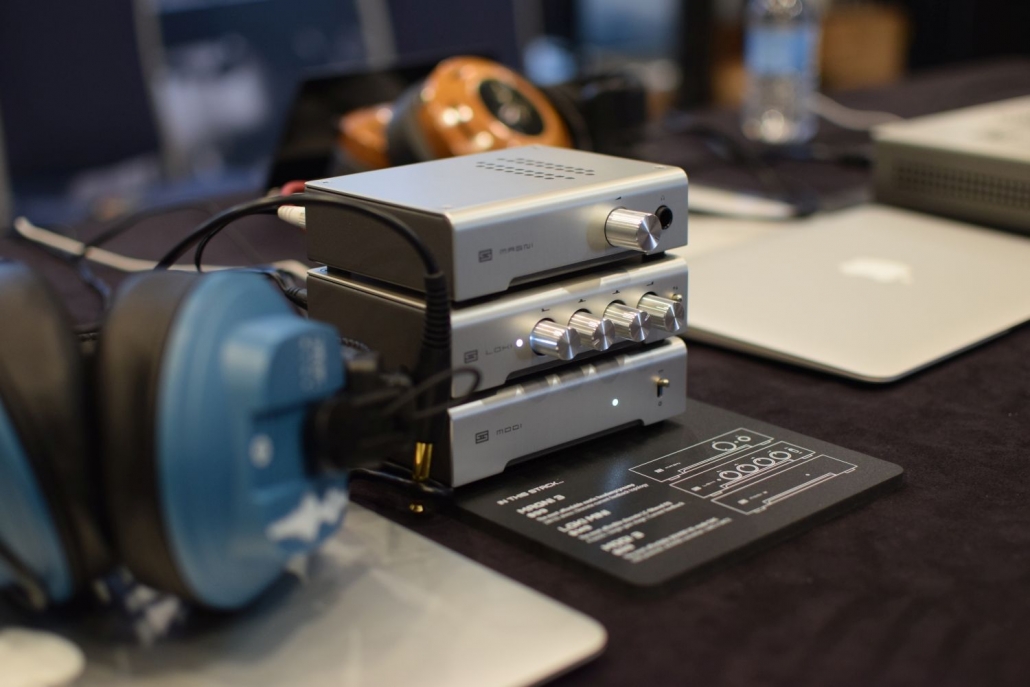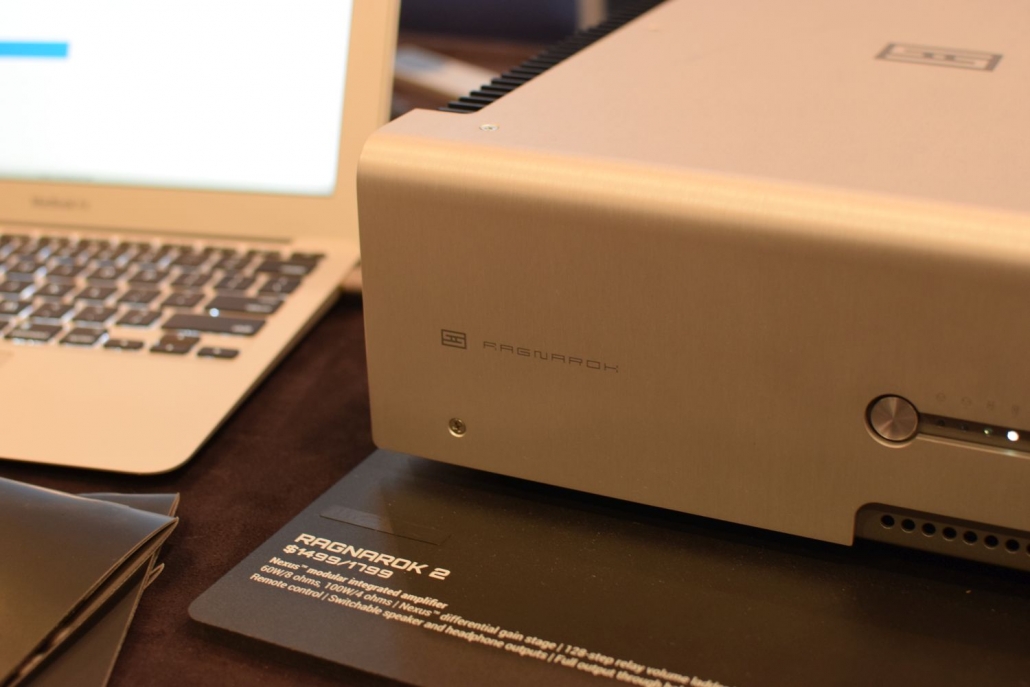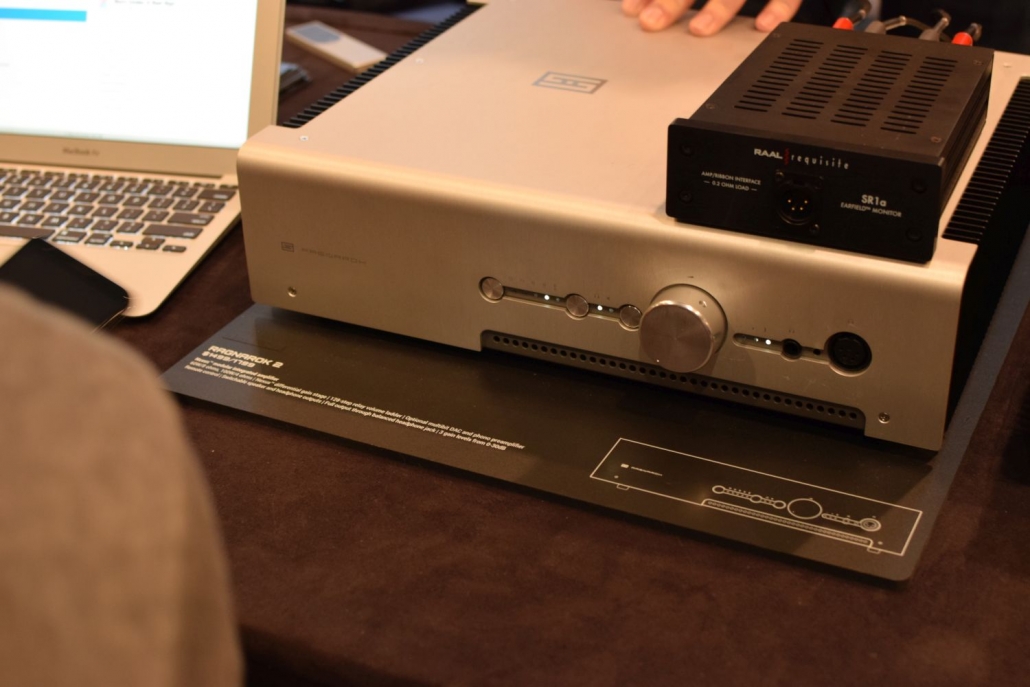 Schiit Audio
You hearing this Schiit? $79 DIY Schiit at the show! WOW. The next highlight besides being able to build your own Schiit is the new Ragnarok 2 which they had hooked up to both a Vinyl Turntable and Digital source. Schiit noted to me that the "Rag 2" (as they like to call it) is their most powerful amp with 24W at 32 ohms! It can also power speakers pushing 60W RMS into 8 Ohms and 100W RMS into 4 Ohms. With great power comes great responsibility and Schiit has taken great care of that with a new 128 step relay attenuator for fine control of volume. Rather than relying on a potentiometer which works akin to a resistor and has 'infinite' points in between, they can fine dial the matching to each step of the volume knob for greater fidelity. It also comes with a remote! Listening to the Ragnarok 2 for my short demo, I found it to be airy, clean but still full sounding and effortless in presentation, even with the loads of power it was producing. If you aren't hearing this Schiit yet, you better drop on down to the Schiitr to get some.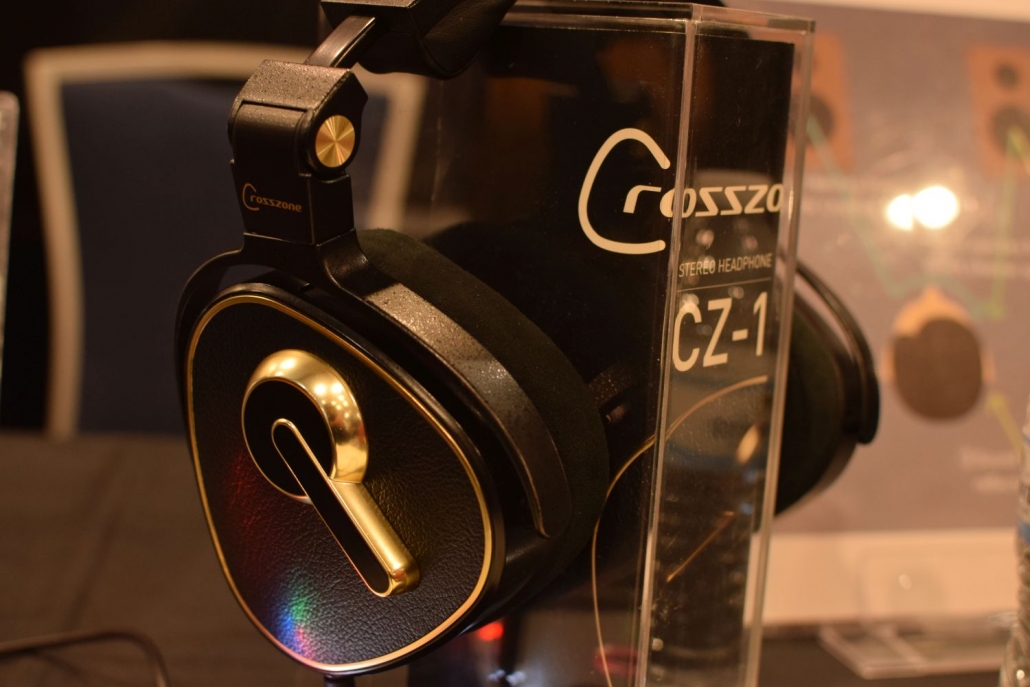 Crosszone
Innovation is always my favorite part of CanJam. Crosszones are a multi-driver headphone solution to make music sound externally localized through the use of its Acoustic Resonance Technology (ART) and Acoustic Delay Chambers (ADC). It uses these key technologies, resonance, and delay of its multi drivers to achieve a more natural sound-stage and make it so listening to music doesn't feel like a head cold. The CZ-1 is $2,500 and the CZ-10 is $900. The headphones were well built and feature luxurious materials and a striking exterior design.
Stay tuned for Part 4 of our coverage of Canjam Socal!