Standing in line with my tickets to CanJam SoCal 2023 on Sunday morning, my mind was racing. I'd just spent two hours in the car with my girlfriend Classy on three and half hours of sleep to make it by opening. In July, Frank, my friend and head guy at Headphone.Guru, told me he needed me to cover this event with Gary as he wouldn't be attending this year. I told him I already had a commitment on Saturday but could do Sunday. Now I was gazing down the barrel of one the most extensive CanJams ever with one day to cover it. Ninety-three vendors packed the showroom floor with a few of the more prominent names in headphones opting for smaller meeting rooms across the hall. Attendance was also higher than last year, within 50 tickets shy of CanJam New York's record-setting attendance.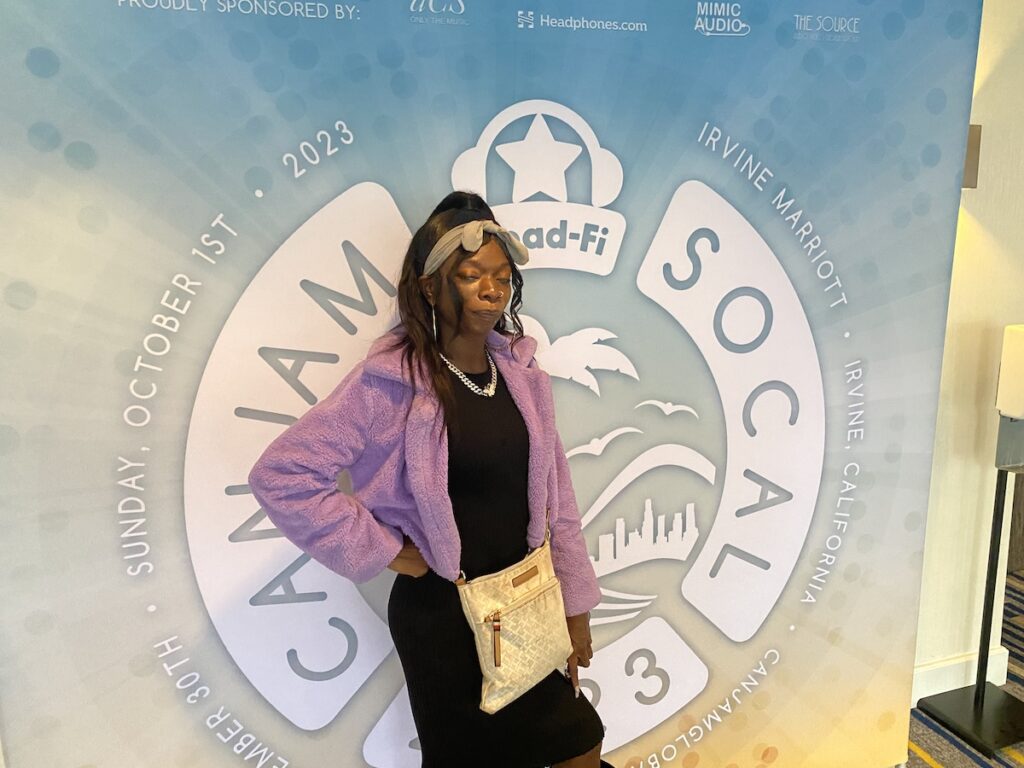 While waiting for my tickets to be scanned, I saw my old friend Warren Chi walking towards the line. The first words out of his mouth were, "What's this about only one day this year?" I explained that my girlfriend had walked a runway at LA Fashion Week the night before, and the kids, her aunt, and I had attended in support. The day had been planned long before the dates had been announced for CanJam, though I would have gone either way. It was the fruition of her lifelong dream and years of work that needed to be celebrated.
Tickets were scanned, and our neon green visitor bracelets were applied. Classy and I walked towards the main showroom. I called back to Warren, "What do I need to hear first?"
HEDD Audio
The response was the HEDDphone Two ($1,999). I walked between the Headphones.com and Audeze booths that were already packed. They stayed that way all day, and I would miss the wares. In the rear of the ballroom, I came to the Hedd Audio table and a seat came available in front of one of the two available pairs of the HEDDphone Two. It was being driven by an RME ADI-2 DAC FS, which I own and know very well as I use it daily. Slipping cans over my ears, it was obvious that HEDD Audio had listened to their customers. Being lighter and with the newly designed HEDDband, this was a supremely comfortable over-ear headphone. The sound was also exquisite. The detail and presence of the sound, along with what I feel may be all-day comfort, makes this a highly recommended audition and may soon join my collection.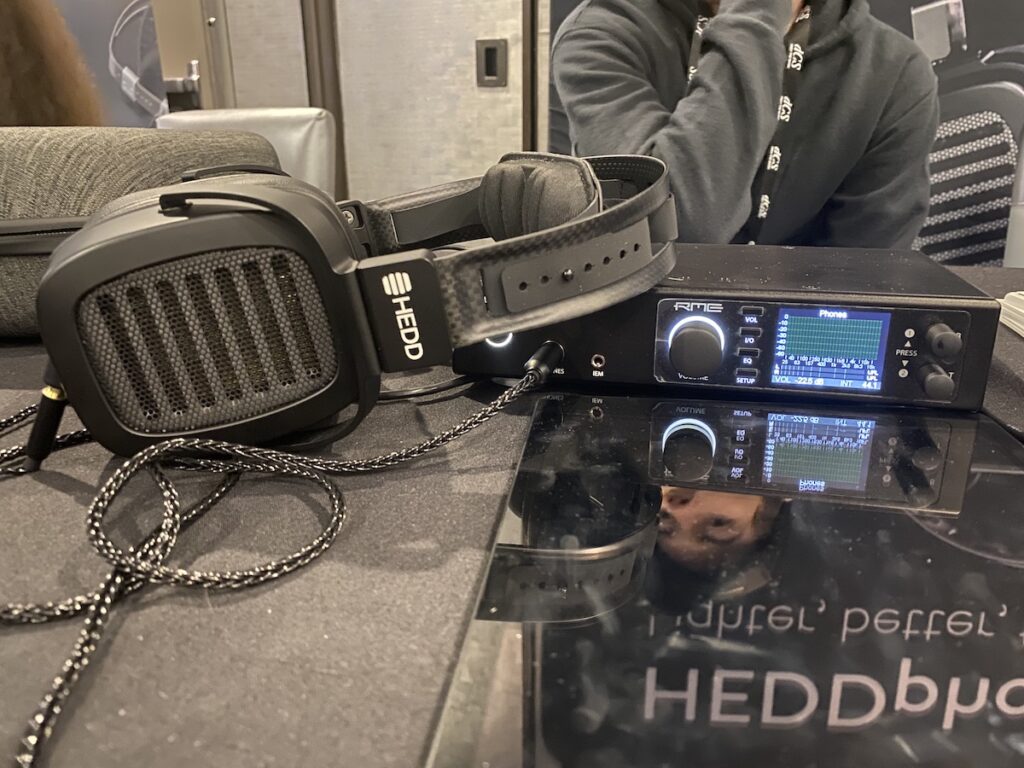 Walking from the table, I remembered to call Gary Barker of Headphone.Guru. I dialed his number and heard an old-fashioned phone ringing through the ample space. I tracked it down and got to him before he answered, making me laugh. Gary told me our coverage was graciously sponsored by Noble Audio this year. I have about a decade of respect for Noble Audio, from when I first heard the K10 at a T.H.E. Show in roughly 2013. The Noble Viking Ragnar ($4,000) is among the best IEMs in the world and is currently on my want list. Gary mentioned he had pretty much done the basic coverage of the show and allowed me the freedom to cover what I wanted to see. This was a massive weight off my shoulders. We chatted a bit, and I started my traditional circumnavigation of the show floor to see what was where.
Ampsandsound
As Classy and I neared where we had auditioned the HEDDphone TWO, we came to the Ampsandsound booth. I noticed that on the table were the top-of-the-line Red October REV2 ($13,000), the best-selling Mogwai Special Edition ($3,900), and the baby of the line, the Kenzie OG REV2 ($2,600). I have been looking for a nice tube amp to drive both headphones and my ZU Audio Union speakers in my office setup. Specific models of any of these three would fit the bill. I waited patiently for a space to open up somewhere. I have spent little time with Ampsandsound products, but a longtime friend owns a pair of giant horn speakers designed and built by Justin Weber, the company's head. This was my first time speaking to Justin, and it was an enjoyable experience. The company's philosophy to show the absolute best at each price range is similar to most companies, but I wasn't ready for what would occur. Space became available in front of the Red October REV2. This is the best 300B amplifier I have ever heard, even under show conditions. Listening through the Audeze LCD-XC, which I know well, I would place it amongst the best headphone amps I have auditioned. Sliding to my left, I inserted the same headphones into the Kenzie OG Rev2, and I think my mouth fell open. It was different, with a little less mid-range detail and full low-end, but the enjoyment factor was just as high. I got what Justin was trying to tell me.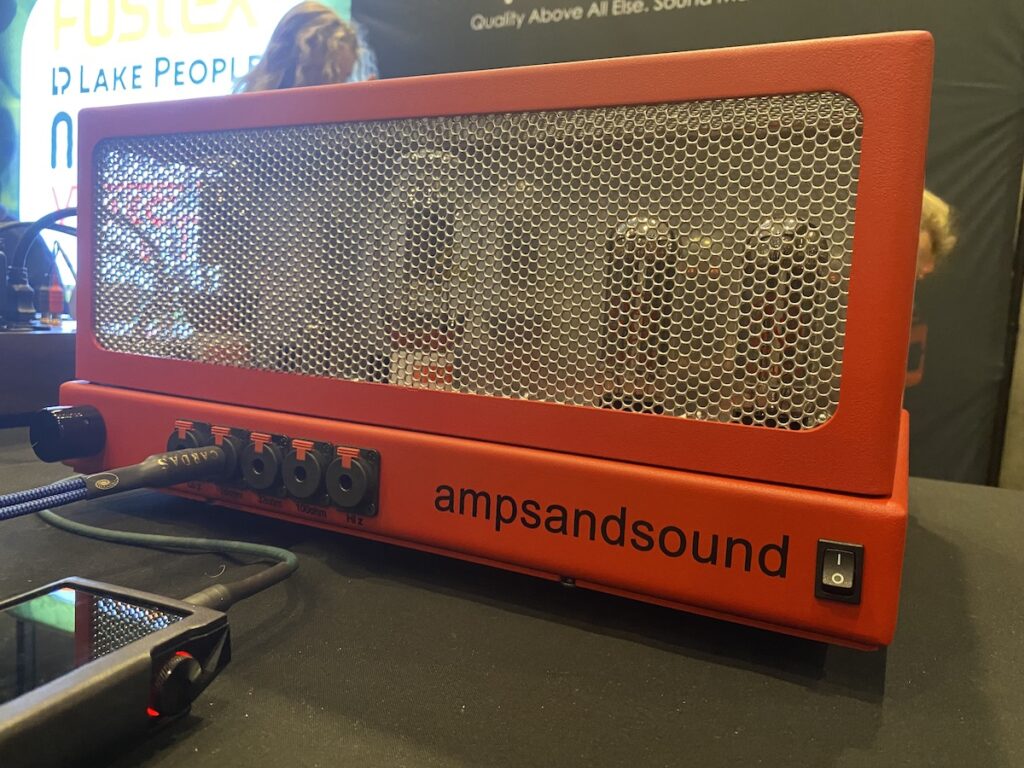 ZMF Headphones
From Ampsandsound, I made a beeline out of the main showroom and to the room where ZMF Headphones had taken up residence. It was still early, and I wanted to take advantage of the brief lull of Sunday morning CanJam to hear some things. The ZMF room was packed even at this early hour, though it would look like an autograph signing session for a major label rock band later in the day. I spied an Atrium Closed ($2,499.99), which was on my list to listen to. It was plugged into a cute new little Amp called the Arcadia ($999), a collaboration between ZMF headphones and JDS Labs. The Atrium Closed lived up to all the hype, and I mentally checked my to-buy list. Surprisingly, the little amp made the list, too. The sound was superb with the Atrium Closed, and the newest ZMF Headphone, the Bokeh ($1,099), but the aesthetics won my heart. The shape, materials, and feel of using the amp were at another price point altogether.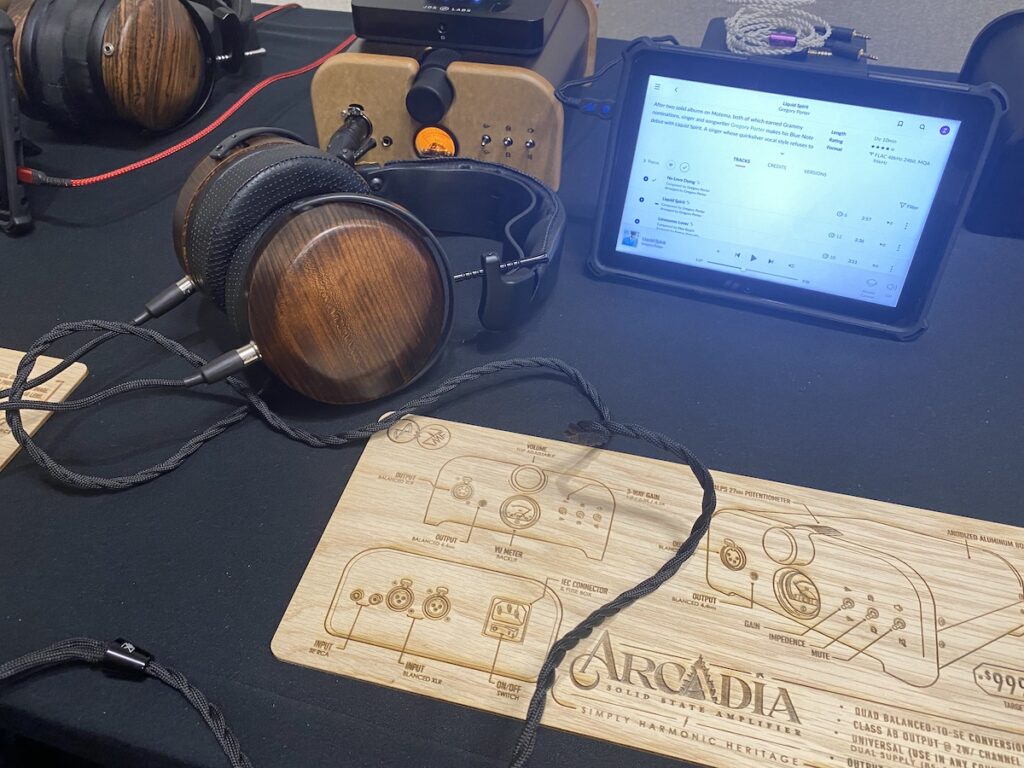 dCS Audio
Next door to ZMF Headphones was the dCS Audio room. Last year, as hard as it was to avoid, I had successfully not listened to the dCS Lina stack except in passing. It was a pretense and financial self-preservation. In case you have yet to hear, the full dCS Lina complement of components retail for $31,150. Reviewers' sound descriptions also let me know I would love it. Love it I did. This is one of those digital suites of products that sound right. Detailed, organic, smooth, and emotionally engaging, all rolled into one delicious audio pie. If you have the means, buy it; as for me, I will start stacking my dollars away. The end game is talked about a lot on head-fi.org. The components that allow you to walk away from the buying frenzy that encompasses the high-end headphone market. For my tastes for file playback or streaming, this whole rig, along with a tube amp like an Ampsandsound Red October REV2 or a Woo Audio WA23 Luna, would be that rig for desktop use.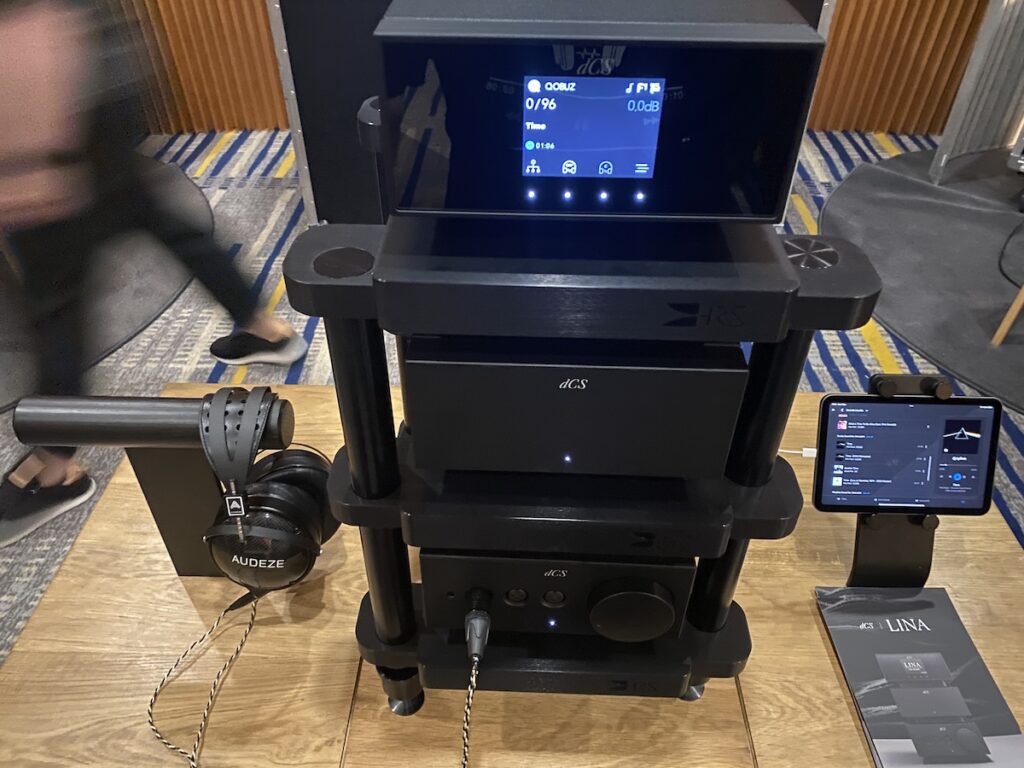 Subtonic and Nightjar Acoustics
The high-end in-ear monitor sector of the headphone industry is where the most action is these days. New pairs almost seem to be announced hourly. The Watercooler Thread on Head-Fi.org is a community of IEM aficionados where I get most of my information on what has become my current passion. Two companies that have taken the thread by storm, pun intended, are Subtonic and Nightjar Acoustics. The Storm from Subtonic is considered by many to be one of the premier reference-style IEMs on the market. The Nightjar Acoustic Singularity is a trendy single DD design. The companies were sharing a booth, and I headed over as both IEMs were on my must-listen list. The Subtonic Storm ($5,200) lived up to its hype. Smooth and consistent across the frequency range, I could see its use as a reference studio monitor. It needed quite a bit of juice to reach its potential. My iBasso 320 Edition X was up to the task, but I can see using an external portable AMP with these for best results. The Nightjar Acoustics Singularity ($1,300) was just a blast. Feeding it some Amon Tobin, the texture and depth of the bass need to be experienced, to believe, yet the midrange was clear, and the highs seemed properly clear and extended. To my surprise, there was a new IEM from Nightjar Acoustics called the Duality ($TBA). It featured bass as good as the Singularity but seemed more profound. In addition, two impedance adapter cable dongles increase the bass in increments. The Duality was a fun listen for electronic, hip-hop, and pop music. I can see lots of people liking the Duality. I will try and get all three of these in for review.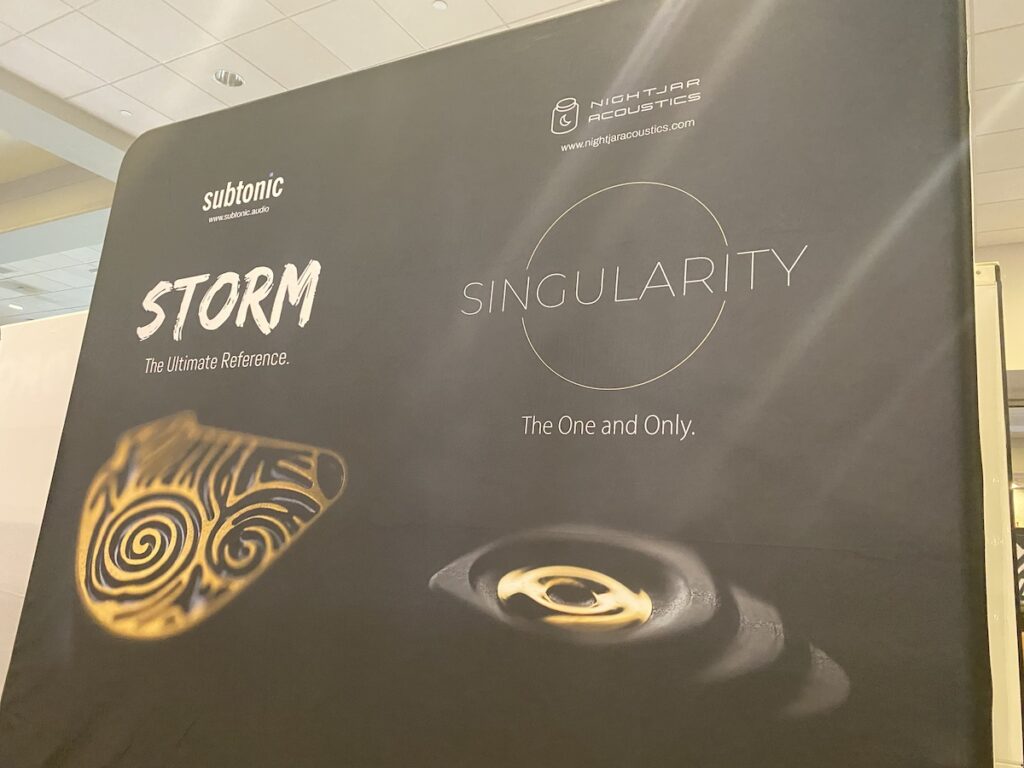 MusicTeck and Unique Melody
Continuing my IEM audition quest, I headed to the MusicTeck and Unique Melody shared booth. I had a long list to audition here. But first, I said hello to the members of the Watercooler I knew who surrounded the tables and were passing gear back and forth, Impressions being discussed and written down. This is a serious group of folks who know their stuff. My first auditions were last year's favorites, the Noble Audio Viking Ragnar ($4,000) and Unique Melody Multiverse Mentor( ($4,500). These both still stand tall; I could live with either forever. Next, I tried the brand-new Empire Ears Raven ($3,599). The Raven is easily the best Empire Ears ever for me. Balanced and articulate, it ticks all the technical boxes and is an engagingly musical listen. Next up was the Aroma Audio Fei Wan ($4,688), the new flagship. This IEM merges the musicality and smooth delivery of the Aroma Audio Thunder with the technicalities of the Aroma Jewel and, as such, is a joy to listen to. Next were two portable amps, the Mass-Kobo 475 ($1,699) and the Brise Audio Tsuranagi ($2,699). Both amps added more textured bass to the IEMs I tried with them, but I found the midrange to have more flavor and the top end smoother on the Mass-Kobo, which I preferred. Fans of true neutrality may like the Brise. Finally, I listened to the Unique Melody Amber Pearl and Cayin N30LE IEM and Digital Audio Player combination. Only ninety-nine of these sets are being sold as a set worldwide. The $13,000 pairing was phenomenal. It is one of those things that, while you can never own it, you are so glad you got to hear it. Standing up after thirty-plus minutes at this table, I realized I was no closer to deciding the next IEM I would buy.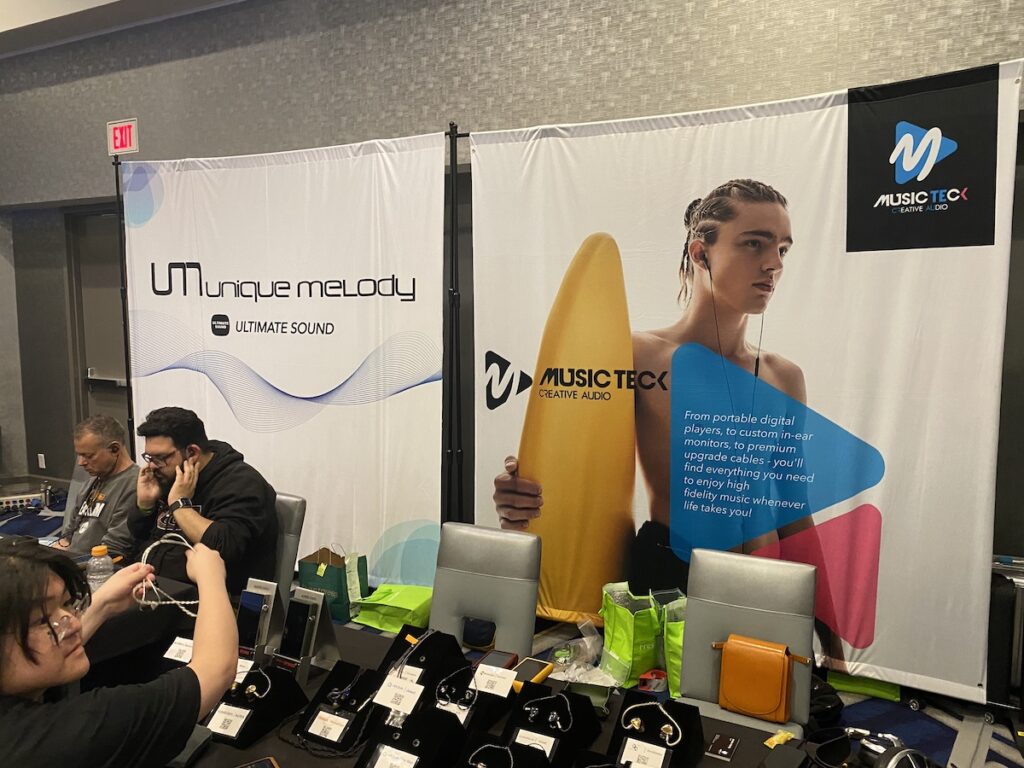 HIFIMAN
Glancing to my left, I noticed a seat vacant in front of the new Goldenwave series at the HIFIMAN tables. The Goldenwave PRELUDE amplifier ($2,499) and the Goldenwave SERENADE DAC/Amplifier ($1,199) were paired with the HIFIMAN SUSVARA. The SERENADE features the HIFIMAN HYMALAYA PRO R2R DAC paired with a take on the Goldenwave Class A Headphone amp. This is the first collaborative effort since HIFIMAN acquired Goldenwave. This DAC/AMP easily drove the difficult SUSVARA and made music seemingly come to life. Adding the Goldenwave PRELUDE amplifier to the mix only increased the enjoyment.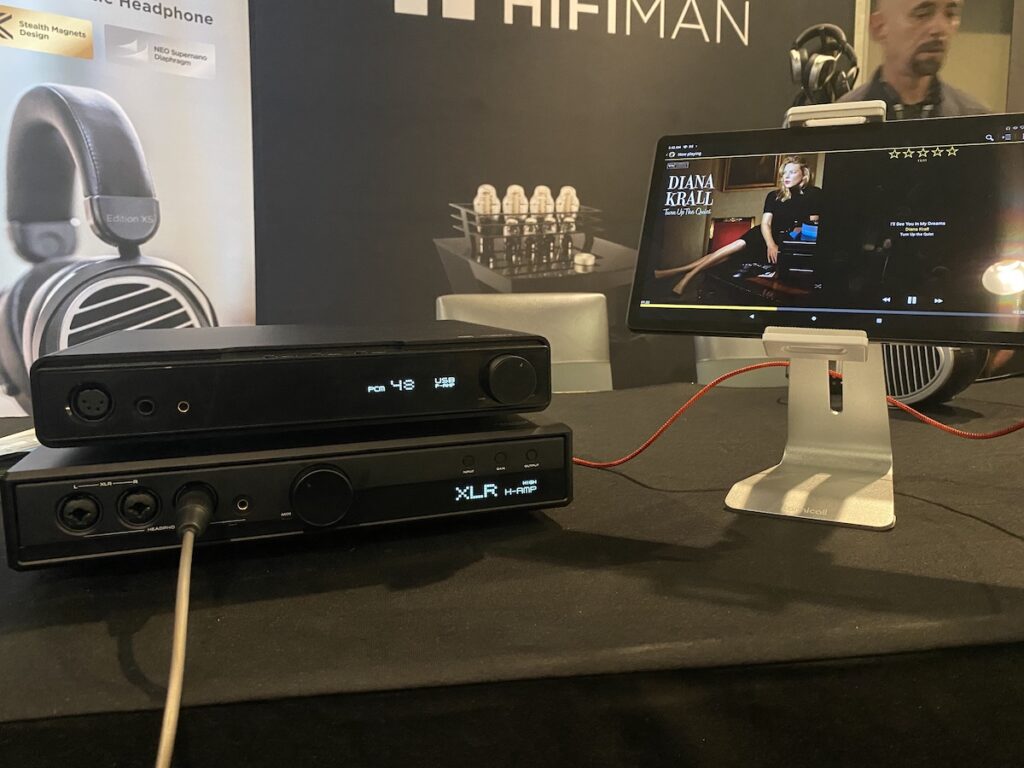 Lunch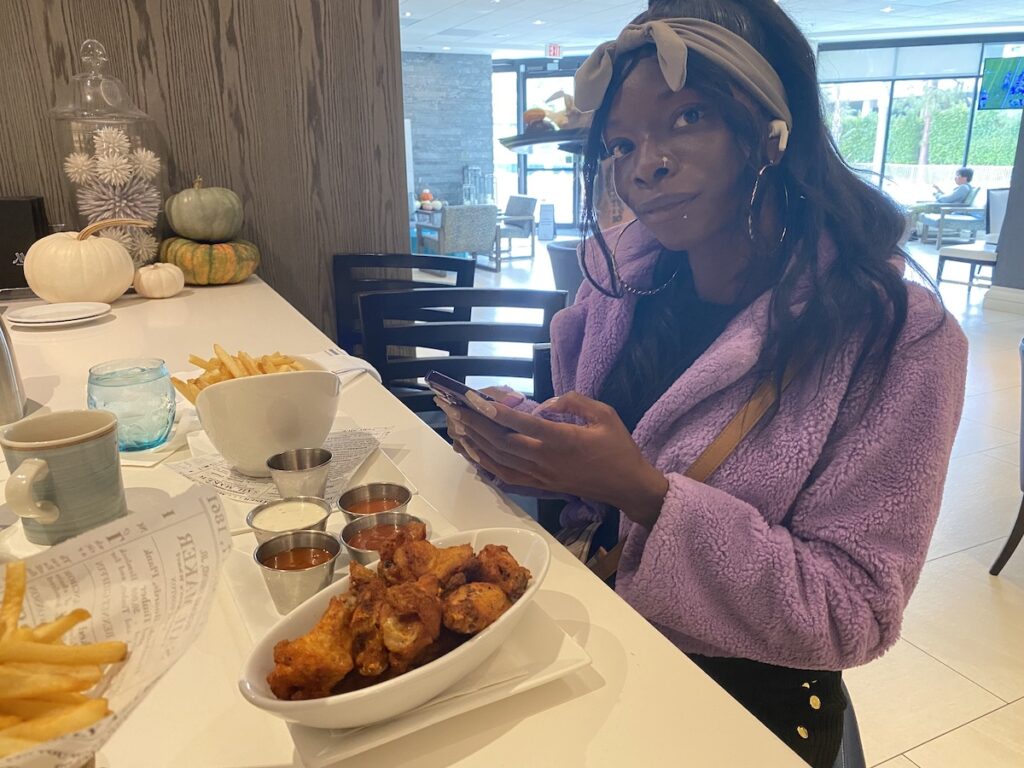 I was feeling hungry and tired at this point. I needed coffee and some food. The lack of sleep started to wear on me, and it was time to refuel. Classy and I headed to the hotel restaurant bar for a nice lunch as I plotted my next round of stops. Join me after lunch for my next installment in our ongoing coverage of CanJam SoCal 2023, sponsored by Noble Audio.