I knew this headphone amp was going to be terrific when I first heard it at RMAF (and that was under "show" conditions, an always uncertain environment for any true impressions). Still, I craved some alone time with Lady Crimson. Now as I sit down to write this review, I am listening to Patricia Barber's
The Wind Song
from her
Smash
album (AIFF 24/96 HDTracks) and I am not "listening" as usual. I am "experiencing" her performance. She is whispering in my ear, not singing from the stage. Mmmmmmm. Lady Crimson, you had me at the ON button….
First, let me introduce Alex Cavalli. He is a long time member of the Headphone community. A software engineer by trade, Cavalli was pulled back into hardware twenty years ago. A school project for his son led him to designing simple tube amps. He began to post his designs as DIY projects on
headwize.com
. He focused on headphone designs because speaker amps were big, heavy and expensive. Cavalli took suggestions from the DIY community and his designs became very popular.
I asked Alex to describe the early days of Cavalli Audio and his interest in electronics and amplifiers:
Eric Neff: When did you start building amplifiers?
Alex Cavalli: When I was 10 years old.
EN: How did you end up starting Cavalli Audio?
AC: I had a whole stack of ideas from the DIY experience and it led to my starting Cavalli Audio. The people building the designs convinced me to go commercial, which I was reluctant to do. The first design was the Liquid Fire. At CanJam Chicago 2010 Cavalli Audio and Audeze had adjacent table. The Liquid Fire was powering the first LCD and was one of the few amps that had the power to run Planers.
EN: What is your design philosophy? How would you describe the Cavalli Audio sound?
AC: My amps have similar character. I actually try to build amps that sound like nothing. My amps are designed to pass the signal through as transparently as possible. No Color. What typically happens with my amps is people realize that their system chain may not be as solid as they had thought. The amps will expose any weaknesses. Given a great recording and equipment chain you will get what you are seeking
EN: What do you shoot for when designing a headphone amplifier?
AC: Transparency from the source and good control of drivers.
EN: The Liquid Crimson is a Hybrid Tube/Solid State design. What was it about the 6922 that made it work for the single tube choice?
AC: Primarily, as tubes go it is a low voltage tube. It needs only 90-100 volts so you do not have to make these massive high voltage supplies.
EN: I notice there is a two-stage delay when the amp is first turned on. What is the purpose of that?
AC: The Crimson, like the Liquid Fire, is a DC coupled hybrid. There are no capacitors protecting the circuit from high voltage. I always have a startup delay to allow the tube to be fully warmed up and conducting before the amp powers up the rails. Next there is an output detector that makes sure the average DC voltage applied to the headphones does not exceed a nominal value (500-600 mVolts). If it does it trips a detector and the headphones will be disconnected. The power on circuit detects the action of a momentary switch. A power outage will trip the power circuit and shut the amp off. The amp will not turn on when power resumes. You need to use the power on switch again, which restarts the sequence. This protects the amplifier electronics from power blips.
EN: This shows a lot of thought for protecting both the amp and the headphones.
AC: I like to be thorough. I am not aware of any other amp using a two-stage protection protocol, but, of course, there may be some.
EN: Is the Crimson a class-A amplifier or something else?
AC: Class A to about 2.5W into 50ohm then class AB to 5-6 watts per channel and 50 Ohms.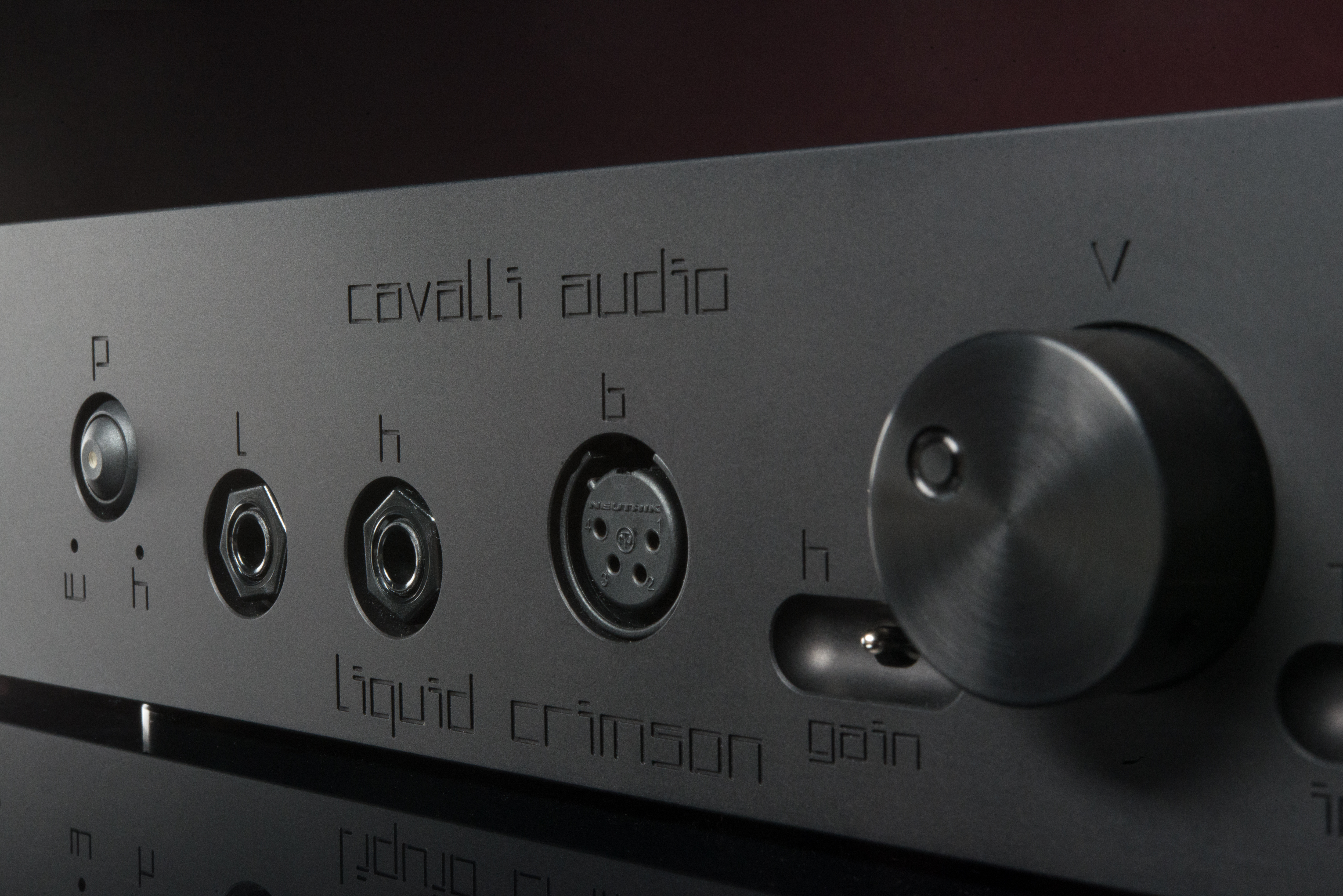 Background and Technical Specs:
The original Liquid Fire is what Cavalli calls an "embedded" hybrid. According to Cavalli, "the tube and solid state elements are blended together with their different rail voltages mixing together in the circuit." There are no coupling capacitors in an embedded hybrid.
The Liquid Crimson is the successor to the Liquid Fire
and is also an embedded hybrid, completely DC coupled. Unlike the Cavalli Audio Liquid Glass, a classic hybrid with capacitor coupling aimed at active tube rollers, tube rolling in the embedded hybrid amps is not as noticeable since the tube is embedded into the circuit. It is blended in with the Solid State to achieve a blended sound. It does have the "tube" characteristics, but with a flat response. So you don't get as much audible difference when you roll tubes. Currently, Cavalli is shipping the Liquid Crimson with a new generation Genalex Golden Lion 6922.
The Liquid Crimson is a single ended amplifier. It has three headphone outputs located on the front of the amp. From L to R they are Low, High and 4 Pin XLR High. The High output ¼" and the 4 pin XLR, deliver the same power with a 4x gain over low power. The 4 pin XLR is there for cable convenience and is a single ended output. The High and 4 pin XLR are wired together for output. The third Low gain connector is a ¼"low gain output with resistors in series so if you have lower impedance higher output headphones you can get a lower noise floor and lower gain. There is a Low/High gain switch that when switched increases gain from the 4x to an 8x on the left of the volume knob. On the right is the input selector for the rear RCA inputs. There are 3 RCA inputs on the back. Input one on the left, a tape loop in the middle and input two is on the right.
The unit under review is one of two pre-production units. Specs are close to final. Here are the current specs subject to final production adjustments.
Specifications
Size: W 12" (31cm) D 11.5" (29cm) H 2.5" (6.25cm)
Weight: 10lbs (4.5kg)
Maximum Power: Approximately 6W into 50R
Gain: 4X (12db) and 8X (18db), hot switchable from front panel to adjust for different headphones
Inputs: 2 x RCA, front panel selectable. Loop out on Input #2.
Outputs: 4 Pin XLR, 2 x TRS. One TRS is low output.
Features
Tube Hybrid using single 6922.
Pure Class A output for the first 2.25W (50R) of output (extremely clear low level detail)
High quality hardware and electronics with impeccable build quality and auto fault protection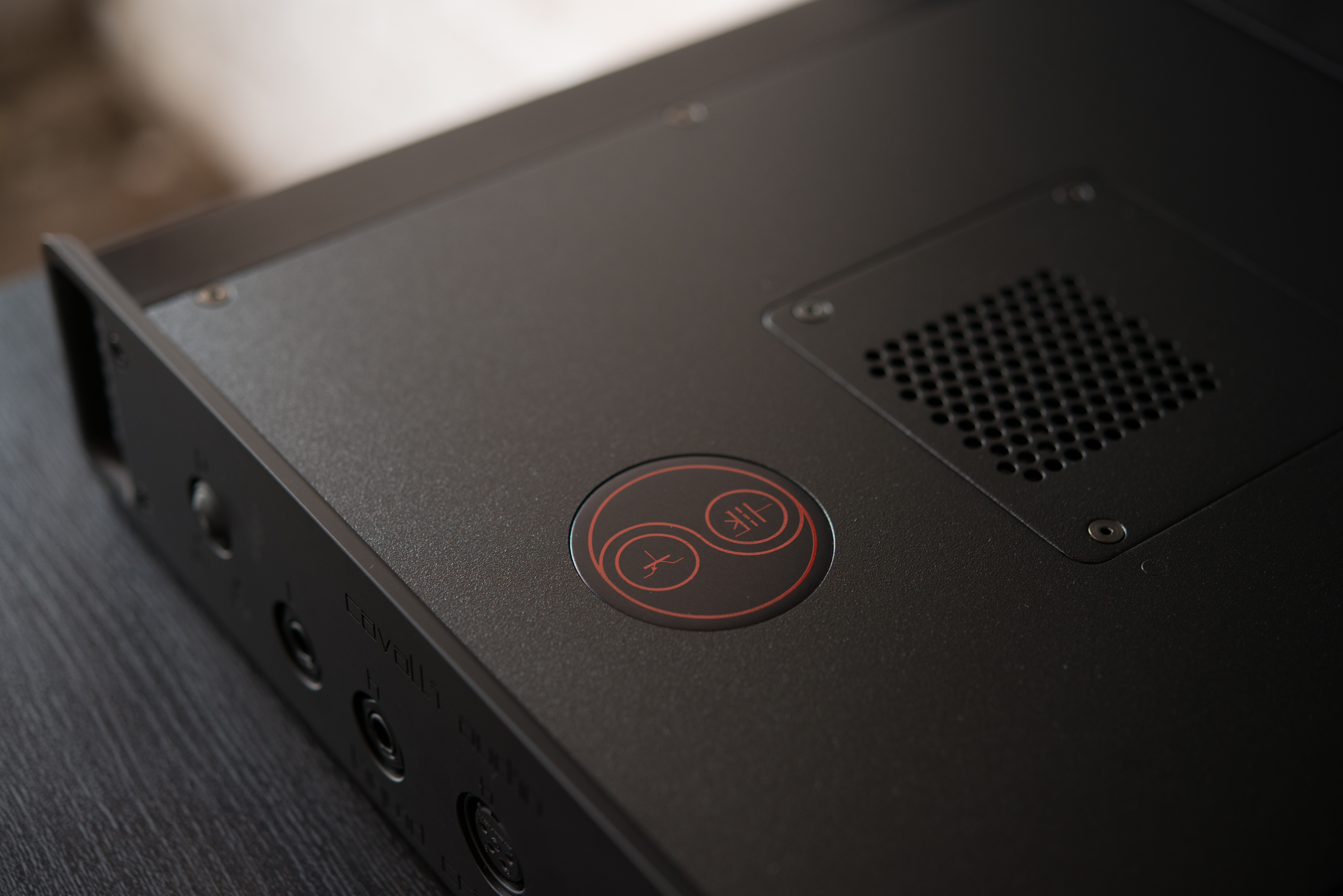 Listening impressions:
First, I want to go back to one of the questions I asked Alex Cavalli. What is the Cavalli Sound? He answered, "I actually try and build the amps to sound like nothing". All components of an audio chain are dependent on the others in that chain. Cavalli amps are particularly dependent. Their transparency means they will send through what they receive as closely to what they get as is possible. That level of transparency is revealing of the quality of the other parts of that chain, be they electronics or the recordings. The "
what is there is what you get"
approach will tell you how the other parts measure up. Don't be surprised if you find a naked emperor or two within your chain. Ah, the trade-offs of working your way higher up towards the summit of audio.
First up on the listening docket is
Sinead O'Conner's Am I Not Your Girl
.
(iTunes, 16/44.1 256k MP3). The album is a collection of 1940's torch songs that came as quite a surprise for me. I had never heard her sing anything like these and the genre fits her beautifully. I began with the Liquid Crimson, Wyred 4 Sound DAC2DSDse and the HD800's (using the Toxic Cables Silver Widow 25.5ga 4 Pin XLR cables). The sense of space was fabulous on "Bewitched, Bothered and Bewildered". The backing orchestra was appropriately arranged around her. I love a 3-D sound. The Crimson was precise and solid locating all instruments with Sinead at the center. You can sense the room as the sound moved throughout decaying in a natural way. Bass guitar offered a solid but not overweight foundation throughout the song. Trumpets and trombones were not harsh but bell like throughout their registers. Clarinets and other woodwinds had that haunting and melancholy sound that these songs require.
Next up is an old favorite with a new album. I have been enjoying Bryan Ferry for years. His new album
Avonmore
(180 Gram Vinyl 2014 BMG) delivers new material that sounds as comfortable as an old favorite shoe. I have always liked his layered approach to a song. This can create a challenge to a rig. Will the chain give you the sonic experience as a coherent whole or separate out each part? I personally do not want a pile of individual parts or notes hurled at me. I want the show in all its completeness. The title track harkens back to his
Bête Noire
album. A strong bass line anchors a sonic symphony that surrounds you. Lesser amps can turn this wonderful calliope of sound into a sonic mush. The Crimson provides the muscle and yet gets out of the way to allow the complex arrangement to reveal itself to the listener.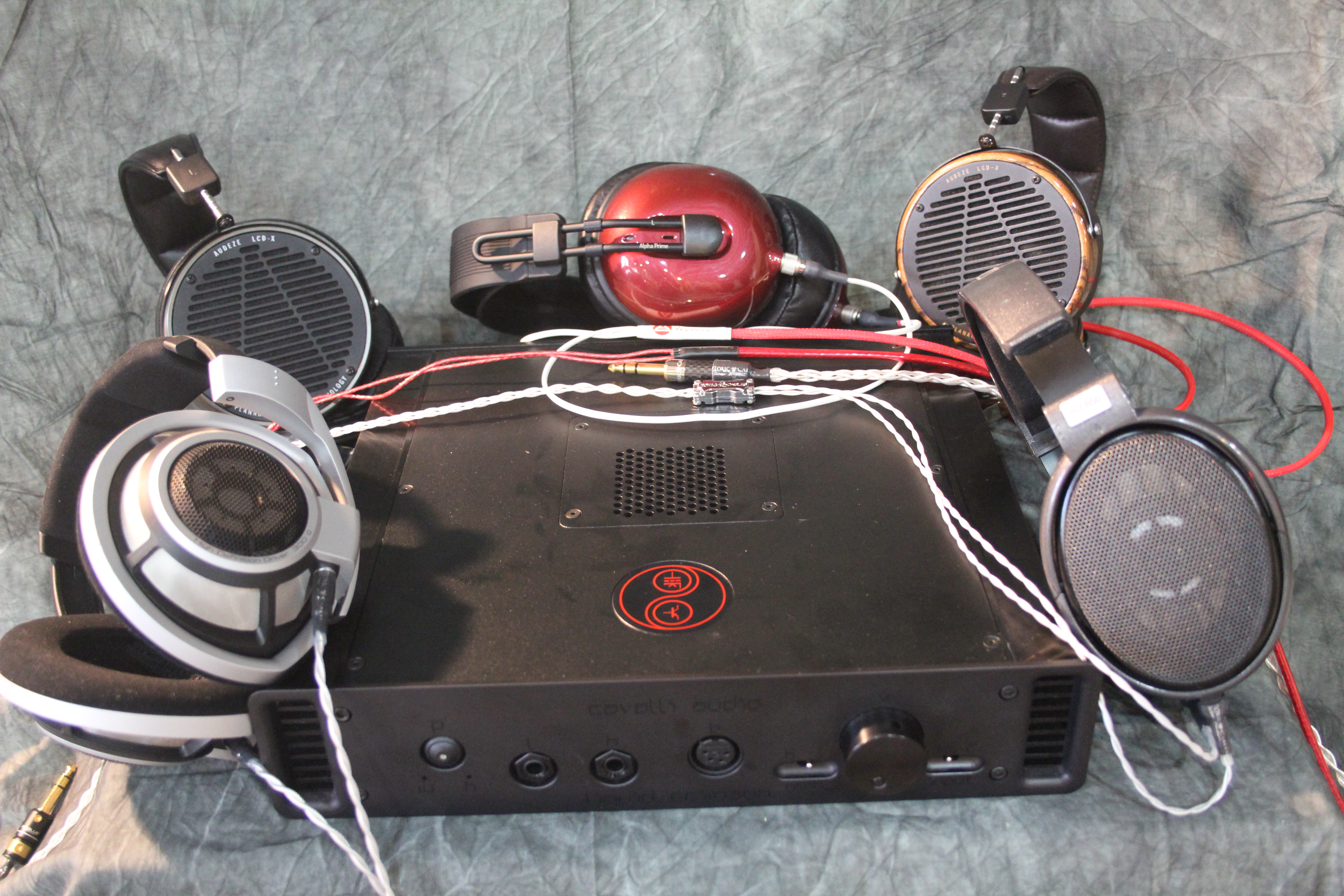 Switching up the headphones I pulled out the Audeze LCD-X and queued up a guilty pleasure,
Chickenfoot's
self titled debut album. "Turnin' Left" showcases this super groups' collective talent in all its Rock and Roll bombastic glory. Joe Satriani's soaring guitar, Sammy Hagar's ripping vocals, Michael Anthony's booming bass line and backing vocals and Chad Smiths incredible drumming make this unlikely debut a special treat for classic rock fans. Once again the Liquid Crimson was up to the task allowing the energy and the party into the room. The LCD-X's are an easy to drive planer magnetic. Yes, that is not an oxymoron! The 2.5watts of pure class-A opens them up and let's the deep bass and detail shine through. Satriani is one of the best guitar players in the world. His talent on this track is amazing. He takes a rock song and turns it into a guitar clinic. Listening through the Crimson, I can enjoy each carefully crafted note and chord. His bends and slides bring all their energy to me via the Crimson. Before I knew it I had listened to the entire album.
The next headphone up is the
Mr. Speakers Alpha Prime
, where Dan Clark has worked magic with the Fostex drivers. Transferring them to 3-D printed closed cups and then modifying them almost beyond recognition he has transformed them into a planer headphone rivaling the top brands. They are also "Fun"! I can just put them on and get to the music and spend time listening for fun. So for fun, queued up "Everybody Talks
"
on Neon Tree's
Picture Show
(iTunes 16/44.1 MP3). This song also struck me as a perfect beach party song. I need that given the -22F outside this morning. The Crimson brought the Class-A heat to this beach party as the perfect date for the Alpha Prime's. Jangling guitars, great back beat of drums and a solid bass line make for lots of energy and a big smile on my face. Reviewing is not all seriousness and hushed library tones. Have some fun while you are sitting there (Or doing your best Risky Business Tom Cruise moves with the blinds down!) At the end of this song (and several other songs) I knew the Liquid Crimson could deliver the party goods besides the club and concert vibe. I am very pleased about this performance.
For my final listening session I pulled out the Audeze LCD-3F and moved on to Acoustic Jazz.
Quiet Winter Night
from the Hoff Ensemble is a Norwegian export I really enjoy (A 2L recording. DSD128:
www.2L.no
).
Stille, Stille Kommer vi
is such a beautiful piece. I do not speak Norwegian and I still love it's quiet beauty. The brushed snare drums, the pure bell of the trumpet and the extraordinary sense of space in the old church where this live recording was done. The Liquid Crimson delivered it all. Well-reproduced Female Vocals are critical for my listening enjoyment and the purity of Helene Boksle's voice is breathtaking. Only gear at or closely approaching the summit can put you in this place. This is exactly why you seek out gear at this level.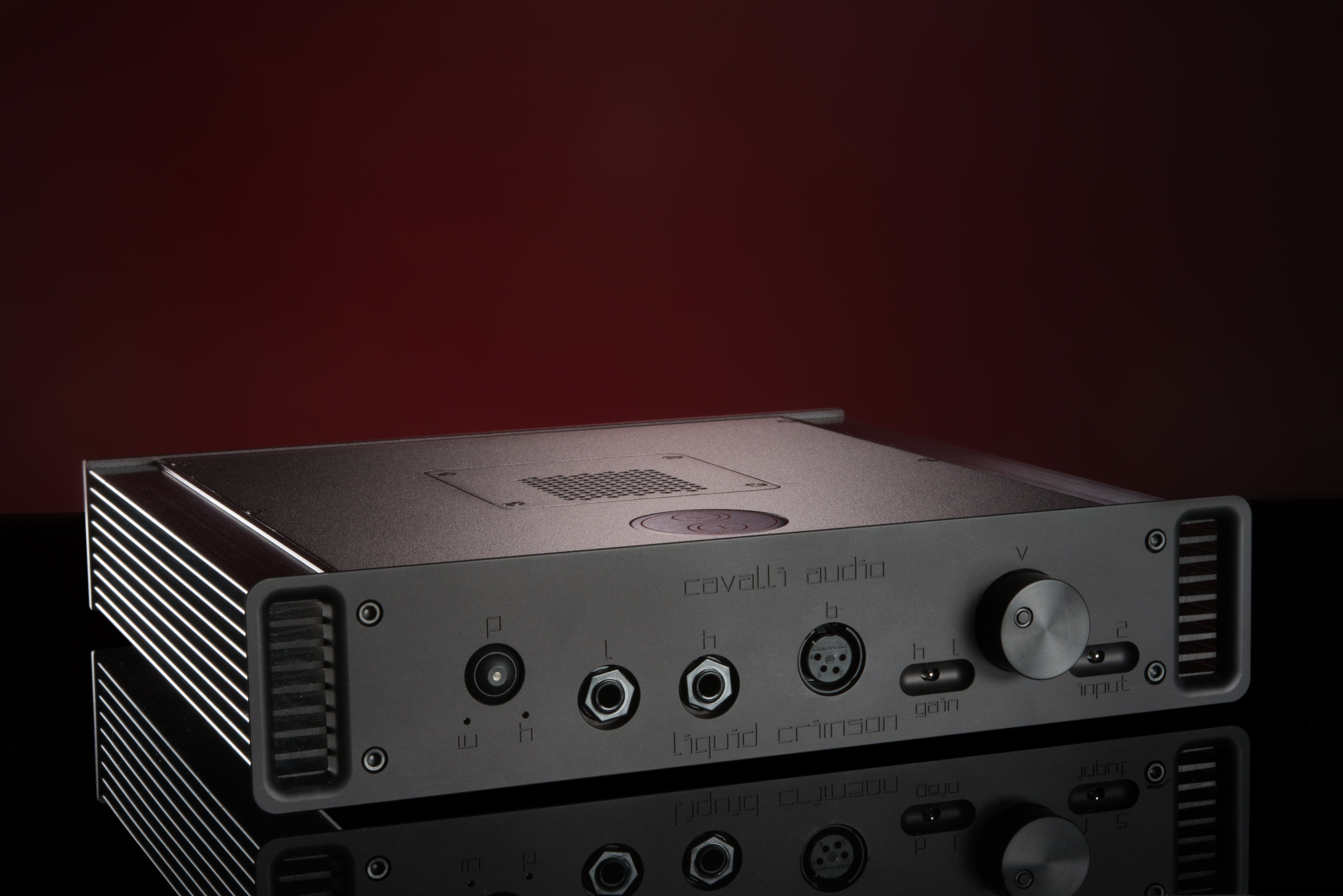 Wrap Up
Amp reviewing can be a challenge. I am a tube fan and I appreciate what tubes bring to the chain. Reviewing a piece of gear designed to not have a signature is an interesting exercise. What does this piece bring (or not) to the party? The Liquid Crimson brought performance, power and subtlety. It played exceptionally well with the other kids in the sandbox. Of course all those other kids were top-level contenders. Given the strong, across-the-board achievements in quality, the results were special.
Availability:
The Cavalli Audio Liquid Crimson headphone amplifier can be purchased for $2850.00 USD. It is now available for order at
http://www.cavalliaudio.com
. Shipping begins early 2015.
Pros:
Extremely transparent signature
Produces more than enough power to drive nearly all headphones
All headphones used were driven beautifully.
Class-A amplifier that was warm but not hot to the touch
Best in class circuit protection design
True reference class performance
Cons:
Single Ended only
The review took longer than expected as I kept listening rather than reviewing!