Cayin is a tube amplifier manufacturer of some 22 years worth of experience who decided to dive into the DAP arena. While this may seem like an unusual departure from their main product line, it is a natural progression from their entry into personal audio a little over a decade ago with the HA-1A Heaphone Amplifier/Pre-amp/Amplifier (2006). Their latest offering, the i5, may be the most versatile portable player to date; it certainly is in my experience.
The Package: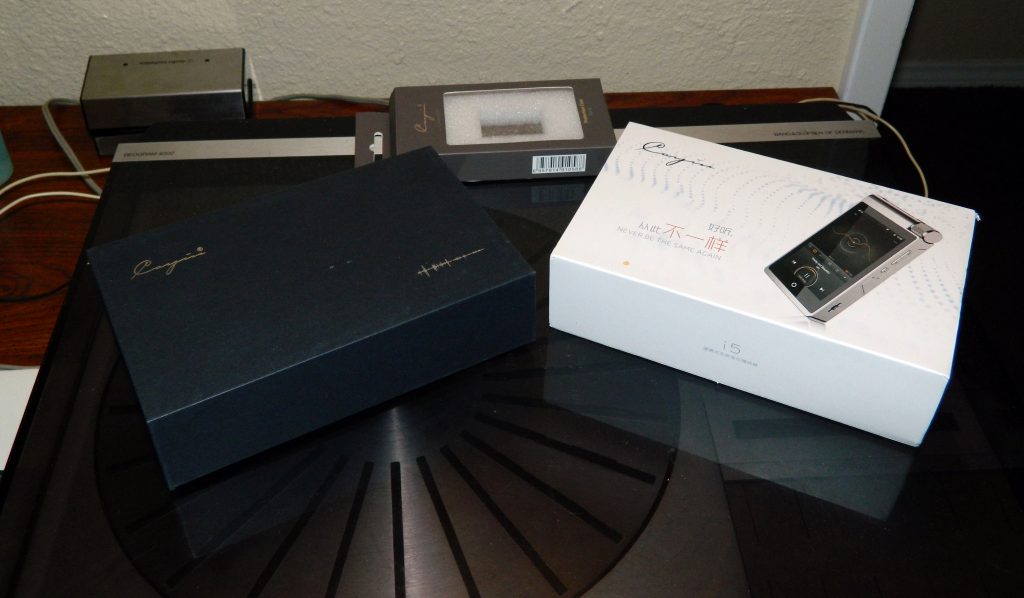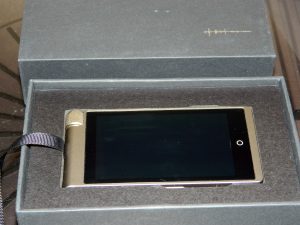 In keeping with its modest price, the packaging was attractive and practical rather than ornate, though it did come complete with screen protectors and the unit sent to me was accompanied by a becoming brown leather case. The handsome machined aluminum casing, one end rounded to match the mechanical volume control, has a carbon fiber back plate and glass front with a 31/2 " x 2″ touchscreen display (with a separate "Home" button that flashes during charging). The mechanical buttons are limited to a power button on the left side and play/pause, up and down buttons on the right side. There is also a micro SD card (TF) slot also on the right side and a Type C (reversible) Micro USB 3.0 port on the bottom, as well as separate 3.5mm headphone and line out ports on the top. All ports and switches are easily accessible through the leather case meaning it never need be removed.
As to the look and feel of the GUI, beautiful with lots of colorful and well executed animations; at start-up, shutdown, during operations such as charging, file transfer and firmware updates and during playback. The GUI is simple to operate if not totally intuitive (like all Android devices, a certain amount of swiping is involved, it took a bit of trial and error to finally get a handle on it), the user manual had not been finished at the time of this writing, though it did come with a basic quick-start user guide which dealt with the hardware and not the GUI. Showing their commitment to customer experience, Cayin has issued two firmware updates since the official release of the player. Operation appeared to improve with v1.81 (especially the functionality of the "Home" button, though there are still some screens where it does not operate) making the player much easier to use.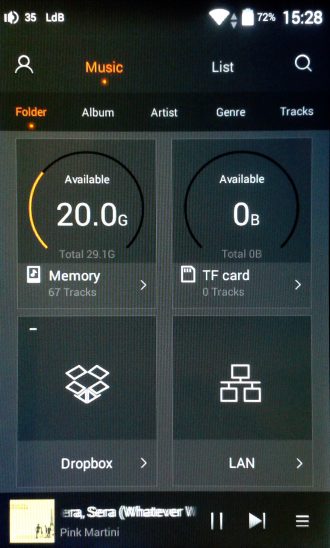 The Features:
The Cayin i5 runs Android 4.4 and comes with Google Play installed to allow easy access to third party apps (ES File Explorer is also provided for manual installation of apps). Both Wi-Fi and Bluetooth as well as USB 3.0 are supported with DLNA and Dropbox both having dedicated portals in the GUI.
For file storage you have 32GB internal and a single Micro SD card slot (which they rate at 200GB, but will most likely support larger cards when they become available), but you can also connect to a pen drive or external hard drive via USB 3.0 (Note: the power output of the Type C USB port is not sufficient to power an external hard drive so the drive would need its own power source), and the i5 will soon (via firmware update) be able operate as a USB DAC supporting up to 32/384kHz or DSD64 (via DoP). As a source unit, the Cayin can be used via a dedicated Line Output or digitally via USB using a Type C to Coaxial digital cable (which will be available through Cayin, they also promise to provide future firmware to allow connection to external USB Audio devices).
As to file type support the list is long: 16/48kHz support for OGG, AAC, MP3, and MP2; 24/96kHz support for WMA and WMA Lossless; 32/384kHz support for Aiff, FLAC, APE, M4A and WAV; and native support (DoP only required when operating as a USB DAC) for DSD64, DSD128 and DST encoded SACD ISO. CUE (with CD image file) and LRC (with Lyric file) are also supported.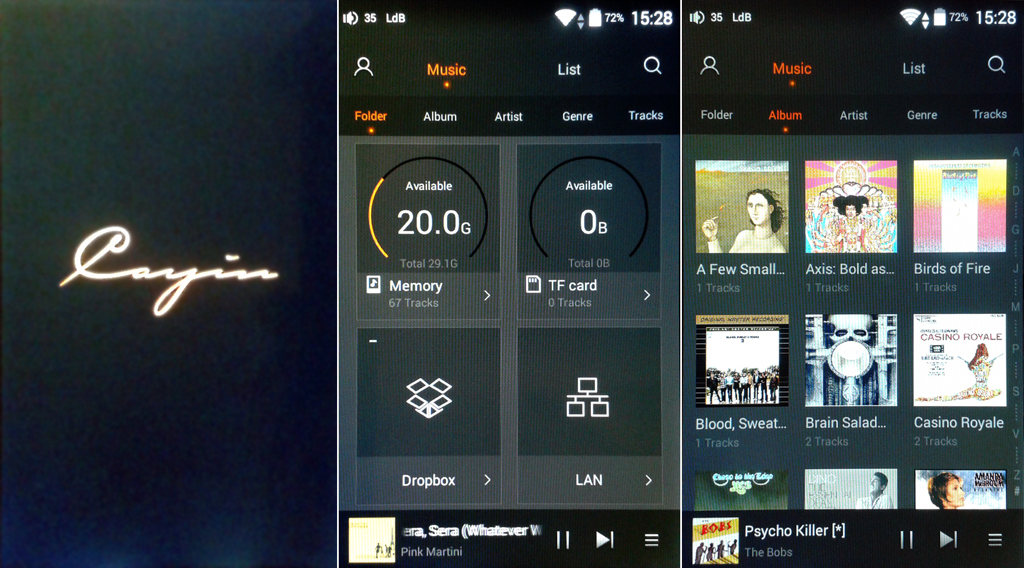 Some of the onboard options are: 2 gain settings, 5 digital filter settings (these apply to how the file starts and stops rather than sound), DSD gain compensation (up to 6db), selectable D2P or DoP for SPDIF output, folder play through, channel balance and a 10 band EQ (split over two screens with a graphic representation of the EQ curve) with a myriad of preset configurations as well. For those who wish for something along the lines of a Parametric EQ or simply more bands, I found plenty of third party apps for this.
Wi-Fi and third party applications mean you can also listen to or watch the streaming media of your choice. I installed Napster, Spotify and Rotation with excellent results.
The Hardware:
At the heart the Cayin i5 has an ARM Cortex A7 1.2GHz quad-core CPU (computer processing unit) and a dual-core GPU (graphics processing unit) supporting an AKM AK4490 DAC chipset (the same used in a certain $3,500 DAP).
There are 3 stages of amplification. The line output is tapped after the first stage, then comes a digitally controlled analog volume control which feeds a preamp stage that in turn feeds an amplifier stage which hands off to a Bias Current Servo Control (and mute control) for the headphone output.
A 4800mAH Li-Poly Battery gives the i5 a claimed 11 hours offline playback (I was able to get an hour more).
The Sound:
The Cayin i5 has most powerful amplifier I have heard to date in a DAP, easily driving a pair of HE1000s. In keeping with the Cayin's modest price, I used the 1MORE Dual Driver IEMs for the majority of my listening tests, though I did listen briefly to the MrSpeakers ETHER C Flows as well as the HIFIMAN HE1000, the Meze 11 NEO IEMs, the Wolfson DS-102A and DS-321D Ambient Noise Cancelling IEMs and the Etymotic ER4SR and XR IEMs proving the i5 is extremely versatile in its ability to drive headphones and IEMs alike.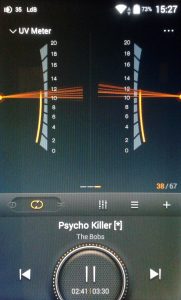 The performance with streaming media was smooth and uninterrupted (much better than with my phone where Napster has a tendency to lock up on certain songs), though it did appear to stop after long periods of play (6 to 8 hours) during burn in, though this may have been corrected with v1.81, or it may have been an issue with charging and playing at the same time which caused the unit to heat up quite considerably (I do not recommend doing this, it is better to simply charge the unit fully then play).
I began my serious listening tests with "And You And I" by Yes (DSD). While this is contrary to my normal procedure, it is a great track for getting an overall sense of the sound of a product and I use it a lot for that, especially at shows. You can tell a lot about a unit in what it does badly, especially an amplifier, and in the case of the Cayin, I'm happy to say not much. It displayed excellent dynamics, the bass was well controlled and accurate, and the overall impression was natural rather than colored. As to be expected from a chip based solid state amplifier the mids and highs were fast with just a little bit of brittleness, though not unpleasant or harsh.
Blue Man Groups cover of "Baba O'Riley" (16/44.1kHz) bore this out further, the percussion crisp and articulate, well resolved for a standard resolution file.
The horns on Weather Report's "Birdland" (DSD) were a little brassier than I like but overall energetic and engaging.
There was none of the sibilance you would expect from a player in this class while listening to Melanie sing "Birthday of the Sun" from Woodstock (16/44.1kHz).
The soundstage was large but not particularly airy as was exhibited by Reference Recordings rendition of "The Firebird Suite" (DSD) and reinforced by Peter Gabriel's "Here Comes the Flood" where the piano was rendered a bit Yamaha. Continuing the Peter Gabriel theme, I selected "Can-Utility and the Coastliners" from the Genesis album Foxtrot, specifically to experience how the DAP handles subsonic bass. While not as deep or authoritative as I have come to expect from the higher end gear that I listen to, it was perfectly acceptable.
The Twitter Version:
If you are in the market for a DAP with the versatility of your iPhone but with significantly better sound and the ability to drive the most demanding headphones and IEMs alike, then the Cayin i5 should be on your short list. Is it the best sounding? No, but it puts many high-ticket units to shame, especially those that require external amplifiers. In fact, I would not recommend using an external amplifier with the Cayin, unless you are particularly fond of the coloration provided by it, as the i5 will most likely perform as well if not better.
While I am not totally sold on the benefits of streaming audio in a device that is tied to Wi-Fi, it is the replacement of radio of old as a source for auditioning new music and the Cayin i5 stands as my first choice for this application.
So to conclude, if you are looking for a portable device that can act as DAP, USB DAC, and music server for both analog and digital systems, you need look no further than the Cayin i5.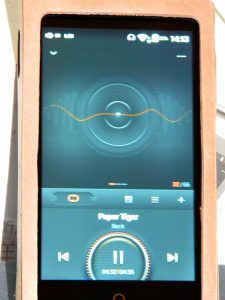 Specifications:
Headphone Output:
Power Output: 190MW @ 32Ω
Frequency Response: 20Hz – 20kHz (±2dB, Fs=192kHz) 5Hz – 50kHz (± 1dB, Fs=192kHz)
THD+N: 0.006% (1kHz, Fs=44.1kHz; 20Hz – 20kHz, A-Weighted)
Dynamic Range: 108dB (20Hz – 20kHz, A-Weighted)
S/N: 108dB (20Hz – 20kHz, A-Weighted)
Output Impedance: ≤ 1Ω
Line Output:
Output Level: 1.2V @ 10kΩ
Frequency Response: 20Hz – 20kHz (±2dB, Fs=192kHz) 5Hz – 50kHz (± 1dB, Fs=192kHz)
THD+N: 0.005% (1kHz, Fs=44.1kHz; 20Hz – 20kHz, A-Weighted)
Dynamic Range: 108dB (20Hz – 20kHz, A-Weighted)
S/N: 108dB (20Hz – 20kHz, A-Weighted)
Price: $499 USD
Leather Case:
Price: $25 USD