Award-winning DAC/amp updated with features prioritizing flexibility and premium sound quality
Chicago, IL — June 1, 2022 — CEntrance, boutique manufacturer of premium recording and audio playback solutions, today announced the launch of the DACmini™ 2, a digital-to-analog converter (DAC) and headphone amplifier. This sleek, stylish, and sophisticated-looking desktop model is designed to conveniently stack with Apple's Mac mini and Mac Studio, reducing clutter and adding premium sound to modern desktops and listening rooms.
"The DACmini 2 bridges your phone/computer and premium headphones to blend audio enjoyment with desktop convenience," said Michael Goodman, CEO of CEntrance. "With the successful introduction of Apple's new M1 architecture, we felt it was the right time to update our DACmini solution, adding modern features and taking its audio quality, convenience, and design to the next level."
Drawing on the standard features of its award-winning predecessor, the DACmini 2 features a USB DAC and a class-A headphone amp, a balanced 4.4mm headphone output, a premium-quality Bluetooth input, and two XLR jacks for driving desktop speakers. The DACmini 2's physical appearance is not merely for good looks – while the look and feel of its precision-machined body, made of aircraft-grade aluminum, perfectly aligns with Apple designs, this case is purpose-built to preserve every bit of sound quality and musical performance for the listener.
Like the previous version, the DACmini 2 includes a number of innovations. The DACmini 2 takes its power from USB (no external power supply), reducing cable clutter. Dual outputs allow the use of standard headphone cables or, for lower noise and crosstalk, balanced cables. The volume level is adjusted with a large analog knob whose action feels smooth and satisfying, thanks to a custom vibration-damping system. The volume is controlled in the digital domain, for lowest distortion and perfect channel balance. For wide compatibility, the DACmini 2 offers a balanced Bluetooth input with aptX and LDAC capability, as well as optical and coaxial S/PDIF inputs. Fixed- or variable-level outputs are available, including RCA, 3.5mm, and balanced XLR connectors. Custom-tuned EQ controls from CEntrance's award-winning HiFi-M8™ reference portable DAC allow the user to fine-tune the sound of any pair of headphones.
During the product design phase, CEntrance surveyed its user base and received hundreds of comments and requests for new features. Based on this feedback, CEntrance made sure the DACmini 2 would be compatible with the Windows, MacOS, iOS, Android, and Linux operating systems – it can be used with computers, tablets, phones, and network servers. And users can wirelessly stream audio to the DACmini 2 from their smartphones – the DACmini 2's balanced Bluetooth circuitry, introduced with CEntrance's award-winning BlueDAC™,adds the aptX HD and LDAC formats for pristine reproduction of audio signals that sounds like a wired connection.
The DACmini 2 has an MSRP of $1,850 USD. As CEntrance prepares for production, customers can preorder units for only $1,099 each via the CEntrance website. All preorders will ship in September 2022.
Experience the full of line CEntrance products during CanJam Chicago on June 18-19.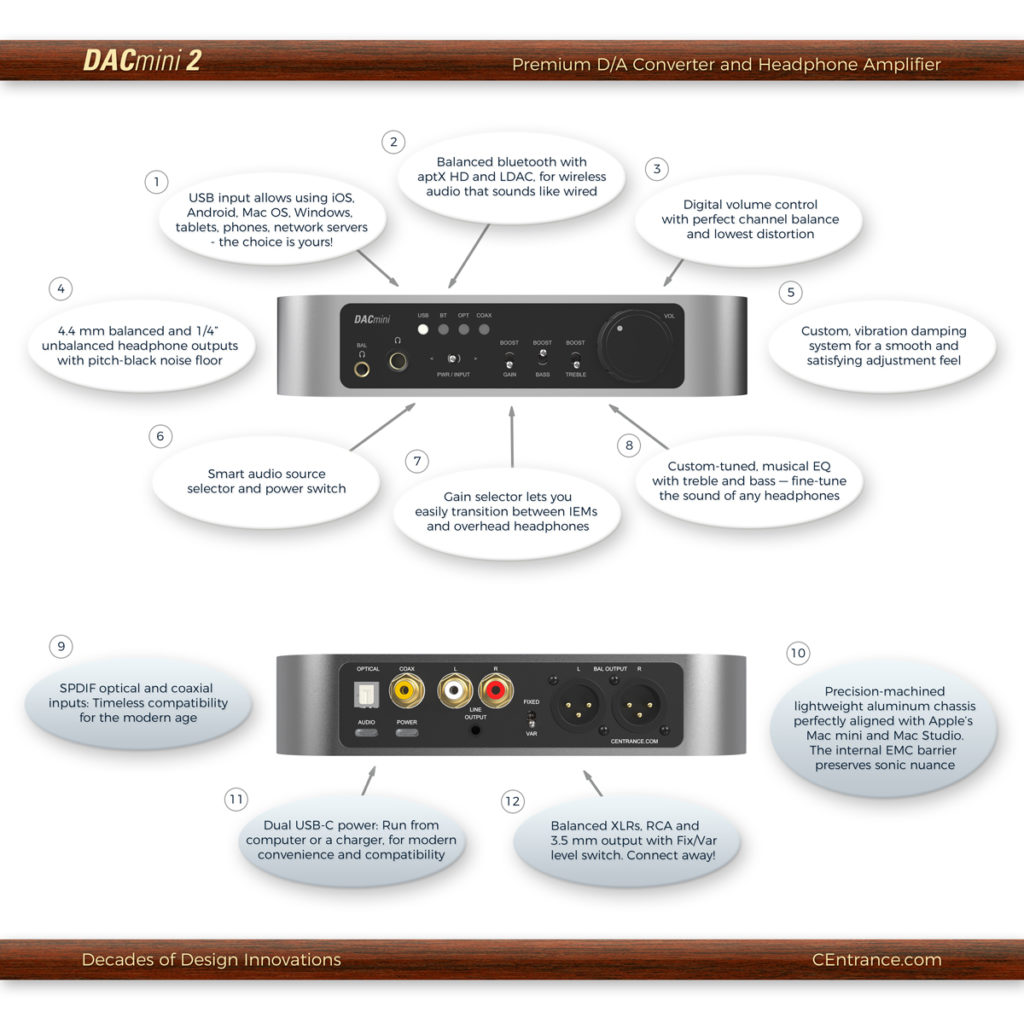 About CEntrance
For over two decades, the world's most iconic brands in professional audio and consumer electronics have turned to CEntrance for its digital audio technology. CEntrance know-how powers award-winning guitar pedals, recording interfaces, smart speakers, and DACs from a long list of top brands, including Alesis, Harman International, McIntosh, and Zoom. Today, with its passion for sound rooted in pro audio, CEntrance delights customers worldwide with its own line of innovative, award-winning products for audio recording and playback. Famous recording artists, producers, voice-over professionals, and sound designers endorse CEntrance audio solutions. Visit us at www.centrance.com.
CEntrance™, DACmini™, HiFi-M8™, and BlueDAC™ are trademarks of CEntrance. Mac mini™ and Mac Studio™ are trademarks of Apple. All trademarks are the property of their respective holders. All Rights Reserved.