I kept the title of this blog very simple. All one needs to do is see that name and immediately you start to make the connection to his music and humanity. Yesterday a seismic event happened in the music world. All around the world the word was now out that Chick Corea had passed away on Feb 9. Needless to say, when you look at FB and other social media sites you could feel the collective feelings of being stunned by the suddenness and then the sadness that associates itself with such devastating news. Some people you look at and just feel they will be around forever. I felt that way about Chick and also about Joe Zawinul. Their spirit and enthusiasm for life and music overflowed into our lives. It made us better.

I first heard about Chick in 1969 when I heard Miles Davis's "In A Silent Way". What made me check him out was; I really liked his name – Chick Corea – it just flowed off one's tongue. I can't say I was totally absorbed into the music because at 17 years old I sometimes couldn't figure out what I was listening to. His name came up again when I bought a copy of "Bitches Brew". There it was "the new sound" and Chick on the Fender Rhodes was just ferocious. I listened to the album over and over again and knew I wanted a Fender Rhodes and loved what I was hearing from it on that album.

I was an avid reader of Downbeat Magazine and always saw Chick's name in there. He was playing with Miles, then left, and then I read about a new band he had with Airto and Flora Purim, Joe Farrell, and a new young bass player, Stanley Clarke (we have the same birthday same year!). I was excited to read that and went to the record store on campus in Indiana, but nobody there even knew what I was talking about or even knew who Chick Corea was.
Then one day in Feb. 1973 I went to the local record store and there it was – Chick Corea and Return to Forever – "Light as A Feather". I took it home, smoked a joint, and started a musical journey with Chick that has lasted since that day. I didn't take that album off for weeks. I didn't know such incredible music was possible and every song was hitting it on all cylinders.

In the summer of 1973, I was still in Indiana and my girlfriend (now my wife) and I drove all the way to Chicago from Terre Haute, Indiana to see Return to Forever at the Quiet Knight which is a famous Chicago club. I then was able to get my hands on the ECM import of the album titled "Return to Forever". It was another groundbreaker and I brought it with me to try and have Chick autograph it. The band was now totally different with Lenny White on drums and Bill Conners on guitar with Mango Lewis on percussion. Needless to say, the walls were shaking in the club. After the first set, I approached Chick about signing the album and he totally lit up and was so happy to meet me and sign the album. We talked for a little while about Miles and Bitches Brew and the first incarnation of the band. He was genuinely friendly and giving.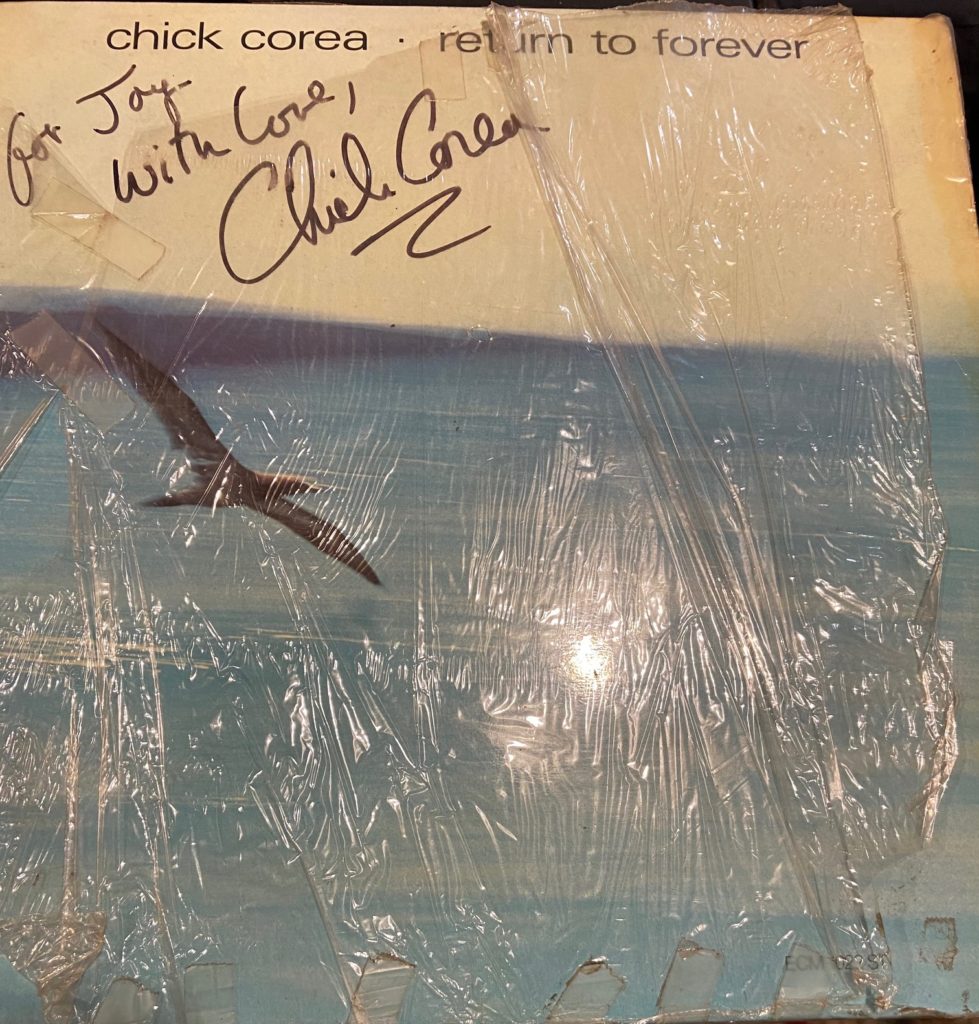 I came back to NYC in Jan. of 1974 to pursue my goal of being a musician in the NYC music scene. All through the years I followed Chick through all of his endeavors and was always so impressed by his continuing to release and play new music. Yes, he was an inspiration to so many of us. I saw him at so many great venues from Carnegie Hall to the Blue Note, where, in 2016, I got to see a number of his 75th birthday concerts. During that period, my friends and musical cohorts Marcus Miller, Lenny White, Mike Stern, and Kenny Garrett were in the various bands he had for the 2-months-plus residency. I always went to the late show so I got a chance to hang with friends and Chick. We talked keyboards, music and it was obvious to me that time did nothing to stop his enthusiasm and love for music. All of the shows were epic, especially when he performed the music from the first two Return to Forever Albums. It was such an incredible treat to hear him take the Fender Rhodes to those great music spaces that were his signature. I gave him a copy of my new album called "Kind of New" which was my exploration of the small electric ensemble based on Miles Davis and his Cellar Door Band with Keith Jarrett on Fender Rhodes. He was genuinely happy I gave him a copy and told me he would check it out when he got back home to Clearwater, Fla.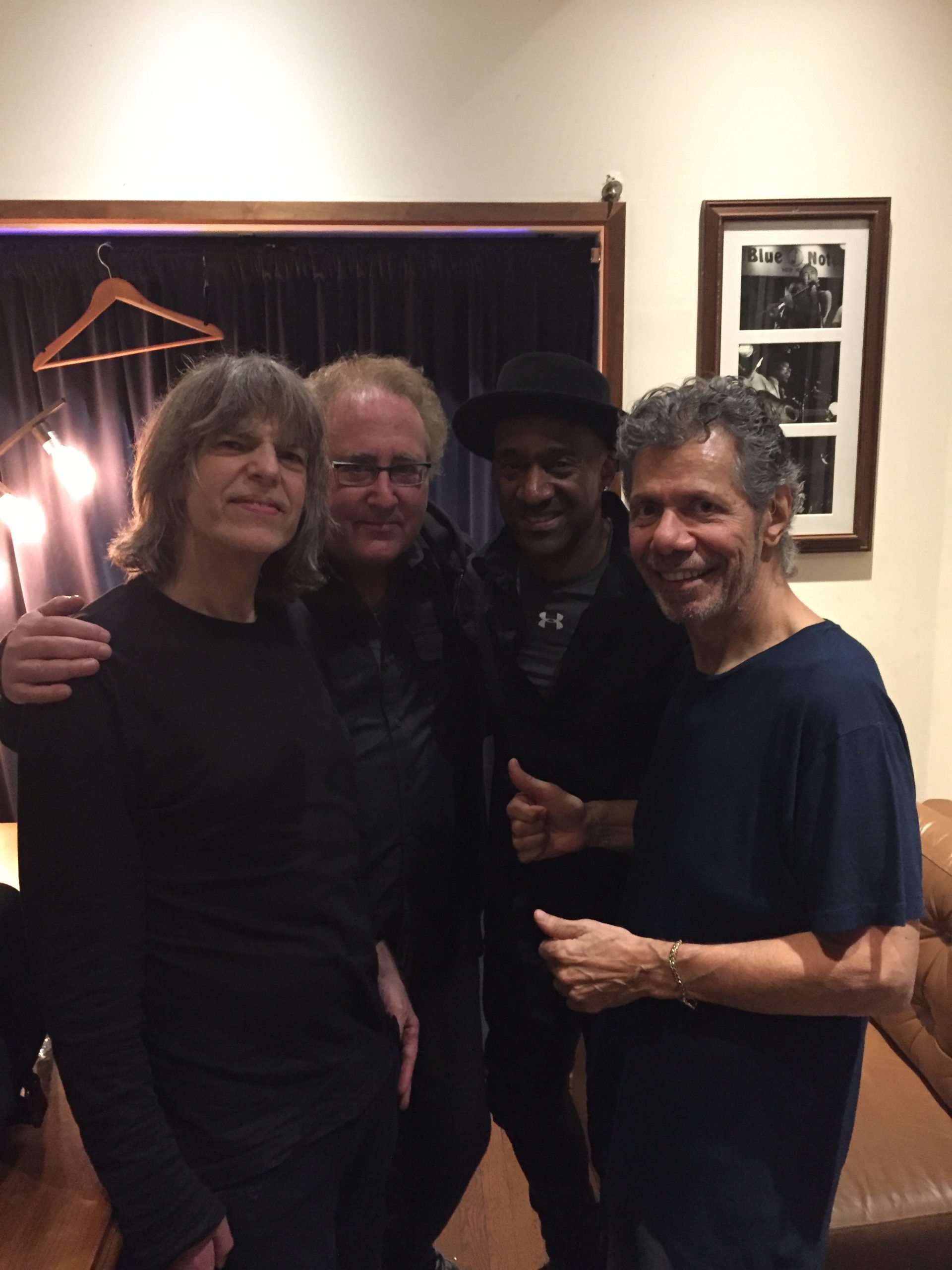 When the Pandemic hit he so generously gave us his time for an hour a day for over a month of him playing and talking to us like we were all in his studio with him and not just watching a stream on FaceBook. Then a moment happened once, then again and again. we were encouraged to check-in on the comments section to let Chick see how many were watching. Out of nowhere, he starts to read a couple of names that were on the stream then he said, "Hey Jason Miles is here…Cool-Hope all is good with you man." I was so blown away and emotional. Of the 2000 people watching he recognized and validated my presence.
Then a few days later it happened again. I couldn't even explain how it made me feel. Then he was doing another workshop and started to call out names and said, "Hey Jason Miles is back…You know Jason is a great musician." What more could I have asked for from a true hero of mine? Validation. He kept giving me shoutouts…even at his last online concert which I believed was "Bartok to Bird". It was 2 hours of pure Chick.

What can you say about an iconic artist who was a bright light for so many years to many of us? Mike Brecker and Bob Berg talked about Chick to me and he was always pushing the creative envelope getting the most out of those who shared the stage and studio with him and those of us that took that work and used it as inspiration. I have a feeling that Chick isn't through with us yet and there will be more music released of his in the future. He will be terribly missed but you know that playful, enthusiastic spirit will still be with us!