Dodocool is a manufacturer of cell phone and computer accessories with a bend towards high performance and state of the art aesthetics, which means they produce a lot of accessories for Apple products.
Apple built its reputation in a large part due to its dedication to digital music and a commitment to a user friendly experience both of which they appear to have abandoned in their zeal to sell proprietary and expensive ancillary products by removing the headphone jacks from their newest products.
Dodocool has responded to this deficit by producing their Hi-Res Earphone for Lightning Devices. The Apple MFi certified Dodocool IEMs employ a 24 bit / 48kHz DAC, magnets composed of beryllium and boron, a sodium diaphragm with a carbon coating and Oxygen Free Copper wire showing a devotion above average sound quality. The refinement of construction appears to be A-one consisting of Aluminum Alloy and TPE giving a very "Apple like" appearance.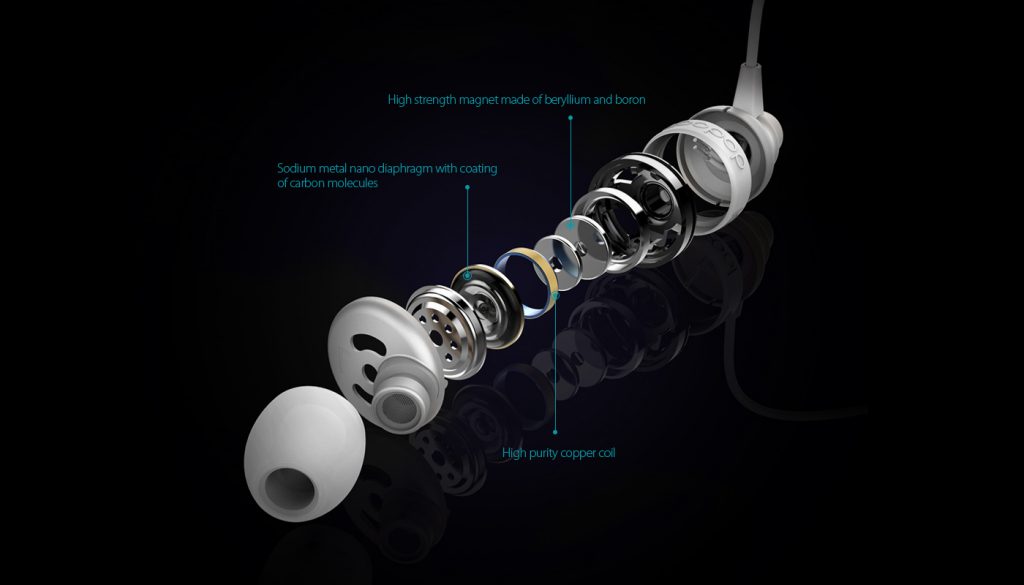 There are two separate in-line control boxes, a small tubular one close to the earphone containing the microphone and a multi-function button (Answer Call, End Call, Play, Pause, Next Track, Previous Track and Siri), the other a larger aluminum alloy rectangle block closer to the Lightning connector housing the DAC and amplifier as well as up and down volume controls, a second multi-function button and a Bass Boost button. Three sizes of silicone tips are provided along with replacement decorative rings.
The Listening Tests:
The first requirement of testing was of course procuring an Apple device to test with, and I chose the iPad Mini. Next I needed to rebuild my iTunes which had been devastated by a hard drive crash. By necessity this meant that I would be using something different than my normal catalogue of demo songs if for no other reason than lack of DSD support as well as the ability to playback higher sampling rates.
One complaint is that like a lot of inexpensive (and some mid priced) IEMs the right and left markings are extremely hard to find (no mention of their location in the literature) and difficult to see once you find them. There does seem to be a convention that the microphone is on the right, but I don't know that this is universal, though it does make it easy to determine which is which for daily use once you've established which is correct.
After my usual break-in and pre-test listening, I began with Paganini's "Violin Concerto #3 in E" as performed by the London Philharmonic Orchestra, Charles Dutoit conducting and Salvatore Accardo as soloist (Diabolus In Musica). First off, I noticed that the "Bass Boost" appears to work in reverse of what one would expect. When activated the bass remains constant and everything else is reduced in volume and active seems to be the default. The violin was sweet and inoffensive though not particularly airy with a rather immediate soundstage. The percussion and plucked instruments were crisp and succinct, giving a sense of hall and the woodwinds were more flute like than reedy. It was only during the crescendos that the sound became a bit congested.
All in all, the tonal balance was fairly balanced with a slight midbass bloom as I reinforced by putting on Tony Bennett singing "The First Noel" with Plácido Domingo (The Classic Christmas Album). Their voices were represented beautifully with a slightly larger soundstage than afforded the orchestral accompaniment.
"Every Breaking Wave" by U2 (Songs of Innocence) was offered up with a real club feel with the bass and kick drum rounded and up front while the guitar was a little recessed and the vocals were in your head.
The tuba and upright bass of Cab Calloway's "Minnie the Moocher's Wedding Day" (Swing! Super Hits, Vol. 1) blended together as a single instrument giving an almost electric bass sound, and the muted trumpet had a definite alto feel. There was a distant yet imminent semblance to the performers like a close mike in a large auditorium.
Pop music seems to be the Dodocool IEM's strong suit, especially if you like that right from the mixer sound as was evidenced listening to "Love Land" by the B52's (Party Mix!). Vocals are placed in the background while the instruments remain at hand.
In a device like this it is impossible to separate what is an aspect of the DAC as opposed to the Amplifier or Ear Speaker. When listening to lower bit rate recordings there was a slight distortion which can be placed at the feet of the DAC, while the match between Amp and Earphone is excellent being able to produce extensive volumes with no apparent clipping even with the bass boost engaged.
"Keep Holding On" by Avril Lavigne (The Best Damn Thing) is one of the only tracks shared by my test list and my iTunes library, so I selected that to get an impression of how the Dodocool IEMs stack up against other offerings in their price range. Since they represent the DAC, Amp and Speaker in a single package this is not as straightforward as one would assume. Impassioned vocals that can often come across as harsh and fatiguing are smooth and enjoyable. I also found that the sound was more satisfying with bass boost engaged on this track, which may apply to all electronic music.
This also applied to Mike Oldfield's "Tubular Bells" (Mike Oldfield-The Collection) despite the extensive use of acoustic instruments. The piano and mandolin had a slight electronic aspect to them but not unpleasantly so. Surprisingly there was no difficulty at all discerning the myriad different instruments even during the most cluttered passages. The spoken voice had a natural timbre and the actual Tubular Bells had a pleasant robust ring to them.
On the other hand "Bittersweet Melodies" (Feist – single) had much greater presence with the bass boost off
The Conclusions:
Dodocool has produced an excellent value product in their Hi-Res Earphone for Lightning Devices. It gives a reasonable tonal balance, with more than ample bass, and very high output levels, with smooth non-fatiguing vocals and high frequencies well in keeping with other IEMs in their price range, especially when considering they are providing DAC and Amplifier as well. But to truly appreciate the Dodocools, you have to consider the alternatives; Bluetooth IEM's which provide a significantly lower bit rate and are generally of limited output and a higher price or a lower resolution / low output Apple cable DAC/Amp that may or may not be able to drive your standard IEMs, or a significantly more expensive outboard DAC/Amp and IEMs. All in all, I think the Dodocool IEMs are a winner, and to make them doubly attractive Dodocool are offering Headphone.Guru readers a special discount coupon code good through the end of January.
Coupon for earphone: LGWWSSP2, end date: 30, Jan. 2017. http://amzn.to/2gvtEOS
Specifications:
Brand: dodocool
Material: TPE + Aluminum Alloy
Core Type: OFC Wire Core
Color: Silver, Gold, Space Gray or Rose Gold (Optional)
Connection Interface: Lightning Connector * 1
Sound Pressure Sensitivity: 91 dB +/- 4 dB @ 1mW/1kHz
Quantization Bit Rate: Max. 24 Bit
Input Voltage: 3.3V
Earphone Output: Max. 30 mW + 30 mW ( 32 ohm – 1% THD )
Operation Key: Volume +, Volume -, Play / Pause / FF / FR / Siri, Bass Boost On / Off
Operating Temperature: 0℃ – 40℃
For Apple Lightning Devices:
For iPhone 7 Plus / 7 / 6s Plus / 6s / 6 Plus / 6 / 5s / 5c / 5 / iPad Pro / iPad Air 2 / iPad Air / iPad (4th generation) / iPad mini 4 / mini 3 / mini 2 / mini / iPod touch (5th, 6th generation) running iOS 8.3 and later.
Certifications: MFi, Hi-Res Audio
Item Length: Approx. 4.9ft / 1.5m (Total)
Item Weight: Approx. 0.99oz / 28.3g
In-Line Remote Size: Approx. 2.0 * 0.6 * 0.28 in / 51 * 15 * 7 mm
Package Size: Approx. 5.90 * 4.02 * 1.65 in / 150 * 102 * 42 mm (L * W * H)
Package Weight: Approx. 4.59oz / 130g
Price: $89.99