In the ten years since I started using cell phones (yes I avoided them as long as possible) I have had innumerable Bluetooth headsets and they have all had three common attributes, poor ergonomics, less than desirable comfort and marginal sound quality. While I overcame the ergonomics issue for the most part by attaching a lanyard to them, comfort and sound quality remained an issue. On the sound quality front, one of the main issues was Bluetooth itself, as a low bit rate format that does not exactly lend itself to high performance audio. For that reason, I had never even considered stereo Bluetooth headsets, especially since most of those I had seen came with heavy collars one had to wear around ones neck and my experience talking to others who use them often involved feedback and other unpleasant noises.
But, that being said, my recent experiences with streaming DACs has shown me that for low resolution sources such as internet streaming services, Bluetooth can perform quite acceptably.
Enter dodocool. Not too long ago, I reviewed a pair of dodocool IEMs which, designed for Apple products, came equipped with a "cable" DAC/Amplifier. In this case, the "cable" DAC/Amplifier was actually built into the control module rather than the Lightning connector giving them a little more real estate to work with, and the performance was quite remarkable. So when they contacted me and asked if I wanted to review a pair of Bluetooth IEMs, I said, "Why not?", and decided to give them a go.
The Package:
The dodocools came packaged in an elegant oval zipper case textured to a carbon fiber appearance. Included were three sizes silicone tips and three sizes silicone ear clips to insure a universal fit, as well as a short USB charging cable. The entire headset and cable is covered in a soft flexible rubber, matte black for the ear pieces and controller and matte red for the cable (dark enough not to be gaudy), except for the magnetic clasps which are a bare metal. All in all, very attractive and understated.
The Tech:
dodocool employs the Qualcomm CSR8645 which provides Qualcomm's cVc 6.0 noise cancelling and Qualcomm's aptXTM HD High Definition Bluetooth wireless audio which allows up to 24/48 kHz transmission easily surpassing most streaming audio sources. The ear pieces use a 10mm PEEK (Polyether ether ketone) dynamic driver featuring OFC (oxygen-free copper) voice coils and utilize OFC cabling throughout.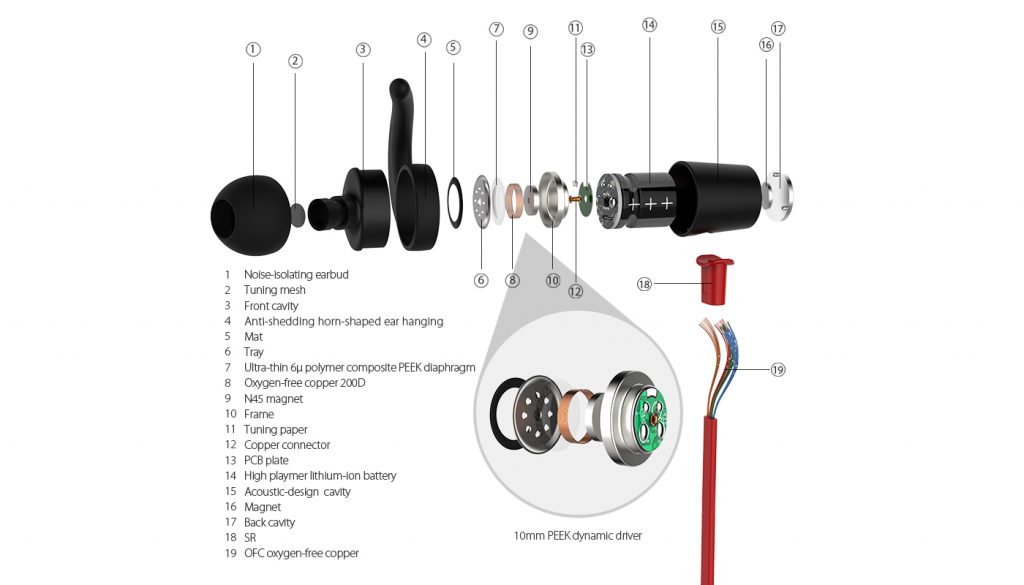 The Fit:
It only took about a half hour to fully charge the dodocools when I opened them up, so I assume they were partially charged ahead of time, on the other hand I was not able to achieve the eight hours claimed playback time either. As mentioned before, they are soft and rubbery all over, this makes them extremely comfortable, without question the most comfortable Bluetooth headphones I have tried. My only complaint is the cable is a bit short, and since it is designed to lie across the back of your neck, this makes accessing the controls a little awkward. Also, if you have a large neck like me (18″) it takes a little patience to train them hang around your neck with the magnetic clasp (the elasticity of the cable is enough to separate the magnets until it gets used to the bend). These are minor complaints but have to be acknowledged.
I used the dodocools for a couple of weeks just as a Bluetooth headset for phone calls, and their performance was exemplary in this regard. As previously stated, they were very comfortable, they exhibited no sync issues, the isolation and dual channel sound made it very easy to understand voices that are often weak or muted using other Bluetooth headsets, and the feedback from people on the other end indicated that the microphone and noise cancelling works well (this was further verified talking to someone on the other end using a pair of the dodocools).
The Sound:
It should be kept in mind that these are $25 headphones and really should not be expected to compete with high end IEMs, but that being said, the sound quality was remarkable. I spent several hours listening to Napster while performing my battery tests, and my initial impressions were that the sound was both pleasing and unfatiguing leaning towards the warm side overall.
For more serious listening, I transferred several of my preferred test tracks to my phone for a more controlled source.
Beginning with Stravinsky's "The Firebird Suite" as performed by Robert Shaw and the Atlanta Symphony Orchestra as is my wont for these evaluations, I found the soundstage to be surprisingly large with a great deal of spatial separation of the individual instruments. The plucked cellos were robust and reverberant, and even bowed they were authoritative, though they did give the impression of one large cello, rather than a group of cellos.
Listening to "Wedding Rain" by Liz Story (Solid Colors) the piano was deep rich sounding, with a Baldwinesk tonality, the upper registers crisp with a resonant harmonic edge. There was a sense of a large very live enclosed hall, with a bit of distance between the listener and the piano.
Peter Gabriel's voice was close as was Steve Hackett and Michael Rutherford's acoustic guitar, one on the left and one on the right as I took in "Can-Utility and the Coastliners" (Genesis – Foxtrot) and Rutherford's bass pedals were deep and pervasive, while Tony Bank's keyboards were set back a bit. Phil's bass drum was forward of the snare and cymbals. When Michael cut in the with bass guitar, it was immediate and visceral and I became enveloped in sound as the piece moved towards crescendo.
To make the most of the 24 bit / 48kHz capabilities I put on a live recording of "Over the Hills and Far Away" (Led Zepplin – How the West Was Won­ – 24/48kHz). The sound was edge of the stage intimate with that low rumble of a rock concert.
On the other hand Peter Gabriel's New Blood Orchestra performance of "Wallflower (Instrumental)" (New Blood Special Edition – 24/48kHz) was once again performed in a huge hall with the back side of the piano facing the audience (meaning the player is facing the audience) letting you track the keys bass on the right, treble on the left (the opposite of what the player hears).
As a final live impression I listened to "Birthday of the Sun" by Melanie (Woodstock II) and again there was good distance between you and the artist as she performed on stage.
The Wrap Up:
First and foremost the dodocool Magnetic Wireless Stereo Sports In-Ear Headphone would be a great value as a Bluetooth headset even if you didn't intend to use it for music; the fact that it also gives excellent sound is just gravy on the cake. It has a warm forgiving sound with excellent bass extension, and a surprisingly large soundstage. While not a replacement for wired IEMs (though definitely more musical than some) they are a great stand in when convenience is at issue, and when it comes to comfort, they set the bar.
https://www.amazon.com/dp/B01N4UGC4I/
Sale Price: $21.99
Specifications:
Brand: dodocool
Material: ABS + TPE
Color: Red
Wireless version: V4.1
Wireless chipset: CSR8645
Profile support: HSP, HFP, A2DP, AVRCP, APT-X
Working distance range: Up to 33ft / 10m without obstacle
Talk/Music time: Up to 8 hours
Standby time: Up to 360 hours
Charging time: Approx. 1.5 hours
Indicator light: Blue or red
Mylar thickness: PEEK composites diaphragm 6μ
Driver diameter: 10 mm (dynamic)
Impedance: 32 Ohms
Output S.P.L: 100±3 dB SPL
Frequency response: 20 Hz ~ 20,000 Hz
Frequency range: 2.4 Ghz
RF power / RF grade: Max 7 dBM / Class II
Battery capacity: 3.7 V, 110 mAh lithium polymer battery
Microphone sensitivity: -42±3 dB
Item length: Approx. 1.80ft / 0.55m
Item weight: Approx. 0.53oz / 15g
Package size: Approx. 4.57 * 2.36 * 1.65 in / 116 * 60 * 42 mm
Package weight: Approx. 2.05oz / 58g