One of the things that can make reviewing such a rewarding experience is when a piece of gear shows up at just the right moment. When I was told that the Earmen headphone system, containing the CH-Amp ($1480) and Tradutto DAC ($799), was going to be my first review for Headphone.guru little did I know I was about to embark on one of the most challenging periods in my career as a Systems Engineer. We were moving datacenters. The plan required 4 solid weeks of work, a lot of it in the middle of the night, over weekends all the while maintaining support and full operations for all of the end users during their business hours. Exhausting to say the least. In times of high-stress music has long been what keeps me both sane and in the zone. This makes my desktop rig important to me, but in this age, it is also my communications hub for the meetings and working sessions that make working from home possible. The perfectly desktop sized combination of the Earmen CH-Amp and Tradutto handled all the 12-hour days, and late nights, switching back and forth between meeting software and Roon with grace and dignity. It never once had me scrambling to fix my audio for a meeting even if it had been playing DSD or streaming MQA files in exclusive mode moments before. Believe me, that isn't as common as you would like to think. In fact, the only problem I had with it over that marathon month was the tendency to distract me from a task at hand with its ability to playback music with a dynamism and beauty that is more than a smidge beguiling. This is the kind of "problem" I can not only live with but comes with my highest recommendation.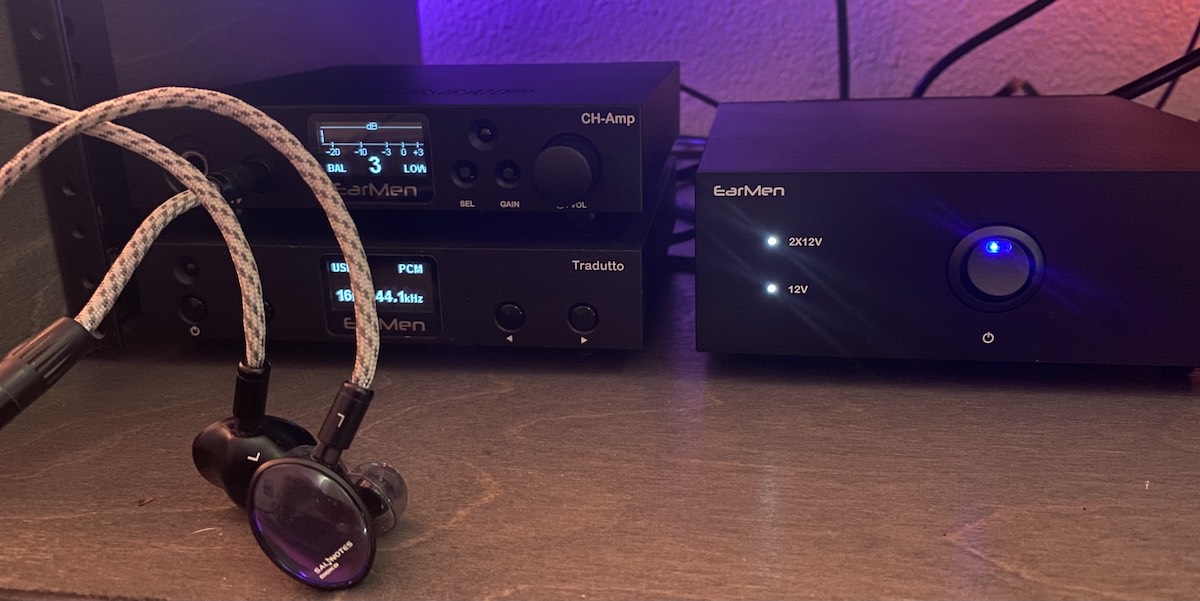 The Build
Both Earmen devices are built from a solid block of aluminum and measure 5.9 inches square. LCD Screens in the center of each provide visual feedback of the amplifier's volume and selected input and the digital input and bit rate on the DAC. The units feel solid and stay put on your desk while connecting and disconnecting headphones to the amplifier. Both are fully balanced designs with 4.4 mm TRRRS balanced connections along with RCA single-ended outputs on both units and inputs on the back of the amplifier (2 single-ended and 1 balanced). Single-ended connections are converted to and from balanced topology inside the units. The headphone connections are 4.4 mm TRRRS balanced and 6.35 mm (¼ inch) TRS single-ended. Earmen's website says that both the Tradutto DAC and CH-Amp employ WIMA capacitors, audio electrolytes, MELF low noise resistors, and SoundPlus OPA1642 operational amplifiers. Definitely high-end parts.
The Tradutto DAC is a sigma-delta design using the ES9038Q2M ESS Sabre chipset along with the XMOS XU216 16-core chip. The DAC handles up to 32-bit/768kHz and DSD512 which in my mind makes it ripe for experimenting with digital upsampling via HDPlayer or Roon. The circuit design is stated to draw less current and improve power filtering to help combat interference from all those Wi-Fi, cellular and Bluetooth signals that float around my and undoubtedly your place of residence. The analog and digital sections of the circuity are separated by the power supply. The DAC provides full hardware decoding of MQA and boasts a dynamic range upwards of 122 dB. and ruler flat frequency response as measured. Inputs include USB B, coaxial, Toslink, and Qualcomm HD Bluetooth 5.1 (AAC/SBC/aptX/aptX LL/aptX HD).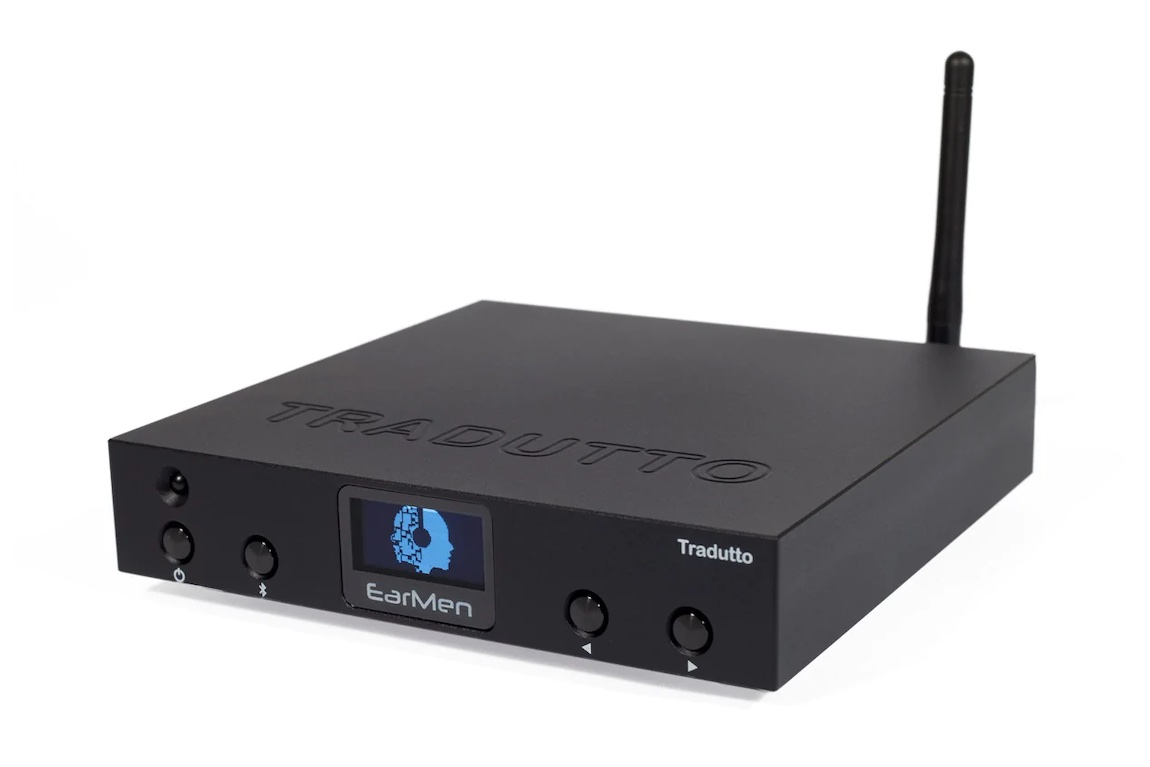 The CH-Amp is a Composite Amplifier Topology design. Being that I wasn't sure what that is, I looked it up. The main difference I found between this and other amplifiers with multiple gain stages is a shared feedback loop between amplifiers as well as the ability to have individual feedback loops of each amplifier circuit. This would allow you to implement both current and voltage feedback loops in the circuit that would as stated on the Earmen website provide the best of both worlds. I quote from the Altium website who is a leading provider of printed circuit board design software:
"There are many times where you need an amplifier with high gain, low noise, high slew rate, and broad bandwidth simultaneously. However, not all of these design goals are possible with all off-the-shelf components. One solution is creative use of multiple amplifiers in a composite amplifier design. With the right composite amplifier, you can create a unique amplifier that exploits the best characteristics of each amplifier stage."
I do not know if this is unique to the Earmen CH-Amp in the audio industry but this is not a simple design and the considerations of such quickly became hard for this Systems Engineer to follow as I read further. What I do know is that what the Altrum website mentions as the use for this circuit type is exactly what I look for in an audio amplifier.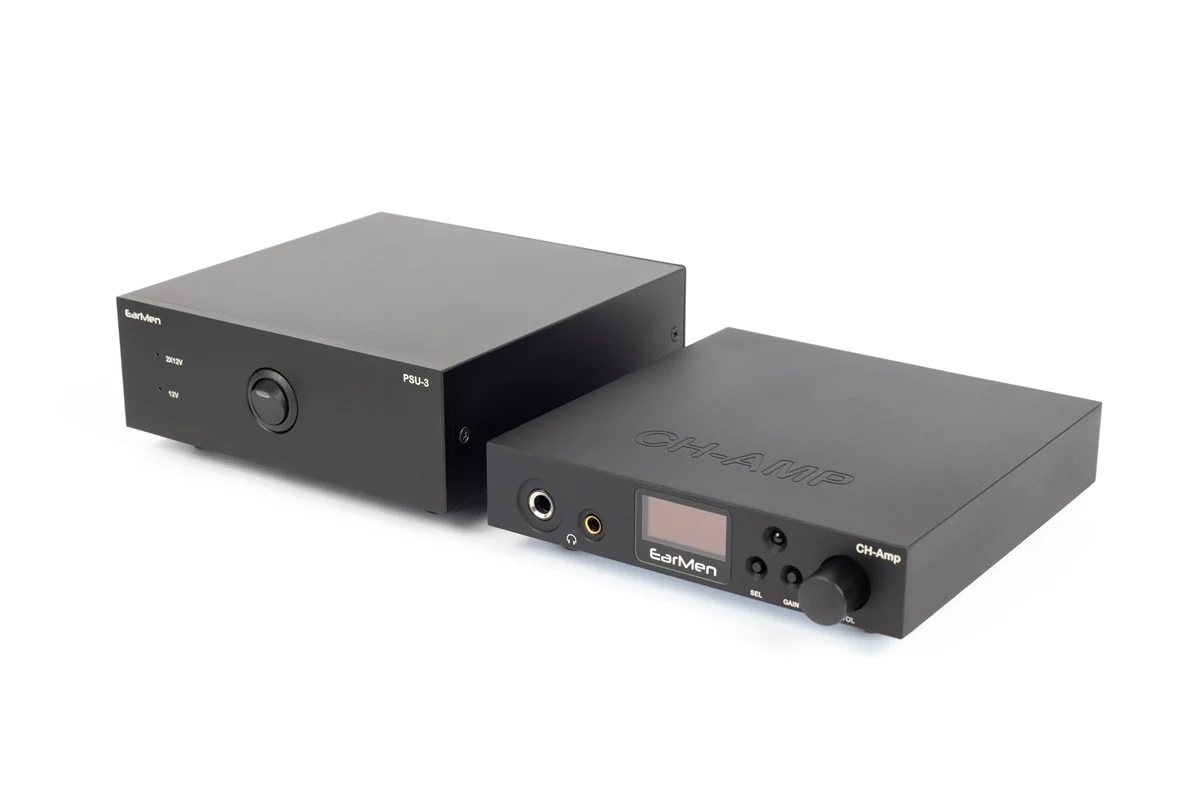 Setup
Stacking the amplifier on top of the DAC, I connected the Tradutto DAC to the CH-Amp with a short 4.4 mm silver-plated copper interconnect. I connected both to the PSU-3 linear power supply that comes with the CH-Amp using the provided power cables. I placed the power supply an inch to the right of the amplifier and DAC to keep the power transformers away from the audio signal path. Honestly, I never noticed any interference from the transformer but I like having the flexibility to keep the parts separate just in case. I used a WyWires Silver power cable to connect the PSU to the Tripp-Lite power distribution rack mount unit I have in my desk. No other power conditioning was used in this review. Finally, I attached the Earmen Tradutto to my Apple MacBook Pro via a 2-meter AudioQuest Cinnamon USB C to USB B cable.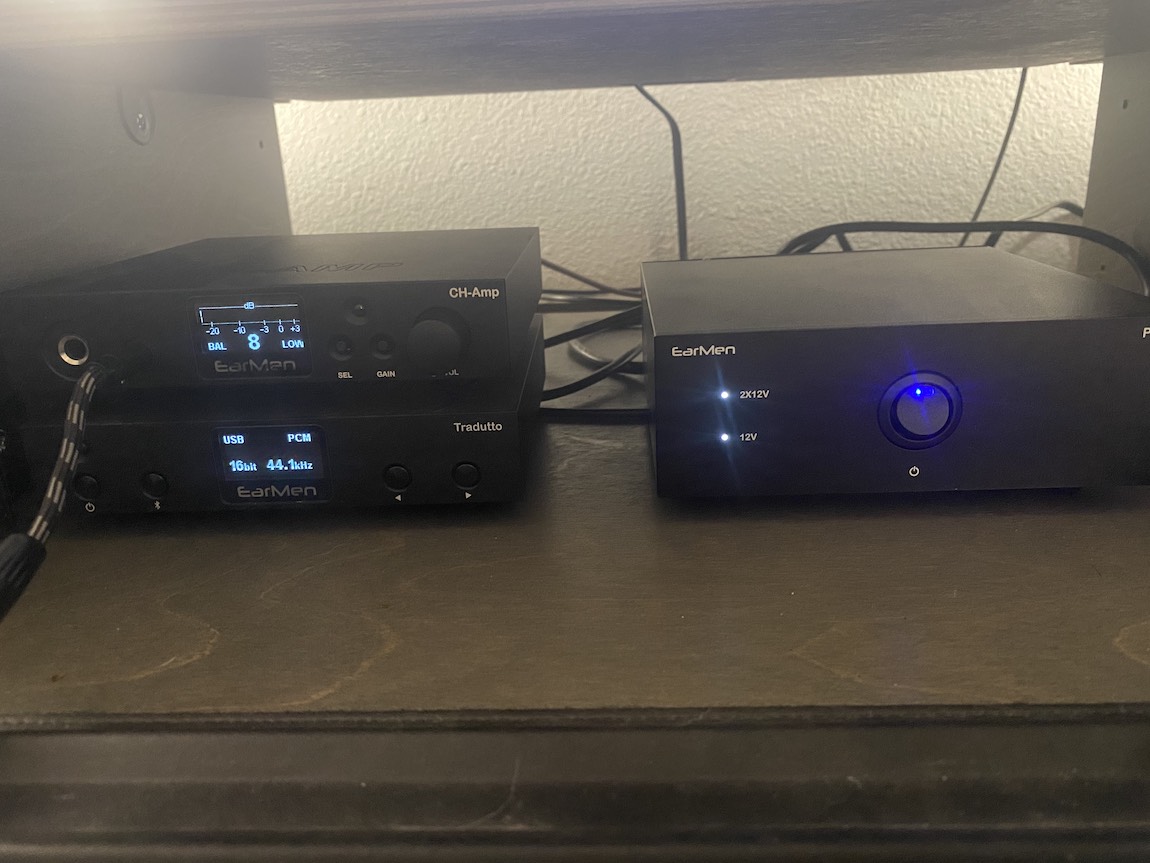 Listening
I spent a lot of time listening to the Earmen Headphone system over the last few weeks. It sounded amazing no matter the headphone (from 420 Ohm dynamic to planar magnetic headphones) or the music I fed it. Acoustic jazz to minimalist classical, experimental electronica, progressive pop, and rock, instrumental to vocal, it made wonderful music with them all. Control is the word I jotted in my notes on my first critical listening session, followed quickly by fast, detailed, and dynamic. Dynamics are probably my favorite part of this system. Both macro and micro dynamics are beautifully reproduced, leaving the impression of texture and space. This let the music breathe. The system seems neutral to me leaving the color to my choice of headphones and music. This isn't to mean lifeless or small as the music seemed life-sized and full of vigor and color. Bass is defined and textured with great sub-bass dependent on your transducers and the highs are extended but not harsh. However, it is the mid-range that steals the show here. Beautifully layered and highly detailed while not fatiguing allowing highly complex passages with layers of instrumentation and vocals to unfold before your mind's eye. Vocalists seem to float above the mix exactly where they should and the sound stage is presented very well though not overly extended. Nothing seems exaggerated just a great representation of the source.
Listening to "The Passage" from the album "Through Shaded Woods" (Quboz 24/44.1) by Lunatic Soul upscaled to 24/768 by Roon through my Dan Clark Audio Ether C Flow (MrSpeakers when I bought them in 2017) was a head bobbing smile-inducing experience. The little Earmen stack brought forth a sinewy bounce revealing the multi-tracked riffing and acoustic guitars in exquisite detail. Mariusz Duda's voice taking you on a shadowy waltz through a dark and brooding forest while percussive embellishments percolate just behind and to the sides of the guitars and strings. One of the things I love about this track is the acoustic guitar lines that thicken as they get doubled by electric guitar and then tripled by the bass. The control and resolution of the Earmen Tradutto and CH-Amp showed all of these layers with technical aplomb while remaining true to the whole of the music.
A "Pile of Time" from Ryuichi Sakamoto's wonderful tapestry of world music was just that, a beauty, reproduced by the Earmen system through my Aroma Audio Thunder in-ear monitors. Japanese drumming and stringed instruments pulsate around your head while seemingly disembodied voices spiral through the mix. The CH-Amp is very overpowered for such devices but as these are some of my favorite headphones of any type I had to give it a try. Usable volume was limited to 1 on the dial but the sound was so good I spent a good part of a week with this setup. There was absolutely no noise or hiss evident.
Another IEM I spent time with on the CH-Amp and Tradutto combination was the 7Hz and Crinacle collaboration the Dioko planar magnetic. This was one of those very strange yet magical pairings. A $99 IEM and a DAC/amp system totaling just under $2300 making quite a stunning threesome. On "Not Tight", the title track from DOMi and JD Beck's debut Blue Note album, this combination showed the idiosyncrasies of Beck's progressive IDM influenced drumming, the fusion and soul keyboards of Domi and the eclectic bass of Thundercat with such texture and explosive dynamics that I almost couldn't believe it. Being a planar this IEM needed the power, and I had much more room on the volume knob pushing it up to 5 at times.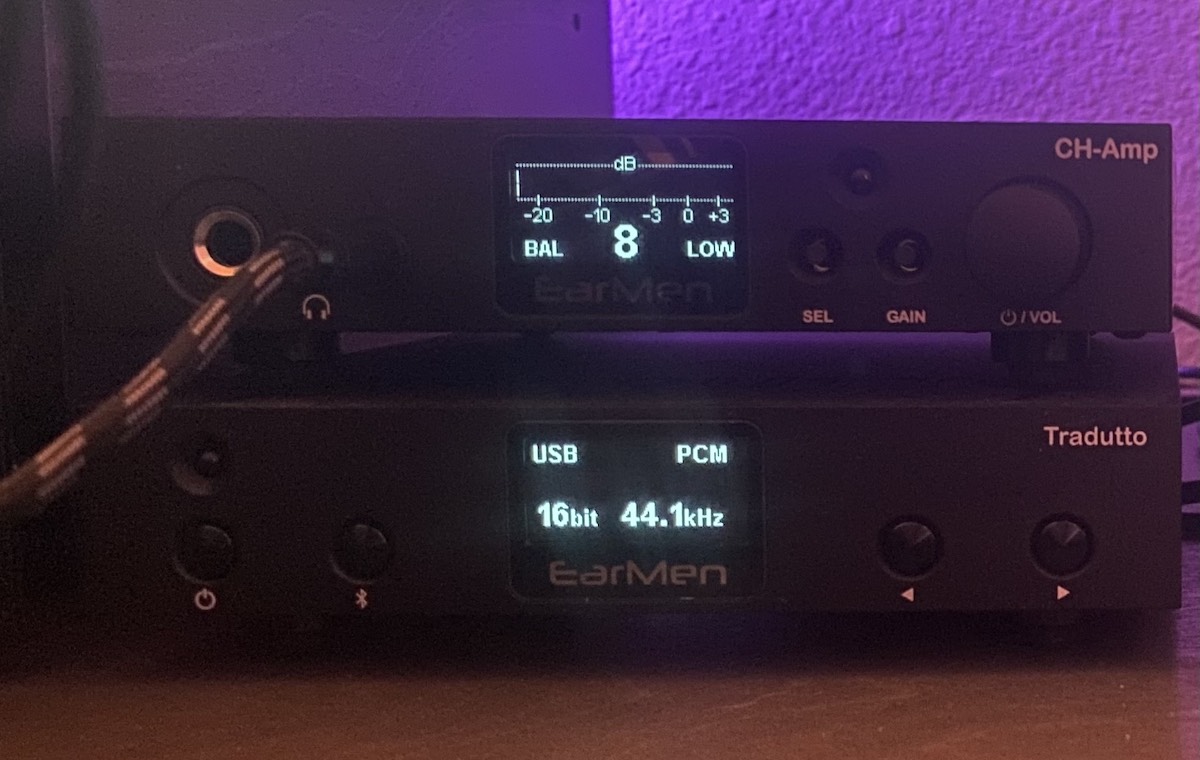 When I plugged in my Audio Technica ATH-ADX5000 I cued up some classical crossover and minimalist classical namely Amanda Lee Falkenberg's "The Moon Symphony" and Steve Reich's "Runner / Music for Ensemble and Orchestra" as well as Alan Silvestri's soundtrack for "Tomb Raider Cradle of Life". All three of these very different recordings showcased the sheer size with which the diminutive Earmen stack is able to reproduce music. It has the ability that very few systems in my experience possess to make music sound huge even reproduced on small speakers attached to your head. It also handles delicate woodwind and string passages with breathless beauty. These qualities along with a truthfulness to timber and texture made orchestral recordings a truly remarkable experience.
Conclusion
Over the last few weeks, the Earmen system provided countless hours of enjoyment along with solace in a very hectic time of my life. Seeming headphone agnostic, it just made music from whatever file it was fed through whichever headphone struck my fancy. Very few systems I have had the pleasure of living with have had the ability to play as well with both my Sennheiser HD650 and my Dan Clark Audio Ether C Flow. The systems have always seemed to favor one or the other. This was not the case with the Earmen CH-Amp and Tradutto combo. The fact that it was just as at home with the Audio Technica ATH-ADX5000 was the delicious icing on the proverbial cake.
Rock solid reliability during the testing period and an expansive presentation of sound with a neutral and detailed yet extremely beautiful mid-range makes the Earmen CH-Amp ($1480) and Tradutto DAC ($799) System an easy recommendation.
Manufacturer's Website: www.earmen.com
Specifications:
Tradutto:
| | | |
| --- | --- | --- |
| Inputs | Bluetooth | Bluetooth 5.1 (AAC,SBC, aptx, aptx HD, aptx LL ) |
| | USB | |
| | TOS Link | S/PDIF optical |
| | COAX | S/PDIF |
| Outputs | RCA | output impedance = 300Ω |
| | Balanced 4.4mm | output impedance = 600Ω |
Audio Formats:
PCM
Up to 768 kHz
DSD
DoP64, DoP128, DoP256, native DSD512
DXD
Up to 768 kHz
MQA
OFS (MQA Rendering), MQA, MQA Studio
Bluetooth/SPDIF
44.1kHz – 192kHz/16bit – 24bit
| | | |
| --- | --- | --- |
| | USB Input | S/PDIF input/BT |
| Output level | 2Vrms 0dBFS | 2Vrms 0dBFS |
| THD+N | 0.0003% | 0.0003% |
| SNR | >116dB | >116dB |
| | A-Weighted | A-Weighted |
| Freq.Response | ±0.014dB | ±0.006dB |
| | | |
| --- | --- | --- |
| | USB Input | S/PDIF input/BT |
| Output level | 4Vrms 0dBFS | 4Vrms 0dBFS |
| THD+N | 0.0003% | 0.0003% |
| SNR | >120dB | >122dB |
| | A-Weighted | A-Weighted |
| Freq.Response | ±0.03dB | ±0.003dB |
CH-Amp:
| | | |
| --- | --- | --- |
| Inputs | L 1 | RCA |
| | L 2 | RCA |
| | L 3 | Balanced 4.4 mm |
| | | |
| Outputs | SE | 6.35mm |
| | Balanced | 4.4mm |
| | | |
| Pre Outputs | RCA | SE output |
| | Balanced | 4.4mm |
| | | |
| | |
| --- | --- |
| Dimensions | 150x30x150 mm / 5,9″x1,18″x5,9″ |
| Weight | 550 gr / 1,21lbs |
| PSU Dimensions | 150x60x150 mm / 5,9″x2,36″x5,9″ |
| PSU Weight | 1590 gr / 3,52 lbs |
Single-ended output
SE Input
BAL Input
Output Level
7Vrms
11Vrms
Max Power
1,5 W
3,8 W
THD+N
0.0008%
0.0005%
SNR
>116dB
>118dB
Freq. Response
±0.005dB
±0.005dB
Fully Balanced Output
SE Input
BAL Input
Output Level
7Vrms
11Vrms
Max Power
1,5 W
3,8 W
THD+N
0.0008%
0.0007%
SNR
>118B
>119dB
Freq. Response
±0.005dB
±0.005dB
| | | |
| --- | --- | --- |
| Gain | High | Low |
| SE 6.35mm | 7V (1.5W / 32Ω) | 2.9V (260mW / 32Ω) |
| Balanced 4.4mm | 11V (3.8W / 32Ω) | 5.5 V (1W / 32Ω) |
| | | |
| --- | --- | --- |
| Pre Out | Balanced output | Single-end Output |
| Output Level | 8V | 4V |
| Output Impedance | 200Ω | 100 Ω |