Audeze, over the last couple of years, has been on a non-stop tear. I first heard of Audeze 4 years ago when I began to become active in the headphone hobby and its various online communities. Back then all the rage was the LCD-2. While me being an ignorant newbie, I found myself intrigued as day-in and day-out I ran across post after post, thread after thread, dedicated to the LCD-2 on various audio gear forums. As time went by my intrigue grew into unbridled curiosity. What exactly was so special about these metal and wood clad geeky looking headphones that had so many hard core enthusiasts raving about them? As the months wore along, and as I became more knowledgeable about the hobby, and more acquainted with like-minded headphone enthusiasts in my city, my questions would be answered. One day I was invited to my very first local headphone meet and it was there I would finally hear the LCD-2 and the then newly released LCD-3. Audeze's product lineup would be my very first exposure to what many headphone enthusiasts and audiophiles called summit-fi.
Introduction
Audeze is an interesting company. They're a small start-up based in California, headed by Alex Rosson and close friend Sankar Thiagasumudram, who have quietly been gaining recognition for their hand assembled planar magnetic headphones. Their house sound is an easy one to get into and can be summed up as, rich, warm, dynamic, eclectic, organic, and above all, fun. Their flagship, the LDC-3, is a headphone which is the culmination of tens of thousands of hours of hard engineering and design work bringing the absolute best that Audeze can accomplish onto the ears of the consumer. When I first became active in the hobby their lineup consisted of the LCD-2 ($995 USD) and shortly after, the LCD-3 ($1945 USD). In time, Audeze would further tweak their existing lineup by implementing their patent pending fazor technology. What exactly is fazor technology? Put very simply, a fazor is a special acoustical element that is positioned on each side of the headphones magnetic structure enhancing transparency by affecting the sound waves generated by the planars diaphragms. End result, extended frequency response, improved high-frequency extension, lower distortion, and better imaging. Last year Audeze would expand their LCD product lineup with the addition of the LCD-X (1699 USD) and the LCD-XC (1799 USD), which would find a home slotted between the LCD-2 and LCD-3. The XC and the X would go on to be huge hits amongst the summit-fi crowd and would serve to further cement the company as serious top contenders in the headphone audiophile market. Riding their success, at the beginning of this year, Audeze would turn their attention towards something completely new, the release of a completely new headphone product line, the EL-8.
The El-8 line, or collection as Audeze prefers to call it, currently consists of only two headphones, the EL-8 open back and the EL-8 closed back. Although carbon copies of each other in construction, the closed back EL-8 can be differentiated by the lack of vents on the face of its cups. Both headphones are stark departures, appearance wise, from the LCD Collection and feature a new rollout in Audeze planar magnetic technology. As well as incorporating the LCD based fazor technology Audeze has created an industry first with the creation of a uniforce diaphragm which incorporates variable trace widths in the voice-coil to effectively capture variations in the magnetic field within the magnetic gaps by equalizing the forces of the individual traces, creating a uniform driving force across the entire diaphragm surface resulting in dramatically reduced distortion, higher resolution and improved imaging. Alongside its uniforce diaphragm technology Audeze would also add its new fluxor magnet technology; delivering nearly double the magnetic flux density of the highest-grade neodymium magnetic circuits available resulting in reduced weight and greater efficiency making them by far more easier to use with portable devices compared to the LCD collection. Overall, I'm impressed; the EL-8 collection is a completely different beast when compared to the LCD collection and proves that Audeze is constantly experimenting with new ideas to incorporate more innovation into their products.
As mentioned before, the El-8 closed back is a dramatic departure in appearance from the LCD collection that so many have grown to know. Originally, when designing the El-8 collection Audeze approached and worked hand in hand with BMWDesignWorks USA to achieve the EL-8s rather sexy look. Gone is the traditional LCD geeky appearance so many audio nerds have grown to love. Replaced by a more refined, lower profile headphone with cleaner lines.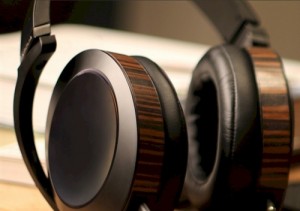 The headphone itself weighs only 480 grams and is light enough to be worn on the go that will not fatigue the wearers head during long listening sessions. Fit on the head is a comfortable snug close to the skull type of fit. Clamping force was tight but not overly troublesome for me due to the excellent leather pads of the headphone. The leather pads are well constructed, deep and well sized for my ears, and very soft and comfortable. Noise isolation on the EL-8 closed back was one of the best I've ever had the good fortune of experiencing and I had no problem listening to even the quietest music passages in loud and busy environments. The cups themselves are oversized, house 100 mm planar magnetic drivers, are constructed from an aluminum alloy, and have a wood trim going around the side of the cup. Personally, I loved the wood trim and thought it added a touch of character and class to the headphones industrial look. The cups can also be rotated 180 degrees making the EL-8 closed back easy to wear around the neck. The headband is constructed of metal and the same aluminum alloy as the cups and can be lightly bent to increase or decrease clamping force. Personally, I found that after a few hours of wear the headband loosened up just enough that the clamping force was perfect for me. At the very top of the headband, underneath, where the crown of the head makes contact with the headband, is a plush leather padded strap that helps distribute weight away from the crown of the wearers head.
The cable provided is an overly long flat 2 meter cable. Construction quality of the cable was good and the strain reliefs were acceptable although not great. That aside, I found the cable to lack any microphonics and was quite pleased with it in that respect. The plugs are a straight 1/8th plug on one end and two flat proprietary plugs on the headphone end. The proprietary plugs were quite strange to me and I couldn't help think they looked like some sort of hybrid lightening connector plug Apple Corp would dream up. On the plus side, the plugs, although they plugged firmly into the headphone, staying in during normal use, they easily tore away during a sudden cable pull. Although that may not seem important I have to say that's an excellent safety feature that helps prolong the life of both the cable and the headphone. Overall, even though I thought the provided cable was alright, I couldn't help think how nice it would have been if Audeze had provided a second shorter, more mobile friendly cable.
The EL-8 closed back is a very efficient headphone with an impedance value of 30 ohms and an efficiently rating of 100 db/ 1mw. Its frequency response is 10 Hz-50Hz and has a distortion rating of only <0.1 (1 kHz, 1mw). Because the EL-8 closed back is so efficient it can easily be driven by most DAPs and handsets on the market, albeit, I was not personally fond of the end result I heard when driving them via my iPhone 5.
Sound Impressions
The following sound impressions were noted using the AKG K712, HifiMan HE-400i, and T50rp Paradox as benchmarks. Chief desktop DAC used was the CLAS-db. DAPs used were the iPhone5, iPod Classic, Studio V, and AK120. Desktop amps used were the Lambert Play it By Ear, Garage1217 Ember with clear top RCA tube, and the NuForce uDAC-3. Please note, the EL-8 closed back, due to its sensitivity, is the type of headphone I wouldn't class as amp dependent, at least not in the traditional sense that it requires a lot of power. But, due to its revealing nature and high efficiency rating a good source and audio chain should be carefully picked out and utilized at all times. Too much power from an overly beefy amp will result in a lot of hiss thereby spoiling your musical enjoyment. Source material used was a mixture of 16 bit/44.1kHz and 24 bit/192kHz either streamed via Tidal or played via my laptop/DAPs. Some of the source material used for evaluation was 24-bit binaural recordings along with albums such as: RAM by Daft Punk, Jazz at the Pawnshop, the Avatar Soundtrack, DJ Kicks by Kruder and Dorfmeister, Fleetwood Mac Greatest Hits, Free by Office Of Strategic Influence, Stoa by Nik Bartsch Ronin, and Up Close by Ottomar Liebert & Luna Negra.
Although the EL-8s form factor is a stark departure from the norm Audeze is known for the sound signature is an even more surprising departure. Although Audeze is loved for its rich, warm, dynamic, eclectic, and organic house sound the company decided to further step out of its comfort zone and instead offer a headphone whose sound signature can easily be classed as monitor grade. Be warned, if badly recorded source material is utilized these headphones will reveal every little defect in the recording process.
The EL-8 bass is quick, detailed and extends acceptably deep. Control is excellent and leeching into the lower midrange is non-existent. Even though I would never class the bass as lush the EL-8 closed back can still punch, hit and slam well enough for my tastes when the music demands it. Although acceptably linear, the mid bass seems to sound like it may be slightly accentuated giving it some rather decent presence. When listening to Daft Punks "RAM" album I was quite impressed with the speed and detailing of the bass line in songs such as "Give Life Back To Music" and "Contact". Overall, it was a wonderful listening session with the EL-8 closed back as I bobbed my head to "RAM".
The midrange is mostly neutral-ish and dry sounding. Note presentation is crisp and decay is wonderfully quick. Detail retrieval, especially micro detailing, is excellent and easily ranks up there alongside far pricier headphones. Vocals are slightly forward and have some heft when male vocals are heard. With female vocals, when the high octaves are hit by the singer, sibilance can sometimes become a problem due to the upper midrange being overly energetic. If well recorded source is utilized sibilance is minimized. An excellent example of this would be Billie Holidays album "Billie Holiday With Ray Ellis And His Orchestra". The album itself is very well recorded and mastered and Billie Holidays vocals on songs such as "You Took Advantage Of Me" and "Sometimes I'm Happy" sounded sublime on the EL-8 closed back. Mastering was so good I could actually hear Mrs. Holiday exhale and even smack and lick her lips with the EL-8 closed back.
As we travel from the upper midrange into the lower high frequencies that energy in the upper midrange becomes slightly stronger causing the lower treble to sound peaky and slightly forward in comparison to the midrange. Although peaky in the lower treble, as you travel up, the high frequencies seem to smooth out and lose some of that extra energy and extend nicely upwards, gradually slowly rolling off. Although far from perfect, because the mid treble region is able to smooth itself out and the upper treble extends rather well better control is attained resulting in the higher frequencies sounding nice, clean, and airy.
Soundstaging on the EL-8 closed back is good with excellent depth on its Z axis and acceptable height and width on its X and Y axis's. Because of its great depth layering is above reproach. Although I have to grade the soundstage as good it suffers from what all closed back headphones suffer from, it sounds closed in. That aside, a good pairing with an acceptably well executed amp or DAP can reward the listener with a wider presentation. Personally, I highly recommend the HiSound Studio V 3rd Anniversary Edition DAP and the soon to be released Cavalli Liquid Carbon desktop amp. The Studio V, although known to be on the bright side of life, had excellent synergy with the EL-8 closed back, especially in its staging. Although not the most detailed pairing, excellent air and instrument separation was attained. By far the best pairing out of all my desktop amps was the Cavalli Liquid Carbon. Sound staging was by far the best with this pairing and above all depth and layering was sublime while height in the staging was almost perfect. Overall, the pairing of the Liquid Carbon stole the show for me.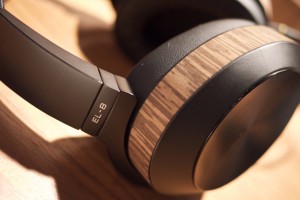 In closing
If you will pardon the French, the EL-8 closed back, in my personal opinion, is a ballsy move by Audeze. The company has moved out of their comfort zone in both design and their trademark house sound in an attempt to offer consumers an affordable monitor classed headphone that can be enjoyed both at home and when on the go. Albeit not perfect, it's a stepping stone that I have no doubt will eventually lead to bigger and better products not unlike what's been happening with the LCD Collection the last few years. If you're confident you have the audio chain to do the job and the well mastered source music the EL-8 closed back might be the kind of headphone that warrants further research. As is, I'm sitting here on pins and needles waiting to see what else Alex Rosson and Sankar Thiagasumudram have up their sleeves. I dare guess the industry won't be the same when they finally show their hand.