Enjoy the Music.com Sponsors
RMAF's Industry / Press Party Plus All Seminars
(August 26, 2019) Enjoy the Music.com, high-end audio's celebrated online site since 1995 and a leader in providing industry news, gear reviews, and show reports, is pleased to announce that we're sponsoring the 16th annual Rocky Mountain International Audio Fest (RMAF)Thursday night industry / press party plus all event seminars. For nearly 25 years, Enjoy the Music.com has been a major resource for information about consumer electronics high-end audio industry and high resolution / streaming music on the Internet. We're helping to celebrate Rocky Mountain International Audio Fest's sweet 16th event, which is one of the largest fall season home entertainment show open to the general public within the United States. We are elated to support RMAF's show, and in teaming up to benefit both the audiophile industry and attendees alike.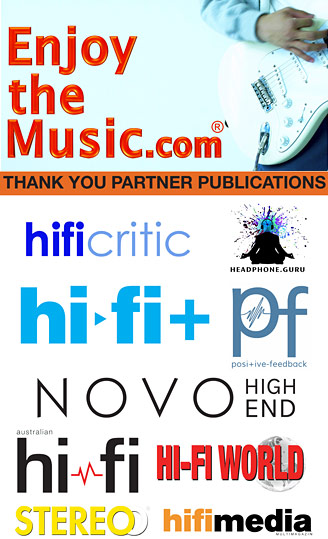 "The Rocky Mountain International Audio Fest could not be more excited to have Enjoy the Music.com as a principal sponsor as we move into our 16th year in business, and our very first year in our new venue at the Gaylord Rockies Hotel," said Marjorie Baumert, Director of the Rocky Mountain Audio Fest. "We love partnering with Enjoy the Music.com because they are not only staunch and loyal friends of our show, but also tireless advocates for the high-end audio industry in general. Steven R. Rochlin, the Creative Director at Enjoy the Music.com is incredibly generous of spirit and is a friendly and welcome presence at shows around the world. His love of music makes us all want to listen, and to listen on the best equipment available."
"From their first even in 2004, over the years Rocky Mountain International Audio Fest has provided a truly exciting venue that has attracted tens of thousands of visitors and earned critical acclaim within many hi-fi publications from around the world," said Enjoy the Music.com's Creative Director Steven R. Rochlin. "This year's move forward to a larger, and newer, venue at the upscale Gaylord Rockies Resort & Convention Center will be sensational! Over 100 exhibit spaces will feature more than 200 high-end audio brands that continue to come back each year to showcase the very finest of high fidelity luxury audio gear. Many thousands of attendees and press members alike from around the globe can experience everything from the most modern digital audio gear to impressive classic tube audio amplifiers. Both large and small loudspeakers, hi-fi accessories, tweaks, cables, vinyl LPs, digital discs, and much more will be proudly featured by exhibitors at RMAF."
"Our longstanding goal at Enjoy the Music.com is to educate and inform music enthusiasts so they may feel an authentic listening experience as the artists intended," says Steven R. Rochlin. "Our sponsorship of Thursday night's industry / press party, plus all seminars, continues our supporting the industry's efforts in strengthening the reach of high-end audio and high quality music to a global audience. We're especially proud to take a key role in helping educate newfound music lovers to the many benefits of enjoying music via high-end audio gear. Seminars are especially important, and well attended, as music enthusiasts learn about new industry developments while also having the opportunity to ask questions to session panelists."

About Rocky Mountain International Audio Fest
The Rocky Mountain International Audio Festival (RMAF) is the friendliest and most accessible consumer audio and home entertainment show in the U.S., with over 200 international companies represented. Now in its 16th year, RMAF showcases high-end, internationally known audio brands with a penchant for creativity, innovation and daring designs. Denver's own audio wonderland now features over 100 exhibit spaces representing more than 200 companies from North and South America, Europe, Australia and Asia. HeadSpace @ RMAF is a show-within-a-show, especially for the headphone crowd. Organized by the RMAF team, it features the latest and greatest in in-ear, outer-ear, and over-the-ear technology. RMAF 2019 is being held for the first time at the Gaylord Rockies Hotel and Convention Center from September 6th through the 8th. You can visit RMAF at Audiofest.net.

About Enjoy the Music.comEnjoy the Music.com is one of the Internet's leading information sites for high-end audio and music news, equipment reviews, plus show reports of both home and portable gear since 1995. We have received critical acclaim from our worldwide readership, like-minded audio publications, and notables such as the President of the Consumer Electronics Association (now CTA). Being associated with eight print publications and two web-based magazines, Enjoy the Music.com is part of a robust grouping of magazines and journalists which features some of the best minds within the high-end audio industry. Enjoy the Music.com also offers its own Review Magazine, the industry's most extensive daily industry news, plus over 235 show reports online. Enjoy the Music.com is media sponsors for many consumer electronics events including AXPONA and the Rocky Mountain International Audio Fest.
Enjoy the Music.com is the only specialty audio site online with industry news dating back over 20 years. We continue our unique ability to inform and educate both music lovers and gadget geeks worldwide, with partners further extending our ability to reach a global audience. Readers can connect with Enjoy the Music.com on leading social media sites Instagram, Twitter and Facebook.
Enjoy the Music.com is official Internet partners with print magazines Australian Hi-Fi, Hi-Fi+, HIFICRITIC, Hi-Fi Media, Hi-Fi World,NOVO Hi-Fi, STEREO Magazine plus vintage magazines Sound Practices and VALVE. We're also partners with online publications Headphone.Guru and Positive Feedback.
Those desiring an interview with Enjoy the Music.com's Creative Director Steven R. Rochlin can e-mail their request by clicking here.Note to journalists: Official logos and graphics can be downloaded by clicking here.