FiiO has made quite a name for themselves making inexpensive high performance Digital Audio Players. Their modus operandi appears to be to watch and see what the big boys are offering and provide the same features, and in many cases the same performance at a significantly lower price. The new FiiO X5 3rd gen seems to not so much represent an upgrade of an existing model as it is a completely new model using an existing designation to signify its place in their product line. That being said, it is an exceptionally full featured unit for the money.
By running Android, FiiO has chosen to use a fairly robust operating system with a long history of usage for portable devices. It also opens the user up to a large catalog of Apps to enhance the user's experience. While FiiO offers a selection of pretested Apps, Google Play is also included. For purists who fear that all of these toys will interfere with musical playback, there is a "Pure Music" mode available that frees up all of the players resources for music playback only (though streaming service Apps are not accessible in "Pure Music" mode, DLNA servers are).
Some of the hardware features offered by the 5X 3rd gen are dual AK4490EN DAC chips, dual clock chips (one for multiples of 44.1 kHz and one for multiples of 48 kHz), a Quad-core RK3188 with 1GB of RAM, 2 microSD card slots for up to 512GB of storage, a 3.97″ touchscreen, quick charge capabilities (with optional 9v charger), aptX Bluetooth and WiFi, and a 2.5mm TRRS balanced output (though according to the specs, the only advantage of the balanced output is a considerably higher channel separation). There are also 4 selectable analog filter settings for the DAC (extremely rare in portables).
To stream music via WiFi, the 5X 3rd gen will automatically search for DLNA servers through the built in Player App, or you can install the streaming music App of your choice (both TIDAL and Spotify are listed among the pre-tested Apps).
For those who wish to use the 5X 3rd gen as a music server, at home or in the car, the line out is switchable between analog and coaxial S/PDIF.
Other features that should be noted are two gain settings (High and Low), left right balance control, two font sizes (Normal and Large), a ten band EQ with nine customizable presets (more sophisticated EQ Apps are available through Google Play, though they won't be usable in the "Pure Music" mode), and a spatial software called "ViPER Effect". There is also a "Tech Support" App on the home screen.
What You Get:
As one would expect from a budget priced offering, the 5X 3rd gen came in a modest black box with an outer sleeve for retail display purposes, much like a cell phone. The first thing you see upon opening the box is the 5X 3rd gen packed in a clever clear rubberized plastic skin. Underneath you will find a second black leatherette skin with red stitching (it is an either or proposition, though you might be able to stretch the leatherette skin to fit around the clear plastic one, it might also break, so I stuck with the clear skin), a cable to convert the line out to coax for digital, a micro USB cable (which is well hid in a secret compartment), a quick start guide, warranty card and a special tool for ejecting microSD cards.
The 5X 3rd gen is available in three finishes, black, titanium and red. The CNC aluminium alloy chassis is fairly compact, about twice the thickness of an iPhone 5 with a slight protrusion on the left side in which the mechanical volume control knob is recessed along with three tactile buttons (play/pause, forward and back). On the right side is housed a recessed power button and the two microSD card slots which are house in little drawer cases (meaning the microSD card slots are all but sealed whether there is a card installed or not). Unusually, the headphone and line out ports are on the bottom with the micro USB port, leaving the top of the unit smooth. The entire face is covered in a factory installed tempered glass screen protector, lending the entire unit an elegant stylish appearance.
The clear plastic skin covers the entire unit leaving only the volume control, 3.5mm headphone jack and faceplate exposed, and has built in plugs to seal the 3.5mm line out, 2.5mm balanced out and the micro USB port, as well as raised areas to allow operation of the tactile buttons. Unfortunately the skin has to be removed to access the microSD card slots, which can be a bit tricky and may lead those who change cards often to opt for the leatherette skin, which simply slides on and off. (Note: if you lose your microSD card slot tool, a really small paper clip or thumb tack will probably work in its stead.)
The Sound Tests:
Boot up time for the 5X 3rd gen is about 30 seconds. Given a rated maximum output of 8V and 250mA the 5X 3rd gen promised to have quite a bit of dynamic headroom despite the modest power specs, so I started out my listening session with the MrSpeakers ETHER C Flows and "Can-Utility and the Coastliners" (Genesis – Foxtrot – 16/44.1 kHz). While I wouldn't expect it would drive HD800s, the 5X 3rd gen did a passable job with the ETHER C Flows, giving a strong, if not overly extended bottom end, a warm and slightly brassy midrange and a fairly close soundstage.
Suspecting the 5X 3rd gen's solid-state overtones would better lend itself to live music, I cued up Jefferson Airplane's "Eskimo Blue Day" (Woodstock II – 16/44.1 kHz). The presentation was more of a small hall than an outdoor performance, but it was energetic and dynamic, with the bass, rhythm guitar and keyboards forward and the lead guitar and drums recessed and the vocals in-between.
Switching to my preferred budget IEM, the 1More Dual Driver, I set the 5X 3rd gen to "Low" gain and selected "Casino Royale Theme" as performed by Herb Alpert & the Tijuana Brass (Casino Royale – DSD), the horns and orchestra were set in the background while the harpsichord, piano, bass and maracas stood forward on the left and the marimba forward on the right with the trumpet center stage and the percussion just behind, a touch live but not overly harsh.
Bengt Hallberg's piano was lively, with a slight honky-tonk vibe to it, listening to "Take Five" from Jazz at the Pawnshop, and Arne Domnérus' alto sax was rich with a hint of woodiness to it. The drums and bass were quick and articulate with a slight amplified quality to the upright bass.
To see what the 5X 3rd gen could really do I connected the Noble Katana CIEM's to the balanced output and put on Reference Recordings' issue of "The Firebird Suite" (Eiji Oue & the Minnesota Orchestra – Stravinsky – DSD). The flutes, reeds and brass were easily delineated, each instrument well placed and recognizable on a fairly large soundstage. The tympanis were fast and dynamic and the cellos and bass presented a solid resonant presence, underpinning the piece. Overall the tonal balance was good, giving correct timbre to the instruments.
For a glimpse into the 5X 3rd gen's ability to stream from a server, I chose a DSD recording of "Mood For A Day" from Yes' Fragile. Playback was as smooth as if it were off the internal drive, which is quite a task for WiFi.
Which left me with streaming performance, so I switched the 5X 3rd gen to "Android" mode and brought up Spotify which chose to play Ingrid Michaelson's "The Way I Am" which was offered with a strong steady bass and silky vocals.
ViPER Effect:
I could do a whole article on ViPER Effect and its plug-ins. Suffice it to say that it is a fairly comprehensive DSP software package for those who like to toy with their sound and sound fields. Unlike other DSP offerings, like Darin Fong's Out of Your Head software, ViPER Effect is not designed to reproduce specific environments, but more to provide a completely personal customizable environment with no "real world" analogue, in tacit acknowledgement that Personal Audio is more about "what you like" than "does it sound real". Most of the ViPER Effect plug-ins require separate purchase but there are some free one that will appeal to many users including; a 10 band equalizer, Field Surround and Differential Surround, reverb, dynamic range expansion, a dynamic range limiter and playback gain control as well as something called Spectrum Extension. Regular readers will know that I am an audio purist and would be much more interested in using these effects in the studio, than I am in using them for musical playback, though they are interesting from an experimental point of view and I acknowledge that they might enhance the experience of many listeners.
The Big Picture:
Just a little note on the dual DAC chips. It is very difficult to sync dual DAC chips properly and can often degrade the sound more than they improve the sound, but that being said, the 15 dB of increased channel separation through the 5X 3rd gen dual mono configuration via the balanced output more than makes up for the minor drops in power and signal to noise ratio (111 dB is well beyond that of most recordings), creating a much larger and more pinpoint soundstage.
FiiO has well and truly achieved their goal of providing a full featured, high performance DAP at a very affordable price. While it does not have the detail, bass extension & control nor the articulate and musical midrange or highs of my reference unit, it does compete favorably with many thousand dollar plus units I have heard, and I believe represents the performance limits of the components used. It is less fatiguing than most mass market units (regardless of price) and enjoys a probable compatibility with most IEMs and Headphones, so I can heartily recommend it to those trying to maximize their audio experience without an open ended budget.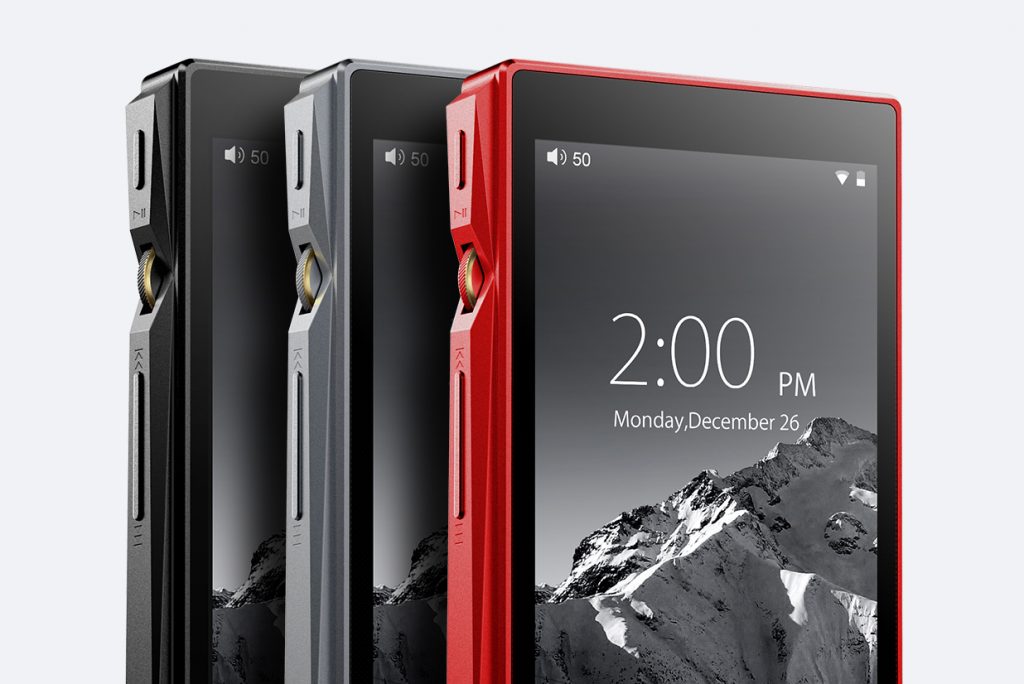 http://www.fiio.net/en/products/65
Price: $399.99 USD
Specifications:
Name / Model No.
X5 3rd gen(FX5321)
Operating System
Deeply customized Android 5.1.1
CPU Model
RK3188
No. of cores
4
CPU operating frequency
1.4GHz
DAC
AK4490
Keyboard
Virtual QWERTY keyboard
Input method
Touchscreen
Special features
Dual Android / Pure Music operating modes, symmetrical remappable keys, USB DAC, docking connector, etc.
User Interface
Android 5.1.1 / FiiO Music
Chips used
SoC: RK3188, DAC: AK4490x2, LPF: OPA1642x2, OP: Customized OPA426x2
Connectivity
WIFI
2.4GHz IEEE802.11 b/g/n standards supported
Bluetooth
Bluetooth V4.0,aptX supported
USB
Micro USB2.0
Display screen
Display size
3.97 inches
Number of colours
16.7 million colors
Display type
IPS TFT
Viewable angle
178°
Resolution
480×800
Pixel density
233 ppi
Touchscreen
Yes
Storage
RAM
1GB
Total ROM
32GB
Storage expansion type
Micro SD
ROM available to user
About 26G
Maximum storage expansion
512GB (256GB x 2)
Buttons and ports
Buttons
Side buttons + side volume wheel+ touchscreen
Custom key mapping
N/A
Headphone out
3.5mm standard headphone output jack
Balanced output
Supported (2.5mm balanced headphone jack)
Line out
Standard 3.5mm port (shared LO/Coaxial out)
USB connection
Micro USB2.0 (charging / data transfer / docking function / USB DAC)
Digital Coaxial out
Standard 3.5mm port(shared LO/Coaxial out)
General
Color
Titanium/Black/Red
Dimensions
114.2 mm× 66.2 mm× 14.8 mm
Weight
186g
Volume control
120 steps +/- button control (via analog-domain controller
Recommended headphone impedance
16~150 Ω
Equalizer
10-band EQ (±6dB), 9 presets+custom preset, freestyle EQ curve drawing (to be added in the future), ViPER Effect
Bass boost
N/A
Treble boost
N/A
Balance control
10 dB
Gain control
Low/High
USB DAC
Up to 192kHz/24bit supported
Power specifications
USB power adapter
DC 12/1.5A, 9V/2A, 5V/2A recommended
Battery
Internal 3400 mAh High-voltage quick charging Li-polymer battery
Charging indication
via LCD display and pulse LED
Charging time
<2 h (DC 12V/1.5A) <3 h (DC 5V/2A)
Battery indication
Yes (accurate battery % readings)
Battery Life & Test Conditions
3.5mm headphone output:>10 h
Volume
46
Gain
High
Load
M3 open earbuds (27 Ω)
Screen
OFF
Test File
MP3 44.1kHz/16bit
EQ
OFF
2.5mm TRRS balanced headphone output:≥8 h
Volume
48
Gain
High
Load
32Ω
Screen
OFF
Test File
MP3 44.1kHz/16bit
EQ
OFF
Battery life test file download link
http://pan.baidu.com/s/1sls0P5r
Others
Firmware Upgrade
supported both via zip file and OTA
Font size
Changeable
Third-party apps support
No limit (recommended to install the apps listed on FiiO Market)
Line output specifications
THD+N
<0.0009% (1 kHz/10kΩ)
SNR
≥120 dB (A-weighted)
Frequency response
5 Hz~55 kHz(-3dB)
Dynamic range
>117 dB
Channel separation
>98 dB (1 kHz)
Line level
>1.8Vrms
Headphone out specifications (3.5mm headphone out jack)
Output power 1
≥480 mW(16Ω / THD+N<1%)
Output impedance
<1Ω (32Ω loaded)
Output power 2
≥250 mW(32Ω /THD+N<1%)
Channel separation
>73 dB (1 kHz)
Output power 3
≥28 mW(300Ω / THD+N<1%)
THD+N
<0.003% (1 kHz)
Frequency response
5 Hz~55 kHz(-3dB)
Peak output voltage
>8 Vp-p
SNR
≥115 dB (A-weighted)
Max. output current
250mA (For reference)
Balanced headphone out specifications (2.5mm TRRS headphone out jack)
Output power 1
≥400 mW(16Ω / THD+N<1%)
Output impedance
<3Ω (32Ω loaded)
Output power 2
≥240 mW(32Ω /THD+N<1%)
Channel separation
≥98 dB (1 kHz)
Output power 3
≥26 mW(300Ω / THD+N<1%)
THD+N
<0.003% (1 kHz)
Frequency response
5 Hz~55kHz(-3dB)
Peak output voltage
>7.5 Vp-p
SNR
≥111 dB (A-weighted)
Max. output current
>250 mA (For reference)
File format support
Lossless:
DSD:DSD64/128(".iso", ".dsf", ".dff") DXD:352.8K APE FAST/High/Normal:384kHz/24bit(MAX) APE Extra High:192kHz/24bit(MAX) APE Insane:48kHz/24bit(MAX) Apple Lossless:384kHz/24bit(MAX) AIFF:384kHz/24bit(MAX) FLAC:384kHz/24bit(MAX) WAV:384kHz/32bit(MAX) WMA LOSSLESS:96kHz/24bit(MAX)
Lossy compression:
MP3, AAC, WMA, OGG…