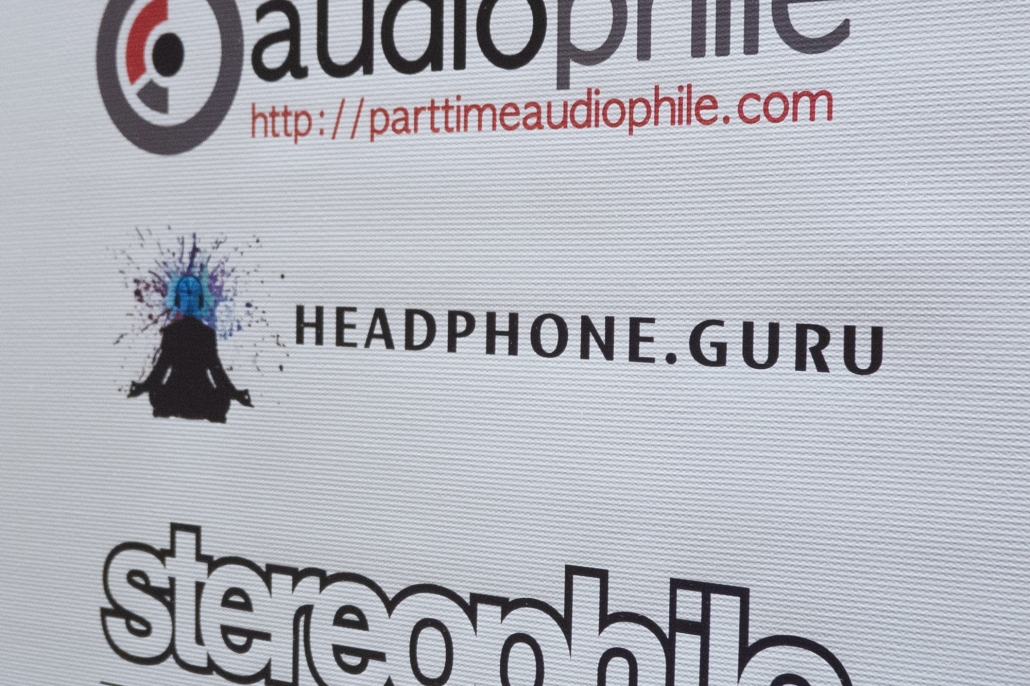 February in Tampa is a very nice time and place to be! When this show was first announced, I knew I'd attend. If nothing else, it would afford me a chance to get out of Philly in February. But it was more than that. I had high hopes that this could be a missing link in the Hi-Fi show circuit…a show in the SouthEast USA early in the year. This could provide companies an opportunity to launch their new products after the demise of CES (Consumer Electronics Show) for the Hi-Fi business. As the vendor list began to round into form, two things were clear. First, the inaugural show would provide a very nice glimpse into the Hi-Fi business for attendees and second, that headphones would be sadly lacking from that experience. After somewhat lackluster attendance by headphone enthusiasts at some past regional shows, the industry decided to sit this one out and watch from the sidelines. Based on what I've seen, I'm hoping that won't be the case in future shows. In the meantime, Headphone.Guru is here and happy to report on the show highlights of both personal audio and some exceptional 'Speaker-Fi' offerings. Here we go!
Friday morning at 9:30 sharp, Michael Fremer, Stereophile's resident Analog champion, cut the ribbon on the show and invited the crowd to check out the offerings.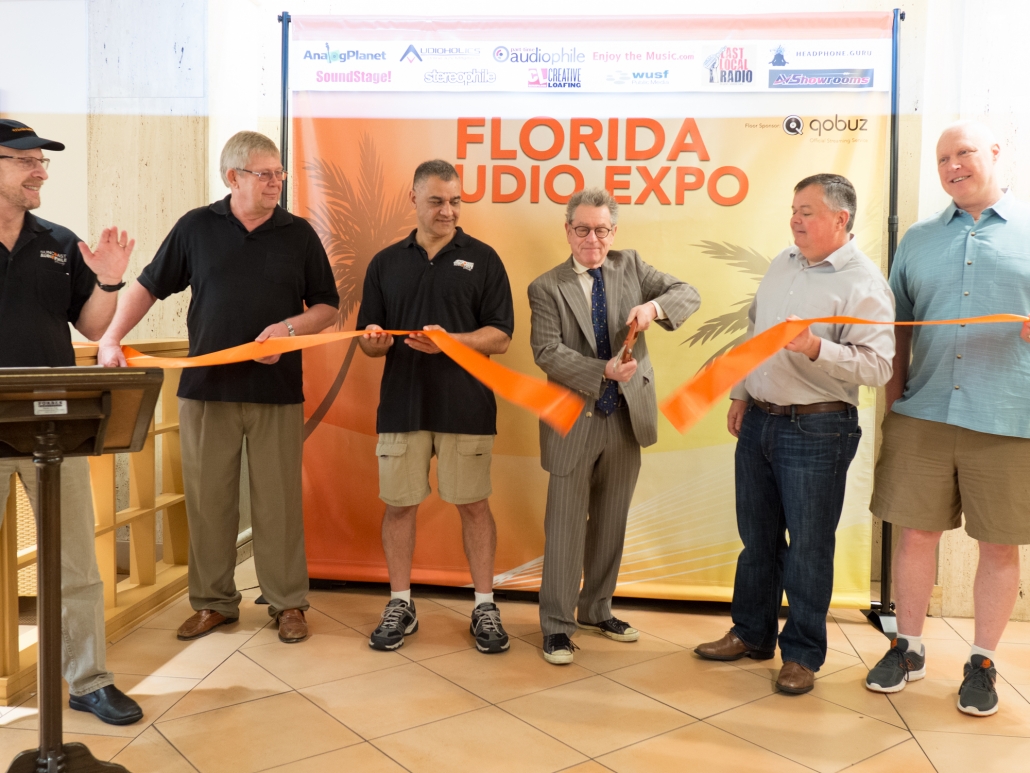 VAC/VSA/Esoteric/The Audio Company
The first room I visited turned out to be one of the very best the show had to offer! Kevin Hayes, owner of Sarasota-based VAC (Valve Amplification Company), celebrated being able to show at a 'Local' show by bringing a wide array of their exceptional electronics. One system included their Statement line of phono preamp, line stage, and monobloc amplifiers. The 2nd system showcased their Renaissance mk5 phono stage, Master line stage and monobloc amps.
All of that, while beautiful to look at, wouldn't provide much without speakers! The speakers in question were provided by Von Schweikert Audio. Damon and Leif brought 4 different speaker offerings. The VAC Statement electronics were driving their new $90k Ultra 55 speakers in a stunning red finish. The system topped out at about $600,000 before cables and sounded like it should at that price!
On the other end of the room, their E3 and E5 speakers were showcasing what they can do for a more approachable price point.
Both systems were fronted by DAC's from Esoteric. The 'Big Rig' was using their Grandioso D1 monobloc DAC's, N-01 Streamer, Grandioso P1 Transport, and Grandioso G1 Master Clock.
Analog source was the Kronos turntable with Airtight Opus1 Cartridge
Enough about the gear…what about the sound? Simply put…sublime. The Grandioso/Statement/U55 system disappeared and transported me to the venue. Playing some live jazz, all they needed to do was pump some smoke into the room and I would have believed I was in a speakeasy listening to a live performance. If you have the means, I recommend you check them out!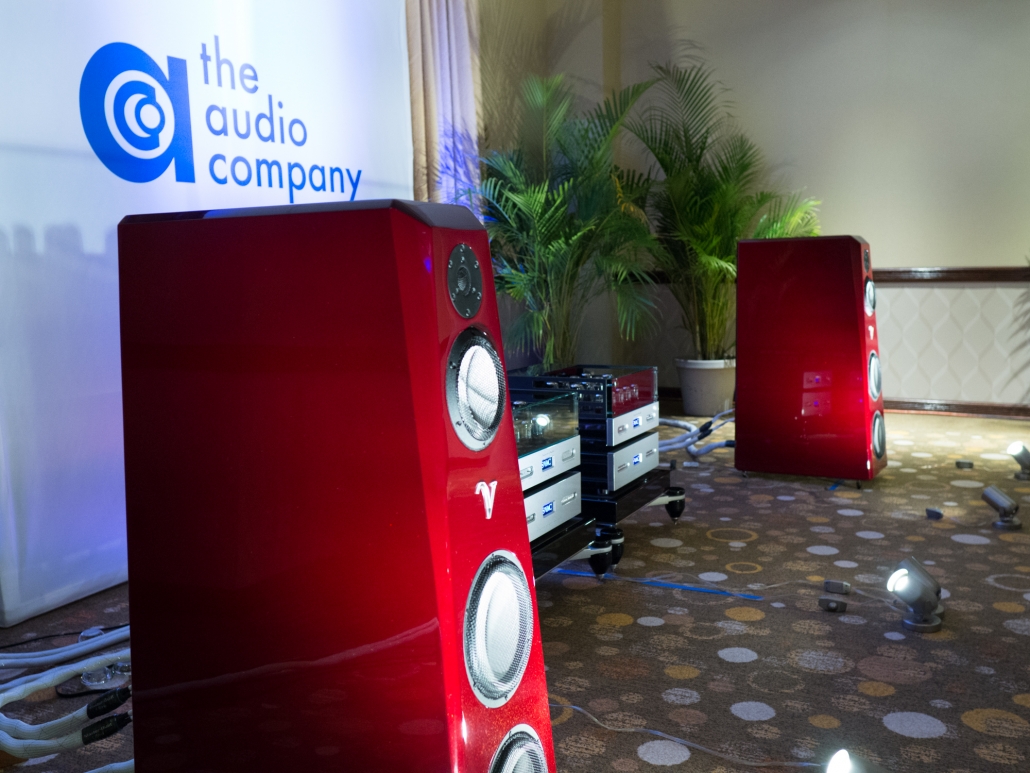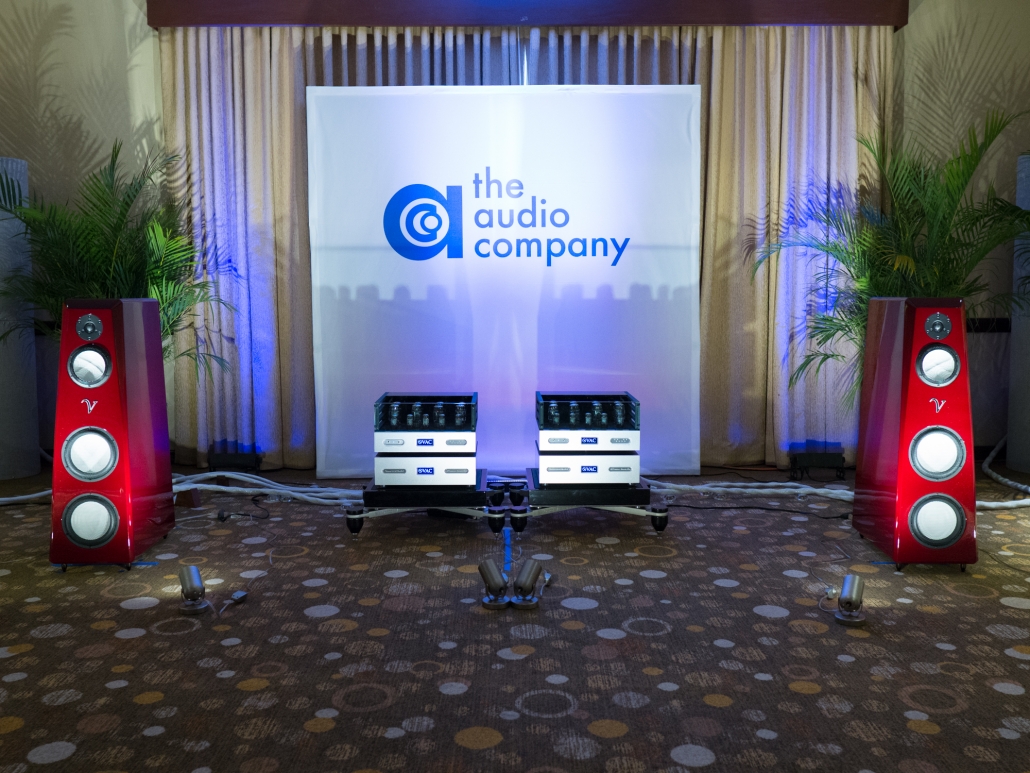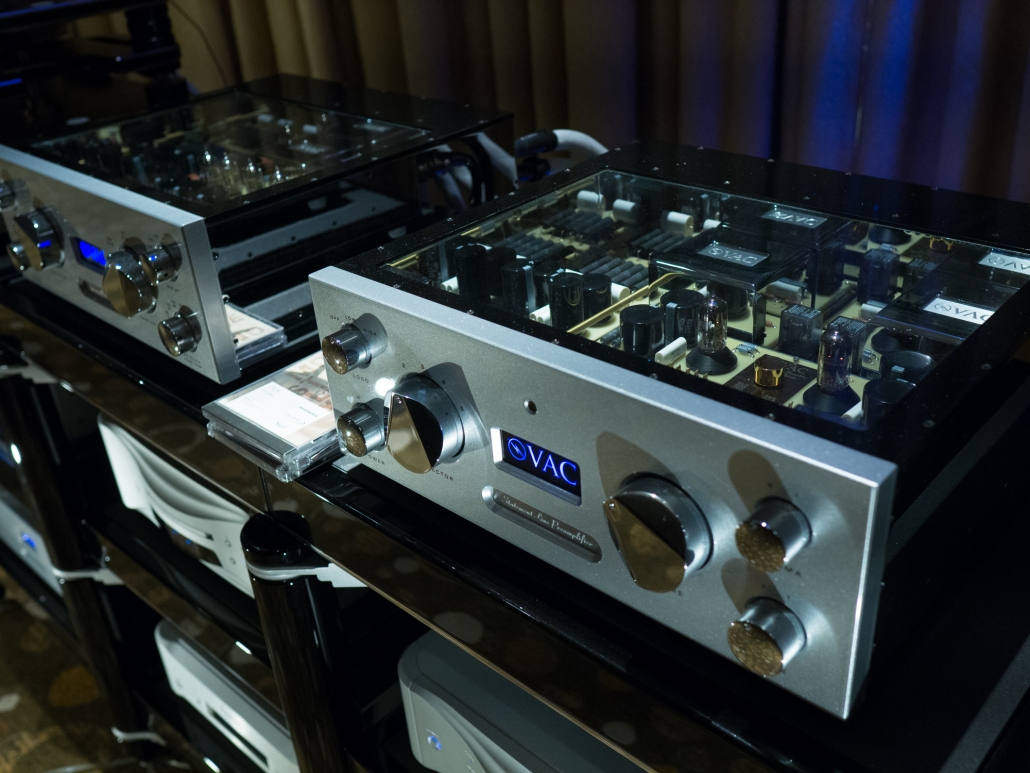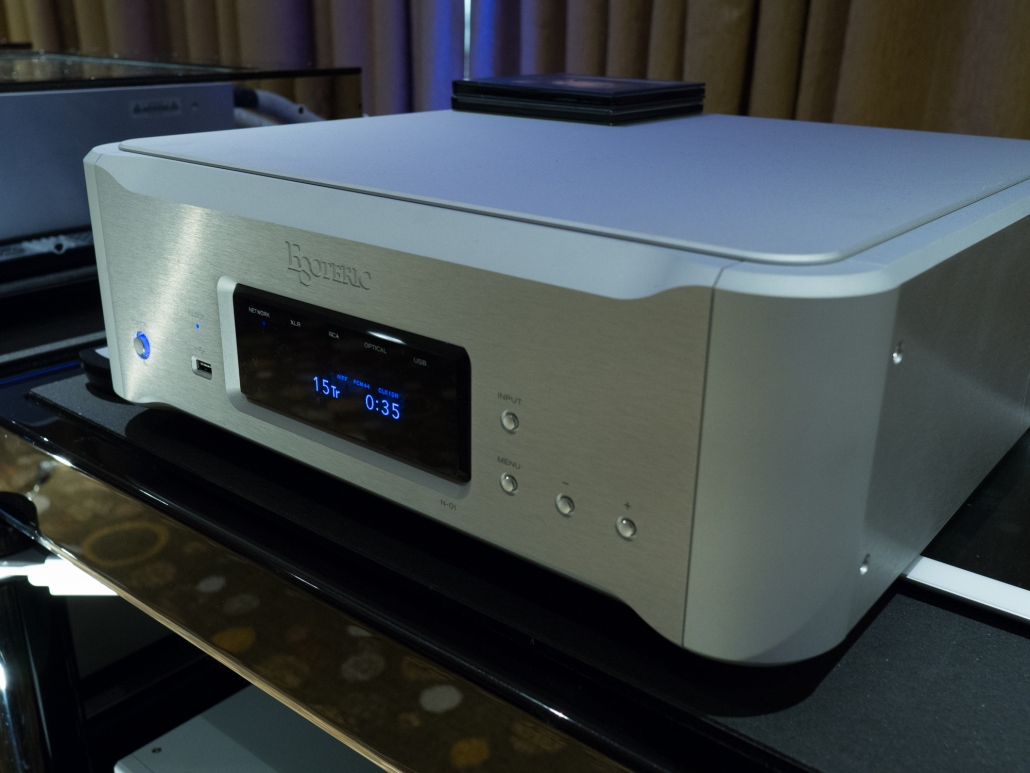 Mytek
In the hallway right outside the Big Room was a modest table manned by Chebon Littlefield of Mytek Digital. Far from the grandiose scale of the previous room, the exceptional Mytek Manhattan and Brooklyn DAC+'s were driving headphones from HiFiMan (HE-1000), Audeze (LCD-X) and Sennheiser (HD-650). The Manhattan was connected to both a digital source and a VPI Cliffwood turntable since both the Manhattan and Brooklyn include an MM phono preamp. The new member of the Mytek family is their Brooklyn Bridge. This device gives you the sonics of the DAC+ but adds streaming capabilities. By using their MyConnect App, you get Tidal, Qobuz and local HDD access as well as wireless connection to your smartphone, tablet or computer. It has full MQA hardware decoding and can act as a Roon endpoint. In addition to the wireless capabilities, you get direct digital inputs for optical, coaxial and USB. Oh yeah…and it's a fantastic headphone amp with preamp outputs. I used to say the Brooklyn DAC was the Swiss Army Knife of digital products…well, this adds even more. All this for $2,995. Pre-orders are being taken at mytekdigital.com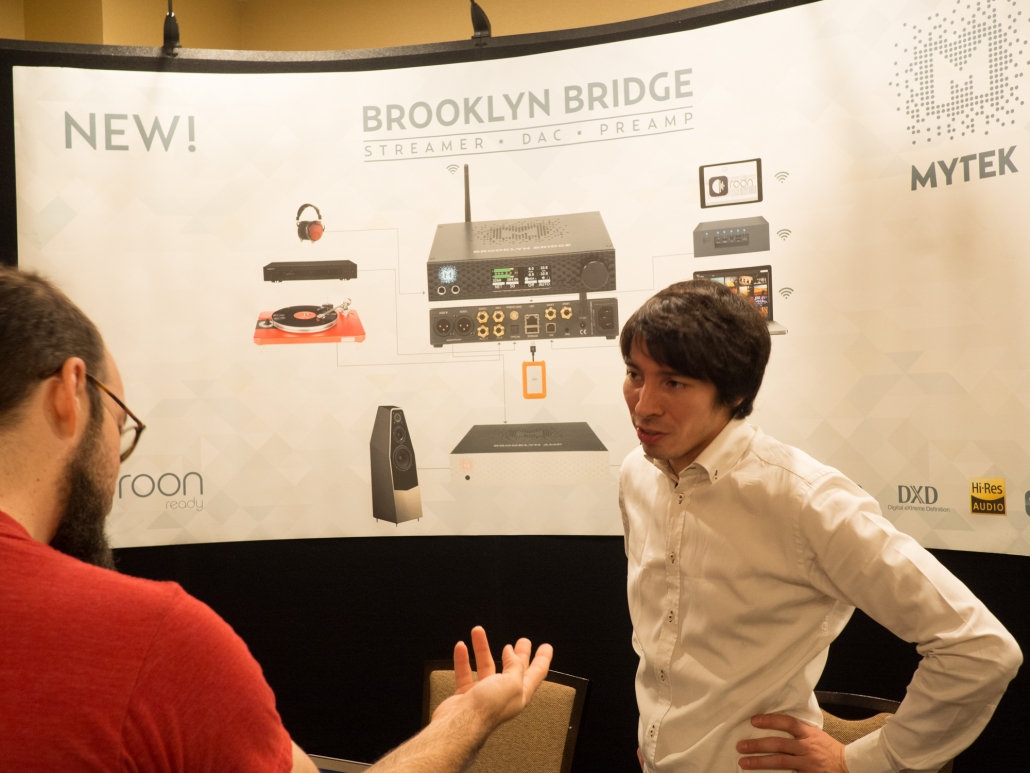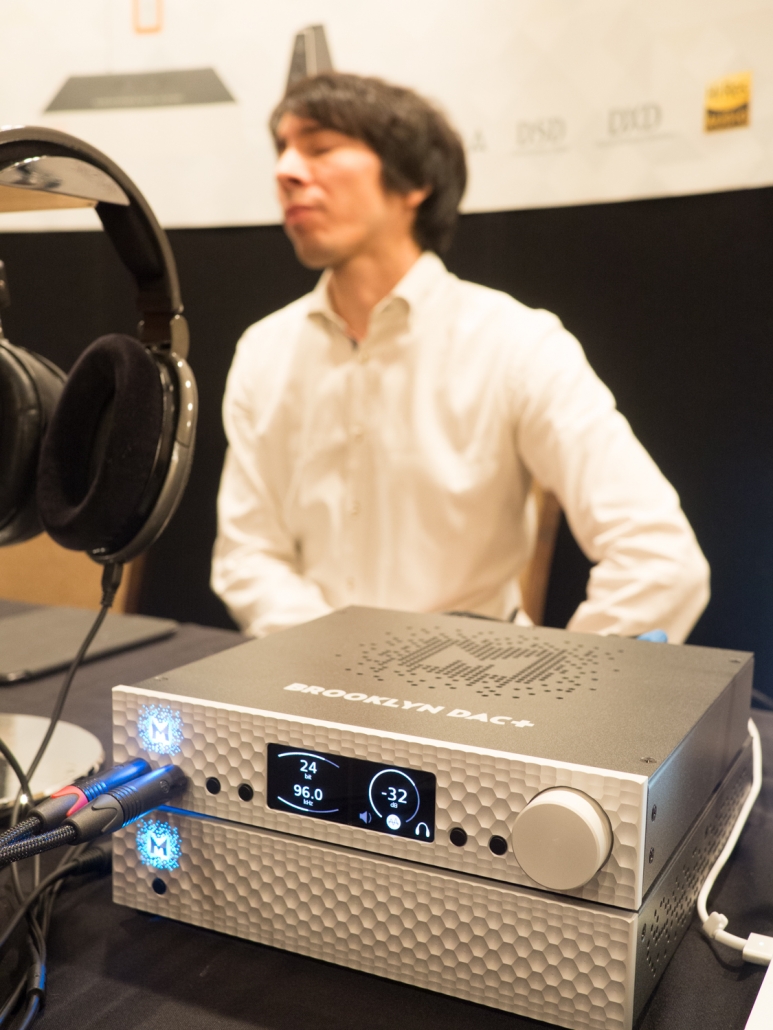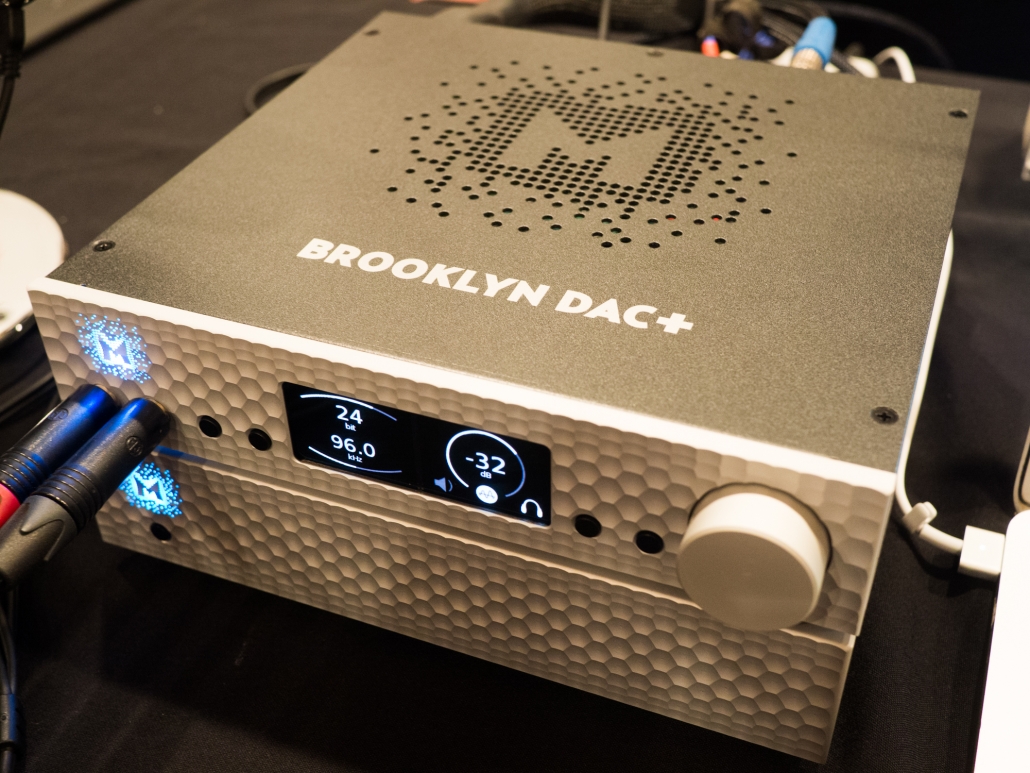 MBL
Next door to Mytek was the MBL 'Big' room. They were showcasing their Noble Line electronics powering their Radialstrahler MBL 101 X-treme speakers. The sound was BIG and corner to corner 'Room Filling', but to my ears, it lacked the precise imaging that I love. Tonality was spot on from deep, taught and powerful bass to sparkling treble that was never fatiguing.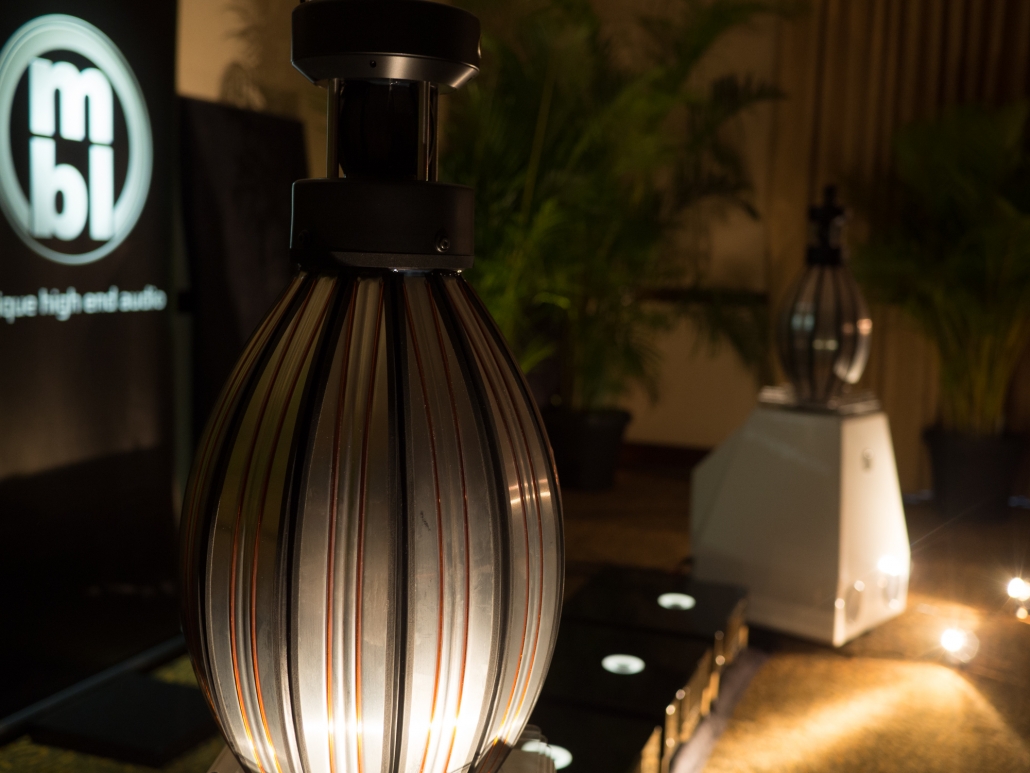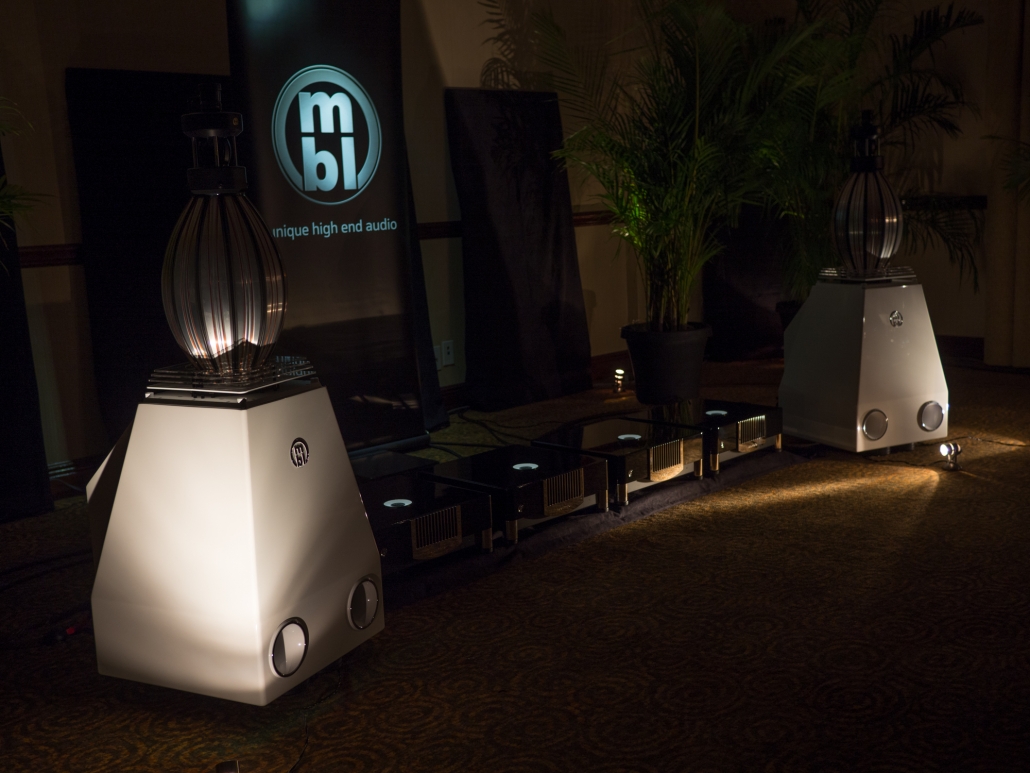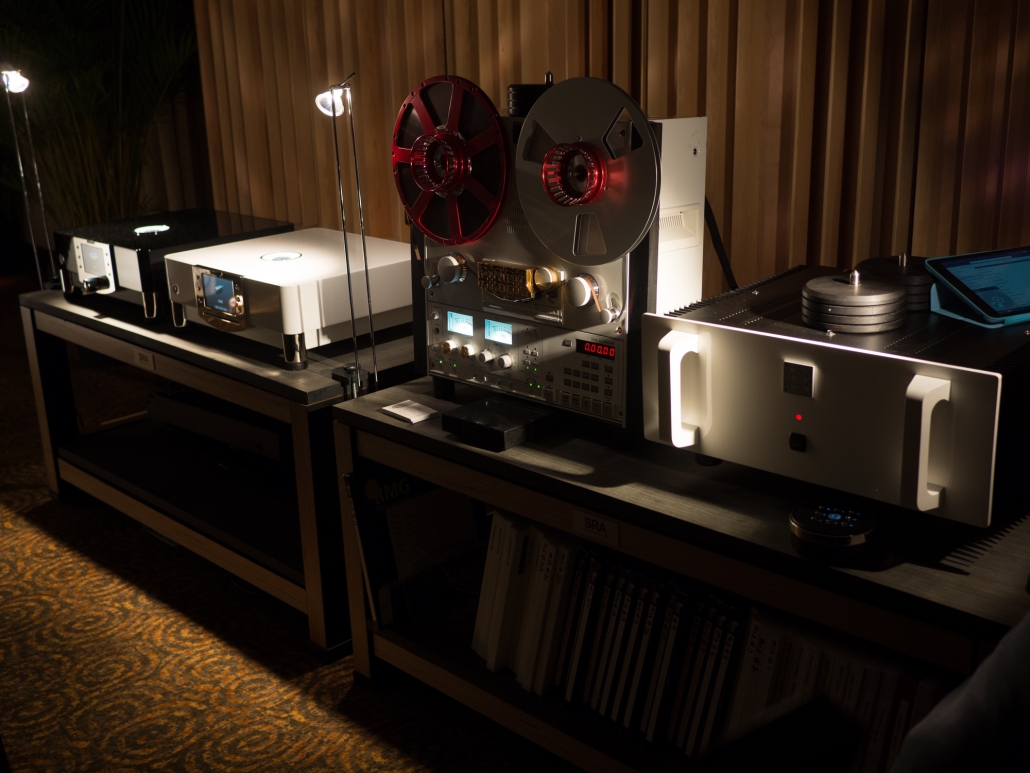 Hegel
Next stop was the Hegel room where Anders Ertzeid was showing off their mighty H590 Integrated Amplifier. The sound was so punchy and dynamic that I assumed it was coming from the separate power amp on the lowest tier of the display, but Anders explained that it was just the nature of the integrated…one they designed to drive any speakers out there! I believe him!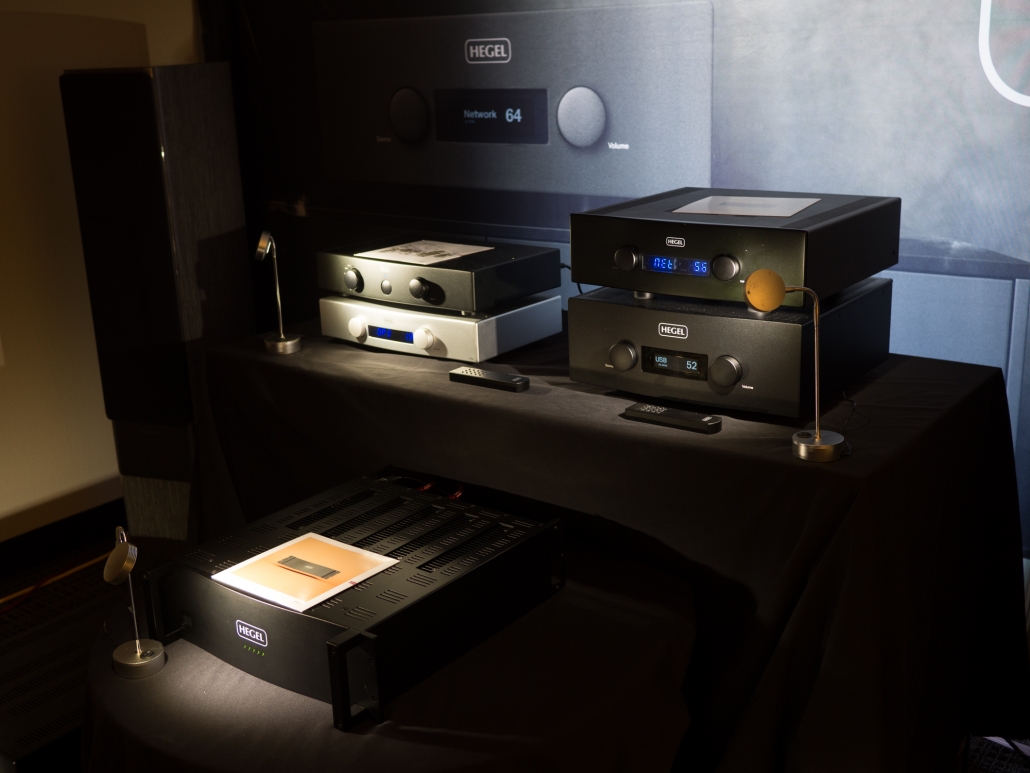 Cyrus
Marking their return to the US market, David Patching, Head of marketing for Cyrus Audio, was showing their Cyrus OneHD integrated amplifier with DAC and High-current headphone amplifier. It will drive headphones as well as speakers with its 100w/ch 'Hybrid' Class-D amplifier, featuring SID (Speaker Impedance Detection). This design senses the load presented by the speakers and adjusts the output accordingly.
This is a terrific desktop system. Inputs for your computer or DAP via USB, Optical, SPDIF, line-level RCA (x3), MM phono and aptX BlueTooth and output for your private headphone listening enjoyment or room-filling speaker sound. All this and it's small enough to fit on your desk. Pricing is $1399 on Amazon.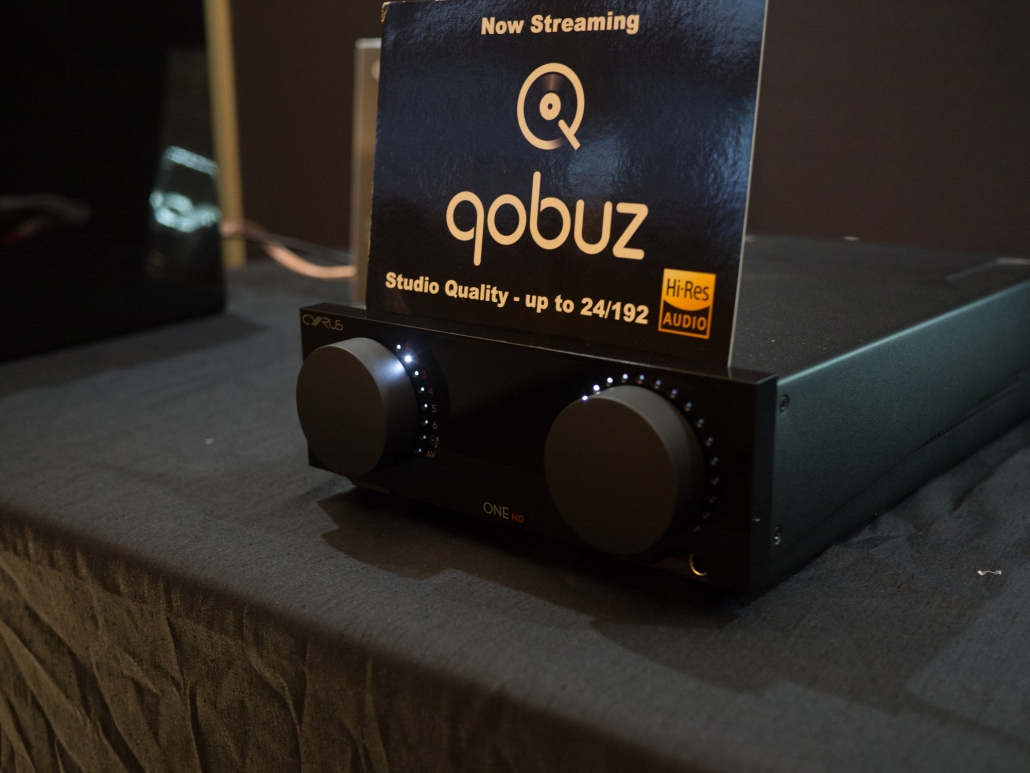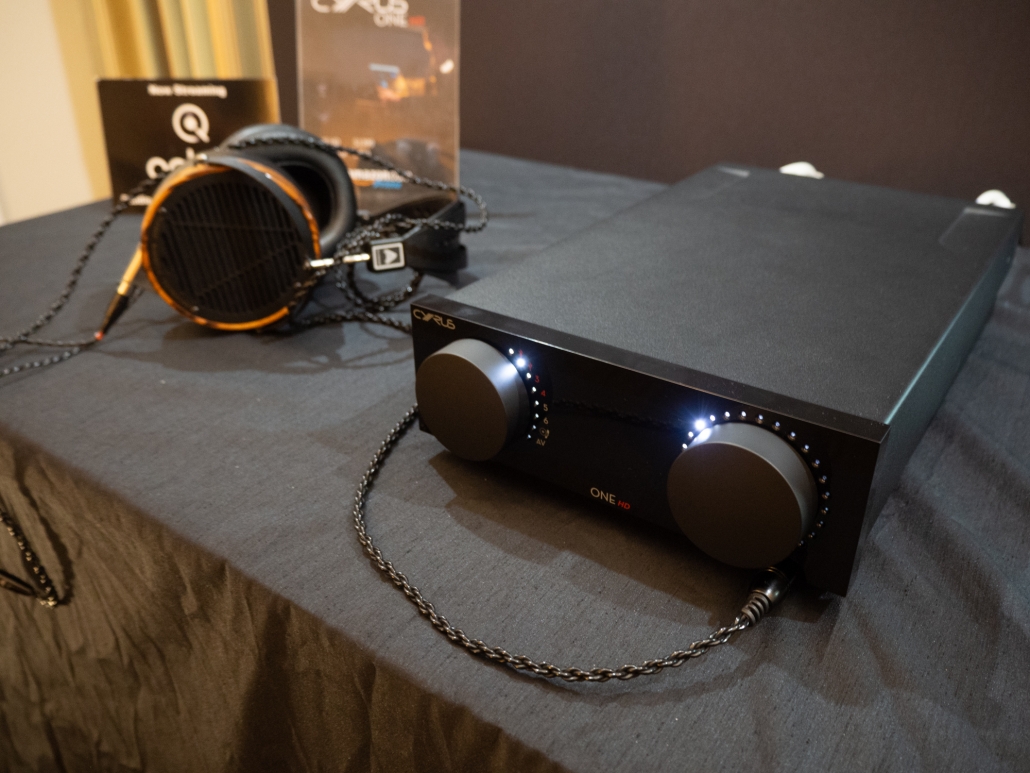 AVM
One of the best sounding rooms I came across was the AVM room. Peder Backman was demonstrating their Evolution Line electronics. I found myself sitting there for some time as music washed over me again and again. Clean, clear, dynamic and with very little clue that I was in a tiny hotel room. The heart of the system is their PA 8.2 modular preamplifier. This allows you to decide what types of inputs you want…line and phono options as well as digital…even a tuner. It also allows you to choose a solid state output module, a tube output module OR BOTH! The headphone stage also has its own built-in signal path, not just an afterthought.
I have one of their integrated amps in for an audition and some photography…stay tuned for more!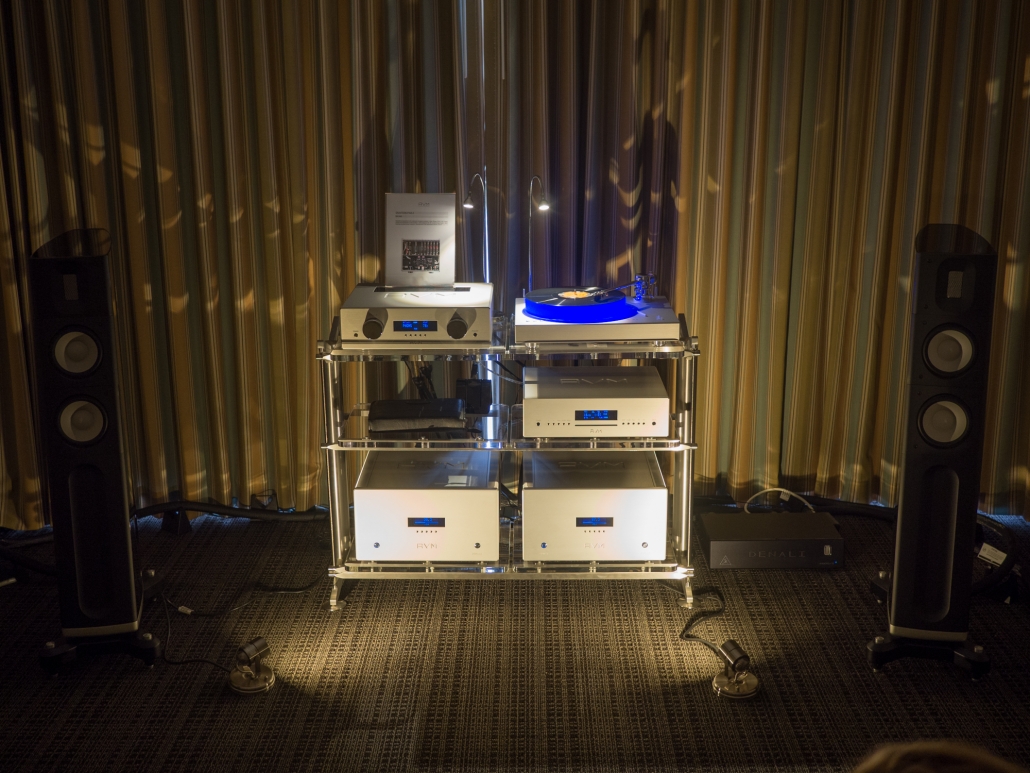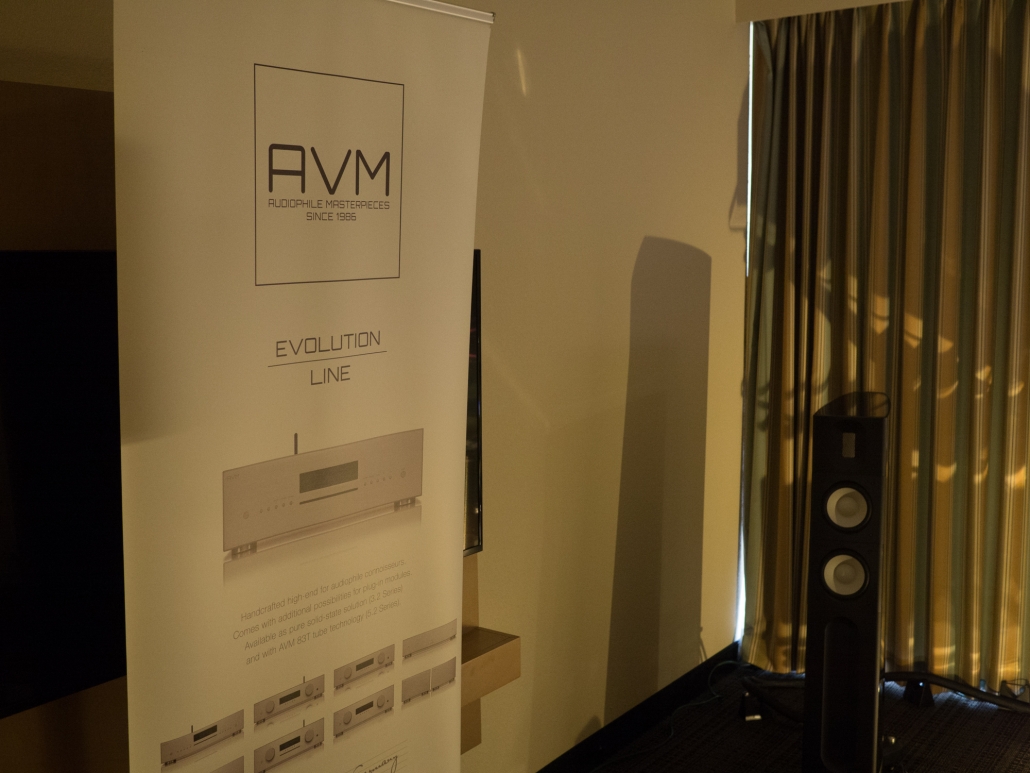 Lampizator
Fred Ainsley was on hand from Swiss-based Lampizator and was showcasing their Golden Gate 2 DAC being fed by their Super Komputer server. These were sending the signal to the new Pacific amplifier via a VAC Renaissance mk5 preamp. All this was driving VonSchweikert E-3 speakers. The sound was subtle and delicate when needed and forceful when the source demanded it. If you have the means, I highly recommend checking them out!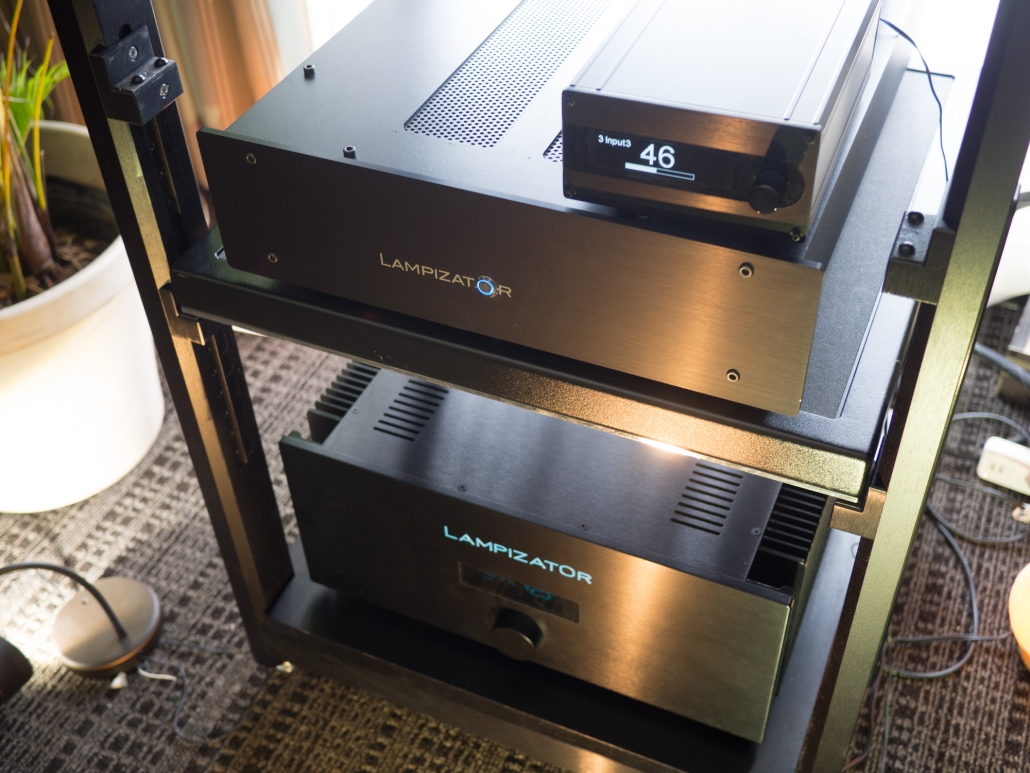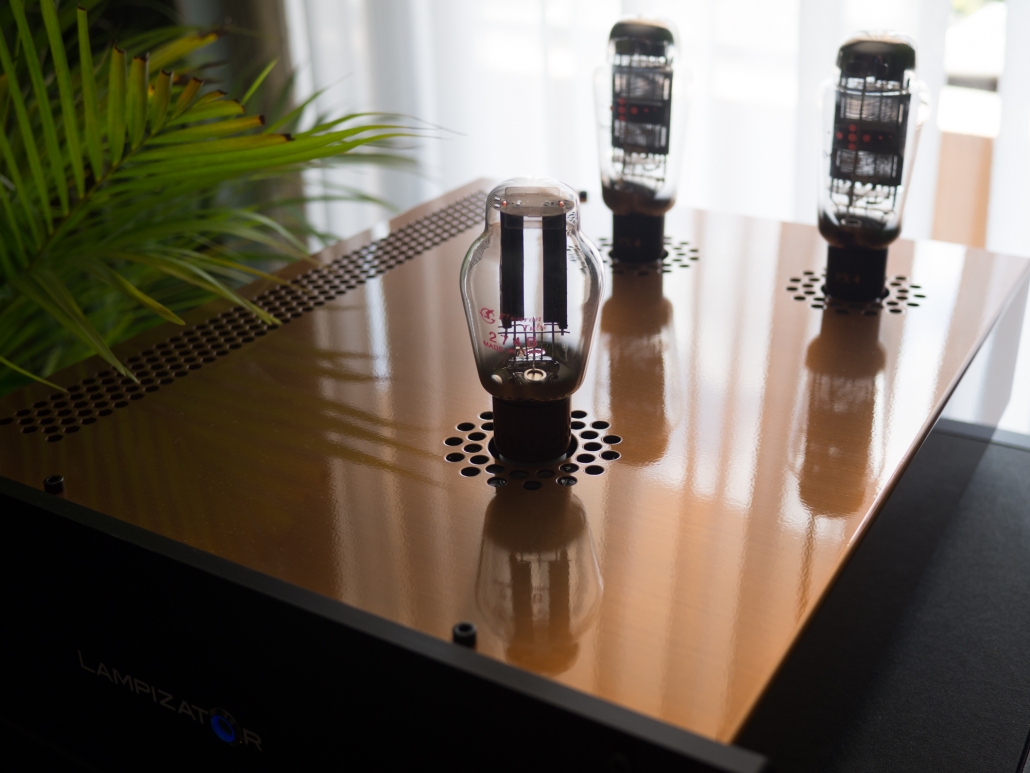 Sonnare
In my continuing search for headphone audio, I found Sonnare tucked into the kitchen area of the Atrevit Acoustic room. Daniel Cheever, designer and owner of Sonnare Audio was showing his award-winning Emotion Headphone Amp. Daniel took the 7 years of research he did for his master's thesis and turned it into a practical solution for headphone enthusiasts. The Soviet 4P1L tubes are configured as single ended and direct heated triodes. Power output is 1.5W into a 50ohm load and is a great match for planar headphones like the Audeze and HiFiMan flagships. The sound was natural, clean and wide…yes, WIDE…with planars! At $1,795, this amp is killer.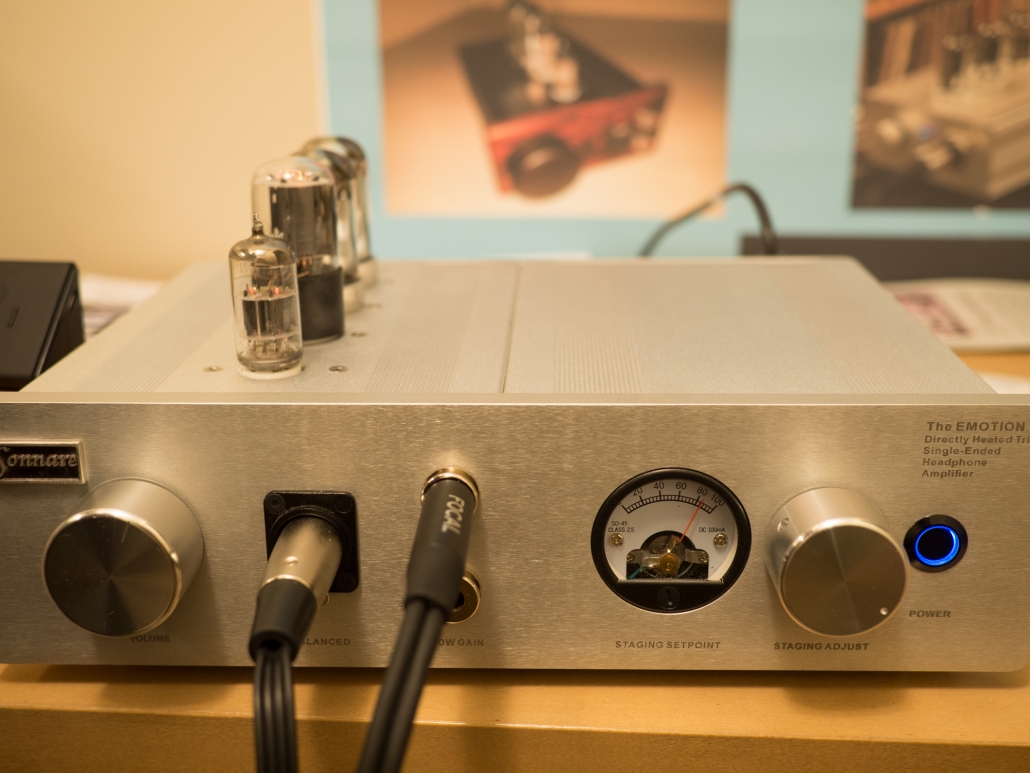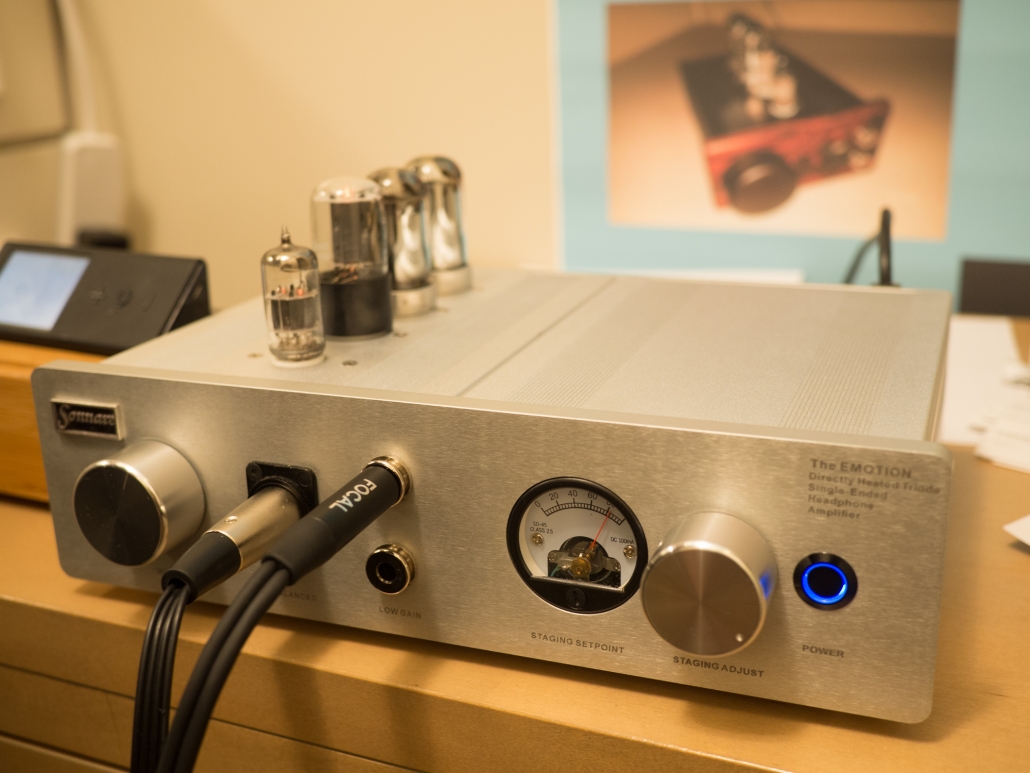 Joseph Audio/Doshi
ALWAYS a contender for best sound at shows (and this was no exception) the combination of Doshi electronics driving Joseph Audio speakers is sublime. There is a synergy that is really exceptional. The diminutive Pulsar speakers are so impactful that everyone who comes in asks where the sub is. Yet they are so revealing and delicate that they simply disappear and let you be properly involved in the music. The source material was reel to reel master tapes played via a Studer RtR deck through the excellent Doshi Tape Preamp, Line Stage, and Stereo power amp. All the wiring, from power through speakers, was Cardas. Truly a world class system.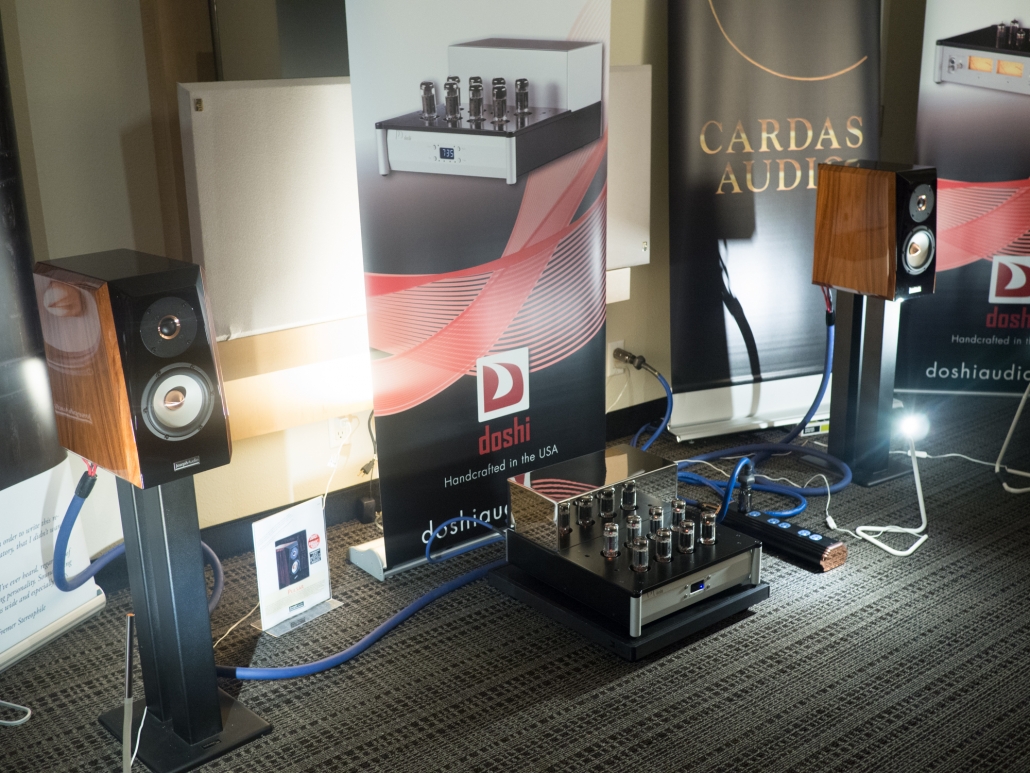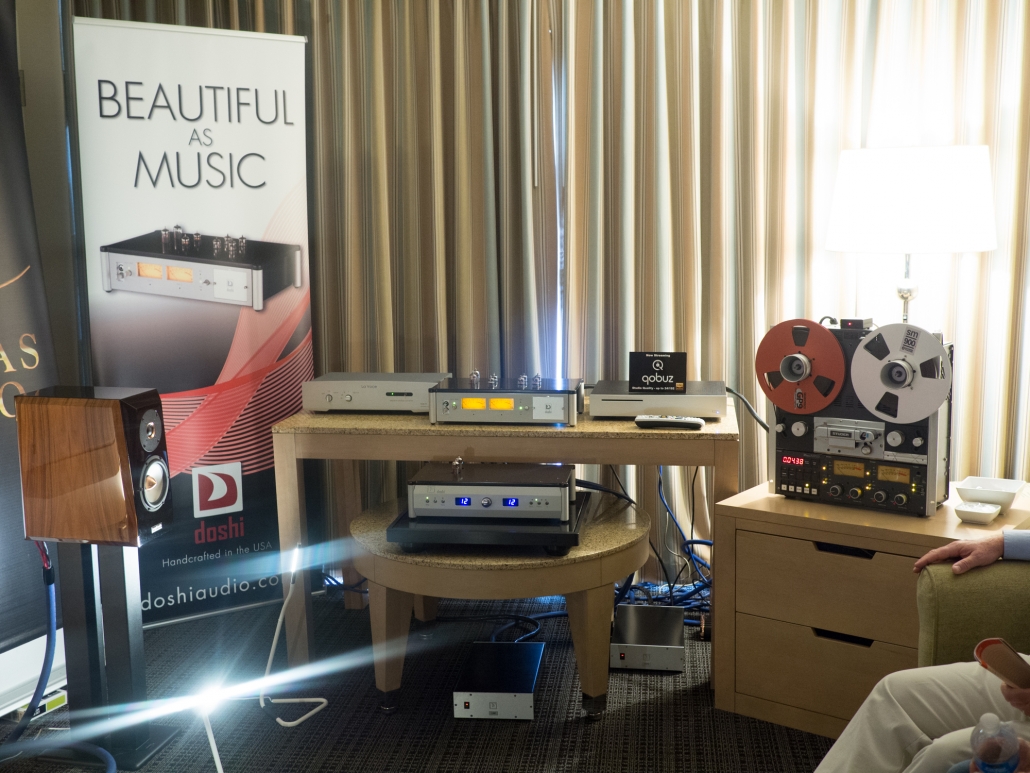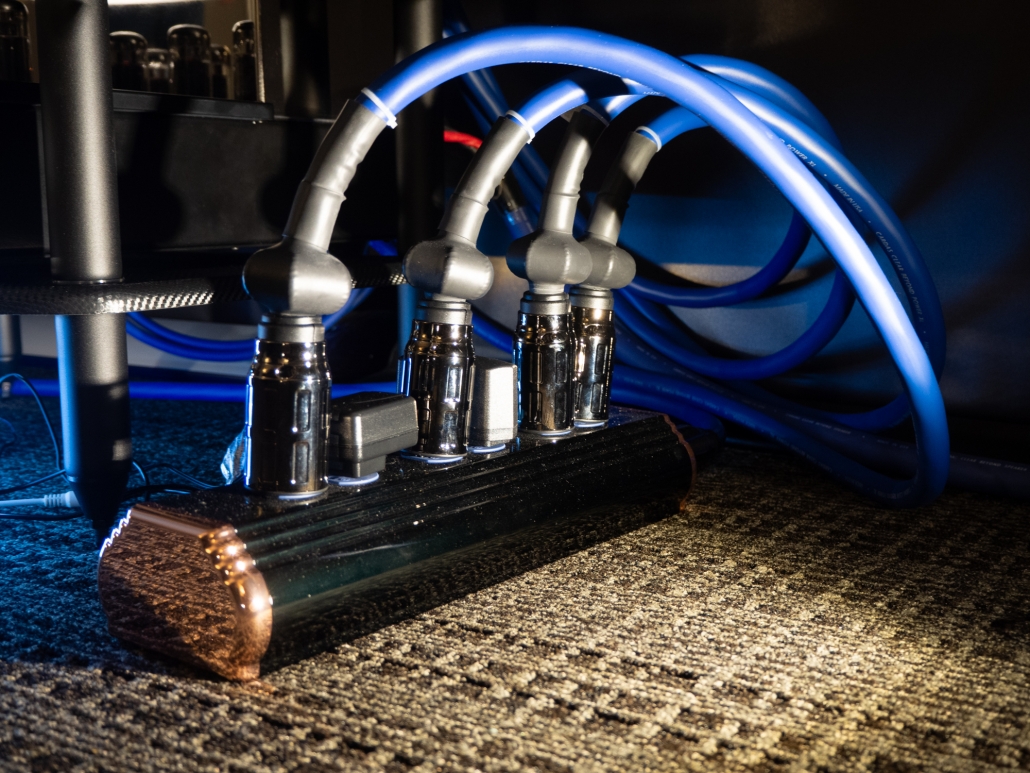 AURALiC/Ryan
Another room making beautiful music via a Doshi Power amp was the AURALiC room. Alex Brinkman was there along with Trevor Ryan of Ryan Speakers. The Digital Front End was made up of the amazing AURALiC G-Series electronics. This consists of the Aries Wireless Streaming Transporter, The Vega Streaming DAC and the Leo GX Reference Master Clock. This system delivered flawless digital content completely free of jitter on to the excellent Doshi Stereo tube amp, which in turn was driving the smallest of the Ryan S-line of speakers, their S610. Delivering sound that belies their size, the Ryans provided yet another exceptionally musical experience.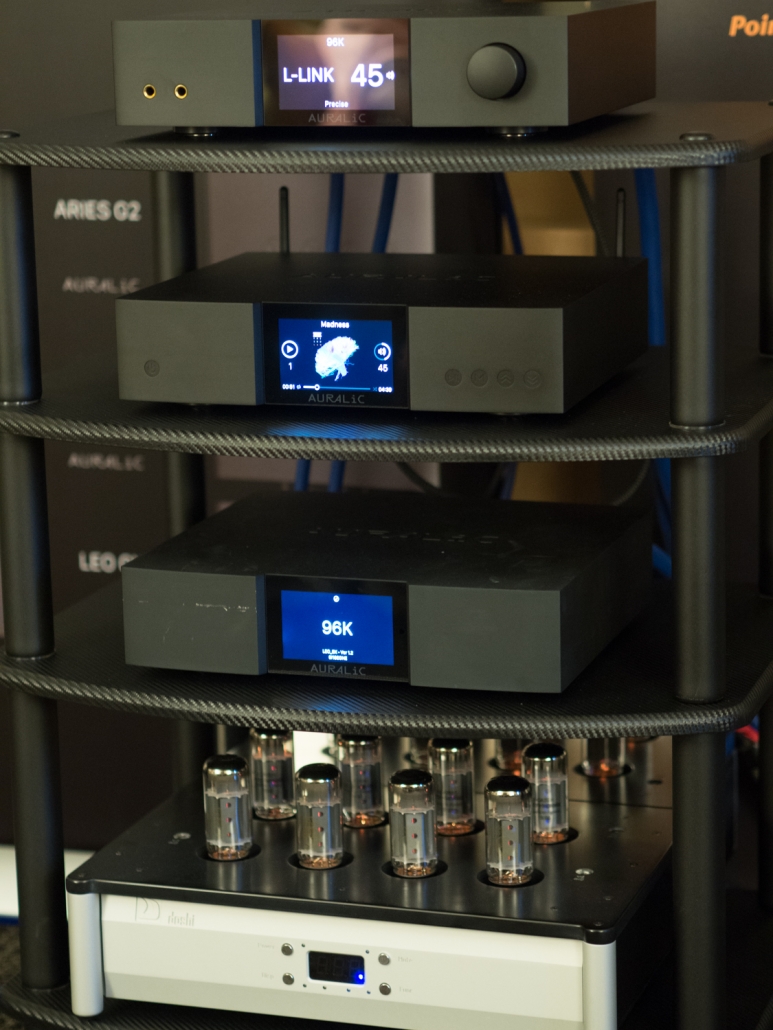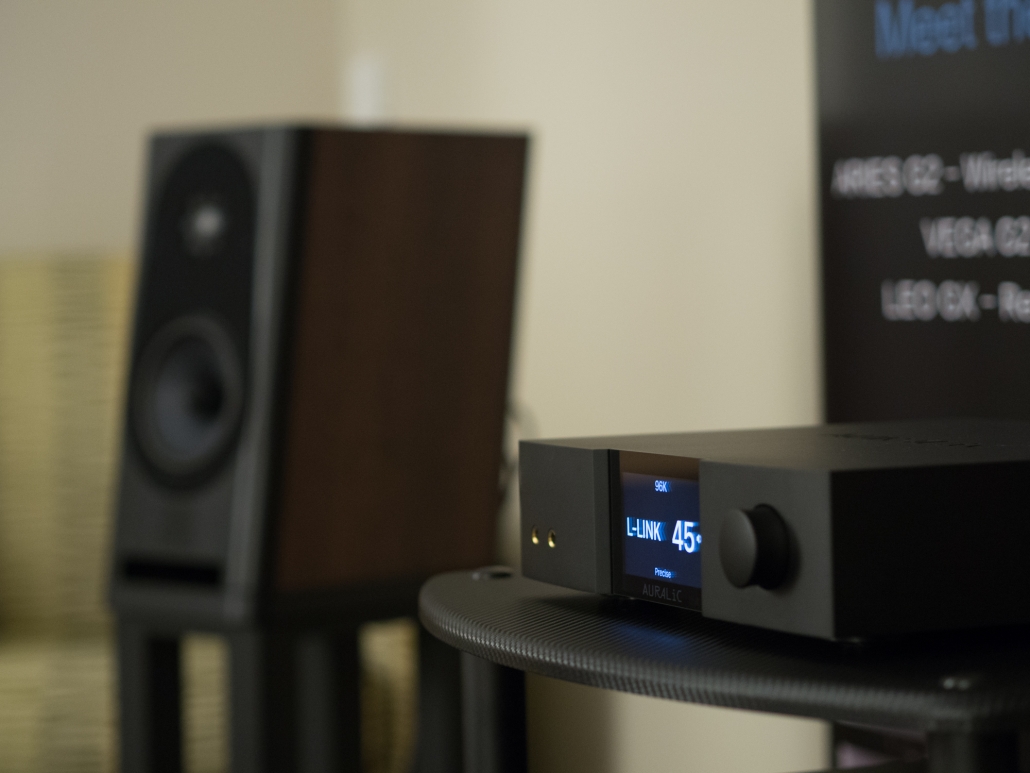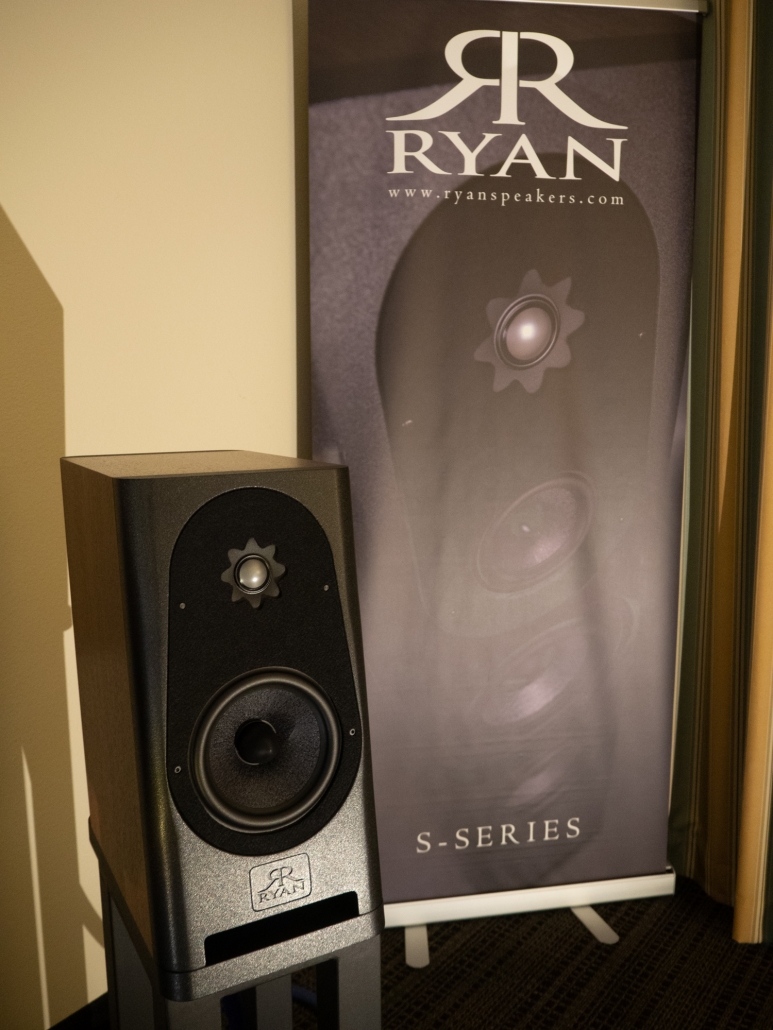 NOLA
Carl Marchisotto of NOLA speakers was on hand to demonstrate his diminutive Brio Quad 4-way system consisting of 2 tiny monitors and 2 8" long throw powered subwoofers that employ an A/B amp rather than the typical class-D amp. The monitors use 2 3.5" drivers, one in a ported lower enclosure and one in an upper open-baffle arrangement, to handle from 180hz up while the Sub handles the rest. These were driven by Rogue electronics. The sound was seamless with no real hint of crossover issues. The tiny size (5.5" x 5.5" x 12" high) of the monitors would make this an exceptional personal audio system. Pricing for the Brio Quad is $5000 for the set. You can also get the Trio version with one sub for $3500.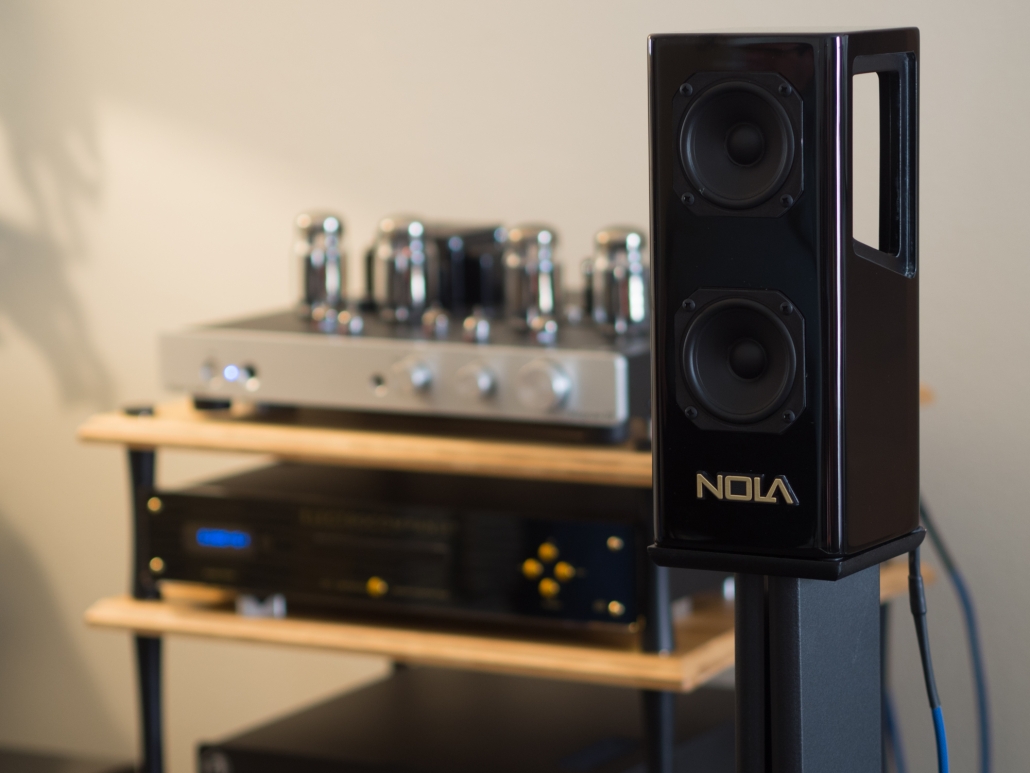 Pro-Ject
Smaller and Smaller we go! Sometimes the tiniest boxes yield the biggest surprises! Buzz Goddard from ProJect was on hand to demonstrate their line of budget-oriented turntables, but the show-stopper was their diminutive Pre-BoxS2 Digital and the brand new StreamBox S2 Ultra. The former is a preamp, headphone amp, and DAC all in a box the size of a couple of decks of cards. In that itty bitty box, you'll find dual-mono design, dual ESS Sabre ESS9038 DAC's, MQA hardware decoding and the ability to play everything up to DSD512! For those looking for an all-digital solution that fits anywhere, this could be it!
The matching StreamBox S2 Ultra brings the world of streaming to your desktop as well! Want to stream Tidal or Spotify…done! Want to connect a hard drive…done! Want to use it as a Roon endpoint…done? Want to control it all from your smartphone or computer…done! Want to hook up an HDMI monitor…done! Pair this with the Pre-Box and a pair of amplified speakers and your favorite headphones and you have a fabulous personal audio setup.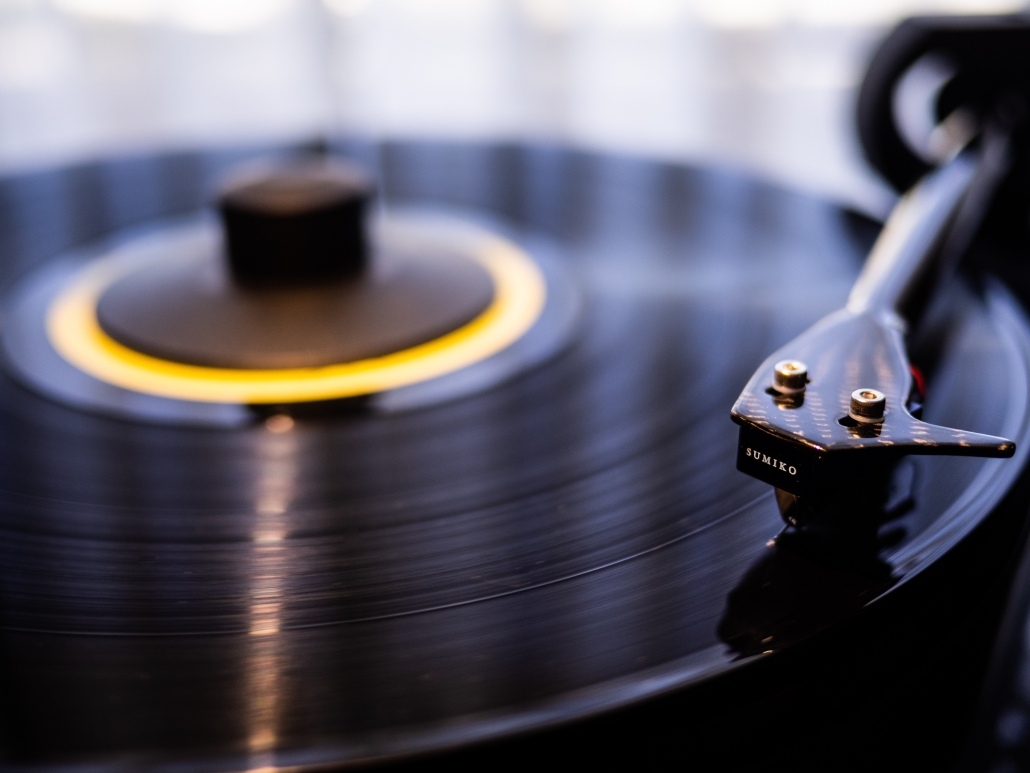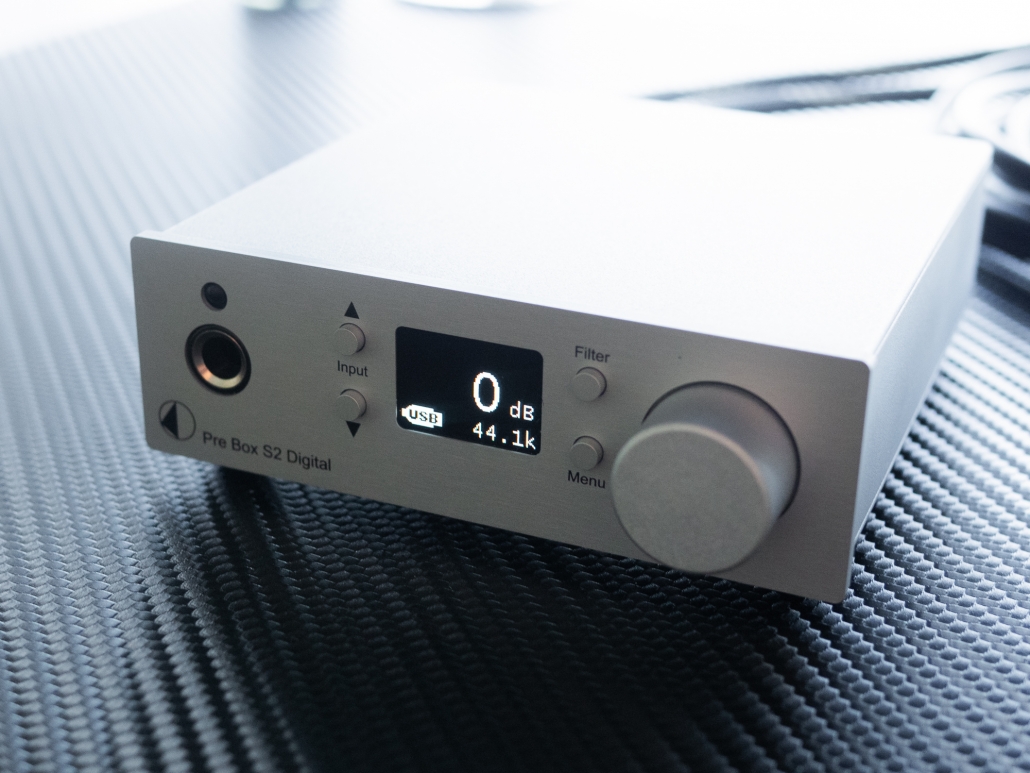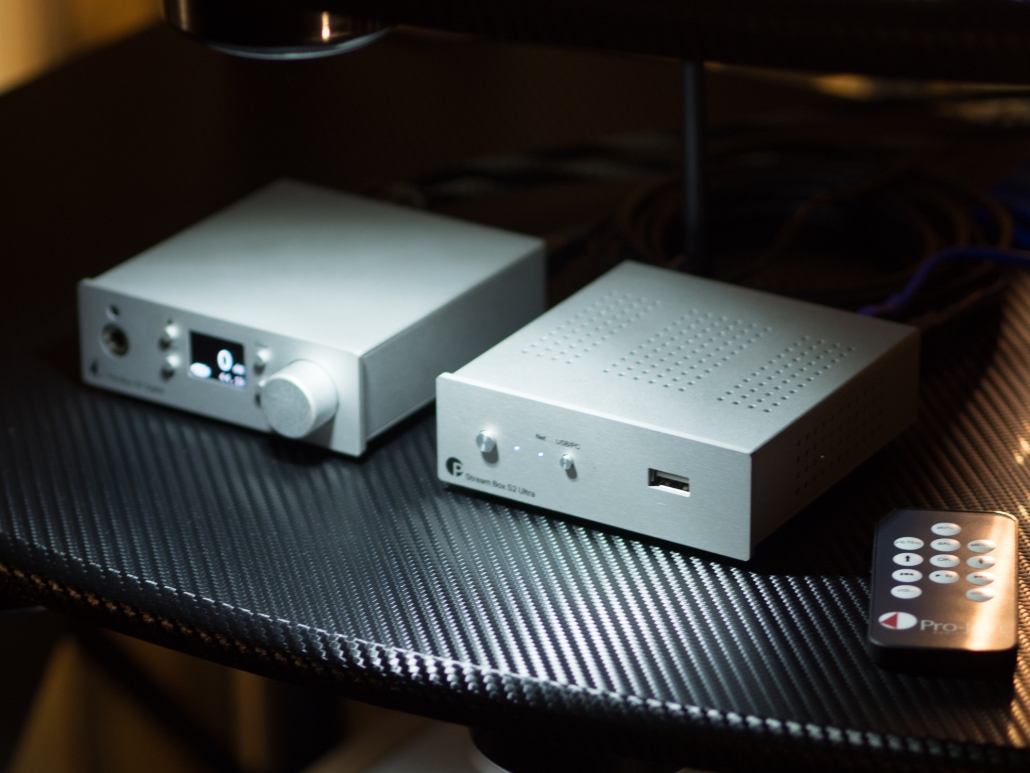 Vanatoo
Another stalwart of the Personal Audio industry is speaker manufacturer Vanatoo. Gary Gesellchen was in their room showing off the Transparent lineup of powered wireless speakers. The tiny T-Zeros are astonishing in the bass they get from a truly desktop enclosure, but the star was the new T-One Encore speaker. Still sized to fit on a desk, but also capable of filling a small room with great sound, these speakers are amplified and have inputs for USB, Toslink Optical, Coax, analog, and Bluetooth! The sound was rich and delicate and easily filled the hotel suite. If you're looking for a SOHO alternative, these might be it!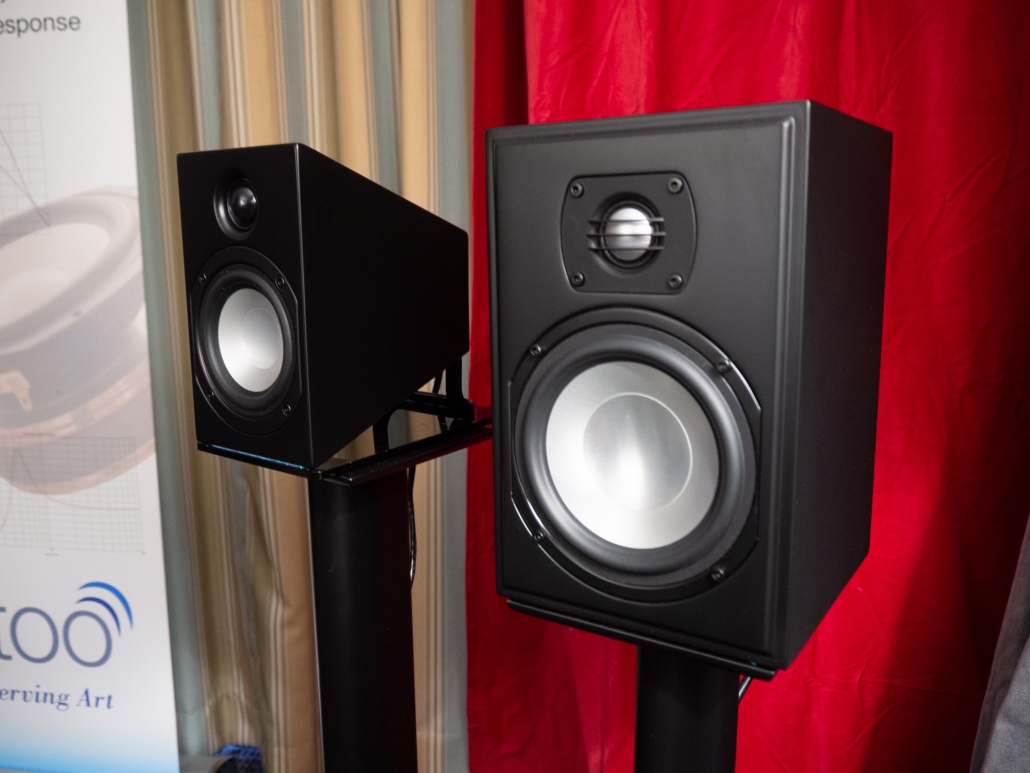 Wolf Audio
Jo Parvey invited me in to listen to the system built around his truly high-resolution audio server, the Alpha 3. This 5,995 server is basically a high-end computer with a base of 2TB of storage and an interface that allows you to easily sort and access all of your digital music. It can run Roon, JRiver, Audionirvana and is an MQA decoder. It handles native DSD to 512 and every audio format I've ever heard of! There is a built-in DVD/BR reader to allow you to rip your physical media to whatever format you choose. But most importantly, His rooms at both FLAX and Capital AF were among the very best I heard.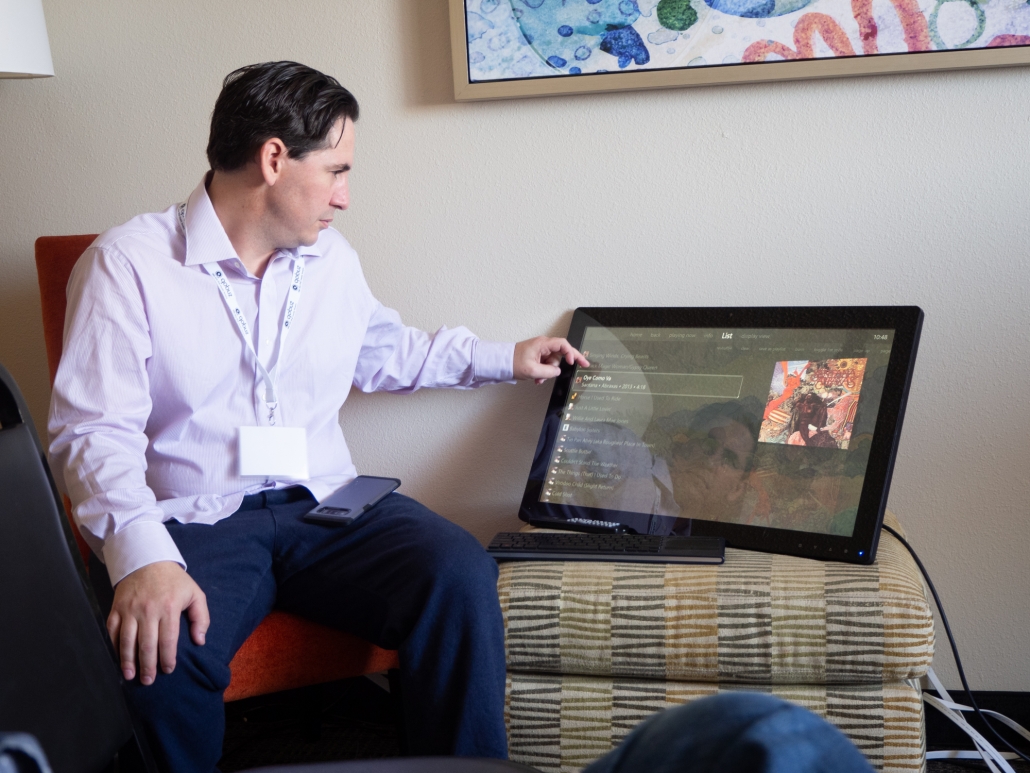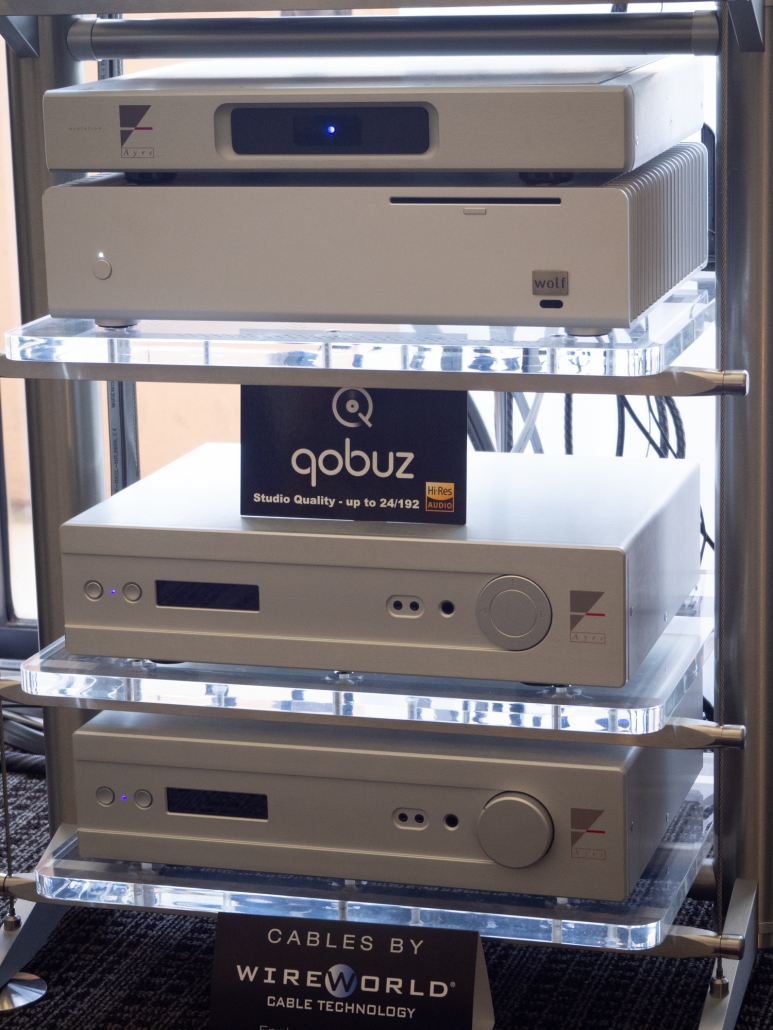 In the kitchen area of his suite, he was also showing off the Alpha3's little sibling, Luna. The Luna features the same functionality and same 2TB base storage as the Alpha3, but is in a smaller box and uses a slightly lower powered processor. Same sound, smaller package…smaller price at $3,600. Joe had me listen to it through an Ayre Codex headphone amp driving Focal headphones. I remain blown away by the sound and the user interface.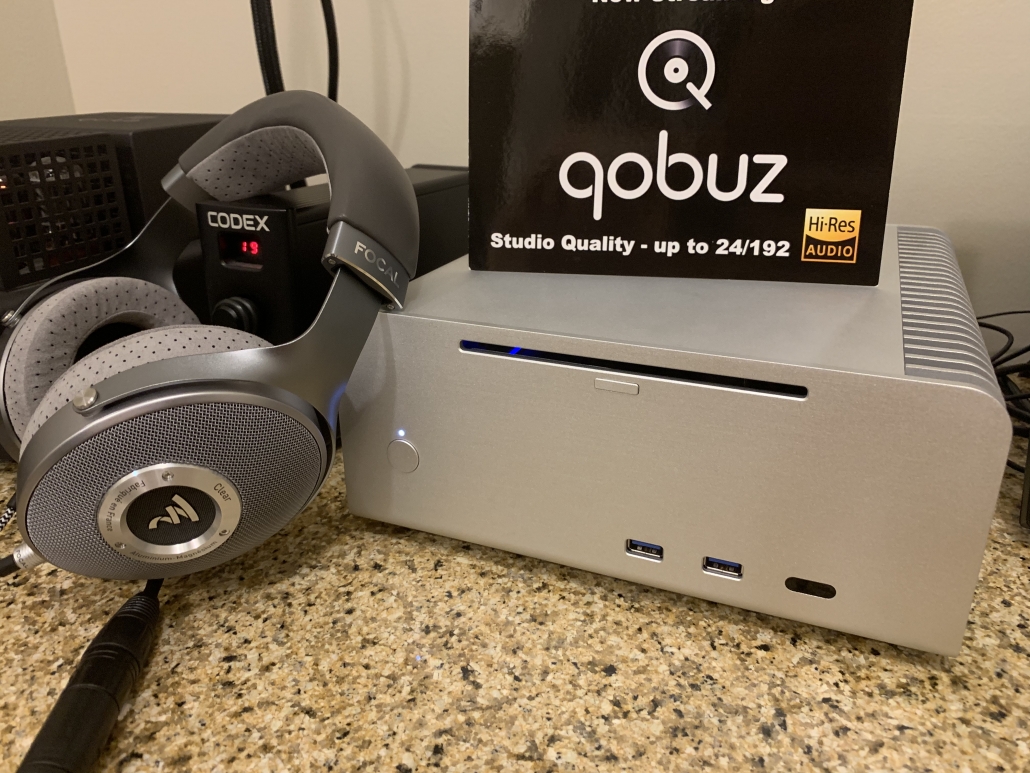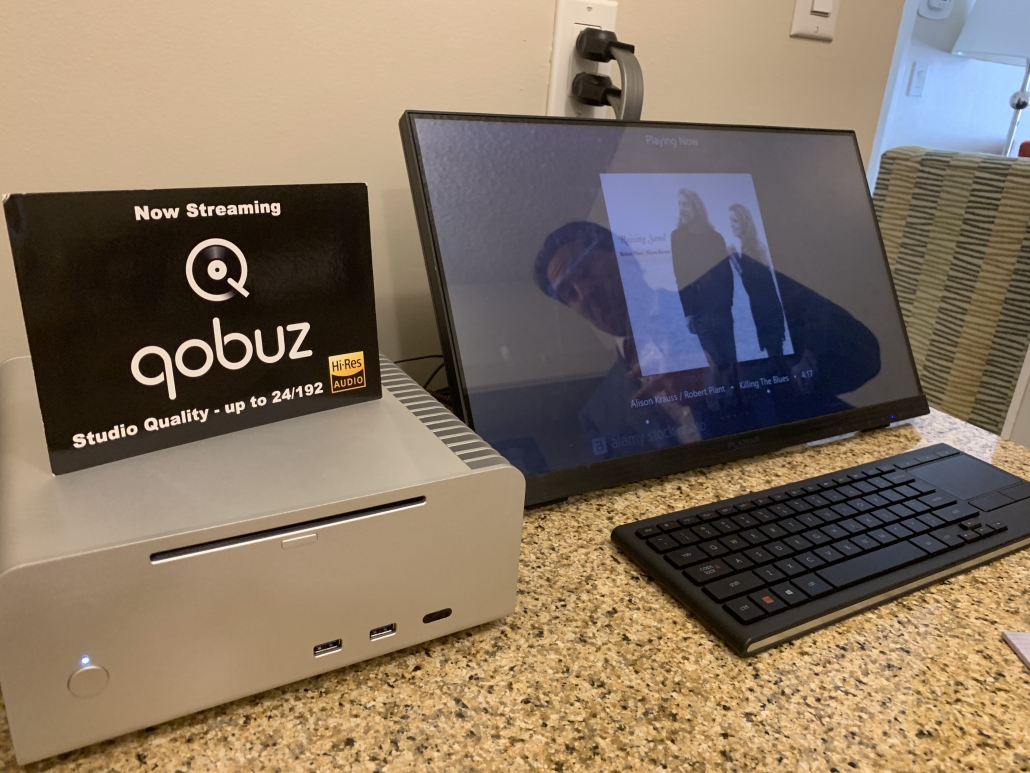 Qobuz
No report would be complete without mentioning the official streaming platform of the show: Qobuz. David Soloman was roaming the show and nearly every room was offering the attendees the opportunity to stream high-resolution music from a vast library of artists. Now that the service has officially been launched in the US, I think we'll be seeing and hearing lots more about this great service.
As the show wound down each night, attendees and exhibitors mingled in the bar area and were treated to what this is all about…music. Provided by the likes of chamber quartets and jazz ensembles.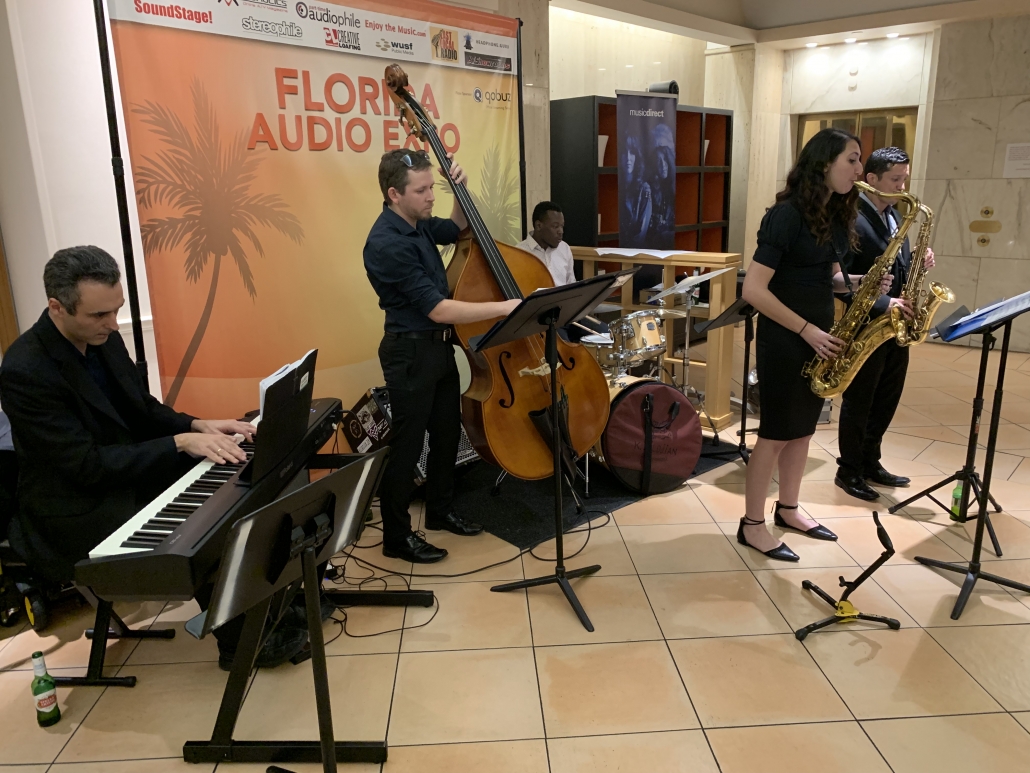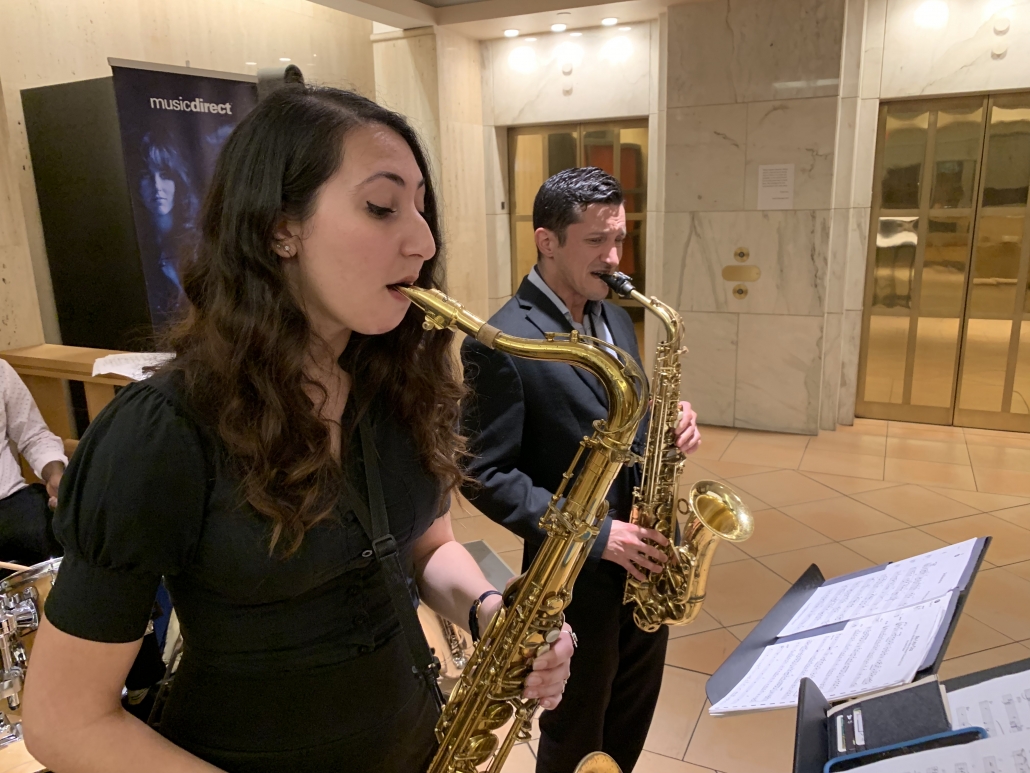 Kudos go to Bart Andeer and his crew for putting on a great first show, to the venue for providing exactly the right feel and amenities and to Frida for spectacular weather! I know I'll be back!