September 16, 2022 – First launched in 2016, Focal's Utopia headphones rank amongst the best headphones in the world. Under constant renewal, the French brand with a unique savoir-faire in acoustics, has given its iconic product a new design while adding acoustic enhancements (new voice coil, 'M'-shaped grilles inside the earcups…). All the exclusive, high-end technologies that make the Utopia headphones so successful are still to be found in this new edition, continuing to bring sensational listening experiences to your home with even more sophistication and elegance.
A NEW LOOK, A REWORKED DESIGN
The design of the new Utopia is a combination of moderation and distinction. Taking the aesthetics of Focal's latest hi-fi open-back (Clear Mg) and closed-back (Stellia and Celestee) headphones, the honeycomb grille on both the outside and inside of the earcups gives a unique and remarkable look. In addition to its Black Chrome rings – now attached on from the inside for a cleaner appearance – these headphones introduce new design codes, which will also be used on Focal's future Utopia products. Among them, the "Yin & Yang" featured on the outer case symbolizes the perfect balance between design and technology, embodied by these high-end, French headphones, as well as the black and red double grille on the speaker drivers' motor unit.
THE BEST FOCAL TECHNOLOGIES
Continuing to strive for excellence in their creations and beginning a new chapter in the history of these iconic headphones, Focal's engineers opted for a new voice coil made up of copper – to improve reliability – and aluminum – to make it more lightweight. This alloy provides a rejuvenated sound signature, that lends even greater neutrality, with powerful bass and more mellow treble. What's more, the grilles inside the earcups are now M-shaped, following the curves of the speaker drivers, to give improved linearity and even more precision.
In addition to these innovations, the new Utopia headphones still include everything that made the first editions such a success, such as full-range speaker drivers with pure Beryllium, 'M'-shaped dome, and being fully open-backed for strikingly real listening full of neutrality, dynamics and transparency. Exclusive to Focal, the patented speaker drivers run with zero active or passive correction, from 5Hz to over 50 kHz. The headphones seem to totally disappear, leaving audio signal reproduction that is unrivalled in its purity.
PREMIUM MATERIALS DEDICATED TO SOUND AND COMFORT
Utopia is made from premium, sophisticated materials. The new yoke, made from forged, recycled carbon, is an elegant touch, whilst making the headphones more lightweight and distributing their weight more evenly. The genuine leather headband and perforated memory foam earcups— also leather-bound — provide unparalleled comfort and softness.
And finally, exceptional headphones merit top of the range accessories: Utopia comes in faux-leather packaging with a black fabric thermoformed carrying case and two high-fidelity cables (10ft and 5ft / 3m and 1.5m) for using the headphones at home with an amplifier or on the go with Lemo® connectors and a Jack adapter.
Utopia will be available September 2022 for $4999.
For more information on the new Utopia: https://www.focal.com/en/headphones-0/headphones/for-home/utopia-2022.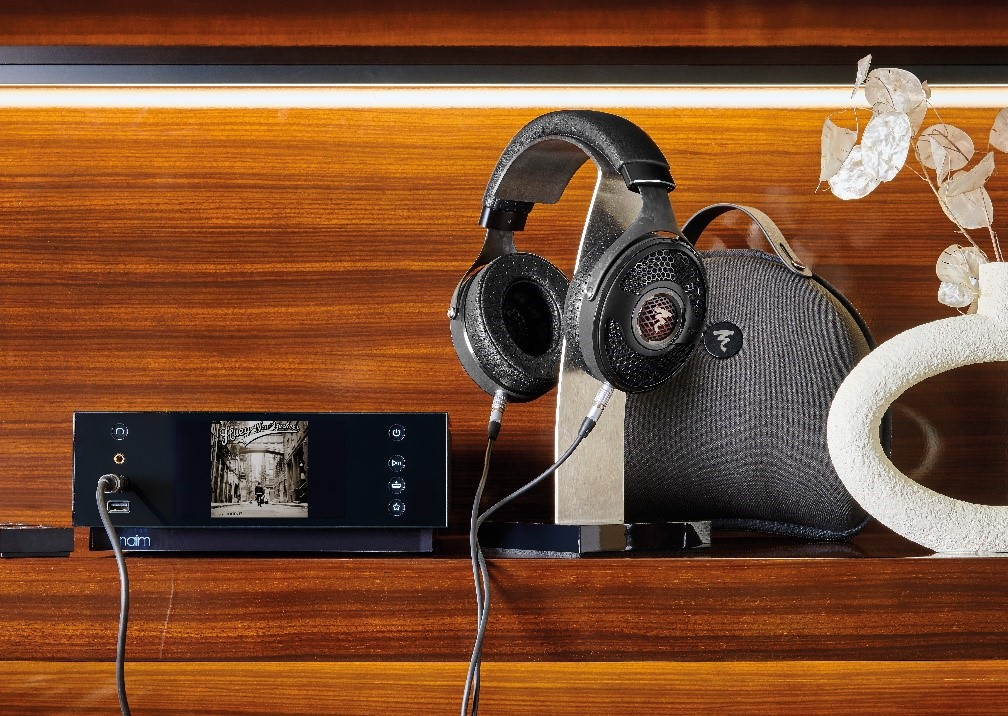 UTOPIA & UNITI ATOM HEADPHONE EDITION
Focal and Naim – the English brand united with Focal as part of the VerVent Audio Group –provide genuine audio solutions. As such, the Uniti Atom Headphone Edition is the ultimate electronic device, letting you get the very best out of the Utopia headphones. All you do is connect the device to a Wi-Fi network then plug in the headphones and you're ready to listen to music in high resolution and access numerous integrated streaming services.
# # #
ABOUT VERVENT AUDIO GROUP
VerVent Audio was born in 2011, incorporating Focal and Naim Audio. Each brand brings its savoir-faire: Focal is a French manufacturer of hi-fi loudspeaker and speakers, pro-audio monitors, in-car audio, custom-install products and headphones. Naim is a renowned British electronics specialist, specializing in two-channel hi-fi, multi-room music streaming systems, amplifiers. Both are recognized as exceptional brands in their countries: Naim is a multiple Queen's Award winner, while Focal is designated by the French state as an 'Entreprise du Patrimoine Vivant'. Together, they have united their unique areas of excellence and innovation and constitute a reference point in the world.
ABOUT FOCAL NAIM NORTH AMERICA
Born from the merger of Focal, world leader in acoustic sound made in France, and Naim Audio, world leader in British-made hi-fi electronics, VerVent Audio Group's brand subsidiaries signal a new investment phase and direction for VerVent in the US and Canada. By creating its own distribution entity, the group is striving to turn the North American territory into the market leader for Focal and Naim.
Since joining forces, Naim and Focal have united their unique areas of excellence and innovation, meaning even higher levels of authentic audio performance are possible – taking you closer to the music you love.
For more information on each brand visit: www.focal.com, www.naimaudio.com. Focal Naim America: www.focalnaimamerica.com.