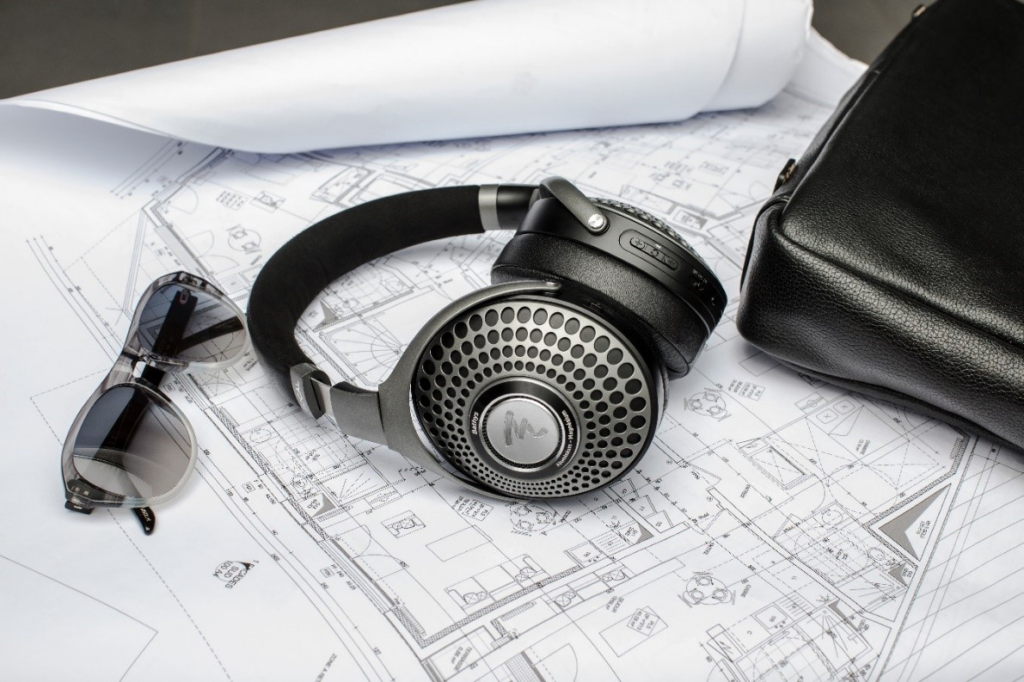 October 4, 2022 – Focal presents Bathys, its first wireless headphones with Active noise cancellation and high-fidelity sound.
Benefiting from the brand's savoir-faire in sound and high-end headphones prowess, Bathys delivers a pure hi-fi sound, via 5.1 Bluetooth® multipoint or wired connection thanks to its USB-DAC mode.
The headphones boast Focal speaker drivers made in France, high-performance noise cancelling technology, over 30 hours of battery life, high-grade materials and a number of attractive features. Bathys is the new must-have Bluetooth® headphone set to enhance all your travels.
HIGH-FIDELITY SOUND & MULTIPLE FEATURES
Bathys offers a detailed, precise and dynamic sound, showcasing the high-fidelity sound responsible for Focal's reputation for over 40 years, both in France and worldwide.
It offers two noise-cancelling modes for a total escape into your music: a "Silent" mode optimized for journeys with high background noise (planes, trains, etc.) and a "Soft" mode to help with focus at home, in the office, etc. It also features a "Transparency" mode that allows you to hear sounds around you when needed.
Easily accessible control buttons and Amazon Alexa and Google Assistant voice assistants are provided for effortless use. It also has an adjustable EQ to customize the sound. The voice assistants, EQ and other settings are available in the dedicated app developed by Focal.
Compatible with SBC, AAC, Apt-X™ and Apt-X™ Adaptive codecs, Bathys provides an extensive choice of connectivity modes (Bluetooth®, Jack, USB). It also has a Clear Voice Capture microphone technology for crystal clear telephone conversations.
In terms of battery life, Bathys offers over 30 hours of use, with its fast-charging function giving you 5 extra listening hours in just 15 minutes. Finally, two cables – 4ft (1.2m) 3.5mm Jack and 4ft (1.2m) USBC® – are supplied with the headphones for optimal wired listening to suit all uses.
MADE IN FRANCE SPEAKER DRIVERS
Manufactured in Saint-Étienne at the Focal workshops, the speaker drivers inside the Bathys headphones benefit from the expertise of a brand that constantly innovates to improve its products, providing the ideal solution regardless of how you want to listen.
With their Aluminum/Magnesium dome, the Bathys speaker drivers deliver a deep bass, soft trebles and a clear mid-range, for an extremely precise sound. The integrated USB-DAC mode offers a resolution of up to 24 bit / 192kHz for even more impressive performance.
A REFINED AESTHETIC SIGNATURE
The Bathys design is inherited from Focal's open- and closed-back headphones. These ergonomic headphones combine refined materials, such as Magnesium on the yokes, real leather on the headband and Aluminum for a robust construction, resulting in outstanding comfort for any head shape. The earcup grilles reflect Focal's distinctive headphones design code, with its highly aesthetic curves. Focal's flame symbol features at the center of the earcup, incorporating a white backlight system to be activated if desired, for an understated, chic visual effect. Another standout feature of Bathys is its elegant and timeless Black Silver colorway. Designed to be lighter, more compact and with superior staying power, it is the ideal travel companion. A meticulously finished carrying case is supplied with the headphones.
BATHYS: WHAT'S IN A NAME?
Bathys comes from the word 'bathyscaphe', the first submarine exploration vehicle. The embodiment of calm, depth and absolute silence, this vessel is the inspiration behind the name of these ANC headphones.
Bathys will be available October 2022 for $799.
For more information on Bathys: https://www.focal.com/en/headphones-0/headphones/for-travel/bathys.
# # #
ABOUT VERVENT AUDIO GROUP
VerVent Audio was born in 2011, incorporating Focal and Naim Audio. Each brand brings its savoir-faire: Focal is a French manufacturer of hi-fi loudspeaker and speakers, pro-audio monitors, in-car audio, custom-install products and headphones. Naim is a renowned British electronics specialist, specializing in two-channel hi-fi, multi-room music streaming systems, amplifiers. Both are recognized as exceptional brands in their countries: Naim is a multiple Queen's Award winner, while Focal is designated by the French state as an 'Entreprise du Patrimoine Vivant'. Together, they have united their unique areas of excellence and innovation and constitute a reference point in the world.
ABOUT FOCAL NAIM NORTH AMERICA
Born from the merger of Focal, world leader in acoustic sound made in France, and Naim Audio, world leader in British-made hi-fi electronics, VerVent Audio Group's brand subsidiaries signal a new investment phase and direction for VerVent in the US and Canada. By creating its own distribution entity, the group is striving to turn the North American territory into the market leader for Focal and Naim.
Since joining forces, Naim and Focal have united their unique areas of excellence and innovation, meaning even higher levels of authentic audio performance are possible – taking you closer to the music you love.
For more information on each brand visit: www.focal.com, www.naimaudio.com. Focal Naim America: www.focalnaimamerica.com.
Best regards,
Wendy S. Knowles
Head of PR, Focal Naim America
+1 (813) 447-9035
www.focal.com www.naimaudio.com

Ce message et toutes les pièces jointes (ci-après le 'Message') sont établis à l'intention exclusive des destinataires et les informations qui y figurent sont strictement confidentielles. Toute utilisation de ce Message non conforme à sa destination, toute diffusion ou toute publication totale ou partielle, est interdite sauf autorisation expresse. Si vous n'êtes pas le destinataire de ce Message, il vous est interdit de le copier, de le faire suivre, de le divulguer ou d'en utiliser tout ou partie. Si vous avez reçu ce Message par erreur, merci de le supprimer de votre système, ainsi que toutes ses copies, et de n'en garder aucune trace sur quelque support que ce soit. Nous vous remercions également d'en avertir immédiatement l'expéditeur par retour du message. Il est impossible de garantir que les communications par messagerie électronique arrivent en temps utile, sont sécurisées ou dénuées de toute erreur ou virus. ____________________________________________________ This message and any attachments (the 'Message') are intended solely for the addressees. The information contained in this Message is confidential. Any use of information contained in this Message not in accord with its purpose, any dissemination or disclosure, either whole or partial, is prohibited except with formal approval. If you are not the addressee, you may not copy, forward, disclose or use any part of it. If you have received this message in error, please delete it and all copies from your system and notify the sender immediately by return message. E-mail communication cannot be guaranteed to be timely, secure, error or virus-free.