In 1949 Foster Electric Co was founded as a manufacturer of speaker drivers and in July of 1973 they decided to spin off a line of premium high performance drivers under the name Fostex. Extremely well received and sought after in the pro-audio community (I remember in particular being shown a four foot magnesium framed woofer back in the eighties), it was only natural that all of this expertise at driver design and manufacture would be used to develop a line of headphones. As a natural progression, with the rise of personal audio as a community, several years ago Fostex decided to enter the audiophile headphone market with the TH900.
The Fostex TH610 is their newest offering in their extremely popular TH series of premium headphones. It is the successor to the TH600 and little brother to the TH900mk2, and boasts 50mm drivers with a 1 tesla magnetic circuit and what they call a "bio-dyna" diaphragm.
"Biodyna diaphragm is made by Bio-cellulose fiber featuring low specific gravity, high Yang's modulus and high internal loss at the same time to achieve 2 times high propagation velocity and 5 times high rigidity against the conventional plastic film based driver unit."
Black Walnut ear cup housings add an element of elegance to their appearance and the detachable Hi-FC cable (1/4″ single ended) can be swapped out for an optional balanced cable. Falling out on the lighter side of over the ear headphones the TH610s are fairly comfortable and easy to adjust. The removable ear pads are soft with mildly firm stuffing and contoured to present a more forward soundstage.
The Listening Tests:
Forgiving is the word that most describes the TH610's sonic character, some might say tube like (but that would be more a product of popular myth than what tubes should actually sound like), but they aren't particularly dark.
I noted that piano comes out a bit Baldwin like, throaty and robust as I listened to "Romanian Folk Dances" (Lee Ritenour and Dave Grusin Two Worlds 16/44.1kHz) and the violin was a little baritone, but not unpleasantly so, just enough to take the edge off.
Softening the edge was definitely a theme as further evidenced by Sinéad O'Connor's "Just Like U Said it would B" (The Lion and the Cobra 16/44.1kHz) the harshness of her strident vocals toned down a notch or two. The bass was pronounced but gentle, more tone like than resonant.
To further explore these characteristics I switched to Jaco Pastorius and "Portrait of Tracy" (Jaco Pastorius DSD). There was a definite velvety aspect to the bass guitar, like the old Vox AC-100 "Super DeLuxe" amplifiers.
The TH610 has a real straight from the mixer feel to its soundstage, real up close and personal. Listening to Hoagy Carmichael's rendition of "Lazy River" (Hoagy Sings Carmichael 16/44.1kHz) I could imagine myself in the mixing booth listening to the live performance. The horns were marginally recessed with the upright bass set slightly apart and the singer front and center inches away.
Eager to try that Marshall guitar amp like sound on actual live music I brought up an mp3 of Blue Oyster Cult doing "E.T.I." (Some Enchanted Evening) from a concert I actually attended. The magnanimous nature of the TH610s making the most out of the mp3's limited bit rate (160), presented a front row stage center portrayal, with the beating guitars and driving bass in your face but not harsh or blaring, the way the sound man was hearing it.
The dark haunting pulsating rhythms of "I Don't Believe In You" by Talk Talk (The Colour of Spring DSD) were enriched by the treacle warmth of the TH610s leading me to experiment with Shaggy and "Walking In My Shoes" (Lucky Day DSD). This blending of Reggae and Modern R&B seemed to be Fostex's bailiwick immersing the listener in electronic ecstasy.
The TH610s strong performance with low res music pushed me to break out the phone. Plenty efficient enough to run without an external amplifier as long as you don't need ear-bleed volume levels, the bass was rich and fat while listening to "Credible Lie" (Kayak) on Napster concurrently the vocals were treated to a deep resonance.
This further played out with Frank Zappa's baritone during "Don't Eat The Yellow Snow", immediate and compelling.
A larger than life aspect was elicited from Regina Spektor's "On The Radio", the piano once again robust along with the drums and throbbing bass, her voice close and intimate.
I was set to switch to the Questyle QP1 as source when I was captured by Apoptygma Berzerk playing "Suffer in Silence". The heavily engineered cacophony of sound and beats of the modern electropop offering expertly blended together by the TH610s to create a definite club atmosphere.
As I listened to "Star Eyes" from Art Pepper meets The Rhythm Section (Art Pepper, Red Garland, Paul Chambers and Philly Joe Jones DSD) on the QP1 it occurred to me that although the higher damping factor made for a tighter more realistic sound than the phone had I didn't experience a corresponding boominess that I had expected from the lower bass extension and higher current of the more powerful device. Though there was a slight resonance to the upright bass, it was in keeping with the overall close-mike feel of the TH610s.
When considering the tonal balance of the TH610s as I reinforced with "Think of Me" (The Phantom of the Opera- The Original Motion Picture Soundtrack DSD), while clearly influenced by the headphone community's love of the "Tube" sound (a marginal bass boost with a superficial roll off of high frequencies), they are not artificial sounding in the least, the tonality falling within the range of venue and instrument choice.
Finishing up my auditioning session with "And You and I" (Yes Close to the Edge DSD) it occurred to me that the real strength of the TH610s is that you are drawn to simply listen to the music and not get lost in the spectacle.
Conclusions:
At the risk of repeating myself, the standout quality of the Fostex TH610 Headphones is their forgiving nature, making them compatible with almost any source from a cell phone to a high-end desktop setup, and any file type from lowly mp3 and streaming music to high resolution DSD. And while they would not be my first choice for classical music, they do seem to perform equally well with any genre of music lending the same modest warmth and honey sweetness to all. Unlike most offerings in their price range they are not synthetic sounding or fatiguing, so while they may not be as airy and detailed as more expensive fare, they allow for many hours of musical enjoyment.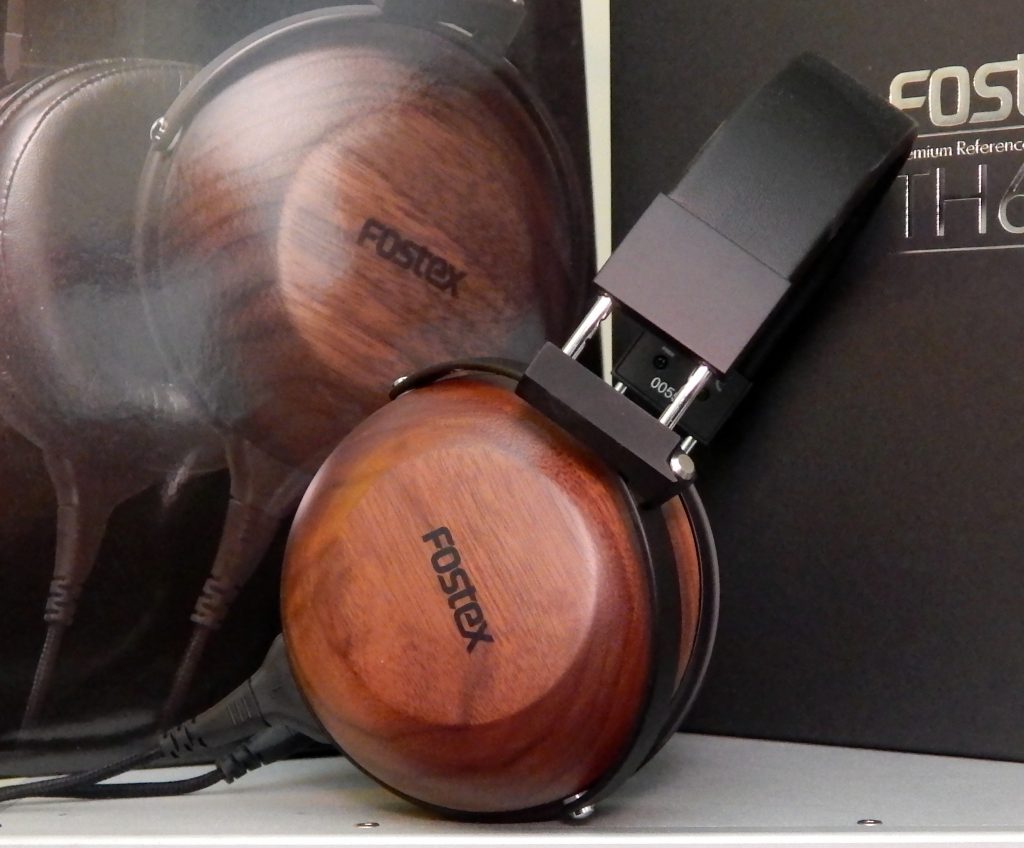 Specifications:
Type: Closed, Dynamic
Driver: 50mm Neodymium magnet / Bio-dyna diaphragm
Impedance: 25 ohm
Sensitivity: 98dB / mW
Maximum Input Power: 1,800 mW
Frequency Response: 5Hz – 45kHz
Weight: approx. 375g (excluding the cable)
Connector: 2-pin (gold-plated with rhodium over-coated)
Cable: 3m Hi-FC (detachable 2-pin, rhodium coated)
Jakck: 1/4" stereo unbalanced, gold-plated
Accessories: Leatherette carrying bag
Price: $599 USD
Unless otherwise noted the Questyle CAS192D DAC and Questyle CMA800R Headphone Amplifier were used for all listening tests.