Over the last few years, the personal audio industry has been growing strong. I dare say we as hobbyist
head-fiers
are beginning to see what some would call the dawning of a golden age in personal audio. We have seen a large push in technology governing various market segments such as IEMs, headphones, DAPs, DACs and amps. Alongside this massive growth, a series of small homegrown cottage industries have quietly begun springing up. Although mammoth conglomerates (such as; Sennheiser, Sony, Audio Technica, et cetera) dominate the scene, the little guys have been able to quietly carve out their own little piece of the pie.
Most of these small mom & pop operations began innocently enough in some nondescript garage, all for the sake of having a little fun, experimenting and tweaking, trying to squeeze as much performance out of a piece of gear as possible. And this is exactly how Jeremy Helms began Garage1217.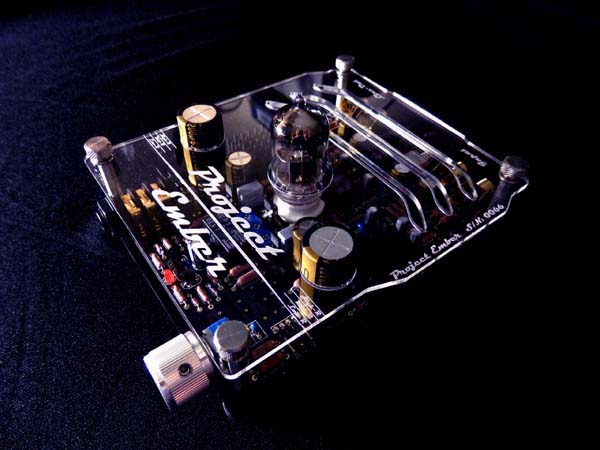 Hailing from Arizona, Jeremy Helms is an avid tinkerer with an obsession for good sound. He likes to call himself a solder-slinger but for the uninitiated, non-DIY crowd, he's the epitome of a tinkerer. Before starting Garage1217 Jeremy's main hobby was modding, designing, and building anything and everything from car audio to custom speakers to computers. He took great pleasure in designing and building various projects only to tear them apart in an attempt to see how much more performance he could squeeze out of it. As well as being an obsessed tinkerer, he was also an obsessed blogger who spent countless hours on the web reading, studying, posting, and sharing his knowledge on many different DIY forums. As time wore on, he became known to many regulars of these forums and they eventually bestowed the nickname, Jeremy Garage, due to the fact he was always in his shop (that just happened to be addressed 1217). Thus, Garage 1217 was born.
Sometime around 2009, Garage was stung by the headphone craze. It was around this time that Garage met Frans on an online headphone enthusiast community. Frans is an engineer based in the Netherlands who specialized in analog circuits and had a particular interest in hi-fi and headphones. To Garage, Frans was a kindred spirit and this chance meeting would greatly influence his future. Both men were frustrated with the market, specifically the market of affordable tube headphone amplifiers (and especially, amplifiers that needed numerous tweaks and fixes to make them sound decent). Garage and Frans began to talk about what they wanted from a headphone amplifier, or rather, if they were to make a headphone amplifier, what would they do differently?
Frans had already built various amplifiers and knew the path that had to be taken for a good sounding affordable amp. On the other side of the coin Garage had extensive knowledge of design and production ability. Ideas were tossed around, beaten up, and talked about to death between the two men until finally it was decided to just build their own amp from scratch instead of wasting time with the band-aid solution of modding an existing amp. Tons of emails would be exchanged between the two men until finally they designed and built the amp they wanted. Garage and Frans would jokingly call this amp Project Sunrise. Unknown to them Project Sunrise would be the very first amp of Garage1217's product line and the beginning of Garage1217. It is still available on the Garage1217 site, albeit, its now tweaked and called Project Sunrise III.
Although Garage1217 is primarily a pre-built amp provider, they haven't forgotten their DIY roots and offer their entire product line-up at slightly cheaper pricing in kit form. All kits come bundled with an excellent step by step build manual designed so that even the most novice DIY enthusiast can solder and build to their hearts content with little fuss. All amps come bundled with a five-year warranty and the warranty is transferable if the amp is ever sold. Garage1217's company mantra is rather enlightening, to say the least. Quoted directly from Garage himself:
"Our design philosophy is to provide the biggest bang for the buck possible and bring headphone HiFi to the masses. We also firmly believe in being straight up with our customers. We give all of our product specs, power ratings, and info up front. If there is something we do not list that someone wants to know, ask us!
Garage goes on to explain:
"Another belief we have is in the law of diminishing returns. In this, we provide excellent hardware components but do not and will not make the leap to exotic boutique parts to drain bank accounts. We also pay close attention to the size of our products. We do not believe in the bigger is better theme and try to make each product fit nicely on a desktop and not take up a ton of room. In short – we design for real world use and try to keep the wallet as much out of the pleasure of listening to music as possible, as music is what it is all about!"
Currently Garage1217's product line-up consists of the Project Starlight, Project Sunrise III, Project Horizon III, Project Polaris, and, its current flagship, Project Ember.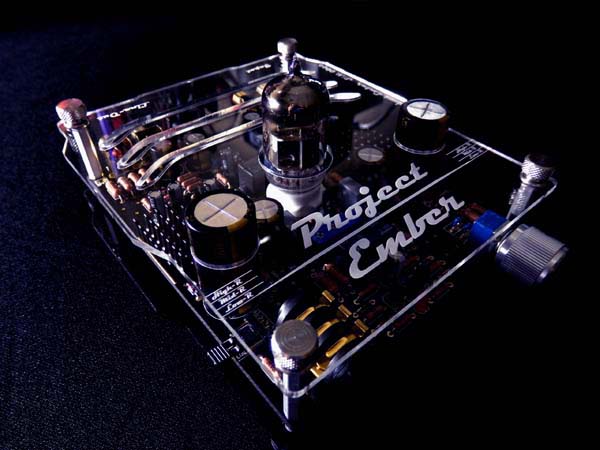 The Ember:
The form factor of Project Ember, and all of their amps for that matter, is quite interesting. While other companies encase their amps in a brushed aluminum chassis, Garage1217 has chosen the path of less-is-more. One quick look and it's easy to guess that Project Ember was created by a group of people who are avid DIY'ers. Project Ember is an open framed chassis type of set up with a clear see through plexi-glass top, allowing a clear unencumbered view into the amps innards and with the words Project Ember scrolled across the front top. The sides of the amp are wide open. For a little extra bling, Project Ember comes with a colour LED light whose colour you can pick out when ordering. The colours available are red, white, blue, green, orange, and purple. You can also choose the volume knob colour that can be either silver or black. Overall, the look of the amp is quite striking and although a little "bling-heavy" with its LED, it is well assembled and professionally executed.
Like all of Garage1217's product line, Project Ember is designed to drive the widest range of headphones possible on the market ranging from 32 ohms to 600 ohms. I was able to drive my 600 ohm K240 Sextette LP quite well with Project Ember on high gain. For a small sized amp power is quite good and demanding gear such as orthos can be driven quite well with it. Project Ember is also an auto bias amp, which means the bias will auto correct itself when using 6 and 12V triode tubes. Because of this, Ember is a tube rollers dream come true and can accept an incredibly wide assortment of different tubes. At the time of writing this review I had tried rolling at least a half dozen different tubes and was pleasantly surprised how well my headphones responded to tweaking the sound. That's Project Embers greatest strength; it can be tweaked ceaselessly to ones delight.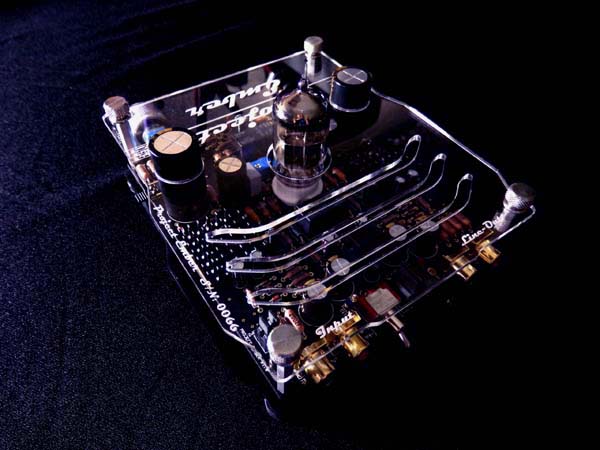 Final sound impressions for Project Ember were attained using the following tubes listed below. Headphones used for review were the Alpha Dogs, Hifiman HE-400 and AKG Q701. Source material was a mixture of 16 bit/44.1kHz and 24 bit/192kHz. Some of the source material included 24-bit binaural recordings. Albums used for evaluation:
RAM
by Daft Punk,
Night At The Pawnshop
, the
Avatar Soundtrack
,
DJ Kicks
by Kruder and Dorfmeister,
Fleetwood Mac Greatest Hits
,
Free
by Office Of Strategic Influence,
Stoa
by Nik Bartsch Ronin, and
Up Close
by Ottomar Liebert & Luna Negra.
Tubes used in review:
6n6p
6n2p (Russian 12ax7)
Amperex dimple disk 6dj8
Tung Sol black glass 12au7
GE 12av7 with center divider
RCA cleartops
Personally, while all the other tubes I tried had their strengths, I liked the RCA cleartops tube the best. This was due to a nice overall clean presentation across all frequencies. It's slightly more mid forward and mid bass presentation would aid in balancing out my AKG Q701's treble tilt. Bass impact was quite good with this tube and the Q701 was able to produce some rather nice slamming bass while listening to Random Access Memories by Daft Punk. Separation was excellent, even with overly busy sounding music, and while the upper frequencies sounded more smoothed over then I was used to energy and extension, thankfully, weren't compromised.
The only other tube I thought came close to the RCA 12AU7A would be the 6n2p (Russian 12ax7) tube. With my hifiman HE-400 the RCA's smoothness and control in the upper frequencies was a rather nice attribute to have. With some amps the HE-400 treble can sometimes sound overly strident but not so with the RCA. While I thought the RCA was the overall better performer for all my gear the Russian 12ax7 with my Q701 was able to give me a cleaner, crisper, and more 3-D sound stage and was just a bit more dynamic. End result: The music seemed to sound slightly more alive during difficult passages. Overall, I have to say that the pairing of the Q701 with Project Ember with the Russian 12ax7 was quite fantastic.
I really can't say much in the negative as far as Project Ember is concerned. For $329.99 USD, this little amp is an excellent affordable hybrid option. There is a huge amount of power on hand for demanding headphones and the ability to roll tubes to your hearts content. For me, this was the greatest attribute of Project Ember; the endless tube rolling capabilities. Besides being fun, tube rolling allowed me to tweak until I found the sweet spot. Looking forward to seeing what Garage1217 have planned in future. And I'm thoroughly enjoying Project Ember as I write these words.