The symbiotic combination of clarity and musicality have always been a hallmark of Grace Design products and the new Grace m920 High Resolution Monitoring System follows in this great tradition. Before I get to the new m920, let's first take a walk down memory lane.
Grace Design was founded in 1994 by two brothers; Michael and Eben Grace. At the time, Michael was working for the Jeff Rowland Design and decided to pursue his personal dream of bringing audiophile quality components to the pro audio field. Grace Design's first headphone amplifier was the model 901 and was released in 2001. This model also included a 24/96 DAC and was one of the first commercially available headphone amp/dac's on the market.
The m902 was released in 2005 and expanded on the 901 by adding a 24/192 DAC (with USB up to 16/44), balanced and unbalanced inputs and preamp/monitor controller functionality with balanced or unbalanced outputs and an optional high quality infrared remote control. This model was highly acclaimed both in the audiophile press and became somewhat of a reference solid state headphone amplifier for head-fi enthusiasts. I can distinctly remember attending a head-fi meet in Orange County, CA in 2006 and experiencing the m902 for the first time. Not only did it sound fantastic, the look and build quality stood out and made it an object of desire for many. With the introduction of the m902, Grace Design monitor controllers started to be compared to Swiss Army knives and for good reason. There were simply no other products on the market that offered such musicality, functionality, and ergonomics.
The m903 was released in 2011 as a reference DAC, headphone amp, and monitor controller. Improvements to this design included; a new asynchronous USB interface which enabled high resolution audio playback via USB to 24/192, an improved cross feed circuit, and both balanced and unbalanced outputs with the balanced outputs using 1/4 TRS jacks for connection to studio monitors. I purchased a Grace m903 in 2011 and it has played a central part in my music system for the past 3 years, powering my Neumann KH-120 studio monitors as well as serving as a dedicated DAC for my HD800/Donald North Audio Stratus 2A3 headphone amp.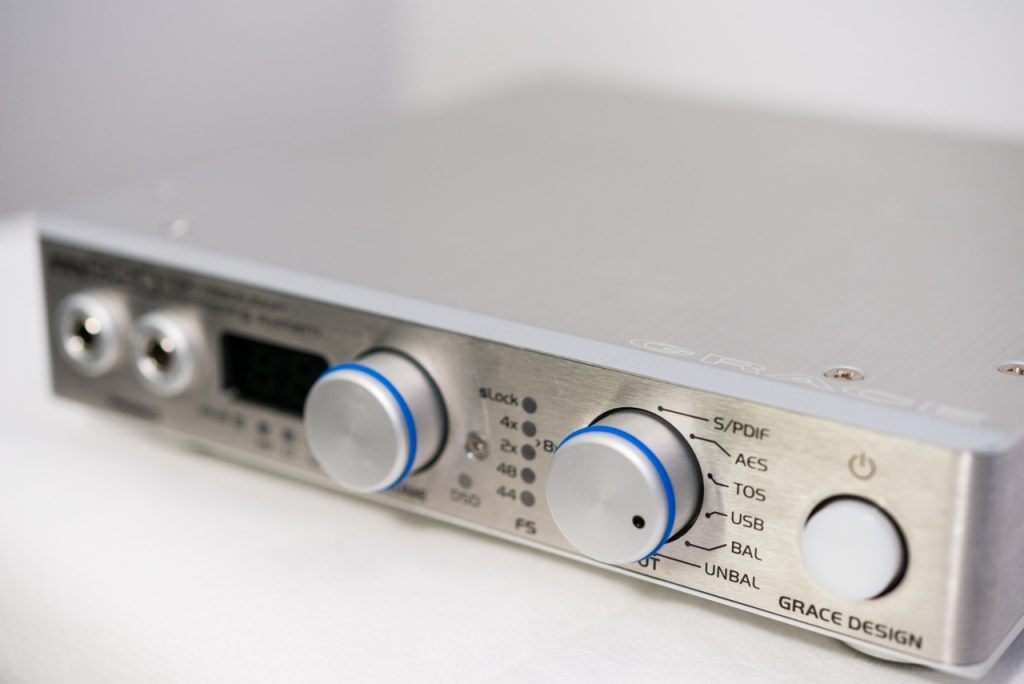 The m920 is now in its fourth generation and was released in early 2014. The m920 has a plethora of basic and advanced features as outlined below:
Basic Features…
– Ultra low distortion 32 bit/384khz Sabre ES9018-2M DAC accepts stereo digital input sources in AES3, S/PDIF, TOSLINK (optical) and USB formats with auto sample rate detection and digital de-emphasis filter – User configurable DAC filter response for PCM and DSD playback – USB for playback of up to 384khz/ 32 bit PCM as well as DSD64 and DSD128 playback via DoP – AES and S/PDIF playback of up to 192khz/ 24 bit PCM as well as DSD64 playback via D0P – New dual-stage wide lock range PLL for improved jitter rejection on non s-locked sources – Third generation s-Lock™ dual stage PLL (phase lock loop) circuitry for the ultimate in low jitter clocking and sonic integrity – Two sets of line level outputs provided via RCA (unbalanced) and 1/4 TRS jacks (balanced) for connection to studio monitors – RCA line outputs can be configured for variable or fixed dad output mode for operation as a standalone DAC – Front panel rotary encoder provides precision level control of both headphone and line output levels. Level adjustments are made in 0.5 steps within a 95dB range – 0.05 channel level matching to ensure true stereo balance at any monitoring level – Large, white 7-segment display is used to show headphone and main output levels – New X-feed (crossfeed) section – Optional infrared remote control available or Apple IR remote control is supported with optional pairing – USB firmware upgradability – 5 year transferable warranty on parts and labor
Advanced Features…
– Many of the m920's advanced feature options are accessed by pressing the rotary encoder and rotating the wheel to the desired option. Once the option is reached, pressing the rotary encoder again will access the configuration options. – Some of these configuration options include: – Stereo balance mode (can set for each individual output) – Power up level (can set the volume level upon powering up the device for each of the 3 outputs, Headphone Out, Line 1, and Line 2 – Output Toggle Lockout (locks the output level select toggle function of the encoder) – Remote Control (either optional infrared or Apple remote pairing) – Display Dimmer Mode (Dims all the front panel lights on the m920 except for the Power LED) – Level Offset Adjust (can offset each output level by +/-9.5 dB in .5 dB steps – Crossfeed (activates crossfeed) – Filter PCM – Changes the response of the digital filter (Fast response, Slow response, Minimum phase) – Exclusive Output – Mutes outputs not selected by the output toggle selector switch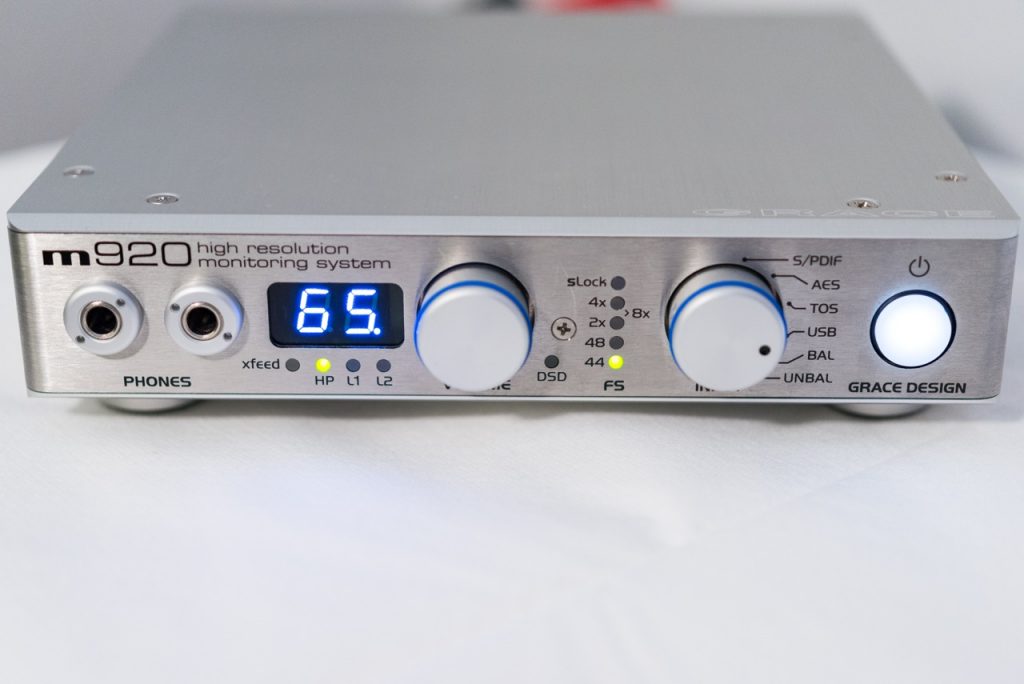 The Grace m20 has fantastic build quality and ergonomics. It feels and handles like a premium product should, with a beautiful brushed aluminum that is not dissimilar to the many Apple products I have on my desk. All of the functions and LED readouts have clear labels indicating the status of the unit. Coming from the m903, which had the ability to add an optional remote control ($100), it's great to see that a $20 Apple remote can now be used to control the unit. Additionally, there is now an option to use Logitech Harmony remote control units, as the Logitech database contains the control codes for the m920.
My current system consists of the Grace m903 running as a DAC/Preamp into a DNA Stratus 2A3 headphone amp. My primary headphone is the Sennheiser HD800 (re-cabled with the fantastic WyWires Red headphone cable). I also use Neumann KH120 studio monitors that are connected to the m903 with Mogami XLR/TRS cables. Most of my evaluation with the m920 was using the exact same configuration. The m920 uses the two-channel version of the popular Sabre 9018 chip family, the ES9018-2M. The Sabre DACs are widely considered among the very best DAC chipsets available today. One of the first things that struck me when first listening to the m920 was the increased level of resolution compared to the already highly resolving m903. This is akin to having a thin layer being removed so you are able to get a clearer window into the music.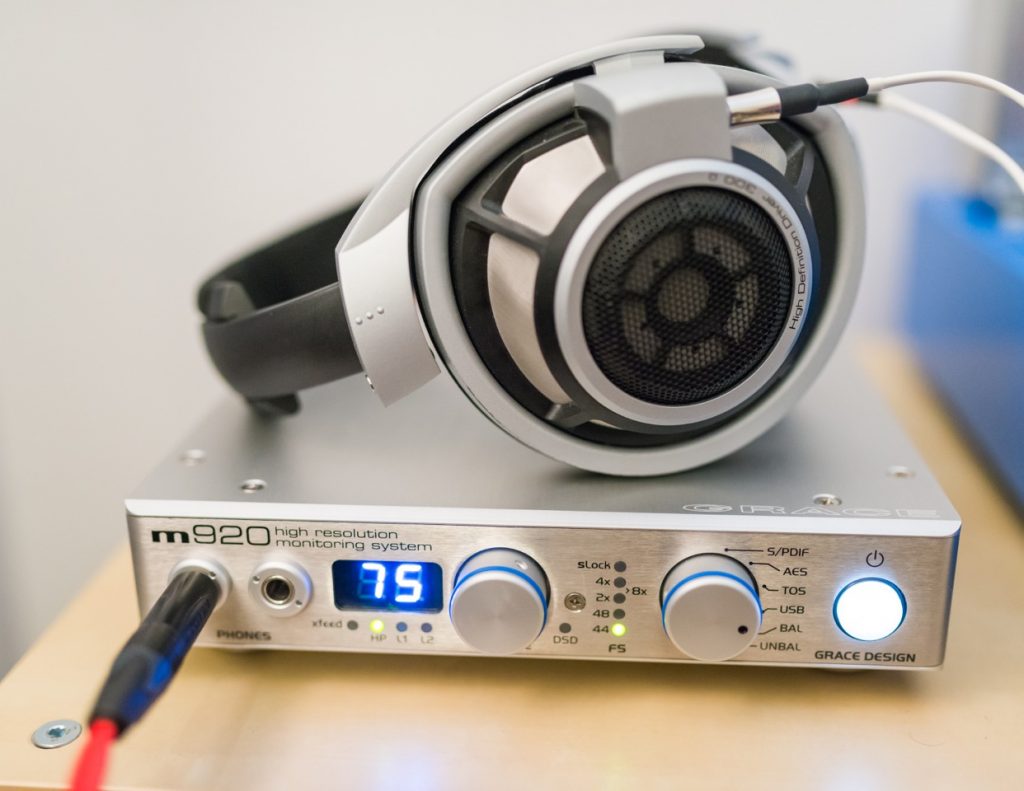 The m920 has a useful digital filter response with three settings: fast, slow, and minimum phase. I found that different types of music might benefit from each of these settings but for most of my listening I used the minimum phase setting as this provided the best overall tonal balance.
In comparing the m920 to the m903, I would describe the latter as slightly on the polite side and neutral with slightly warm tilt. Using Porcupine Tree's "Trains" track off of In Absentia, the m920 has noticeable more extension on both ends with a more a more realistic sounding and deeper soundstage and with more weight to Steven Wilson's vocal. All of this was accomplished with minimal loss of musicality and without some of the brightness or harshness that can be associated with some Sabre implementations. Great stuff.
Switching over to Radiohead's Kid A, on "Everything In It's Right Place", the m920 sounds realistic, engaging, with great sound staging, while the M903 sounds more compressed, "in your head", and is just not as toe-tappingly engaging as the m920. On "In Motion" from the Social Network Soundtrack, the m920 really shows its colors compared to the m903 with a lot more bass impact, and great PRAT. The m903 sounded a little dull in comparison.
I also tested the m920 as a standalone headphone amp/dac/preamp, which I suspect is the primary target market for this product. In this configuration, lower impedance headphones are ideally suited and I tested the Audeze LCD-X, Denon D7000, and the Ultimate Ears Reference Monitors. All were excellent matches with the m920, including the UERM, which really surprised me. The crossfeed function of the m920 is a nice feature and a subtle upgrade over the previous generation m903.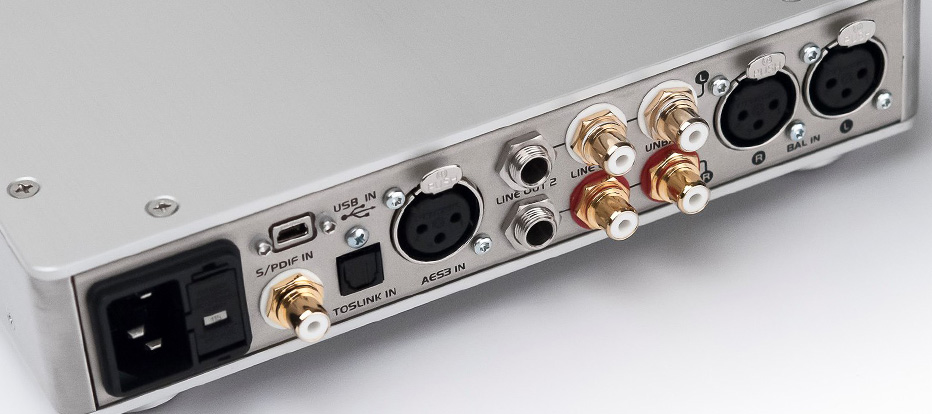 For those that will be using the Grace m920 as a DAC only, there is also the ability to configure the unit as a fixed output DAC. From the Grace manual, "in this configuration, the selected DAC source is output on the L1 connector without passing through the attenuator circuitry and will provide the purest signal path for the most critical DAC applications". I did try this out and would recommend this configuration for those that will be using the m920 as a DAC only, as I felt it provided a slightly blacker background.
A few words on DSD. Although most of my evaluation was done using lossless redbook recordings, I did also briefly sample DSD 64 and 128 files and these were handled flawlessly by the m920. The unit has a digital response filter that enables the user to change the bandwidth of the digital filter used by the DAC with the available options being 47kHz, 50kHz, 60kHz, and 70kHz. Although I felt these resulted in very subtle changes, it's great to see this level of configurability.
The Grace m920 is an amazing piece of gear and should be on a very short list of components designed to offer this level of flexibility, ergonomics, and sound quality. It is equally a fantastic all-in-one solution with ideal synergy with low impedance headphones but can also serve as a state of the art DAC for use in other applications.